The Ups and Downs of Kirstie Alley's Big Life
Cheers alum (1987-1993) and Jenny Craig spokesperson Alley making a red carpet appearance at the 1994 Emmy Awards. Alley was tabloid fodder for the last two decades of her life as she battled her weight, which was somewhat of a sliding scale.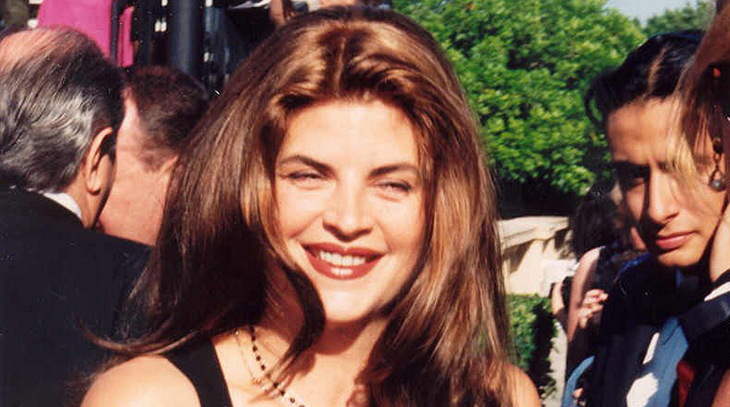 (Kirstie Alley 1994: Alan Light)
Born January 12, 1951 in Wichita, Kansas, Kirstie Alley got married at 19 to her high school boyfriend and distant cousin Bob Alley in 1970. She began a career as an interior decorator but she told People Magazine that she snorted up all her profits with cocaine.
The couple divorced in 1977 and Kirstie Alley moved to L.A. She became a Scientologist in 1979 and after entering their rehab program Narconon, was able to kick her 3-year cocaine habit. An interest in acting led her to becoming a winning contestant on Match Game in 1979 (and on Password Plus in 1980). Her acting break came in 1982's movie Star Trek: The Wrath of Khan, playing a Vulcan officer.
The following year Alley scored a recurring role on the adventure-thriller TV series Masquerade, co-starring with Rod Taylor and Greg Evigan. Alley and Evigan played civilian recruits to an intelligence organization. Masquerade ended after 13 episodes in 1984.
By the time Kirstie Alley's Emmy Award-winning role on the popular baby boomers television show Cheers as the new bar manager Rebecca Howe had started in 1987, Kirstie Alley had married again, this time in 1983 to actor Parker Stevenson. Actor Tom Skerritt had a recurring role on Cheers as Rebecca's Boss, Evan Drake. Her run on Cheers lasted until the series final episode in May 1993, in which Rebecca gets married.
The miniseries North and South, Book II (1986) saw Kirstie Alley and husband Parker Stevenson co-starring in a large cast that included Clu Gulager and Olivia de Havilland. Below, guest stars Parker Stevenson and Kirstie Alley appeared on a funny episode of The Love Boat (1983) as a married couple pretending to be single, with David Doyle inserting himself into the action.
Kirstie Alley was featured in several big screen movies between 1988-1990, including the hits Shoot to Kill (1988) with Sidney Poitier and Tom Berenger, and Loverboy (1989) with Patrick Dempsey, Carrie Fisher, and Barbara Carrera. A decades-long friendship with fellow actor and Scientologist John Travolta and his wife Kelly Preston began when. Travolta and Alley first starred together in the Look Who's Talking (1989) movie trilogy.
Kirstie Alley and Parker Stevenson adopted infant son William True (1992) and baby daughter Lillie Price (1994). When they divorced in 1997, Stevenson asked for spousal support and won a $6 million settlement.
Kirstie returned to acting with a starring role in the TV sitcom Veronica's Closet (1997-2000), and began a 4-year romance with 17-years-younger actor James Wilder. 
As her relationship with James Wilder ended, Kirstie Alley's first battle with her weight began in her 50s. She went from 130 lbs to over 200lbs, and the tabloids were merciless. Despite or perhaps because of her weight gain, she even created and starred as a version of herself in, the 2005 sitcom Fat Actress. Alley played an actress struggling with her weight while trying to restore her acting career on the series; her son True Parker appears in an episode. Former Cheers co-star Rhea Perlman, and pals John Travolta and Kelly Preston, are among the many well-known personalities that made cameo appearances on Fat Actress. The series was cancelled after 7 episodes.
From 2004-2007 Kirstie was a jenny Craig program spokesperson and lost an advertised 75 pounds, only to gain 83 pounds in the two years after quitting the program. In 2011/2012 she and her partner Maksim Chmerkovskiy were the runners-up on Dancing With the Stars and Alley again lost 100 lbs. At the time, she attributed her weight loss to her success to her own new Organic Liaison weight-loss system. Ultimately she was forced to change product packaging and website claims, and provide disclaimers. Two years later, Organic Liaison was acquired by Jenny Craig and Kirstie Alley was once again a Jenny Craig spokesperson, losing 50 pounds by the end of 2014. 
Below, Kirstie Alley in her Jenny Craig commercial.
Jenny Craig: I'm Back from LRXD on Vimeo.
As Alley entered her senior years, she again lost the extra pounds, according to an interview with Dailymail.co.uk. She also noted that when it comes to dating, she "likes the energy" of younger men and considered age 25-28 the ideal age for a romantic male partner.
Despite her weight fluctuations, Alley continued to act steadily in the movies and on television. She starred on the short-lived self-titled TV series Kirstie (2013-2014) playing the character Maddie Banks. As Maddie Banks, Alley made a 2014 cross-over appearance on the popular sitcom Hot in Cleveland, starring Betty White, Valerie Bertinelli, Wendie Malick, and Jane Leeves – a former in 2014. In 2015, Alley appeared as herself in the British time-travel reality series Time Crashers. 
Beginning in 2010, Kirstie enjoyed some success as a reality TV series star – living her daily life on Kirstie Alley's Big Life (2010), complete with son WIlliam True and daughter Lillie Price Stevenson; as a contestant on Dancing with the Stars (2011-2012); as a celebrity that goes back to medieval Britain Time Crashers (2015); Celebrity Big Brother (2018); and most recently as singer "Baby Mammoth" on the popular Fox series The Masked Singer (2022).
Her last acting role was in the TV movie You Can't Take My Daughter (2020), co-starring with Lyndsy Fonseca and Roscoe Orman. 
Kirstie Alley died on December 5, 2022 at the age of 71, after a short battle with colon cancer. The ups and downs of her big life are history; here's a cheer to her spirit entering the diet-free zone forever. 
Note: This article was first published in 2016 as Celebrating Seniors – Kirstie Alley turns 65. It has been updated with new / additional content.