Bill Medley Never Lost That Lovin' Feelin'
Blue-eyed soul singer-songwriter Bill Medley of the Righteous Brothers, and the hits that made them famous: Little Latin Lupe Lu, You've Lost That Lovin' Feelin', Unchained Melody, You're My Soul and Inspiration, Justine, Rock and Roll Heaven, He Ain't Heavy, He's My Brother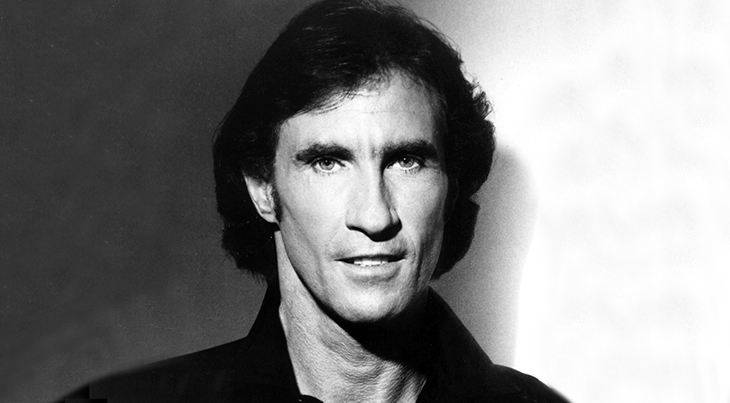 (Bill Medley 1984 Photo: Judi Barlowe Fields Management / RCA)
The Phil Spector Years
Bill Medley was born on September 19, 1940 in Los Angeles California and was raised in Santa Ana, California by his musical parents (big-band leader and saxaphone player father, and piano-playing, singer mother). On his website billmedley.com he says of his musical influences: 
"When I heard Little Richard, I knew I wanted to do that. When I heard Ray Charles, I knew I needed to do that."
Medly was a member of his Santa Ana High School choir, coached by choir teacher Jack Coleman. While in junior high, Bill Medley met Barry Rillera, one of three musical Mexican-American brothers. Barry and his brother Rick formed the Rhythm Rockers band in 1955, and were later joined for a time by Bill Medley. Medley dropped out of high school at age 16 in 1956. He met a Mexican-American girl called Lupe Laguna when he attended a beauty school, and they dated for a while.
By 1962, 22-year-old Bill Medley had been in the four-member band The Paramours for a  year when tenor singer Bobby Hatfield joined them. Soon after, Medley and Hatfield became the Righteous Brothers duo. Piano and sax player Lee Ferrell (comedian Will Ferrell's father) began playing with them in 1963.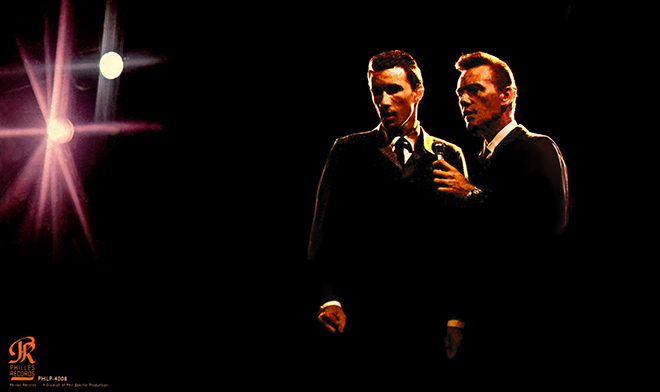 (Bill Medley & Bobby Hatfield, The Righteous Brothers c. 1960s Photo: Lawren)
In an article he wrote for Mail Online in 2014, Bill Medley described meeting Karen O'Grady:
"I first noticed her at church, and then, when Bobby Hatfield and I unveiled our first single, Little Latin Lupe Lu, at the Rendezvous Ballroom in Newport Beach, California in 1963, I saw her in the middle of a thousand beautiful young girls. When we got off  stage, I got her phone number and we started dating."
Little Latin Lupe Lu (1963) written by Bill Medley, recorded by the Righteous Brothers (backed by the Rilerra brothers), reached #49 on the Billboard chart in 1963. Little Latin Lupe Lu has since been covered by numerous other artists including Mitch Ryder and the Detroit Wheels, and Bruce Springsteen. Elvis Presley would come to watch the Righteous Brothers perform; he and Bill Medley in particular became good friends in the late 1960's.
Baby boomer favourites The Beatles arrived in America in February 1964 for two-week tour of the US, and the Righteous Brothers served as an opening act the first week. Karen miscarried while Bill Medley was on the Beatles tour, and the Righteous Brothers left the tour to return to their home base in California and appear on television's Shindig! (below, July 1964), to sing their now hit-song Little Latin Lupe Lu.
The success of Little Latin Lupe Lu was quickly overshadowed by the 1964 mega-hit You've Lost That Lovin' Feelin', written by producer Phil Spector, Barry Mann, and Cynthia Weil.
Bill Medley was initially reserved about the song's length (too long at 3:45) and tempo (too slow). His partner Bobby Hatfield was annoyed that there was a long introductory solo vocal featuring Medley, but when he asked Spector what he was supposed to do during that time Spector told him "You can go straight to the fucking bank."
You've Lost That Lovin' Feelin' was released in December 1964 and went to #1 on the Billboard charts the next year. Not just a favourite of baby boomers, You've Lost That Lovin' Feelin' has been named one of the most-played songs in the history of American radio. 
Below, the Righteous Brothers performing You've Lost That Lovin' Feelin'.   
Bill Medley and Karen O'Grady married in May of 1964.
After the promotional tour and work for You've Lost That Lovin' Feelin' finished in 1965, Bill Medley suffered a nervous breakdown and was briefly hospitalized. After he recovered the Righteous Brothers began opening for The Rolling Stones on their first American tour, in the spring of 1965.
The Righteous Brothers had 6 US Billboard Top 100 hit singles that year, including Just Once in My Life (#9), and Ebb Tide (#5), but Unchained Melody (#4) has become an enduring classic.
Originally written by Hy Zaret in 1936, when Bing Crosby turned down the chance to record Unchained Melody, it gathered dust until Zaret teamed with composer Alex North in 1955. The song was used in the prison movie Unchained (1955). Four other artists recorded Unchained Melody before the Righteous Brothers version, produced by Phil Spector (Bill Medley has said he produced it but Spector is officially credited) and sung by Bobby Hatfield, was released in July 1965.
The Righteous Brothers version of Unchained Melody hit the Billboard Top 100 charts again 25 years later, when it was used in the movie Ghost (1990).
After a string of hits produced by Phil Spector, the Righteous Brothers (Bill Medley and Bobby Hatfield) moved to Verve Records to produce their own songs. Their first Verve single You're My Soul and Inspiration (1966) was also produced by Bill Medley, and after being released in April went to #1 for three weeks.
Below, The Righteous Brothers singing You're My Soul and Inspiration.
Two other Righteous Brothers songs hit the US Billboard charts that year, Go Ahead and Cry at #30 and On This Side of Goodbye at #47. Below, Bill Medley and Bobby Hatfield singing their Top 100 hit single Justine.
Bill Medley Goes Solo 
Karen and Bill Medley's son Darrin Medley was born in 1966.
Frank Sinatra brought the Righteous Brothers to Las Vegas and they played smaller lounges there until in 1968, when they were offered the chance to headline at the Sands Casino. Although Bill Medley wanted to do it, Bobby Hatfield didn't, so Medley left and the Righteous Brothers folded.
After many infidelities on Bill Medley's part, his marriage to Karen also folded, and they divorced. Medley has said he fell in love with singer Darlene Love (of The Blossoms backing group) during the final Righteous Brothers tour, and began a long-term affair with her.
In his 2014 memoir written with Mike Marino The Time of My Life: A Righteous Brother's Memoir, Medley recounted later wanting to get back together with Karen (who was by then in a relationship with her future husband Jerry Klass), and being rejected by her. 
Bill Medley released 6 solo albums between 1968-1973 and had a couple of early Top 40 Pop hits in 1968 including Brown Eyed Woman.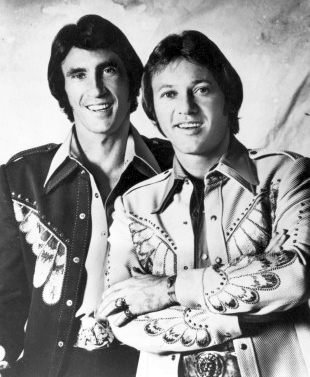 (Bill Medley & Bobby Hatfield 1977 Photo: Haven)
Bill Medley sang three solo shows a night in Las Vegas; by 1972 he suffered a bout of laryngitis that kept getting worse, and lost his voice for two  years. It didn't fully return until after Medley connected up with his old high school music teacher Jack Coleman, and began twice-daily vocal exercises.
During the 70's, Medley had on-off relationships with Mary Wilson (of the Supremes) and singer/actress Connie Stevens (they shared a mutual close friendship with Elvis Presley). He also got married and divorced twice; neither marriage lasted for long, and Medley has said his third marriage was one of biggest mistakes of his life.
The Righteous Brothers Reunited
Bill Medley and Bobby Hatfield reunited in 1974 as the Righteous Brothers, and had 3 Top 40 singles in 1974 (Rock and Roll Heaven, Give it to the People, Dream On).
Below, The Righteous Brothers performing their #3 US Billboard hit single, Rock and Roll Heaven (1974), live in 1981. 
Further chart success eluded the Righteous Brothers until their earlier hits You've Lost that Lovin' Feelin' and Unchained Melody were re-released in the late 1980's and 1990.
Pursuing The Murderer of Karen Klass
Bill Medley and first wife Karen had maintained a close relationship, despite her marriage to Jerry Klass in 1970 and the birth of her second son Damien in 1971.
Medley settled in Newport Beach, California in 1975 and lived there when he wasn't performing in Las Vegas or touring. Jerry and Karen Klass lived in nearby Hermosa Beach.
On the morning of January 30, 1976 Bill and his son Darrin stopped off to visit relatives on their way to the Lake Arrowhead, California resort, and were told that Karen had been beaten and possibly raped. 
Medley immediately drove back to the Hermosa Beach hospital to discover that Karen was unconscious. He recounted the events of that day in his 2014 Mail Online article:
"My ex-wife Karen returned from dropping her younger son Damien off at school. She entered her Hermosa Beach house through the back door she always left open. Her two closest girlfriends had plans to go for breakfast with her that morning. They saw her pull into her drive, and thought she'd be ready in a minute. There had been a strange-looking man around the neighbourhood the past couple of days, and they wanted to tell her about that…When they rang a little while later and nobody answered, they went over. Karen's crutches were on the floor – she had broken her leg trying to ride our ten-year-old son Darrin's skateboard. Her friend shouted her name and got no response. They could hear whimpering. As they went into the hall, a man stepped out. 'Hi girls,' he said, then walked out of the front door." 
Karen's rapist had tried to strangle her with her bra and she had been deprived of oxygen for about 15 minutes. Medley stayed with her at the hospital and she died 4 days later, having never regained consciousness. Medley was devastated by Karen's death.
He stopped touring in order to spend more time with Darrin and Karen's younger son Damien.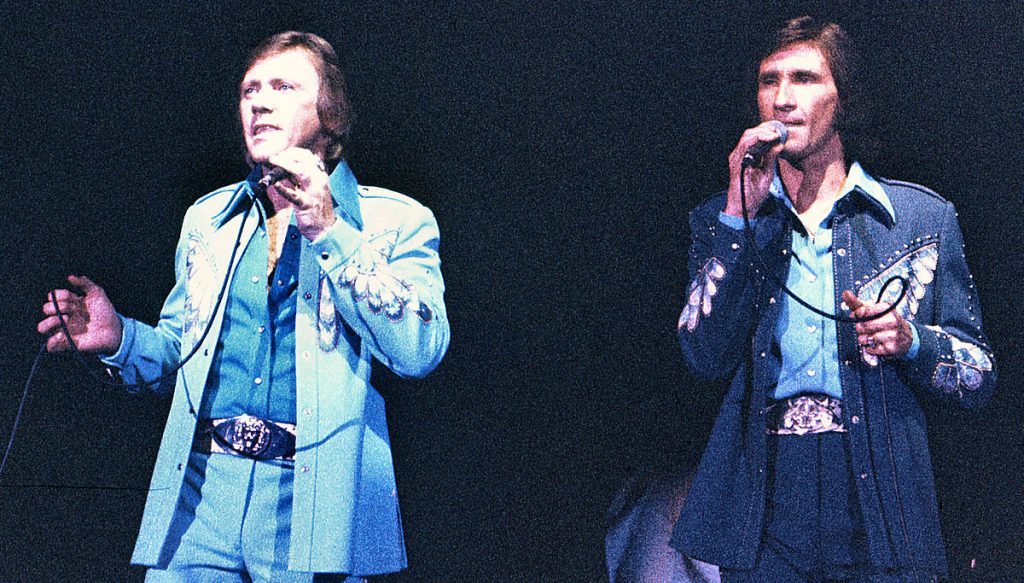 (Bobby Hatfield & Bill Medley, The Righteous Brothers c. 1970s-1980s Photo: Orange Country Archives)
The Righteous Brothers reunited in 1981 and although no new hits were forthcoming for the duo, they did tour frequently in North America until Bobby Hatfield's death in 2003. 
In 1984 they jointly opened the Hop, a music club in Fountain Valley where they often performed, followed by a second club in Lakewood.
As a solo artist, Bill Medley had 5 Top 100 US Country singles in 1984 and 1985 from his I Still Do (1984) and Still Hung Up on You (1985) albums. His version of He Ain't Heavy, He's My Brother was part of the soundtrack for the 1988 movie Rambo III, starring Sylvester Stallone.
Below, Bill Medley singing He Ain't Heavy, He's My Brother in the background of this scene in Rambo III:
In 1986 Bill Medley married his long-time girlfriend Paula Vasu, and their daughter McKenna Medley was born in 1987.
That same year he and singer-songwriter Jennifer Warnes recorded the duet I've Had The Time of My Life for the soundtrack of the movie Dirty Dancing (1987). The song was a #1 US Billboard hit single and won the Grammy Award for Best Pop Performance by a Duo or Group with Vocals in 1988.
Below, Bill Medley and Jennifer Warnes sing I've Had The Time of My Life.
While in his fifties, Medley recorded the theme song for 1991's The Last Boy Scout movie, and appeared on television in specials during the 1990's. He also spent much of his 50+ years performing in Branson, Missouri, where his country-rock singing daughter McKenna Medley joined him as an opening act, and on the duet I've Had the Time of My Life.
As a septuagenarian senior citizen at the age of 71, Bill and McKenna Medley went on a road tour in 2011. In 2013, for the first time in his life, Bill Medley performed overseas in a concert at England's Wembley Arena.
When asked by Rock Cellar Magazine in 2014 who his soul and inspiration were, Medley answered:
"Well, my family, all of them. I have a forty-eight year-old son, a twenty-seven-year old daughter, a lovely wife and my grandchildren too. Those are the people that keep me alive. And I can't forget my audiences."
Despite their divorce and the years that passed after her murder, Bill Medley never lost that lovin' feelin' for Karen. He told Mail Online readers in 2014 that Karen had remained his best friend:  
"Over 35 years later, I'm still looking for the man who killed her. I've got a private eye on the case."
Finally, thanks to a 2017 familial DNA evidentiary procedure, Karen's killer was traced to serial rapist Kenneth Eugene Troyer. Troyer had been shot dead by police in 1982. Bill Medley and Darrin expressed relief and satisfaction at the closure of the case after 40 years, below. 
Bill Medley is still married to Paula and performs in Branson with daughter McKenna Medley, and at concerts in California. His son Darrin Medley is also a singer (at one time singing lead for Paul Revere and the Raiders). Thanks to new singing partner Bucky Heard, the Righteous Brothers can once again be seen and heard by baby boomer fans as they tour & perform in concert.
Note: This article was first published in 2015 as a two-part article titled Celebrating Seniors – Bill Medley is 75. It has been updated with new & additional content.
*Images are public domain or Creative Commons licensed & sourced via Wikimedia Commons, Vimeo, YouTube, or Flickr, unless otherwise noted*