Folks, Facts & Fun From December 1931
News, Headlines, Entertainment & Trivia from December, 1931: Classic movie premiere of Dr. Jekyll and Mr. Hyde, starring Fredric March; Ruth Etting, Louis Armstrong, Paul Whiteman & Mildred Bailey record All of Me; Silent film star Clara Bow & cowboy actor Rex Bell elope.
Dr. Jekyll and Mr. Hyde Premieres
Actor Fredric March stars as the title characters in the 1931 classic horror film Dr. Jekyll and Mr. Hyde. Directed by Rouben Mamoulian, the movie is based upon Robert Louis Stevenson's short story The Strange Case of Dr. Jekyll and Mr. Hyde.
(Fredric March, Rose Hobart & Miriam Hopkins 1931 Dr. Jekyll and Mr. Hyde)
Leading ladies in the film are Miriam Hopkins as Ivy Pierson, a bar singer that tries to seduce Dr. Jekyll after he saves her from being attacked; and Rose Hobart as Muriel Carew, Jekyll's fiancée.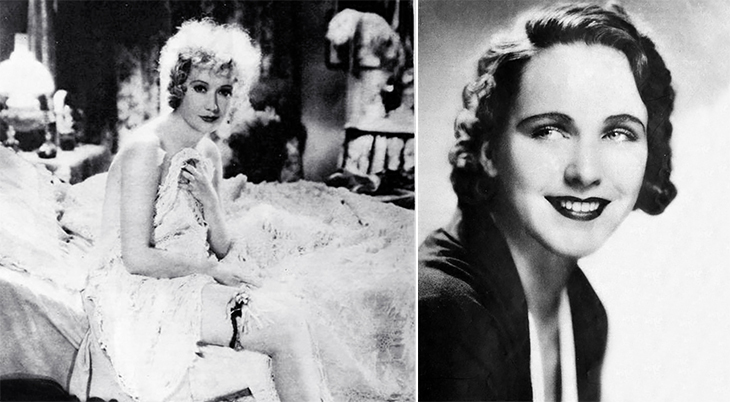 (Miriam Hopkins 1931 Dr. Jekyll and Mr. Hyde | Rose Hobart 1931: Freulich)
Jekyll's drug experiments result in his transformation into the violent Edward Hyde.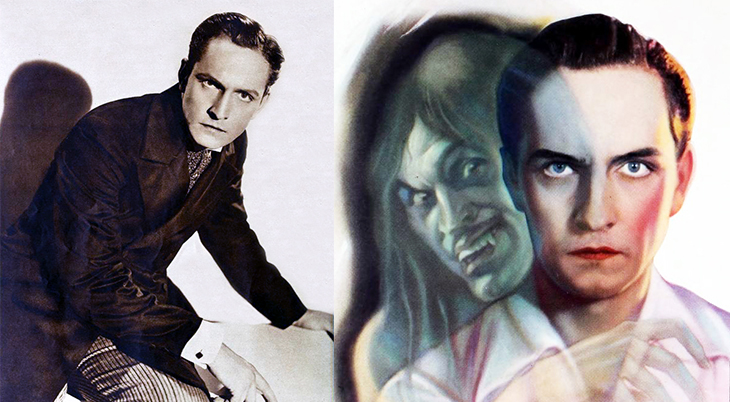 (Fredric March 1931 Dr. Jekyll and Mr. Hyde)
As Edward Hyde, he takes advantage of Ivy sexually and psychologically, leaving her with a threat that he'll return. He's back to normal as Jekyll when Ivy arrives – and doesn't recognize him as Hyde, only as the man that rescued her; he reassures her that Mr. Hyde won't return. 
As the transitions between Jekyll and Hyde grow out of his control, Dr. Jekyll breaks off his engagement with Muriel. Meanwhile, the secret of Jekyll and Hyde is close to discovery…
Dr. Jekyll and Mr. Hyde received three Academy Award nominations. Percy Heath and Samuel Hoffenstein were nominated for Best Adaptation Writing, and Karl Struss for Best Cinematography.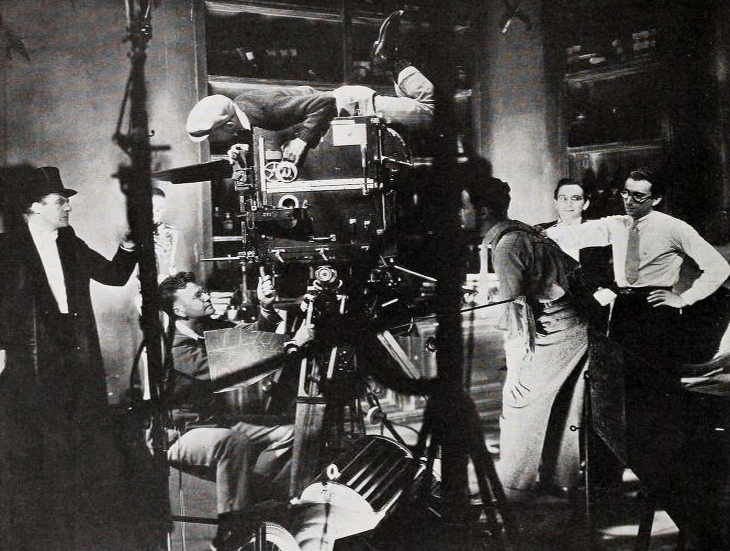 (Filming Dr. Jekyll and Mr. Hyde – Herbert Holmes, Karl Struss, George Clemens, & Rouben Mamoulian 1931 Photo: Gordon)
Fredric March tied with Wallace Beery (The Champ) for Best Actor in a Leading Role, and both men received an Oscar at the 1932 Academy Awards ceremony.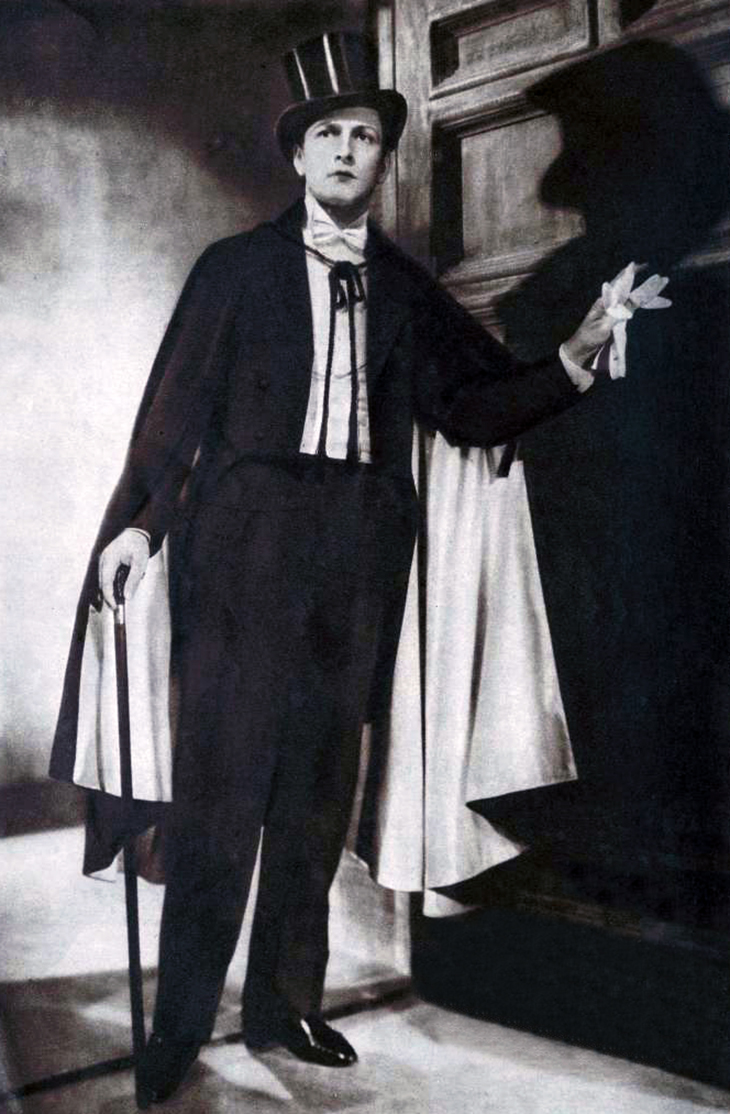 (Fredric March 1931 Dr. Jekyll and Mr. Hyde)
Although this 1931 film Dr. Jekyll and Mr. Hyde was the first "talkie" version of Stevenson's tale, an earlier, silent film starring John Barrymore, Martha Mansfield, Nita Naldi, Charles Lane, and Brandon Hurst was also popular with audiences when it was released in 1920.
The 1941 remake of Dr. Jekyll and Mr. Hyde stars Spencer Tracy, Ingrid Bergman, and Lana Turner, and was another big hit. The story has been adapted for stage, television, and other films numerous times over the decades since Robert Louis Stevenson first penned it.
Paul Whiteman, Ruth Etting & Louis Armstrong Record All of Me 
All of Me written by Gerald Marks & Seymour Simons, was recorded by Paul Whiteman and His Orchestra on December 1, 1931, with vocalist Mildred Bailey.
 Within a couple of weeks, Louis Armstrong's recording of All of Me also went to #1.
All of Me was also recorded by Ruth Etting in December 1931.
All three versions – and some by other artists – made All of Me a very popular hit song in 1931 and 1932. 50+ years later, director-actor Steve Martin used the title, and based his fantasy comedy film co-starring Lily Tomlin and Victoria Tennant, All of Me (1984) on 1931 classic song.. 
Clara Bow & Rex Bell Elope
On December 3, 1931 movie star actress Clara Bow & western cowboy film star Rex Bell (nee George Francis Beldam) eloped in Las Vegas. Attempts to keep their wedding and marital status a secret were in vain…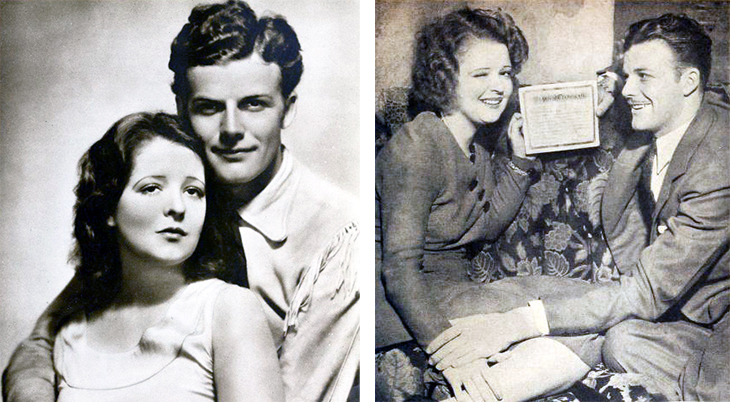 (Clara Bow & Rex Bell 1931 | With Marriage Certificate 1932: Acme)
CLARA BOW SILENT ON WEDDING, VISITS FATHER WITH BELL – Las Vegas, Nev. Dec. 5 – AP – Rex Bell and Clara Bow, who, two witnesses said, became husband and wife here Thursday night, despite denials from Bell, were found today living at the home of the film actress' father, Robert Bow. Bow owns a cafe here….Bow formerly owned a fashionable cafe in Hollywood when his daughter was living there. Some months ago he came here and started business anew after abandoning the restaurant in Hollywood. Harley Harmon, district attorney, and William Scuyler, deputy county clerk, who issued a marriage license to the couple, said they saw the wedding in the chambers of Dist. Judge WIlliam Orr, but the judge declined to discuss it."  The Brownville Herald, December 5, 1931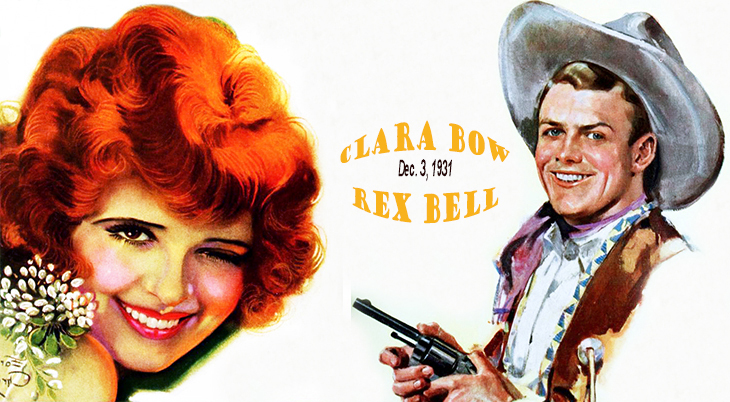 (Clara Bow 1931 Portrait: Earl Christy | Rex Bell 1928 Portrait: Fox)
"BELL CONTINUES TO DENY HAVING WED CLARA BOW – Las Vegas Records Said to Show That Marriage Ceremony Performed – Las Vegas, Nev., Dec. 5. (U.P.) – A wedding license issued to Miss Bow and Bell, movie cowboy who has been her fiance for a year, was on public record….Schuyler said he was aroused from bed Thursday night and asked to reopen his office to issue the license, and the wedding followed, with every precaution for secrecy. The license, necessarily a public document, was revealed yesterday. Miss Bow, the witness said, wore a wine colored gown, Empress Eugenie hat and fur coat for the wedding, while Bell wore a business suit. The license gave Bell's true name as George F. Belham, age 28. The actress gave her name as Clara Gordon Bow, 26. Neither had been married before. Immediately after the ceremony the couple left by automobile for Bell's ranch which is 10 miles from either telephone or telegraph. Bell, virile and dark, has been Miss Bow's host at his ranch since she suffered a nervous breakdown last spring, following the sensational trial which resulted in the conviction of Daisy De Voe, her former secretary, of stealing a fur coat from Miss Bow. Bell was the latest of a number of admirers. Among these were Gary Cooper, film star; Victor Fleming, director; Robert Savate, former Yale football player; Gilbert Rowland, wealthy Californian, and Harry Richman, New York musical comedy star and night club owner." – Imperial Valley Press, December 5, 1931
Clara Bow had broken into silent movies in the 1920s, and became celebrated as the "IT Girl" (after starring in the 1927 movie It). Her popularity with fans was boosted by abundant sex appeal and a vivacious personality on and off screen. One report had Clara Bow receiving upwards of 45,000 fan letters a month in 1929…some of those admiring letters were from former boyfriends / romances with the likes of Gary Cooper, Victor Fleming, Harry Richman. Bow was in the news earlier in 1931 during the trial of her secretary Daisy De Voe, who stole money from her and tried blackmail by releasing those love letters to an unscrupulous newspaper publisher..
CLARA BOW IS IN HOSPITAL, MAN ON TRIAL – Publisher Faces U.S. Court Action on Charges – Clara Bow remained under treatment at a Glendale sanitarium today as Fred Girnau, publisher of a weekly newspaper, was called to trial in federal court for sending alleged obscene articles on her life through the mail. Miss Bow suffered a nervous breakdown May 3, a little more than a week after Girnau's arrest. Last Friday, B.P. Schulberg, managing director of Parmount Pictures, announced that the actress desired to retire from the screen….When Girnau was taken into custody, two men who Rex Bell, friend of the actress, said proposed that he advance $15,000 and they put up $10,000 to buy Girnau's newspaper, were sought. Bell said the men suggested that in this manner they could stop publication of the Bow articles. They have not been found. Paramount officials charged Girnau demanded that Miss Bow be discharged or he would publish the articles. With the first article, Girnau published a purported affidavit that Daisy de Boe, the actress' former secretary who has been convicted of stealing an ermine coat from her, was furnishing information on which the stories were based." – The Brownsville Herald, June 1, 1931
After the trial and her breakdown, Bow's movie contract lapsed, and she quit dying her hair red. Upon release from the hospital in mid-June 1931, she retreated to boyfriend Rex Bell's new ranch to complete her recovery in privacy. 
"Clara Bow Back to simple Life – Yes, I bleached my hair…The last time I was on the ranch people drove up and stared at me. I want to be left alone now. When I resume my career, though, back will come the red hair….'Marry?' she asked. 'I won't marry until I am 26. No Rex and I are not engaged. I'm not going to announce any more engagements. It has got so people just laugh at me when I do. When I get married I'm just going to go ahead and do it." – U.P. / Imperial Valley Press, June 15, 1931
Actor Rex Bell was a relative newcomer in Hollywood, having not made his first appearance on the big screen until 1928 in Wild West Romance. Cupid may have shot his arrow at them both when Bell and Clara Bow co-starred with Fredric March and Harry Green in True to the Navy (1930). By early 1931 they were a confirmed couple, and in May he had bought the ranch that Clara recovered at.
"Rex Bell to Start House – Rex Bell, Paramount film star who has purchased a large part of the Rock Springs Cattle Company land [360,000 acres] near Searchlight, has been in Las Vegas over the week-end, completing the deal. Mr. Bell is planning the construction of a beautiful new home on the newly acquired property." – Las Vegas Age, May 26, 1931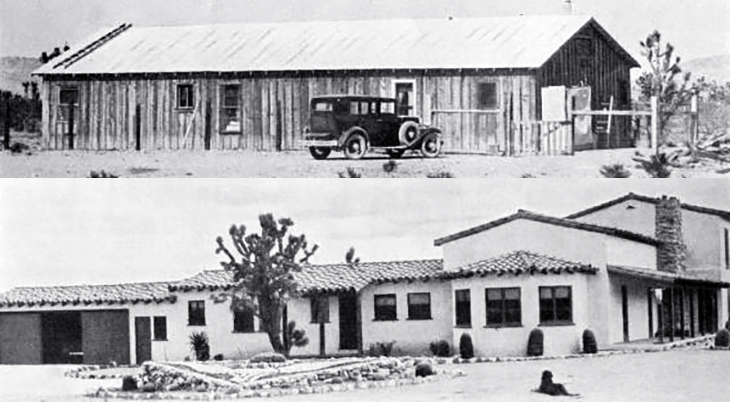 (Rex Bell / Clara Bow Searchlight Ranch House – Original 1931 [top] | New 1932) 
December was a big month for Rex Bell – in addition to his wedding to Clara Bow, his movie The Law of the Sea premiered December 15th, 1931. Bell co-stars in the action adventure film with William Farnum, Sally Blane, Priscilla Dean, Ralph Ince, Eve Southern, Wally Albright, and Heinie Conklin
After their wedding, and at the height of her career, Clara Bow virtually disappeared from the big screen. She made only two more full-length feature films (Call Her Savage, 1932 & Hoopla, 1933).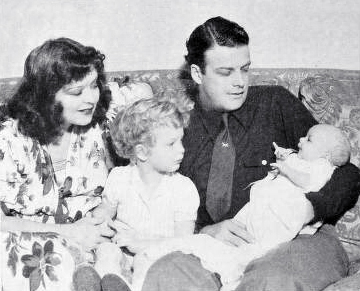 (Clara Bow, Rex Bell & Sons 1938)
The couple had sons Tony aka Rex Bell. Jr. in 1934, and George Beldam Jr. in 1936.
Rex Bell's film career continued throughout the 1930s and 1940s, although his movie star never ascended as high nor shone so brightly as Clara's had. He turned to politics in the 1940s and served as the Lieutenant Governor of Nevada from 1955-1962. He died of a heart attack at the age of 58 in July 1962. 
Clara Bow's mental health had deteriorated during the 1940s, and in 1949, she was hospitalized. When she was released from hospital, instead of living with husband Rex Bell and their children, she lived alone in a Culver City bungalow under the care of a nurse her death from a heart attack in 1965 at the age of 60. 
*Images are believed to be in the public domain, used by permission, or Creative Commons licensed & sourced via Wikimedia Commons, Vimeo, YouTube, or Flickr, unless otherwise noted*