When Every Day is April Fool's Day
Vintage cartoons, funny stuff (unintentional and otherwise), and an assortment of the odd and unusual from the land of filmdom. 
Baby Peggy Flies Her Pelican
Caught on film for eternity, child actress Baby Peggy flies her pet pelican.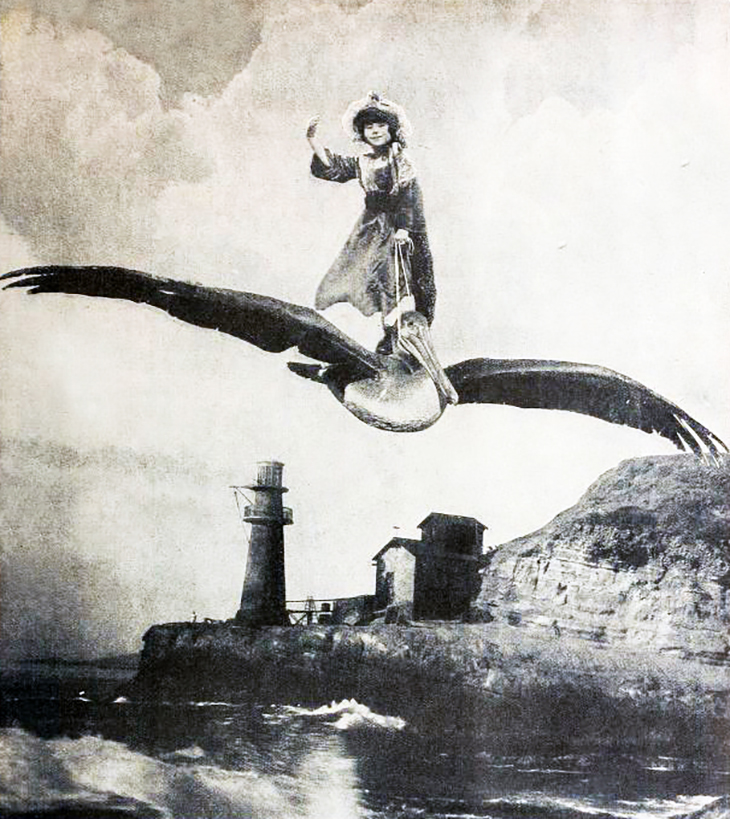 (Baby Peggy & the Pelican in Captain January 1924 Photo: Picture-Play)
Based on the 1891 children's book Captain January by Laura E. Richards, the 1924 silent movie of the same name stars Hobart Bosworth as old lighthouse keeper "Daddy Jeremiah", who rescues a little girl "Captain January" (Baby Peggy) washed up on the shore from a wreckage.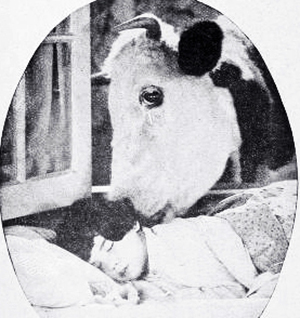 Jeremiah adopts her, and with the help of a motherly cow, he takes care of Captain January, and she of him.
All is well until her Aunt Isabelle (Irene Rich) and Uncle Herbert (John Merkyl) show up.
Sol Lesser produced the movie, and the supporting actors included Lincoln Stedman, Barbara Tennant & Harry T. Morey. 
IMDB Trivia says that Captain January Director Edward F. Cline and actor Hobart Bosworth were injured and nearly killed in an accident while filming the storm sequence.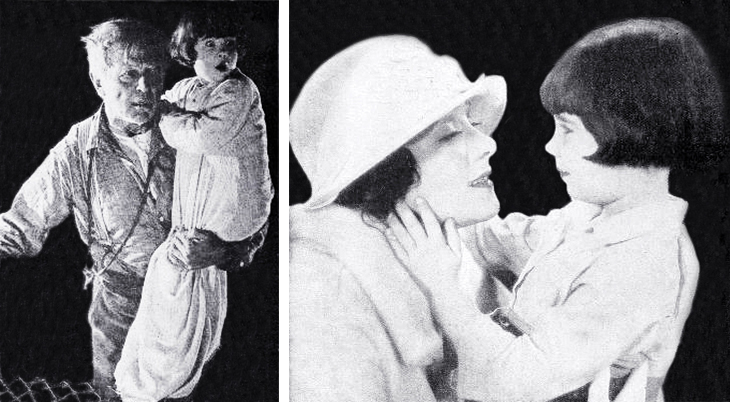 (Hobart Bosworth, Baby Peggy & Irene Rich 1924 Captain January Photos: Picture-Play)
So popular was this film that it has been preserved in the Library of Congress. Shirley Temple and Guy Kibbee starred in the equally popular 1936 re-make of Captain January, with supporting actors Buddy Ebsen, Slim Summerville, Jane Darwell, among others. 
And no, Baby Peggy didn't really fly the movie stunt bird Pete the Pelican, although it was a dream sequence in Captain January.
When Hair is a Hat
COVID-19 restrictions have not been kind to those of use who haven't been able to indulge in our regularly scheduled and necessary haircuts at the hands of a skilled barber or hairstylist.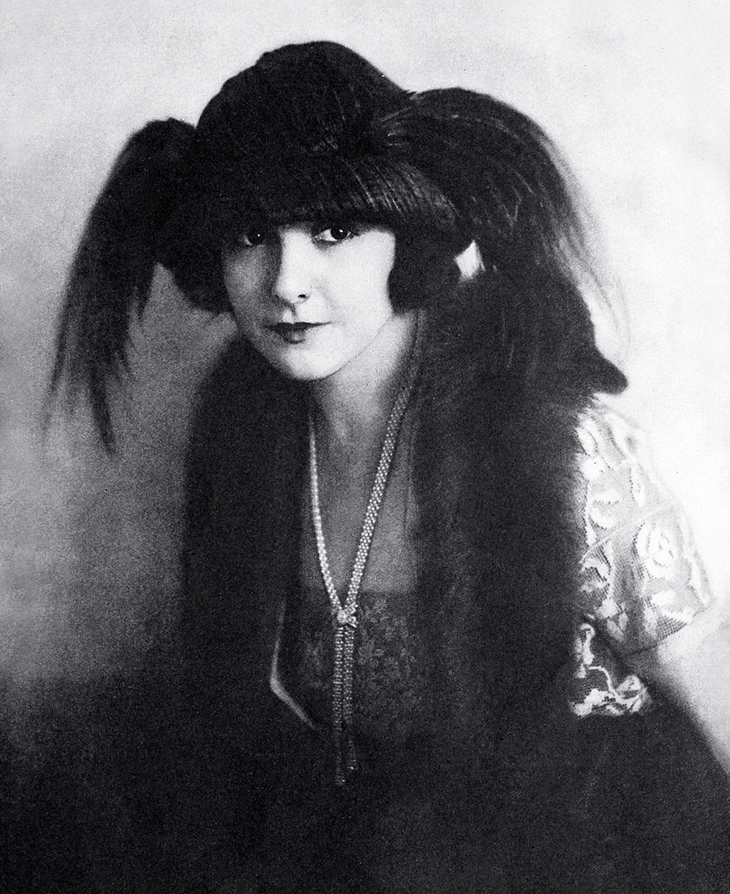 (Norma Talmadge & Hair Hat 1920 Photoplay)
Silent film star Norma Talmadge models the latest vogue in hat styles in 1920. You can take comfort that your own hair isn't the weirdest thing to be seen on a human head in the history of mankind. 
Chicago Segregates Men and Women 
Chicago must have been a hotbed of vice from 1913-1918; Police Chief Gleason and Major Funkhouser instituted several measures to crack down on the threat to virtue of roving spinsters and bachelors.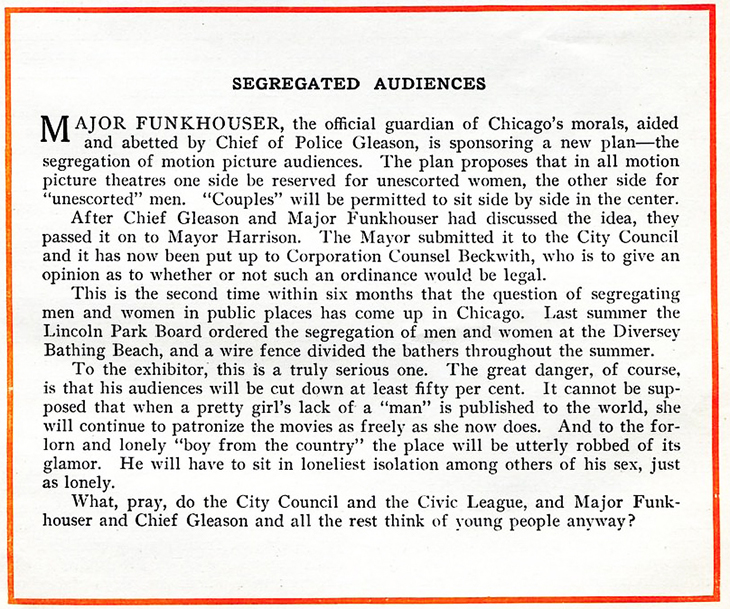 (1915 Ad: Photoplay)
In 1914, men and women bathers at Chicago's Diversey Bathing Beach were separated by a wire fence; the following year, they proposed that single men would be seated on one side of the movie theatres, and single women on the other, although couples could sit side by side. Funkhouser also thought movie censorship didn't go far enough, and Chicago movie theatres made additional, extensive cuts to films before playing them.
Film industry executives protested these measures in local newspapers and movie fan magazines.
Cowboys and Cowgirls Punished After Makin' Whoopee
After their night of carousing and makin' whoopee, stern taskmaster Samuel Goldwyn strapped his chorus cowboys and cowgirls to a board. He even shone bright lights on them to turn up the heat and make them think twice about doing it again.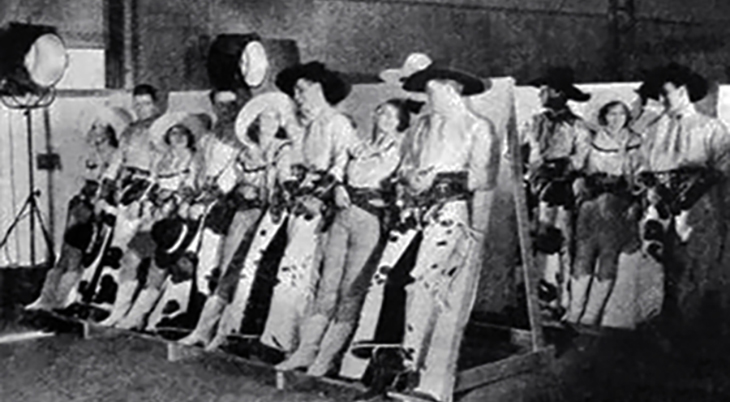 (Whoopee! Chorus/Cast 1931 Photo: Screenland)
April Fool! The chorus girls and boys of the Whoopee! (1930) cast are simply resting between scenes of filming the Florenz Ziegfeld/Samuel Goldwyn musical. Specially built reclining rest forms were designed to save their tight velvet costumes from being spoiled. Sure looks funny though.
Busby Berkely choreographed, Alfred Newman provided musical direction, and Gregg Toland was a cinematographer. Eddie Cantor starred in the film and his recording of the Gus Kahn/Walter Donaldson Makin' Whoopee was a hit song. Dean Jagger appears as an uncredited deputy, and the "Goldwyn Girls" – a roster of chorus girls in Samuel Goldwyn's studio – included future movie stars Ruth Eddings, Paulette Goddard, Betty Grable, Barbara Weeks, Ann Sothern, Claire Dodd, and Virginia Bruce.
Shirley Mason's Pig-Kitten
Shirley Mason was a very pretty actress, and this magazine cover painting by artist Hamilton King doesn't do her (or him) justice. Here she is holding her novelty pet Pikitten, a new breed of cat with a pig-shaped nose, that never became popular and thus died out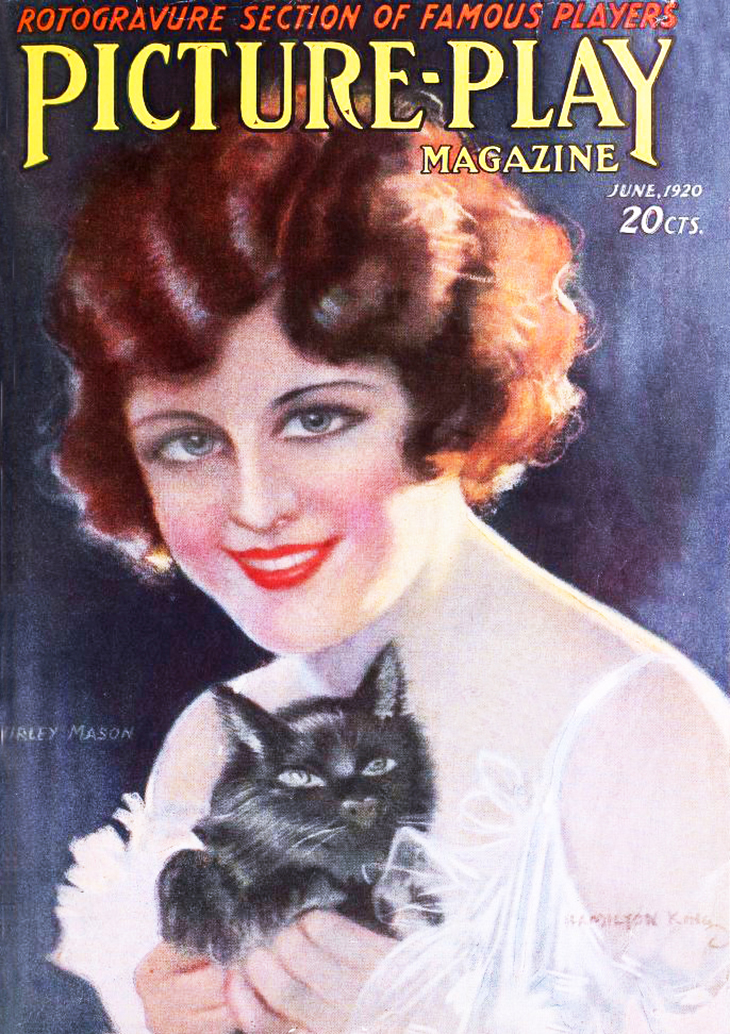 (Shirley Mason & Kitten June 1920 Picture-Play Magazine Cover)
April Fool again! But that pig's snout on the kitten is really odd looking IMO. Artist Hamilton King (b. 1871-1941) was a well-respected portrait painter and illustrator (his works are in the Metropolitan Museum of Art & Smithsonian), so maybe he was having an off day or it's just kittens that he couldn't get the hang of.
King painted many theatre and movie posters, and did beautiful cover paintings of popular silent film actresses (Marion Davies, Mary Miles Minter, Peggy O'Neil, etc.) for movie fan magazines. He's also known for his Coca-Cola illustrations.
Thanks to his widow, since 1965 the Society of Illustrators has handed out a Hamilton King Award to a society member that contributes the "best illustration" in their annual exhibition.
Asbestos is Safe?
Silent film-goers took their lives in their hands when they ventured into their local movie theatre in 1914.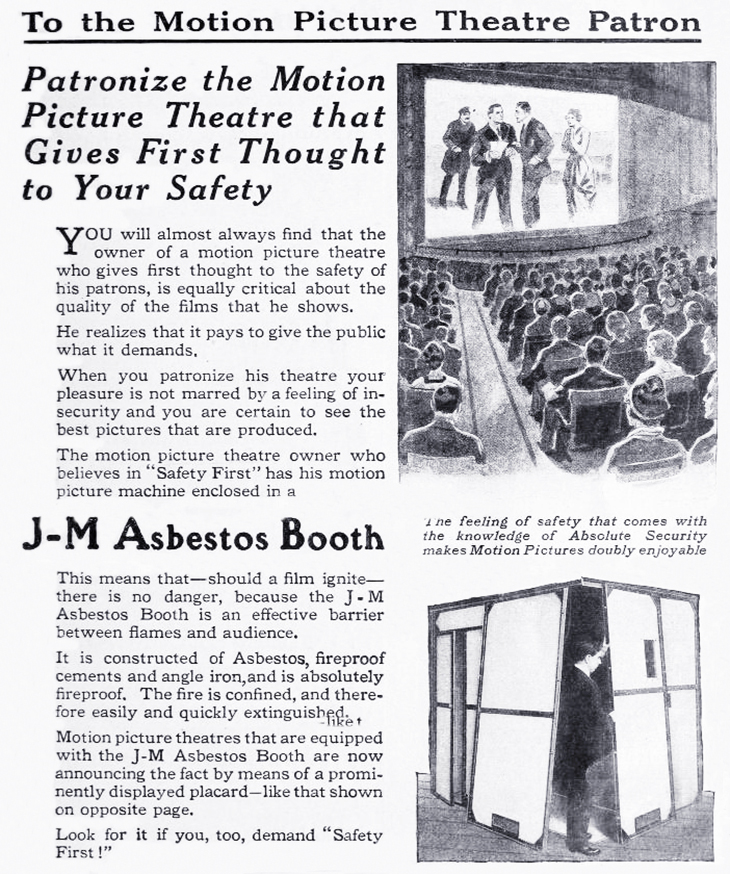 (J-M Asbestos Booth 1914 Ad: Motion Picture Magazine)
Asbestos is NOT safe; if the spool of nitrate film didn't burst into flame while they were watching a movie (it was highly flammable, watch Tarantino's Inglourious Basterds, 2009) and kill them sooner, then the fireproof asbestos booth that the poor projectionist worked in, might have killed them from cancer later. 
Author Mary MacLane Exposes Her Lovers On Film
Unsurprisingly, this daring "true confession" style film Men Who Have Made Love to Me was banned in some cities when it was released back in 1919.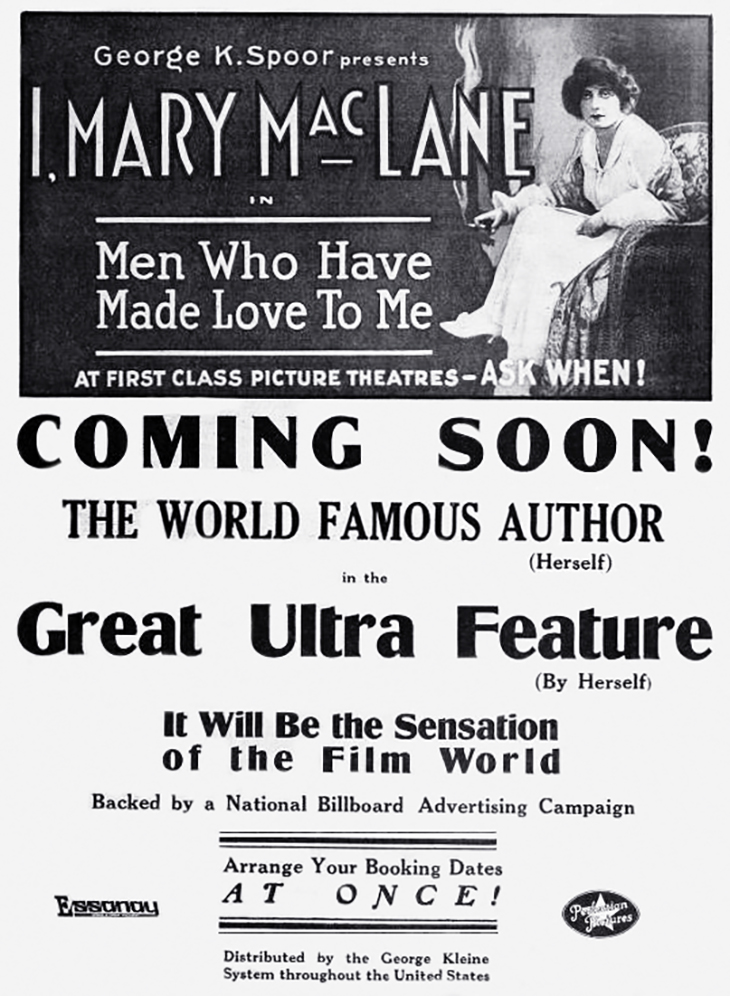 (Mary MacLane 1919 Men Whom Have Made Love To Me Ad: Moving Picture World)
At the time, "made love" was more likely to refer to flirtation than to sex. 
Based on writer Mary MacLane's 1910 article, Men Who Have Made Love to Me, the author/star recounted six different failed relationships with men, and spoke directly to the reader / audience. This technique was ground-breaking stuff for both literature and films at the time, and hopefully was appreciated by the movie fans that weren't put off by her forbidding look in this ad.
Born on May 1, 1881 in Winnipeg, Manitoba, Canadian-American author Mary MacLane published her first, best-selling autobiography The Story of Mary MacLane (1902) when she was only nineteen. Written in diary format with a stream-of-consciousness / contemplative inner thoughts style, Edwardian-era readers found her memoir (and subsequent works) unconventional, even shocking.
MacLane wrote scathingly of growing up in Butte, Montana, the people that lived there, the institution of marriage, and her family. Her father died when she was eight, and from her 19-year-old teenager perspective, was – surprise! – profoundly lacking:
"Certainly he did not love me, for he was quite incapable of loving any one but himself….He is nothing to me. There are with me still a mother, a sister, and two brothers. They are also nothing to me…"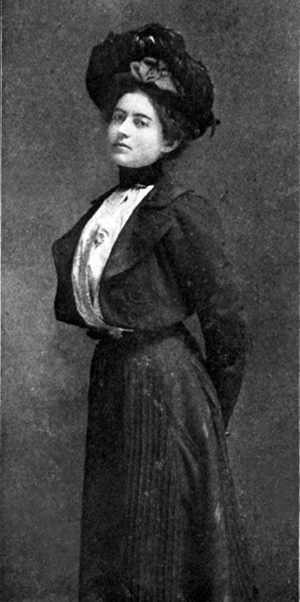 (Mary MacLane 1902 Frontispiece The Story of Mary MacLane)
MacLane was superbly self-involved – in love with herself and her body – and as much aware of her flaws as any narcissist can be:
"My admirable young woman's-body, which I enjoy thoroughly and of which I am passionately fond…You may gaze at and admire the picture in the front of this book. It is the picture of a genius – a genius with a good strong young woman's body". – The Story of Mary MacLane
I can only think of one other person in my lifetime (so far), who has ever professed their self-admiration as passionately and frequently as Mary MacLane. 
Her interests included Napoleon, the Devil (she wrote of wanting to marry the Devil; the title of her first book was initially I Await The Devil's Coming, until the publisher changed it), an unrequited love for a female high school teacher, and an admiration for women's bodies in general. 
MacLane took the proceeds from her best-selling autobiography and high-tailed it out of Butte. She presumably never looked back, since she was explicit in her dislike of the place and people. She spent some time in the Bohemian and literary atmosphere of Greenwich Village around 1909-1910. 
It was only natural that a woman so self-absorbed and bent on becoming famous, would seize the opportunity to become an actress and portray herself in the movie based on her article, Men Who Have Made Love to Me (1910). 
Mary Maclane lived with her friend Caroline M. Branson for a while, and never married. She died at the age of 48 in Chicago in 1929. Some critics have extolled her and her works as feminist, while others have mocked…
Margarita Fischer Rides Her Pet Ostrich
Silent movie star Margarita Fischer rode (and drove) a pet ostrich in 1917.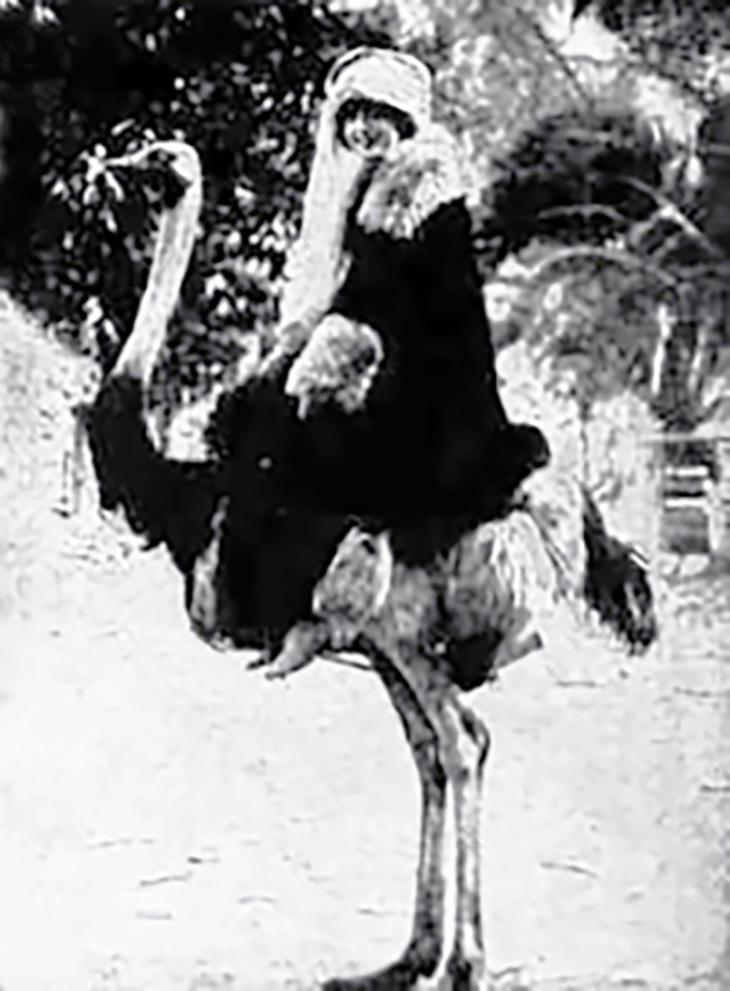 (Margarita Fischer 1917 Photo: Motion Picture Classic)
This one is true! Olive Thomas and other Hollywood starlets were also pictured with ostriches in movie fan magazines of the time. The trend with actresses riding ostriches may be attributable to Balboa Amusement Producing Company's silent film comedienne Jackie Saunders, who took over an ostrich farm that she held the mortgage on in 1917.
"It contains four hundred perfectly good ostriches." – Motion Picture Magazine (1917)
Actress Mae Murray also had a pet ostrich, of which Photoplay (1917) said,
"[It] follows her all day long. So fond has she become of the bird that she is teaching it to sing like a canary with success."
Ostrich feathers and plumes from other birds had been in high demand as adornment for women's fashionable hats and fans since the 1870s Victorian era. 
Cawston Ostrich Farm in South Pasadena, California was the first ostrich farm to locate near Los Angeles (just 3 miles north; Hollywood didn't even exist at the time). The farm opened to the public in 1886 with eighteen imported ostriches that had survived the 1885 journey from South Africa, a number that quickly grew. 
By 1917, the trend wfor ostrich feathers in hats was fading, and some other use had to be found for these birds (and others) with magnificent plumage. 
From the late 1880s until 1935 when Cawston Ostrich Farm closed down, tourists and other farm visitors to the area could ride on the ostriches, go for an ostrich carriage ride, or buy ostrich feathered hats.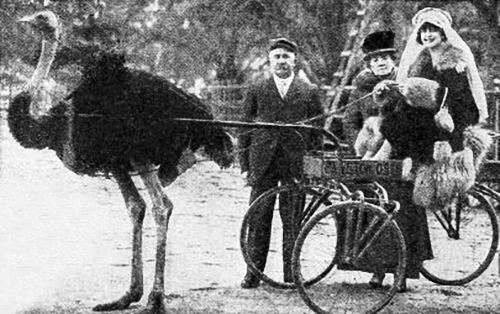 (Margarita Fischer 1917 Ostrich Carriage Ridge Photo: Picture-Play)
Adjacent to the ostrich farm were a pigeon farm, and an alligator farm, making it a trifecta attraction of oddities for tourists.
When David Horsley Company's 1916 silent movie Ostrich Plumes (aka The Ostrich Tip) starring William Clifford and Margaret Gibson was filmed at the Cawston Ostrich farm, Motion Picture News reported there were more than 500 ostriches on the farm at that time. 
Ostriches weren't the only pet birds favored by film industry icons…check out Silent Films Stars: Birds of a Feather. 
Dorothy Gish Painting Sells For Millions
Silent movie star and artist Dorothy Gish (Lillian's sister) sold one of her original works of art for millions of dollars.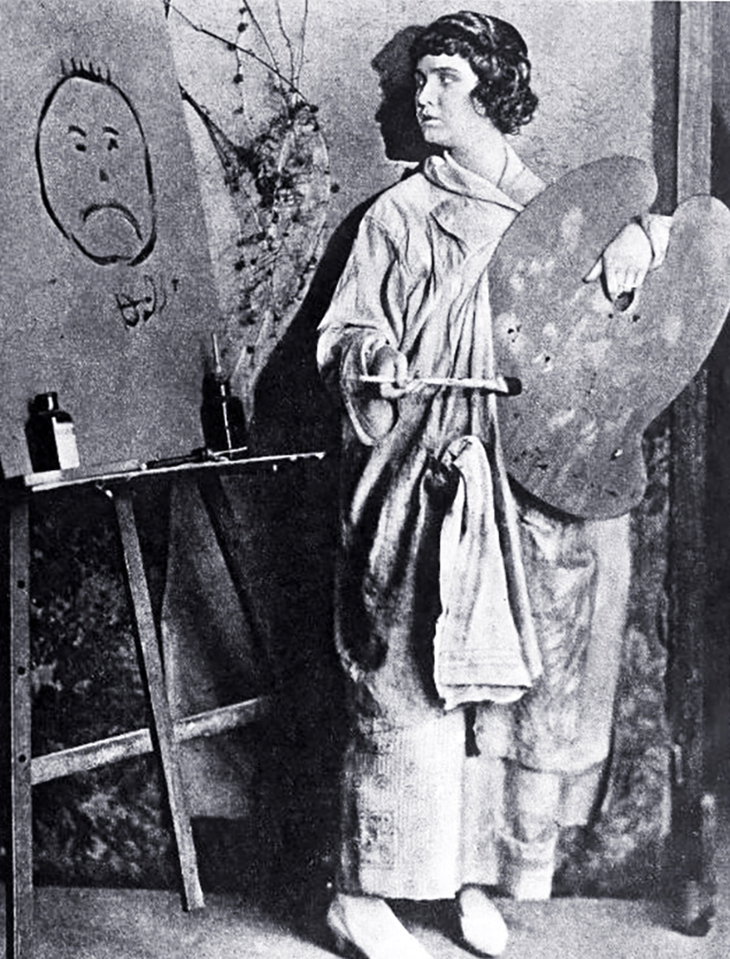 (Dorothy Gish Painting 1920 Photo: Hartsook / Picture-Play)
April Fool! Dorothy Gish looks well aware of her skill at painting; I have no idea whether she ever sold this great work of art or not.
Luckily she stuck with her day job, acting in movies. Dorothy Gish appeared in over 100 movies between 1912-1946, and could be seen in the occasional TV guest-starring role during the 1950s and 60s. 
The Tomb of the Unknown Cartoonist
Before photography and the ability to reproduce photographs in print became easier and more economical, virtually every newspaper and magazine contained hand-drawn illustrations, caricatures, and cartoons. Talented artists illustrated stories, magazine covers, and punctuated jokes.
Some cartoonists became famous in their field – Buford Tune; Bob Wilson, Ham Fisher; Enrique Riveron, Adolphe Barreaux; Fred Neher, Gus Meins; Julio de Diego, John Held Jr., Walt Munson, etc. – and even started cartoon strips. Usually their signature was prominent and instantly recognizable.
Unfortunately, many other cartoonists never achieved fame, and because their works were often unsigned or illegible, the artist has faded into the mists of time. But, their delightful work lives on, and we celebrate a few of these unknown artists and their works, below.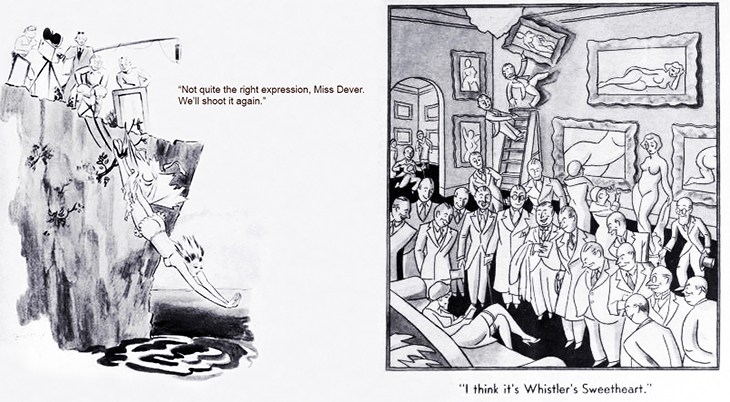 (Cartoon Illustrations by Unknown: 1934 Broadway and Hollywood)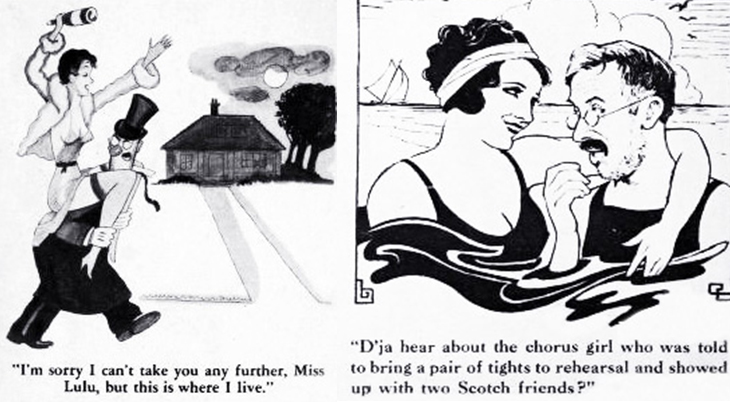 (Baloonacy Cartoon Illustrations by Unknown: 1934 Broadway and Hollywood)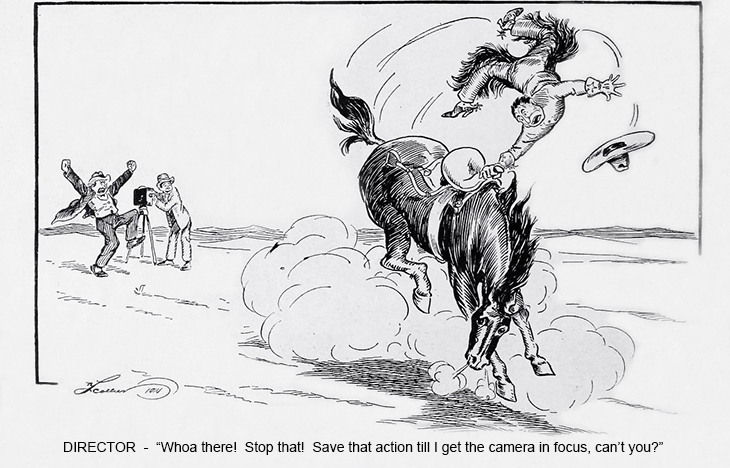 (Cartoon Illustrations by Unknown: 1915 Motion Picture Magazine)
The Trojan Horse
Perhaps the biggest April Fool's joke of all time! Greek poet Homer's epic Odyssey (c. 8th century BC) is the first known mention of Greek soldiers hidden in a wooden horse as a ploy to enter the city of Troy and win the Trojan War, a tale from Greek mythology.
Roman poet Virgil's epic Aeneid (29-19 BC) has Odysseus and a group of soldiers (30-40) hiding inside a huge wooden horse on wheels, while the rest of the Greek army pretended to sail away; as the victors, Trojans pulled the horse into their city. Under cover of darkness, Odysseus and the solders left the horse and opened the city gates for the Greek army to enter. The city of Troy was destroyed and the Greeks won the war.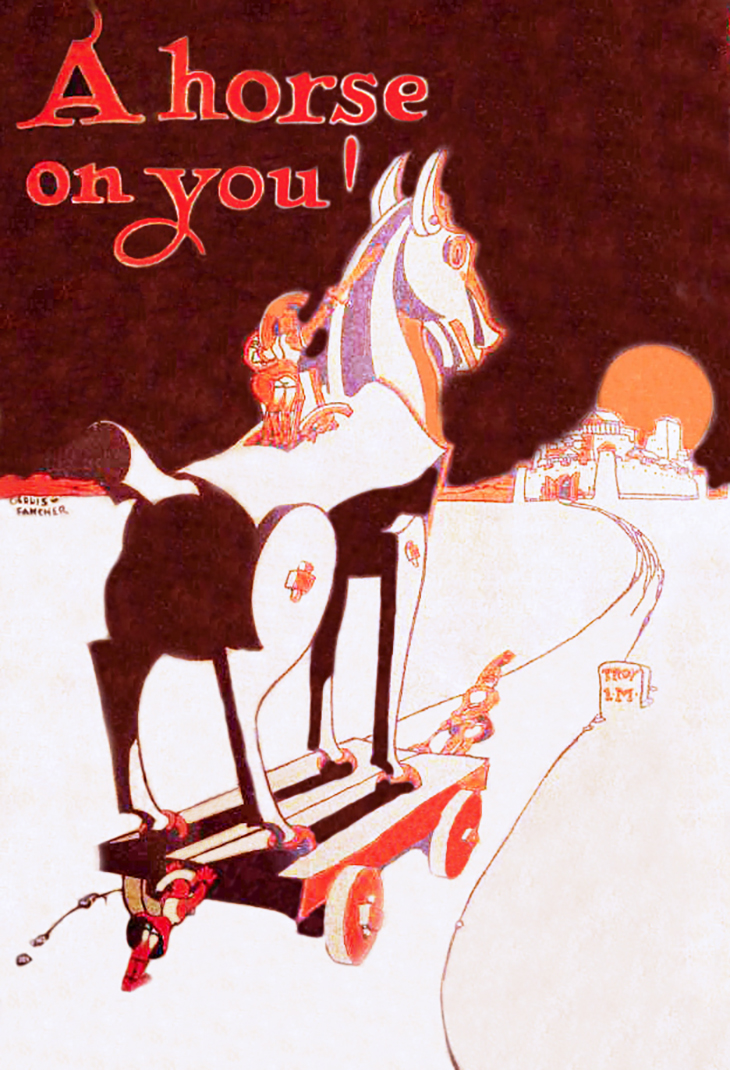 (Trojan Horse Color Illustration 1920: Louis Fancher / The Moving Picture World)
Myths typically evolved over decades and centuries of oral story-telling, and may have fact-based elements. The ancient of city of Troy was located at what is today called Hisarlik in Turkey. The city of Troy was built, destroyed, and rebuilt again many time over thousands of years, beginning in 3600 B.C.
Ancient military machinery or "siege engines" (i.e. catapults) made of wood were often covered with dampened animal hides (in some cases, horse hides) as protection from flaming arrows. Some historians have speculated that a ship (referred to as sea-horse in the Odyssey) decorated with a horse, was left in the harbor with Greek soldiers hiding in the hull.
Whatever the origin, the Trojan Horse story has survived thousands of years and is now cemented in modern pop culture, used to describe any falsehood, strategy, trick, or ploy, that appears harmless and lulls the recipient into letting down their guard; once accepted "in", the instigator of the deception is able to launch their attack / subvert from inside. The term is used in chess, malicious computer viruses, etc.
Happy April Fool's Day!
Note: This article was first published in 2021. New content has been added.
*Images are believed to be in the public domain or Creative Commons licensed & sourced via Wikimedia Commons, Vimeo, YouTube, or Flickr, unless otherwise noted*