Heroic Pigeon Patrols of WWI & WWII
The Pigeon's Flying Corps of WWI also employed dogs and balloons to aid in their wartime message delivery services. This grocery wagon was converted to house a squadron of up to 72 homing pigeons during WWI.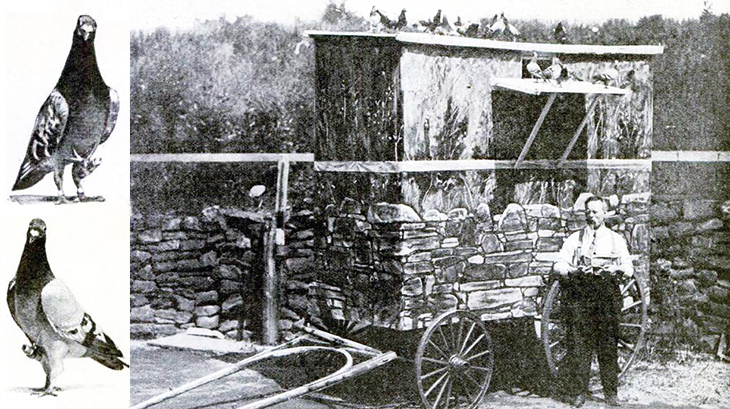 (WWI Pigeon's Flying Corps 1919 Photo: Edwin Levick / Popular Science Monthly)
The pigeon coop was painted to blend in with the landscape so that it was almost invisible – in effect, allowing the pigeons to fly under the radar of the enemy.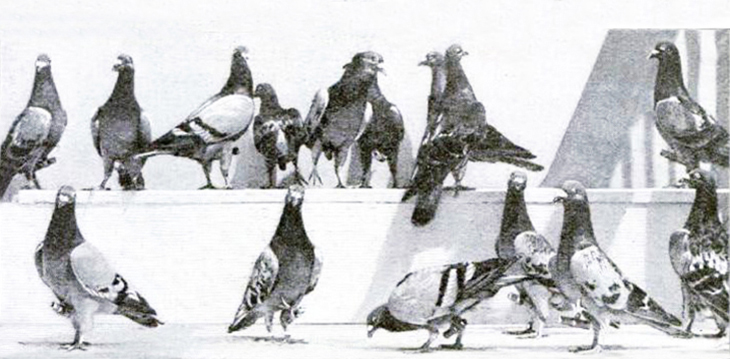 (WWI Pigeon's Flying Corps 1919 Photo: Edwin Levick / Popular Science Monthly)
Each carrier pigeon has a pencil and a message written on paper in a tiny pouch attached to their body. The pigeons are transported to their take-off destination (usually they only fly one way – back to their home). 
In some cases the pigeons were (and can still be) delivered to their take-off point by balloons inflated to travel a short distance before dropping to earth; or dropped from a plane by parachutes; or even carried by dogs.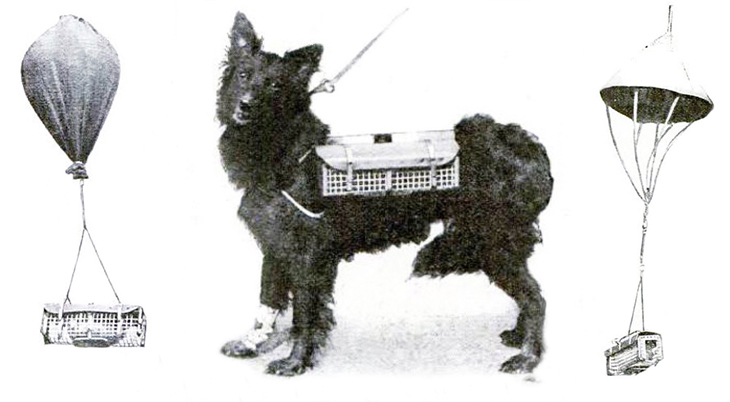 (WWI Pigeon's Flying Corps Delivery Methods 1919 Photos: Edwin Levick / Popular Science Monthly)
Once they – and their initial message, if any – have arrived and been retrieved at their take-off point, a new message can be attached to the homing pigeon and they fly it back to their base.
Use of homing pigeons to carry messages during peace and war, goes back over 5000 years ago, to at least 3000 B.C. in ancient Egypt.
By the middle ages, this practice had evolved into an aerial postal service in some smaller European and Asian countries. In more recent centuries, Reuters press founder Paul Julius Reuter used a fleet of carrier pigeons to deliver news between Brussels and Aachen in 1850 (eventually replaced by the telegraph).
The movie A Dispatch From Reuters (1940) stars Edward G. Robinson as Julius Reuter, and tells a slightly fictionalized origin story of his carrier pigeon dispatch service. Dickie Moore of Our Gang / Little Rascals fame plays Reuter as a child. Actors Edna Best, Eddie Albert, Albert Bassermann, Gene Lockhart, Otto Kruger, Nigel Bruce, and Montague Love have supporting roles. 
New Zealand established the Great Barrier Pigeon-Gram Service between Auckland and Great Barrier Island in 1897, issuing the first airmail stamps for it in 1898. India's Police Pigeon Service was only recently retired, in 2002. 
Tiny "pigeon post" messengers and aerial reconnaissance pigeons are capable of flying to their home destination from up to 1,100 miles away. Worldwide, the sport of pigeon racing today is still a thing, with top-rank pigeons selling for as much as €200,000. The Canadian Racing Pigeon Union supports members and clubs across Canada.
Pigeon Camera Photography
German pharmacist Julius Neubronner is credited with designing the first mobile dovecote. He used homing pigeons to deliver medications to patients, and he pioneered the pigeon-cam, literally harnessing the idea of camera-carrying pigeons in 1907.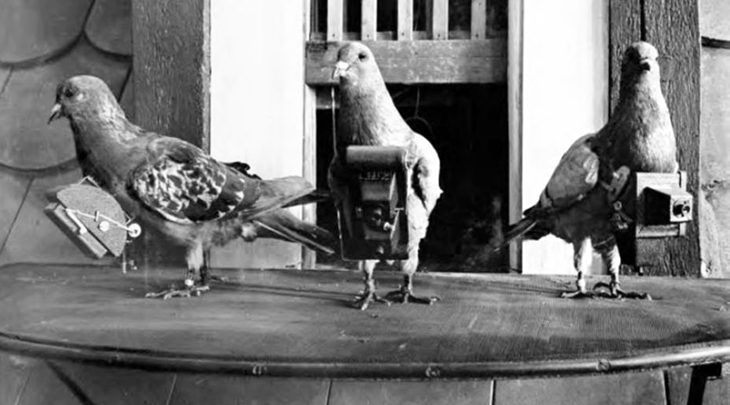 (Julius Neubronner's Camera-Carrying Pigeons c. 1907-1909)
The birds carried lightweight time-delayed miniature cameras. Below, aerial photographs from Julius Neubronner's camera-carrying pigeons.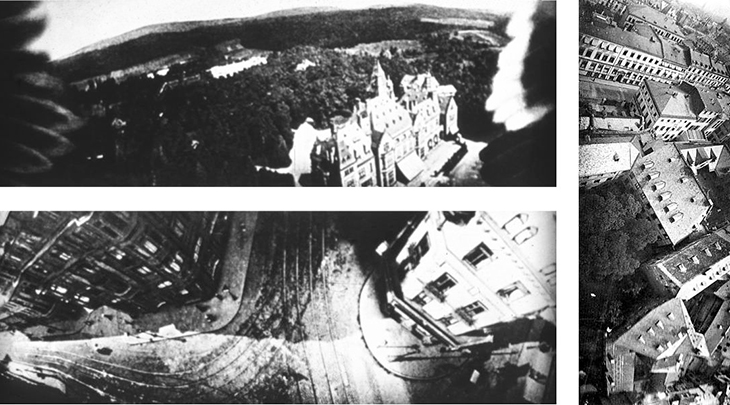 The U.S. Spy Museum has replicas of the pigeon cameras used in World War I (1917-1918) on display.
The CIA's Office of Research and Development later created a battery-operated pigeon camera to collect detailed images; the exact timing and purpose they were used for (where/when) is still classified.
The British-based film company Atlantic Productions produced a 2005 TV documentary War of the Birds, about the Secret Service MI-14 division of homing pigeons.
Notable Wartime Pigeon Heroes of WWI and WWII
The next time you're tempted to think of the humble pigeon as a nuisance bird, remember that pigeons from around the world were recognized for their flights of heroism in World War I and World War II.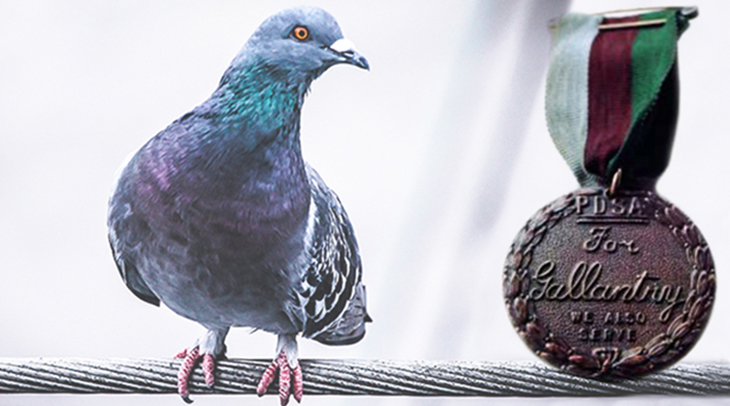 (Source Pigeon Photo: Rafael Rodrigues Machado via Unsplash | With Dickin Medal: A. Hamilton)
This Veterans Day / Remembrance Day, include these winged war-time heroes below – all decorated veterans of exceptional valor – in your thoughts.
WWI Pigeon Heroes
French Croix de guerre recipients and homing pigeons include 
Cher Ami, shot in the breast and leg, he/she still delivered a final message and is credited with helping to save the lives of almost 200 soldiers during the Battle of Verdun.
The Mocker successfully completed 52 missions, despite losing his left eye and part of his cranium on his last flight. The Mocker also received the Distinguished Service Cross.
WWII Allied Forces Pigeon Heroes
The United Kingdom's Air Ministry Pigeon Section (almost 250,000 pigeons) awarded 32 pigeons from the U.K. and allied countries, with the Dickin Medal (comparable to the Victoria Cross) for valor during World War II.
G.I. Joe, a United States Army Pigeon Service bird, who flew 20 miles in 20 minutes to deliver a message that saved the lives of almost 100 soldiers from being bombed by their own planes.
Paddy, a pigeon in Ireland who achieved the best recorded time (230 miles across the English Channel in just over 4 hours) with the news D-Day in Normandy, in September 1944.
Beach Comber, a Canadian Army pigeon who carried the news of the landing at Dieppe under hazardous conditions, in September 1942. 
Navy Blue, an injured RAF pigeon who still managed to deliver an important message from a raiding party on the West Coast of France, in June 1944.
Dutch Coast, who delivered an SOS from a downed air crew 288 miles away, and under unfavourable conditions, in April 1942.
Scotch Lass, who despite being injured, brought 38 microphotographs across the North Sea from Holland, in September 1944.
Princess, who flew valuable information from Crete to Alexandria – approximately 500 miles mostly over sea  – on a special mission in Greece.
Mercury, who flew 480 miles from Northern Denmark on a taks for the Special Section Army Pigeon Service, in July 1942.
DD.43.Q.879, an Australian Army Signal Corps pigeon who flew under heavy fire by Japanese troops bombing a U.S. marine patrol on Manus Island, to warn HQ; as a result, the patrol was extricated. 
The animated movie Valiant (2005) about a group of pigeons during WWII, was inspired by a story these and other, heroic real-life service birds (and a story by George Webster). Ewan McGregor, Ricky Gervais, John Cleese, John Hurt, Jim Broadbent, Hugh Laurie, and Tim Curry are among the voice over actors in the cast of Valiant.
From the use of flying pigeons, to Zeppelins and other dirigibles, biplane bombers, WWI "flying boats" and even Howard Hughes' mammoth Spruce Goose – innovation in flight and communications during World War I and WWII was an important priority for military forces on all sides.  For more about WWI & WWII heroes, check out these articles:
WWI & WWII Commemorative Stamps
Most Decorated Canadian: – William George Barker
If you like birds and birdwatching, you may enjoy these articles:
Fun Low Impact Hobbies and Sports
Attract Hummingbirds in Summer: Top 5 Plants
3 Ways to Attract Birds to Gardens & Yards
*Images are believed to be in the public domain or Creative Commons licensed & sourced via Wikimedia Commons, unless otherwise noted*