Most Decorated Canadian: William George Barker
More than 100 years after the end of WWI, flying ace William George Barker (aka "Will" or "Billy" Barker) is still not only the most decorated Canadian hero, he's the most decorated serviceman in the history of the British Empire and the Commonwealth of Nations (the last two a tie for 1st with British Officer Major James McCudden). Barker's record of downing 50+ enemy aircraft was recognized during and after WWI.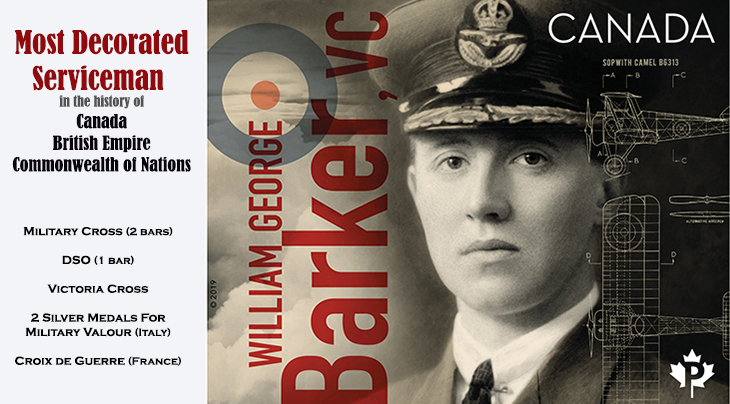 (William George Barker, VC Stamp: CanadaPost)
William George Barker Medals & Awards
It seems only fitting this Remembrance Day (Veteran's Day in the U.S.) to remember this largely forgotten hero of World War One.
William George Barker's Canadian Military Service Record reflects the following British  / Commonwealth awards:
Military Cross (MC) awarded October 1, 1917; First Bar on July 18, 1917, Second Bar on September 16, 1918.
Distinguished Service Order (DSO) awarded February 18, 1918; Bar to DSO November 2, 1918
Victory Cross awarded November 29, 1918
3 Mention-in-Despatches
He also received
France's Croix de Guerre awarded September 21, 1918
Italian Silver Medal – 1st awarded September 12, 1918; 2nd after October 1918
A Manitoba Farm Boy Enlists
William George Barker was born on November 3rd, 1894 in a log house on the family farm near Dauphin, Manitoba . By all accounts he had keen eyesight and became an expert hunter and marksman, especially on horseback. 
"William George Barker is the eldest of nine children, of whom seven are boys. His two brothers next to him are working the farm now, his father having sustained a broken elbow a year ago, which has not mended properly, and leaves him partially crippled. His sister, next to him in the family, drove a tractor in the harvest fields last fall. The Barker family are now living on a farm near Warren, Man. " –The Winnipeg Evening Tribune, March 8, 1919
"Most Decorations of All – Honorable Mention – ….Being the son of a farmer, Barker lived on his father's farm up to the beginning of the war. He seemed to be a born mechanic and was never happier than when trying to put pieces of machinery together after taking them apart. When War was declared Barker was completing his last year at High school, when he had made up his mind to enlist…" The Winnipeg Evening Tribune, May 10, 1919
A local aviation exhibition inspired him with the desire to become a pilot (Billy had no desire to be a farmer). He was in the Active Militia beginning in 1913 and served two years with the 32nd Light-Horse unit. His schooling was often interrupted due to farming requirements, and ended at Grade 11 of Dauphin Collegiate in 1914 (age 19).
World War One Hero
Barker was living in Winnipeg when World War I began. On December 1, 1914, 20-year-old William George Barker enlisted with the 1st Canadian Mounted Rifles as a private, and volunteered to serve in the Canadian Over-Seas Expeditionary Force. After training, he was shipped to England June 12, 1915. Barker's early combat experiences at the beginning of World War One were as a machine-gunner in France, where he was posted on September 22, 1915.
Barker's Canadian Military Service Record reflects he was commissioned in the Royal Flying Corps (RFC) on April 2, 1916 as a 2nd Lieutenant Observer. In the fall of 1916, flying low at 500 ft, 2nd Lieutenant Observer Barker spotted 4,000 German troops massing for a counter-attack in the Battle of the Somme, and called for an attack that broke them up. 
"Deed of Action – For conspicuous gallantry in action. He flew at a height of 500 feet over the enemy's lines, and brought back most valuable information. On another occasion, after driving off two hostile machines, he carried out an excellent photographic reconnaissance." – Awarded the Military Cross
He began pilot's training in England in November 1916. In early January 1917 he rejoined No. 15 Squadron in France as a pilot. William G. Barker was soon elevated to the rank of Captain.
"Deed of Action – For conspicuous gallantry and devotion to duty. He has done continuous good work in co-operation with the artillery, and has carried out successful reconnaisances under most difficult and dangerous conditions." – Awarded Bar to the Military Cross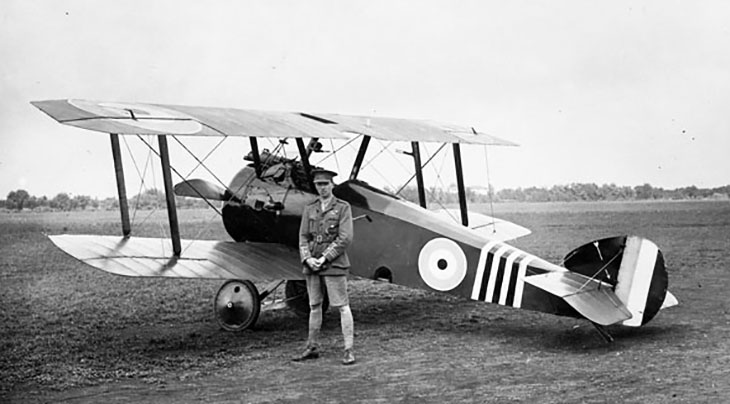 (William George Barker & Sopwith Camel c. 1918: Library and Archives Canada 3238907)
For much of his time as a pilot during WWI, Barker flew a Sopwith Camel, as pictured above.
Posted to Italy, he commanded the 28th Squadron and earned the DSO, a second bar to the Military Cross, and the Croix de Guerre.  
"Deed of Action – For conspicuous gallantry and devotion to duty. When leading patrols, he, on one occasion attacked eight hostile machines, himself shooting down two, and on another occasion seven, one of which he shot down. In two months he himself destroyed four enemy machines and drove down one, and burned two balloons." – Awarded Second Bar Bar to the Military Cross
"Deed of Action – For conspicuous gallantry and devotion to duty. When on scouting and patrol work he has on five different occasions brought down and destroyed five enemy aeroplanes and two balloons, though on two of these occasions he was attacked by superior numbers. On each occasion the hostile machines were observed to crash to earth, the wreckage bursting into flames. His splendid example of fearlessness and magnificent leadership have been of inestimable value to his squadron." – Awarded the Distinguished Service Order (DSO)
Barker and Captain William Wedgwood Benn dropped an Italian army agent behind enemy lines by parachute in August 1918, earning Italy's Silver Medal for Military Valor.
"Deed of Action – A highly distinguished patrol leader whose courage, resource, and determination has set a fine example to those around him. Up to the 20th July, 1918, he had destroyed…[record details are incomplete]" – Awarded Bar to the Distinguished Service Order (DSO)
Victoria Cross Dogfight
World War One was coming to a close. Barker left Italy in September 1918 for England, but immediately returned to France on a reconnaissance mission so that he'd be better able to command a Fighting school at Hounslow on his return. He was attached to 201 Squadron in France for 10 days and saw no action.
He was returning to England, flying a Sopwith Snipe E8102solo over when he engaged in a protracted dogfight with successive formations of enemy German Fokker D.VIIs. Although severely injured (multiple times), he  succeeded in shooting down four before crash-landing inside Allied lines in France 
"Deed of Action – On the morning of the 27th October, 1918, this Officer observed an enemy two-seater over Forêt de Mormal. He attacked this machine, and after a short burst, it broke up in the air. At the same time a Fokker biplane attacked him, and he was wounded in the right thigh, but managed, despite this, to shoot down the enemy aeroplane in flames.He then found himself in the middle of a large formation of Fokkers, who attacked him from all directions; and was again severely wounded in the left thigh; but succeeded in driving down two of the enemy in a spin. He lost consciousness after this, and his machine fell out of control. On recovery he found himself being again attacked heavily by a large formation, and singling out one machine, he deliberately charged and drove it down in flames. During this flight his left elbow was shattered, and he again fainted, and on regaining consciousness he found himself still being attacked, but, notwithstanding that he was now severely wounded in both legs and his left arm shattered, he dived on the nearest machine and shot it down in flames. Being greatly exhausted, he dived out of the fight to regain our lines, but was met by another formation, which attacked and endeavoured to cut him off, but after a hard fight he succeeded in breaking up this formation and reached our lines, where he crashed on landing. This combat, in which Major Barker destroyed four enemy machines (three of them in flames), brought his total successes up to fifty enemy machines destroyed, and is a notable example of the exceptional bravery and disregard of danger which this very gallant Officer has always displayed throughout his distinguished career." 
Barker's exploits and the Victoria Cross award made headlines across North America and Europe, and Italy later gave him a second Silver Medal.
"King George Bestows Crosses on Americans – London, March 1, 1918 – "King George held an investiture today at Buckingham Palace and conferred eight Victoria crosses and many other military honors….The hero of the occasion was Maj. William George Barker of the royal air force, who received not only the Victoria cross, but the distinguished service order, with bar, and the military cross with two bars. Maj. Barker brought down fifty German machines. His last exploit was over the Mormal forest, on October 27, 1918, when, surrounded by fokkers, he downed four, although wounded. he lost consciousness twice during the fight." – The Sunday Star, March 2, 1919
What wasn't spelled out in his commendations but showed clearly in his actions, was that Barker was rebellious and a risk taker.
After World War One
Post WWI, Barker had an extended hospitalization (first in France, and then in England) to recover from his injuries. A letter in his service record dated January 6, 1918 from a Captain Johnston who visited him in a Rouen field hospital, reflects the following observations:
"Major Barker was making excellent progress…It is expected that he may be transferred to England by about the middle of the month. Major Barker's wounds are, one in the left arm, the elbow joint having been shot away, leaving only a muscular connection; one through the upper part of the muscle on the inside of the right leg, and one through the left hip, passing down through the muscles of the left leg, the bone of the hip being slightly fractured where hit. The arm would is healing very satisfactorily and Major Barker will have a certain amount of use of the arm." The letter ends "His chief regret is that he will be unable to play Hockey, Baseball or Water Polo again, on account of his left arm."
It was as Major W.G. Barker that he resigned from the Royal Air Force on April 29, 1919 in order to take up a commission in the Canadian Forces as Lieutenant Colonel, Manitoba Regiment. In May of 1919, he was shipped home to Canada.
(William "Billy" Bishop & William "Billy" Barker With A Fokker C. VII  Biplane: Library and Archives Canada 3364746)
While in hospital in England, Barker had also been visited by fellow Canadian hero and flying ace "Billy" Bishop. By the end of 1919 Barker left the military and co-founded Bishop-Barker Aeroplane Limited in Toronto in November 1919 with Billy Bishop.

(Bishop-Barker Aeroplane Limited Letterhead, February 4, 1920: Canadian Service Record)
Whether it was because of their reputation for derring-do, or the fact they were flying war-surplus airplanes, passengers did not flock to use their new air charter service and it closed in 1922.
William G. Barker once again joined the Canadian Armed Forces, this time as a married Wing Commander (he'd married Jean Kilbourn Smith in June of 1921). Barker served as the commanding officer of Camp Borden, and later was Acting Director of the new Royal Canadian Air Force (RCAF) in 1924. A stint based in England as the RCAF Liaison Officer began in 1924 and ended in June 1926 when he resigned his commission.
Thanks to former RAF pilot Conn Smythe, Barker was appointed as the first president of the new Toronto Maple Leafs hockey team in 1927. Although Smythe respected Barker's abilities as a pilot, he had no sympathy for Barker's descent into alcohol abuse. A similarly unhappy position for Barker was that of GM of his father-in-law Horace Bruce Smith's tobacco growing company. 
Fairchild Aviation Company of Canada hired Barker as their Vice-President and General Manager in January 1930. While piloting the new Fairchild KR-21 biplane trainer in an exhibition on March 12, 1930, Barker lost control at the apex of a steep climb and the plane crashed into ice on the Ottawa river, killing him instantly at the age of 35.
William George Barker was survived by his widow and daughter. HockeyGods revealed that as of a 2011 ceremony for  memorial status at Mount Pleasant Cemetery in Toronto, Barker had 3 grandsons. 
Additional Resources:
Victoria Cross Citation for William George Barker / London Gazette Nov. 30, 1918
Barker VC: William Barker, Canada's Most Decorated War Hero (2007) by Wayne Ralph
The Hero's Hero: The Forgotten Life of William Barker (2003) Documentary written and directed by Michael MacDonald
Canada's Aviation Hall of Fame
You may also enjoy these related articles:
WWI and WWII Commemorative Stamps.
Remembrance and Veteran's Day  In Flanders Fields
Heroic Pigeon Patrols of WWI & WWII