Ease into the Great Outdoors in Autumn
There is no shortage of information about how beneficial time spent in the great outdoors can be. From a health perspective, enjoying nature and breathing fresh air can improve everything from respiratory wellness to sleep quality. Not to mention that it's a pleasant way to pass the time.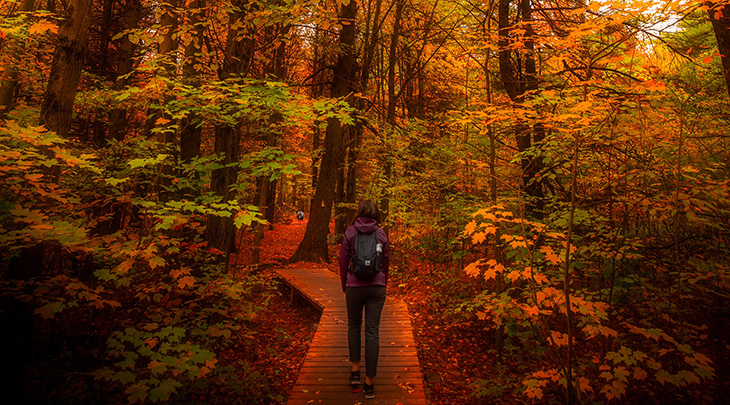 (Man Walking Among Colorful Leaves in Autumn Photo: Venrick Azcueta via Unsplash)
Yet, many people find it difficult to find regular time to get outside. Sometimes it's your daily routine that has gradually trapped you indoors without you even realizing it. Or, you may feel you have practical or emotional hurdles that you can't simply ignore, or maybe you just don't like it. These feelings are valid – but there are ways around this.
If you're not into spending time outdoors, but know you'd reap health and other benefits by expanding your horizons this autumn, these gateway activities to enjoying nature could break down the barriers keeping you inside. 
Camping and Hiking
Camping and hiking are among the most direct and accessible gateways to embracing the great outdoors in autumn. They provide opportunities for you to spend quality time surrounded by nature, changing leaves, crisp fall air, and can be practical and restorative break from the contemporary world. You don't need a lot of fancy equipment, to begin with. However, you may find that your ambition and sense of adventure grow as you gain more experience.
It can be wise to start relatively small here. Being over-ambitious with your first hike may result in a physical strain that impacts your enjoyment of the experience. A long wilderness camping trip can also be overwhelming for the under-experienced, so find short local hiking trails or campsites close to your home.
Even if you live in an urban area, search for green spaces online or inner-city parks. Use the layers functions in google maps (bottom left corner image / options) to explore geographic topography, biking, and satellite views, and expose green spaces you may not have otherwise discovered. Spend the night under the stars at your local National Park or lake. Get used to the feeling of being disconnected from the modern world and start to identify the elements you enjoy the most. From here you can venture further afield and try new and more ambitious activities.
You may find that it's not the prospect of longer treks or remote camping that makes you a little hesitant to engage with nature. Rather, the idea, or being surrounded by insects can be off-putting for many. The good news is there are practical methods to deal with bugs so you can enjoy outdoor activities. There are DEET-based and more environmentally friendly insect repellents, which disguise your natural scent that bugs find attractive. Investing in a tent made from strong canvas materials can make it more difficult for pests to enter your sleeping space. 
More good news is, that as the temperature cools down in late summer and early autumn, so does the activity of most winged insects, unlike spring and early summer. However, the cooler weather has the opposite effect on wasps and yellow jackets. Avoid setting up camp near a lot of flowers, and don't leave high sugar content drink containers open outdoors.
You could be living with a mobility disability that makes it tough to hike or camp. The outdoors can be accessible for those with a disability, it just takes some extra preparation. Do a search for accessible outdoor areas online and consider using a ramp to help you in and out of transportation. Also, look for adaptive equipment online, and be aware of emergency services where you're headed.
Tech-Enhanced Exploration
If you're more technologically inclined, you  may identify with the idea of being an "indoor person", suggesting that the outdoors is not your domain. You may be averse to working up a sweat, and / or prefer the comfort of your climate-controlled indoor environment during a hot summer or freezing cold winter.
The reality couldn't be further from the truth. Indeed, as tech has developed over the last several years, there are tools that can make outdoor experiences more interesting and enriching. Therefore, you can focus on tech-enhanced outdoor exploration as your gateway to a more fulfilling outdoor life. National Wildlife Federation Nature Guides apps can aid you in identifying plants, insects, and animals that you may come across during your outdoor experiences.
Autumn also offers more comfortable daytime and cooler (but not freezing) nighttime temperatures. A perfect time to enjoy being outdoors without breaking into a sweat just from stepping outside, and makes for a deeper, more restful sleep at night.
No matter what your particular gadget area of interest is, you'll tend to find there are tech-related outdoor activities that lean into your hobbies. If you enjoy flying drones, you can capture spectacular aerial video footage of natural landscapes, or explore difficult to reach features. If you're into smartphone applications, there are a growing number of geocaching apps that guide you to discover hidden items in natural spaces. There are also many citizen science projects use Internet of Things (IoT) devices in nature to make observations or gather data.
Remember, though, that your early forays into tech surrounded by nature don't have to be solo expeditions. If you have friends who are tech enthusiasts, too, there are plenty of outdoor activities you can enjoy together. Augmented reality (AR) applications via smart devices are becoming more accessible. Low-impact hobbies and games such as Pokemon Go enable you and your friends to head outdoors and compete in activities that emphasize discovery. These can be a gateway to analog adventures that help you uncover gems of the natural world. 
Creative Pursuits
One of the concerns some people have is the idea that spending time outdoors may simply be a little dull. Yet, nature has long been a source of inspiration for creative people. Let's face it, confronting the vastness of the ocean or experiencing the tranquility of woodland can be awe-inspiring – even more so against the dark fall skies and myriad colors of autumn leaves. Not to mention that creative hobbies can support your wellness as you age. Therefore, it's worth considering how your creative interests can offer potential gateways to fully embracing the natural world. 
Perhaps one of the most traditional approaches to take is heading out to paint landscapes. There are plenty of travel easels and paint boxes on the market that help to make this a practical prospect. Though, this isn't to say you need to focused on the bucolic here. Your paintings could be abstract and fun, driven by the feelings you experience in the wild. If you're more literary minded, you cold take a notebook or voice recorder with you and record your thoughts, feelings, and ideas. This could lead to poetry, lyrics, even longer novel concepts.
Conclusion
As we age, it can be easy to allow sources of hesitancy to prevent us from engaging in new experiences, such as embracing the outdoors. It's worth easing into these outside activities that can help you overcome obstacles keeping you inside. Taking short camping trips – while stocked up on bug repellant – can bring you closer to nature. Pairing tech with outdoor activities can combine your passion for gadgetry with the benefits of wild nature. Leveraging the inspiring power of the natural world creatively is also a good way to develop a new habit of spending time outdoors.
Once you've started, see if you can encourage others to join you. This isn't just an altruistic act to ensure your friends and loved ones gain the benefits of the outdoors. Rather, having company in your expeditions can minimize isolation and generally make for a more enjoyable outdoor adventure.