A Beginner's Guide to Selling Crafts on Etsy
It's quite common for older adults to start taking up hobbies, especially once they reach retirement and have more free time on their hands. Hobbies are a great way to keep you mind and even your body active, contributing to your wellness as you age.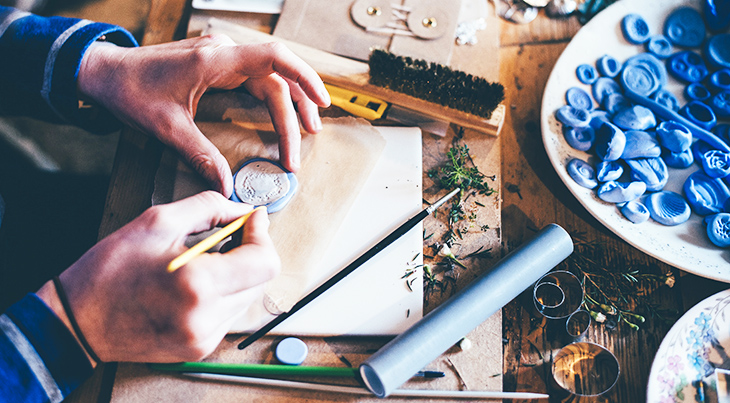 (Crafting Photo: Annie Spratt via Unsplash)
For many, crafts are purely something done for entertainment and pleasure. But with the creation of online craft and hobby sites – like Etsy – people can now turn their hobbies into a side hustle – or even a stable source of income.
Of course, you don't have to make money off of your hobby if you don't want to, but it is a great way to earn a little extra cash. Even if you're still working full-time and have several years left before retirement, turning your crafting hobby into a source of money can help you save up for your kids, for your own needs, or for your retirement fund.
Perhaps you enjoy longarm quilting? Or maybe you crochet cute little stuffed animals? Or throw pottery? Whatever your hobby might be, there are people out there who would love to buy and own your special, one-of-a-kind craft items.
What is Etsy?
Etsy was founded in 2005 with the intent to create a place where creatives could more easily gain online exposure and sell their art. In exchange for hosting your small business shop, Etsy also takes a small percentage of what you earn through each sale. In 2015, it became a public company and is now a global marketplace with over 4 million active sellers, enabling people across the globe to create, sell, and trade unique crafts and art pieces.
For more basic how-to information about Etsy for buyers AND sellers, check out Technology for Seniors: Etsy.
How to Start Selling Items on Etsy
Etsy makes it incredibly easy for those with zero business experience to start their own online shop and make money. This is one of the reasons the site became so popular – it made running a small business very accessible.
Still, for those who are perhaps a little less digitally savvy, we've created this beginner's guide to help you get started on Etsy. While setting up a shop on Etsy is easy, it's helpful to have a a step-by-step guide to clarify what the Etsy site itself might not make obvious.
1. Familiarize Yourself With the Seller Policy
Before you even create an Etsy account, you should read through the site's policy and familiarize yourself with its terms and conditions. It's not uncommon for people to skip over this part, but it's important that you do things right from the start to avoid any issues with your shop.
Etsy also has a page called the "Seller Handbook", which offers plenty of useful tips on how taxes work if you plan to turn your hobby into a business. To find these and other helpful pages, go to Etsy's main page and scroll to the bottom, where you will find the "Sell" and "About" tabs that list links to all their other Informational Pages.
2. Create An Account
Once you are comfortable with the policies and legalities of how everything works on Etsy, it's time to create an account. This is as simple as clicking on the "Sign In" or "Sign Up" button at the top of the main page and then clicking "Register". From there, you will be directed to enter your email address and name, and then create a password.
After you have done this, you should see a little person icon at the top of the page. When you click on it, it will provide a drop-down menu of various things you can click on to complete your account setup and profile. Next to that icon is another that looks like a little store; this is where you will go to set up and manage your shop.
3. Set Up Payments
As part of your account and shop setup process, you will need to set up your payment and billing preferences for when you start selling. This primarily involved connecting your bank account to your Etsy account. After you have done this, you will receive an email to verify your account. Etsy will also deposit a very small amount of money into your account to ensure that everything is functional and working correctly.
4. Customize Your Shop
Next, you will want to customize your shop. You can certainly leave things basic, to make it easy for you to start, but customizing your shop to your tastes and what you are selling helps your Etsy shop stand out and look more professional.
Ways you can customize and design your Etsy shop to help attract more buyers include coming up with a unique shop name, crafting a fun and clever shop description, setting the color theme and fonts, and uploading a profile photo and banner image. Some sellers even design their own logo and tagline for their Etsy shop to really establish their brand.
5. Start Listing and Selling Your Products
After that, all that's left to do is take pictures of your crafting products and upload them to your shop to start selling. The images of your products for sale can also significantly affect how well your shop does.
You can take basic photos to start, but if you have the time and the money, you may want to invest in a nicer camera and even some lighting products so you can get more professional-looking shots of the items you are selling. 
If you aren't sure what to do, simply scroll through other shops on Etsy to see what other sellers are doing with their shop designs and images.
Mistakes to Avoid When Starting a Business on Etsy
As mentioned previously, it's not uncommon for sellers to want to bypass all the tedious info about policies, terms, conditions, and taxes. But if you ignore these things, it can come back to bite you later. 
Understandably, you might be excited to set up your shop and get to the good stuff – making money – but it's important to do a bit of planning first to avoid any mistakes, especially legal ones.
Some of the most common mistakes Etsy sellers make when starting a small business for their hobbies include:
Not planning out their business ideas and goals
Underestimating the costs of running their small hobby business, such as the cost of materials vs how much they charge for their products
Doing zero marketing to promote their Etsy shop and products
Not asking for help when they need it
Failing to keep detailed bookkeeping
Overlooking tax requirements
Wrapping Up
You can easily avoid the mistakes above by thoroughly reading through Etsy's policies, as well as taking advantage of all the helpful pages and information they offer on selling and how to be successful at it. Etsy wants you to do well, and they offer plenty of resources to help you succeed. Just browse through all the links at the bottom of their main page, and you are sure to find most, if not all, of the info you need.
*This article is for general informational purposes only. 50+ World does not endorse any product or service providers, nor does it receive remuneration from them. Obtain expert advice – financial, legal, medical, industry-specific, etc. – from qualified practitioners about your unique situation.*