The Art and Craft of Longarm Quilting
Creative and experienced Ottawa Valley quilter Shelley enjoys practicing the art and craft of longarm quilting on custom projects for herself and others.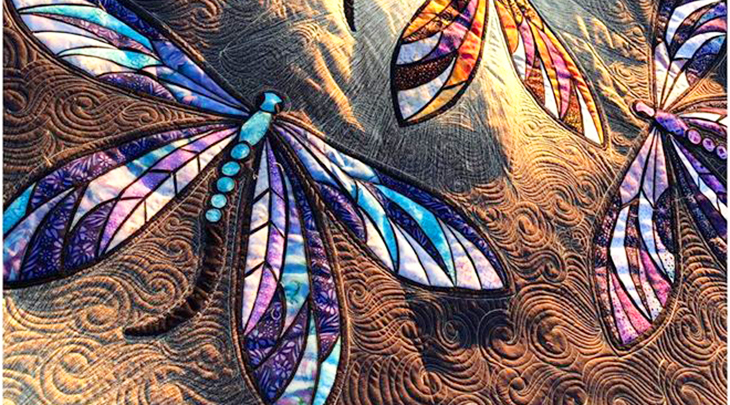 Each section of this Dragonfly Quilt is comprised of many different pieces of fabric individually appliqued by hand or a machine. Shelley quilted it using the longarm (the fabric colour is as it came from the manufacturer, and the piecing was done by Sharon Huffman).
Getting Started in Quilting
Shelley developed an interest in quilting when her husband bought her first sewing machine back in 2004, and signed her up for her first class in 2005. 
"I tease him all the time that this is all his fault."
She'd learned how to use a sewing machine in a Grade 9 Home Economics course, making a sweatshirt – and also gained the knowledge that she didn't enjoy making clothes.
The basics of quilting – such as how to piece – came later, by taking classes at a few of the local sewing stores.
"Once I was introduced to cutting squares of fabric, I was hooked."
The first quilt she ever made was a rag quilt (no batting between the layers) for their bed, back in 2005.
About Long-Arm Quilting
"I love the peace it brings, just me & the hum of my machine. I can shut out the world when I am in my quilting studio. I also love seeing the reaction from those I give my finished pieces to."
Shelley's husband thought it would be beneficial for her to be able to finish her own quilts. She started with a "beginner" frame, where her sewing machine could be used to do the quilting, but found "that didn't go so well". 
An upgrade to a midarm (larger than a sewing machine, but smaller than a longarm) for the same frame, also didn't work out. Shelley was so frustrated by this experience that the frame was unused for a few years. 
In 2012 they invested in a Gammill longarm quilter. Some longarm quilting machines are computerized, and will do everything once it's set up, but with this machine, Shelley manually moves the machine to create the stitches.
"Once I had the Cadillac of longarm, I fell right in love the art of longarm quilting."
To buy a brand-new longarm quilting machine today is in the range of $25,000 – $40,000 CAD, so getting into this as a hobby is not feasible for most home crafters who just want to make a couple of quilts. Fortunately, She's found that the quality of the Gammill longarm machine is such that it's not unusual to find some that are 30 years or more older still working like new, making buying used an option for a more serious quilter.
To a casual observer like myself, it seems like a much  more physically demanding process to do longarm quilting vs sewing on a normal machine.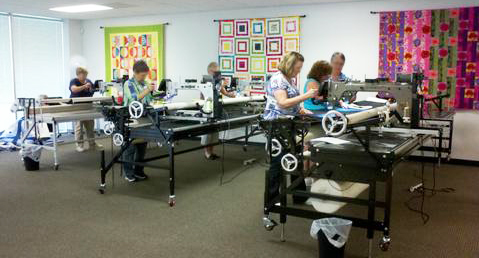 Shelley informed me that there are some longarm machines that are designed for sit down use, and tables designed to fit a drafting chair, but she finds that with the freemotion quilting she enjoys, it's best to stand. 
"I try to limit myself to a few hours at a time while taking breaks during as well to twist and stretch, as you can develop stiffness in your neck and hands – especially if you stay in the same position for too long."
She began attending professional quilting training events all over North America every year in order to keep upgrading her longarm machine quilting skills, as well as taking on-line training. 
Shelley considers herself blessed to have been able to learn from cutting-edge longarm quilting teachers such as Linda V. Taylor, Judi Madsen, Kaven Sievert, Karen Marchetti, Karen Taylor, Margaret Solomon Gunn, Angela, Huffman, Linda Hrcka, Lisa Calle, and Karlee Porter.
In addition to working daily on either skill development on the machine, or doodling on paper, Shelley has created her own fabric designs using dyes. She purchases pantographs (a paper quilting design pattern for mid or long-arm quilting). 
"I prefer to free motion quilt – creating the design myself as I go, not following a pattern – but most customer's budgets only allow for edge to edge designs that are either created by following a paper pattern pantograph, or done by the computerized longarm if equipped."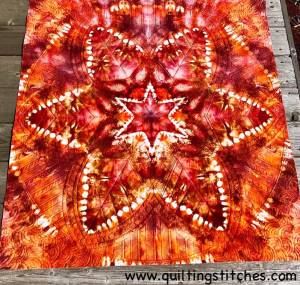 Star Quilt
This amazing Star quilt (36″ x 36″) wall hanging with no border, was made from fabric Shelley dyed using the resistance ice dying technique.
"I LOVE doing this technique as every one turns out differently."
She quilted the design using freemotion quilting and quilting rulers, with the quilting design inspired by the shapes that the ice dying created.
Tips For Getting Started in Quilting
Invest in some quality tools – rotary cutter, rotary mat, and cutting rulers.
Don't buy cheap fabric – you don't want it to run.
Starch your fabric before you cut. Having firm fabric allows you to have accurate cutting, which in turn results in precise points once pieced. She uses Faultless, an inexpensive brand of starch, and sprays the fabric until it's not dripping but is wet. Let the fabric dry and then iron it before cutting the sizes you need. 
Learn to do a scant quarter inch seam and how to apply borders properly. You need to measure in three places: top, middle, and bottom – and take the average to cut your border at. For example, if you measure 31″ at the top, 32″ at the middle, and 33″ at the bottom, cut your border to be 32″. Pin the top and bottom of the border to the top and bottom of the piece, and then work your way in. Then repeat the process for the other way.
Many more tips, including how to prepare your quilt for longarm stitching, can be found on her website QuiltingStitches.com. 
Longarm Quilting Services
Shelley offers longarm quilting stitching services for clients who have already prepared or purchased their preferred quilt top, back, and batting/filling. 
"Most quilters use a sewing machine to sew their quilt tops together but there are still some out there who piece by hand, as well as quilt by hand – and those I am in awe of!"
She recommends not using bedsheets for the quilt backing, due to the tight weave of the bedsheet fabric. Quilting cotton is designed to "move" when quilted, so the needle goes into the fabric without creating a hole.
Most people accustomed to buying mass-produced bedding would balk at the cost of the materials for an individual, top-quality custom-made quilt ($100 doesn't even cover the batting). For this reason, Shelley hasn't sold any her own completed quilts. 
"I can remember just as I was getting started, we went up to Kitchener/Waterloo where the Amish sell their hand sewn & hand quilted quilts, and I saw one that was on sale for $300. I remember saying 'Who would pay that for a quilt?!' Once I started making them myself, I now say 'That's not enough!'"
In addition to working part-time at a local hospital, and focusing on longarm quilting, Shelley loves all kinds of crafting. She channels her excess creative energies into other crafts such as painting, beading, knitting, and crocheting.
Her website QuiltingStitches.com provides a more complete list and explanation of her services, as well as an online store, and lots of information for both would-be and experienced quilters and craft enthusiasts.
You can contact Shelley through her website, or follow her on Facebook or Instagram. 
*Photos Copyright 2020 Shelley / QuiltingStitches.com. All rights reserved, do not use or reproduce without written permission.*
**This article is for general informational purposes only. 50+ World does endorse any providers, nor does it receive remuneration from them.**