Cowboy Ian Tyson's Four Strong Winds
Canadian singer-songwriter Ian Tyson's journey to becoming a folk-country-cowboy troubadour began on Vancouver Island, where he learned to play polo & ride horses bareback.
Tyson's story, hits and some lesser-known songs include the likes of Four Strong Winds, Someday Soon, Early Morning Rain, You Were on My Mind, Cowboy Pride, Fifty Years Ago, and Lights of Laramie.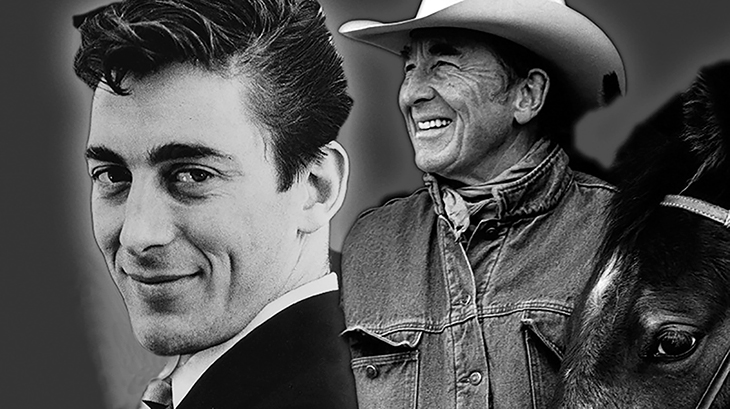 (Ian Tyson Then and Now Photo Montage: © IanTyson.com, Used by Permission)
Canadian rancher Ian Tyson was born September 25, 1933 in Victoria, British Columbia. In his autobiography The Long Trail: My Life in the West (2010) written with Jeremy Klaszus, Tyson recounts stories about growing up on Vancouver Island, seeing his first rodeo when he was six years old, and learning to ride horses bareback as a child. 
His early musical influences were Roy Acuff, singing on the radio from the Grand Ole Opry in Nashville. As a teenager, Tyson and his father had arguments and both he and his sister Jean were anxious to get off Vancouver Island. At the age of 15, he got summer job near Banff, Alberta as a rider on a pack string of horses, catering to adventurous tourists.
An unhappy stint at boarding school followed, and a job for the forest services beginning in 1952 at age 19; at the same time, Tyson began competing as a rodeo rider.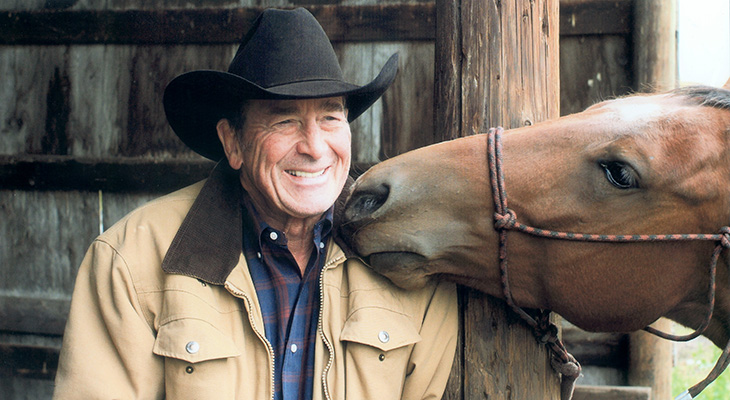 (Ian Tyson and Friend Photo: © Lee Gunderson / IanTyson.com)
Tyson was fascinated by the Will James cowboy books his father gave him, complete with stories and illustrations. His love of cowboys, horses, and the wild west never left him.
Inspired by his love for the Will James cowboy and horse illustrations, Ian Tyson enrolled at the Vancouver School of Art in 1954. In the fall of 1955, 22-year-old Ian met 18-year-old new student Evinia Pulos, a Greek-Canadian from Vernon, B.C. Evinia Pulos described the trajectory of her relationship with Ian Tyson for Macleans as an immediate kinship, followed by an unexpected and unwanted pregnancy and subsequent abortion. Pulos said Tyson bought a ring and they got a marriage license in the event she could not get an abortion. Evinia was able to obtain an abortion and after a few days recovery, returned home and waited for Tyson.
"I remember him coming in, taking three and four stairs at a time…When he saw me, he just threw himself on the bed and cried." 
The couple began to grow distant from each other. Tyson was a heavy drinker, handsome with a roving eye, and was beginning to hang out in the local music scene. While recovering in hospital from a broken ankle that was shattered after a horse bucked him off and then stepped on it, he taught himself to play guitar to the tunes of Johnny Cash.
Ian Tyson made his singing debut performance with the rock and roll band The Sensational Stripes at the Heidelberg Café in Vancouver, British Columbia. By the fall of 1956, Evinia Pulos had dropped out of school and taken off for California, devastated when she discovered that Ian was having an affair with another student. 
Tyson graduated from Vancouver School of Art in 1958 at the age of 25. He hitchhiked to Los Angeles that spring to meet up with Evinia Pulos, in what she has said was an unsuccessful attempt to win her back. Tyson returned to Canada and settled in Toronto, beginning a career as a graphic artist and playing in coffee houses and clubs.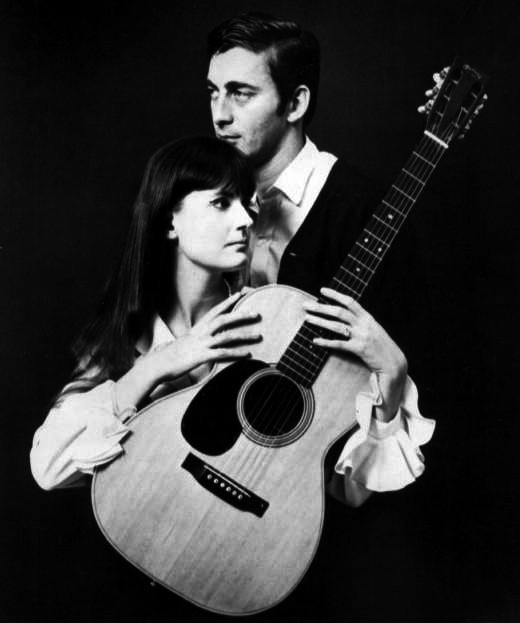 (Sylvia Fricker and Ian Tyson 1968 Photo: ITA / Albert Grossman)
In their biography Four Strong Winds: Ian & Sylvia Tyson (2011) by John Einarson with Ian Tyson and Sylvia Tyson, they describe their initial meeting at a club in Toronto where Ian was singing.
Free-spirited hippie Sylvia Fricker, who lived in Chatham, had come to Toronto in late 1959 at Tyson's request and at their first meeting they performed together.
Ian's girlfriend at the time was threatened by their professional relationship, although at first that was all it was.  
Sylvia moved to Toronto and they began to perform together as Ian & Sylvia. Pulos recalled meeting Tyson at a Vancouver hotel in 1960 at his behest, but by September of 1960, Tyson wrote Evinia to come to Toronto, because he wasn't coming back (to Vancouver). 
By the end of 1962, Sylvia and Ian had moved to New York City and released their first album Ian & Sylvia (1962), and Sylvia wrote her first and what has become her trademark song, You Were on My Mind (1962).
Ian had also written his first song, and what has become known as his signature country-folk anthem – Four Strong Winds (1962), inspired when another Greenwich Village singer-songwriter called Bob Dylan played him his new song Blowin' in the Wind, and by the distance between himself in New York, and Evinia in California.
Ian wrote Evinia and told her that Four Strong Winds was about them; he later said he wrote the song in 20 minutes while thinking about her. Despite both Ian Tyson and Evinia Pulos being in relationships and marriages (3 for her, 2 for him) with other people over the next 50+ years, they never stopped writing and calling each other.
Four Strong Winds sung by Ian & Sylvia made the Top Ten singles charts in Canada in October 1963, and has been covered by many artists since then including Bob Dylan, Johnny Cash, John Denver, The Tragically Hip, Joan Baez. It became a staple on Neil Young's concert set list after Young released it as a single in 1978. CBC Radio One listeners voted Four Strong Winds as the Greatest Canadian Song of All Time in 2005. 
Below, Sylvia and Ian Tyson sing Four Strong Winds live on their television reunion special in 1986. 
Evinia Pulos married Jack Bruce, a Calgary roommate of Ian Tyson's, in 1963 . According to Evinia, on the day of her wedding Tyson begged her not to marry Bruce, saying he was the wrong man for her. 
Ian & Sylvia moved to New York City and frequented the same Greenwich Village Cafe's as Bob Dylan, the Byrds, and Peter, Paul and Mary and other contemporaries. Sylvia Fricker was 24 when she married 31-year-old Ian Tyson in June 1964. Their son Clay (Clayton) Dawson Tyson was born in 1966. 
Ian Tyson wrote the song Someday Soon (1964), and Ian & Sylvia recorded it for their Northern Journey (1964) album. Although Ian & Sylvia didn't release the song as a single, Someday Soon was one of their signature tunes. Someday Soon has been covered by numerous other mainstream and country music artists such as Judy Collins, Moe Bandy, Crystal Gayle, and Suzy Bogguss, who scored a #12 US Country Music chart hit with it in 1991. 
The Western Writers of American chose Someday Soon as one of the Top 100 Western Songs of all time. Ian & Sylvia Tyson sang Someday Soon with Judy Collins on their 1986 reunion special.
Meanwhile, Ian & Sylvia had released more albums and had some Adult Contemporary chart success in Canada on with their version of Canadian singer-songwriter Gordon Lightfoot's Early Morning Rain (1965).
Ian & Sylvia Tyson in 1986, singing their 1965 #1 AC hit single Early Morning Rain; Gordon Lightfoot joins in.
Ian Tyson invited Evinia Pulos to visit him and Sylvia in New York in 1966, and their affair resumed. The album So Much for Dreaming (1967) included the single Summer Wages written by Ian Tyson, and the lyrics once again hearkened to Evinia Pulos:
"And we'll keep rollin' on till we get to Vancouver and the lady that I love she's living there. It's been six long months and more since I've seen her maybe she's gambled and gone like summer wages."
Together, Ian & Sylvia were lead singers for the Canadian group Great Speckled Bird from 1969-1976. Trucker's Cafe (1970) was a #9 Canadian Country Music chart hit for Great Speckled Bird in 1970. That same year, Great Speckled Bird became the house band for the TV series Nashville North on CTV; after the first season, Nashville North was renamed to the Ian Tyson Show (1971-1975).  
The single You Were on My Mind (1965) was written by Sylvia Fricker in 1962. Ian & Sylvia recorded You Were on My Mind in 1964 and included the song on their album Northern Journey (1964). They re-recorded it in 1972, backed by Great Speckled Bird, and included You Were on My Mind on their 1972 album of the same name. In 1972, You Were on My Mind became a #4 AC chart hit for Ian & Sylvia Tyson.
Below, Sylvia and Ian Tyson singing You Were on My Mind live on stage in 1986. 
Evinia Pulos told Macleans that in the late 1960's, she and Ian Tyson had resumed their long-distance affair, grabbing moments together whenever and wherever they could meet – and despite their respective marriages. Sylvia Tyson described Pulos as "The third person in our marriage."
By  the time their CTV television series The Ian Tyson Show came to an end in 1975, so too had the marriage of Sylvia and Ian Tyson; they divorced that year. At the same time, folk music had also been dying, thanks to the Beatles and the British invasion. 
Over time, Ian & Sylvia maintained a friendship (although they have never recorded together again after their 1975 breakup), but Ian was at loose ends.
Ian Tyson told the Globe and Mail that he moved to Alberta in 1976, and ended up buying his T-Bar-Y ranch outside of Longview, Alberta. He'd gotten into raising cutting horses, and had success with them at competitions in Canada and the U.S. in the years after. Tyson was still seeing Pulos when he could, on trips to Texas and the like.
When he played songs at bars, traditional country and cowboy music began to take over his repertoire. While playing at the now-famous Ranchman's bar in Calgary, Alberta in 1978, 45-year-old Ian Tyson met 17-year-old waitress Twylla Dvorkin. They became a couple and married in 1986; daughter Adelita Tyson was born in 1987. Tyson has said it was Twylla that encouraged him to begin recording the cowboy music he loved.
In 1983, a now 50+ Ian Tyson began recording cowboy/country music, beginning with the album Old Corrals and Sagebrush. By the late 1980's, his albums were hitting the Canadian Country Music charts. 
The Ian Tyson album Cowboyography (1987) went platinum and spawned 3 Top 20 Canadian Country Music singles, including Cowboy Pride (1987) which peaked at #9. Cowboy Pride's lyrics reflect on Ian Tyson's own experiences:
"Now you're running with that waitress and she's underage and wild."
Ian Tyson singing his hit song Cowboy Pride set to a video montage.
Ian Tyson's single Fifty Years Ago (1988) also from Cowboyography, made it to #8. Tyson sings Fifty Years Ago, accompanied by illustrations in a video montage.
The next year, Ian Tyson was inducted into the Canadian Country Music Hall of Fame (1989). His albums I Outgrew the Wagon (1989), and And Stood There Amazed (1991), produced 12 Top 45 singles. 
Springtime in Alberta (1991) from the And Stood There Amazed album went to #9 in Canada on the Country Music charts.; the next year, Lights of Laramie (1992) did the same. Ian Tyson sings Lights of Laramie set to a video montage.
Recognition for Ian Tyson's contributions to the Canadian music scene have included becoming a Member of the Order of Canada in 1994, and as a septuagenarian senior citizen, induction into the Alberta Order of Excellence in 2006. His divorce from Twylla Tyson was finalized in 2008. 
Tyson continued to live and work his Tyson Ranch in Alberta, write songs, sing, and record music. He owned the Ian Tyson's Navajo Mug coffee and gift shop in Longview beginning in the early 2000's.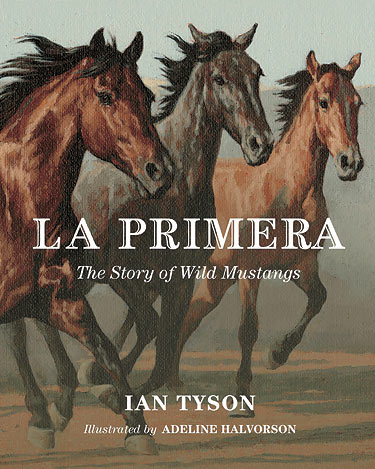 His song La Primera spawned a young-adult fiction book – La Primera: The Story of Wild Mustangs (2009).
An ode to Tyson's own love of horses, La Primera features illustrations by gifted equine artist Adeline Halvorson and traces the introduction of Spanish horses to North America, through the evolution of wild mustangs (La Primera among them) across the continent. 
Tyson had his share of health issues in his senior years, some more serious than others.
His singing voice was affected for about 6 years beginning around 2005, after polyps developed in his throat. Surgery successfully removed the polyps and his old voice was gradually restored with therapy.
Ian said he practiced guitar daily in an attempt to keep the degenerative arthritis in his hand and thumb – which had bothered him since the early 1990's, at bay.  
Tyson told American Cowboy that he finally gave up wild young horses as a 78-year-old in 2012, in order to focus on his music, after an incident that could have ended his life:
"I got in an argument with a young horse that I raised—a four year- old—and I lost, big time…He really socked it to me. He slammed me down on the horn and I kept trying to get loose of him and he finally ripped my shirt off…He made me take a position. For years, I tried to do both all the time. I really believe that you can't. If you want to be really good—I'm not talking about Mickey Mouse stuff—you have to choose. There aren't enough hours in the day and when you get to a certain age you have to face up."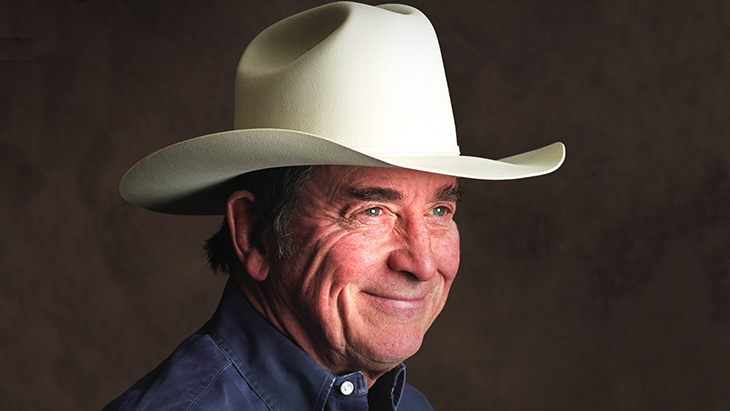 (Ian Tyson and Photo: © Lee Gunderson / IanTyson.com)
In his 80's, Ian would have dinner with his good friend and ex-wife Sylvia when he visited Toronto. He and Evinia Pulos still talked on the phone and saw each other when they could, although months might pass; she lived in Kelowna, B.C. and he was still on his ranch outside Longview, Alberta. Pulos said she could never live out in the middle of nowhere, and Tyson said he couldn't live in the city.
Biographer John Einarson, who wrote Four Strong Winds: Ian & Sylvia (2012), says Ian described Evinia as his soulmate and told him:
"We've been lovers for 55 years…How many people can say that?"
Tyson had open heart surgery in October 2015 to have a blocked aortic valve replaced.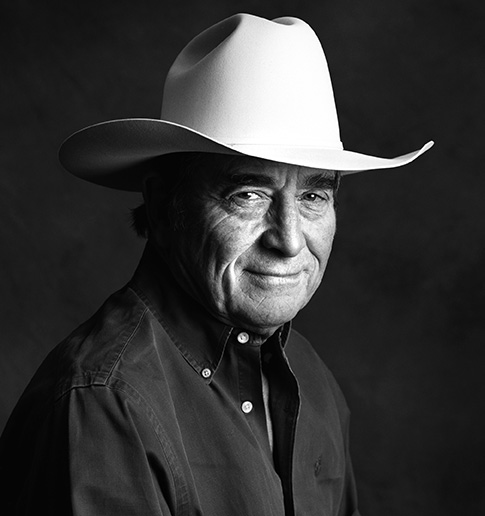 (Ian Tyson and Photo: © Lee Gunderson / IanTyson.com)
The National Cowboy Poetry Gathering in Elko, Nevada in February 2017 saw Ian Tyson on the agenda, and his most recent 2018 concert appearances were in British Columbia and Alberta. Unfortunately a scheduled concert in August 2018 was cancelled, and a note on his website IanTyson.com explained:
"Ian has not been feeling well for a few weeks and has been admitted to the hospital for a procedure to 'tune-up his heart'….In Ian's words, "I'm having some heart problems and the doctors are looking after me. Thanks for everyone's thoughts and see you soon."
Canadian singer-songwriter Ian Tyson died December 29, 2022 at the age of 89. He was survived by son Clay and daughter Adelita.
We hope that cowboy poet, singer & songwriter Ian Tyson's four strong winds will blow his spirit and songs back our way someday soon. 
Note: This article was first published in 2016 with the title Celebrating Seniors – Ian Tyson Turns 83. It has been updated with new / additional content.
*Images are public domain or Creative Commons licensed & sourced via Wikimedia Commons, Vimeo, YouTube, or Flickr, unless otherwise noted*