June 27th Birthdays
If you were born on June 27th you share a birthday with these famous people: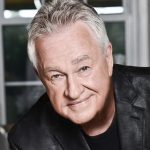 Frank Mills is 78

Canadian Juno Award-winning composer, CBC pianist, recording artist solo (Music Box Dancer; Love Me, Love Me Love; Peter Piper; Happy Song), and with The Bells (Stay A While), born June 27, 1942. (Frank Mills c. 2012 Photo)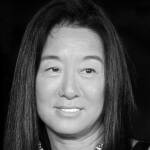 Vera Wang is 71
American former amateur figure skater, Vogue editor, & fashion designer of evening gowns (Viola Davis), wedding dresses (Sarah Michelle Gellar), and figure skating costumes (Nancy Kerrigan, Michelle Kwan), born June 27, 1949. (Vera Wang 2007 Photo: Christopher Peterson)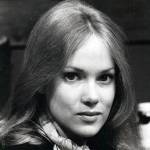 Julia Duffy is 69 (nee Julia Margaret Hinds)
American actress of TV (Stephanie Vanderkellen on Newhart; Penny Davis on The Doctors; Love of Life; Baby Talk; Designing Women; The Mommies; Passions; Shameless) & films (Intolerable Cruelty; Be My Baby; Grand-Daddy Day Care), born June 27, 1951. (Julia Duffy 1975 The Doctors Photo: NBC Television)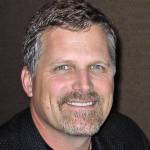 Robert Newman is 62

American actor of stage, TV (Joshua Lewis on Guiding Light; Kirk Cranston on Santa Barbara; Prescott Harrell on General Hospital; Richard on Venice the Series; NCIS; Hunter) and movies (The Amazing Spider-Man 2; Dracano; Creep), born June 27, 1958. (Robert Newman 2006 Photo: VROD2003AD)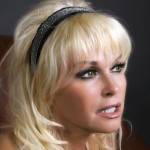 Lorrie Morgan is 61 (nee Loretta Lynn Morgan)
American country music singer (Five Minutes; What Part of No; I Didn't Know My Own Strength; Watch Me; Out of Your Shoes; We Both Walk; Good as I Was to You; Back in Your Arms Again; Except for Monday; He Talks to Me; Half Enough; Dear Me), born June 27, 1959. (Lorrie Morgan Photo: Lorrie.com)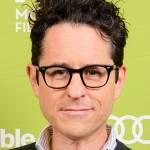 J. J. Abrams is 54 (nee Jeffrey Jacob Abrams)

American composer, screenwriter, director, actor, & producer of TV (Lost; Alias; Fringe; Felicity) and movies (Regarding Henry; Forever Young; Armageddon; Star Trek; Super 8; Star Wars: The Force Awakens), born June 27, 1966. (J. J. Abrams 2015 Photo: Neil Grabowsky / Montclair Film Festival)
Ravi Kapoor is 51
English director and actor of stage, TV ("Bug" on Crossing Jordan; 24; Gideon's Crossing; In a Land of Plenty; Heroes; Hand of God; L.A. Picker), and movies (Wild West; Book Club; Flight; Office Uprising; Life at the Resort; Miss India American), born June 27, 1969.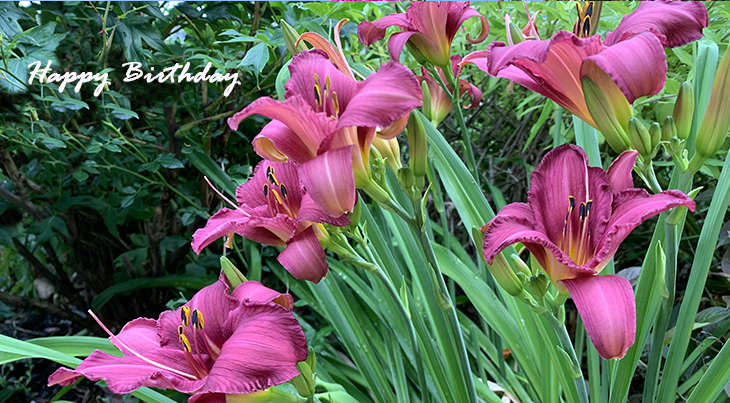 (Pink Daylily Flowers Photo: © 2020 Anita Hamilton)
Happy Birthday to everyone celebrating their birthday on June 27th!
And remembering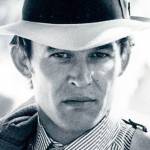 Paul Koslo
German-Canadian actor of TV (Life Goes On; Hawaii Five-O; Falcon Crest; Cannon; The Incredible Hulk; The Rockford Files) and movies (Bootleggers; Welcome Home, Soldier Boy; The Omega Man; The Stone Killer; Vanishing Point; Mr. Majestyk; Rooster Cogburn) (born June 27, 1944 – died Jan. 9, 2019; age 74). Paul Koslo died of pancreatic cancer. (Paul Koslo 1974 Photo)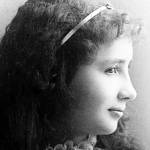 Helen Keller

First deaf-blind person to achieve a B.A., American author (The Frost King; The Story of My Life), public speaker and human rights activist who learned sign language from her teacher and companion Anne Sullivan (born June 27, 1880 – died June 1, 1968; age 87). Cause of death for Helen Keller is unknown. (Helen Keller 1890-1893 Photo: Charles Milton Bell)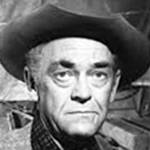 John McIntire

American actor of TV (Christopher Hale on Wagon Train; Clay Grainger on The Virginian; Naked City; Shirley) and movies (The President's Lady; War Arrow; Psycho; The World in His Arms; The Gunfight at Dodge City; Winchester '73; Cloak & Dagger) (born June 27, 1907 – died Jan. 30, 1991; age 83). John McIntire died of lung cancer and emphysema. (John McIntire 1961 Photo: NBC TV)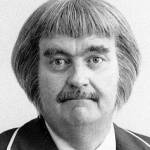 Bob Keeshan (nee Robert James Keeshan; "Captain Kangaroo")
Emmy Award-winning American children's programming TV producer (Tinker's Workshop), clown, host, and  actor (Captain Kangaroo; Clarabell the Clown on The Howdy Doody Show; Time for Fun; Mister Mayor; Kideo TV; CBS Storybreak) (born June 27, 1927 – died Jan. 23, 2004; age 76). Cause of death for Bob Keeshan is unknown. (Bob Keeshan 1977 Photo: CBS TV)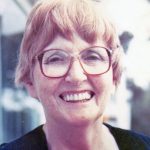 Catherine Cookson (nee Catherine Ann McMullen)
Prolific English best-selling author who began writing historical novels in her 40+ years (Kate Hannigan; The Fifteen Streets; The Black Velvet Gown; The Mallen Girl; Tilly Trotter; Bill Bailey; Love and Mary Ann) (born June 27, 1906 – died June 11, 1998; age 91). Cause of death for Catherine Cookson is unknown. (Catherine Cookson photo by permission of Pilot Promotions)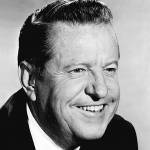 Ben Alexander (nee Nicholas Benton Alexander III)
American actor & announcer of radio, TV (Officer Frank Smith on Dragnet; Desk Sgt. Dan Briggs on The Felony Squad; Party Time at Club Roma) and movies (All Quiet on the Western Front; Scotty of the Scouts; The Family Honor; Man in the Shadow) (born June 27, 1911 – died July 5, 1969; age 65). Ben Alexander died of a heart attack. (Ben Alexander 1959 Photo: ABC TV)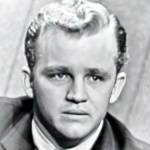 Gary Crosby
American singer with his brothers (The Crosby Boys), with his father Bing Crosby (Play a Simple Melody), host & actor of radio (Gary Crosby Show), TV (Adam-12; Hunter; Ben Casey) and movies (Girl Happy; Two Tickets to Paris; Justin Morgan Had a Horse) (born June 27, 1933 – died Aug. 24, 1995; age 62). Gary Crosby died of lung cancer. (Gary Crosby 1956 What's My Line?)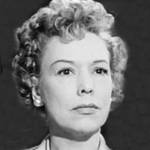 Audrey Christie
American actress of TV (Fair Exchange; The Doctors and the Nurses; Joey Faye's Frolics; Suspense; That Girl; Barney Miller) and movies (Carousel; Splendor in the Grass; The Unsinkable Molly Brown; Harlow; Frankie and Johnny; The Ballad of Josie; Mame) (born June 27, 1912 – died Dec. 19, 1989; age 77). Audrey Christie died of emphysema. (Audrey Christie 1952 Deadline – U.S.A.)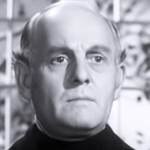 Moroni Olsen
American film actor (Yellow Dust; Annie Oakley; Dangerously They Live; Buffalo Bill; Two in Revolt; The Witness Chair; The Three Musketeers; Life With Father; Kentucky; Mildred Pierce; Brother Rat and a Baby; Notorious; Father of the Bride; The Long Night) (born June 27, 1889 – died Nov. 22, 1954; age 65). Moroni Olsen died of a heart attack. (Moroni Olsen 1946 The Strange Woman)
William Clifford
American silent film actor (The Immortal Alamo; The Second in Command;  Cowboy vs. Tenderfoot; The Lieutenant's Last Fight; Notorious Miss Lisle; The Battle of Bull Run; The Confession; The Chinatown Mystery; A Tale of Two Cities; A Man of Honor) (born June 27, 1877 – died Dec. 23, 1941; age 64). Cause of death for William Clifford . (William Clifford 1913 Photo: A. B. Shults / Universal)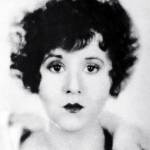 Alberta Vaughn
American movie actress in silent films & westerns (Midnight Morals; Love in High Gear; Wild Horse; Spell of the Circus; Randy Rides Alone; The Laramie Kid; The Live Wire; Molly and Me; Dance Hall Hostess; Forbidden Hours), 1924 WAMPAS Baby Star (born June 27, 1904 – died Apr. 26, 1992; age 87). Alberta Vaughn died of cancer. (Alberta Vaughn 1924 Photo: Edwin Bower Hesser)
*Images are public domain or Creative Commons licensed & sourced via Wikimedia Commons, Vimeo, or Flickr, unless otherwise noted*