This Was Nifty in July 1950
News Headlines & Entertainment Trivia from July, 1950: America's First Korean War Battles; James Stewart Stars in Broken Arrow & Winchester '73, Your Hit Parade Premieres on Television
Jimmy Stewart Westerns – Broken Arrow & Winchester '73
Based on author Elliot Arnold's novel Blood Brother (1947), the classic western film Broken Arrow starring James Stewart, Jeff Chandler, and Debra Paget, premiered on July 20, 1950 in New York City.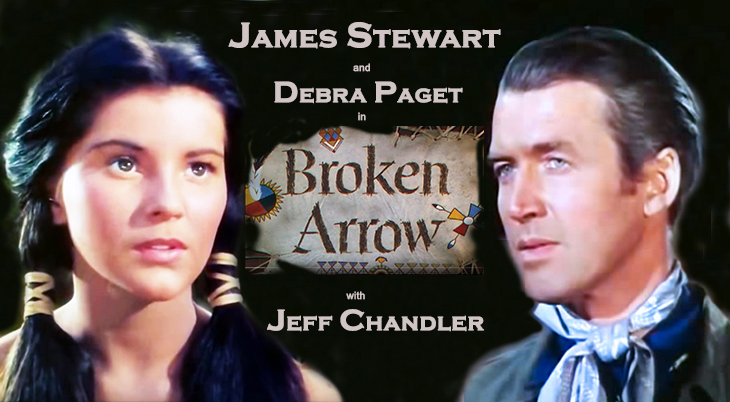 (Debra Paget & James Stewart 1950 Broken Arrow)
Blacklisted screenwriter Albert Maltz adapted Arnold's book for the big screen, but Michael Blankfort is listed in the film credits as a cover for Maltz.
Director Delmer Daves filmed Broken Arrow on location in Arizona, and the movie is in glorious Technicolor. Needless to say, the scenery in the film is amazing. Cinematographer Ernest Palmer was rightfully nominated for an Academy Award for Best Color Cinematography.
(Debra Paget & James Stewart 1950 Broken Arrow)
If you go to Arizona and want to see some of the places that appear in the film, check out the town of Flagstaff, Oak Creek Canyon, Cathedral Rock near Sedona, Ironwood Forest National Monument, and the Sonoran Desert. Several Arizona mountain ranges were also film locations – Coconino, Tucson, Silver Bell, and Sierrita Mountains.
Broken Arrow is a fictional story set in Arizona around the 1870s. The film and book were loosely based on historical events and people – famed U.S. Army Scout Tom Jeffords (Jimmy Stewart) and Apache leader Chochise (Jeff Chandler). Broken Arrow explores the relationship forged between the two men, and the cultural gaps between Native Americans and white settlers and soldiers that Jeffords attempted to bridge.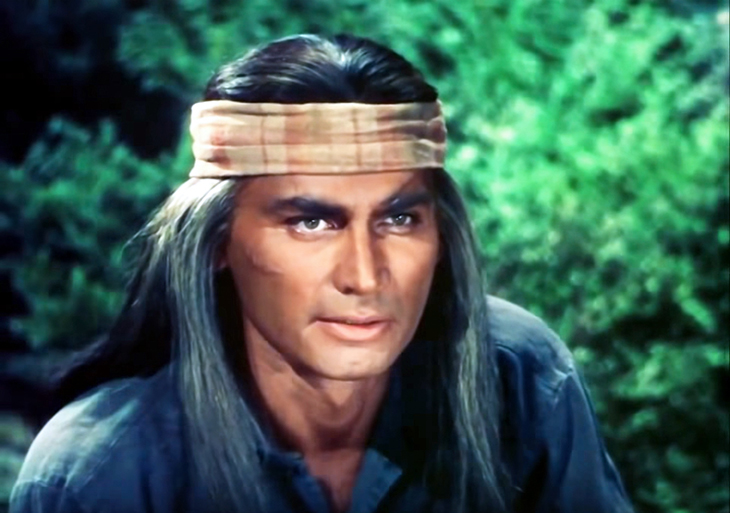 (Jeff Chandler as Cochise 1950 Broken Arrow)
A financial and critical success, Broken Arrow received three 23rd Academy Awards nominations: Jeff Chandler, Best Supporting Actor (George Sanders won for his performance in All About Eve); Albert Maltz, Best Screenplay (Joseph L. Mankiewicz won for All About Eve); and Ernest Palmer, Best Color Cinematography (Robert Surtees won for King Solomon's Mines).
At the Awards ceremony, Debra Paget presented the Oscar for Best Film Editing to Ralph. E. Winters and Conrad A. Nevig for King Solomon's Mines.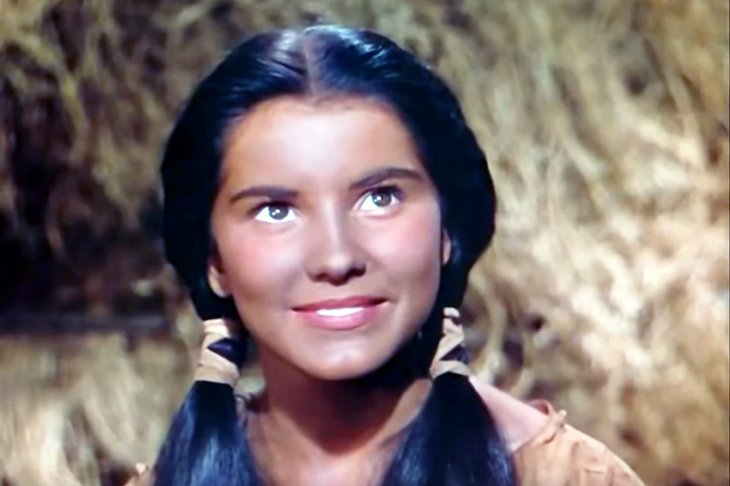 (Debra Paget 1950 Broken Arrow)
Young actress Debra Paget shines as Sonseeahray / Morningstar, love interest for 42-year-old Jimmy Stewart's character Tom Jeffords. Despite her youth, Broken Arrow was a co-starring feature film role for Paget, after having appeared as a supporting actress in House of Strangers (1949) and Cry of the City (1948), which was filmed when Paget was only 14 years old. Nee Debralee Griffin on August 19, 1933, Paget came from a family of actors and worked professionally from the age of 11. Her brother Frank Griffin, sisters Teala Loring and Lisa Gaye, never achieved Debra's level of success. Debra Paget worked steadily in movies and on television throughout the 1950s and early 1960s before marrying and retiring from acting.
In an un-dated interview with Mike Fitzgerald of Western Clippings, Debra Paget described attending the Fox on-set school with Elizabeth Taylor. She later learned to swim in Broken Arrow director Delmer Daves pool (after almost drowning in a creek while in Arizona filming the movie), and said blued-eyed James Stewart married his fiancee Gloria a week after filming finished.
(Debra Paget & James Stewart 1950 Broken Arrow Photo: Film Bulletin)
She summed up her Broken Arrow experience with Jimmy Stewart:
"He was just a beautiful human being. I want to cry, thinking about his recent passing [Stewart died in 1997]. I loved that man, and I love that film. It was my first starring billing."
(Jay Silverheels 1950 Broken Arrow)
Among the many native and character actors in Broken Arrow with faces familiar to western movie fans, are Jay Silverheels (best known for playing Tonto on The Lone Ranger), Will Geer (Grandpa on The Waltons), Arthur Hunnicutt, Iron Eyes Cody, and John Doucette.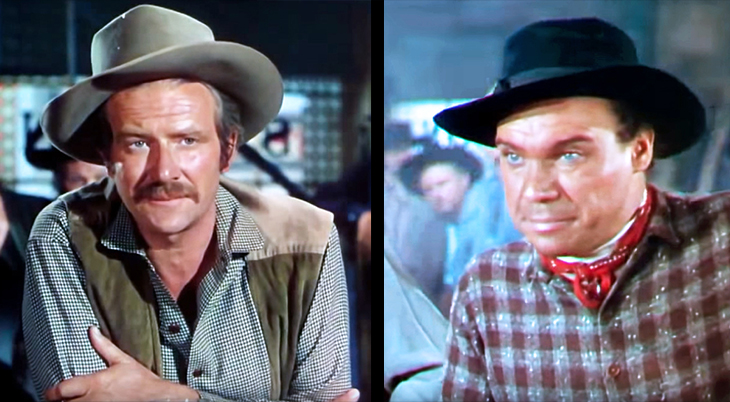 (Will Geer & John Doucette 1950 Broken Arrow)
Broken Arrow and Winchester '73 (released across the U.S. earlier in the month, on July 12, 1950), marked Jimmy Stewart's first return to the western film genre in post-WWII; his last western had been Destry Rides Again (1939).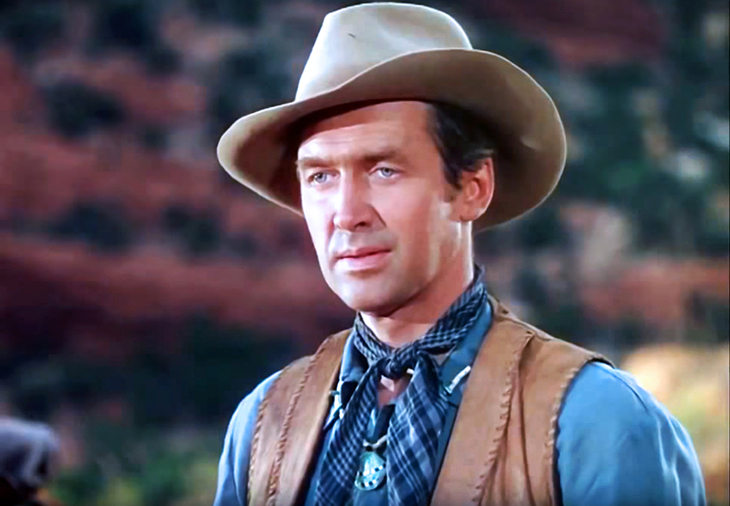 (James Stewart 1950 Broken Arrow)
Universal's Winchester '73 is set in approximately the same time period as Broken Arrow, and was also filmed in Arizona, but this time in black and white, by director Anthony Mann. Stewart's Broken Arrow co-star Will Geer turns up again, playing Kansas' Dodge City Sheriff Wyatt Earp.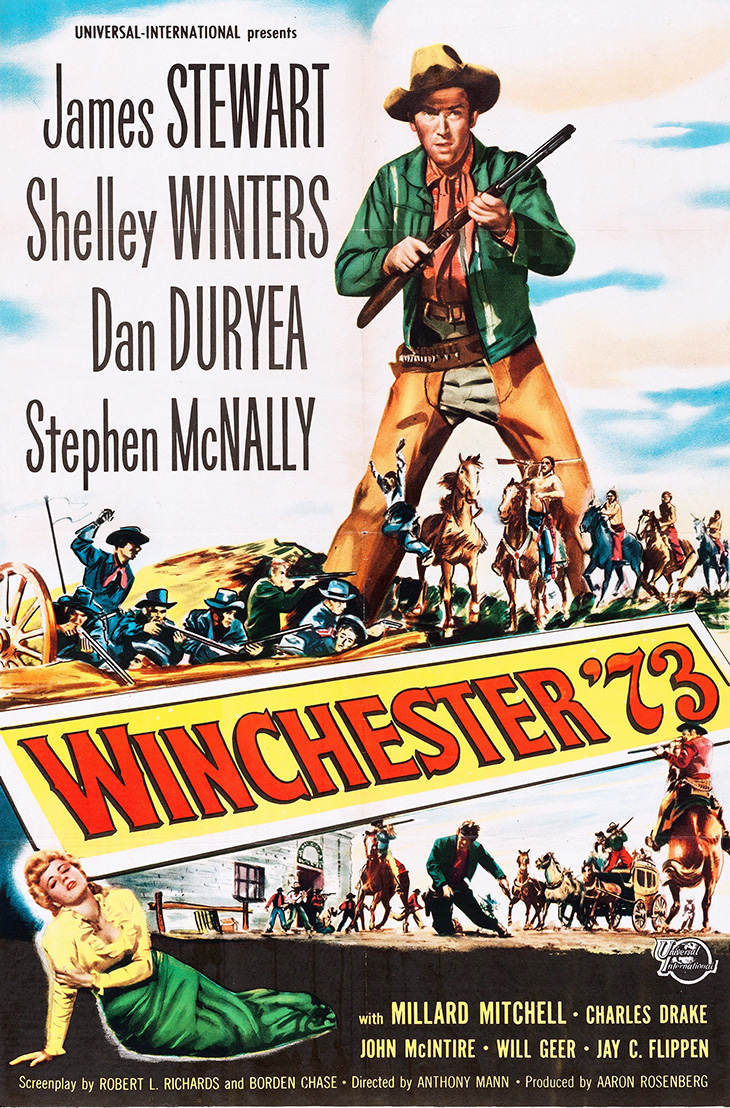 (Winchester '73 Poster: Illustrator Reynold Brown / Universal Pictures Co. Inc.)
The plot of Winchester '73 has Lin McAdam (Jimmy Stewart) and 'High-Spade' Frankie Wilson (Millard Mitchell) following Dutch Henry Brown (Stephen McNally) to Dodge City, Kansas, in order to settle a score. Lin sees saloon-girl Lola Manners (Shelley Winters) being forced onto a departing stagecoach by Sheriff Wyatt Earp. Lin competes against Dutch in a shooting contest for a prize Winchester 1873 rifle. Lin wins the rifle but Dutch steals it from him and leaves town, with Lin and Frankie in hot pursuit once more. The Winchester 1873 rifle changes hands a few times before it's back in Lin's hands..
John McIntire plays trader Joe Lamont, Rock Hudson is Indian leader Young Bull, Dan Duryea plays outlaw Waco Johnny Dean, and Charles Drake is Lola's fiance Steve Miller.  Also in the cast of Winchester '73 in minor roles are Jay C. Flippen, Steve Brodie, Tony Curtis – and John Doucette, another actor who had appeared in Broken Arrow with Stewart.
Your Hit Parade Premieres on NBC Television
On July 10, 1950, the first television episode of Your Hit Parade was broadcast on NBC Television, with announcer André Baruch and featured singers Eileen Wilson, Dorothy Collins, and Snooky Lanson.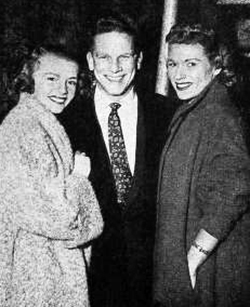 (Snooky Lanson with Dorothy Collins and Eileen Wilson 1952 Your Hit Parade)
Among the regular performers on the Your Hit Parade radio series in the 1930s and 1940s were crooners and big band singers like Doris Day, Frank Sinatra, Buddy Clark, Bea Wain (wife of André Baruch), Kay Thompson, Snooky Lanson, Dick Haymes, Gisèle MacKenzie, Dinah Shore, Ginny Simms, Johnny Mercer, Dorothy Collins, and Eileen Wilson. 
Both the radio version (1935-1953) and the televised version of Your Hit Parade (1950-1959), aired at different times on Saturdays in the fall of 1950.
The 1950 TV series featured singing stars Eileen Wilson, Dorothy Collins, and Snooky Lanson, and the Lucky Strike Orchestra (led by composer, performer & bandleader Raymond Scott), were also heard on the radio show.
Your Hit Parade television series included dance routines (performed by the Hit Parade dancers) and back up singers (the Hit Paraders), with set and costume changes for each song presented on the countdown. Primary sponsor for the TV show was American Tobacco, promoting Lucky Strike cigarettes.
An early victim of rock 'n' roll, Your Hit Parade went off the air in 1959.
America's First Korean War Battles 
On July 1, 1950, the first U.S. forces arrived to aid South Korea in the Korean War. South Korea had been invaded by the North in June 1950, and President Truman had ordered General Douglas MacArthur to help evacuate American citizens and provide support to the army of the South (Republic of Korea), aka the ROK Army.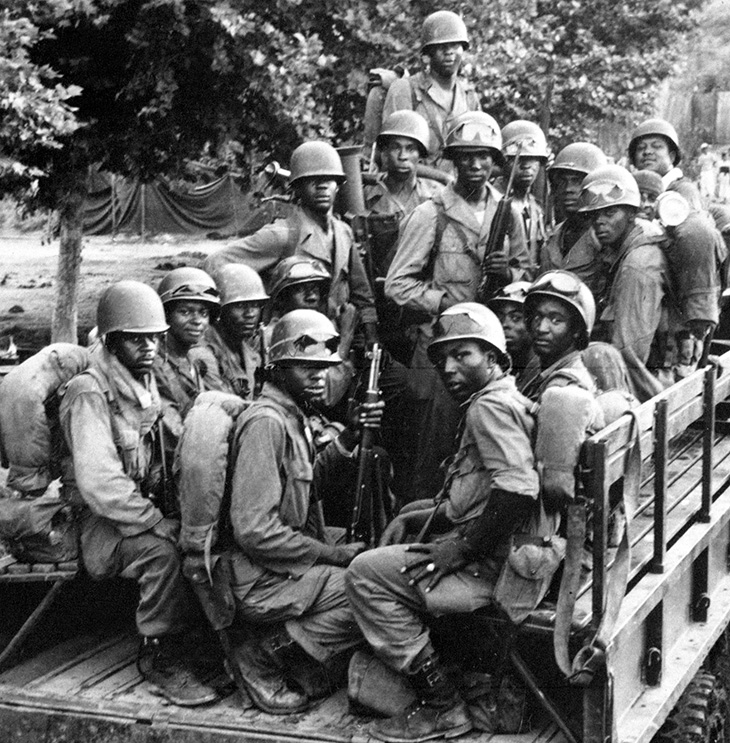 (24th Infantry Regiment Moving Up to the Firing Line in Korea, July 18, 1950 Photo: US Army Signal Corps)
The 24th Infantry Division had been stationed in Japan and their initial Task Force Smith (540 soldiers) were engaged in the Battle of Osan on July 5th, 1950. The U.S. had been unprepared for a Korean War and the first troops sent to South Korea didn't have the training, experience, or equipment to battle the North Korean People's Army (KPA) and their tanks. The best they could hope for was delaying tactics.
By the end of the Battle of Osan, 60 American soldiers were dead, with 21 wounded and 82 captured by the KPA – the first of several American defeats in the Korean War in July 1950. 
More American Korean War losses were incurred on July 6th (Battle of Pyongtaek) and July 7th & 8th during the Battle of Chonan. On July 8th, 1950, General Douglas MacArthur was named Commander in Chief of the UN forces in Korea. 
The KPA continued forcing the U.S. troops further into South Korea, with the biggest American losses so far coming in the Battle of Chochiwon (July 10-12) – 409 American soldiers killed, and another 254 wounded. 
The worst was yet to come. By the end of the Battle of Taejon (July 14-21), another 922 U.S. soldiers were reported as killed, with 2,400 missing in action (MIA) and presumed dead, and another 228 wounded. US Army Major General William F. Dean Sr., leader of the 24th Infantry Division, was among the badly injured. He'd been separated from his troops during the American retreat, and was captured by KPA. He was released at the end of the war and was given the Medal of Honor for his actions during battle. 
The Battle of Sangju, in Yongdok, South Korea began on July 20th, 1950, and lasted until July 31st of that month. 
(US 24th Infantry Howitzer, Battle of Sangju, Yongdok, South Korea July 22 1950 Photo: US Army)
By the end of the Battle of Sangju, another 27 American soldiers had been killed, with a further 293 wounded (and 3 missing). 
All told, the story of July, 1950 for American forces in the Korean war was one of defeat, retreat, and losses. More than 3,940 US soldiers had been killed or were missing in action; another 1010+ wounded, and 140 or more captured by the KPA. The bulk of the losses and POWs were from the hard-hit 24th Infantry Division. 
The Korean War would rage on for another 3 years, resulted in hundreds of thousands of lives lost for the military on either side of the conflict – and between 2-3 million civilians killed in both North and South Korea.
*Images are believed to be in the public domain and/or Creative Commons licensed & sourced via Wikimedia Commons, Vimeo, YouTube, or Flickr, unless otherwise noted*