This Was Nifty in October 1950
News Headlines & Entertainment Trivia from October, 1950: Classic Movie Premiere – All About Eve; Gordon Jenkins and The Weavers at #1 with Goodnight, Irene; Groucho Marx' You Bet Your Life debuts on TV.
Oscar-Winning Classic Movie – All About Eve
Producer Daryl F. Zanuck's Academy Award-winning classic film drama All About Eve Oct premiered on October 13, 1950 in New York City.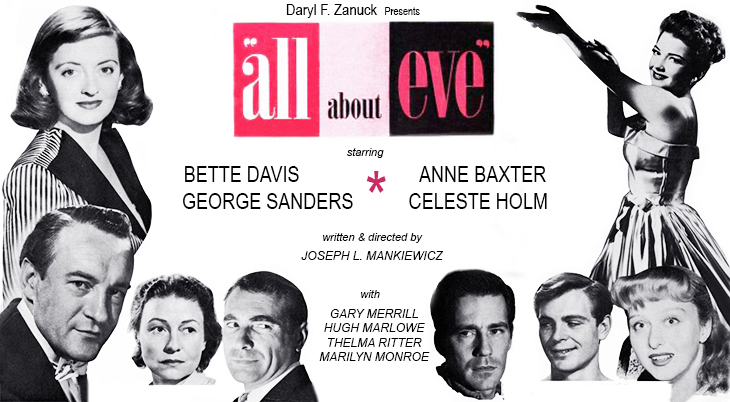 (All About Eve 1950 Ad & Photos: Photoplay / 20th Century-Fox Dynamo)
Sublimely written and directed by Joseph L. Mankiewicz, All About Eve is based on Mary Orr's short story The Wisdom of Eve (1964), and stars Anne Baxter, Bette Davis, George Sanders, Celeste Holm, Gary Merrill, Hugh Marlowe, and Thelma Ritter.
The plot of All About Eve has aging Broadway star Margo Channing (Bette Davis) being toasted in her dressing room after her latest play by her younger boyfriend, director Bill Sampson (Gary Merrill), and her friends Karen (Celeste Holm) and Lloyd (the playwright) Richards (Hugh Marlowe). Aspiring actress Eve Harrington (Anne Baxter) is introduced to Margo and professes her adoration, telling a sad tale of a husband lost to WWII. Margo is touched and takes Eve under her wing.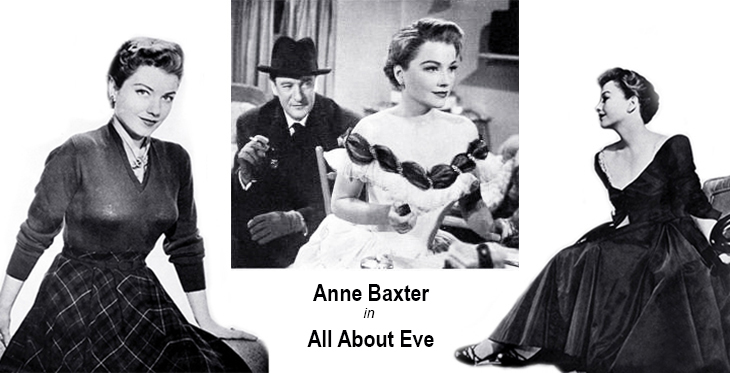 (Anne Baxter 1950 All About Eve Photos: Screenland)
Once ensconced in Margo's life, Eve quickly shows her manipulative side; she subtly edges aside Margo's long time maid Birdie (Thelma Ritter), and becomes Margo's assistant. Margo becomes suspicious of Eve when she starts encroaching in Margo's romance with Bill, and sees Eve pretending to take a bow as Margo on stage. Margo tries to scrape Eve off onto her producer Max Fabian (Gregory Ratoff) as his assistant, but somehow Eve ends up as Margo's understudy instead.
Karen Richards doesn't see Eve's manipulative side, but finds Margo's increasing ill-humor hard to take; she decides to arrange it so Margo will miss a performance. Eve seizes on the opportunity and invites the press to attend. Her performance is lauded by the theatre critics, including influential and snarky Addison DeWitt (George Sanders). Margo is unaware of Karen's role but can't miss Eve's triumph.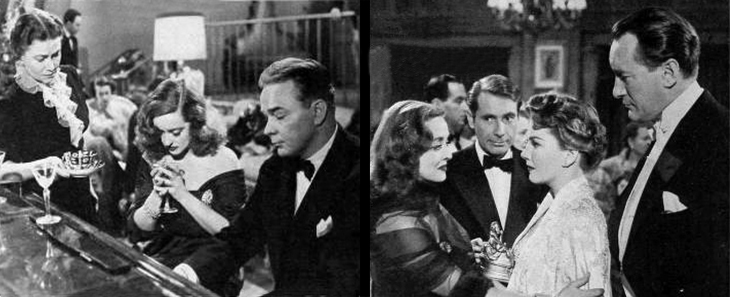 (Thelma Ritter & Bette Davis |  Davis, Gary Merrill, Anne Baxter & George Sanders)
Her ambition is now unleashed and Eve goes so far as to try her wiles on Margo's boyfriend Bill. Spurned by Bill, Eve turns to Addison for solace, and he skewers Margo in his column. Eve continues to scheme to take Margo's place as the leading lady of Broadway, and isn't above blackmail and seduction in her quest. 
Having hurt her back filming Three Came Home (1950), actress Claudette Colbert had to bow out of starring in All About Eve as Margo Channing.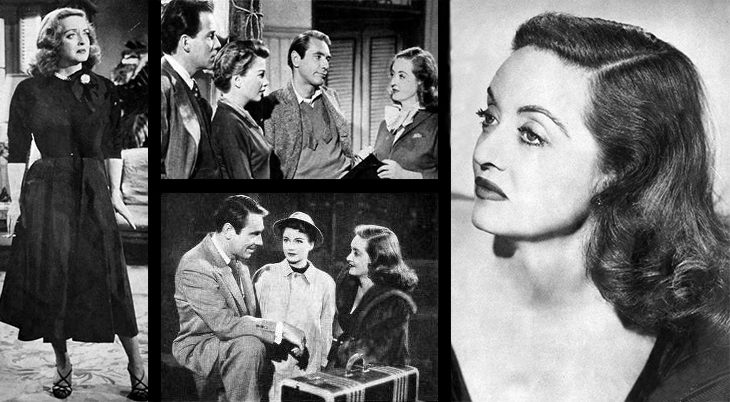 (Bette Davis 1950 All About Eve Photos: Screenland & Photoplay)
Bette Davis said afterwards that All About Eve resurrected her career. Despite being legendarily difficult to work with (according to former co-stars and directors), Joseph L. Mankiewicz and Davis sang each other's praises. However, co-star Celeste Holm, who played Davis' best friend in All About Eve, did not.
Marilyn Monroe has a small part in All About Eve as a young actress who is mentored by critic Addison DeWitt. Reportedly George Sander's then-wife Zsa Zsa Gabor didn't quite trust George with Marilyn, and she kept showing up on the set (IMDB). 
All About Eve was the first credited movie role for actor Craig Hill, who went on to have a long career in films and starring on TV in Whirlybirds. 
Nominated for 14 Oscars, All About Eve won 6, including Best Picture.
All About Eve beat out Father of the Bride, Born Yesterday, Sunset Boulevard, and King Solomon's Mines for the Best Motion Picture Oscar.
Joseph L. Mankiewicz won Best Director (winning over John Huston, George Cukor, Billy Wilder, and Carol Reed) and Best Screenplay (triumphing over The Asphalt Jungle, Broken Arrow, Born Yesterday, and Father of the Bride). Suave George Sanders won Best Supporting Actor for his performance as Addison DeWitt.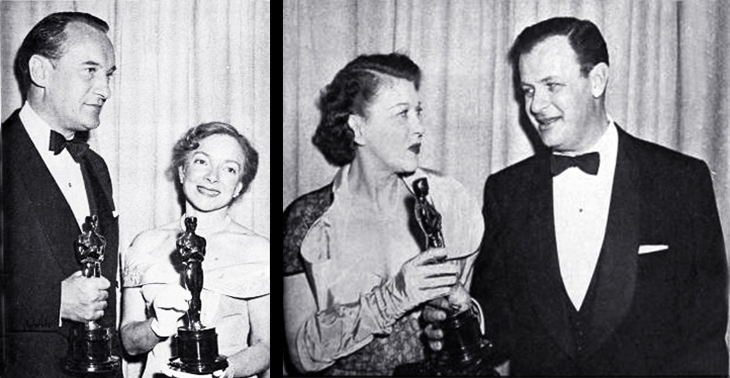 (George Sanders, Helen Hayes, Ruth Chatteron, Joseph L Mankiewicz 1951)
Sanders and Mankiewicz were presented with their Oscars at the 23rd Academy Awards ceremony in 1951 by stage & screen legends Helen Hayes and Ruth Chatterton.
Other Academy Award wins for All About Eve included Best Costume Design – Black and White (Edith Head and Charles LeMaire); and Best Sound Recording (Thomas T. Moulton). 
Less successful were Best Actress nominees Anne Baxter and Bette Davis; it's been speculated that having two actress from one film in the same category split the vote, and deprived each other of an Oscar win. In an exceptionally strong field that included Gloria Swanson and Eleanor Parker, it was Judy Holliday in the comedy Born Yesterday that took home the Oscar.
The same effect may have impacted Best Supporting Actress nominees Thelma Ritter and Celeste Holm, who lost to Josephine Hull for her performance as Veta Louise Simmons in Harvey.
The other nominations for All About Eve were for Best Art Direction – Black-and-White (won by Sunset Boulevard); Best Cinematography – Black-and-White (won by The Third Man); Best Film Editing (won by King Solomon's Mines); and Best Scoring of a Dramatic or Comedy Picture (the Oscar went to Franz Waxman for Sunset Boulevard). 
Groucho Marx' You Bet Your Life TV Debut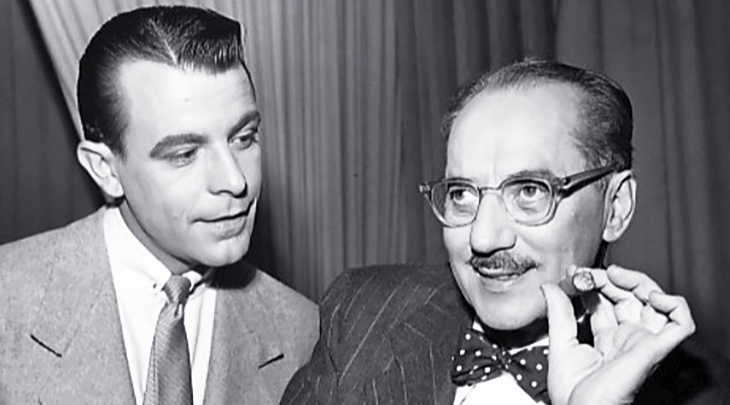 (Announcer George Fenneman & Host Groucho Marx 1951 You Bet Your Life Photo: NBC Radio)
The Marx Brothers comedian Groucho Marx, host of the popular radio series You Bet Your Life, debuted on NBC TV on October 4, 1950.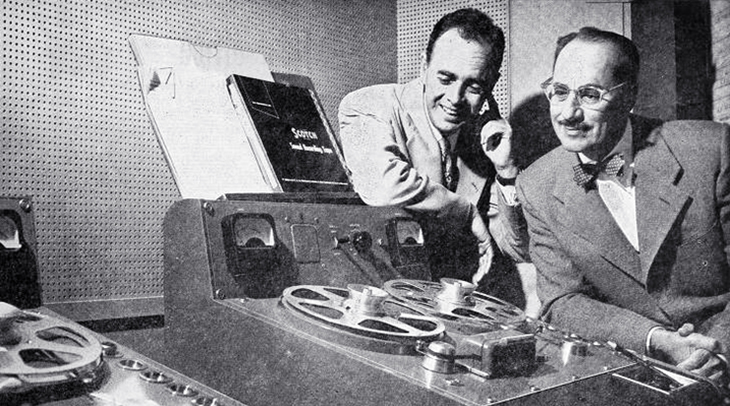 (Groucho Marx & Director Bob Dwan 1952 You Bet Your Life Photo: Broadcasting Telecasting)
Unlike many other 1950 television series which were broadcast live, You Bet Your Life was filmed ahead of time, a necessity for Groucho's ad-libs and format preferences.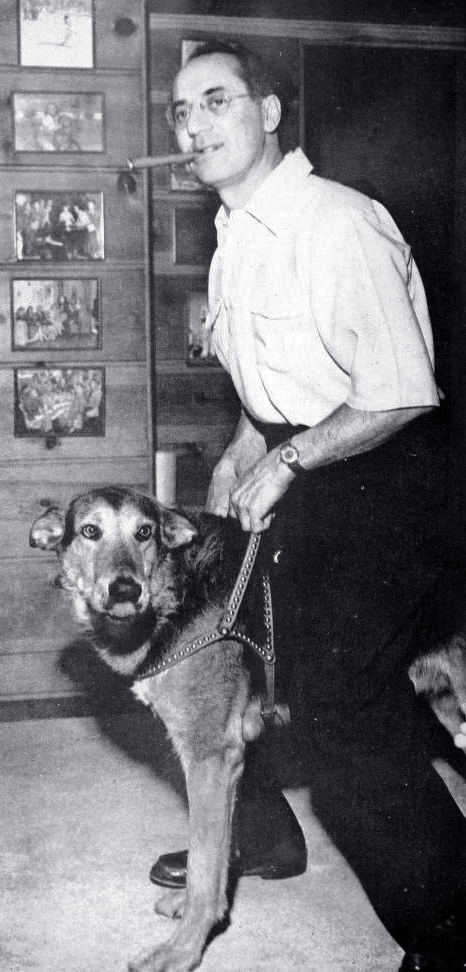 (Groucho Marx Gag Set-Up With Dog 1950 Photo: Sponsor)
This popular 30-minute quiz show had first begun airing on ABC radio in October 1947, and the comedy genius of host Groucho Marx made it an instant hit.
Both the radio and television versions of You Bet Your Life continued airing on NBC from 1950-1960.
After the radio version of You Bet Your Life went off the air in 1960, the TV series name was changed to The Groucho Show for what would be it's final season.
The last episode of The Groucho Show was aired in June, 1961.
The series format of You Bet Your Life was virtually unchanged from the radio to television versions.
Announcer George Fenneman would tell the listeners/television audience what the secret word for the episode was, and then introduce the host.
Groucho Marx would meet his first two contestants / teams (there could be 2-3 quiz segments per episode), and (mostly) adlib conversations while getting to know them.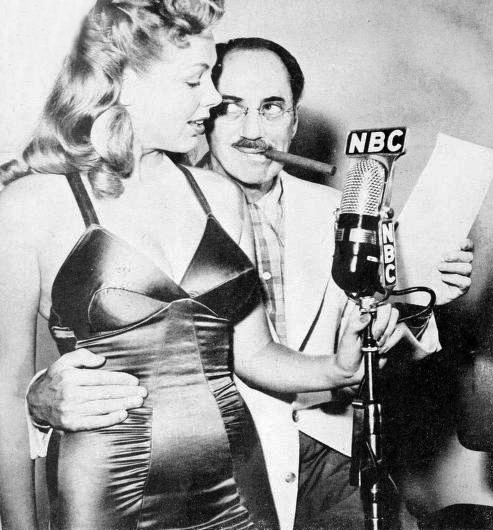 (Groucho Marx and Blonde 1950 Desoto-Plymouth Ad Photo: Sponsor)
The quiz game involved the teams answering four questions from a pre-determined category, and wagering a sum of money on each question. A final jackpot question had one team member risking their half of the winnings, while the other team member kept their half.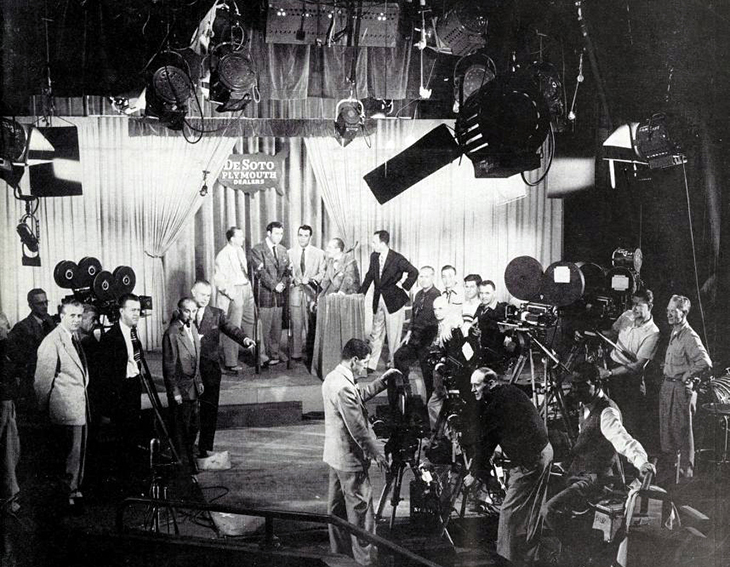 (Filming You Bet Your  Life 1952 Photo: American Cinematographer)
A Groucho-ized toy duck usually descended from the ceiling on a string to deliver a $100 prize to the contestant team that said the secret word.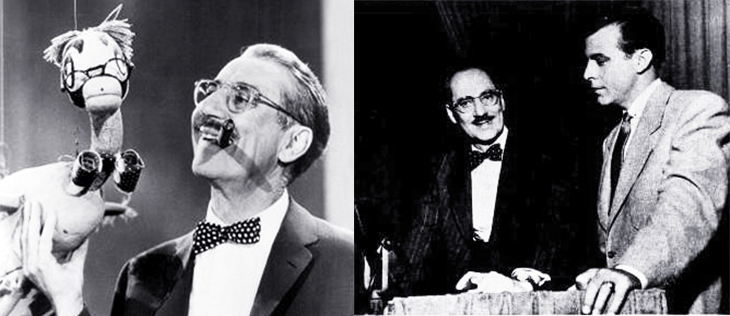 (You Bet Your Life Groucho Marx with Secret Word Duck c 1950 | George Fenneman 1958)
Occasionally a surprise would be on the end of the string. In one memorable instance, Harpo Marx (Groucho's brother) was substituted.
Groucho's daughter Melinda was a frequent visitor to her father's set.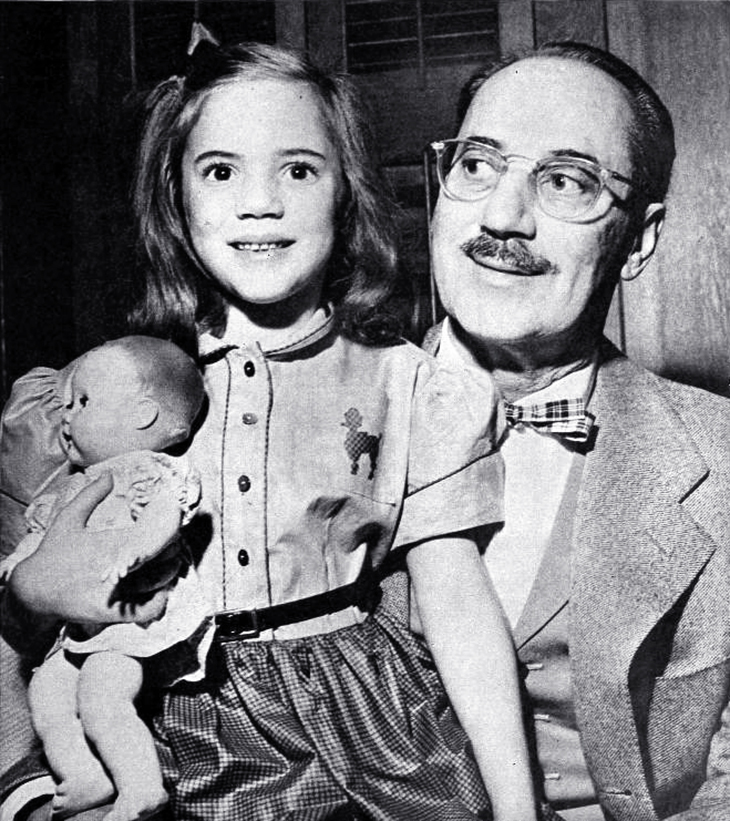 (Groucho Marx & daughter Melinda 1953 You Bet Your Life Photo: Radio TV Mirror)
Melinda Marx also appeared as herself in six episodes of the series between 1955-1960. Some notable guest stars on You Bet Your Life included Groucho's brothers, Chico Marx, and Harpo Marx, as well as Art Linkletter, boxers Rocky Marciano and Joe Louis; designer Edith Head; writers Ray Bradbury, William Peter Blatty, Alan Caillou, & C.S. Forester; former silent film stars Hoot Gibson, Laura La Plante, and Francis X. Bushman; actors Ernie Kovacs, James Hong, & Gene Nelson; singer Frankie Avalon; songwriter Sammy Cahn; movie producer Irwin Allen; tennis star Pancho Gonzalez; pianist Liberace; athletes Bob Mathias and Johnny Weissmuller; actresses Jeanne Crain, Diana Lynn, Phyllis Diller, Vera Miles, and Fay Spain; fitness expert Jack LaLanne; and ventriloquist Edgar Bergen and his daughter Candice Bergen.
George Fenneman
You Bet Your Life announcer and able Groucho sidekick/straight man George Fenneman stayed with the series from 1947 when it began on radio, through to it's final episode in 1961. Marx would often tease Fenneman about his name ("Feminine"), and they remained friends until Groucho's death in 1977. Before serving as announcer on You Bet Your Life and other radio and television programs (notably Gunsmoke and Dragnet), Fenneman was a WWII U.S. broadcast correspondent for the Office of War Information.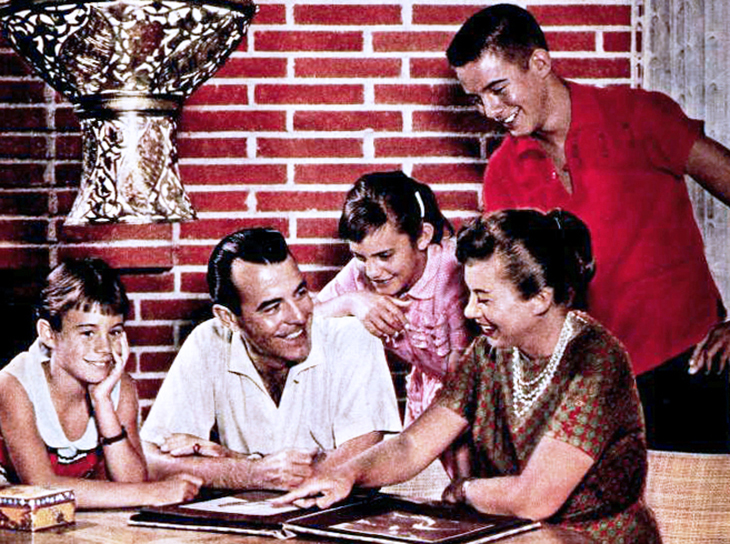 (George Fenneman & family 1959 Photo: Radio TV Mirror)
Above, George Fenneman with his wife Peggy, their daughters Georgia (left) and Beverly, with son Cliff standing behind them. 
After You Bet Your Life ended, George Fenneman formed a commercial production company and continued announcing on radio and television (The Perfect Husband; Dragnet 1967; Who in the World); he was 77 years old when he died in 1997.
Gordon Jenkins and The Weavers at #1 With Goodnight, Irene
The Weavers (Pete Seeger, Lee Hays, Fred Hellerman, and Ronnie Gilbert) version of Goodnight, Irene sat at #1 on the best-selling song charts for all of October, 1950. 
Written and first recorded by blues musician Lead Belly (Huddle Ledbetter) in 1933, Goodnight, Irene was his folk re-working (lyrics and rhythm) of Gussie L. Davis' song Irene Good Night (1886). Goodnight, Irene was one of Lead Belly's signature songs throughout the 1930s and 1940s, until his death in December 1949. 
Pianist and music arranger Gordon Jenkins and folk vocal quartet The Weavers recorded their version of Goodnight, Irene in 1950, leaving out some of Lead Belly's lyrics. Good Night, Irene by Gordon Jenkins and The Weavers first reached #1 on the Billboard Charts in August 1950, and it remained there for all of September, October, and the first two weeks of November, 1950.
The Weavers vocal group was formed in 1948. Although Seeger and Hays were hardly folk music newcomers (they'd previously founded the Almanac Singers in 1940), the quartet was "discovered" singing in the Village Vanguard club by bandleader Gordon Jenkins, and signed by Decca Records.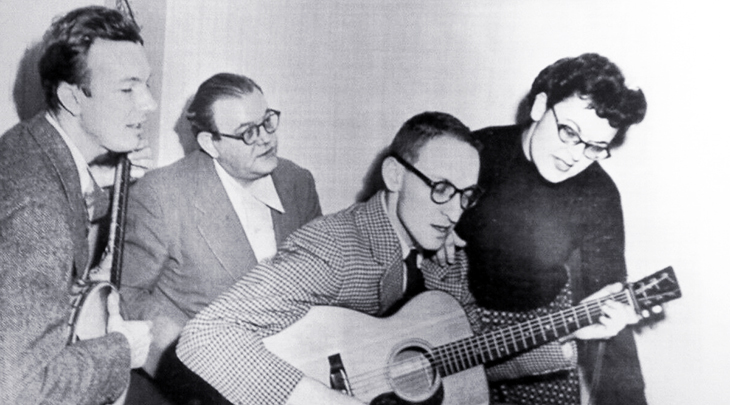 (The Weavers 1952 from left: Pete Seeger, Lee Hays, Fred Hellerman, & Ronnie Gilbert Photo: UPI)
Artists that rushed to record Goodnight, Irene in 1950 after The Weavers had what turned out to be a million-dollar hit on their hands, included Frank Sinatra (got to #5), Jo Stafford, and Dennis Day. A few years later, the song inspired Wake Up, Irene (1954), an "answer" country hit by Hank Thompson.
Other folk songs that the Weavers enjoyed success with in the early 1950s included Tzena, Tzena, Tzena (written in 1941 & released as the B side to Goodnight, Irene), The Wreck of the John B, On Top of Old Smoky, Wimoweh, and The Roving Kind. The quartet also enjoyed some exposure on television, performing on The Milton Berle Show and other series in 1950 and 1951.
Like Burl Ives, Judy Holliday, and many other folk recording and performing artists during the 1950s, The Weavers were victims of anti-communist publications (Red Channels; Counterattack) and organizations (HUAC, McCarthyism) at the height of the "red scare" years during the Cold War. FBI Informant Harvey Matusow named Lee Hays and Pete Seeger as members of the Communist Party. The group was blacklisted, resulting in their concerts being cancelled and their denied airplay. As a result, the Weavers broke up in 1952.
After the grip of McCarthyism and anti-communist hard-liners had on the entertainment industry begun to loosen, The Weavers reunited in 1955. The quartet enjoyed some significant successes, including a sold-out reunion concert at Carnegie Hall and subsequent signing by Vanguard Records.
In 1958,  iconic folk singer Pete Seeger left the Weavers in frustration over their commercial direction (ie, a cigarette company jingle) to pursue a solo career. Eric Darling replaced Seeger, and was in turn was briefly replaced by Frank Hamilton in 1962 when Darling left; and finally, by Bernie Krause. The Weavers disbanded again in 1964, but the original quartet would occasionally reunite until Lee Hays died in August 1981. Pete Seeger died in 2014 at the age of 94, Ronnie Gilbert passed away in 2015, and Fred Hellerman in 2016.
*Images are believed to be in the public domain and/or Creative Commons licensed & sourced via Wikimedia Commons, Vimeo, YouTube, or Flickr, unless otherwise noted*