This Was Nifty in August 1950
News Headlines & Boomer Entertainment Trivia from August, 1950: Classic Movies Premiere – Sunset Boulevard; Nat King Cole's Mona Lisa is #1 Hit Song; Edith Sampson is First African-American Woman Appointed to the United Nations.
Sunset Boulevard Premieres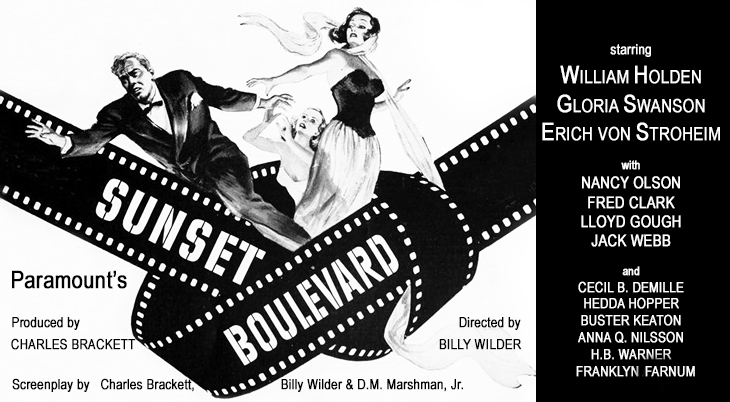 Paramount Pictures' classic film-noir Sunset Blvd. starring William Holden, Gloria Swanson, and Erich von Stroheim, premiered on August 10, 1950 at Radio City Music Hall in New York City. 
The plot of Sunset Blvd. has jaded and down on his luck screenwriter Joe Gillis (William Holden) parking his broken-down car at a Sunset Blvd. mansion to hide it from repossession. He meets the owner, former silent film star Norma Desmond (Gloria Swanson) and her chauffeur/butler/keeper Max Von Mayerling (Erich von Stroheim). Nutty Norma is planning a comeback and wants Joe to help her with her screenplay (and a lot more besides!). Joe moves in with Norma and works on the screenplay.
A few times a week, Norma screens her old silent films for Joe or acts out the parts (one of the clips shown is from Queen Kelly, a Gloria Swanson Production filmed in 1928 starring Swanson, and directed by Erich von Stroheim). When Joe begins working on a screenplay with nice girl Betty Schaefer (Nancy Olson) and falls for her, Norma loses it.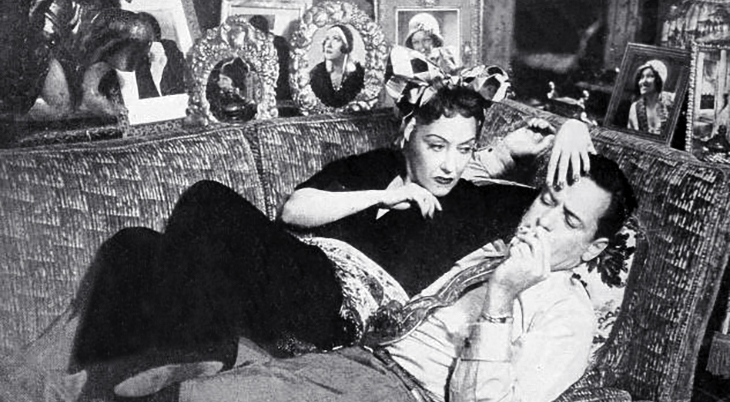 (Gloria Swanson & William Holden 1950 Sunset Boulevard Photo: Modern Screen)
It is Gloria Swanson's own photographs and paintings of herself when she was a silent film star, that can be seen in the home of Sunset Blvd.'s Norma Desmond.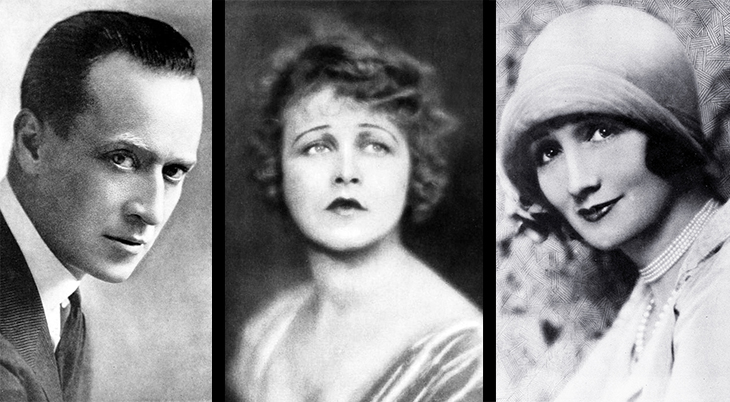 (H.B. Warner 1917, Anna Q. Nilsson 1920 & Hedda Hopper 1929)
In cameos as themselves are several legends who got their start in the era of silent movies – actresses Anna Q. Nilsson, Hedda Hopper (before she was a gossip columnist), filmmaker Cecil B. DeMille, actors H.B. Warner, and Buster Keaton.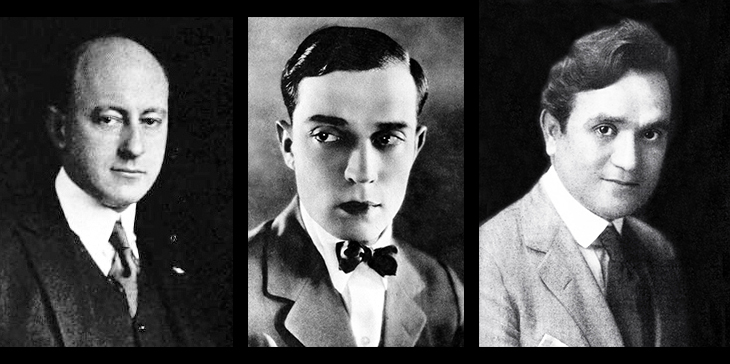 (Cecil B. DeMille c. 1920; Buster Keaton c. 1923; Franklyn Farnum c. 1917)
Former silent film actor Franklyn Farnum plays an undertaker, and among the other silent movie actors and actresses who emerged to play a bit part in Sunset Blvd. are Gertrude Astor, Eva Novak, and Creighton Hale.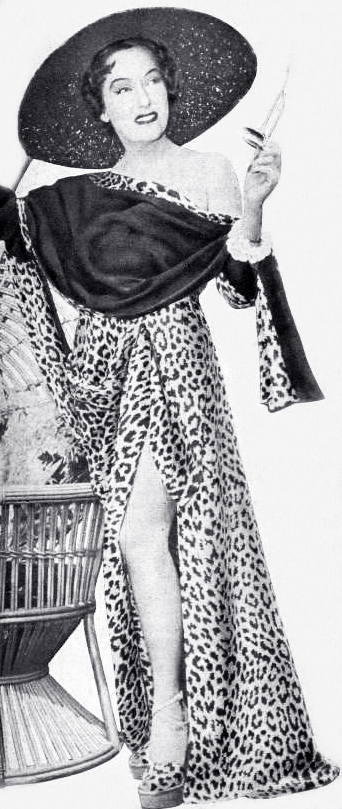 (51-year-old Gloria Swanson in a leopard-skin sarong she helped Edith Head design for her to wear in Sunset Boulevard: Photoplay) 
Audiences and critics at the time loved Sunset Blvd., and that hasn't changed in the last seven decades since it was released.
You'll find it on most "Best of" film lists, and it was selected among the first group of movies for preservation in the National Film Registry.
The movie was nominated for 11 Academy Awards and won 3 – Best (Original) Story and Screenplay (written by Sunset Boulevard director Billy Wilder, producer Charles Brackett, and D.M. Marshman Jr.), Best Black and White Art Direction (Hans Dreier, John Meehan, Samuel M. Corner, Ray Moyer), and Best Scoring of a Dramatic or Comedy Picture (Franz Waxman).
In an article he wrote for The Cine-Technician in 1952, Sunset Blvd. producer & co-writer Charles Brackett explained how the screenplay for the movie came about.
"Wilder, Marshman and I were acutely conscious of the fact that we lived in a town [Hollywood] which had been swept by a social change as profound as that brought about in the old South by the Civil War. Overnight, the coming of sound had brushed gods and goddesses into obscurity. We had an idea of a young man happening into a great house where one of these ex-goddesses survived."
"As we went along, our sympathies became deeply involved with the woman who had been given the brush by thirty million fans."
The story and stars of Sunset Boulevard are a tribute to those decadent glory days of silent movies.
Both Erich Von Stroheim and Gloria Swanson had already achieved some success in their silent film careers in 1920. Swanson's public persona was flamboyant, much like her Sunset Blvd. character Norma Desmond.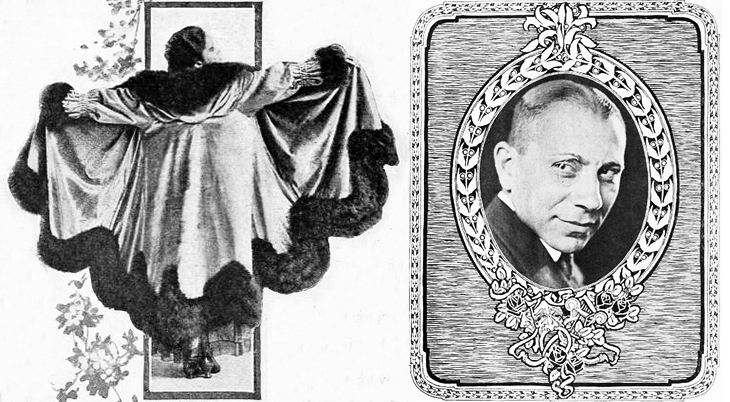 (Gloria Swanson & Erich Stroheim in 1920)
Gloria Swanson was photographed wearing this marvelous marabou-trimmed velvet evening wrap above, to a Los Angeles premiere in 1920. Although Swanson the actress wasn't "discovered" by Cecil B. Demille and Max Mayerling as her character Norma Desmond was in Sunset Boulevard, director-producer Cecil B. DeMille did produce and direct several films starring Gloria Swanson, beginning with three in 1919 alone (Don't Change Your Husband; For Better, For Worse; Male and Female).
Aside from Sunset Boulevard, Gloria Swanson only worked in one other film associated with co-star Erich von Stroheim; she starred with Walter Byron and Seena Owen in the afore-mentioned quasi-talkie Queen Kelly (1932), based on a story by von Stroheim, which he also helped produce and direct. Both Gloria and her then-lover Joseph Kennedy (JFK's dad) were the forces behind Gloria Swanson Productions and are noted as uncredited producers of Queen Kelly on IMDB. Queen Kelly was filmed in 1928 – 22 years before Sunset Boulevard – just as sound was beginning to be implemented in films, and the fan magazines excitedly proclaimed Gloria Swanson would be singing a song in the movie, slated to be her first talking film.
Queen Kelly wasn't shown in the USA until 1967 – 17 years after Sunset Boulevard (although it was released in Argentina and France in 1932). Apparently, Swanson had Joseph Kennedy fire Erich von Stroheim as the director mid-way through filming the silent portions in 1928. Two years later, the film was completed with director Richard Boleslawski, but Von Stroheim, who owned part of the movie, refused to let it be seen in the U.S. A Variety critic that was able to preview Queen Kelly in 1950, confirmed that director von Stroheim was too demanding for the temperamental Swanson, although he credits Swanson as having suggested they use footage from it for Sunset Boulevard. Sunset Blvd. Director Billy Wilder said that it was Erich von Sroheim who suggested that Queen Kelly be one of the films Norma screens for Joe. Erich von Stroheim died in 1957, and Queen Kelly wasn't released in the U.S. for almost another 10 years after his death.
Of the major supporting actors in in the film, only a few – Fred Clark, Lloyd Gough, Nancy Olson, Jack Webb, and Larry J. Blake – didn't begin their film careers during the silent era.
Despite it's iconic film status today, Sunset Boulevard lost several key awards to another worthy contender that had 14 nominations that year – All About Eve (which won Best Motion Picture Award, Best Director, & Best Screenplay).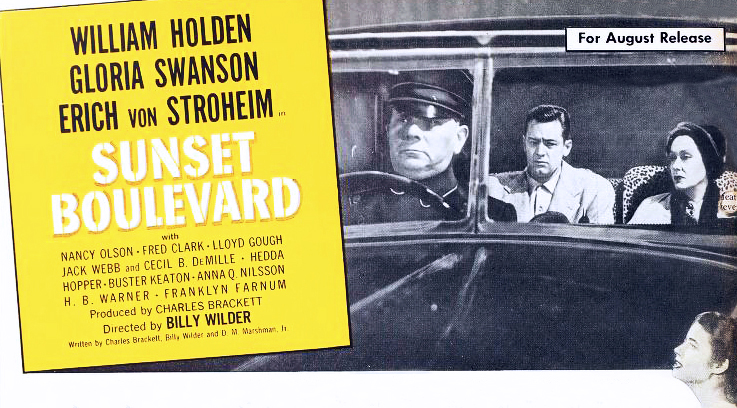 Sunset Blvd.'s leading man William Holden was nominated for Best Actor, losing to Jose Ferrer in Cyrano de Bergerac (1950); and Gloria Swanson – in what was surely the performance of her life – lost Best Actress to Judy Holliday in Born Yesterday (1950). Sunset Blvd. Best Supporting Actor nominee Erich Von Stroheim was another victim of the All About Eve wave of wins, losing to George Sanders. 
Other Academy Award nominations for Sunset Boulevard included Best Film Editing; Nancy Olson for Best Supporting Actress (won by Josephine Hull for Harvey); and John F. Seitz for Best Black and White Cinematography (won by Robert Krasker for The 3rd Man).
Mona Lisa Sung by Nat King Cole is #1
Singer Nat King Cole's ballad Mona Lisa hit #1 and stayed there for 5 weeks, from mid-July through to August 18, 1950. 
Written by Ray Evans and Jay Livingston, Mona Lisa was commissioned by Paramount Pictures and recorded first by Charlie Spivak and Tommy Lynn for their crime film-noir Captain Carey, U.S.A., which was released earlier in 1950. Co-incidentally, Mona Lisa songwriters Ray Evans and Jay Livingston appeared as themselves in Sunset Boulevard cameos. Mona Lisa won the Academy Award for Best Original song of 1950 at the Oscar ceremonies. 
But it was Nat King Cole's recording of Mona Lisa that was destined to be come the #1 hit song on the 1950 music charts, and was inducted into the Grammy Hall of Fame in 1992.
Other artists who have recorded and released their versions of Mona Lisa include Nat's daughter Natalie Cole (1992), Andy Williams (1964), Harry Connick Jr. (2009), Bing Crosby (1956), and many others..
Country crooners have also taken a stab at Mona Lisa; Willie Nelson in 1981 got to #11 on the Country Music chart, while Conway Twitty's up-tempo version made it to #5 on the UK Singles chart in 1959. Here's Conway Twitty's take on Mona Lisa.
There are several rockabilly versions of Mona Lisa as well; the first to do this was Carl Mann in 1959.
Brian Setzer (formerly of The Stray Cats) covered Mann's rockabilly version in 2005. 
And last but not least, if you're a film fan, you can hear Nat King Cole singing Mona Lisa in these movies: The Travelling Players (1975); Raging Bull (1980; Mona Lisa (1986); The Freshman (1990); and Mona Lisa Smile (2003).
Edith Sampson, 1st African-American Delgate to the U.N.
Black lawyer and judge Edith Sampson blazed trails in the U.S. justice system and was the first African-American (and a woman to boot!) appointed as an American delgate to the United Nations on August 24th, 1950.
Below, Former First Lady Eleanor Roosevelt with Edith Sampson at the United Nations in 1950.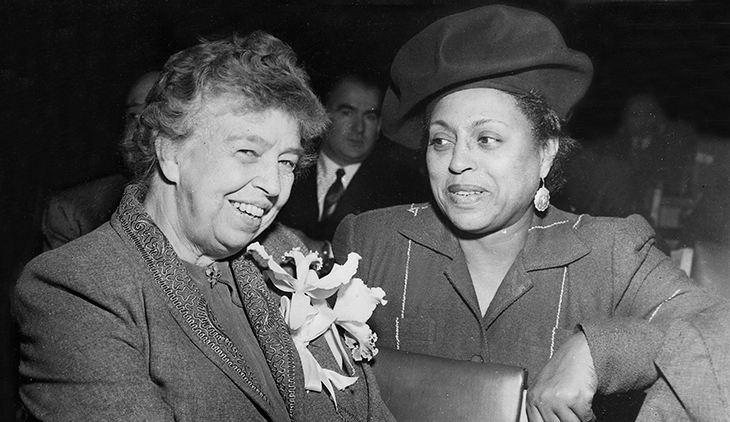 (Photo: US National Archives and Records Administration) 
Born on October 13, 1901, in Pittsburgh, Pennsylvania, Edith Spurlock had to leave school at the age of 14 to work two jobs to help her family (she was one of 8 children). After returning to school, she passed high school and while working for Associated Charities, studied at the New York School of Social Work, where an instructor encouraged her to become a lawyer.
Edith married Rufus Sampson and when the couple moved to Chicago she worked as a social worker by day and at law school in the evenings. She was ranked at the top of her law class when she graduated from John Marshall Law School in 1925 at the age of 24.
While running her own legal office beginning in 1924, Edith continued to study law. Some other firsts and highlights from the life and career of Edith Sampson that lead up to her U.N. appointment by President Truman:
1927 – the first woman to receive a Master of Laws from Loyola University's Graduate Law School (she passed the Illinois State Bar exam that year as well). 
1934 – admitted to practice law before the Supreme Court.
1935 – having previously divorced first husband Rufus Sampson, she kept his last name after she married lawyer Joseph E. Clayton in 1935. They shared a law office until his 1957 death.
1943 – one of the 1st African-American members of the National Association of Women Lawyers.
1949 – one of 26 prominent Americans who participated in the Round-the-World Town Meeting would tour, meeting leaders of other countries, speaking at public debates and on radio. 
She was reappointed to the United Nations and served from 1952-1953. When President Eisenhower came to office in 1953, Sampson served as a member of the U.S. Commission for UNESCO during his term. In another first, Edith Sampson was the 1st U.S. African-American representative to NATO during 1961-1962.
Edith Sampson was the first African-American woman to be elected as a judge in the state of Illinois in 1962 when she became an associate judge of the Municipal Court of Chicago. From 1966-1978, she worked as a Circuit Court judge. Edith Sampson died on October 8, 1979 at the age of 77, the year after she retired. Actress Lynn Moody is a great-niece of Edith Sampson.
*Images are believed to be in the public domain and/or Creative Commons licensed & sourced via Wikimedia Commons, Vimeo, YouTube, or Flickr, unless otherwise noted*