This Was Nifty in May 1950
News Headlines & Entertainment Trivia from May, 1950 – Elizabeth Taylor Gets Married Twice in One Month; 2200-Year-Old Tollund Man Dug Up in Denmark; Humphrey Bogart & Gloria Grahame are In a Lonely Place
Elizabeth Taylor Weds Conrad Hilton Jr. & Stars in Father of the Bride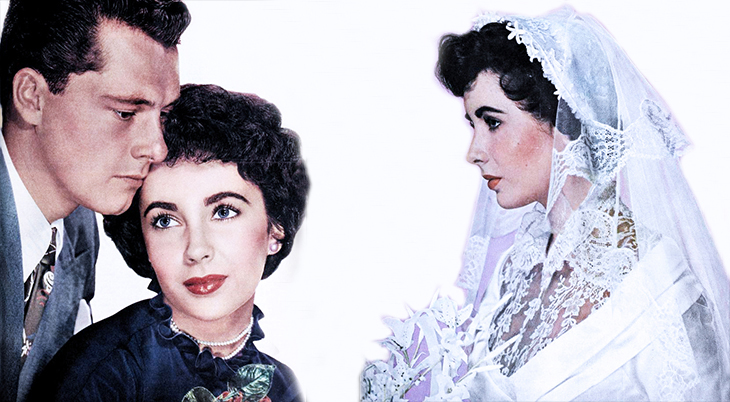 (Elizabeth Taylor & Conrad "Nicky" Hilton Jr. Wedding May 1950)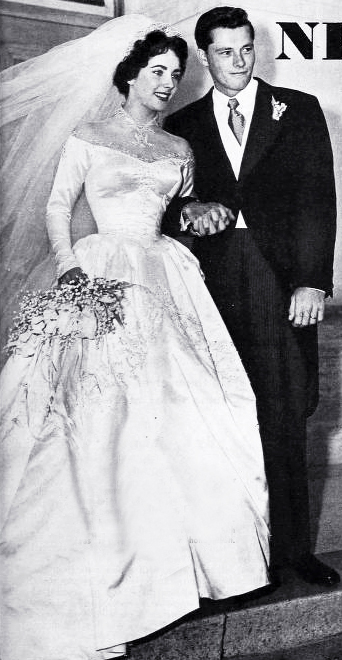 When they married on May 6, 1950, 23-year-old bridegroom Conrad "Nicky" Hilton was already a jaded, hard-drinking bad boy who liked to gamble, while the bride Elizabeth Taylor was a dewy-eyed recent high school grad with stars in her eyes.
Elizabeth Taylor had grown up on the Metro-Goldwyn-Mayer lot and attended the movie studio's Little Red Schoolhouse.
It was MGM that paid for the lavish wedding of Conrad Hilton Jr. and Elizabeth Taylor, their 600 guests and her elaborate wedding dress.
Among their wedding party were Hilton's brother Barron Hilton and his wife, as well as Taylor's friends Betty Sullivan (Ed Sullivan's daughter) and fellow Little Red Schoolhouse alum Jane Powell as bridesmaids.
Elizabeth Taylor had been a bridesmaid at Jane Powell's wedding to Geary Steffen in November, 1949.
The wedding, and the Elizabeth's going-away suit (designed by Edith Head) and trousseau were covered extensively in the press.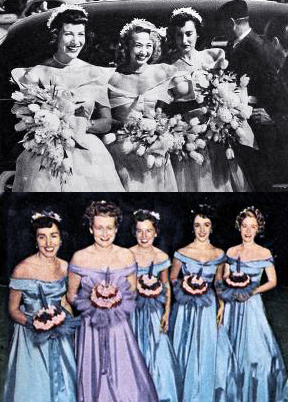 (Top, Jane Powell at Elizabeth's wedding; Bottom, Elizabeth at Jane Powell's wedding)
In an post-wedding interview with Louella Parsons for Photoplay, Taylor said,
"I want this marriage to be forever…I just love everything about getting married."
A crowd of 3,000 stood outside the church, but invitees to the wedding included Hollywood elite & their partners – Ricardo Montalban, Ginger Rogers, Van Johnson, and Rosalind Russell.
The timing could hardly have been better for MGM. Less than two weeks later, Elizabeth Taylor got married again – this time onscreen, at the May 18, 1950 New York City film premiere of MGM's Father of the Bride.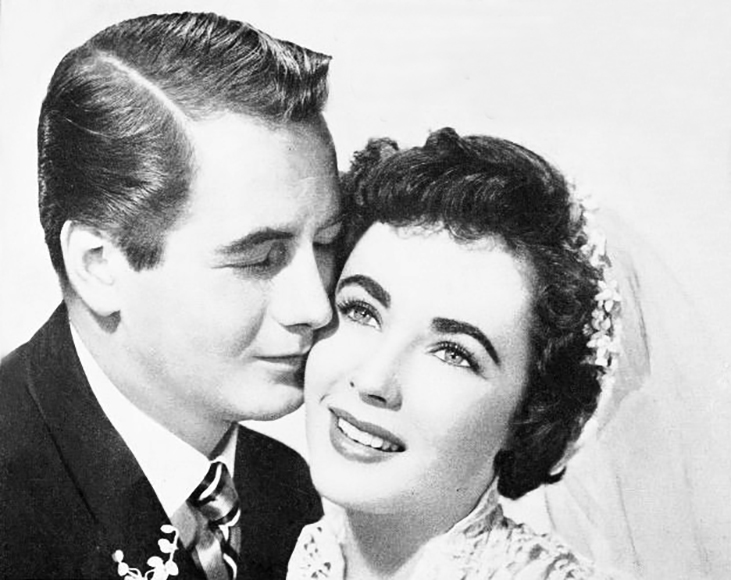 (Don Taylor & Elizabeth Taylor 1950 Father of the Bride)
Taylor plays bride Kay Banks, Spencer Tracy and Joan Bennett co-star as her parents, and young actor Russ Tamblyn (another Little Red Schoolhouse chum of Elizabeth's) is Kay's younger brother. The on-screen bridegroom Buckley Dunstan is played by Don Taylor (no relation to Elizabeth), and his parents are ably portrayed by former silent film stars Billie Burke and Moroni Olsen.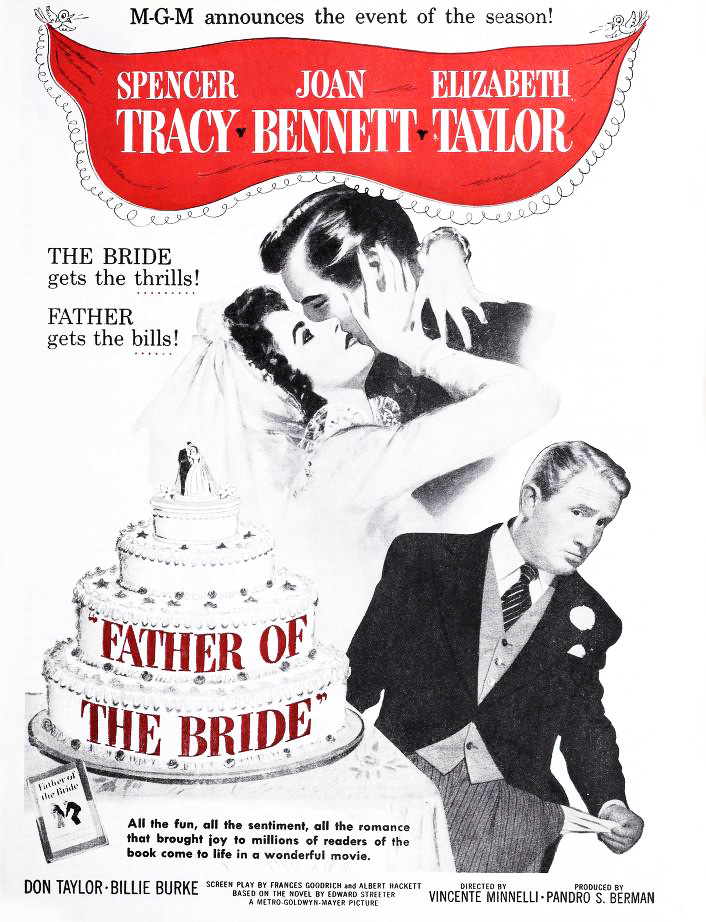 (Elizabeth Taylor, Don Taylor & Spencer Tracy 1950 Father of the Bride)
While Father of the Bride became an instant hit and modern classic romantic drama-comedy, the same could not be said for the real-life marriage of Elizabeth Taylor and Nicky Hilton. Love and romance were quickly killed by Hilton's alcohol-fueled anger and abuse of his new wife; likely not helped by the entourage and media coverage that virtually blanketed every aspect of Taylor's life. It took less than 8 months of wedded non-bliss for their divorce to be finalized, on January 29, 1951.  
While filming A Place in the Sun (1951), co-starring Montgomery Clift & Shelley Winters, a friend of Nicky Hilton introduced him to 17-year-old Elizabeth Taylor.
Elizabeth Taylor had been a movie star since the age of 10, when she made her film debut in There's One Born Every Minute (1942). The next year she'd leapt into the public eye with a strong supporting role in the hit film Lassie, Come Home (1943) starring Roddy McDowall, Donald Crisp, May Whitty, Edmund Gwenn, Nigel Bruce, and Elsa Lanchester; Taylor and Roddy McDowall, yet another MGM schoolhouse chum, were life-long friends. More films, including National Velvet (1944), a Lassie sequel, and Little Women (1949), followed. America and the world had watched Elizabeth Taylor grow up on the big screen.
After her divorce from Nicky Hilton, Elizabeth Taylor went on to become one of America's most lauded actresses and was a much-married bride, always in the news for movies, engagements, and marriages (weddings and divorces). 
Conrad Hilton Jr. ("Nicky") was born on July 6, 1926 to hotel magnate and founder of the Hilton Hotels chain, Conrad Hilton. The oldest of 3 children of Hilton and his first wife Mary Adelaide Barron, he followed his father into the hotel business, but his chief claim to fame was that of being a wealthy playboy. His parents divorced in 1934 and in 1942, his father Conrad Hilton Sr. married for the second time, to Hungarian model/actress Zsa Zsa Gábor. According to Gábor's biography, while separated from her husband Hilton Sr. in 1944, she began an affair with his son Nicky (Conrad Jr.), which didn't end with his engagement to Elizabeth Taylor in 1950.
After his divorce from Elizabeth Taylor, Nicky Hilton Jr. married once more, to Patricia McClintock in 1958. This marriage produced two sons, Conrad Hilton III, and Michael Hilton, before the couple divorced in 1965 amid reports of more abusive behavior. Conrad Hilton Jr. was only 42 when he died of a heart attack (related to alcoholism) on February 5, 1969.
Tollund Man Unearthed in Denmark
The mummified corpse of a naked man (Tollund Man) lying in a fetal position was found on May 6, 1950 in a Danish peat bog west of Silkeborg, Denmark. Two brothers from the village of Tollund near the bog, were digging for peat for fuel when they uncovered it.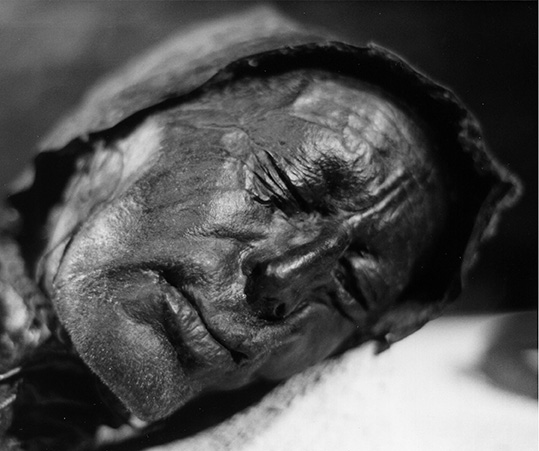 (Tollund Man Photo: Sven Rosborn)
At first the discovery was thought to be that of a recent murder victim; carbon dating tests revealed the body dated back to 375-210 B.C. Doctors determined he died by hanging, and scholars posited that he was a human sacrifice because of the way his body was arranged. Tollund Man is on display at Denmark's Silkeborg Museum. 
More than 500 "bog bodies" dating back to the Iron Age have been recovered in Denmark. Twelve years earlier, the mummified body of Elling Woman (c. 280 B.C.) was discovered in the same area as Tollund Man; she is also believed to have been hanged as a human sacrifice. 
Humphrey Bogart and Gloria Grahame Are In a Lonely Place
Director Nicholas Ray's film-noir drama In a Lonely Place, starring Humphrey Bogart and Gloria Grahame, premiered on May 17, 1950 in New York City. Supporting cast members include Frank Lovejoy, Jeff Donnell, Carl Benton Reid, Robert Warwick, Morris Ankrum, Stephen Geray, and William Ching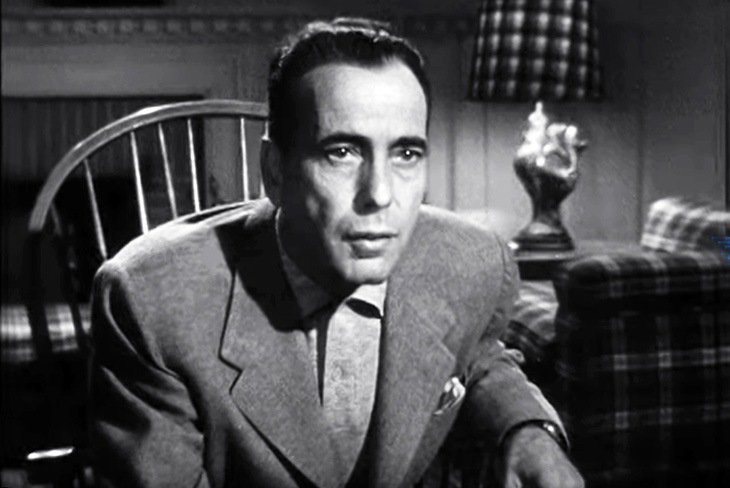 (Humphrey Bogart 1950 In a Lonely Place Trailer)
Based on author Dorothy B. Hughes 1947 novel In a Lonely Place, the plot of the movie has some key differences from the film. In the movie, Humphrey Bogart plays short-tempered, occasionally heavy-drinking screenwriter Dixon "Dix" Steele, whose agent Mel (Art Smith) meets him for dinner & drinks, and asks him to adapt a novel for the screen. An impatient Dix/Bogey asks the friendly restaurant hat-check girl Mildred Atkinson (Martha Stewart), who has already read the novel, to come home with him and give him a synopsis of the story so he won't have to read it. Mildred does, and we see him giving her money to take a cab home before he heads to bed.
The next morning Dix's detective friend Brub Nicolai (Frank Lovejoy) tells him Mildred Atkinson was murdered the night before.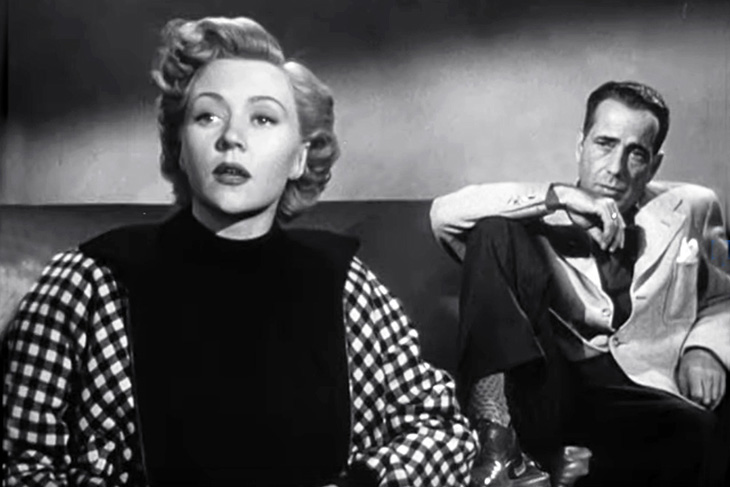 (Gloria Grahame & Humphrey Bogart 1950 In a Lonely Place Trailer)
Dix is being grilled at the police station when his neighbor Laurel Gray (Gloria Grahame) clears him – she could see into his apartment.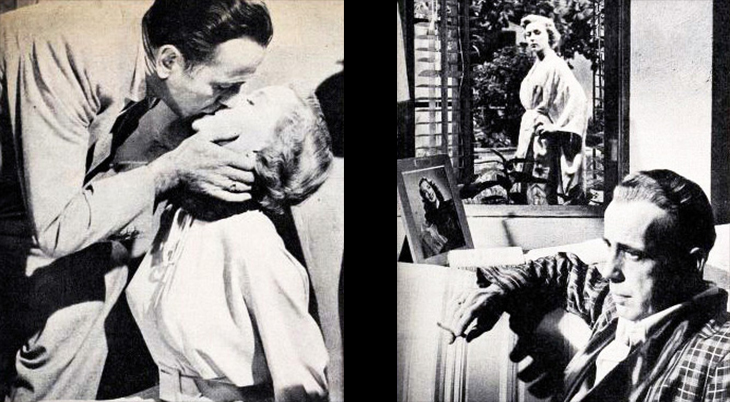 (Humphrey Bogart & Gloria Grahame 1950 In a Lonely Place Trailer)
Dix and Laurel quickly fall in love, but suspicions continue to crop up, fueled by Dix's great story-telling abilities, and his unstable temper when he's been drinking.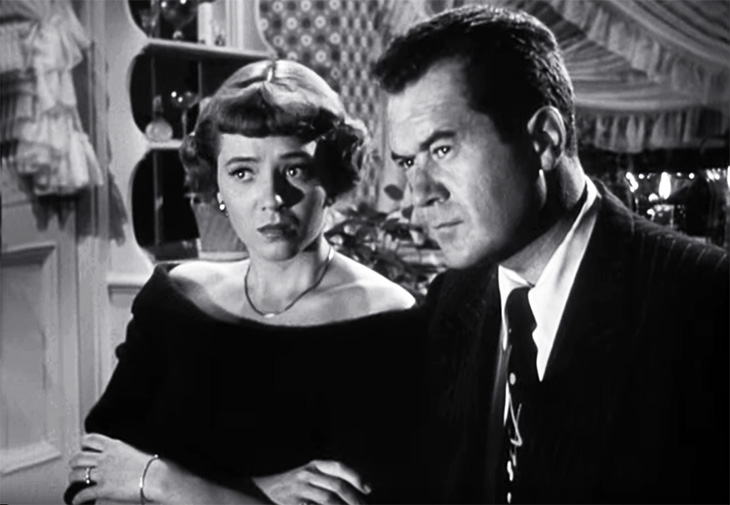 (Jeff Donnell & Frank Lovejoy as Sylvia & Brub Nicolai 1950 In a Lonely Place Trailer)
In a Lonely Place is a good whodunnit and a suspenseful love story, with a conclusion that will leave you feeling like you're….but I won't ruin the ending for you. 
This trailer for In a Lonely Place features Humphrey Bogart, Gloria Grahame, Frank Lovejoy, Jeff Donnell, and singer Hadda Brooks performing "I Hadn't Anyone Till You."
As always, music in the movies – especially these older films, and film-noir in particular – can elevate a mood, heighten the suspense, make a point, and move the story along. What would Casablanca be without Sam singing and playing piano for Humphrey Bogart and Ingrid Bergman?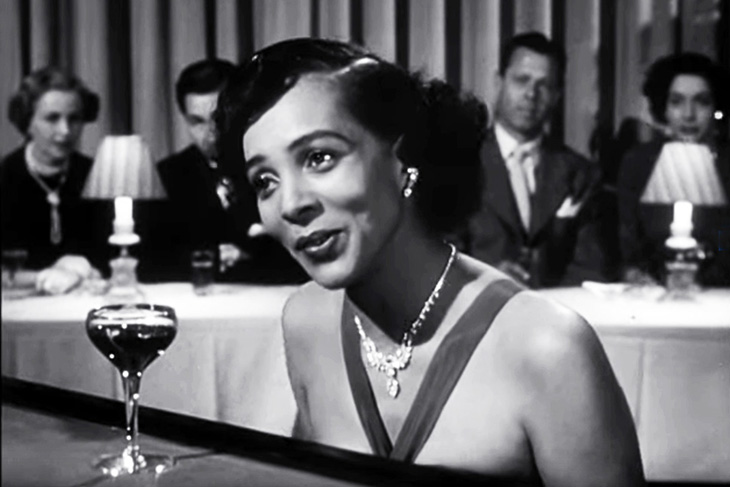 (Hadda Brooks 1950 In a Lonely Place Trailer)
In this case, performer Hadda Brooks sings "I Hadn't Anyone Till You" by Ray Noble, in a scene with Dix and Laurel at a club; it perfectly underscores their love story to that point. 
Black pianist-singer Hadda Brooks (nee Hattie L. Hapgood Oct. 29, 1916) "Queen of the Boogie" had some hit songs during the big band era, beginning in 1945. Her biggest song hit was the title track for the film Out of the Blue (1947) starring George Brent, Virginia Mayo, and Turhan Bey. In a Lonely Place was Hadda Brooks first performance in a movie; she also performed in other films including another movie with Gloria Grahame, 1952's The Bad and the Beautiful, which stars Kirk Douglas, Lana Turner, Walter Pidgeon, Dick Powell, Barry Sullivan, Gilbert Roland, and Leo G. Carroll, among others. The Library of Congress refers to her as possibly the first black woman in the U.S. to have had a television show of her own, the 30 minute film The Hadda Brooks Show (1957). Beginning in the 1970s she performed primarily in Europe and began living in Australia, not moving back to the United States until later in life. She performed two shows at Johnny Depp's Viper Room in 1996 to celebrate her 80th birthday. Hadda Brooks was 86 years old when she died after open heart surgery on November 21, 2002. 
*Images are believed to be in the public domain and/or Creative Commons licensed, or used by permission, unless otherwise noted*