What Was New in August 1952?
News Headlines & Entertainment Trivia from August, 1952: Classic Movies Release – The Snows of Kilimanjaro; Devil's Island Penal Colony is Closed; Jo Stafford at #1 with You Belong to Me, by Chilton Price.
The Snows of Kilimanjaro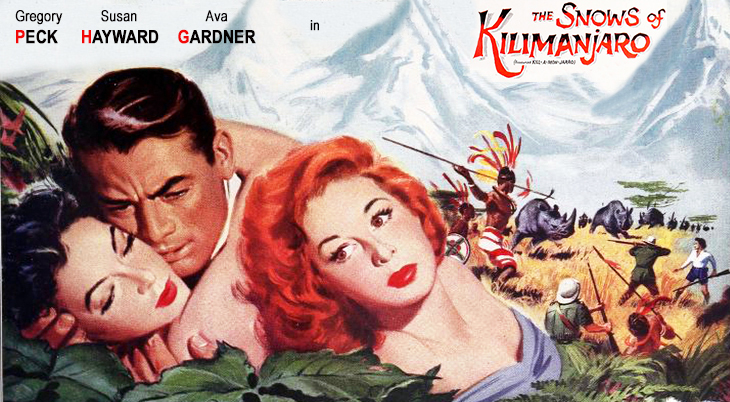 Gregory Peck, Ava Gardner, and Susan Hayward star in the classic film The Snows of Kilimanjaro, released on August 18th, 1952 in the United States. Leo G. Carroll plays Uncle Bill, and Hildegard Neff  is Countess Elizabeth.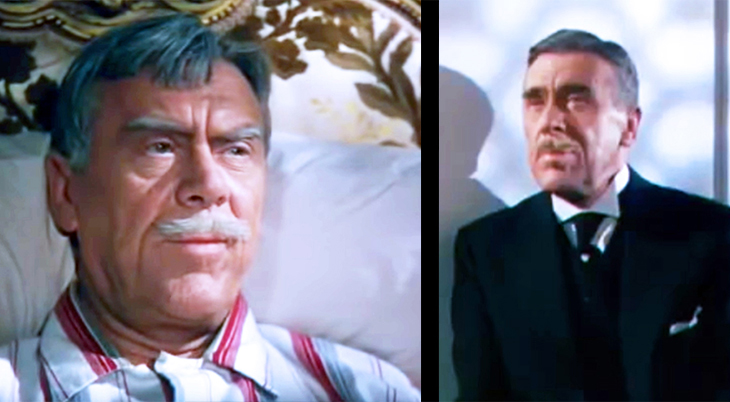 (Leo G. Carroll 1952 The Snows of Kilimanjaro)
In author Ernest Hemingway's 1936 short story of the same name, writer Harry, is on safari in Africa. He's got gangrene and is stranded in a camp at the base of Mount Kilimanjaro, with his wealthy female companion Helen. Harry reflects on his life and regrets (a prostitute he fell in love with, his marriage, etc.) and surmises that he would have been more likely to achieve his full potential as a writer if he hadn't made a career out of marrying wealthy women.
The Snows of Kilimanjaro screenplay by Casey Robinson alters Hemingway's female characters and gives a more "Hollywood" happy ending to the film.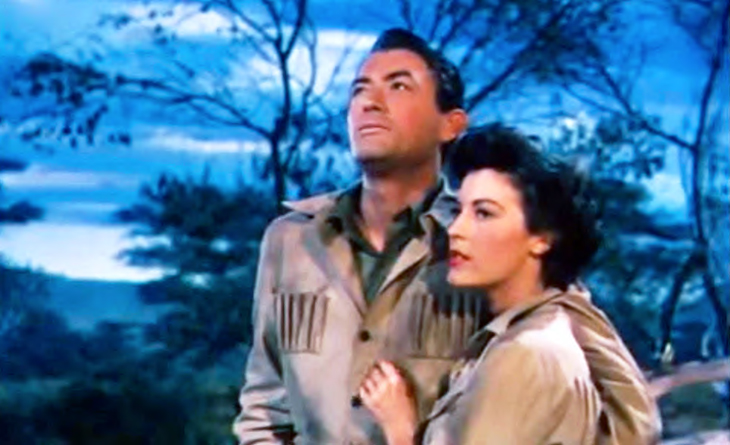 (Gregory Peck & Ava Gardner 1952 The Snows of Kilimanjaro)
Gregory Peck is of course, the writer Harry. Ava Gardner is Cynthia Green, whom he met in Spain and fell in love with. Cynthia wants a home but Harry wants to go on safari in Africa; she's pregnant but doesn't want this news to frustrate Harry, who wants to continue traveling and writing. He only learns of her pregnancy after Cynthia loses the baby.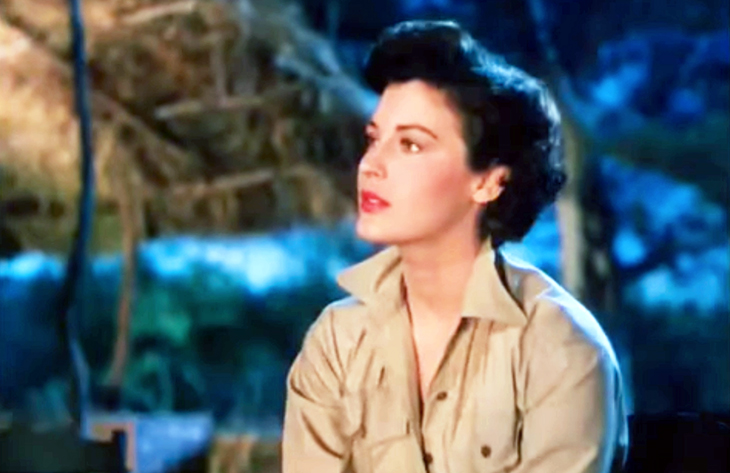 (Ava Gardner 1952 The Snows of Kilimanjaro)
Cynthia goes into an alcohol-fueled depression, and when she thinks Harry's leaving for a job as a war correspondent, she runs off with a flamenco dancer (Richard Allan).  
Harry gets engaged to the wealthy Countess Elizabeth; they break up when a letter from Cynthia falls into the hands of the Countess. She confronts Harry, who leaves in a huff for Spain to find Cynthia.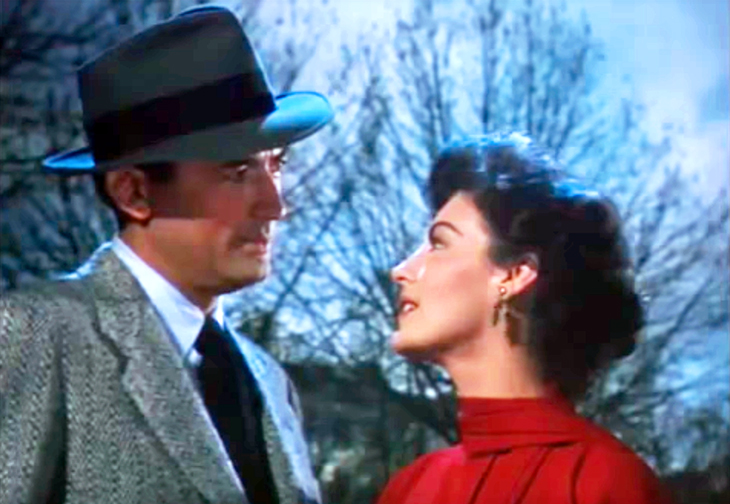 (Gregory Peck & Ava Gardner 1952 The Snows of Kilimanjaro)
Harry ends up fighting in the Spanish Civil War, and finds Cynthia is now an ambulance driver. Harry is seriously wounded when he tries to save the mortally injured Cynthia.
Later, in Paris, he meets Helen (Susan Hayward) who reminds him of Cynthia. They marry and go to Africa together on safari, where Harry develops an infection…
The Snows of Kilimanjaro was shot on location – Kenya, Egypt, the French Riviera – in glorious Technicolor.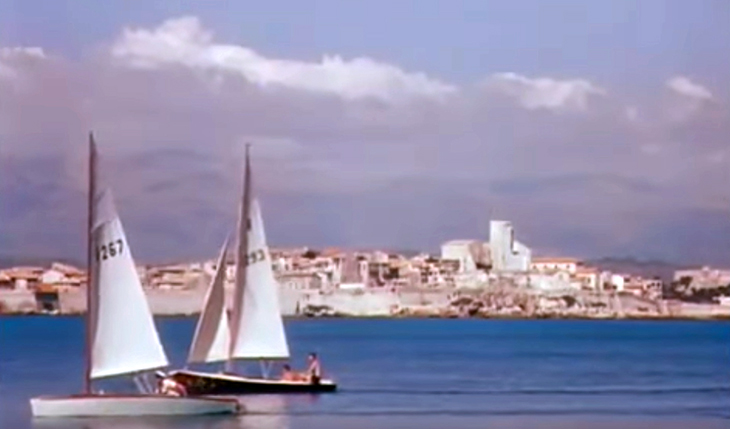 The movie was a box office success, and although critics thought the film was a bit slow, Cinematographer Leon Shamroy and the Art Directors Lyle R. Wheeler, John DeCuir, Thomas Little, and Paul S. Fox, resulted in Academy Award nominations. If you're a Gregory Peck fan, then this movie will be right up your alley.
Devil's Island Penal Colony is Closed  
The French penal colony of Cayenne commonly known as Île du Diable or Devil's Island, was largely closed by August 1952. The French government had created the penal colony a hundred years earlier, c. 1852-1853 on the three Salvation Islands of French Guiana. These islands in cold waters of the Atlantic Ocean – 11 miles off the cost of French Guiana on the north-west coast of South America.- were formed by volcanos and have rocky shorelines. If the remoteness and terrain weren't enough to discourage escape, the shark-infested waters surrounding the islands discouraged most (not all) prisoners intent on escaping.
The Devil's Island penal colony earned a reputation for brutality and harsh living conditions for prisoners. Only 5,000 or so of the estimated 80,000 prisoners sent there during the 100 years it operated, survived the rampant tropical diseases and violence from guards and other prisoners, to return home to France.
A handful of prisoners attempted escape, but either died in the attempt or were captured and returned to a prison after. Almost all of the accounts of successful escape from Devil's Island, including that of Henri Charrière contained in his best-seller Papillon (1969), have since been discounted as fiction.
Inmates were distributed among the three Salvation Islands as follows:
Île Royale – Royal Island is geographically the "middle" and largest island, and served as the reception centre for the Devil's Island penal colony. Prisoners from the general penal population were housed in on Royal Island in moderate freedom, due to the remoteness of the island and difficulty of escape. Today tourists can take self-guided tours to view the grounds and the many original prison structures that remain standing (administrative buildings, cell blocks, convent building, hospital, chapel, etc.), and a small museum. Visitors in recent years (2012-2017) have noted they saw palm trees, Guinea pigs, agouti, monkeys, and peacocks when they walked a rough dirt path around the perimeter of Royal Island, as well as a restaurant, gift shop, and small hostel. 
Saint-Joseph Island – Reclusion Island is the most southern of the islands and served as the base for prisoners being punished for offences committed in the penal colony. They were kept in solitary confinement, with darkness and silence their only companions. Tourists can visit Saint Joseph Island by boat and walk a small path around the island. Access to the ruins of a cell block at the top of the island are prohibited, but some other buildings are accessible.
Île du Diable – Devil's Island is the northernmost island, initially used as a leper colony for prisoners. By 1895, Devil's Island was where political prisoners were housed (usually no more than 12 at a time). A cable car system was constructed between Devil's Island and Royal Island for travel between the two islands, due to the treacherous currents and shoreline around them. French Army Captain Albert Dreyfus was held there from 1895-1899 after being (wrongfully) convicted for treason in France. Today the Guiana Space Centre which owns the three islands has a radar station on Devil's Island. It's not open to visitors and is inaccessible anyway, as the cable car system is no longer operational.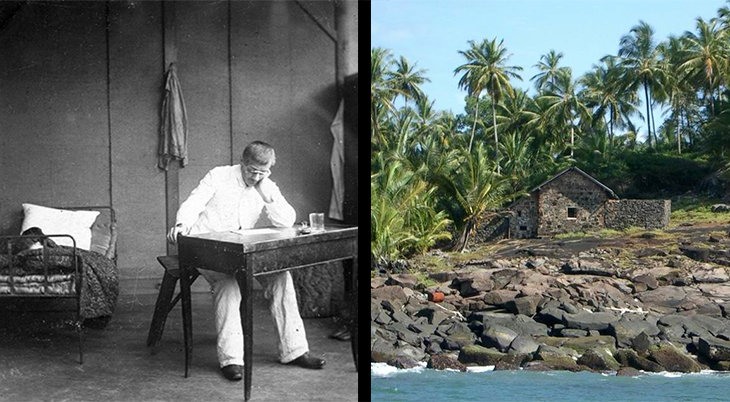 (Captain Albert Dreyfus, 1898: F. Hamel | Dreyfus Hut, Devil's Island, 2005: Philipp Weigell)
Papillon (1973) may be the most famous of the many movies made about Devil's Island, but the film that was perhaps the most timely was the thriller-drama Devil's Island (1939). Boris Karloff stars as a respected brain surgeon sentenced to Devil's Island, who rebels against inhuman conditions there and is punished for it by the prison commander (actor James Stephenson); actress Nedda Harrigan plays the commander's daughter.
The French government had announced in 1938 that the Devil's Island prison colony would be closed, and stopped sending prisoners there the previous year. The lead-up to WWII in the latter half of 1938 delayed the start of that process and it seemed they had changed their mind.
When Warner Bros. Devil's Island film was released in January 1939, the French government threatened to ban all Warner films if it wasn't pulled back.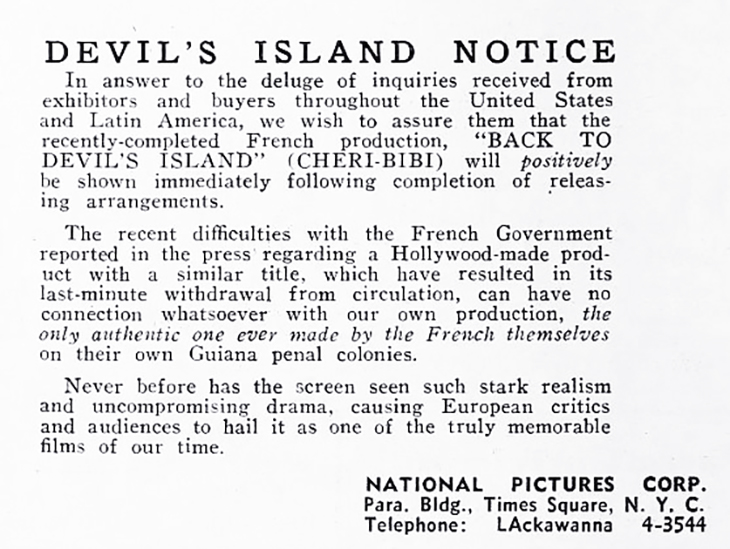 (National Pictures Corporation 1939 Back to Devil's Island Movie Ad: The Film Daily)
After WWII ended, beginning in 1946 through 1952, the prisons on Devil's Islands were all permanently closed.  
Songwriter Chilton Price #1 Hit Song – You Belong to Me
Singer Jo Stafford made it to #1 on the music charts on August 1, 1952 with her version of the ballad You Belong to Me, credited as written by Chilton Price, Pee Wee King, and Redd Stewart.
It was actually musician and music industry newcomer Chilton Price (b. Dec. 15, 1913) who wrote You Belong to Me.
"See the pyramids along the Nile
Watch the sunrise on a tropic isle
Just remember darlin' all the while
You belong to me"
Newly arrived as a music librarian at a Louisville radio station, she'd shown some of her songs to country singers Pee Wee King and Redd Stewart, who convinced her to get them published. In return she gave them both a songwriting credit on two tunes that became hits – Slow Poke (recorded by Redd Stewart), and You Belong to Me. A few years later, Doris Day sang the Chilton Price song Never Look Back in the film Love Me or Leave Me (1955). Chilton Price died in 2010 at the age of 96.
A version of You Belong to Me sung by Joni James was released in the spring of 1952, and James' version was re-released on August 5th, 1952. 
It was Jo Stafford's version of You Belong to Me that has been the most popular in the decades since she first recorded it. Her recording is so sublime, that Jo Stafford singing You Belong to Me can be heard in these feature films:
The Last Picture Show (1971) – an Academy Award-winning romantic drama set in the 1950s, based on Larry McMurtry's novel; starring Cybill Shepherd, Timothy Bottoms, Jeff Bridges, Cloris Leachman, Ben Johnson, Ellen Burstyn, Clu Gulager, Eileen Brennan, Sam Bottoms, and Randy Quaid.
Tin Men (1987) – a comedy-drama written & directed by Barry Levinson, with Richard Dreyfus, Danny DeVito, Barbra Hershey, John Mahoney, Seymour Cassel, Bruno Kirby, J.T. Walsh, and Matt Craven.
Let Him Have It (1991) – a historical crime drama set in 1950s England, starring Tom Courtenay and Christopher Eccleston.
The Mambo Kings (1992) – a 1950s-era film about Cuban music coming to the USA, starring Armand Assante, Antonio Banderas, Talisa Soto, Cathy Moriarty, Scott Cohen, & Pete Macnamara. With Tito Puente as himself and Desi Arnaz Jr. playing his father, Cuban bandleader Desi Arnaz, Sr.
Blue Moon (2000) – a comedy-drama starring Ben Gazzara, Rita Moreno, Burt Young, and Vincent Pastore.
The Deep Blue Sea (2011) – a romantic drama set in Britain, with Rachel Weisz and Tom Hiddleston.
Wonder Wheel (2017) – a drama from screenwriter-director Woody Allen, set on Coney Island in the 1950s and starring Justin Timberlake, Juno Temple, Kate Winslet, Jim Belushi, and Tony Sirico.
The Nun (2018) – a horror-thriller involving the Vatican and Romania, with Taissa Farmiga, Demián Bichir, Patrick Wilson, and Vera Farmiga.
The Aftermath (2019) – a post WWII romantic drama set in Germany, starring Keira Knightley, Ned Willis, Pandora Colin, Jason Clarke, and Alexander Skarsgård.
The Irishman (2019) – director Martin Scorsese's film about the mob and Jimmy Hoffa takes place between the 1950s-1970s. With Robert De Niro, Al Pacino, Joe Pesci, Harvey Keitel, Ray Romano, Bobby Cannavale, Anna Paquin, and Jack Huston.
Other artists that have recorded You Belong to Me include Gene Vincent, Dean Martin, Patti Page, Bing Crosby, Patsy Cline, and The Duprees.
*Images are believed to be in the public domain and/or Creative Commons licensed & sourced via Wikimedia Commons, Vimeo, YouTube, or Flickr, unless otherwise noted*