Into The Night With Clu Gulager
Director and actor Clu Gulager died  August 5, 2022 at the age of 93. The former western TV series and movie actor specialized in comedy-horror films in the latter part of his career.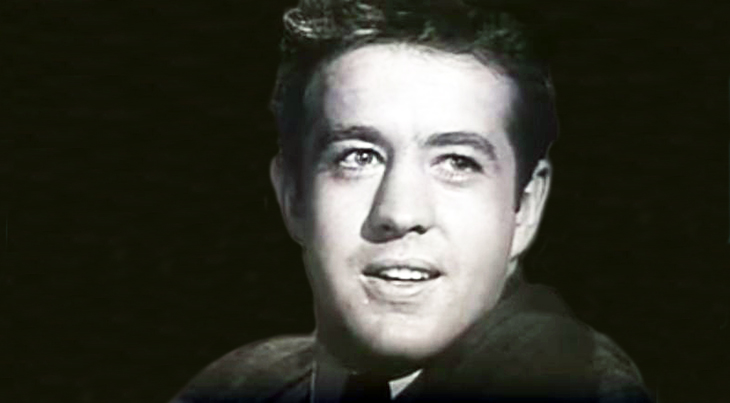 (Clu Gulager 1959 The Lawless Years)
Clu Gulager (nee William Martin Gulager when he was born November 16, 1928) hailed from a long line of entertainers; his father John Gulager had been a Broadway actor, and Clu was a first cousin to cowboy humorist and actor Will Rogers on his father's side. 
Gulager told the Muskogee Phoenix that he grew up in Muskogee, Oklahoma (on his uncle's farm) and attended Longfellow Elementary School, appearing on stage in elementary school plays. 
"When I grew up we used to go to the Broadway Theater and see Gene Autry and Smiley Burnette…They came to the theater to entertain us. I believed them. So, when I grew up, I became a cowboy." 
It was his father John that nicknamed him Clu for the martins (clu-clu birds in Cherokee) that nested by their home when he was born. According to interviewer David Del Valle, Clu's part Cherokee heritage was courtesy of his paternal ancestor Christian Gulager, who deserted his family and had children with a Cherokee woman back in the 1700s. 
Clu told TRUEWEST that he played the French horn in his high school band, and graduated at age 17. Gulager then enlisted and played the French horn for the U.S. Marine Corps band during his 19-month service at Camp Pendleton (1946-1948). He also began acting in plays while in the Marines, and told the Holdenville Tribune that he would go to Hollywood on weekends and study acting with a shoe salesman. When Gulager's tour was over in 1948 thanks to a Marines early release program, he made use of the G.I. Bill of Rights to attend post-secondary school.  
Clu Gulager's university career began at Northeastern State University in Tahlequah, Oklahoma, but ended at Baylor University in Waco, Texas. He received a BM from Baylor University in 1951. While at Baylor, he met fellow student and singer-actress Miriam Byrd-Nethery (c 1950), and acted with her in a production of One Touch of Venus. Before 1952 was over, Clu Gulager had married Miriam Byrd-Nethery. Baylor Magazine records that both Miriam and Clu Gulager appeared on film in a Baylor production of A Different Drummer directed by Paul Baker (another mentor for Gulager). A Different Drummer was aired on the TV series Omnibus in 1955.
Gulager won a scholarship to study abroad, and went to England, then to France, to be mentored by actor and director Jean Louis Barrault in Paris. He returned to the U.S. and graduated from Baylor University with a BA in 1956.
Breaking Into Television
At Baylor, Miriam and Clu Gulager performed in a stage production of Hamlet, then moved to New York to find work in television. One of Clu's earliest film acting credits is in an episode of The United States Steel Hour in 1956, co-starring with Barbara Babcock, Paul Newman, and George Peppard (Banacek). He would work again with Newman, co-starring with him in Winning (1969), and with Barbara Babcock 40 years later, in a 1996 episode of Dr. Quinn, Medicine Woman starring Jane Seymour, Joe Lando, and Orson Bean. 
During his time in New York, Gulager also worked with actors Richard Boone, Martin Balsam, and John Forsythe in an episode of Goodyear Playhouse (1956).
Miriam and Clu Gulager's son John Gulager was born in December 1957. When television production shifted from New York to sunny California, Miriam, baby John, and Clu moved back to Oklahoma for a while. Gulager worked day jobs for the Highway Department, at radio stations, and produced plays at a local theatre. 
In 1959, Clu travelled to Hollywood to visit his friend Richard Boone, who had moved there and now had a top-ranked TV show, Have Gun Will Travel. A guest-starring role on Have Gun Will Travel was followed by a contract with Universal and a flood of more episodic television work.
In 1959-1960 alone, Clu Gulager appeared in episodes of hit TV series that included many other ascending stars of TV and films:
Playhouse 90, with Eddie Albert and Dyan Cannon.
Westinghouse Desilu Playhouse, with James Gregory (Barney Miller), Joseph Cotton, and Sebastian Cabot (Family Affair).
The Untouchables with Robert Stack. Gulager's performance as mob killer Vincent "Mad Dog" was critically acclaimed. 
Riverboat ,with Darren McGavin &  Burt Reynolds. 
2 episodes of The Deputy, starring Henry Fonda and Denver Pyle.
Whispering Smith, starring Audie Murphy.
The Defenders with Robert Reed. Robert Reed and Clu Gulager later both guest-starred on an episode of Mannix starring Mike Connors in 1973.
Billy the Kid on The Tall Man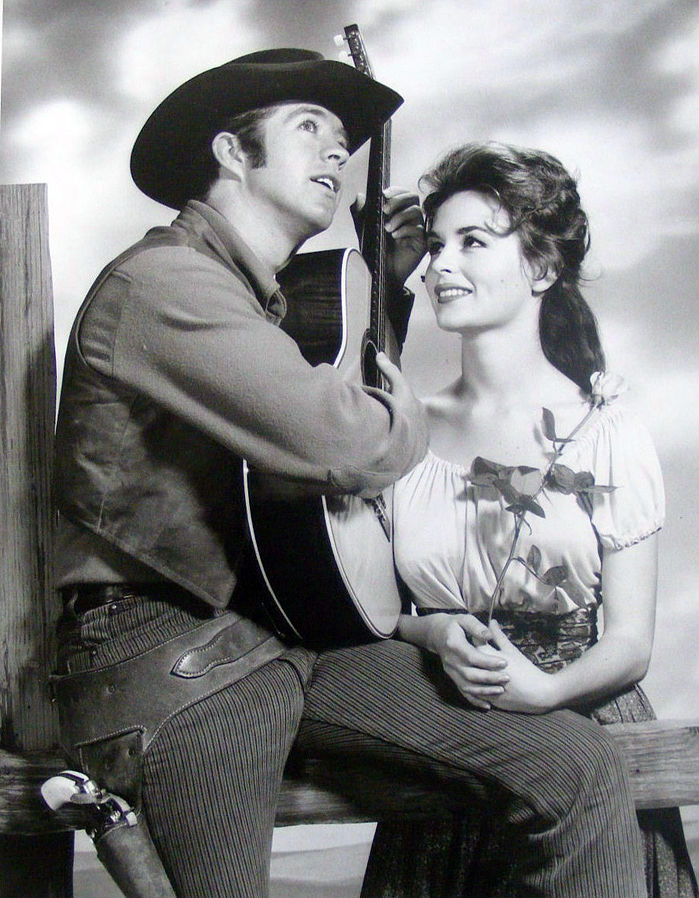 (Clu Gulager as Billy the Kid & Marianna Hill 1960-1962 The Tall Man Photo: NBC Television)
Gulager guest-starred 5 times on the popular baby boomer series Wagon Train between 1959 and 1964, appearing with other guest stars Louise Fletcher, Debra Paget, Henry Darrow, and Robert Fuller. Robert Fuller and Clu Gulager had worked together in a 1959 episode of Laramie, and a life-long friendship was born. 
From 1960-1962, Clu Gulager co-starred as Billy the Kid on 75 episodes of the western series The Tall Man, opposite veteran actor Barry Sullivan as Sheriff Pat Garrett. Both future President Ronald Reagan and First Lady Nancy Reagan guest-starred on The Tall Man. 
In A History of Television's The Virginian, 1962-1971 by Paul Green, Frank Price said:
"I got to know Clu very well when I produced The Tall Man. I thought he was a terrific actor. Additionally he became a social friend. However, Clu could be extremely difficult to work with…Ultimately, I came to the conclusion that the more successful Clu became, the more difficult he became. Perhaps, psychologically, he did not want success. His difficult behaviour helped get The Tall Man cancelled." 
The Virginian
The role that baby boomer fans will likely remember Clu Gulager best for, is that of Deputy Sheriff Emmett Ryker on the hugely popular western series The Virginian, starring James Drury and Doug McClure. The Virginian aired for 90 minutes each week, and was the third-longest lived western series, behind Gunsmoke and Bonanza. Gulager had guest-starred on 2 episodes of The Virginian in 1963 as different characters, before becoming a regular cast member of the series from 1964-1968.
"I was broke when I stepped onto The Virginian. I had to ask Frank Price, who ran it, for a job. He fired an actor off the set and hired me. Had I known he had fired someone, I would not have accepted the job." – Clu Gulager, in True West Magazine
"I added Clu Gulager to The Virginian because I wanted to keep him working and I thought he had a very good chance to develop into a major star." – Frank Price, True West Magazine
Miriam and Clu Gulager's youngest son Tom Gulager was born in July 1965, while Clu was still a regular on The Virginian. 
Gulager missed the first half of Season 5 of The Virginian due to a financial contract dispute. He returned to the series, but it would be his last season on the popular western.
Below, The Virginian cast clockwise from top left: Roberta Shore (Betsy Garth), Clu Gulager (Deputy Sheriff Emmett Ryker), Doug McClure (Trampas), Randy Boone (ranch hand), James Drury (The Virginian), and Lee J. Cobb (Judge Garth).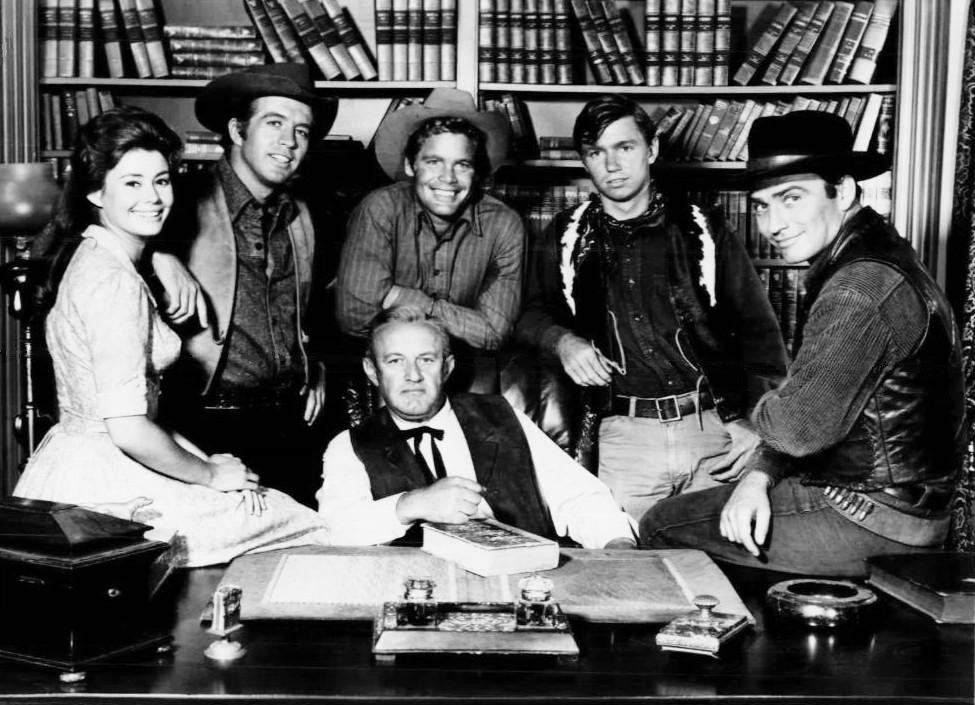 (The Virginian Cast 1964 Photo: NBC Television)
Clu Gulager worked with his The Virginian co-stars James Drury and Doug McClure again, many years later: 
Tapeheads (1988) musical comedy feature film starring John Cusack, Tim Robbins, Mary Crosby, Jessica Walter, Connie Stevens, and Doug McClure.
In 1995, James Drury and Clu Gulager were reunited onscreen in an episode of actor David Carradine's series Kung Fu: The Legend Continues. Gulager had guest-starred on David Carradine's original Kung Fu series in 1973, in an episode with John Anderson. David Carradine had been one of the large cast along with Clu Gulager in the mini-series North and South, Book II in the 80s.
Feature Films & TV Guest Star
Gulager's first feature film role was as the hitman Lee, protege of co-star Lee Marvin's hitman character, in Universal's The Killers (1964). His co-stars in The Killers are Ronald Reagan, Angie Dickinson, Claude Akins and Norman Fell.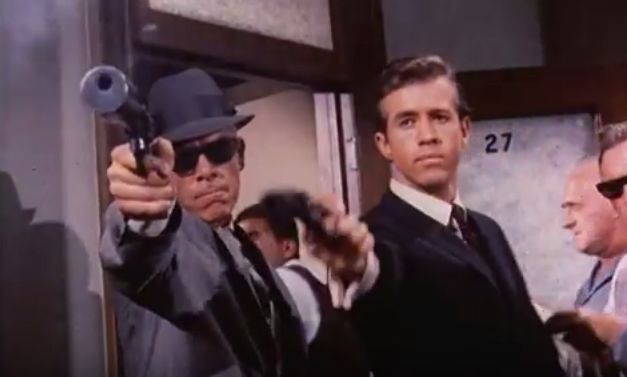 (Lee Marvin & Clu Gulager as hitmen, 1964 The Killers Movie Trailer) 
Gulager wrote, directed and produced the short drama A Day with the Boys (1969), with his son John Gulager in the cast. 
During the 1960's & 1970s, Clu Gulager was a popular guest- star on many made-for-TV movies and series, such as: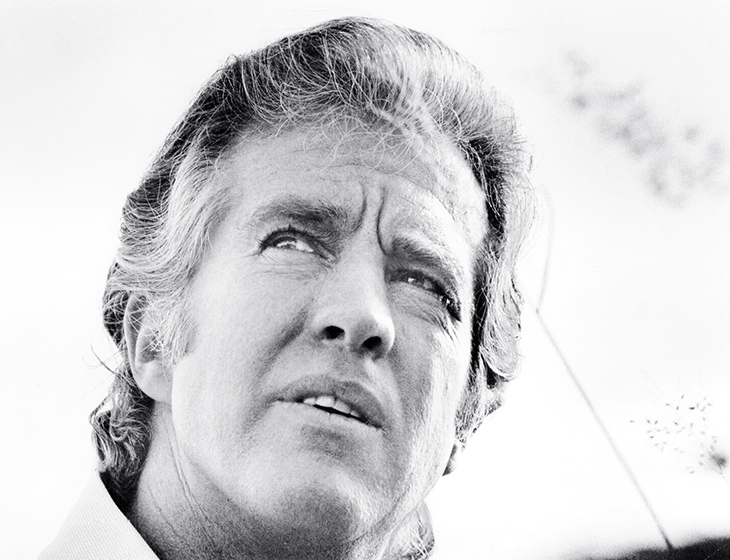 (Clu Gulager 1973 Hawaii Five-O: CBS Television)
Clu Gulager played Bob Hatten in the pilot-turned-series San Francisco International Airport (1970) with co-stars Beth Brickell, Pernell Roberts, Van Johnson, David Hartman,  and Lloyd Bridges (Sea Hunt). Gulager co-starred again on television productions with Pernell Roberts, Van Johnson, David Hartman, and Lloyd Bridges: No surprise, he worked with most of these actors again:
Van Johnson and Clu Gulager both co-starred in the TV thriller Company of Killers (1971) with Ray Milland, and John Saxon; and in the TV miniseries Black Beauty (1978) co-starring Edward Albert, Peter Breck, William Devane, and Diane Ladd. In Black Beauty, Gulager was reunited after almost 20 years with actor Peter Breck, whom he had last worked with when he guest-starred on Black Saddle in 1959.
The star-studded television miniseries Once An Eagle (1976) was a hit with baby boomers, and had Clu Gulager co-starring with actors such as Glenn Ford, Amy Irving, Jane Elliott, Hayden Rorke, James Cromwell, Juliet Mills, and Melanie Griffith.
Two Rod Taylor TV shows – The Oregon Trail (1977), and Masquerade (1984), in an episode with Kirstie Alley, Greg Evigan, and Gregory Sierra.
Clu Gulager and Mariette Hartley co-starred with child actor Johnny Whitaker in the Walt Disney comedy-thriller TV movie Mystery in Dracula's Castle (1972). Baby boomers and their parents loved the movie.
The MacKenzies of Paradise Cove /Wonderland Cove (1979), a 6-episode TV series that starred Clu Gulager as a bachelor in Hawaii.
The Last Picture Show & Other Movies
Clu Gulager co-starred in the feature film The Last Picture Show (1971). He co-starred with Timothy Bottoms, Jeff Bridges, Cloris Leachman, and actress Cybill Shepherd, who was involved with the movie's director Peter Bogdanovich. This made for an uneasy time when filming The Last Picture Show scene where Gulager's character Abilene has sex with Shepherd's character Jacy Farrow on a pool table.
This scene from The Last Picture Show features Timothy Bottoms, Cybill Shepherd, Jeff Bridges, Ellen Burstyn (as Jacy's mom) and Clu Gulager.
Gulager and some of his The Last Picture Show co-stars worked together before or after the movie:
Gulager guest-starred on Cybill Shepherd's series The Yellow Rose in 1984, along with David Soul, Edward Albert, and Chuck Connors.
He had first worked with Ellen Burstyn and Tina Louise in an episode of Kraft Suspense Theatre, in 1964.
Gulager guest-starred on Cloris Leachman's series Phyllis in 1976, and they were both in the movie Willa (1979)
Other notable movies with Clu Gulager:
The Other Side of Midnight (1977), a romantic thriller co-starring Susan Sarandon and Michael Lerner. The feature film A Force of One (1979) starred Jennifer O'Neill and Chuck Norris; in 1984, Gulager and O'Neill reunited when he guest-starred on her TV series Cover Up with Richard Anderson and Henry Darrow. 
Skyward (1980), a TV drama starring Bette Davis, Howard Hesseman, Marion Ross, and Rance Howard.
Chattanooga Choo Choo (1984) a feature film comedy starring Barbara Eden, George Kennedy, Joe Namath, and Christopher McDonald. George Kennedy and Clu Gulager also appeared in Uninvited (1988), a direct-to-video horror movie.
Into the Night (1985), a big-budget comedy-thriller from John Landis starring Jeff Goldblum, Michelle Pfeiffer, Dan Aykroyd, and David Cronenberg. Into the Night featured Clu Gulager as an FBI agent.
1980s & Move to Independent Films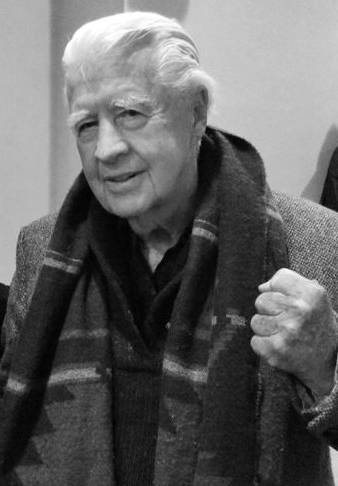 (Clu Gulager 2015: Michael Bugard)
Lloyd Bridges was one a large cast of co-stars in the miniseries North and South, Book II (1986), with Clu Gulager playing General Philip Henry Sheridan. Other North and South, Book II cast members include Kirstie Alley and her then-husband Parker Stevenson; David Carradine, Philip Casnoff, Mary Crosby, Lesley-Anne Down, Johathan Frakes and his wife Genie Francis, James Read, Olivia de Havilland, Linda Evans, Morgan Fairchild, Hal Holbrook, Lee Horsley, and Wayne Newton.
Some of Gulager's 1980's episodic television work that baby boomer fans may recall:
In 3 appearances on The Fall Guy between 1982-1986 starring Lee Majors, Heather Thomas, and Markie Post, Clu Gulager appeared in episodes with James Naughton and Lou Ferrigno.
Clu Gulager guest-starred 3 times on Murder, She Wrote starring Angela Lansbury and Noah Beery Jr., between 1985-1987. He appeared in episodes with Stella Stevens, Norman Fell, Roy Thinnes, Eileen Brennan, Ed Nelson, and Jane Powell. 
Notable feature films, made-for-TV movies and TV miniseries of the 1980's for Clu Gulager include:
The miniseries Space (1985), with all-star cast that includes James Garner, Susan Anspach, Blair Brown, Bruce Dern, Harry Hamlin, Michael York, Beau Bridges, and Christina Pickles.
My Heroes Have Always Been Cowboys (1991), a western drama starring Scott Glenn, Kate Capshaw, Gary Busey, Clarence Williams III, and Mickey Rooney.  
Gulager made several movies with his wife Miriam Byrd-Nethery, including the thriller Lies (1985) co-starring Bruce Davison; and the drama Summer Heat (1987) starring Lori Singer and Kathy Bates. 
By 1988, Clu and his family had moved back to Oklahoma (with a side stop in Waco, Texas). He focused on independent films, primarily in the horror or horror-comedy genre – often with his sons (Tom and John Gulager), and/or his wife Miriam, such as:
The Return of the Living Dead (1985) starring Clu Gulager, with James Karen. Karen and Clu Gulager worked together again on the horror-comedy feature film The Willies (1990), co-starring Sean Astin. The movie clip above from The Return of the Living Dead features Clu Gulager, James Karen, Don Calfa, and Thom Mathews.
A Nightmare on Elm Street 2: Freddy's Revenge (1985) starring Robert Englund, with Hope Lange (The Ghost and Mrs. Muir).
Terror at London Bridge (1985) starring David Hasselhoff, Stepfanie Kramer, Randolph Mantooth (Emergency!), Adrienne Barbeau (Maude); that same year, Clu Gulager guest-starred in David Hasselhoff's series Knight Rider, co-starring Edward Mulhare.
The Hidden (1987) starring Kyle MacLachlan and Michael Nouri.
From a Whisper to a Scream (1987) starring Vincent Price, Terry Kiser, with Clu Gulager's wife Miriam Byrd-Nethery also in the cast. 
Gulager came out of retirement to co-star in the TV action movie In the Line of Duty: Ambush in Waco (1993), starring Tim Daly, Debra Jo Rupp, and Dan Lauria. Gulager's wife Miriam Byrd-Nethery and daughter-in-law Diane Ayala Goldner (married to his son John) also played minor roles in In the Line of Duty: Ambush in Waco. 
After becoming a septuagenarian in 1998, Clu Gulager's feature films and shorts almost exclusively involved his wife Miriam and their sons. He came out of retirement again at their request to appear in Gunfighter (1999), a western starring Robert Carradine and Martin Sheen, with both sons Tom Gulager and John Gulager in the cast.  Also in 1999, Robert Carradine, Clu Gulager and John Gulager appeared in the comedy feature film Palmer's Pick-Up (1999) with Piper Laurie, Rosanna Arquette, and Talia Shire. 
Clu's wife Miriam Byrd-Nethery died in January 2003 at the age of 73, leaving him a widower after over 50 years of marriage. The short drama Vic was filmed before Miriam's death, but wasn't released until 2006. Vic stars Clu Gulager, with his son Tom, wife Miriam, and daughter in law Diane Ayala Goldner in co-starring roles; son John served as cinematographer. Also in the cast of Vic are familiar faces Carol Lynley, Gregory Sierra, and Peter Mark Richman. 
Still not fully retired, Clu Gulager appeared as a shotgun wielding bartender in Feast (2005), the first of would become a trilogy of horror movies directed by Clu's son John Gulager. The sequels Feast II (2008) and Feast III (2009) both had Clu and son Tom Gulager in the cast, and were direct-to-video releases.  
Clu told True West in 2014 that he was teaching a film acting workshop in Hollywood, and that he was only acting when his son asked him to, and he didn't consider himself an actor any more. This non-actor managed to appear in 5 more feature films between 2015-2019, notably
Piranha 3DD (2013), a horror-comedy directed by son John Gulager. Piranha 3DD reunited Clu Gulager with David Hasselhoff, whom he had worked with in 1985 on an episode of Knight Rider, and in the movie Terror at London Bridge. Also in the cast of Piranha 3DD were Christopher Lloyd and Gary Busey.
Tangerine (2015), a comedy-drama featuring Clu Gulager as "The Cherokee", with son John Gulager as "Shower Head". 
Blue Jay (2016), a romantic drama co-starring Sarah Paulson and Mark Duplass.
Once Upon a Time…In Hollywood (2019), a Quentin Tarantino blockbuster starring Leonardo DiCaprio, Brad Pitt, Margot Robbie, and a host of other actors.
Although his role in Once Upon a Time…In Hollywood was minor (Gulager plays a role described as "book store man" in the credits), how fitting that a movie which is a tribute to old Hollywood, would be Gulager's final movie role. 
Clu Gulager has gone into the the night for the last time, but he's left a a huge legacy of television and film appearances for fans.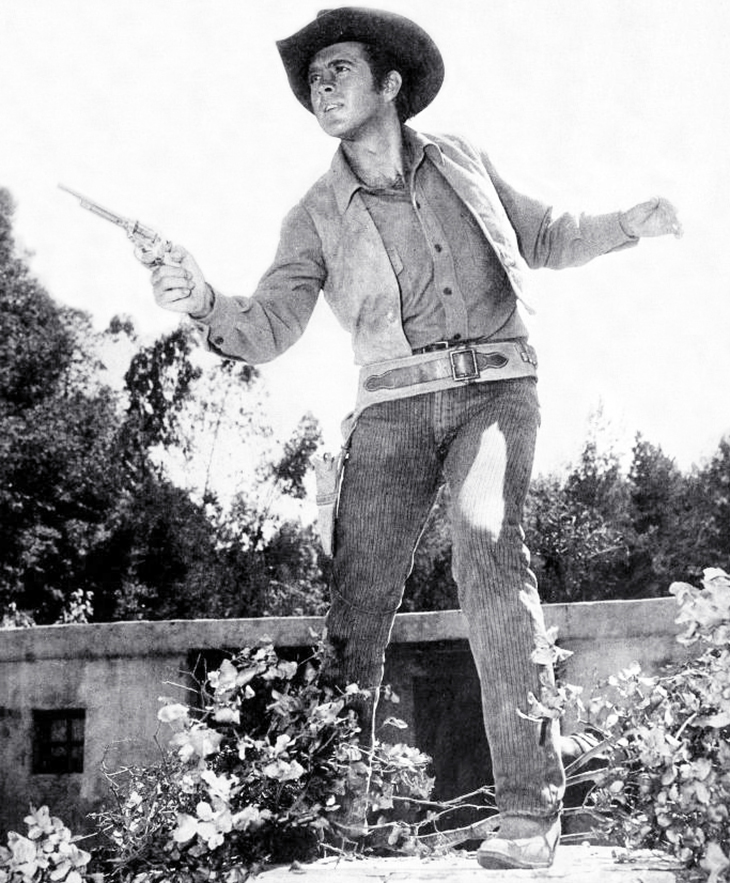 (Clu Gulager as Billy The Kid on The Tall Man, 1960)
*Images are public domain or Creative Commons licensed & sourced via Wikimedia Commons, Vimeo, YouTube, or Flickr, unless otherwise noted*
Note: This article was first published in 2016 as Clu Gulager is 88, in two parts. It has been updated with new & additional content.