Boomer TV Trivia: The Ghost and Mrs. Muir
Q1. What was the rank of the officer playing the male lead role of the ghost of Daniel Gregg on The Ghost and Mrs. Muir TV show?
Q2. What future Hollywood Squares staple comedic actor was a regular on The Ghost and Mrs. Muir show?
The Ghost and Mrs. Muir comedy television series premiered in September 1968 on NBC. The pilot episode of The Ghost and Mrs. Muir (above) introduced the series regular and recurring stars: Hope Lange as Mrs. Muir, child actors Harlen Carraher as her son Jonathan & Kellie Flanagan as her tomboy daughter Candy, Reta Shaw as their housekeeper, Edward Mulhare as the handsome, blustery / impish ghost, and Charles Nelson Reilly as Claymore Clegg, town clerk. 
The Ghost and Mrs. Muir struggled in the ratings against other popular baby boomer TV shows at the time like My Three Sons, and Family Affair. The series aired on ABC for it's second season before being completely cancelled.
The television show was based on the 1945 The Ghost and Mrs. Muir book by R. A. Dick, and the popular 1947 big-screen movie of the same name starring Gene Tierney and Rex Harrison.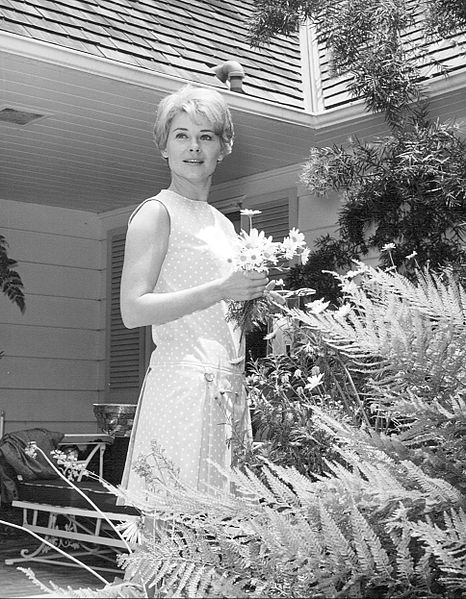 (Hope Lange 1968 The Ghost and Mrs. Muir Photo: NBC Television)
The Ghost and Mrs. Muir TV series female star Hope Lange (playing widowed writer Carolyn Muir) won the Emmy Award for Outstanding Lead Actress in a Comedy Series for each of it's two seasons. Prior to landing the lead on The Ghost and Mrs. Muir, Hope Lange was best known for her affair with actor Glenn Ford and subsequent divorce from actor Don Murray in 1961.
Hope Lange was also a familiar face from co-starring in the drama The Young Lions (1958) with Marlon Brando, Montgomery Clift, Dean Martin, and Barbara Rush (Peyton Place); and in the potboiler movie Peyton Place (1957), for which she was nominated for an Academy Award for Best Supporting Actress.
After The Ghost and Mrs. Muir ended, Hope Lange played Dick Van Dyke's wife Jenny Preston on The New Dick Van Dyke Show from 1971-1974; she continued acting through her 50+ and senior years. Hope Lange's last on-screen appearance was in Before He Wakes (1998) a television movie; she was a septuagenarian senior citizen when she died at age 70 in 2003.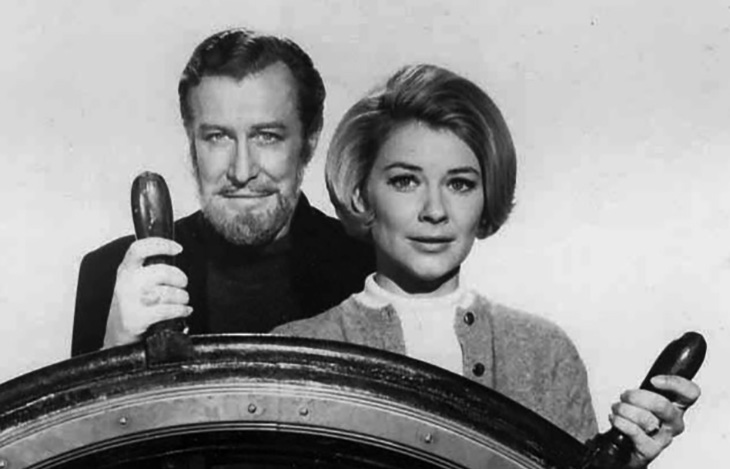 (Edward Mulhare Hope Lange 1968 The Ghost and Mrs. Muir Photo: NBC TV)
Irish-born actor Edward Mulhare was already an established Broadway stage (My Fair Lady, 1956 – a role he also took over from Rex Harrison), film (Von Ryan's Express, 1965) and television (guest appearances) actor when he landed the role of the ghost of Daniel Gregg in The Ghost and Mrs. Muir. When the show ended, he continued to act in movies and on television until his death at age 74 on 1997 (also a septuagenarian senior citizen). Edward Mulhare played Foundation for Law and Government (FLAG) head Devon Miles on Knight Rider (1982 – 1986), and again in it's 1991 sequel movie, Knight Rider 2000.
In a 2014 interview by Madman Entertainment, baby boomer actress Kellie recalled her memories of working on the TV series:
"Everyone smoked, all the time, and everyone laughed a lot…all the ladies were swooning over Mulhare and always disappointed to find out the beard had to be applied every day. His real beard was red, was the reason I remember, and they needed that salt-and-pepper thing."
A1. Daniel Gregg was a sea Captain in the 19th century; on The Ghost and Mrs. Muir TV series actor Edward Mulhare plays the ghost/poltergeist of Captain Gregg.
A2. Charles Nelson Reilly played a descendant of Captain Daniel Gregg's character, town clerk Claymore Gregg. Claymore is aware and afraid of, the Captain's ghost.
*Images are public domain or Creative Commons licensed & sourced via Wikimedia Commons, Vimeo, YouTube, or Flickr, unless otherwise noted*