Celebrating Seniors - Glen Campbell Turns 80 1of2
Update: Glen Campbell has died today, August 8, 2017 from Alzheimer's Disease, at the age of 81. Farewell Glen Campbell. 
Glen Campbell – From Picking Cotton to 1960's Success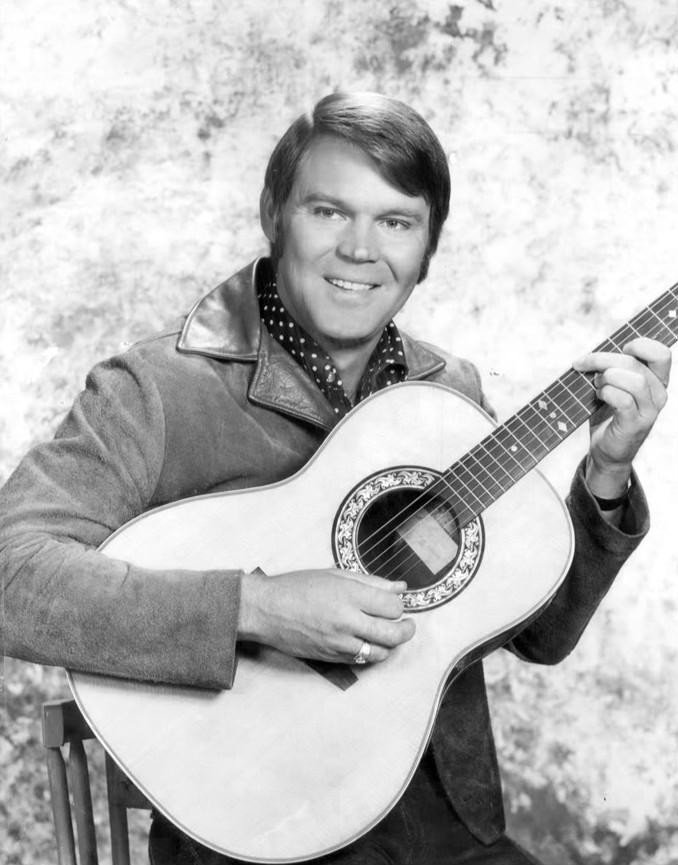 (Glen Campbell 1969 Photo: CBS Television)
Celebrating the life and songs of actor and Grammy Award-winning country and folk/pop singer Glen Campbell.
Seven vintage musical performances of some of Glen Campbell's greatest hits of the 1960's: Gentle on My Mind, By the Time I Get to Phoenix, Wichita Lineman, Galveston, and Try a Little Kindness.

New octogenarian senior citizen Glen Travis Campbell was born during the Great Depression on April 22, 1936 in Billstown, Arkansas.
The 7th of 12 children for his sharecropper parents, Glen Campbell sang regularly in church and learned to play guitar as a child, when he wasn't picking cotton. According to a People magazine interview in 1983, Campbell dropped out of school when he was only 14.
Glen Campbell's uncle taught him to play guitar and he moved to Albuquerque, New Mexico in 1954 to play in his uncle's band. While living in Albuquerque, Campbell made his radio and television debut performances, formed his own band and performed for other bands. Below, Glen Campbell is second from left, in the Dick Bills and his Sandia Mountain Gang band, circa mid-1950's.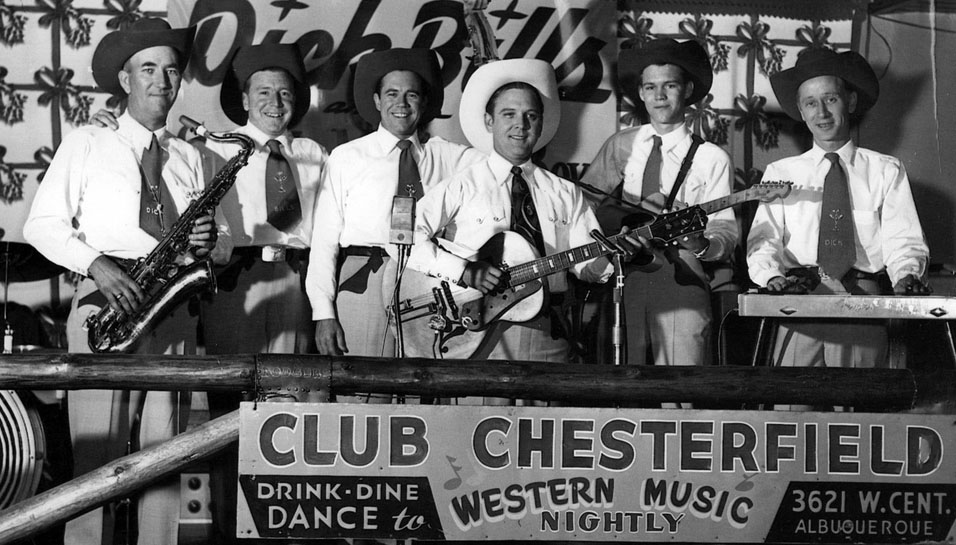 v(Photo: ABQ Museum Photoarchives | Flickr CC some rights reserved)
In her memoir Life With My Father Glen Campbell (2014), by Debby Campbell & Mark Bego, Glen's daughter Debby Campbell says Glen first met her mother Diane Kirk in 1954 when he was 18 and she was 15, and they dated for a year before breaking up. Diane Kirk and Glen Campbell got back together after a couple of months, and a few months after that, 16-year-old high school student Diane discovered she was pregnant; they married in 1955 when Glen was 19.
Although their first child was premature and died a couple of weeks after his birth, their daughter Debbie (she later changed the spelling to Debby) Campbell was born in 1956 and is still alive today. Diane and Glen Campbell separated after four years of marriage and were divorced in 1959. Left, Glen Campbell with daughter Debbie Campbell circa late 1950's. 
Glen Campbell first met Elvis Presley when Presley did a concert in Albuquerque in 1956. Although Campbell released some singles with The Glen-Aires in 1958, they failed to chart.
During his separation from Diane, in January 1959 Glen Campbell met beautician Billie Jean Nunley, who had moved to Albuquerque from Carlsbad, New Mexico. They married in Las Vegas on September 20, 1959, and moved to Los Angeles, California in 1960 so Glen could pursue a career in the music business. 
Once in L.A., Campbell quickly became a session musician with The Wrecking Crew, performing on recordings for Dean Martin, Nancy Sinatra, Jan and Dean, Elvis Presley, Phil Spector and others.
He was also writing songs and recording his own demos. Glen Campbell's first single for the Crest Records label, Turn Around, Look At Me (1961), written by Jerry Capehart, made it to #15 on the US Adult Contemporary chart.
Billie Jean and Glen Campbell started their family that year as well – daughter Kelli Glen Campbell was born in October 1961. Billie Jean and Glen Campbell's second child, son William Travis Campbell, was born in 1965. 
The following year Campbell signed with Capitol Records and began releasing more albums and singles, and continued to play guitar and backup other recording artists. By the end of 1964 Campbell was starting to appear regularly on television musical variety shows like Star Route, Shindig! and Hollywood Jamboree. Campbell played guitar on one of the songs on Presley's Viva Las Vegas (1964) soundtrack album, and filled in for Brian Wilson (who fell ill) of the Beach Boys in concerts and on tour from December 24, 1964 to April, 1965.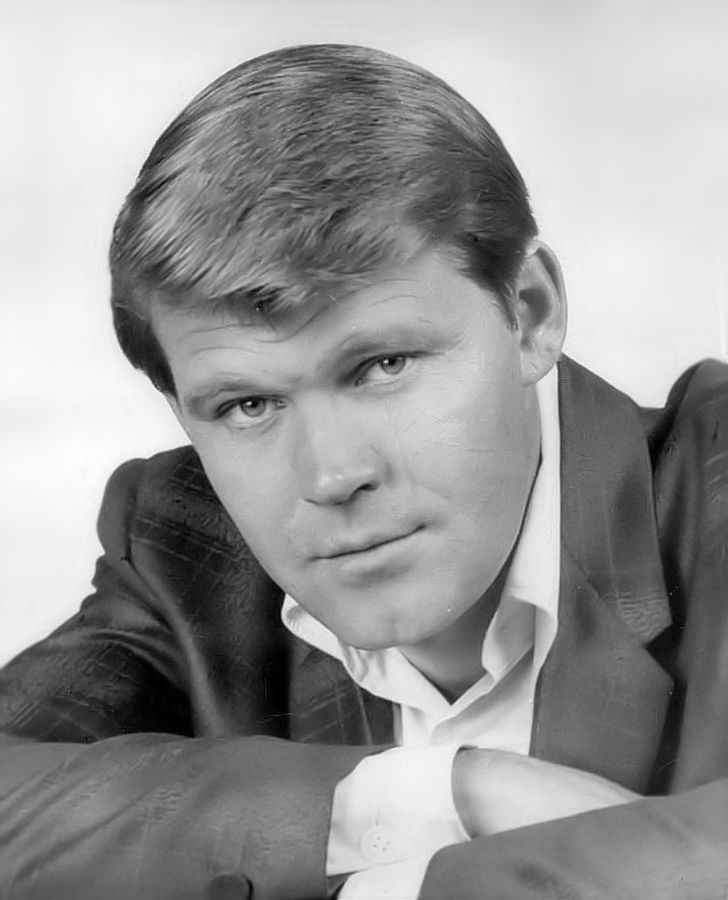 Right, Glen Campbell in 1967. (Photo: Capitol Records)
Although Glen Campbell had a minor hit single with his rendition of Burning Bridges (1966), which made it to #18 on the US Country charts, it was in 1967 that Campbell released 3 studio albums and cracked the Country Top 10 charts for the first time.
His 6th studio album – Gentle on My Mind (1967), contained a single by the same name written by John Hartford. Gentle on My Mind sung by Glen Campbell was a Top 30 Country hit in 1967, and #62 on the Billboard Hot 100 charts. Glen Campbell's recording of Gentle on My Mind won the 1967 Grammy Awards for Best Male Country Vocal Performance, and for Best Country & Western Recording.
When Glen Campbell re-released Gentle on My Mind in 1968, the song made it to #39 on the Hot 100 charts. Below, an older Glen Campbell singing his enduring classic song, Gentle on My Mind live.
That same year, Campbell's 7th album By the Time I Get to Phoenix (1967) was released. In addition to the #13 Country Music chart hit single Hey Little One, the title track By the Time I Get to Phoenix (1967) written by Jimmy Webb and performed by Glen Campbell, became a #2 US Country chart hit single and reached #26 on the Hot 100 charts that year. Glen Campbell won another two Grammy Awards in 1967 for By the Time I Get to Phoenix -Best Vocal Performance, Male, and Best Contemporary Vocal Performance, Male. In 1968 Campbell won the Album of the Year Grammy Award for the By the Time I Get to Phoenix album, and 2004 it was inducted into the Grammy Hall of Fame. By the Time I Get to Phoenix was the beginning of a long an productive partnership between songwriter Jimmy Webb And Glen Campbell.
Below, Glen Campbell singing By the Time I Get to Phoenix live on television. 
In 1968 Glen Campbell achieved his first and second #1 Country music hit singles. From the Hey Little One (1968) album, I Wanna Live (1968) written by John D. Loudermilk and recorded by Glen Campbell, was released in March of that year. It was a #36 Hot 100 hit single and earned Campbell a Grammy Award nomination for Best Country Vocal Performance, Male. That summer, Glen Campbell hosted a replacement show for the musical variety series The Smothers Brothers Comedy Hour, which featured skits written by up and coming comedians and actors Steve Martin and Rob Reiner, among others.
The success of his previous #1 Country single I Wanna Live earlier in the year was eclipsed by his second #1 single of 1968, Wichita Lineman, from the album of the same name that year. With his recording of Wichita Lineman written by Jimmy Webb and released in October 1968, Campbell also made it to #3 on the Hot 100 charts; Wichita Lineman stayed on that chart for 15 weeks. Wichita Lineman won the Grammy Award for Best Engineered Recording and was nominated for Record of the Year; over 30 years later, in 2000, the single Wichita Lineman was inducted into the Grammy Hall of Fame.
Below, Glen Campbell performing Wichita Lineman live.
In the late fall/early winter of 1968, Glen Campbell spent a lot of time in Ouray County, Colorado filming a western movie – True Grit (1969) – with John Wayne. Campbell was selected for the role of young Texas Ranger La Boeuf, after the filmmakers first turned down Elvis Presley – reportedly because Presley's agent wanted top billing above John Wayne (Marshall "Rooster" Cogburn) and Kim Darby (Mattie Ross).
Campbell's heady successes of 1968 were followed by starring his own television series, The Glen Campbell Goodtime Hour. Rob Reiner and Steve Martin were some of the talented writers of the show, and the series was in the Top 20 the first two years it was on the air beginning in January 1969. Gentle on My Mind was the theme song for the series. Some of the musical acts on The Glen Campbell Goodtime Hour in 1969 were Linda Ronstadt, Bobbie Gentry, Tom Jones, The Monkees, Bill Medley & Bobby Hatfield of the Righteous Brothers, and other recording artists popular with baby boomers and their parents.
Glen Campbell and Bobbie Gentry had a #13 Country music and crossover #35 Hot 100 hit single, with a French song first published in 1955 called Let It Be Me (1969).  
On February 12, 1969, Billie Jean and Glen Campbell had their third child, son Wesley Kane Campbell. Later that month, Glen Campbell's third #1 Country hit single was released – and went to #4 on the Hot 100 charts. Galveston (1969), written by Jimmy Webb and sung by Glen Campbell, has since been adopted by the City of Galveston, Texas. Lyricist Jimmy Webb has said Galveston is an anti-war song (the Vietnam War was still on), while Campbell has said it was a patriotic song. Below, Glen Campbell singing Galveston live.
Despite director Henry Hathaway's resentment over Glen Campbell being cast in True Grit (he thought it was a ploy by the studio to get a hit soundtrack/title song), when True Grit premiered in movie theaters in June 1969, it was a hit. Glen Campbell's recording of the title song for the movie True Grit (1969) was a #9 Country chart hit single and a #35 Hot 100 single as well, and was nominated for an Academy Award for Best Song.
John Wayne won his first and only Academy Award for Best Actor for his performance in True Grit. Although Campbell had acquired some movie credits for bit parts in movies, and hosted his own variety series, he has acknowledged that his own acting in True Grit was so bad that it won John Wayne his one and only Oscar. When John Wayne accepted his Academy Award, he said "Wow! If I'd known that, I'd have put that patch on 35 years earlier." Below, Glen Campbell, John Wayne, Kim Darby in the "river crossing" clip from the movie True Grit.
Try a Little Kindness (1969) was hit single – #2 US Country, #23 US Hot 100, and #1 on the Adult Contemporary (AC) charts in 1969. Below, Glen Campbell with the Muppets in a 1969 promo film for Try a Little Kindness, written by Curt Sapaugh and Bobby Austin.
Below, closing out 1969 with a Christmas episode clip from The Glen Campbell Goodtime Hour show, featuring Glen with his wife Billie Jean Campbell and their three young children, Kelli, Travis, and Wesley (Kane). Campbell sings Little Toy Trains and another Christmas song.
Next: Glen Campbell Turns 80 2of2: Rhinestone Cowboy, Tarnished and Redeemed
*Images are public domain or Creative Commons licensed & sourced via Wikimedia Commons, Vimeo, YouTube, or Flickr, unless otherwise noted*