A Long Long Time for Linda Ronstadt
The song title to one of her hit songs – Long Long Time – sums up the successful career of folk-rock singer Linda Ronstadt. Ronstadt stayed true to other hit song titles such as I Never Will Marry, perhaps because she was wondering When Will I Be Loved.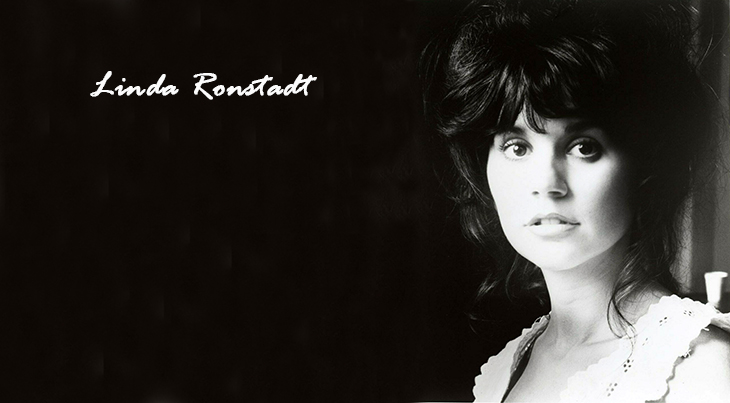 (Linda Ronstadt 1974 Heart Like a Wheel Photo : James Shea)
The Stone Poneys & Country-Rock Beginnings
Beautiful and talented baby boomer singer Linda Ronstadt was born July 15, 1946 in Tucson, Arizona to a parents with a mixed German, English, Dutch, and Mexican heritage, and diverse musical interests. At age 14 Linda, brother Peter and sister Suzy formed a trio, playing folk, country, bluegrass and Mexican music in small venues.
In 1964, 18-year-old Linda dropped out of University and moved to Los Angeles (where she would live for the next 30 years) to forge the career she wanted in music.
By 1965 she was singing folk-rock with the newly-formed Stone Poneys. The Stone Poneys were signed to Capital Records in 1966, released 3 albums and enjoyed a hit single in 1967 (#13 Billboard Hot 100) with Different Drum (written by Michael Nesmith) on their second album, Evergreen, Volume 2. 
The Stone Poneys broke up in 1968. Note that the musical arrangement for Linda on later versions of Different Drum, is quite different than from the original (below) with the Stone Poneys backing her:  
In 1969, 22-year-old Linda appeared solo on The Johnny Cash Show, the first of several appearances. In a 2007 article by Shirley Halperin for Entertainment Weekly, Penni Lane, the make-up artist on the Johnny Cash Show, recounted this tidbit: 
"At rehearsal, June [Carter Cash] noticed that Linda didn't have any panties on, so she came running back to the dressing room, [saying], 'Somebody get down the street and buy her some bloomers, she's out there showing herself!'…When Linda was told she would have to wear underwear, she was very upset. She said, 'I sing better bare-butted.' June's response: "Not in front of my Johnny!"
Linda Ronstadt performs I Never Will Marry live on The Johnny Cash Show in 1969. I Never Will Marry was finally recorded and released on her 1977 Simple Dreams album, and became a #8 Billboard US Country chart hit single in 1978. Foreshadowing her life in song, Linda Ronstadt never did marry. 
Now solo and still with Capital Records, Linda Ronstadt's first album in 1969 didn't gather a lot of attention; however, her 2nd album Silk Purse was recorded in Nashville in 1970 and resulted in her first Grammy nomination, for the hit single Long Long Time, written by Gary B. White. Below, Linda Ronstadt performing Long Long Time live c. 1969.
Around this time, Linda Ronstadt met 4 men who would figure largely in either her personal life, career, or both. She was introduced to 33-year-old California Secretary of State, Jerry Brown (son of the former Governor of California, Pat Brown 1959-1967) in 1971; they began a friendship, and he asked her for help later in his campaign for Governor.
Linda Ronstadt first dated and briefly lived with record producer John Boylan, who was also her mentor and then – after they broke up – became her manager. Next, she dated and lived with singer-songwriter J.D. Souther for about 2 1/2 years; while she was living with J.D. Souther, she met Glen Frey, Souther's singing partner. Both Boylan and Souther produced most of the tracks on her next (4th) album, 1973's Don't Cry Now. John Boylan remained Lynda's manager for the rest of her career.
Linda toured in 1971 to promote her Silk Purse album, and very briefly, her backing band included Souther's friend Glen Frey, Don Henley, Randy Meisner, and Bernie Leadon – who then left to form their own band, The Eagles, that same year. They also played on her third album, Linda Ronstadt, which was released in 1972.
Around 1973 Linda also began to be influenced by a new producer she had teamed up with called Peter Asher. It was the beginning of a successful and long-standing partnership; according to Asher, it was also the first time Linda's producer was not also in a relationship with her.
This album was released in 1973 and produced the Top 20 Country single Silver Threads and Golden Needles, written by Jack Rhodes and Dick Reynolds.
Linda Ronstadt performing Silver Threads and Golden Needles.
To promote this 4th album Linda went on tour again, opening for Neil Young for about 4 months and playing to large crowds. She said in a 1975 interview with Ben Fong-Torres for Rolling Stone magazine about this time on the road, that she abused drugs.
"did plenty of cocaine…I had to have my nose cauterized twice – I think they shot sodium nitrate up there – I'm okay now. I don't put anything up my nose anymore."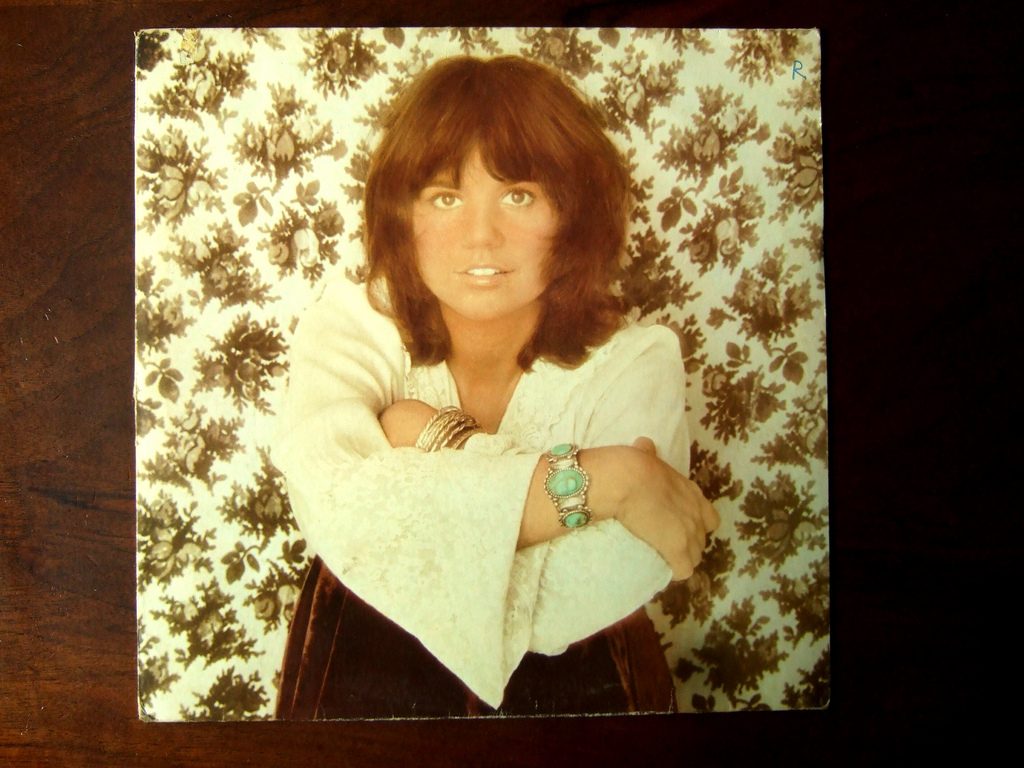 (Linda Ronstadt circa 1974 and Don't Cry Now Photo: Pinao Piano!)
Emmylou Harris and Linda Ronstadt met after a concert and became very good, lifelong friends and collaborators. Linda's thunderbolt of success struck when her 5th album, Heart Like a Wheel, was released in 1974 – reaching #1 on the Billboard 200 chart and #1 Country Album in 1975, and was nominated for an Album of the Year Grammy Award. The album included a cover of the 1940's Hank Williams song, I Can't Help It (If I'm Still In Love With You), which garnered her a first Grammy Award, for Best Country Vocal Performance/Female in 1975. 
Also on the album were the hits You're No Good written by Clint Ballard, Jr. – the first single released from the album, it hit #1 on the Billboard Pop chart. Below, Linda Ronstadt sings You're No Good on Bert Sugarman's Midnight Special, with an introduction by Jose Feliciano.
When Will I Be Loved written by the Everly Brothers – the second single from the album hit #2 on Billboard, and was a #1 Country hit. Below, Linda Ronstadt singing When Will I Be Loved on Bert Sugarman's Midnight Special in 1975. 
By 1974 Linda had moved on from her live-in relationship with J.D. Souther. They remain lifelong friends, getting together and talking about music. She 
After briefly dating comedian/actor Steve Martin, Little Feat's Lowell George, and songwriter Tom Campbell, she met comedian/actor Albert Brooks. 
Pop, Rock and Country Queen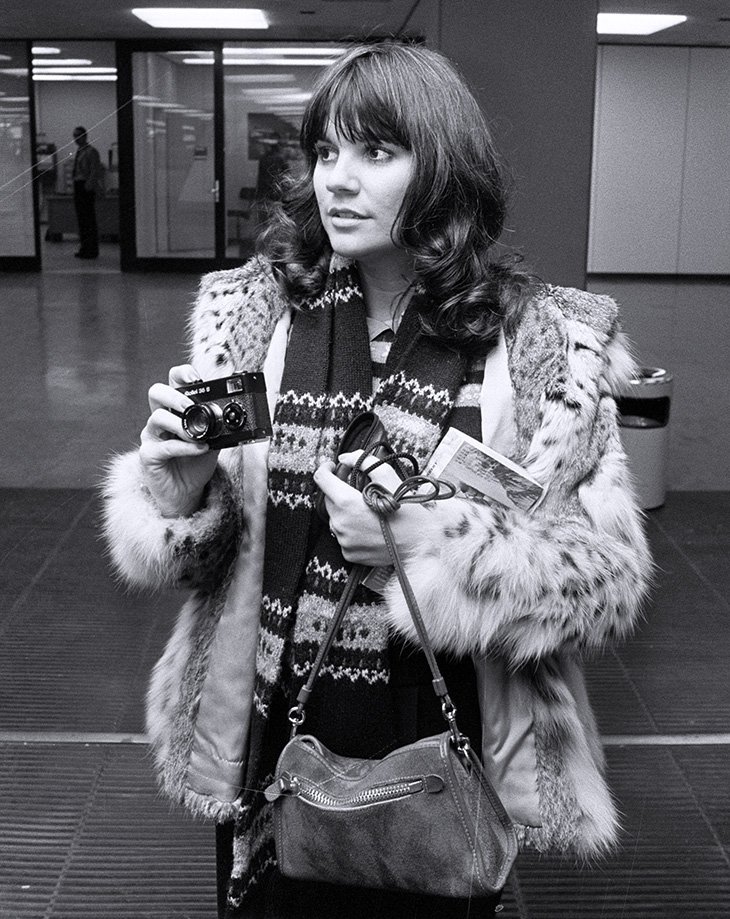 (Linda Ronstadt 1976 Photo: Rob Bogaerts / Dutch National Archives)
Hot on the heels of all the hit singles and success from her Heart Like a Wheel album and singles successes in early 1975, Linda Ronstadt's 6th album Prisoner in Disguise, was released in the fall of 1975, and quickly jumped to the Top 5 Billboard Album Chart.
The singles Heat Wave (a cover of the Martha and the Vandellas song) hit #5 on the Billboard Hot 100 chart, matched by Love is a Rose hitting #5 on Billboard's Country chart. Tracks of My Tears hit #4 on the Adult Contemporary chart. Many of her songs were crossover hits on the pop, rock, adult contemporary, and country music charts.
Love is a Rose – written by Neil Young – live in 1976:
The Tracks of My Tears was written by Smokey Robinson. Below, Linda Ronstadt's official music video of her performing The Tracks of My Tears circa 1975.
The next year, Linda's 7th album Hasten Down the Wind (1976) won her a Grammy Award for Best Female Pop Vocal Performance again, and was a Top 3 Billboard Album.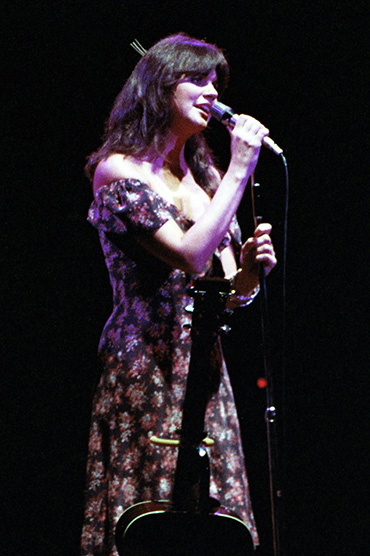 (Linda Ronstadt 1977 Photo: Craig Howell)
Her cover of That'll Be The Day (written by Buddy Holly and Jerry Allison) hit #11, while Crazy by Willie Nelson, was a Top 10 Country hit.
Linda Ronstadt's two-year relationship with comedian/actor Albert Brooks (they lived together for a year) had ended by the time her 8th album, Simple Dreams, was released in late 1977.
Simple Dreams hit #1 on the Billboard 200 chart (in the U.S., Canada, and Australia) and was a record-making best-seller for a female artist (over 3.5 million copies sold in less than a year in the U.S.).
More hit single covers from the album came in 1978, the same year she toured Europe.
Blue Bayou (written by Roy Orbison), was a #3 on Billboard US charts for Linda when she covered it, and has become one of her signature songs.
Another hit single for Linda Ronstadt was her cover of Buddy Holly's It's So Easy (written by Buddy Holly). She scored a #5 on Billboard US charts with the song. Below, she sings It's So Easy in the official music video.
Poor Poor Pitiful Me (written by Warren Zevon) was a#31 on Billboard US charts for Linda Ronstadt. Ronstadt performs Poor Poor Pitiful Me live in 1996 for President Bill Clinton (& First Lady Hilary).
1978 was another stellar year for Linda Ronstadt. She performed the Mick Jagger and Keith Richards-penned Tumbling Dice in 1978's FM movie about disc jockeys, and her Living in the USA album – Ronstadt's 9th – resulted in three #1 Billboard Magazine Awards for the Year: Pop Female Singles Artist of the Year, Pop Female Album Artist of the Year, and Female Artist of the Year (overall).
Rolling Stone magazine called her "by far America's best-known female rock singer." Ooh Baby Baby written by Smokey Robinson reached #7 on the Billboard US charts, and Alison – written by Elvis Costello – reached #30 on the Billboard US Adult Contemporary charts; along with these other tunes that charted: 
Just One Look – written by Doris Troy & Gregory Carroll – #5 on on Billboard US Adult Contemporary charts. She performs Just One Look live in Hollywood in 1980.
Despite all chart successes, Linda Ronstadt never liked the way her voice sounded and always thought she could have sung it better in retrospect; in her senior years she has said she felt she didn't hit her stride musically until she started singing the old standards with the Nelson Riddle Orchestra.
In a 1978 Peter Herbst interview for Rolling Stone magazine, Ronstadt revealed her struggles with depression:
"Running is the best and I think the only real cure for depression. There have never been any drugs that I could take that would make depression go away. Depression, you know, seems to affect women worse, but it is such an insidious crippler because it starts and you are aware of it the first few days that you feel bad, and then it just kind of settles in and it prevents you from doing things. After a while you get used to it. You don't realize how much it's preventing you from living the way you want to live until something lifts it. I'm just so afraid of it now that it stops me completely cold. It I get depressed, I just go to bed for a week."
The Jerry Brown Years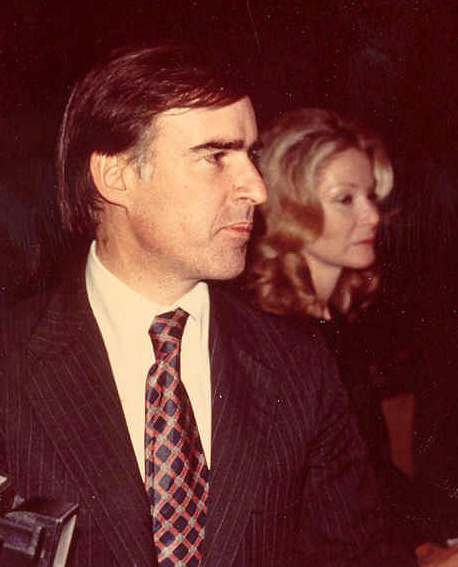 (California Governor Jerry Brown 1978 Photo: Alan Light)
Folk, rock and country music baby boomer darling Linda Ronstadt ended the 70's decade with an international tour with boyfriend Jerry Brown that included Australia and Japan.
Jerry Brown was now the Governor of California, a Democratic presidential candidate, and was Ronstadt's acknowledged "boyfriend" in interviews; they lived together in the Governor's mansion. Linda and Jerry got a lot of attention from the press, making the cover of Newsweek and US Weekly magazines in 1979; their trip to Africa that year also got them on the cover of People magazine.
In her 2013 memoir Simple Dreams, a now senior citizen Linda Ronstadt said neither she nor Jerry Brown ever imagined sharing each others lives, but have always remained on excellent terms. Jerry Brown is once again the Governor of California, and she's friends with both Jerry and his wife (they occasionally visit over Christmas).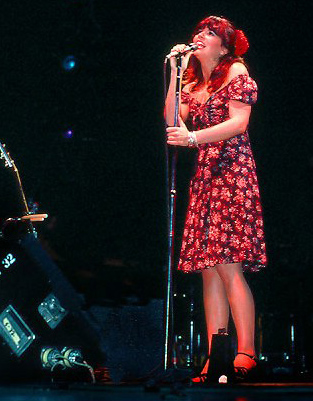 (Linda Ronstadt 1977 Photo: Craig Howell)
In an April, 1980 interview with Playboy Magazine writer Jean Vallely, Ronstadt said
"The Eighties is a season of change, kind of like the Sixties just before rock 'n' roll exploded. A lot of us are kind of walking around wringing our hands and wondering what the music will be like. The most interesting things seem to be coming out of England again. At least my favorite things: Elvis Costello, Joe Jackson, Rockpile…"
When asked if it could be that she was getting too old to rock 'n' roll, she answered
"Well, every now and then, we clutch our hearts and wonder if we're getting so old we don't understand what is coming down. All of us worry that we are turning into old codgers. But that's silly. There's always the music."
This interview foretold the coming change – Linda Ronstadt soon shifted away from her folk-rock roots and began changing up the genres in her music catalog. Her 1980 album Mad Love was her last contemporary pop album of the 1980's. It included 3 1980 Billboard US chart hit singles – How Do I Make You, Hurt So Bad, and I Can't Let Go.
Below, Linda Ronstadt's hit singles from the Mad Love album, performed by Linda Rondstadt live in 1980:
How Do I Make You, written by Billy Steinberg made it to #10:
Hurt So Bad, written by Teddy Randazzo, Bobby Weinstein, and Bobby Hart, got to #8. Below, the official Linda Ronstadt music video for Hurt So Bad.
In the summer of 1980 Linda Ronstadt began rehearsals to star in a stage musical operetta, Pirates of Penzance, which ended up on Broadway and ran until 1982. She starred alongside Rex Smith and Kevin Kline in Pirates of Penzance, and was nominated for a Tony Award for her performance in the play. This was followed by her appearance in the 1983 Pirates of Penzance movie musical.
Linda Ronstadt's remaining 1980's album sales were not quite as high-selling as her top albums in the 70's, but she did manage to achieve another 6 platinum albums from 1983-1990.
She began working the the Nelson Riddle Orchestra to record classic pop/big band tunes with the albums Get Closer (hitting the 1982/83 charts) and What's New (1983/84 charts). This big band music was not as popular with her baby boomer fans, but did hit a chord with more mature audiences, seniors, and retro/vintage music lovers. Get Closer, written by Jon Carroll, was a Billboard #29 hit single.
I Knew You When, written by Joe South, made it to #37 on the Billboard US charts for Linda Ronstadt. This is the official music video for Linda Ronstadt's I Knew You When.
Easy For You to Say, written by Jimmy Webb, was a #7 hit single for Linda Ronstadt on the Billboard US Adult Contemporary charts. What's New, written by Johnny Burke and Bob Haggart, made it to #5; and I've Got a Crush on You, written by Ira Gershwin was a #7 – US Adult Contemporary chart hit for Linda Ronstadt.
Diversification in the 80's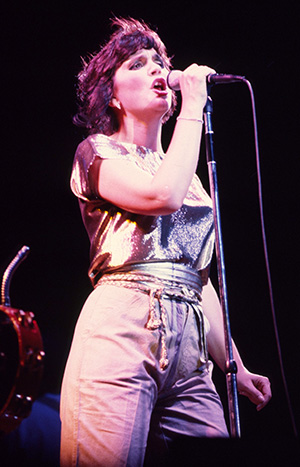 (Linda Ronstadt 1981 Photo: Circacies)
Baby boomer Linda Ronstadt's love life was (once again) complex in 1984. She and Jerry Brown had ended their romantic relationship in 1983. A March People magazine article that year related that she had begun dating the recently-separated George Lucas in December 1983, after breaking off with actor/comedian Jim Carrey (he was 22, she was 37). 
In her 1980 interview with Jean Vallely for Playboy magazine, Ronstadt had this to say:
"I adore men. God. I love to flirt. Flirting isn't necessarily based on offering yourself in a sexual way. I hope I'm flirting when I'm 80. I just love real vibrant older women who don't deny their sexuality but who also don't try to act like it should assume a place in their lives that is inappropriate to their age. That's a fine line to walk…I've never seriously considered marrying anybody so far. But I've gotten some interesting proposals."
Having left her folk, rock and country music songs (mostly if only temporarily) behind her, Linda Ronstadt's hit singles started dwindling in the latter part of the 1980's, but she did manage a few more hits from her 1984 Lush Life album recorded with the Nelson Riddle Orchestra, including Skylark, written by Johnny Mercer, a #12 US Adult Contemporary charts hit.
Linda returned to her Mexican heritage with the 1987 album Canciones de Mi Padre, which hit #42 on the Billboard US Album chart, & #4 on the US Latin Album chart. She won a 1988 Grammy Award for Best Mexican-American Performance, and it became the biggest-selling non-English-language album in U.S. music history (at that time).
Her next appearance on the Billboard charts was When You Wish Upon a Star, written by Leigh Harline and Ned Washington, from her 1986 Sentimental Reasons album; it went to #32 on the US Adult Contemporary charts. This is Linda Ronstadt's 1986 television appearance and performance of When You Wish Upon a Star:
Linda Ronstadt returned to her country roots with the ten-years-in-the making Trio album, a collaboration with longtime friends Emmylou Harris and Dolly Parton released in 1987. The album was popular with her baby boomer and more mature, senior fans alike.
She won a 1987 Grammy for Best Country Performance by a Duo or Group with Vocal. The Phil Spector-penned single To Know Him Is To Love Him was a Billboard #1 US Country hit from that album, performed by Linda Ronstadt, Dolly Parton, and Emmylou Harris. Also from Trio, a Billboard #3 US Country hit single, Telling Me Lies, written by Linda Thompson and Betsy Cook.
From the Dolly Parton Show in 1987, Billboard #5 US Country hit single, Those Memories of You, written by Alan O'Bryant. This is the official audio of Those Memories of You sung by Linda Ronstadt singing with Dolly Parton and Emmylou Harris:
In 1986 Linda collaborated with James Ingram to record the duet Somewhere Out There written by James Horner, Barry Mann and Cynthia Weil for the animated movie An American Tail. The song won the Grammy Award for Song of the Year.
The sequel movie An American Tail: Fievel Goes West, featured the song Dreams to Dream, written by James Horner and Will Jennings, was also sung by Linda Ronstadt – giving her a 1991 Billboard #13 US Adult Contemporary Hit.
Motherhood & Parkinson's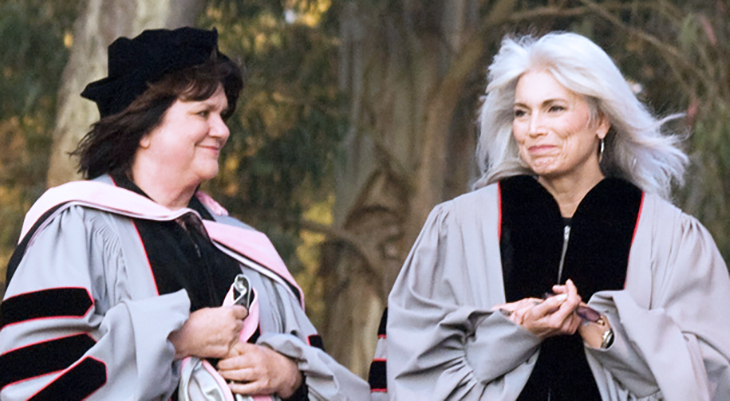 (Linda Ronstadt and Emmylou Harris 2009 Photo: Eric Frommer)
Although she lived up to the words in her song 1970's hit song "I Never Will Marry", Ronstadt did want children. Prophetically, back in 1980, when interviewed by Jean Vallely for Playboy magazine, Ronstadt had this to say:
"I've thought about it a lot, especially as I get nearer to 35. I like children a whole lot, but that's not a good enough reason. The only reason to have children is because you want them more than anything else and if I get to that point, I won't care if I'm married or not. I'd prefer to be with the kids' father, because I think that would multiply the enjoyment and the richness of the experience geometrically, but I don't think it would be impossible to do it alone."
In December 1990 at age 44, Linda Ronstadt adopted a baby girl, daughter Mary Clementine, and moved her home base from San Francisco (where she'd moved to in the 80's) to Tucson, Arizona to raise her family. In 1994 Ronstadt adopted another infant, son Carlos Ronstadt. Linda Ronstadt alternated between homes in San Francisco and Tucson for several years before moving back to live full time in San Francisco with her teenage children in 2005, when she was 55+.
Linda Ronstadt's first album in the 1990's to gather her (3) Billboard Top 100 chart hit singles was 1989's Cry Like a Rainstorm, Howl Like the Wind, and included these 3 Aaron Neville duets – Don't Know Much with Aaron Neville, written by Barry Mann, Cynthia Weil and Tom Snow, that went to #2 and won the Grammy for Best Pop Vocal Performance by a Duo or Group with Vocal in 1989.
Don't Know Much was quickly followed by the duet All My Life, written by Karla Bonoff, which made it to #2 on the US Adult Contemporary charts and won Linda and Aaron the Grammy for Best Pop Vocal Performance by a Duo or Group with Vocal in 1990.
Frenesi, written by Alberto Dominguez and Leonard Whitcup, appeared on Linda's 1992 Mexican/Latin album of the same name, and was a Billboard #7 US Latin chart hit single. The Frenesi album won the 1992 Grammy Award for Best Tropical Latin Album. Ronstadt followed Frenesi up with another Mexican/Latin album in 1993, Mas Cansiones, which won her a second consecutive Grammy Award for Best Mexican-American Album.
Linda Ronstadt was back on the US Adult Contemporary charts in 1994 with the hit single Oh No Not My Baby from her 1994 album, Winter Light. 
In 1995 Linda Ronstadt was in the Billboard Top 100 charts 2 more times, with two songs from her Feels Like Home Album – Blue Train, and Walk On. By now a mother of two, her 1996 album of lullabies, Dedicated to the One I Love, won the Grammy Award for Best Musical Album for Children.
With Emmylou Harris and Dolly Parton, Linda Ronstadt recorded the follow-up album Trio II, which was released in 1999. Their cover of the popular single After The Gold Rush, written by Neil Young, won them a Grammy Award for Best Country Collaboration with Vocals. 
Linda's last Billboard Top 100 hit single to hit the charts was High Sierra, from that same album (#90 on the Canadian Country chart). 
Although a few more albums and tours followed, by the early 2000's Linda Ronstadt had cut down on her schedule in order to spend more time with her children at their home in Tucson. She was also coping with a loss of energy, a symptom of the auto-immune disorder Hashimoto's thyroiditis that she'd been diagnosed with in 1997.
Around 2005 Linda had begun to notice her hands shaking, which she thought was the result of shoulder surgery. By 2007 her singing ability was being affected, she thought from a tick bite.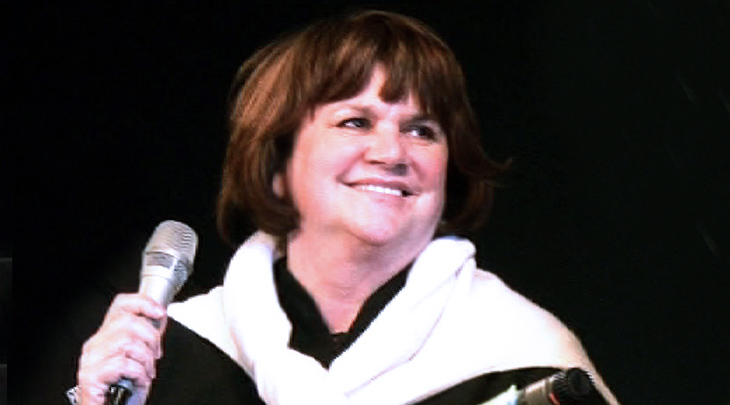 (Linda Ronstadt 2008 Photo: JD Lasica / SocialMedia.biz | Los Cenzontles Mexican Culture Centre)
Despite this, she was able to sing on the Chieftain's 2010 song, A La Orilla de un Palmar – Linda Ronstadt's last recorded lead vocal song before announcing her retirement in 2011. Between 2002-2014 she released 6 compilation and "best of" albums; her recent 2014 Opus Collection hit #65 on the Billboard US Album charts.
The 2013 Linda Ronstadt memoir Simple Dreams focused on her musical life vs relating personal or relationship details. In interviews since then, Linda disclosed that she was first diagnosed with Parkinson's Disease in late 2012, but that the Parkinson's symptoms had likely started up to 8 years prior – and gradually decreased her mobility, eventually robbing her completely of the ability to sing.
In a 2013 Billboard interview with Gary Graff Linda Ronstadt talked about her volunteer work with youths in San Pablo, California at the Los Cenzontles Mexican Arts Centre, and the end of her singing career:
"I have to say it's a drag; it's the worst thing that's ever happened to me…But I say to myself that I had a really unusually long turn at the trough, and I have to be satisfied with that and I got to live out my dreams musically in a way that a lot of people didn't get to. I was lucky that way and I'm grateful for it, and I have to just look around for other ways to make myself useful. And I will."
Below, a 2014 live interview with Linda Ronstadt:
Linda Ronstadt was inducted into the Rock and Roll Hall of Fame in April 2014 , and in July of that year she received the National Medal of Arts in from President Barack Obama (one of her baby boomer fans, who are all now 50+ or senior citizens).
Between 1975-1999 Linda Ronstadt won 10 Grammy Awards for both her solo efforts and group collaborations across a variety of genres – country, pop, Mexican-American, tropical/latin.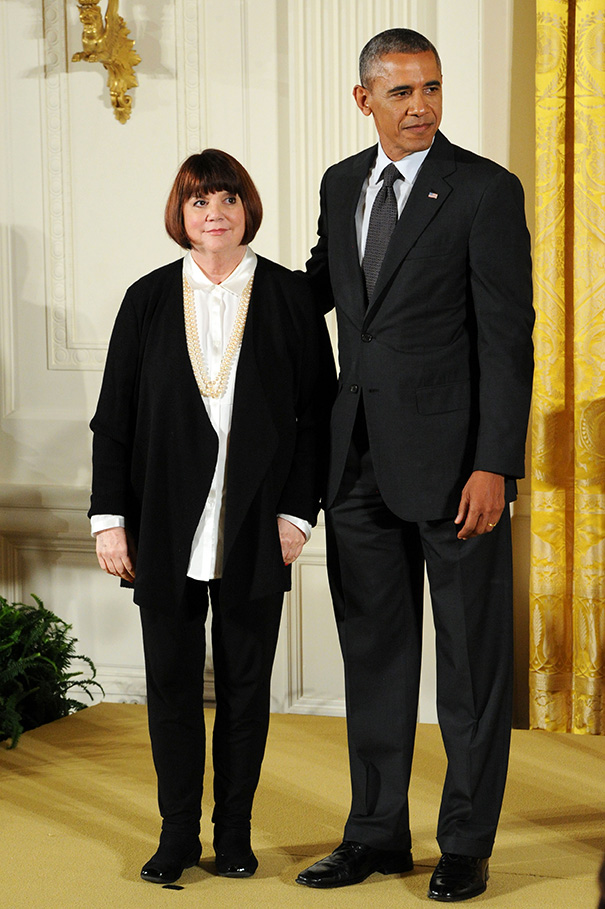 (Linda Ronstadt & President Barack Obama 2014 Photo:  © Jocelyn Augustino | National Endowment of the Arts)
Linda Ronstadt was awarded the National Medal of the Arts in 2014 by President Barack Obama, in recognition of her musical contributions to the nation.
In December 2019, Ronstadt clarified for CNN that her diagnosis was not Parkinson's disease but a very similar condition with no known cure called progressive supranuclear palsy, and said her message to people living with this disease or Parkinson's is "acceptance".  
Despite all her hit folk, rock and country songs in the 70's, Ronstadt's favourite music from her career remains the Nelson Riddle Orchestra "American Songbook" songs she sang in the 80's.
It's been a long, long time for Linda Ronstadt at the top of the song charts and in the hearts of her fans.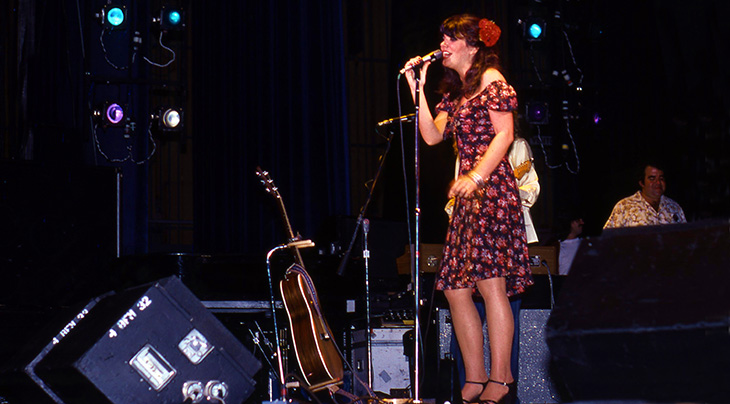 (Linda Ronstadt 1977 Photo: Craig Howell)
Note: This article was first published as a 5-part series in 2015 with the title Celebrating Seniors – Linda Ronstadt Turns 69. It has been updated with new & additional content. 
**This article is for general informational purposes only. Images and video are believed to be in the public domain or Creative Commons licensed & sourced via Wikimedia Commons, Vimeo, YouTube, or Flickr, unless otherwise noted**