Were You Alive in May 1945?
News Headlines & Entertainment Trivia From May 1945: WWII events: Adolf Hitler, Eva Braun & Goebbels family suicides, Germany surrenders, Victory in Europe / VE Day celebrations; and Sentimental Journey tops song charts

WWII Events
Adolf Hitler, Eva Braun, and Goebbels Family Suicides
On May 1, 1945, German Radio Hamburg broke the news that Adolf Hitler and Eva Braun were dead, and had been killed at his command post in Berlin. Also on May 1, Joseph Goebbels and his wife Magda killed their six youngest children (morphine & cyanide) and then took cyanide themselves.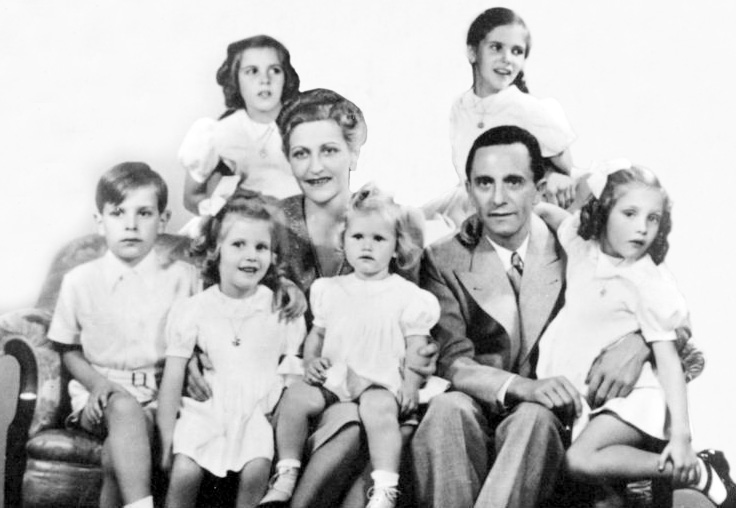 (Magda & Joseph Goebbels with Helga, Hildegard, Helmut, Hedwig, Holdine & Heidrun 1944 January) 
In the ensuing days, conflicting news reports began filtering out to the world of the deaths of Hitler, Braun, and Goebbels, with many doubting Hitler was really dead. 
"Gen. Dwight D. Eisenhower said today there was some evidence that Adolf Hitler had died of a brain hemorrhage instead of a hero's death in battle as the nazis claimed. The statement by Eisenhower was the first from any allied official to shed light on the mystery of Hitler's reported death."
– Donetz Succeeds Hitler as Chief, by Phil Ault / UPI, The Herald Journal, May 2, 1945
"'Goebbels' deputy, Hans Fritsche, says Hitler's body is hidden at an undiscoverable place,' stated Moscow Radio, commenting on the failure to find any trace of the 'martyred' Fuehrer or Goebbels."
– 'Fuehrer's Sweetheart With Him', by Jack Fleischer, British UPI War Correspondent, The People, May 6, 1945
"Was Adolf Hitler accompanied in death (if he really is dead) by his favorite woman friend?…The circumstances of Hitler's reported end are still cloaked in mystery, although at least one shred of testimony tends to lend a similarly romantic note to the final drama of Der Fuehrer's career. When U.S. troops captured Munich, they uncovered what was described as Hitler's "love-nest", and were informed that its occupant, blonde blue-eyed, 32-year-old Eva Braun, had left only a few weeks before to join Hitler in Berlin."
– Mystery Veils Hitler's, Eva Braun's Fates, by Thomas C. Watson, INS / The Knoxville Journal, May 13, 1945
"It was likely the German leader was killed by an SS colonel specifically assigned to the task – with Hitler's knowledge. The statement was made by Gerhard Herrgessel, 36-year-old law-trained secretary, who said he left Hitler in the caverns under the Berlin Reichs chancellery shortly before midnight April 22…The triggerman was identified as a Colonel Guensche, SS adjutant in charge of the underground chancellery in its last hours. His assignment…was to kill  Hitler, make certain his body was disposed of in such a manner the Russians did not find it – then turn his gun on himself."
– Final Hours Before Death of Adolf Hitler Described, by Howard Cowan, AP / Monroe Morning World, May 20, 1945
Although Hitler had decided to kill himself by mid-April, it wasn't he heard of Il Duce Benito Mussolini's murder by Italian partisans on April 30, 1945, that he put his plans in motion. Hitler had his German Shepherd dog Blondi ingest a cyanide capsule to ensure the pills would be effective, before Eva Braun then swallowed a cyanide capsule, and he shot himself.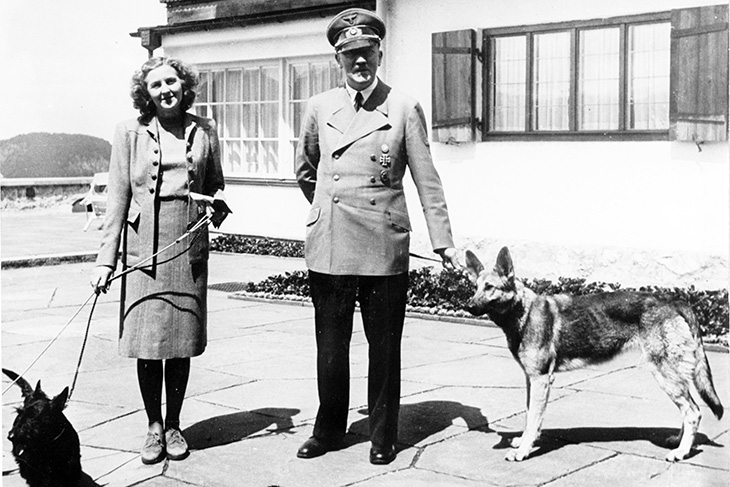 (Eva Braun, Adolf Hitler & dogs 1942 Obersalzberg, Germany)
Blondi's pups and Braun's dogs with them in the bunker complex, were all shot later. The bodies of Hitler and Braun were carried out of the bunker to the garden behind the Reich Chancellery. There the bodies were burned with petrol and the remains buried in a low bomb crater. 
Soviet Agents captured the Reich Chancellery on May 2nd, and took dental remains from the soil for analysis. Dentists confirmed they were of Braun and Hitler on May 11, but Stalin kept the news quiet. 
Germany Surrenders
On May 7, 1945, Germany surrendered unconditionally to the Western Allies and Russia.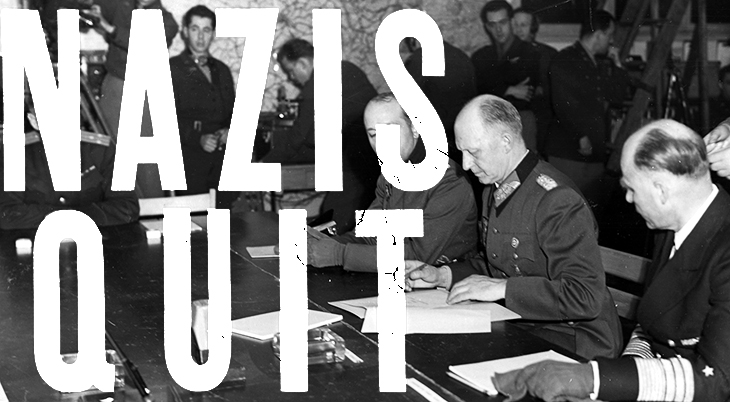 (German Col. General Gustav Jodl, centre, signs surrender documents | Overlay inverted Nazis Quit Headline)
"War in Europe Ended with Formality in Little Red Schoolhouse, Ike's Headquarters – Germany surrendered unconditionally to the western allies and Russia at 2:41 a.m. French time today…The surrender took place at a little red school house which is the headquarters of Gen. Eisenhower. The surrender which brought the war in Europe to a formal end after five years, eight months and six days of bloodshed and destruction, was signed for Germany by Col. Gen. Gustav Jodl. Jodl is the new chief of staff of the German army. It was signed for the supreme Allied command by Lieutenant General Walter Bedell Smith, chief of staff for General Eisenhower. It was also signed by General Ivan Susloparoff for Russia and by GEneral Francois Sevez for France. General Eisenhower was not present at the signing, but immediately afterward Jodl and his fellow delegate, General Admiral Hans Georg Friedeburg were received by the supreme commander. They were asked sternly if they understood the surrender terms imposed upon Germany and if they would be carried out by Germany. They answered yes."
 – Terms Are Signed at Reims, France – By Edward Kennedy of the Associate Press, The Decatur Daily Review, May 7, 1945
Senior Allied commanders gathered afterwards in Reims to celebrate the official signing of the surrender documents.
(Allied Commanders from left: General Ivan Susloparov, SU; Lt. General Frederick E. Morgan, GB; Lt. General Walter Bedell Smith, US; Capt. Kay Summersby, US; Capt. Harry C. Butcher, US; Gen. Dwight D. Eisenhower, US; Air Chief Marshal Arthur Tedder, GB) 
Victory in Europe / V-E Day Celebrations
VE Day in England
Washington, London and Moscow attempted to co-ordinate their V-E Day announcements by American President Truman, British Prime Minister Churchill and Soviet Union Premier Stalin, but Stalin delayed.
British Prime Minister Winston Churchill officially announced Victory in Europe Day on May 8, 1945. WW II VE Day celebrations began taking place across Europe, Canada, Australia, and the United States beginning on May 7th.
The British royal family and Prime Minister Winston Churchill waved from the balcony of Buckingham Palace on May 8, 1945.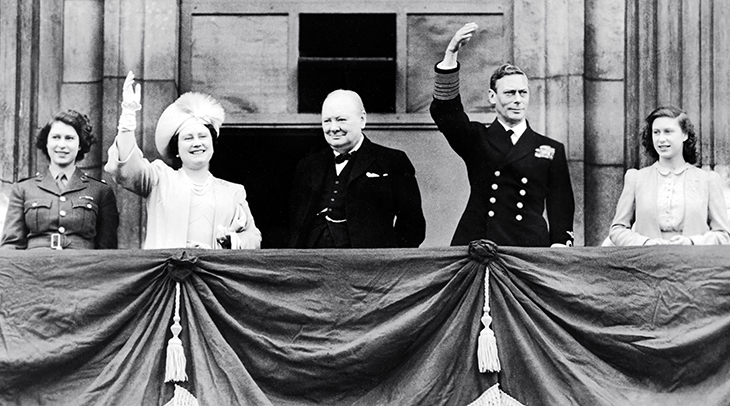 (Princess Elizabeth, Queen Elizabeth, Winston Churchill, King George VI, & Princess Margaret)
Crowds flooded the streets of London and flocked to Piccadilly, Whitehall and elsewhere.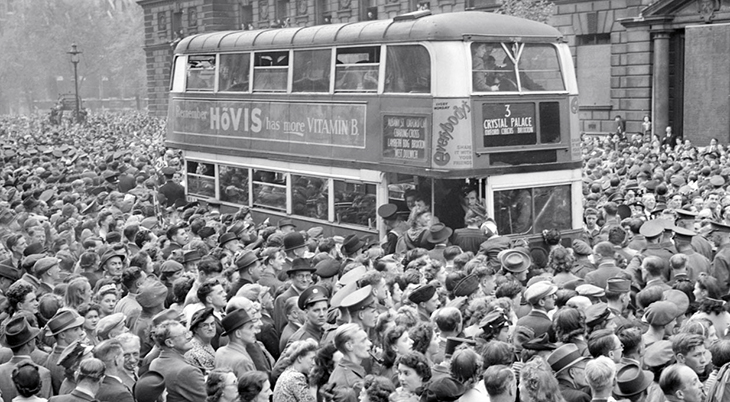 (Double Decker Bus Surrounded by Crowds in Whitehall, May 8, 1945)
Amid the rubble of Battersea, two little girls hold flags during VE Day celebrations.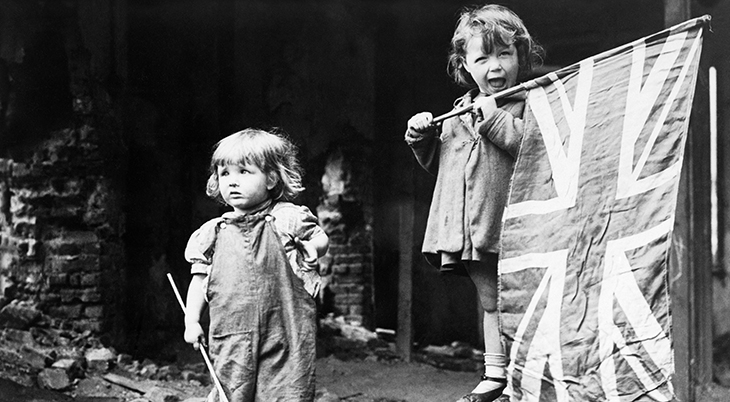 (Battersea, London, May 8, 1945)
VE Day in Canada
V-E Day Celebrations on Bay Street in Toronto, Canada on May 7 1945.  
(V-E Day Celebration on Bay Street, Toronto May 7, 1945: John H. Boyd / City of Toronto Archives)
In Halifax and Dartmouth, Nova Scotia the city populations had nearly doubled during World War II from military personnel stationed there. Overcrowding had strained relations between residents and the military. The VE day celebrations turned into a riot in Halifax and Dartmouth, Nova Scotia by civilians and many of the 25,000 troops stationed in situ. Looting of liquor and beer stores and vandalism caused damage to over 500 businesses in Halifax and Dartmouth, and 3 rioters died.
V-E Day in America
Although U.S. President Harry Truman confirmed May 8, 1945 as V-E Day, American celebrations were muted. He called for a renewed focus on defeating Japanese forces in the Pacific.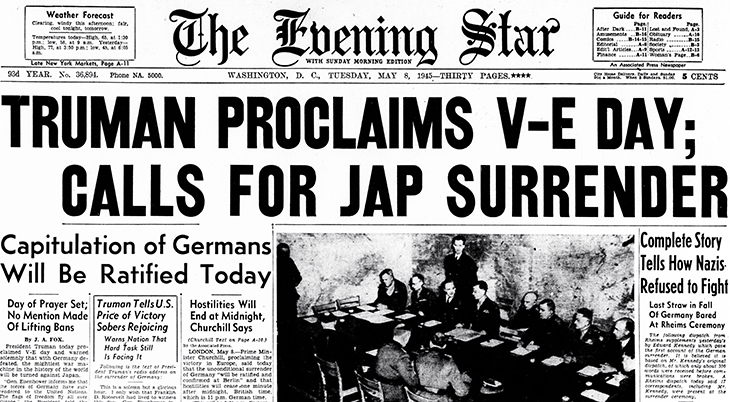 (U.S. President Truman V-E Day Proclamation Headline – May 8, 1945, The Evening Star)
Below the headline, is a photo of the May 7th surrender signing at Rheims, France.  
Sentimental Journey Tops the Song Charts
Les Brown's songs My Dreams Are Getting Better all the Time and Sentimental Journey topped the US Song charts in May 1945, as reported in Variety. By early June 1945, Sentimental Journey had taken the #1 chart spot from My Dreams Are Getting Better all the Time (#1 for 7 weeks), and it stayed in the #1 position for 9 weeks.
Bud Green wrote the lyrics to Sentimental Journey, and Les Brown & Ben Homer wrote the music. 
First recorded in November 1944, the song became a #1 chart hit, the first of many for vocalist Doris Day. This video time capsule montage is set to Sentimental Journey with Les Brown & His Band of Renown, sung by Doris Day. 
Dinah Shore recorded Sentimental Journey later in 1945.
The song inspired the melodrama feature film Sentimental Journey (1946), starring John Payne, Maureen O'Hara, William Bendix, Cedric Hardwicke, Mischa Auer, and Glenn Langan. O'Hara plays Julie, a dying young woman, who adopts a little girl (Hitty). Grieving widower Bill (John Payne) is emotionally unavailable to Hitty, who frequently dreams of Julie…The Doris Day & Les Brown's Band of Renown version of Sentimental Journey is featured heavily in the movie soundtrack.
Note: This article was first published in 2015. It has been modified and updated with additional content.
*Images are believed to be in the public domain, used by permission, and/or Creative Commons licensed & sourced via Wikimedia Commons, Vimeo, YouTube, or Flickr, unless otherwise noted*