Celebrating Seniors - Doris Day Part 1
Update: Doris Day has died on May 13, 2019 at the age of 97. Her cause of death is unknown at this time.
Doris Day – 1940's Songs, Movies, and Romances
Vintage movie and music clips and the story of nonagenarian senior citizen Doris Day – born Doris Mary Ann Kappelhoff in Cincinnati, Ohio on April 3. The year of Day's birth has been in dispute; according her autobiography she was born in 1924; census records and biographer David Kaufman (The Untold Story of the Girl Next Door, 2008) say was born in 1922. Still a beauty, Day is either 92 or 94 years old today on April 3, 2016.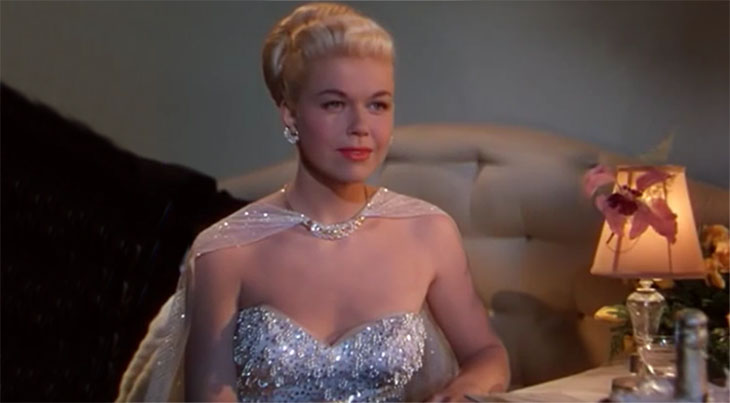 (Doris Day 1949 My Dream is Yours Trailer Screenshot)
In her autobiography written with A. E. Hotchner, Doris Day: Her Own Story (1975), Day describes a serious car accident and leg injuries suffered from it, when the car she was in at age 13 was hit by a train in October 1937. Although that accident ended her budding on-stage dance partnership with Jerry Doherty and dreams of a career in Hollywood as a dancer, the long recovery period Day went through ended up opening another door.
Lying in bed and listening to the radio, Doris Day discovered a talent for singing. Early radio idols were Ella Fitzgerald and big bands like Tommy Dorsey and Glenn Miller.  Her mother Alma hired Grace Raine to give Doris singing lessons for 8 months, which Day has credited for having the most significant impact on her career.
In 1938 Doris Day began singing professionally on local Cincinnati radio station WLW, and was heard by jazz orchestra leader Barney Rapp (b. Rappaport). Rapp's wife Ruby was a singer with his band, and when she got pregnant, Rapp needed a replacement. When he asked Doris Kappelhoff to audition, he gave her the job and suggested that since Kappelhoff was too long for the marquee, Day would be a better fit. According to David Bret's biography Doris Day: A Reluctant Star (2008), Doris began dating local Cincinnati radio host Fred Foster. 
Doris Day dumped Foster and began dating "moody" trombonist Al Jorden, who at 23 was 7 years older than her. Before Al Jorden left Rapp's band to go on a national tour, he asked Day to marry him and she accepted.  While he was away, Day began performing and touring with other big bands and bandleaders, including Les Brown and his Band of Renown from (1940-1941). Les Brown and his Band of Renown, with Doris Day as vocalist, had appearances in several 1940-1941 movies. Doris began to drink and smoke while touring with the band, and told Brown she would be leaving to get married; Les Brown warned her that Jorden was trouble.
17-year-old Doris Day and Al Jorden were married in March 1941; Jorden started beating her next day when he saw her kissing a fellow musician. A pattern of Jorden physically and/or verbally abusing Doris Day in public or private, followed by sex, was soon established with the couple; he was also unfaithful. When Doris got pregnant shortly after their marriage, Jorden wanted her to have an abortion; she refused. Throughout her pregnancy Jorden continued to abuse her physically. In the last month of her pregnancy while they were in the car he pulled a gun on her (ostensibly to kill her, the baby and then himself); Day talked him out of it. When Al Jorden left to go on tour with his band and new girlfriend in January, Doris left him and moved in with her mother.
Al Jorden and Doris Day's son Terrence (Terry) Jorden was born on February 8 1942 when Day was just 18 years old. The couple lived together again briefly but Jorden's cheating, drinking and abuse continued, until Day changed the locks while he was out and started divorce proceedings. Their divorce was completed in 1943; Al Jorden shot and killed himself in 1967.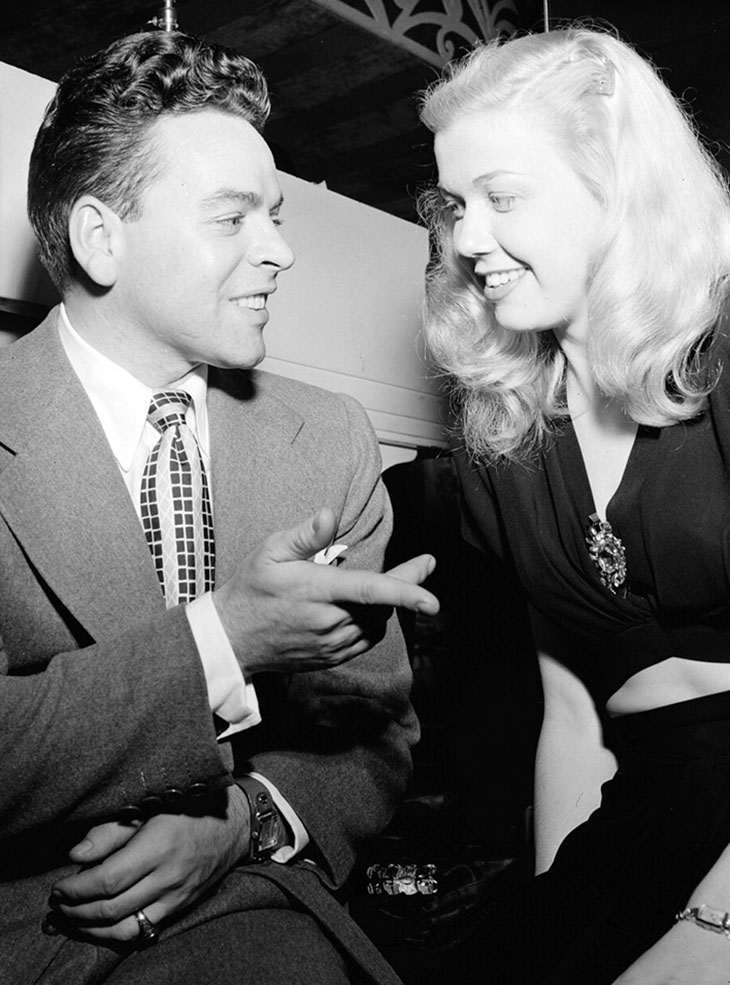 (Les Brown & Doris Day 1946 Photo: William P. Gottlieb)
In 1944 Doris Day left baby Terry with her mother to go on tour across the United States again with Les Brown's orchestra from 1944-1946. The band began recording albums and releasing singles, and by the spring of 1945, Doris Day with Les Brown and his Band of Renown had two #1 hit singles on the billboard charts – My Dreams Are Getting Better All the Time, and Sentimental Journey (1944).
Optimism driven by the impending end of World War II made Sentimental Journey a particular favourite of the time.
Below, a Doris Day photo montage set to Sentimental Journey, recorded in 1944 by Doris Day with Les Brown and his Band of Renown.
Soon after joining Les Brown on tour in 1944, Day had began having an affair with George Weidler, a saxophonist. The couple shared rooms while on tour and when Weidler left the band for California, he told a disapproving Brown that Doris would be leaving the band to get married. Despite George Weidler's announcement, Day continued to tour with Les Brown and his Band of Renown throughout the remainder of 1945 and part of 1946, compiling more hit singles. 
Doris Day and George Weidler finally married on March 30th, 1946, but it continued as a long-distance marriage, and Weidler was unfaithful. By the end of 1946, Doris had left Les Brown's band and had made her debut on The Pepsodent Show, a radio show hosted by Bob Hope. Bob Hope introduced Day to agent Al Levy of Century Artists, who got Day a spot on the radio comedy variety show, Sweeney and March (Bob Sweeney and Hal March). This enabled Day to move out to Hollywood so she and George could finally live together, but it was a disaster. Doris Day, George Weidler, her mother Alma and her son Terry, all lived together in a trailer park home.
In February 1947, Doris asked Al Levy to get her a contract far away from Weidler, and she was soon back in New York City performing at a club and meeting Al's business partner Marty Melcher. A few days later Weidler asked her for a divorce, and after an unsuccessful reconciliation attempt, the couple separated and had started divorce proceedings by April 1947.
Newly separated and depressed, Doris Day was persuaded her agent Al Levy to attend a party at the Beverly Hills house of Jules Styne, a composer. Day was asked to sing for the guests, and her host then invited her to audition the next day for a new movie musical. Day was signed to a 7 year contract with Warner Brothers and made 16 movies for them.
While filming her first movie musical Romance on the High Seas in 1947, married leading man Jack Carson and Doris Day began an affair. Below, the movie trailer for Romance on the High Seas (1948) features Doris Day and her co-stars Jack Carson, Janis Paige, Don DeFore, Oscar Levant, and S. Z. Sakall. 
Doris Day had met up with George Weidler again for dinner after Romance on the High Seas finished filming, and was now also sleeping with him as well as Jack Carson; it was at this time that Weidler first introduced Day to Christian Science.
In addition, Day's agent Al Levy had become obsessed with her – spying on her while she was on dates with Carson or Weidler, and eventually attempting to rape her. Doris Day complained to Levy's business partners at Century Artists, Marty Melcher and Richard Dorso; Levy was moved to New York so Day wouldn't press charges, and Martin Melcher became Doris Day's agent instead of Levy.
When Romance on the High Seas (1948) was released in June of 1948, the song It's Magic (1948) sung by Doris Day from that movie became a #2 hit single (and nominated for an Academy Award for Best Original Song). 
Below, Doris Day singing It's Magic to her leading man Jack Carson, in a scene from the movie Romance on the High Seas (1948).
Doris Day's Love Somebody (1948) duet that year with Buddy Clark was also a #1 hit single. Jack Carson and Doris Day filmed their second and third movies together – My Dream is Yours (1949) and It's a Great Feeling (1949), in 1948. The title song to the movie It's a Great Feeling (1949) was nominated for an Academy Award Best Song.
According to biographer David Bret – Doris Day: A Reluctant Star (2009), Day's new agent Martin Melcher was also married (to Patty Andrews of The Andrews Sisters), but that didn't prevent him from romancing Doris Day; she introduced him to Christian Science and Melcher became a devout follower. Patty Andrews filed for divorce from Marty Melcher when she became aware of his affair with Doris Day.
The hit single Again (1949) lyrics by Dorcas Cochran, music by Lionel Newman, and sung by Doris Day, went to #2 hit single in February 1949. Below, a Doris Day photo montage set to her song Again.
As the 1940's closed out, Doris was juggling several men in her off-screen love life – Jack Carson, ex-husband George Weidler, and Marty Melcher – and still found time to date others, including movie stars Steve Cochran and Ronald Reagan. Doris Day's divorce from George Weidler was finalized on May 31, 1949, leaving her free to marry again.
In her last movie of the decade, she co-starred once again with Jack Carson, and Dennis Morgan in It's A Great Feeling (1949), below. 
(Doris Day 1949 It's a Great Feeling Trailer Screenshot) 
Update March 2017: Doris Day's birthdate has been confirmed as on her birth certificate, as April 3, 1922.
*Images are public domain or Creative Commons licensed & sourced via Wikimedia Commons, Vimeo, or Flickr, unless otherwise noted*
Next in Celebrating Seniors:
Part 2 – Doris Day – 1950's Songs, Movies and Que Sera Sera