Celebrating Seniors - Doris Day Part 2of3
Doris Day – 1950's Songs, Movies and Que Sera Sera
Newly divorced Doris Day was voted their favorite star by Korean War U.S. servicemen. She was filming movies at a rapid pace for Warner Bros, and co-starred with Kirk Douglas and Lauren Bacall in the musical biography Young Man with a Horn (1950). Kirk Douglas played gifted trumpeter Rick Martin, and Doris Day was his love interest and singer Jo Jordan.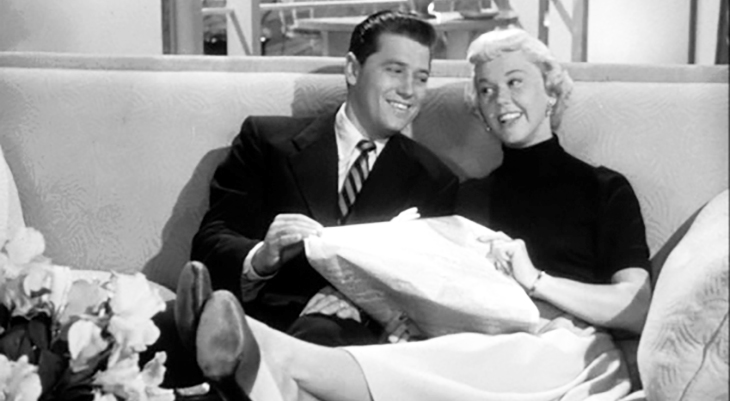 (Doris Day & Gordon MacRae 1951 Starlift Trailer Screenshot)
Tea for Two (1950) was the first of 5 movie musicals to star Doris Day with Gordon MacRae; within three years they paired up again in four more movies for Warner, The West Point Story (1950), On Moonlight Bay (1951), Starlift (1951) and By The Light of the Silvery Moon (1953).  Other frequent co-stars were song and dance man Gene Nelson who also appeared with Day and MacRae in Tea for Two, The West Point Story, and Starlift, and was Day's leading man in Lullabay of Broadway (1951).
(Doris Day 1952 Photo: US Navy)
Doris Day also co-starred in two movies with future President Ronald Reagan – Storm Warning (1951) and The Winning Team (1952) – they even dated briefly after Reagan's divorce from actress Jane Wyman.
Day's agent and one of her ongoing romances since the late 1940's was Martin Melcher. In early 1951, Melcher persuaded Doris to stop dating other men (actor Jack Carson was among them); they married on April 3, 1951 in Burbank, California.
Melcher later adopted her son Terry (from her first husband Al Jorden), and Terry took his last name; after Melcher's death in 1968, Terry said that Marty had mistreated him when he was a child.
Doris Day introduced Marty Melcher to Christian Science and he became a devout follower.
One of Warner Bros. most commercially successful films in 1952 was the musical biography of songwriter Gus Kahn, I'll See You in My Dreams (1951), starring Doris Day and Danny Thomas.
Day starred as the title character in the musical comedy western Calamity Jane (1953) opposite Howard Keel, which produced the Academy Award-winning song Secret Love, sung by Doris Day. Written by Sammy Fain and Paul Francis Webster, Secret Love became a #1 hit for Doris Day on Billboard in 1954. Below, Doris Day singing Secret Love in Calamity Jane.
After completing her Warner Bros. contract in 1954 with two more movies (Young at Heart & Lucky Me), Day's husband Marty Melcher persuaded her to go solo, and she started appearing in more serious movies.
She co-starred with James Cagney in the Ruth Etting story Love Me or Leave Me (1955); this was the third time Day and Cagney had been in a movie together, as he'd made a cameo in Starlift (1951) and was also in The West Point Story (1950). The soundtrack record from Love Me or Leave Me was the third biggest selling album of the 1950's, and a #1 record for 28 weeks.
Below, Doris Day and cinematographer Wilfred M. Cline on the set of her 1954 movie Lucky Me.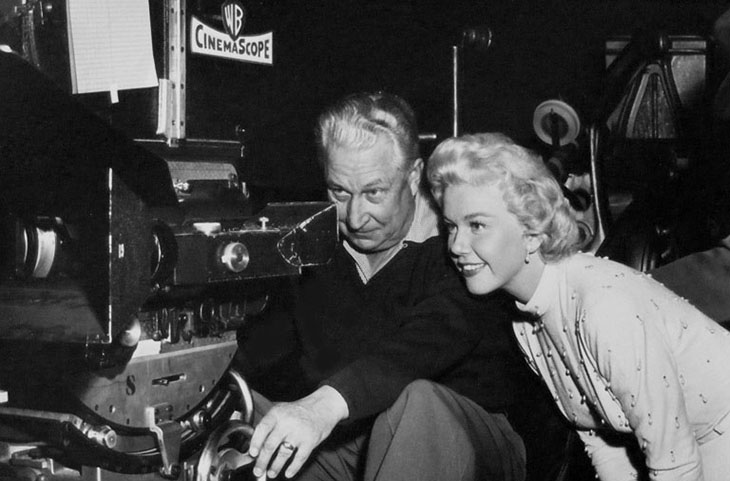 (Photo: Warner Bros.)
But it was Doris Day's role in the suspenseful Alfred Hitchcock movie The Man Who Knew Too Much (1956) with co-star James (Jimmy) Stewart, that produced her most enduring hit with baby boomers and their parents – Que Sera, Sera (Whatever Will Be, Will Be) in 1956. Que Sera, Sera won the Best Original Song Academy Award, and the The Man Who Knew Too Much was a commercial and critical success of the time and is still considered a classic film today. Below, Doris Day singing Que Sera, Sera (Whatever Will Be, Will Be) by Jay Livingston and Ray Evans, in a scene from The Man Who Knew Too Much, with Jimmy Stewart and her on-screen son Christopher Olsen.
Behind the scenes, Day's husband and agent Martin Melcher was not popular with many folks in Hollywood. According to Vanity Fair, Frank Sinatra had banned "that creep Melcher" from the set of their movie Young at Heart (1954). It's been said that Melcher was very controlling; Day and Melcher had signed a post-nuptial Artist and Manager agreement in 1955, signalling that all might not be perfect in their marriage. Co-starring with Frank Sinatra and Doris Day in Young at Heart were Dorothy Malone and Ethel Barrymore.
The Alfred Hitchcock thriller The Man Who Knew Too Much (1956) saw Doris Day co-starring with Jimmy Stewart as her on-screen husband and the leading man.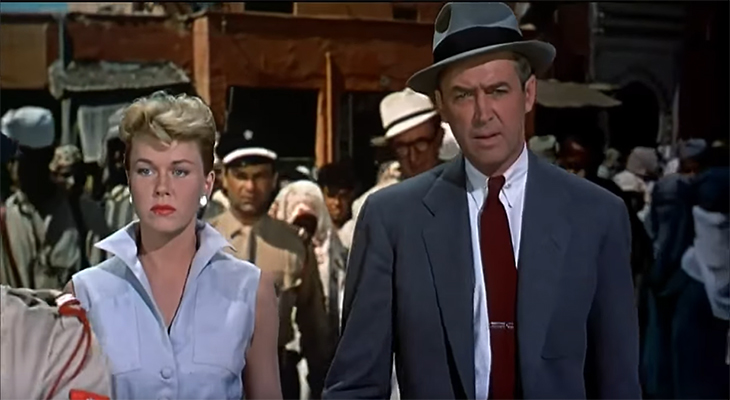 (Doris Day & Jimmy Stewart 1956 The Man Who Knew Too Much Trailer Screenshot)
Beginning with the film Julie (1956), Martin Melcher also began to assume a producing role on most of Doris Day's films. Louis Jourdan, Doris Day's co-star in Julie (1956) said:
"Both Doris and I hated the director [Andrew L. Stone]. I also disliked her husband, and I was surprised to discover she did, too."
Louis Jourdan and Day were linked romantically while filming the movie by the press. In her 1976 book Doris Day: Her Own Story (as told to A.E. Hotchner), Day recalled:
"Almost all of Julie was shot on location in Carmel, which is a lovely resort town a little south of San Francisco. My costar was Louis Jourdan, whom I liked very much. An amiable man, very gentle, very much interested in the people around him; we had a good rapport and I found talking to him a joy….We would take long walks on the beautiful Carmel beach, chatting by the hour."

The movie trailer for Julie features Doris Day, Louis Jourdan, and Barry Sullivan. 
Unfortunately, it seems the experience of working with Louis Jourdan was possibly the only positive memory Day had from Julie.
"Playing the part of a woman victimized by a jealous husband washed back the reality of the insane jealousy of Al Jorden and George Weidler's (former husbands) jealousy of my career. I had had more than enough real jealousy to contend with in my life. I didn't want to act in a film in which I played a woman whose husband was so jealous of her he was trying to kill her. That kind of sick film never has appealed to me and I told Marty so."
During filming of Julie, Doris Day, Martin Melcher and her son Terry were in a car accident. Also, Day was experiencing an unrelated, undiagnosed health condition that was caused abdominal pain and bleeding. Because of the Christian Scientist faith she and Melcher followed, Doris Day delayed consulting a doctor until it was urgent, and ended up requiring emergency surgery and a hysterectomy to remove a large, benign ovarian tumour. 
Closing out the 1950's, Doris Day  starred in 5 musical comedies between 1957-1959. Teacher's Pet (1958) was one of the last movies that Clark Gable appeared in (he died in 1960), and was the first of three Doris Day movies that perennial supporting actor Gig Young would also appear in. The Tunnel of Love (1958) had her co-starring with Richard Widmark, and again included Gig Young in the cast; Day was nominated for a Golden Globe Best Actress Award and Martin Melcher had another co-producer credit for The Tunnel of Love.
Everybody Loves a Lover (1958) was Doris Day's last Top 10 hit single in the 1950's. Written by Robert Allen and Richard Adler, Everybody Loves a Lover was recorded by Doris Day in May 1958 and when released as a single, was a #6 chart hit. Although never featured in a Doris Day movie, 54 years later her version of Everybody Loves a Lover has been used in the soundtrack for Call the Midwife (2012-present), a BBC 1950's period television series. Below, a video/photo montage set to Doris Day's recording of Everybody Loves a Lover:
At the very end of the 195o's, the first of 3 films with Doris Day and co-star Rock Hudson was released – the musical rom-com Pillow Talk (1959). Doris Day was nominated for her first and only Academy Award as Best Actress, and Pillow Talk was a huge commercial hit. Off-screen, Day and Rock Hudson were friends.
Having been voted by disc jockeys as the #1 female singer 9 times in the years between 1949-1958 and become a firm baby boomer favorite on radio, Doris Day had now carved a place for herself in the box office as a top draw going into the 1960's.
*Images are public domain or Creative Commons licensed & sourced via Wikimedia Commons, Vimeo, or Flickr, unless otherwise noted*
More of Celebrating Seniors – Doris Day
Part 1 – Doris Day – 1940's Songs, Movies, and Romances