Missing These Ol' Blue Eyes in Movies
Who's your favorite blue-eyed actor of yesteryear? We'll remember these Top Nine (plus some runners up & honourable mentions) classic movie stars who are no longer with us, at least in part, for their beautiful blue eyes.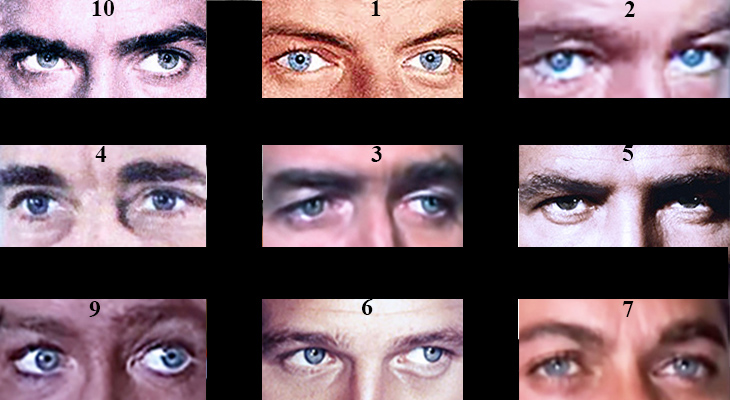 (Photo Montage: © 2019 A. Hamilton / 50+ World)
1. Frank Sinatra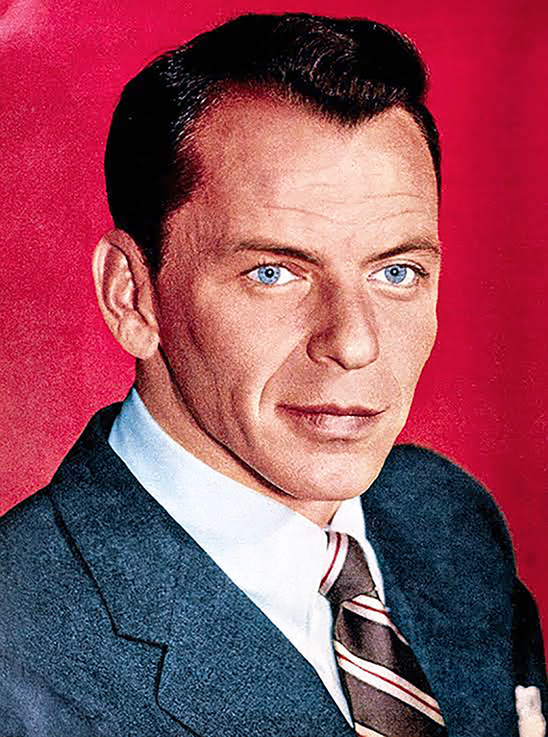 (Frank Sinatra 1957 TV-Radio Mirror)
Among Frank Sinatra's many nicknames ("Chairman of the Board"; "The Voice"), is one that has stuck after his death – that of "Ol' Blue Eyes". He earned the sobriquet for his deep blue, often soulful peepers.
Frank Sinatra's rise to the top of record charts began in 1940 with his first #1 hit single – I'll Never Smile Again. His gradual slide down the Hot 100 charts in the 1960s was briefly interrupted with the mid-1960s last #1 hits Strangers in the Night (1965), and his duet with daughter Nancy Sinatra – Somethin' Stupid (1967).
Although Frank Sinatra began performing in films in 1941, it wasn't until 1944's Step Lively movie that he acted in a major movie role.
The following year the full color movie musical Anchors Aweigh (1945) co-starring Gene Kelly, Kathryn Grayson, Jose Iturbi, and Dean Stockwell, that mass movie-going audiences caught a glimpse of those glorious blue eyes.
Sinatra never looked back, although it's been reported he never cared for acting in films. Despite that reluctance, Frank Sinatra went on to star in many popular 1940s – 1950s musicals (Till the Clouds Roll By; Take Me Out to the Ball Game; Guys and Dolls; Young at Heart; The Tender Trap; High Society; Pal Joey) and serious films – winning the Academy Award Best Supporting Actor for his performance in From Here to Eternity (1953).  
He filmed the WWII adventure thriller Von Ryan's Express (1965) with Trevor Howard, Edward Mulhare, James Brolin, and Vito Scotti in Malaga (Spain), Florence, Rome, Lazio, and Cortina d'Ampezzo in Italy.
Although Frank Sinatra died in 1998, many of his die-hard fans old and new, still think of him as the original (and only), Ol' Blue Eyes.
Ol' Blue Eyes Contenders & Runner's Up
2. Gary Cooper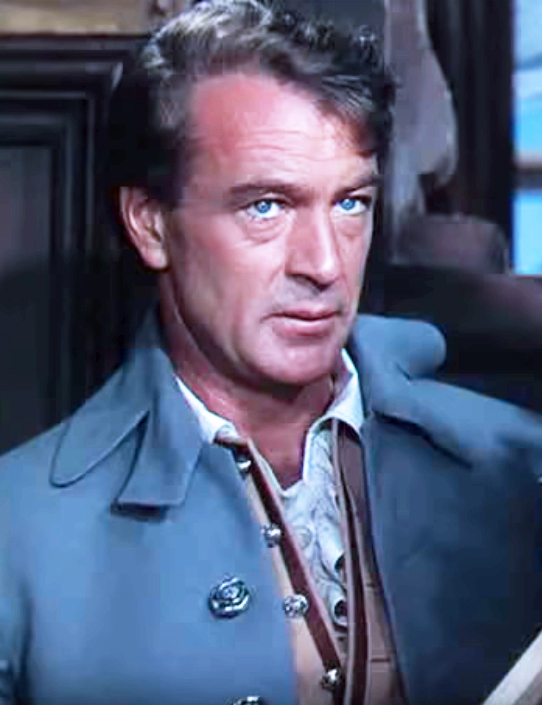 (Gary Cooper 1947 Unconquered) 
Gary Cooper appeared in 13 silent movies made in 1925, always as an un-credited extra and often playing a cowboy or horseman in Western films based on Zane Grey's books (Riders of the Purple Sage, The Thundering Herd, Wild Horse Mesa, and The Vanishing American).
He even played a distant second fiddle to a dog in North Star (1925), starring Strongheart the dog.
The following year he had his first supporting actor role, in The Winning of Barbara Worth (1926) starring Ronald Colman and  Vilma Bánky.
By 1927 Gary Cooper was an established leading man – a position he'd maintain until his last movie, The Naked Edge (1961). Even in silent, black & white films, Cooper's piercing gaze mesmerized audiences.
Since color movies were very rare during his prime film-making years, unfortunately Gary Cooper's fans had to wait quite a while to see his blue eyes in glorious colour.
Among the handful of the color films Gary Cooper starred in, are For Whom the Bell Tolls (1943) with Ingrid Bergman; Unconquered (1947) with Paulette Goddard & Howard Da Silva; Garden of Evil (1954) with Susan Hayward & Richard Widmark; Friendly Persuasion (1956) co-starring Dorothy McGuire & Anthony Perkins; and They Came to Cordura (1959), with Rita Hayworth, Van Heflin, Tab Hunter, and Richard Conte.
Gary Cooper was nominated for 5 Academy Awards for his performances in films, winning twice – Best Actor for Sergeant York (1942), and High Noon (1953). Cooper's friend Jimmy Stewart accepted an Honorary Academy Award for lifetime achievement on his behalf, shortly before Gary Cooper died in 1961.
3. James Stewart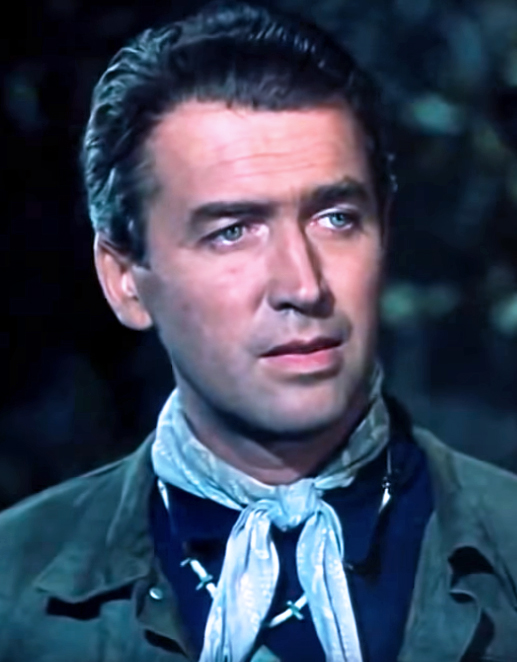 (Jimmy Stewart 1950 Broken Arrow)
Jimmy Stewart began his path to film greatness in the black & white movie era of the 1930s, and was usually billed onscreen as James Stewart.
His first nomination for a Best Actor Oscar was for Mr. Smith Goes to Washington (1939) with Jean Arthur & Claude Rains, the same year he co-starred with Marlene Dietrich in Destry Rides Again.
In 1940 Stewart co-starred with Margaret Sullavan and Frank Morgan in The Shop Around the Corner, a movie that has since been remade several times.
He held his own with stellar co-stars Cary Grant, Katharine Hepburn, and Ruth Hussey, in The Philadelphia Story (1940) to win the Academy Award for Best Actor.
Among his last movies to be released before taking a four year break to serve in WWII, Stewart had top billing in two films with Hedy Lamarr and Ian Hunter – Come Live with Me (1941), and the star-studded Ziegfeld Girl (1941).
Jimmy Stewart returned to films in time to earn another Oscar nomination for his performance as George Bailey in the perennial classic Christmas movie, It's a Wonderful Life (1946), with Donna Reed and Lionel Barrymore. Unfortunately, colorized versions of It's a Wonderful Life don't do Stewart's real blue eye color any justice.
Alfred Hitchcock's suspense classic Rope (1948) starring 'James Stewart', Farley Granger, and John Dall, was the first major film he starred in that was filmed in Technicolor. Hitchcock cast him again in the color films The Man Who Knew Too Much (1956) co-starring Doris Day, and Vertigo (1958) co-starring Tippi Hedren, and fans loved the result. 
During the 1950s Jimmy Stewart starred in 22 films and earned 2 other Best Actor Academy Award nominations, for Harvey (1950), and Anatomy of a Murder (1959). During this era, other notable colour films starring Stewart included Bell Book and Candle (1958) with Kim Novak, The Greatest Show on Earth (1952) with Charlton Heston & Betty Hutton, and Rear Window (1954) co-starring Grace Kelly. The 1950s belonged to blue-eyed Jimmy Stewart (and his leading ladies)!
4. Henry Fonda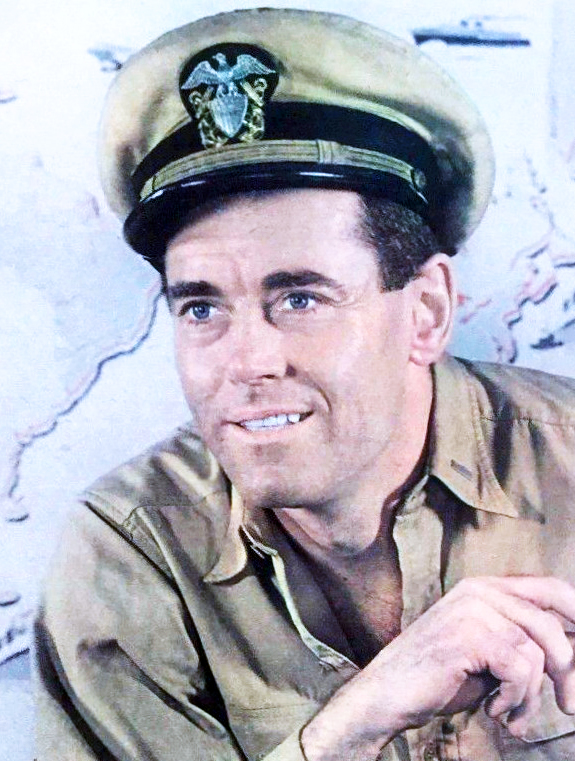 (Henry Fonda 1948 New York Sunday News) 
Legendary actor and acting family patriarch Henry Fonda (father of Jane Fonda & Peter Fonda, grandfather of Bridget Fonda & Troy Garity) has ties to two other blue-eyed movie icons on this list – Jimmy Stewart (they were lifelong friends), and Marlon Brando, whose mother was a friend of Fonda's mother. 
Henry Fonda acted in 20 movies in during the 1930s, pretty prolific when you consider his first film was only in 1935! Thanks to starring in one of the earliest Technicolor films, Wings of the Morning (1937), audiences got to appreciate his acting (and his blue eyes) early and often in his career. Jezebel (1938) with Bette Davis (movie music by Max Steiner) and Drums Along the Mohawk (1939) are some of his classic black & white films of this era, while the popular Jesse James (1939) with Tyrone Power was in full colour.
Henry Fonda's film career spanned six decades – from 1935 – 1981, and over 100 movies. He was nominated for 3 Academy Awards – twice as Best Actor, for John Steinbeck's classic tale The Grapes of Wrath (1940, in black & white), and On Golden Pond (1981), co-starring Katharine Hepburn, and his daughter Jane Fonda.
He was one of the stars of the black and white movie 12 Angry Men (1957), and Fonda also produced the film, resulting in a nomination for Best Picture. In 1980 Henry Fonda was awarded an Honorary Academy Award for lifetime achievement.
During the 1940s some of his greatest films were in black & white – The Lady Eve (1941), My Darling Clementine (1946). Like pal Jimmy Stewart, Henry Fonda's film career has gaps due to his military service during World War II. But If you want to see his glorious blue peepers in his earlier films, catch these colour movies from the 1950s – Mister Roberts (1955) with James Cagney and William Powell, War and Peace (1956) with Audrey Hepburn & Mel Ferrer, and Warlock (1959) with Richard Widmark and Anthony Quinn. 
5. Marlon Brando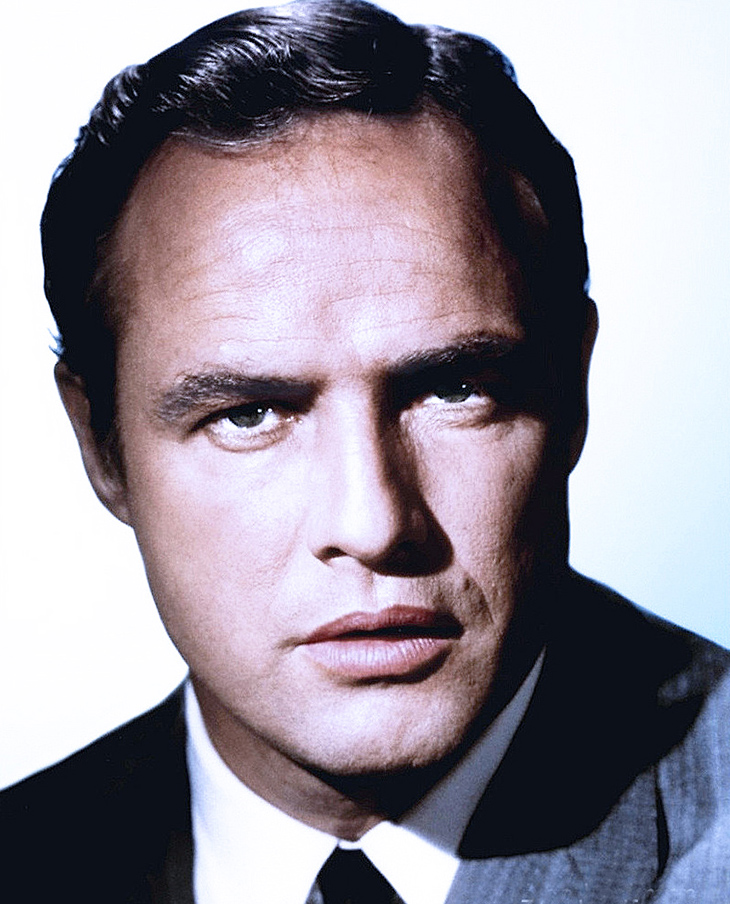 (Marlon Brando Photo: Lou Wolf) 
Long before he was The Godfather (1972) or crazed army officer Walter Kurtz in Apocalypse Now (1979), Marlon Brando was a respected Broadway actor.
He caught the attention of film-goers in the black and white classic movies A Streetcar Named Desire (1951) as Stanley Kowalski, and won an Oscar playing motorcycle tough Terry Malloy in On the Waterfront (1954).
He was already on his way to becoming larger than life (in more ways than one) for his fans, but when audiences began seeing his deep blue eyes in full colour, Marlon Brando's legend was cemented.
Brando's first colour movie was Julius Caesar (1953), playing Mark Anthony opposite James Mason as Brutus, John Gielgud as Cassius, Louis Calhern as Julius Caesar, Edmond O'Brien as Casca, Greer Garson as Calpurnia, and Deborah Kerr as Portia. Other early, notable colour films for Marlon Brando are Guys and Dolls (1955), The Teahouse of the August Moon (1956), Bedtime Story (1964), and The Chase (1966). 
6. Paul Newman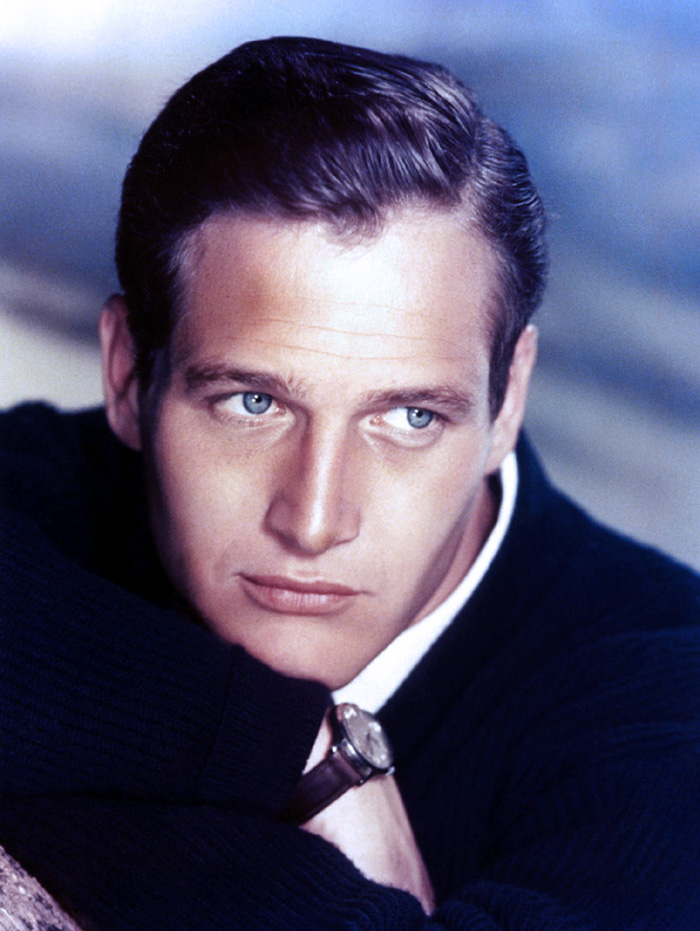 (Paul Newman 1950s-1960s Photo: Insomnia Cured Here) 
Paul Newman has also been called Ol' Blue Eyes. Newman began appearing on stage, TV screens and in black & white movies during the early – 1950s. It wasn't until his starring roles in two glorious colour films in 1958, that audiences were mesmerized by his piercing blue gaze.
In The Long, Hot Summer (1958), Newman's leading lady was his future wife Joanne Woodward; their co-stars included Orson Welles, Anthony Franciosa, Lee Remick, Angela Lansbury, and Richard Anderson.
Cat on a Hot Tin Roof (1958) had Paul Newman starring opposite Elizabeth Taylor (known for her own stunning violet-blue eyes), and co-stars Burl Ives, Jack Carson, Judith Anderson, and Madeleine Sherwood.
Paul Newman and his blue eyes were on top of the box office for most of the 1960s, starring in both comedies and dramas – The Hustler (1961), Hud (1963), Harper (1966), Cool Hand Luke (1967), Butch Cassidy and the Sundance Kid (1969).
Although Newman racked up 6 Oscar acting nominations during the 1950s-1970s, it wasn't until The Color of Money (1986) that he won The Academy Award for Best Actor. Towards the end of his career his blue eyes were fading slightly but his acting chops never faltered, in movies like Message in a Bottle (1999), and Road to Perdition (2002).
Paul Newman has often been referred to as Ol' Blue Eyes by critics and fans alike since his death in 2008.
7. Tony Curtis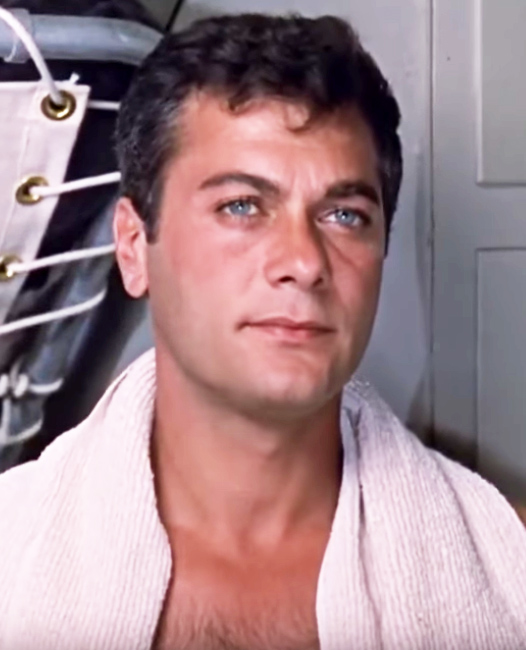 (Tony Curtis 1959 Operation Petticoat)
From the late 1940s to 2008, blue-eyed actor Tony Curtis was always an audience favorite.
He had strong supporting or leading roles over 30 movies during the 1950s, earning his only Academy Award Best Actor nomination for the black and white movie prison escape drama The Defiant Ones (1959), co-starring Sidney Poitier (as the prisoner he escaped with), and Theodore Bikel.
Audiences loved Tony Curtis whether he was in comedies or dramas, black & white movies such as Francis (1950), or color films like Son of Ali Baba (1952) opposite Piper Laurie. 
That said, Tony Curtis' dark hair and thick eyelashes set off his blue eyes to perfection when he starred with his wife Janet Leigh in Houdini (1953), The Black Shield of Falworth (1954), and The Vikings (1958), also starring Curtis' friend Kirk Douglas. In the circus flick Trapeze (1956) he shares screen time with Burt Lancaster and Gina Lollobrigida; and reports to onscreen Captain Cary Grant in Operation Petticoat (1959) while romancing Dina Merrill.
Curtis logged another 20 film credits during the 1960s, beginning with the black & white comedy classic, Some Like it Hot (1959) co-starring Jack Lemmon. Debbie Reynolds was his leading lady twice, in The Rat Race (1960) and Goodbye Charlie (1964).
Many of his 1960s movies were colour comedies, often with large casts – movies like The Great Race (1965) with Natalie Wood and Jack Lemmon; Boeing, Boeing (1965) with Jerry Lewis; Don't Make Waves (1967) with Claudia Cardinale; and a personal favorite, Those Daring Young Men in Their Jaunty Jalopies (1969).
Notable dramatic films of that era for Tony Curtis included supporting roles in Kirk Douglas' epic Spartacus (1960) co-starring Laurence Olivier, Jean Simmons, Charles Laughton, Peter Ustinov, and John Gavin; and Captain Newman, M.D. (1963) co-starring Gregory Peck, Angie Dickinson, and Eddie Albert. He was back to leading man status when he portrayed The Boston Strangler (1968) Albert DeSalvo.
Tony Curtis continued to act in films and on television for another 4 decades, appearing in his last movie David & Fatima (2008) starring Martin Landau.
8. Steve McQueen
(Steve McQueen 1958 The Blob Trailer) 
Steve McQueen is only credited in 26 movies from his earliest colour film The Blob (1958) – through his final two films in 1980 – The Hunter, with Eli Wallach, Kathryn Harrold, and LeVar Burton; and the western epic Tom Horn, co-starring Linda Evans, Richard Farnsworth and host of character actors.
Luckily for Steve McQueen fans, most of his movies were in the age of colour, beginning with a supporting role in Never So Few (1959), starring the original Ol' Blue Eyes himself, Frank Sinatra, as well as Gina Lollobrigida, Peter Lawford, Paul Henreid, and Dean Jones.
Those same fans may better remember McQueen from his box-office blockbuster movies:
The Magnificent Seven (1960) with Yul Brynner, Eli Wallach, Horst Buchholz, and Robert Vaughn, or The Great Escape (1963) with James Garner and Richard Attenborough. These two films also co-starred movie tough guys Charles Bronson and James Coburn.
Although not as prolific as some of the actors on this stellar blue-eyed list due to his early death at the age of 50 from cancer in 1980, Steve McQueen did rack up some impressive film credits in several 1960s and 1970s movies. He starred in The Cincinnati Kid (1965) with Ann-Margret & Edward G. Robinson, The Thomas Crown Affair (1968) with Faye Dunaway & Paul Burke, and Bullitt (1968) with Jacqueline Bisset and Robert Vaughn.
Steve McQueen married his The Getaway (1972) co-star Ali MacGraw in 1973, the same year he starred in the period prison escape film Papillon (1973) with Dustin Hoffman. 
McQueen shared a love of cars and racing with Paul Newman, but the two actors only appeared in one film together – The Towering Inferno (1974), a disaster flick littered with stars. Steve McQueen's only Academy Award nomination for Best Actor was for The Sand Pebbles (1966), with Richard Attenborough, Candice Bergen, and Richard Crenna. 
Steve McQueen died in 1980 from cancer, at the age of 50.
9. Peter O'Toole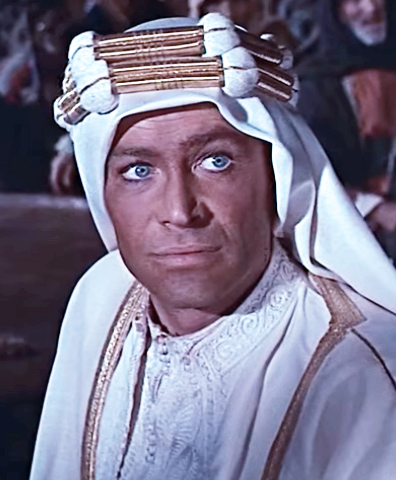 (Peter O'Toole 1962 Lawrence of Arabia Trailer)
English actor Peter O'Toole burst onto North America's (and the world) collective consciousness with his starring turn in the epic color saga Lawrence of Arabia (1962). The stellar cast of Lawrence of Arabia included Alec Guiness, Anthony Quinn, Jack Hawkins, Omar Sharif, Jose Ferrer, Claude Rains, Anthony Quayle, and others – but it was O'Toole's piercing blue eyes that commanded the screen.
His career was made, and between 1962-2007 Peter O'Toole received 8 Oscar nominations; sadly, he never won. He did leave a legacy of great films – Becket (1964), Lord Jim (1965), The Lion in Winter (1968), Goodbye, Mr. Chips (1969), The Stunt Man (1980), and My Favorite Year (1982), to name a few.
10. Clint Walker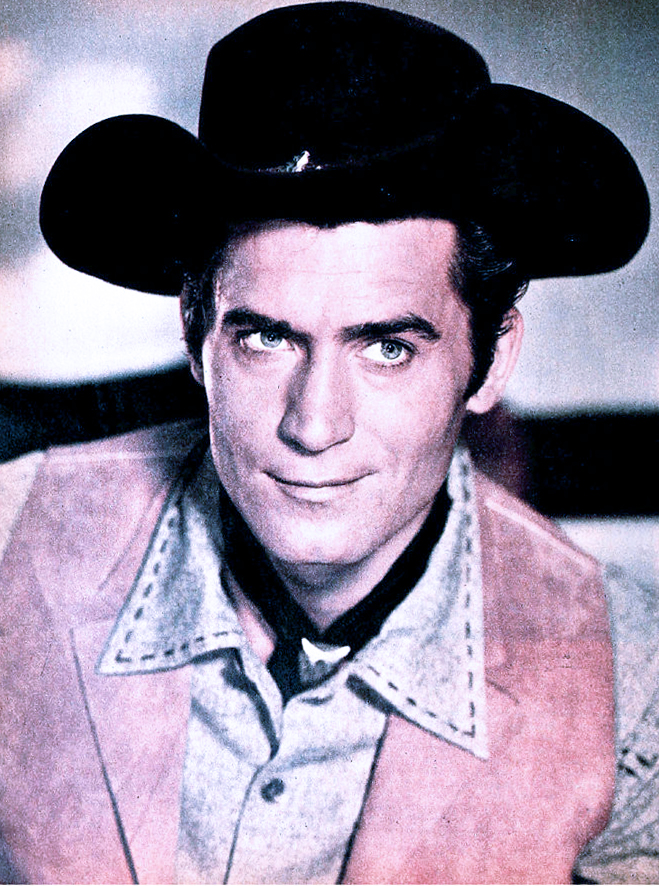 (Clint Walker 1956 Cheyenne Photo: Macfadden Publications)
Although perhaps better known for his starring role as Cheyenne Bodie on the western TV series Cheyenne (1955-1962), Clint Walker acted in his fair share of movies as well. He played the same Cheyenne Bodie character in the feature film Travellers (1957).
His very first credited movie role was a small part in Cecil B. DeMille's epic colour film The Ten Commandments (1956). Walker was a supporting actor in the color romantic comedy Send Me No Flowers (1964) starring Doris Day, Rock Hudson, and Tony Randall.
Clint Walker moved up to leading man status in The Night of the Grizzly (1966), with Martha Hyer, Keenan Wynn, Nancy Kulp (The Beverly Hillbillies), Ellen Corby, Jack Elam, and Ron Ely (Tarzan).
Other notable movies for Clint Walker during the 1960s are The Dirty Dozen (1967) starring Lee Marvin, Ernest Borgnine, Charles Bronson, Jim Brown, John Cassavetes, Richard Jaeckel, George Kennedy, Telly Savalas, Robert Ryan, Donald Sutherland, and Robert Webber.
He shares the screen with Kim Novak, Zero Mostel, and Claude Akins in The Great Bank Robbery (1969). Clint Walker's last appearance onscreen was as a zoologist in the feature film The Serpent Warriors (1985), with Eartha Kitt and Christopher Mitchum. 
Honorable Mention
I'd be remiss if I didn't also acknowledge the blue eyed-movie greatness of actors Randolph Scott, Richard Harris, Kirk Douglas, and Burt Lancaster – all of whom lit up the big screen with their presence and stellar acting in movies, providing many pleasurable hours of film-watching.
And just because their eyes were so, so blue – 
Steve Reeves 
Mr. America 1947, Mr. World 1948, and Mr. Universe 1950, body-builder and Hercules (1958) & Hercules Unchained (1959) actor with blazing blue eyes. Reeves had bit parts in 1950s TV series like Topper, but his only significant North American film was a small role in Athena (1954) starring Jane Powell, Debbie Reynolds, Vic Damone and Louis Calhern.
The rest of Steve Reeves' few movies were filmed in Italy, although Duel of the Titans (1961) did co-star more familiar names/faces for North American audiences, Virna Lisi and Gordon Scott.
John Derek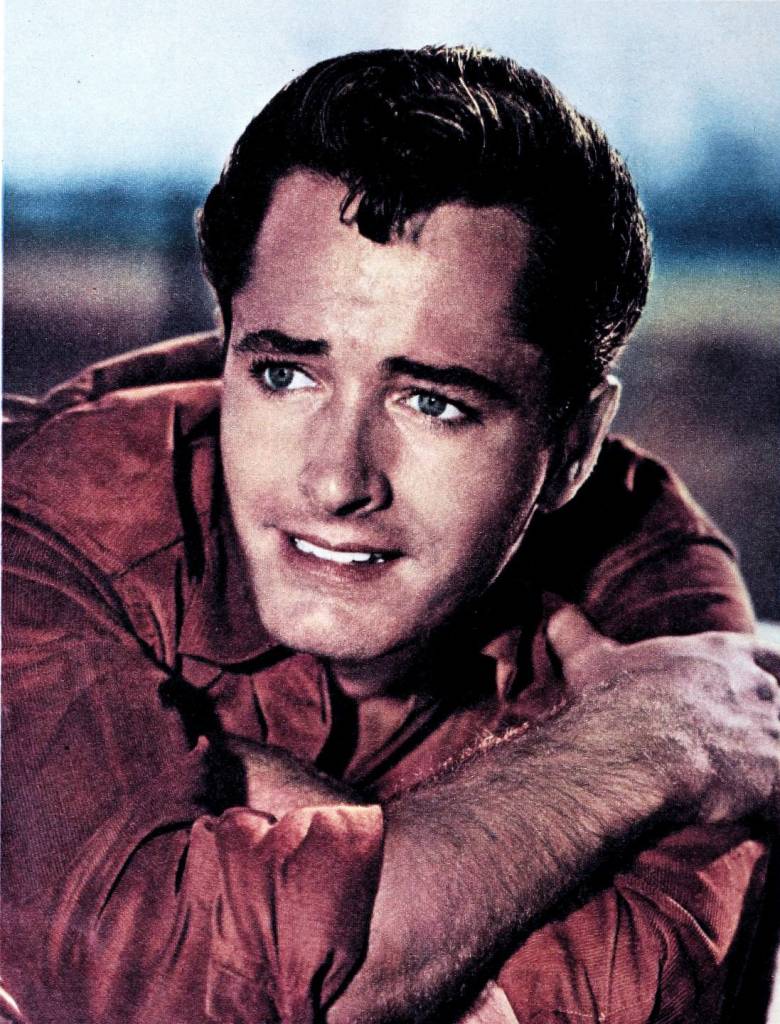 (John Derek 1955 Photoplay Photo: Phil Stern)
Before John Derek retired from film acting in the 1960s to focus on directing movies starring his wives and muses Ursula Andress, Linda Evans, and Bo Derek, he acquired 30+ acting film credits between 1943 – 1966.
He was second-billed to Humphrey Bogart in the black & white Knock on Any Door (1949), but assumed the leading role of Robin Hood in the colour adventure film Rogues of Sherwood Forest (1950). He was supported in this last film by Diana Lynna as Lady Marianne, George Macready as King John, Alan Hale Sr. as Little John, and Paul Cavanagh as Sir Giles.
Filmmakers of the 1950s were more likely to use the emerging colour film for musicals, adventure/action/westerns, and epics, while dramatic movies were still sometimes being filmed in black and white into the late 1960s.
John Derek appeared in several 1950s westerns, and thus many of his relatively few movies are in colour, something that shows off his rather startlingly blue eyes to great effect. Mask of the Avenger (1951), Ambush at Tomahawk Gap (1953), The Outcast (1954), Run For Cover (1955) are some notable westerns, while his other color films include The Ten Commandments (1956), The Adventures of Hajji Baba (1954), and Exodus (1960) starring Paul Newman & Eva Marie Saint.
Although I and many others miss their blue eyes up on the big screen, these actors have left us many movies to enjoy.
*Images are public domain or Creative Commons licensed & sourced via Wikimedia Commons, Vimeo, YouTube, or Flickr, unless otherwise noted*