The Inner Flame of Mark Miller
Actor, playwright and screenwriter Mark Miller (nee Claude Herbert Miller Jr.) died September 9, 2022 at the age of 97.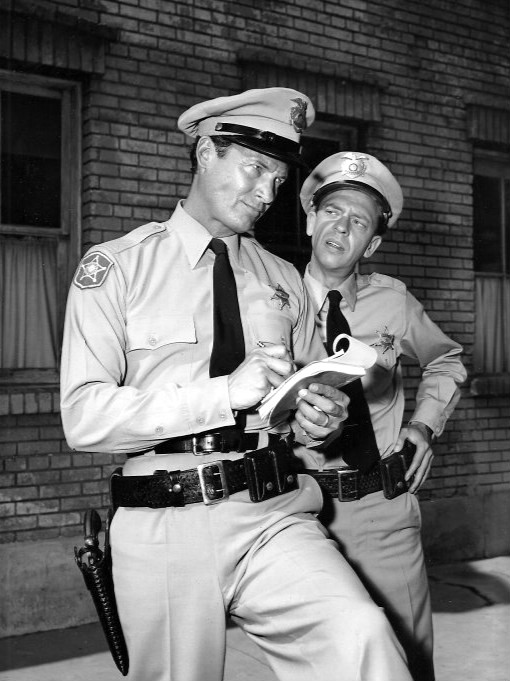 (Mark Miller & Don Knotts 1961 The Andy Griffith Show Photo: CBS Television)
Mark Miller was born November 20, 1925 in Houston, Texas, and studied architecture at universities in Texas and Mexico according to TV Radio Mirror. In his senior year at Texas University, Miller wrote, directed and acted in a one-act play.
Hooked on acting, he left Texas University and went to New York to study for 2 years at the American Academy of Dramatic Art. Around 1948,  Miller met actress and fellow American Academy of Dramatic Art student, Grace Kelly. Mark's grown daughter Penelope Ann Miller told People magazine that Mark Miller and Grace Kelly dated for a couple of year. She recalled Princess Grace sending their family Christmas cards from Monaco (Grace Kelly married Prince Albert of Monaco in 1956).
Mark Miller began a professional acting career on stage, working in summer theater in Newport, on Broadway, and in touring productions.
His first film acting credit is as Tony Faraday on the TV soap opera The Inner Flame (formerly titledPortia Faces Life) from 1954-1955. Miller's co-stars on The Inner Flame included actress Frances Reid (Days of Our Lives) as Portia Manning, Patrick O'Neal as Karl Manning, and Mary Fickett (All My Children) as Ruth Byfield.
Miller later made his movie debut as American reporter Larry Brand in the Swedish film Blondin i fara / Blonde in Bondage (1957).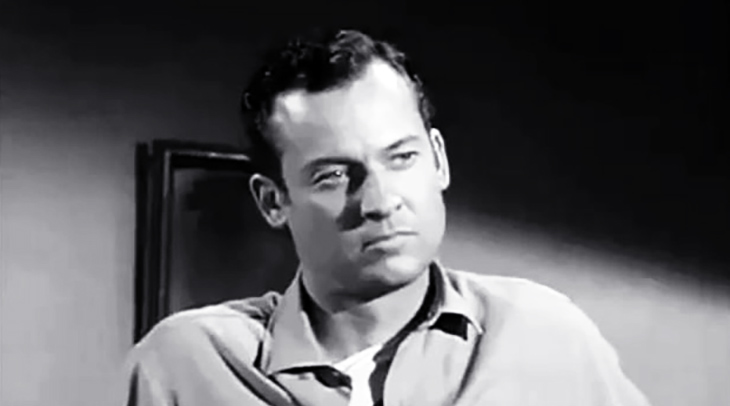 (Mark Miller 1959 Zane Grey Theater)
During a 2-day break from touring in the play The Dark at the Top of the Stairs in December 1959, 34-year-old Mark Miller married 21-year-old Harper's Bazaar fashion editor Beatrice Hudson Ammidown. Miller told the San Antonio Express and News that they spent their honeymoon on a bus in Texas.
Beatrice and Mark Miller moved to California and had 3 daughters – actresses Marisa Miller (b. July 1962), Penelope Ann Miller (b. January 1964), and Savannah Miller (b. April 1970) – before divorcing in 1975 after 16 years of marriage. 
Episodic television work for Mark Miller during the 1950's and 1960's included appearances on popular baby boomer series such as Gunsmoke, and other series such as: 
Zane Grey Theater, hosted by Dick Powell. Miller appeared in an episode with blacklisted actress Marsha Hunt.
The Tall Man starring Clu Gulager.
Stoney Burke starring Jack Lord in his pre-Hawaii Five-O days, with Warren Oates and Bruce Dern. Warren Oates and Mark Miller were reunited onscreen in the action movie Dixie Dynamite (1976), which had Steve McQueen in an uncredited role as a dirt-biker. 
Hawaiian Eye starring Troy Donahue, Connie Stevens, and Peggy McKay (Caroline Brady on Days of Our Lives).
The Twilight Zone, in an episode with Jack Albertson (Chico and the Man) and Bob Hastings (McHale's Navy). 
The Patty Duke Show pilot episode. Miller appeared as Martin Lane in the pilot episode only. William Schallert played Martin Lane from 1963-1966 on The Patty Duke Show. 
The Invaders starring Roy Thinnes, in an episode with Gene Hackman, Wayne Rogers (M*A*S*H), and James Gammon (Nash Bridges).
That Girl starring Marlo Thomas, in an episode with Bernie Kopell.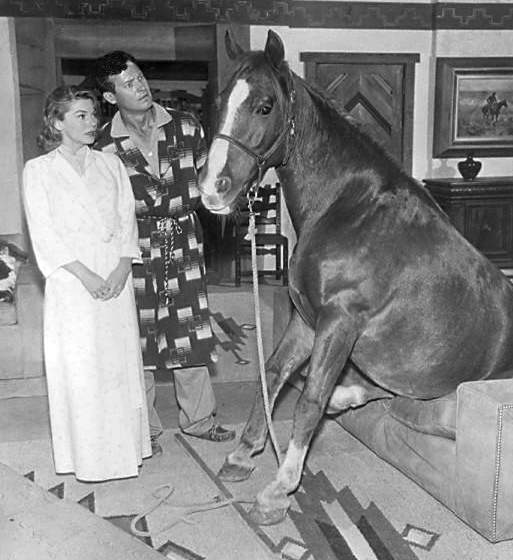 (Mark Miller as Bill Hooten & Joanne Dru as his wife Babs Hooten 1960s Guestward Ho!: Desilu Productions)
Mark Miller starred as husband and father Bill Hooten on the comedy western TV series Guestward Ho! (1960-1961), about a New York family that moves to New Mexico.
Miller appeared in a few movies in the 1960's, including the Korean War drama The Hook (1963) starring Kirk Douglas, Robert Walker Jr., and Nehemiah Persoff; and the TV adventure movie European Eye (1968) with Ryan O'Neal. 
In the feature film Youngblood Hawke (1964), Millers co-stars are James Franciscus (Longstreet), Suzanne Pleshette (The Bob Newhart Show), Eva Gabor, Don Porter (Gidget), John Dehner (The Doris Day Show), Hayden Rorke, and Werner Klemperer (Hogan's Heroes). When Mark Miller guest-starred on I Dream of Jeannie in 1969, he was reunited with his Youngblood Hawke co-star Hayden Rorke, as well as I Dream of Jeannie regulars Barbara Eden and Bill Daily.
In 1964, Miller was a regular cast member on daytime soap opera General Hospital as Randy Washburn.  
Jean Kerr's 1957 book Please Don't Eat the Daisies was made into a 1960 movie starring Doris Day. From 1965-1967, Mark Miller starred as college professor, husband, and father Jim Nash, opposite Pat Crowley (Joan Nash) on the half-hour TV sit-com Please Don't Eat the Daisies. While on Please Don't Eat the Daisies, Miller wrote the screenplay for the series' 1966 episode The Magnificent Muldoon. Recurring cast members on Please Don't Eat the Daisies included Clint Howard and Ellen Corby, and guest-stars Robert Vaughn, David McCallum, and Stefanie Powers – all of whom were in The Man From U.N.C.L.E. (Powers was also in The Girl From U.N.C.L.E.), and played their U.N.C.L.E. characters on Daisies.
He had a supporting role in the Korean war adventure film The Hook (1963), starring Kirk Douglas, Nick Adams, Robert Walker Jr., and Nehemiah Persoff.
Mark Miller had a recurring role as Ross Craig on 5 episodes of Robert Stack's sci-fi adventure series The Name of the Game from 1969-1971, with regular cast members Gene BaArry and Susan Saint James; he also appeared as a different character, Nate Pearson, in an episode. Miller's other guest co-stars in his 6 The Name of the Game episodes included Michael Constantine, Henry Jones (Phyllis), Yvonne De Carlo (The Munsters), James Gregory (Barney Miller), Lois Nettleton (In the Heat of the Night), Anne Baxter (Hotel), Carolyn Jones (The Addams Family), Pernell Roberts (Trapper John, M.D.), Diana Muldaur, and James Sikking (Hill Street Blues).
From 1971-1972, Mark Miller co-starred as Howard Jones on the TV series Bright Promise, with Dana Andrews, John Considine (Another World), and Dabney Coleman. Bright Promise revolved around the trials an tribulations of the students and faculty at Bancroft College.
The TV movie Harpy (1971) saw Mark Miller co-starring with Hugh O'Brian (The Life and Legend of Wyatt Earp), Elizabeth Ashley (Evening Shade) and Marlyn Mason. 
Mark Miller's 1970's episodic television series work included guest-starring roles on popular TV series such as The F.B.I., alongside famous names such as
Henry Fonda and Ron Howard in The Smith Family (1971); Mark Miller had worked with Ron Howard ten years earlier, when he guest-starred on The Andy Griffith Show in 1961.
Martin Milner and Kent McCord on Adam-12.
Lorne Greene, Ben Murphy, and Barbara Feldon on Griff in 1973.
William Conrad on Cannon in 1973.
Robert Fuller, Randolph Mantooth, Kevin Tighe, Larry Storch, Audrey Landers, Don Most, and Bonnie Bartlett on Emergency! in 1973.
Buddy Ebsen, Lee Meriwether, Meredith Baxter, Ida Lupino, and James Gammon on Barnaby Jones in 1974. Miller had worked previously with both James Gammon on The Invaders in 1967, and Lee Meriwether on The Name of the Game.
David Carradine and Tina Louise on Kung Fu in 1974.
Richard Thomas, Ralph Waite, Michael Learned, Ellen Corby, Will Geer, Judy Norton, Mary Beth McDonough on The Waltons in 1974.
James Brolin, Robert Young, and Juliet Mills on Marcus Welby, M.D. 
Anthony Franciosa and Beth Brickell (Gentle Ben) on Matt Helm. Anthony Franciosa and Mark Miller had also appeared on the same episode of The Name of the Game in 1970.
David Janssen, Anthony Zerbe, Joanna Pettet and Don Stroud on Harry O.
Karl Malden, Michael Douglas, and Barbara Babcock on The Streets of San Francisco.
The screenplay for the romantic comedy feature film Ginger in the Morning (1974) was written by Mark Miller, who also starred in and produced the movie. Miller's co-stars in Ginger in the Morning were Sissy Spacek, Monte Markham, Slim Pickens, David Doyle (Charlie's Angels), and Fred Ward. His wife Beatrice Miller also had a role in Ginger in the Morning as a stewardess; a year later, they were divorced.
Ginger in the Morning was the spark that lit the inner flame of Miller's love of screenwriting, something that would eventually become more important to him than acting as time went on.
50+ Mark Miller married 27-year-old actress Barbara Stanger (The Edge of Night, As the World Turns) in December 1976. The couple were married for over 20 years and had 1 child together, before divorcing in 1998. 
The Hunted Lady (1977) TV drama starred Donna Mills, Lawrence P. Casey (Rat Patrol), Jenny O'Hara, Robert Reed (The Brady Bunch), Alan Feinstein (Love of Life), Jess Walton and Quinn K. Redeker (both future stars on The Young and the Restless). Mark Miller appeared as suspect Senator Roger Clements in The Hunted Lady. 
Miller wrote the screenplay for the western film Christmas Mountain (1981), and co-starred in the movie. His Ginger in the Morning co-star Slim Pickens is a cowboy angel, and Miller's new wife Barbara Stanger also made an appearance in Christmas Mountain, as Teresa.
Mark Miller began focusing on screenplays and writing in the later half of the 1970's. He wrote the original screenplay for the family comedy movie Savannah Smiles (1982), and produced and starred in the film. Miller had written the movie with his daughter Savannah Miller in mind, but by the time the movie was made she was too old to play the title character (although  she does have a small role in the film as Beth). Miller's oldest daughter Marisa Miller has a cameo in Savannah Smiles as a jogger, and his wife Barbara Stanger plays Joan Driscoll, the title character's mother. Also in the cast of Savannah Smiles are Chris Robinson, Michael Parks, Peter Graves (Mission: Impossible), and Pat Morita (Happy Days).
During the 1980's Miller wrote screenplays for different television series, including The Jeffersons, Diff'rent Strokes, and The Munsters Today. Miller retired from acting on screen after appearing in the video Disney Sing-Along-Songs: Supercalifragilisticexpialidocious (1990), the same year he became a senior citizen.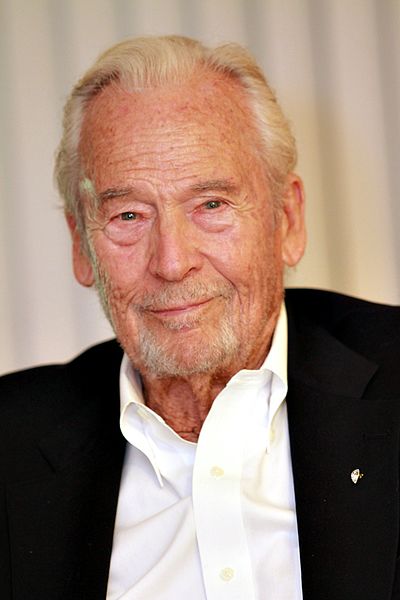 (Mark Miller 2015 Photo: Sudak1)
Mark Miller co-wrote the screenplay for the hit movie A Walk in the Clouds (1995), starring Keanu Reeves, Giancarlo Giannini, Anthony Quinn and Debra Messing. Although A Walk in the Clouds did well at the box office, it was panned by critics.
The romantic comedy play Amorous Crossings (2010) was written by Miller and premiered with Loretta Swit as leading lady. Miller told The Florida Times-Union that he had written 32 screenplays and television scripts, but Amorous Crossings was his first (and so far, his last) play. 
His daughter Penelope Ann Miller summed up her dad on Twitter, after his passing:
"My Papa's beautiful soul left this earth 9/9/2022. He loved deeply & was loved by all who knew him. He touched many lives. he was funny, fun, & always creating. He cherished this life and saw the glass half full! I was blessed to call him my dad."
Turns out, the inner flame of Mark Miller was creativity, onscreen and off. 
*Images are public domain or Creative Commons licensed & sourced via Wikimedia Commons, Vimeo, YouTube, or Flickr, unless otherwise noted*
Note: This article was first published in 2016 as Celebrating Seniors – Actor Mark Miller Turns 91. It has been updated with new & additional content.