Celebrating Seniors - Chris Robinson is 78
Septuagenarian senior citizen and actor Chris Robinson was born on November 5, 1938 in West Palm Beach, Florida. 19-year-old Chris Robinson broke into acting in the movies with an uncredited part in the Tony Curtis film The Midnight Story (1957).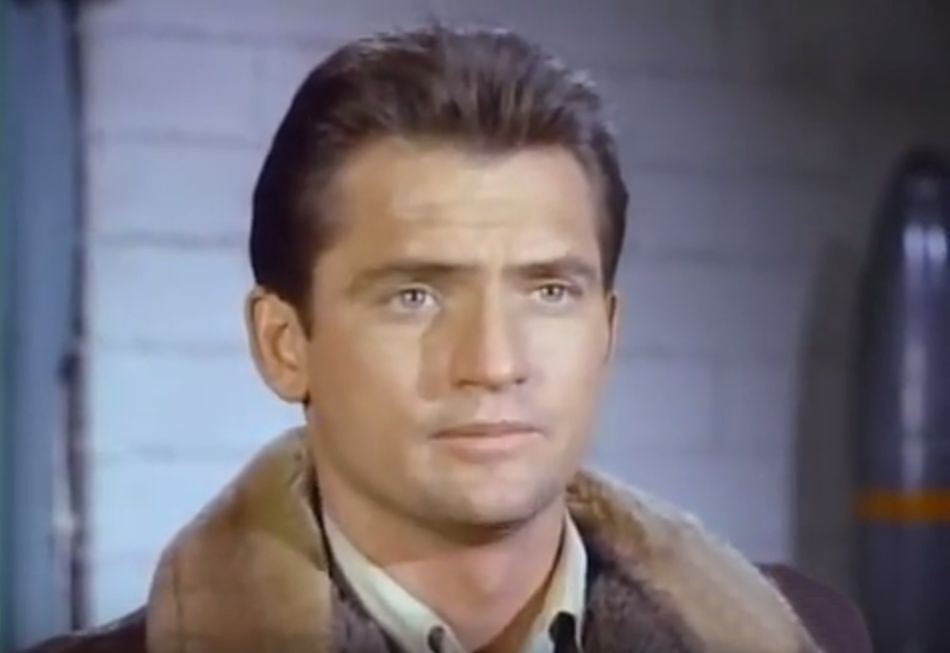 (Chris Robinson 1967 12 O'Clock High)
Two years later, Robinson had a co-starring role as thuggish teenager in the drama The Diary of a High School Bride (1959), and was "the beast" in the horror movie Beast From Haunted Cave (1959). Below, a young Chris Robinson in The Diary of a High School Bride.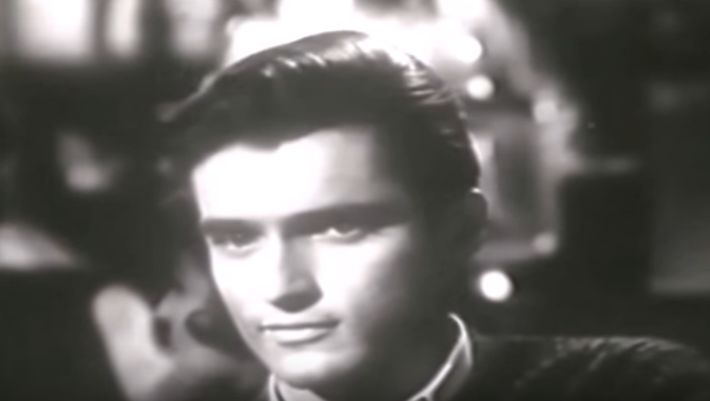 (The Diary of a High School Bride 1959 American International Pictures Trailer)
Sharp-eyed baby boomers might recall seeing Chris Robinson in feature films from the early 1960's, including these movies and characters: 
Patcher in the musical drama Because They're Young (1960) with Dick Clark, Michael Callan, Tuesday Weld, Duane Eddy, James Darren, with Marlyn Mason and Bobby Rydell. 

Chris Robinson and Michael Callan also appeared in the drama 13 West Street (1962) starring Rod Steiger, Alan Ladd, and Jeanne Cooper (The Young and the Restless). When Chris Robinson guest-starred twice in the 1960's on the TV show Arrest and Trial starring Ben Gazzara and Chuck Connors, among his co-stars was Michael Callan once again, as well as MacDonald Carey (Days of Our Lives).  Below, actors Mark Slade, Chris Robinson, and Michael Callan in a tense car chase scene from 13 West Street.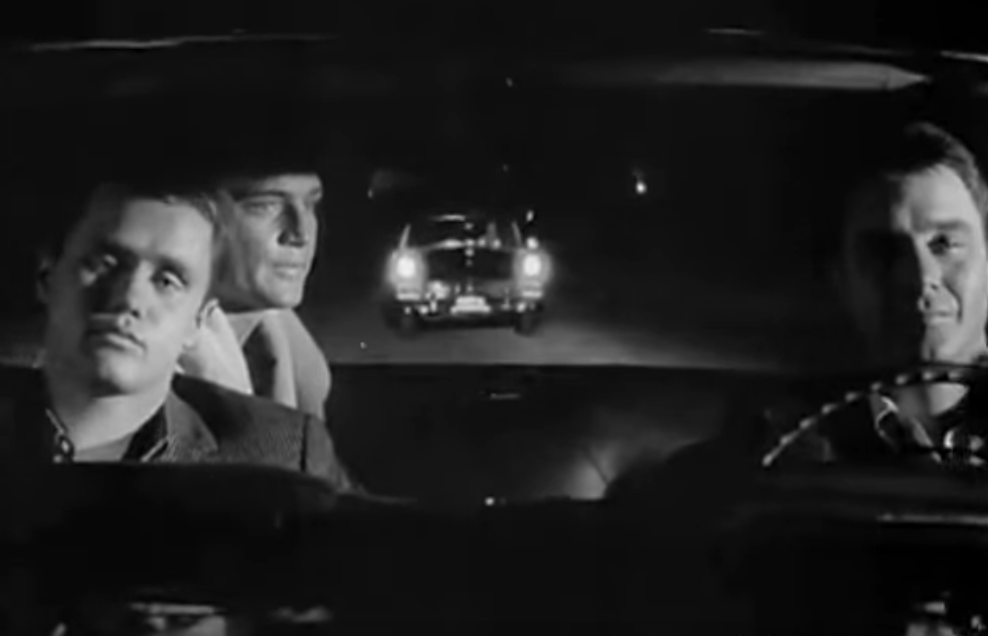 (13 West Street 1962 Movie Trailer Screenshot)
Bobby in the romantic drama The Young Sinner (1961) starring Tom Laughlin (Billy Jack), Stefanie Powers (Hart to Hart). Written and directed by Tom Laughlin.

Stefanie Powers and Chris Robinson would work together again; they both appeared in the same episode of The Streets of San Francisco starring Karl Malden and Michael Douglas; and in the TV movie Sweet, Sweet Rachel (1971), a thriller starring Pat Hingle and with John Hillerman (Magnum, P.I.) also in the cast. 

Reb Gilroy in the western The Long Rope (1961) starring Alan Hale Jr. (Gilligan's Island) and Hugh Marlowe (Jim Matthews on Another World). Robinson also had an uncredited role in the drama The Young Savages (1961) starring Burt Lancaster, Dina Merrill, Edward Andrews, Shelley Winters, and Telly Savalas (Kojak).

The following year, Hugh Marlowe and Chris Robinson were both among the large cast of another Burt Lancaster feature film, Birdman of Alcatraz (1962) with Karl Malden. 
Lee Barbee in the western Shootout at Big Sag (1962) starring Walter Brennan, Leif Erickson, and Constance Ford (Ada on Another World). Below, scenes with Chris Robinson in Shootout at Big Sag.

Robinson was re-united with Constance Ford when he appeared on a 1963 episode of the television series The Dakotas starring Chad Everett, Jack Elam, Andrew Duggan.
Robinson worked with Chad Everett again too, on an episode of Everett's 1970's series Medical Center. 
During the 1960's and 1970's, Chris Robinson's episodic television guest-star work kept him busy and saw him appearing on many popular baby boomer series such as Colt .45, Bus Stop, Wagon Train, Perry Mason, and Hogan's Heroes, and working with other familiar faces such as: 
Dick Powell, Claudette Colbert, Harry Dean Stanton, and John Dehner (The Doris Day Show) on Zane Grey Theater.
Jackie Cooper and Abby Dalton (Falcon Crest) on Hennessey.
Donna Reed and Shelley Fabares on The Donna Reed Show.
Peter Mark Richman on Cain's Hundred.
Vince Edwards, Sam Jaffe, and future director Sydney Pollack in Ben Casey. Sydney Pollack and Chris Robinson also appeared in the same episode of The New Breed starring Leslie Nielsen, with James Doohan (Star Trek), Barry Morse, and Ed Nelson. Robinson worked again with Barry Morse on an episode of The Fugitive, with Brenda Vaccaro; and with Ed Nelson and Ellen Corby (The Waltons) on an episode of Channing.
Troy Donahue, Connie Stevens, Robert Conrad, and Dawn Wells in Hawaiian Eye.
Jack Lord (Hawaii Five-O), and Warren Oates in Stoney Burke.
Kurt Russell in The Travels of Jamie McPheeters.
Robert Vaughn and David McCallum in The Man from U.N.C.L.E. 
David Hedison in Voyage to the Bottom of the Sea.
Jim Nabors in Gomer Pyle: USMC. 
Dennis Weaver and Clint Howard in Gentle Ben.
Chris Robinson appeared more than once on several series as different characters, including:
3 episodes of The Detectives starring regulars Robert Taylor, Mark Goddard (Lost in Space), Adam West and Tige Andrews (Mod Squad). His fellow guest-stars on The Detectives included Michael Parks (Twin Peaks), James Coburn, Harvey Korman (The Carol Burnett Show), and Denise Alexander (later a General Hospital co-star).  
2 episodes of Alcoa Premiere hosted by Fred Astaire, in episodes with James Caan, Harry Guardino, Jim McMullan, Tommy Sands, John Anderson, and Jane Wyatt (Father Knows Best).
4 episodes of The Virginian (1963-1970) starring James Drury, Lee J. Cobb and Doug McClure. His other co-stars on The Virginian episodes included Clu Gulager, LLoyd Nolan, Katharine Ross, David Hartman, Tom Skerritt, Vera Miles, and Ryan O'Neal. Robinson had previously worked with Ryan O'Neal (and Terry Moore) on an episode of Empire.
From 1964-1967, Chris Robinson was a regular as Sgt. Sandy Komansky, Flight Engineer and gunner on the last two seasons of the World War II drama TV series 12 O'Clock High. On 12 O'Clock High, Robinson's co-stars included Paul Burke and Robert Lansing.
Below, the complete "A Long Time Dead" 1967 episode of 12 O'Clock High featuring series regulars Chris Robinson, Paul Burke, Frank Overton, Barney Phillips, recurring cast member Andrew Duggan, and guest stars Peter Graves, Tom Skerritt, Anne Helm, and Gil Peterson.
Chris Robinson found more film roles in the latter half of the 1960's and 1970's. Baby boomers might recall seeing him briefly in an uncredited role in the Frank Sinatra crime comedy Lady in Cement (1968), which also co-starred, Raquel Welch, Richard Conte and Lainie Kazan. Robinson had co-starring or starring roles in these films:
Cycle Savages (1969), a motorcycle gang movie co-starring Bruce Dern. Chris Robinson and Bruce Dern had both appeared in the same episode of Sea Hunt 8 years earlier, in 1961. 
The Hawaiians (1970), a drama starring Charlton Heston and Geraldine Chaplin. Robinson played Dr. Whipple Jr. in The Hawaiians.
Darker Than Amber (1970) starring Rod Taylor.
The Aquarians (1970), a TV movie starring Ricardo Montalban, 

José Ferrer

, and Leslie Nielsen. Robinson had worked previously with Leslie Nielsen on an episode of The New Breed in 1961, and in the 1980's would work with both Ricardo Montalban (on Fantasy Island) and José Ferrer (on the mini-series The Dream Merchants). 
Travis Logan, D.A. (1971), a TV movie in which Chris Robinson co-starred with Vic Morrow, James T. Callahan (Charles in Charge), Hal Holbrook, Ed Flanders, Jerry Douglas (The Young and the Restless), and Brenda Vaccaro, whom he had first met when he guest-starred on The Fugitive.
Revenge is My Destiny (1971), a thriller starring Chris Robinson as returned Vietnam veteran Ross Archer.
Stanley (1972), a horror movie starring Chris Robinson as fanatical snake lover Tim Ochopee, with Alex Rocco also in the cast. 
The F.B.I. Story: The FBI Versus Alvin Karpis, Public Enemy Number One (1974), a TV drama with co-stars Robert Foxworth, Kay Lenz, Gary Lockwood, Gerald McRaney, and James Sikking.
Chris Robinson wrote, produced, and starred in the action movie Charcoal Black (1972), which had then-wife Phyllis Robinson in the cast. Phyllis Robinson also appeared in the women's prison escape movie Thunder County (1974) with Chris Robinson. Thunder County was directed by Chris Robinson, and had Mickey Rooney in the cast. The following year, Robinson appeared in the Spanish feature film Ace of Hearts (1975) with Mickey Rooney. 
Robinson was reunited with actor Slim Pickens in the TV western movie The Busters (1978) starring Brian Kerwin, Buck Taylor, and Susan Howard (Dallas). Chris Robinson had worked with Slim Pickens before, beginning in the early 1960's on an episode of Custer, and an episode of Wide Country with co-stars Earl Holliman and Andrew Prine.
Chris Robinson & Gerald S. O'Loughlin both guest-starred in the "Death Chain" 1971 episode of Burt Reynolds' TV series Dan August, in which they respectively played a bereaved spouse and father of a murdered woman. Burt and Chris had worked together previously when Robinson guest-starred on Gunsmoke while Reynolds was a regular on the show. In addition to Dan August regulars Norman Fell, Richard Anderson, and Ned Romero, other guest stars in the episode included Jan-Michael Vincent, Michael Lembeck, Ronald Taft and Peter Hooten as 4 youths. Robinson's character of Stan Manders turns vigilante; the episode was later spliced with another Dan August episode to comprise the 1980 made-for-TV movie Dan August: Once is Not Enough.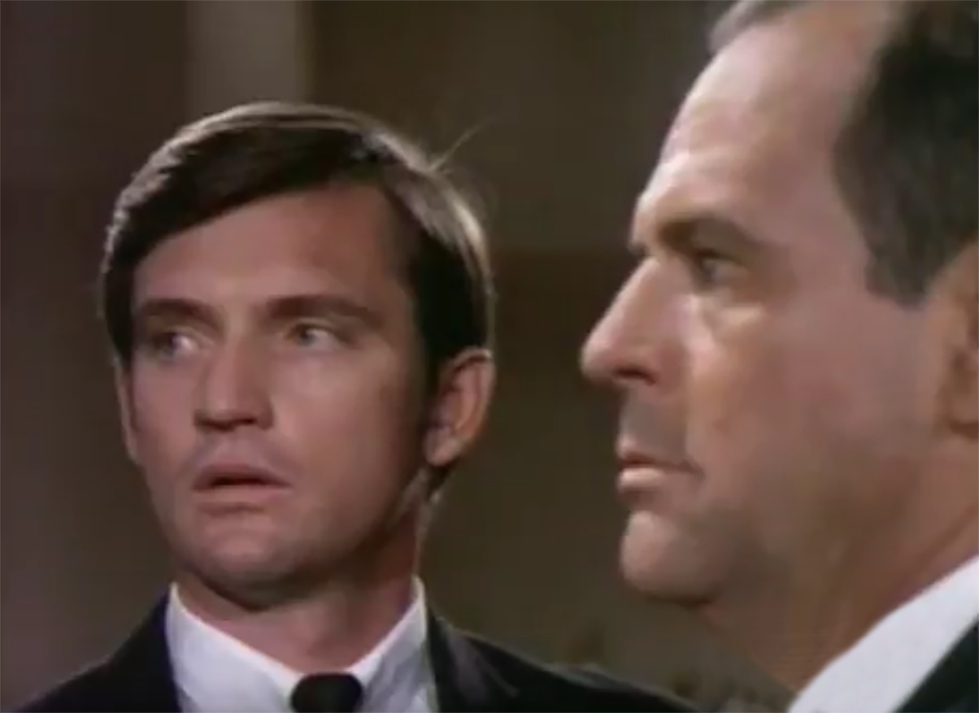 (Chris Robinson & Gerald S. O'Loughlin 1971 Dan August Screenshot)
More directing work followed for Chris Robinson, for episodes of popular baby boomer TV series Baretta starring Robert Blake, Cannon starring William Conrad, and Cannon's cross-over series Barnaby Jones starring Buddy Ebsen and Lee Meriwether. Robinson also guest-starred on Cannon with fellow actor Stuart Whitman; and was on a Barnaby Jones episode with Morgan Fairchild.
From 1978-1986, Chris Robinson played the role of Rick Webber on General Hospital. On General Hospital, his character Rick Webber was married to Lesley Webber – played by actress Denise Alexander, whom Robinson had appeared with on an episode of The Detectives in 1961. As Rick Webber, he had an on-screen affair with married Dr. Monica Quartermaine (played by Leslie Charleson), and was the adoptive father of Laura Webber Spencer Baldwin (Genie Francis). He also played a role in a storyline involving Laura's mental health after she accidentally killed a nurse that her step-father Rick Webber was having an affair with.
In the late 1970's and early 1980's, Chris Robinson's other television and film work was considerably reduced because of his General Hospital commitments. However, he could be seen on episodes of popular TV series such as CHiPs starring Erik Estrada and Larry Wilcox; in an episode of Fantasy Island starring Ricardo Montalban, with David Cassidy, Susan Lucci, Donna Pescow, Quinn Redeker, John Wesley Shipp, and Anson Williams. He appeared in the same episode of Hotel starring Connie Selleca and James Brolin, with Anthony Franciosa and Leigh Taylor-Young; and on Murder, She Wrote starring Angela Lansbury with Kate Mulgrew and James Shigeta. 
The 2-part TV movie The Dream Merchants (1980) had Chris Robinson as Zack Larsen in a large cast that included Mark Harmon, Vincent Gardenia, Morgan Fairchild, Robert Picardo, Eve Arden, Morgan Brittany, Red Buttons, Robert Culp, José Ferrer, Robert Goulet, David Groh, Carolyn Jones (The Addams Family), Fernando Lamas, Ray Milland, and Howard Duff. Duff and Robinson had worked together in an episode of The Felony Squad 13 years earlier in 1967; Morgan Fairchild and Robinson had been in the same episode of Barnaby Jones; and José Ferrer and Robinson were in The Aquarians TV movie in 1970.
In 1980, Chris Robinson had a marriage commitment" ceremony with property master Rhonda Plasterer-Robinson on July 12, 1980. They couldn't legally marry on that date because Robinson's divorce from one of his previous wives was not yet finalized. Before separating in 1984, Rhonda and Chris Robinson had sons Shane Powhattan Robinson and Coby James Robinson (b. 1984). Robinson's romantic and family life was already complicated before he began a new family with Rhonda; he had been in several previous relationships and already had 4 children: 
He married Sandy Tennant, with whom he had daughter Dawn Perreida and son Darren Robinson. 
He married Phyllis Robinson, who had co-starred with him in a couple of his movies in the 1970's, and with whom he had son Christopher Robinson.
He had a relationship with Natalie, with whom he had daughter Jill Janger. 
By the end of 1984 when he separated from third wife Rhonda Plasterer-Robinson, Chris Robinson now had 6 children with 4 different women. 
Chris Robinson's feature films in the early 1980's included the movies:
Amy (1981), a family drama. His co-stars in Amy were Jenny Agutter, Barry Newman, Kathleen Nolan (The Real McCoys), Nanette Fabray, and Margaret O'Brien.
Young Doctors in Love (1982), a comedy soap opera spoof starring Sean Young, Michael McKean (Laverne & Shirley), Crystal Bernard (Wings), Ted McGinley, Saul Rubinek, Harry Dean Stanton, Pamela Reed, Dabney Coleman, Michael Richards (Seinfeld), Hector Elizondo, Patrick Macnee. Along with Chris Robinson, several other soap opera stars appeared in in cameo roles in Young Doctors in Love – Michael Damian and Steven Ford from The Young and the Restless; and Stuart Damon, Kin Shriner, Janine Turner, Jaclyn Zeman, John Beradino, and Emily McLaughlin from General Hospital. 
Savannah Smiles (1982), a comedy written by and starring Mark Miller, with Michael Parks, Peter Graves (Mission: Impossible), and Pat Morita. Chris Robinson was father Richard Driscoll, whose daughter Savannah has been kidnapped.
In 1985, a 45+ Chris Robinson was convicted of income tax evasion. He served 4 months in prison but was allowed to continue working on General Hospital under a prison work-release provision. During a 1986 interview on Hour Magazine in 1986, Robinson appeared with his grown daughter Jill Janger and said his prison sentence was the best thing that ever happened to him, bringing him closer together with his family. Robinson subsequently became in a program for young offenders.
By 1987 Robinson had long since moved from Los Angeles to Sedona, Arizona. His time on General Hospital ended in 1986 and when rival daytime soap opera Another World offered him a part, Chris Robinson moved to New York where Another World filmed. According to The Wrap, Robinson brought three of his sons with him to New York and visited his fourth son every month. On Another World, Robinson played Jason Frame from 1987 until his character was killed off in early 1989. While on Another World, Chris was reunited with actresses Denise Alexander, now playing the role of Mary McKinnon on Another World, who had played his wife Lesley Webber on General Hospital; and with actress Constance Ford, who played Ada Hobson on Another World and with whom he had first worked with 25 years earlier, in 1962's western movie Shootout at Big Sag. 
Now in his 50+ years, Chris Robinson continued to work in feature films such as Viper (1988) with Linda Purl and Jeff Kober, and the fantasy-comedy Like Father Like Son (1987) starring Dudley Moore, Kirk Cameron, Margaret Colin, Catherine Hicks, Patrick O'Neal, and Sean Astin.
When his time on Another World ended in 1989, Chris Robinson moved back to Los Angeles where he had another son – Christopher Paul Robinson – with a woman named Lisa. Christoper Paul Robinson produced the short documentary Bastard: An Illegitimate Film (2010) detailing his complex family tree. In Bastard: An Illegitimate Film, Chris the son said his father Chris Robinson and mother Lisa never married, and had conceived him in his mother's dressing room at General Hospital.
Bastard: An Illegitimate Film from Chris Robinson on Vimeo.
Chris Robinson the father began living with Lesleigh Egan, and had two more sons with her – Christian Robert Robinson, and Taylor Joseph Robinson (b. March 1991).  Robinson now had 9 children from six different relationships; his life could have served as the "bible" for a new soap opera.  
From May 1992 to 2005, Chris Robinson appeared as Jack Hamilton on a semi-regular basis on and off again, on yet another daytime soap opera, The Bold and the Beautiful. His youngest son Taylor Robinson was a child actor on The Bold and the Beautiful in 1993, appearing as C.J. Garrison #3. 
When Beanie Babies debuted in 1993, Chris Robinson the father and his young son Chris Robinson began collecting Beanie Babies in anticipation of their future value rising and as a means of financing his children's college education. Chris the son filmed the short documentary Bankrupt by Beanies (2009) detailing how his now senior citizen father Chris Robinson had spent $100,000 on Beanie Babies that later dropped in value. Below, Bankrupt by Beanies with Chris Robinson.
In 2002, Chris Robinson returned to General Hospital after 16 years away from the show, to reprise his role as Rick Webber. The character of Rick Webber was killed off on General Hospital later that year, presumably ending Robinson's run on the series. But, because this is soap opera land, septuagenarian senior citizen Chris Robinson was brought back to General Hospital again in 2013 as Rick Webber's spirit, to appear in a 50th anniversary celebration episode. 
Chris Robinson moved back to Arizona, where he is a businessman and owns several rental properties. He was a septuagenarian senior when he married his fourth wife, artist/actress Jacquie Shane, on April 24, 2011.
Chris Robinson's baby boomer and senior fans can look for him in his most recent films, Legends from the Sky (2015) about a Native American veteran, and The Forsaken (2016), a western drama currently filming (as of November 2016) in Tucson, Arizona.