Celebrating Seniors - Nanette Fabray Turns 96
Update: Nanette Fabray has died on February 22, 2018 at the age of 97, of natural causes according to her son Dr. Jamie MacDougall.
Nanette Fabray was born Ruby Bernadette Nanette Theresa Fabares October 27, 1920 in San Diego, California.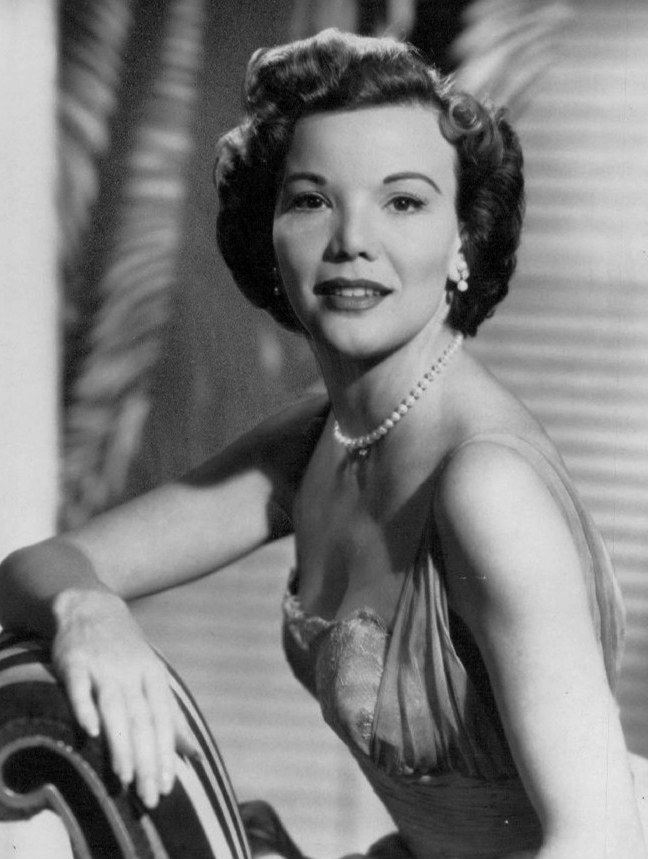 (Nanette Fabray 1963 Photo: NBC Television)
Nanette grew up with her family in Los Angeles and under her stage mother's guidance, studied tap dancing with the likes of famed African-American tap dancer Bill "Bojangles" Robinson. She told the American Television Archives that at the age of 3, she appeared on a burlesque stage for the first time as "Miss New Year's Eve 1923", and was placed in a paddy wagon when the place was raided.
Although she didn't love show business, young Nanette danced and sang in vaudeville productions beginning at age 4. She told Guideposts "I was a movie actress at five and at eight a veteran singer, dancer and actress," and has said that she was not a regular on the Our Gang/Little Rascals comedy shorts  although she was in one crowd scene, as has sometimes been claimed.  
Nanette Fabray's parents divorced in 1929; the Great Depression was on, and the family ran a boarding house in their home. An un-diagnosed hearing impairment in her childhood made learning in school difficult for Nanette; she was failing by her senior year and had to come back for summer school in order to graduate from Hollywood High in 1939. She dropped out of Los Angeles Junior College a few months after enrolling in 1939. It wasn't until later in her 20's that Fabray had her hearing tested and realized she had a hearing loss.
"It was a revelation to me. All these years I had thought I was stupid, but in reality I just had a hearing problem."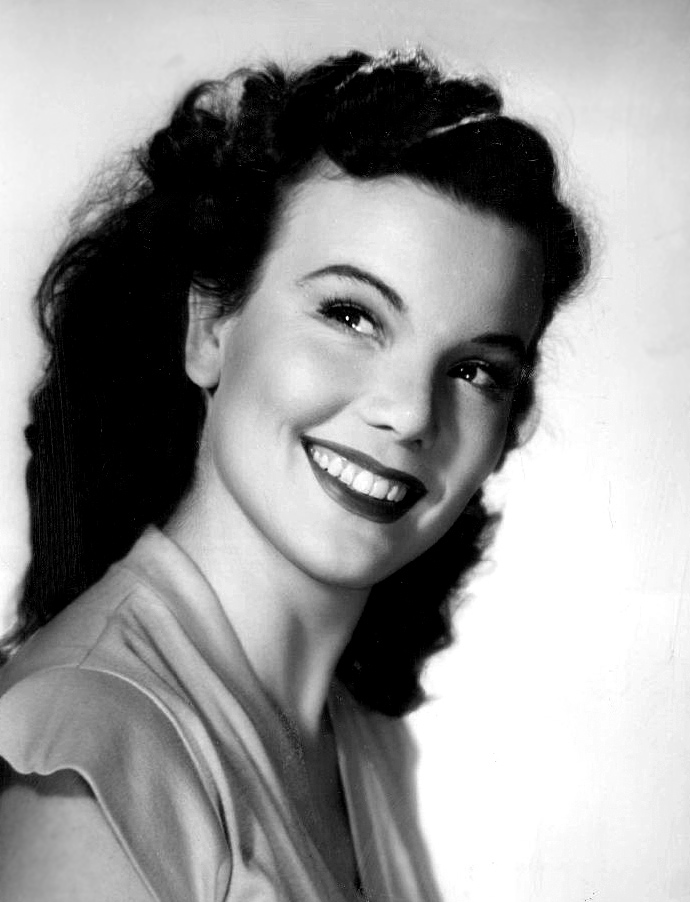 (Nanette Fabray 1950 Photo: Marcus Blechman)
Fabray also coped with her ambitious mother's desire to improve her appearance. She told The Times that her mother wasn't happy with her pug nose and took her to a plastic surgeon, who put in a metal bridge; the bridge was later removed in an operation. She had a final operation to try to bring her nose back to it's natural shape. Each nose job made Nanette Fabray's nose smaller. 
In 1939, a now adult 18-year-old Nanette Fabray began appearing in plays and had her first credited movie roles that year as part of a 6 month contract with Warner Bros. She was Mistress Margaret Radcliffe, in the biographical period drama The Private Lives of Elizabeth and Essex (1939), starring Bette Davis, Errol Flynn, and Olivia de Havilland; Alan Hale Jr. (Gilligan's Island) and Vincent Price were also in the cast. 
Nanette landed a part in the 1940 Los Angeles production of Meet the People, and went on tour with the show. When Meet The People opened on Broadway (Dec. 1940-May 1941) starring Jack Albertson, 20-year-old Nanette moved to New York City to gain some independence from her mother and pursue a career on stage; she also changed the spelling of her last name from Fabares to Fabray. She was in several more Broadway musical comedies including Let's Face It! (Oct 1941-Mar 1943) starring Danny Kaye; and By Jupiter (June 1942-June 1943) with Ray Bolger. Fabray landed the role of Evalina as a replacement in Bloomer Girl on Broadway in 1944, and when the production of Bloomer Girl went on tour for 6 weeks in January 1947, Nanette Fabray went with it. 
It was then that Fabray's progressive hearing loss became more acute – she discovered couldn't hear the orchestra at all from the stage. Nanette Fabray married publicist David Tebet in October 1947 in Tarrytown, New York, and consulted a doctor about her hearing. She was diagnosed with otosclerosis, a growth of spongy bone in the inner ear, that would lead to deafness. Fabray was devastated by the doctor's prognosis, but told The Washington Post
 "I kept my problem to myself. My hearing kept going down. I didn't tell the nice, young man I'd married David Tebet…that I was going to be 'deaf and dumb' in five years. My God, I thought, you don't share that terrible kind of information. Deafness is a threat to the hearing, as well, because it's a breakdown in communication, the one thing we do that sets us apart from the animals. I was so neurotically involved with my problem, so totally self-involved, so insecure, it destroyed our life together."
Nanette Fabray began to wear discreet hearing aids, and said "Wearing a hearing aid for the first time is like coming out of the dark — it's blinding."
She appeared 6 times on The Ed Sullivan Show between 1948-1953, and continued to sing and dance in musical comedies on Broadway, despite worsening hearing loss and her intensifying anxiety over it.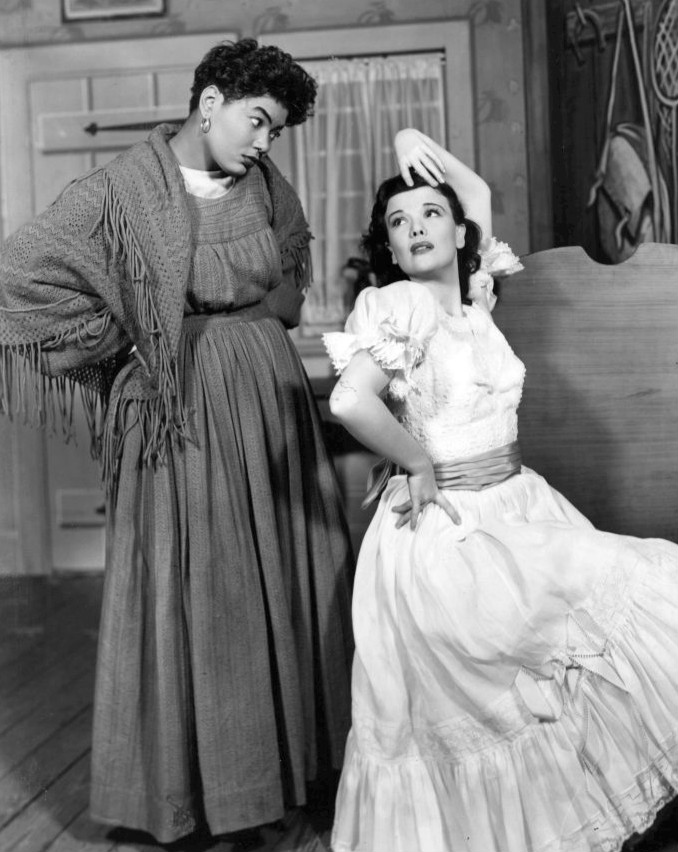 (Nanette Fabray & Pearl Bailey 1950 Arms and the Girl Photo: Vandamm)
Fabray's first starring role on Broadway was in High Button Shoes (Oct. 1947 – July 1949) with Phil Silvers; followed by Love Life (Oct. 1948 – May 1949), and an appearance in Arms and the Girl (Feb. 1950 – May 1950). 
Nanette Fabray was nominated for a Tony Award for Best Performance by a Leading Actress in a Musical for her work in Love Life, but has said she was still terrified to begin Arms and the Girl. When Arms and the Girl ended, she went on to star in Make a Wish (Apr. 1951 – July 1951). 
Husband David Tebet had begun working as a publicity agent for Sid Caesar's Your Show of Shows in 1950 starring Sid Caesar and Imogene Coca; Nanette Fabray guest-starred on Your Show of Shows a couple of times in 1950 and 1951. Her marriage to David Tebet ended in divorce in July 1951. 
Nanette Fabray landed a role in the musical comedy movie The Band Wagon (1953) starring Fred Astaire and Cyd Charisse. Soon after she completed filming on The Band Wagon, Fabray had a breakdown of sorts and retired to the country for a 7 month rest. Below from left: Oscar Levant, Cyd Charisse, Jack Buchanan, Fred Astaire, and Nanette Fabray in The Band Wagon.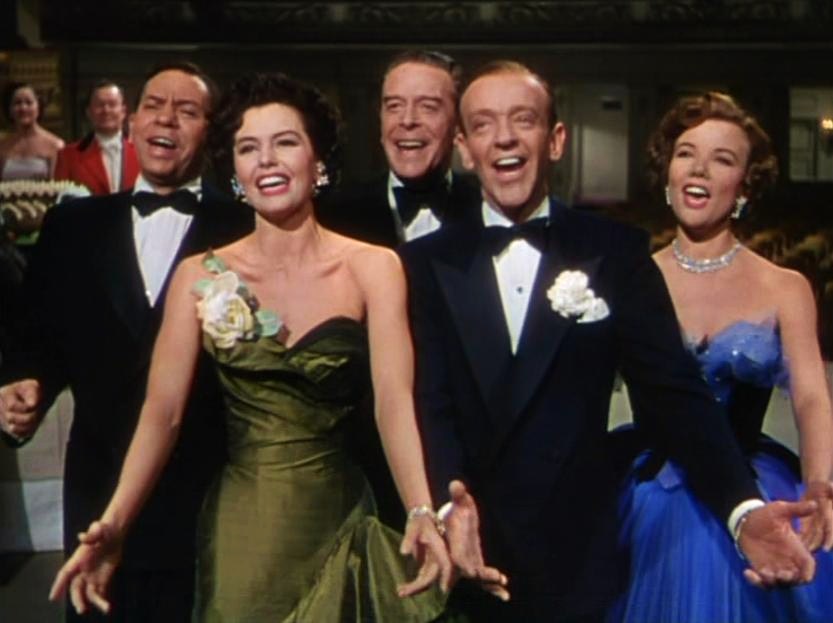 (1953 Photo: MGM The Band Wagon Trailer)
In 1954 Fabray returned to New York and was persuaded to by Sid Caesar to appear as a regular on his new series Caesar's Hour in 1954; Imogene Coca had left to launch her own series. On Caesar's Hour, Fabray's co-stars included up and coming comedy writer-actor Carl Reiner. She won three Emmy Awards for her performances on Caesar's Hour before leaving the show in 1956. 
By this time, Fabray had found a new hearing doctor who was reassuring and told her that perhaps her hearing wouldn't get any worse, and even if it did, life would go on.
"He explained that the stapes, a bone in my inner ear, the smallest bone in the body, was being calcified and so made rigid.We hear when the stapes vibrates. The more rigid mine got the less I heard."
A first ear operation on Nanette Fabray's right ear in 1956 was followed by another in 1958, which was successful in restoring her to only 30% hearing loss in her right ear. Fabray has had four operations on her ears to restore hearing, and used hearing aids when she needed them, during her career. In her 30's, Nanette Fabray began sharing her experiences about her own hearing loss, and supporting various causes championing the rights of the hearing disabled.
Below, a perky and charming Nanette Fabray was the mystery guest on an episode of What's My Line in 1956.
Nanette Fabray had also begun dating screenwriter Ranald MacDougall (Mildred Pierce) in 1956; when Fabray and her husband David Tebet were active on the New York social scene in the late 1940's and early 1950's, they'd often meet screenwriter Ranald MacDougall and his wife Lucille Brophy at theatrical parties. Even then, Fabray and MacDougal had an instant connection that she has described as "mutual admiration". They met again by chance in 1956 and MacDougall asked her to lunch; Nanette Fabray described the outcome of that meeting, to The San Bernardino County Sun: 
"I got awfully prim and proper and made all sorts of nuances about not caring to date married men. He laughed, explained he was divorced, we had one date and I proposed."
Ranald MacDougall was then a divorced father of three. Nanette Fabray and Ranald MacDougal were married in 1957, and their only child, son Jamie MacDougall, was born in September 1958.
The TV musical special Saturday Spectacular: High Button Shoes (1956) reunited Nanette Fabray with Phil Silvers, who had co-starred with her in High Button Shoes 20 years earlier on Broadway. Throughout the rest of the 1950's and 1960's, Nanette Fabray kept busy on stage, television, and feature films. She starred in the Broadway musical comedy Mr. President (Oct. 1962-June 1963) with co-star Robert Ryan, and was nominated for a Tony Award.
Below, Nanette Fabray and Robert Ryan were mystery guests on What's My Line? in 1962 the night after their play Mr. President opened on Broadway.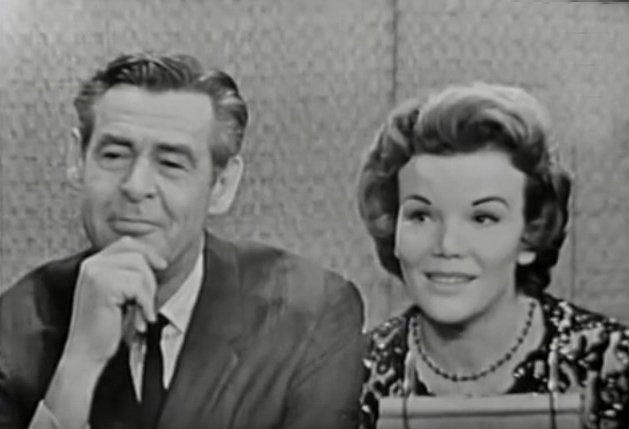 (Nanette Fabray & Robert Ryan 1962 What's My Line?)
Nanette Fabray and her husband Ranald MacDougall resided in Pacific Palisades, California, and Nanette Fabray was named Pacific Palisades Honorary Mayor (1967-1969).
On television, Nanette Fabray had her own comedy series on Westinghouse Playhouse/The Nanette Fabray Show (1961), created and written by her husband, actor Ranald MacDougall. In Westinghouse Playhouse, Nanette Fabray played Nan McGovern, a successful Broadway star who marries Dan (Wendell Corey) and then discovers his two children didn't know he was getting married. 
Fabray's other episodic and guest-starring television appearances in the 50's and 60's saw her working with many familiar faces for baby boomer TV fans:
Darren McGavin (Mike Hammer) in The Alcoa Hour.
Fred Gwynne (The Munsters) in The Kaiser Aluminum Hour.
Robert Fuller (Emergency!) and Eddie Albert, in Laramie.
Gene Barry and guest stars Jayne Mansfield, Arthur O'Connell (Gidget), Barbara Eden, and Martha Hyer in Burke's Law.
Stefanie Powers in The Girl from U.N.C.L.E.
Jerry Lewis, host of The Jerry Lewis Show.
Host Bob Hope and guest-stars Mabel Albertson (Bewitched), John Forsythe (Dynasty) and Ricardo Montalban (Fantasy Island) on Bob Hope Presents the Chrysler Theatre.
She was reunited 20 years later in 1960 on an episode of Startime with Jack Albertson, who she had appeared with on Broadway 20 years earlier in Meet The People.
Nanette Fabray was a popular guest star on variety, talk, and game shows, appearing several times on Perry Como's Kraft Music Hall, Password All-Stars, The Hollywood Palace, and The Dinah Shore Chevy Show. She was on Hollywood Squares 215 times between 1967-1978. 
Nanette Fabray's feature films and made-for-television movies during the 1960's and 1970's also included a Who's Who of Hollywood:
The dramatic feature film The Subterraneans (1960) starred Leslie Caron, George Peppard (Banacek), Roddy McDowall, Arte Johnson, and Jim Hutton (Ellery Queen). Fabray's husband Ranald MacDougall directed The Subterraneans. 
The musical fantasy Alice Through the Looking Glass (1966), a TV movie with co-stars Jimmy Durante, Ricardo Montalban, Agnes Moorehead, Jack Palance (Bronk), and brothers Tom and Dick Smothers. Nanette Fabray would later reunite with her Alice Through the Looking Glass co-stars Tom and Dick Smothers when she guest-starred several times on The Smothers Brothers Comedy Hour (1967-1969). 
Fame is the Name of the Game (1966), a TV teleplay written by Ranald MacDougall. Fabray's Fame is the Name of the Game co-stars were Anthony Franciosa, Jill St. John, Jack Klugman (Quincy, The Odd Couple), and Jack Weston (Cactus Flower). 
The feature film drama Happy Ending (1969) starred Jean Simmons, John Forsythe, Shirley Jones (The Partridge Family), Lloyd Bridges (Sea Hunt), Bobby Darin, Tina Louise (Gilligan's Island), and reunited Nanette Fabray with Ricardo Montalban again. 
From 1967-1972, Nanette Fabray appeared 13 times on The Carol Burnett Show. Carol Burnett was a friend of Fabray's, and during one of her Fabray's appearances on The Carol Burnett Show, Burnett planted an audience member to request that Fabray perform Somewhere Over the Rainbow in sign language, which she did. Below, an older Nanette Fabray discusses this incident with the Archive of American Television in an interview.
Nanette also wrote to Dear Abby in 1971 and said she had worn a hearing aid for years, prompting grateful readers to share their own stories of deafness, hearing loss, and hearing aids.
After Nanette Fabray turned the corner into her 50+ years in 1970, her senior citizen and baby boomer fans could see her in several feature films and TV movies. The western comedy Cockeyed Cowboys of Calico County (1970) was written and co-directed by Ranald MacDougall, Fabray's husband. Nanette's co-stars in Cockeyed Cowboys of Calico County included Dan Blocker (Bonanza), Jim Backus, Wally Cox, Jack Elam, Mickey Rooney, and Noah Beery Jr. (The Rockford Files). She worked again with Jim Backus and Wally Cox two years later, in the romantic comedy TV movie Magic Carpet (1972) starring Susan Saint James.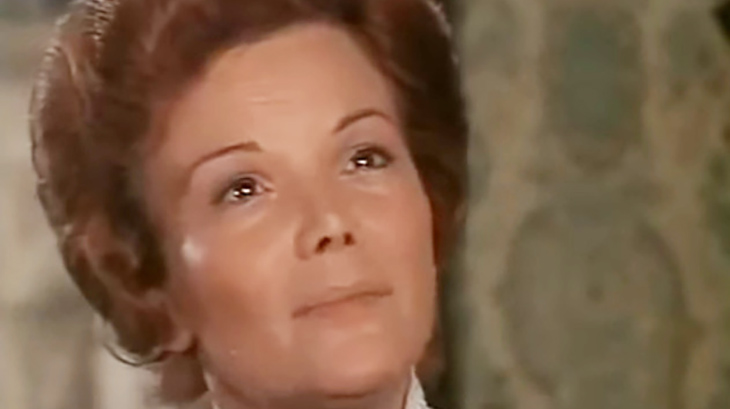 (Nanette Fabray 1970 Cockeyed Cowboys of Calico County)
Nanette Fabray also had roles in these feature films and movies in the early 1970's:
George M! (1970), a biographical musical TV movie starring Joel Grey, Bernadette Peters, Jack Cassidy, Red Buttons, and Blythe Danner.
But I Don't Want to Get Married! (1970), a made-for-TV comedy movie co-starring Shirley Jones (The Partridge Family), June Lockhart (Lost in Space), Tina Louise, Harry Morgan (M*A*S*H), and Joyce Van Patten.
The TV comedy movie The Couple Takes a Wife (1972), starring Bill Bixby (My Favorite Martian), Paula Prentiss, Myrna Loy, Robert Goulet, Larry Storch (F Troop), Valerie Perrine, and Penny Marshall (Laverne & Shirley).
Howdy (1970), a TV comedy starring Eddie Albert and Eva Gabor (Green Acres), with Jimmy Durante, Barbara Eden (I Dream of Jeannie), Henry Fonda, Glenn Ford, and Bob Hastings (McHale's Navy). Nanette Fabray had worked with Eddie Albert previously in an episode of Laramie; with Jimmy Durante in 1966's Alice Through the Looking Glass; and with Barbara Eden in an episode of Burke's Law. She would work again with both Bob Hastings and Barbara Eden when they all co-starred in the feature film comedy Harper Valley P.T.A. (1978).  (Barbara Eden & Nanette Fabray 1978 Harper Valley P.T.A. Screenshot)
Episodic TV appearances for Nanette Fabray during the early 1970's included playing Dottie Richards, Mary's mom, on The Mary Tyler Moore Show. 
MTM co-star Gavin MacLeod was a Pacific Palisades neighbour of Fabray's, and she later appeared on 3 episodes of his popular baby boomer series The Love Boat between 1978-1981. On Love, American Style, Nanette Fabray guest-starred in segments that included Adam West and Phyllis Diller. 
Nanette Fabray's husband Ranald MacDougall died unexpectedly in 1973 at the age of 58. Fabray has never remarried. She told The Washington Post she discovered after MacDougall's death that all of his assets were tied up in a lawsuit over one of his movies and as a result, her assets were frozen too. Fabray began performing in dinner theaters and continued working on stage, television and in the movies. During the 1970's, Nanette Fabray performed on Broadway in 6 plays, including a production of Plaza Suite (1975). Her frequent talk and game show appearances  in the 1970's and early 1980's included Dinah!, Match Game, and Password Plus.
Baby boomer fans caught Nanette Fabray in the TV comedy movie Happy Anniversary and Goodbye (1974), in which she co-starred with Lucille Ball (I Love Lucy), Art Carney (The Honeymooners), Peter Marshall (The Hollywood Squares), and Don Porter (Gidget). Arnold Schwarzenegger can be seen in his second, credited film role in Happy Anniversary and Goodbye. 
As the 1970's ended, Nanette Fabray became a regular on the Bonnie Franklin TV series One Day at a Time (1979-1984), appearing as Grandma Katherine Romano. 
Nanette Fabray became a senior citizen in 1985 and her stage and film appearances continued. In 1989 alone, she guest-starred on The Munsters Today with John Schuck (McMillan & Wife) and Lee Meriwether (Barnaby Jones); starred in the feature film comedy Personal Exemptions (1989); and replaced Jo Anne Worley on Broadway in Prince of Central Park.
Fabray's advocacy work for the handicapped and disabled included an appointment by Congress to the Commission on Education of the Deaf. Nanette Fabray had already helped found the National Captioning Institute (television close-captioning) in 1979. 
As a septuagenarian senior citizen, Nanette's baby boomer fans could see her in the 1990's on screen in episodic television work that included a guest-starring turn on Murder, She Wrote starring Angela Lansbury. She also made appearances with The Golden Girls alumni in the sequel sitcom The Golden Palace, starring Betty White, Rue McClanahan, Estelle Getty, Don Cheadle, and Cheech Marin, with Harold Gould. Nanette Fabray had worked with actor Harold Gould before, when she starred in the TV movie The Man in the Santa Claus Suit (1979).
Fabray made an appearance in the feature film Teresa's Tattoo (1994) starring C. Thomas Howell, with Nancy McKeon (The Facts of Life), Tippi Hedren, Mary Kay Place (Mary Hartman, Mary Hartman), and Joe Pantoliano.  
Nanette Fabray guest-starred several times on the sitcom Coach (1990-1994) starring Craig T. Nelson, Jerry Van Dyke, and Shelley Fabares. Coach star Shelley Fabares is Nanette's niece, and was married to actor Mike Farrell in 1984 at her aunt Nanette's Pacific Palisades home.
Fabray's last appearance on Broadway was as a 77-year-old septuagenarian senior in The Bermuda Avenue Triangle (1997) with co-star Joseph Bologna.
Since becoming an octogenarian senior citizen in 2000, Nanette Fabray has not made any acting appearances on film, although she has appeared in numerous documentaries about Sid Caesar, and the Golden Ages of Comedy, Hollywood, and Broadway. In 2001, Fabray wrote again to Dear Abby, to complain about the loud background music that often plays during TV shows, something many aging baby boomers would agree with.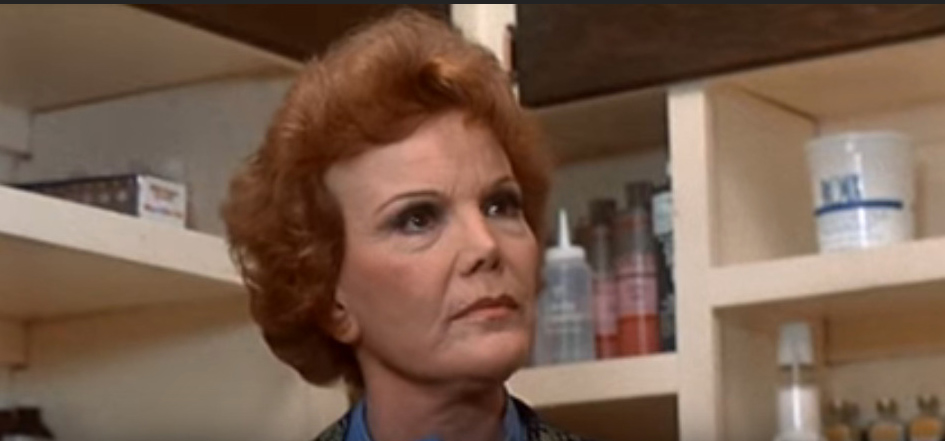 (Nanette Fabray 1978 Harper Valley P.T.A )
Nonagenarian Nanette Fabray has been recognized for her advocacy and humanitarian work with the President's Distinguished Service Award, the Screen Actors Guild Humanitarian Award, and the Public Service Award from the American Academy of Otolaryngology (ear, eye, nose and throat specialists). Fabray has said she continues to support research for the hearing impaired, which can be a disabling affliction. Most recently, Nanette Fabray's fan's could see her in the TV movie Mary Tyler Moore: A Celebration (2015) and look for her in the documentary Broadway: Beyond the Golden Age (2016).