Celebrating Seniors - Carol Burnett Turns 83
Update April 21, 2017: Octogenarian senior Carol Burnett will star as an aging former movie star in a new ABC comedy pilot called Household Name.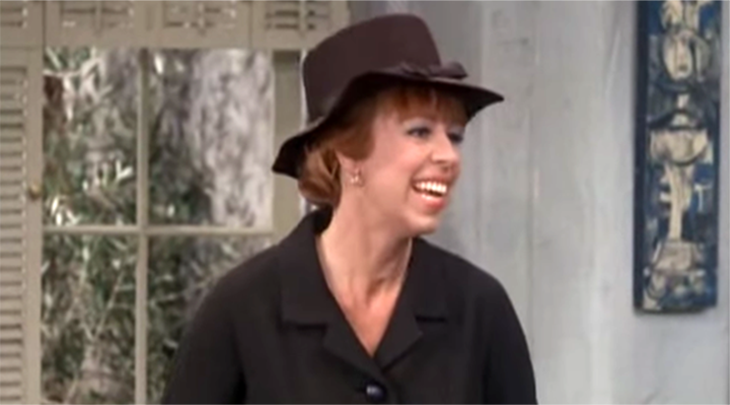 (Carol Burnett 1966 The Lucy Show "Lucy Gets a Roommate" Screenshot)
carol burnett 1974, the carol burnett show, sketch comedy, comedy skits, sketch character, the charwoman, 1970s tv comedy, 70s television comedy shows, american actress, singer, comedian
83-year-old octogenarian senior citizen, actress, comedian, and author Carol Burnett was born on April 26, 1933 in San Antonio, Texas.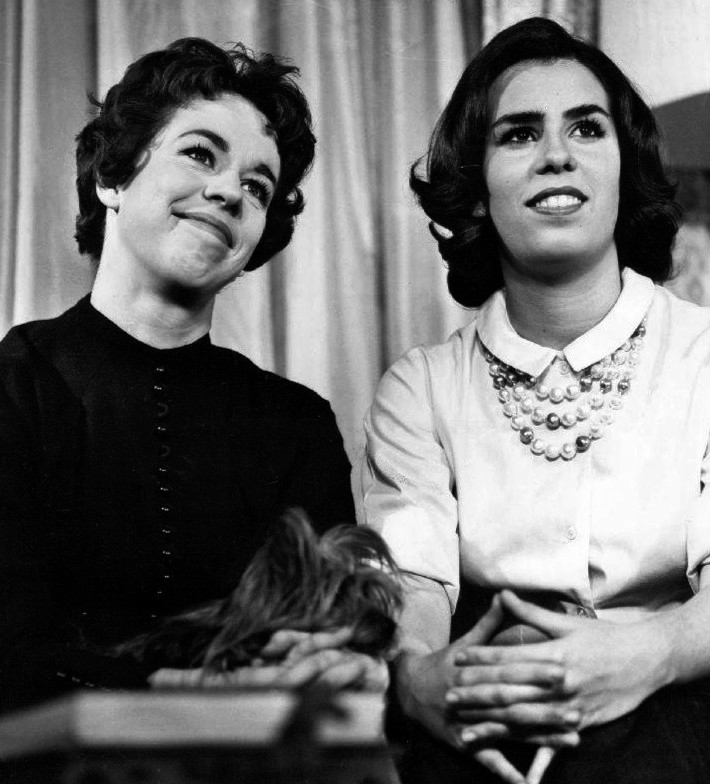 (Carol Burnett & half-sister Christine "Chrissie" Burnett 1961 Person to Person Photo: CBS TV)
In her first autobiography One More Time (1986), a then-50+ Carol Burnett talked about her alcoholic parents, and being brought up by her grandmother "Nanny" Mabel White in California. Burnett went to UCLA after graduating from Hollywood High School in 1951.
At UCLA, Carol Burnett majored in theater and musical comedy, until an angel investor in her senior year gave Carol and her then-boyfriend Don Saroyan each an $1000 interest-free loan for 5 years. The loan enabled Carol and Don to go to New York in 1954 and pursue careers in acting; they married on December 15, 1955.
That same year Carol had begun to get small roles in television and on stage in smaller night clubs. Carol Burnett and Don Saroyan were separated by 1960 and were divorced in 1962 after 6 years of marriage; Saroyan died in 1990.
Although Burnett landed guest spots on both The Tonight Show (hosted by Jack Paar) and The Ed Sullivan Show in 1957, her biggest early break came in 1959 when she appeared in the musical Once Upon a Mattress on Broadway, garnering her a Tony Award nomination.
At the same time, she became a member of the cast on the television comedy The Garry Moore Show (1959-1962), with host Garry Moore & co-star Durward Kirby.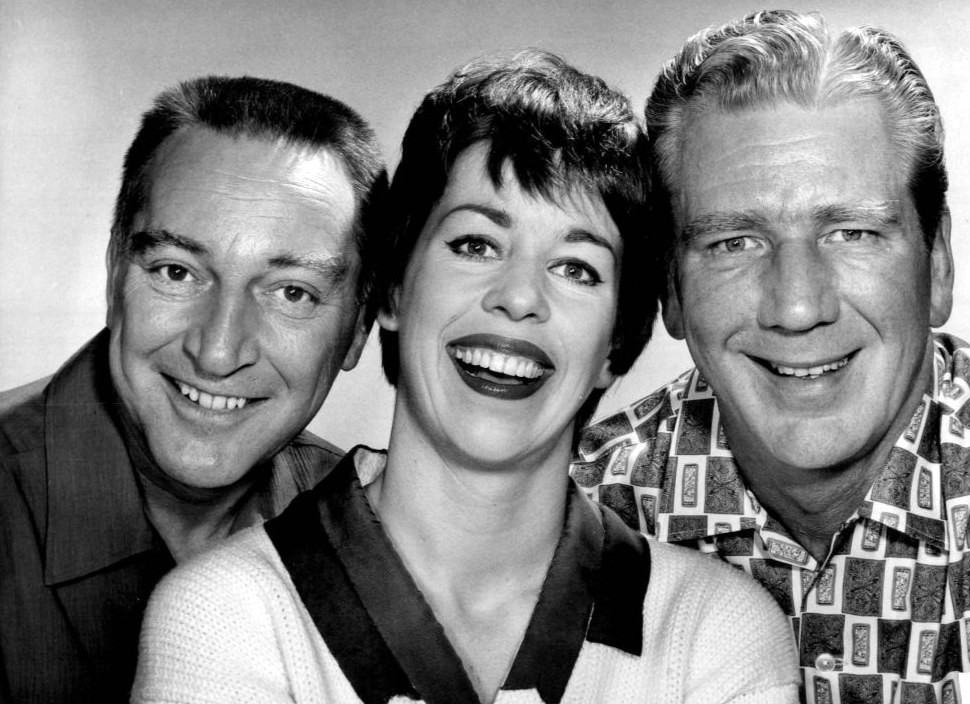 (From left, Garry Moore, Carol Burnett & Durward Kirby 1981 The Garry Moore Show Photo: CBS TV)
In a 1963 Good Housekeeping article by Carol Burnett, Carol recalled that it was while she was appearing in Once Upon a Mattress that she first met actress Julie Andrews. Andrew's manager, Burnett, and Andrews all went for supper after the play; Carol Burnett and Julie Andrews have been friends ever since. Andrews later guest-starred on The Garry Moore Show with Burnett, which lead to a televised special, Julie and Carol at Carnegie Hall (1962).
Carol Burnett won an Emmy Award for Outstanding Performance in a Variety of Musical Program in 1962 for her work on The Garry Moore Show, and again in 1963 for Julie and Carol at Carnegie Hall. 
Joe Hamilton had become the producer of The Garry Moore Show at the young age of 29. In 1962 when he and Carol Burnett began dating, Hamilton was separated from his first wife, with whom he already had 8 children. Joe Hamilton and Carol Burnett married in 1963. Their first daughter Carrie Louise Hamilton was born in December 1964, followed by Jody (Jodie) Ann Hamilton in January 1967, and Erin Kate Hamilton in August 1968.
(Carol Burnett 1963 Calamity Jane Photo: CBS Television)
After The Garry Moore Show ended in 1962, Burnett appeared in Calamity Jane both on stage, and in the made-for-TV movie in 1963 (above); and starred in the televised movie of Once Upon a Mattress (1964), which co-starred Elliott Gould and Bill Hayes.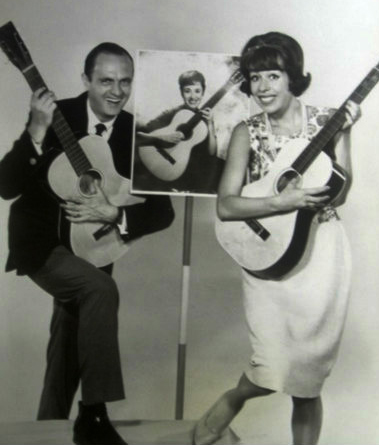 (Bob Newhart & Carol Burnett 1964 The Entertainers Photo: CBS Television)
While appearing in a Broadway play Fade Out – Fade In in 1964, Carol Burnett suffered a neck injury from a taxi accident. During her recuperation and absence from Fade Out – Fade In, she and Bob Newhart were in the television variety series The Entertainers produced by Carol's husband Joe Hamilton, from 1964-1965. Without Burnett in the cast, Fade Out – Fade In faltered at the box office. Fade Out – Fade In producers were set to sue Carol Burnett, so she returned briefly in to the play in 1965 until the production shut down completely in April of that year. 
Carol Burnett kept busy in between movies and stage plays, with television specials and guest-starring roles in other television series such as The Lucy Show, Get Smart, and Gomer Pyle, U.S.M.C. Burnett formed a lifetime friendship with Lucille Ball (I Love Lucy), who was also a mentor for her. Lucille Ball offered Burnett her own television comedy series, Here's Agnes, through her Desilu Productions company (Burnett declined).
Another lifelong friend for Burnette is Jim Nabors from Gomer Pyle, U.S.M.C; Jim Nabors is the godfather to Carol's daughter Jody Hamilton.
The Carol Burnett Show ran from 1967-1978 and was produced by her husband Joe Hamilton; it was a favourite television variety series for baby boomers. In addition to Carol Burnett, regular cast members on The Carol Burnett Show the first year were Vicki Lawrence, Harvey Korman and Lyle Waggoner. In 1975, Tim Conway replaced the spot left open when Waggoner left that year; and when Harvey Korman left in 1977 to star in his own series, Dick Van Dyke replaced him for most of the final 1977-78 season.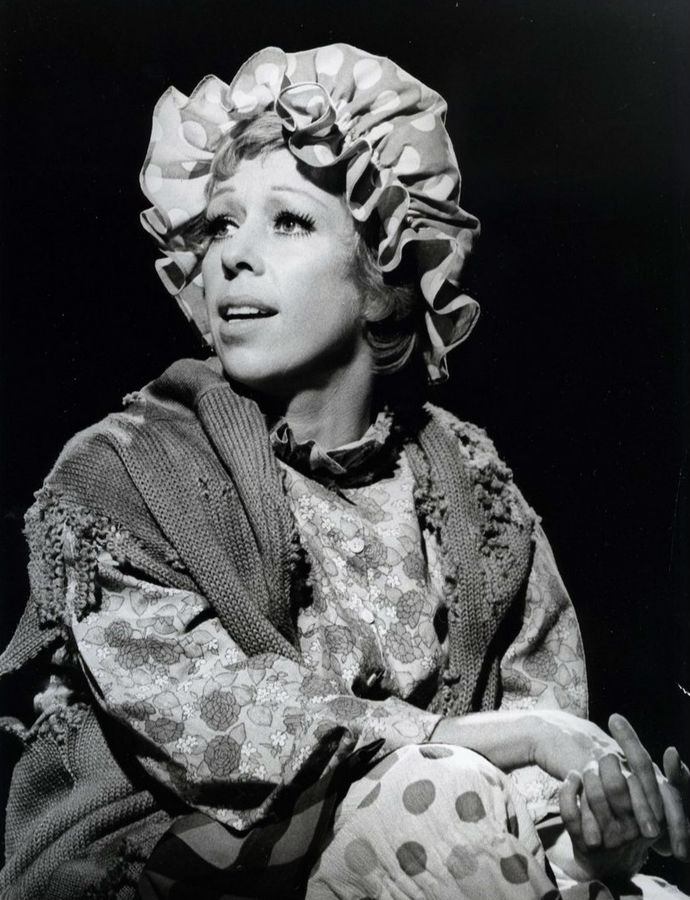 (Carol Burnett 1974 The Carol Burnett Show Photo: CBS TV)
The Carol Burnett Show was nominated for the Emmy Award for Outstanding Variety Series (or it's equivalent) 6 times, and won 3 times, 1972, 1974, and 1975.
Carol's friend Jim Nabors was in the first episode of every season of The Carol Burnett Show.
Carol Burnett created many memorable recurring sketch comedy characters on the series, including the "charwoman" (right), and the abrasive Eunice Higgins.
By the time The Carol Burnett Show ended in 1978, Carol had carved a name for herself as a "legend" in television.
In addition to her series, she'd starred in made-for-TV movies like the musical Once Upon a Mattress (1972) with Ken Berry.
She had also found the time to appear in big-screen movies such as The Front Page (1974) and on stage, including Plaza Suite (1970).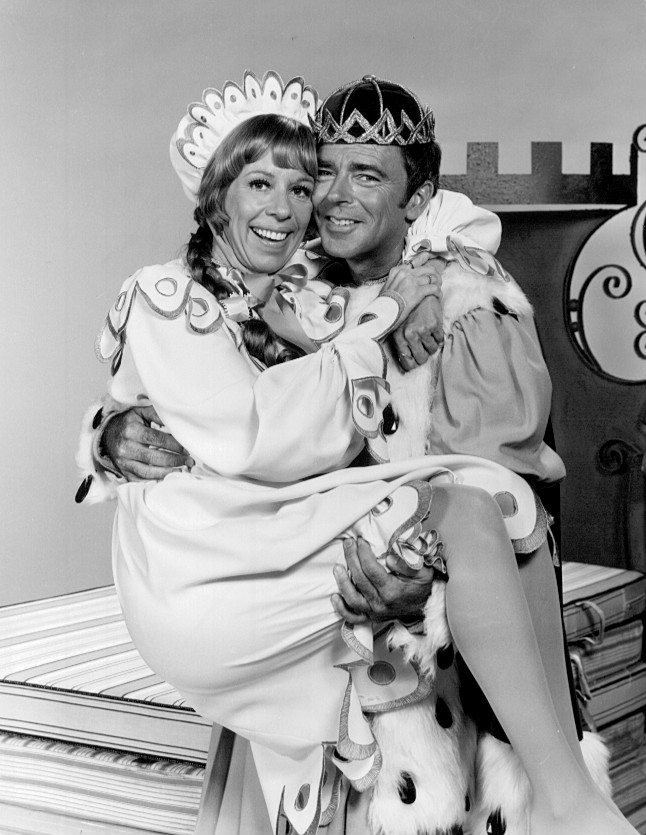 (Carol Burnett & Ken Berry 1972 Once Upon a Mattress Photo: CBS Television)
On the personal side, Carol Burnett and her husband Joe Hamilton were dealing with their teenage daughter Carrie Hamilton's drug and alcohol addictions, which had begun to become apparent in 1977. They went public with their story in 1979 in People magazine.
Carol Burnett's career continued to keep her busy during the remainder of the 1970's and early 1980's. 
Carol Burnett starred in the feature film comedy-drama A Wedding (1978) with Desi Arnaz Jr. and Dina Merrill.
She appeared in with more television movies, guest appearances and specials like Dolly and Carol in Nashville (1978), with friend Dolly Parton.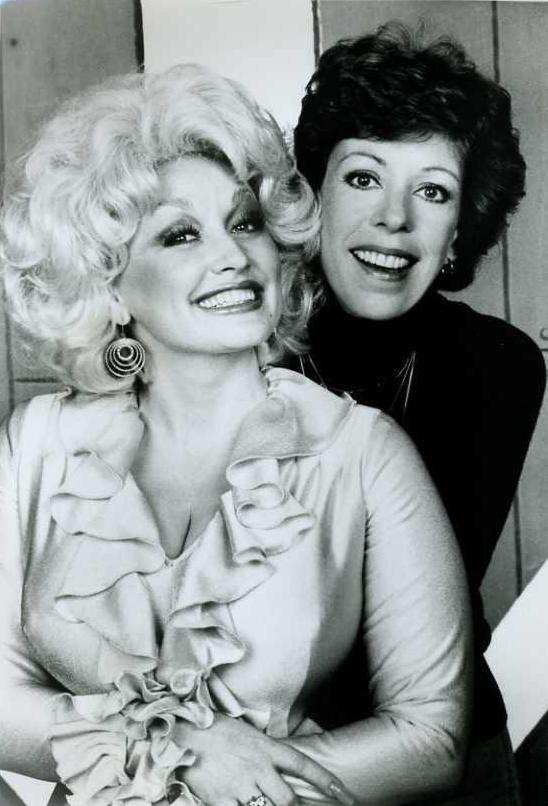 (Dolly Parton & Carol Burnett 1980 Photo)
Carol and Joe Hamilton had moved their primary residence from Beverly Hills to Hawaii in 1980, where one of their neighbors was Carol's friend Jim Nabors.
By the end of 1984, as Carol Burnett started her 50+ years, her divorce from Joe Hamilton after over 20 years of marriage, was finalized. Joe Hamilton died in 1991 from cancer of the head and neck. 
In 1985 Carol Burnett was inducted in the Television Hall of Fame. 
She continued to appear regularly on television during the 1980's and 1990's. In addition to acting in the mini-series Fresno (1986), Burnett appeared in and served as executive producer for, the TV movie Plaza Suite (1987). Joining Carol Burnett in Plaza Suite was Hal Holbrook, and her old friend Tim Conway's son, Tim Conway Jr.
Burnett and Julie Andrews reunited for another television special in 1989, Julie & Carol: Together Again. An attempt at a couple of more series (Carol & Company in 1990, and The Carol Burnett Show in 1991) were unsuccessful, although nostalgic specials did well (The Carol Burnett Show: A Reunion in 1993, and Carol Burnett: The Special Years in 1994).
Carol Burnett had a recurring role in the 1990's sit-com Mad About You from 1996-1999 with Paul Reiser and Helen Hunt, appearing as Jamie's mother Theresa Stemple. Burnett earned two Emmy Award nominations for Outstanding Guest Actress in a Comedy Series for her performances in Mad About You; she won the Emmy Award in 1998. During this time she appeared in several more big-screen movies (The Four Seasons, 1981) and stage plays (Moon Over Buffalo, on Broadway in 1995).
In a 1995 interview with The New York Times, Carol Burnett referenced having recently starred in a play in Long Beach, California, in a production of Company. She spoke about now wanting to have someone in her life again. Her grandmother had a 40-year-old musician boyfriend when she was 81, and Burnett said of herself that
 "I don't mind if he's younger, because anybody older, usually, with the exception of people in this business, are curmudgeons, or they're chauvinists."  
As the 1990's came to an end and Burnett entered her senior citizen years, she appeared with her daughter Carrie Hamilton on an episode of Touched by an Angel (1997). Carol Burnett also appeared in some television musical/variety specials and began voice-acting in movies (The Trumpet of the Swan, 2001).
In 2001 Carol Burnett married Brian Miller, a professional drummer and musician more than 20 years younger than her. In interviews to promote her autobiography This Time Together (2010), Burnett recalled that she had first met Brian Miller when they did a stage show together in Long Beach, and hit it off; but it wasn't until a few years later that they met again and began dating. Carol Burnett and Brian Miller will be celebrating their 15th wedding anniversary in 2016. 
Carol Burnett's oldest daughter Carrie Hamilton died of brain and lung cancer in 2002; her youngest daughter Erin has made her a grandmother twice over.
Since becoming a septuagenarian senior citizen in 2003, Carol as been recognized for her work as a Kennedy Center Honors Recipient in 2003, the Presidential Medal of Freedom in 2005, and another Emmy Award nomination in 2009 for a guest appearance on Law & Order: Special Victims Unit (2009). Carol Burnett was recognized with the 2013 Mark Twain Prize for American Humor by President Barack Obama in 2013.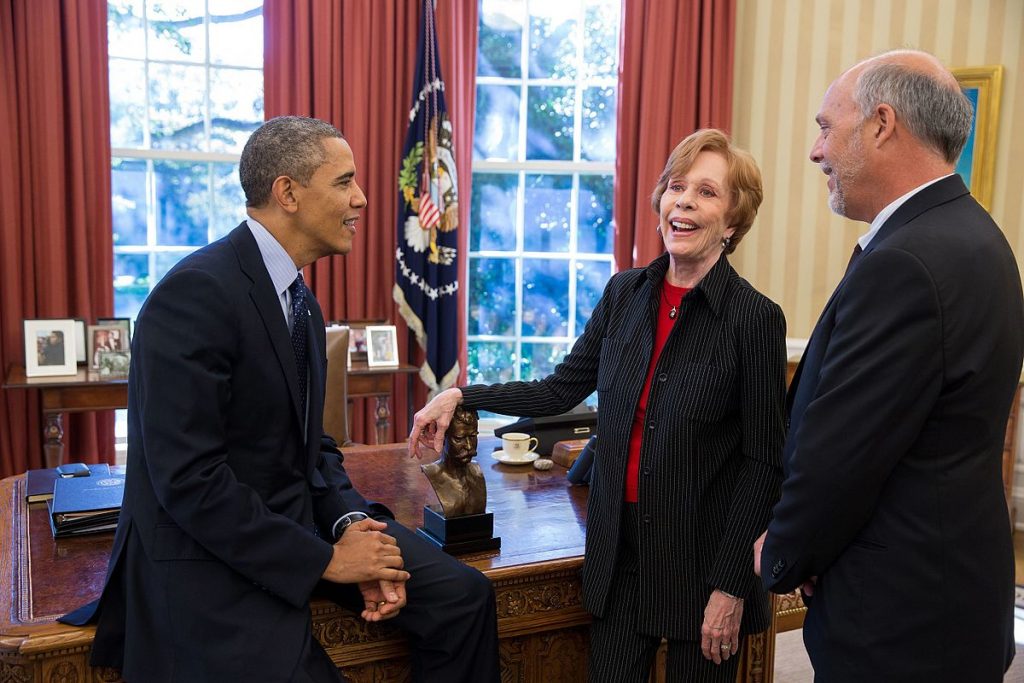 (From left, President Barack Obama, Carol Burnett, & Brian Miller 2013 Photo: The White House) 
There have been no signs of retiring from Carol Burnett, with voice-over work in movies such as Horton Hears a Who! (2009); since becoming an octogenarian senior citizen in 2013 she has continued with recurring roles in such popular modern television series as Glee, Hot in Cleveland, and Hawaii Five-0.
How does Carol Burnett stay young/young at heart and keep from aging and getting older? In different interviews she has said that physically, she had plastic surgery work done on her chin while acting in the feature film Annie (1982), and she stopped smoking around that time as well. She had this to say to MacLeans magazine in 2010 about keeping in shape mentally and physically as a senior citizen:
"I do Pilates, I eat pretty well and take my vitamins. I do the New York Times crossword puzzle every morning to keep the old grey matter ticking. But I guess it's also about attitude..."
And when asked what has been the best part of getting older, Burnett said:
"I can take things or leave them. I can look back and see how fortunate I was, and appreciate it—that's a good part of getting older. See, I'm glad I was born when I was. My time was the golden age of variety."
*Images are public domain or Creative Commons licensed & sourced via Wikimedia Commons, Vimeo, or Flickr, unless otherwise noted*