Celebrating Seniors - Dina Merrill Turns 93
Update May 22, 2017: Dina Merrill has died today May 22, 2017 at the age of 93. She leaves behind her third husband Ted Hartley, and surviving daughter Nina Rumbough Roosenburg, son Stanley M. Rumbough III (from her first marriage), stepson Philippe Hartley, and their children and grandchildren.
Heiress, philanthropist, and actress Dina Merrill (nee Nedenia Marjorie Hutton) was born on December 29, 1923 in New York City, New York.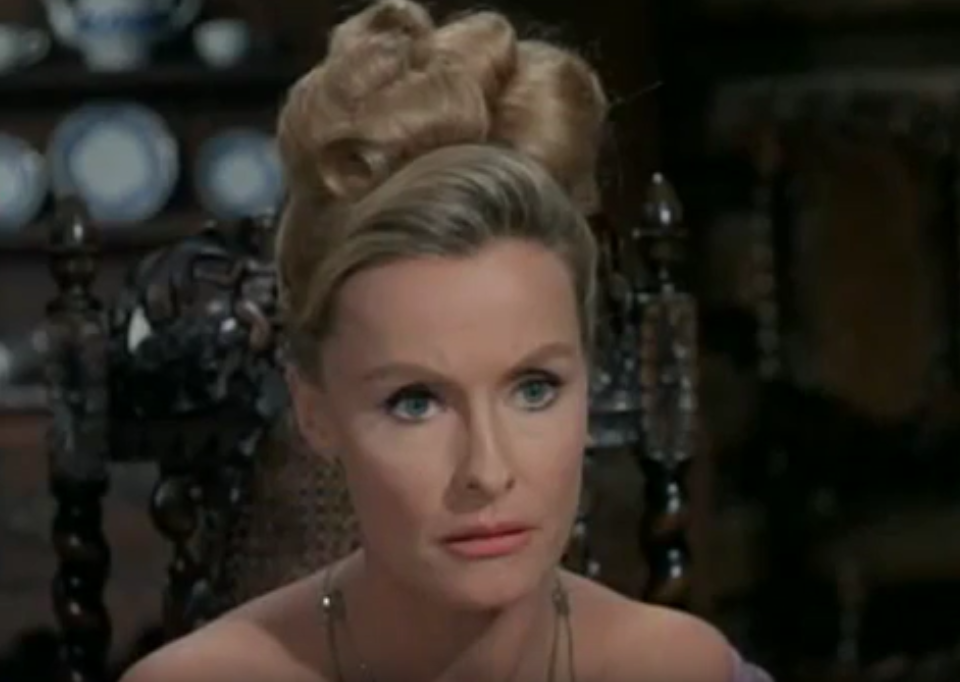 (Dina Merrill 1965 Daniel Boone)
Dina Merrill's mother Marjorie Merriweather Post was the heiress of Post Cereals (owner of General Foods), and her father Edward Francis Hutton founded the stock brokerage firm E. F. Hutton & Co. Nedenia's older cousin was unhappy socialite and Woolworth heiress Barbara Hutton. 
As a child, Nedenia's family nickname was Deenie, according to PaulBowles.org. Young Nedenia Hutton and her parents lived a life of luxury, spending at least 3 months of each year at sea on one of their several yachts, travelling all over the world from Alaska, to Europe, Hawaii, and the Caribbean. 
After her parents divorced in 1936, Nedenia Hutton spent one month a year with her father, living the rest of the time with her mother Marjorie Merriweather Post. Marjorie Merriwether Post owned the Hillwood estate in Washington, D.C., which has since been turned into a museum, and had the luxurious 110 thousand square-foot mansion Mar-a-Lago built in Palm Beach, Florida. As of 2016 Mar-a-Lago is an exclusive hotel-style country club. 
Nedenia Hutton graduated from the Mount Vernon Seminary in Washington D.C. in 1939, and later spent one term at George Washington University. An older, 50+ Dina Merrill told told People magazine in 1980 that her father E. F. Hutton had wanted her to go to law school and be a politician; she told him she wanted to be an actress.
Dina Merrill's grandson, jazz singer Cole Rumbough, told The Vintage Traveler, that she dropped out of George Washington University and moved to New York City in 1941 (she would have been 17) to attend the American Academy of Dramatic Arts (AADA).
Despite already having an enormous personal wealth of her own, Nedenia Hutton supported herself while attending AADA by modeling for Vogue and Conde Nast.
Nedenia Hutton made her stage debut in 1945 in a production of The Mermaid Singing. She put her career on hold for 8 years after meeting, falling in love with, and marrying Colgate heir, businessman and later politician, Stanley M. Rumbough Jr. in March 1946. 
Nedenia and Stanley Rumbough had three children – oldest son Stanley Hutton Rumbough (b. approx 1947), son David Post Rumbough (b. approx 1948)., and daughter Nedenia Colgate Rumbough (b. approx 1949). 
Nedenia chose the professional name of Dina Merrill when she felt her children were old enough for her to resume an acting career. As a wealthy socialite and actress, Dina Merrill spent time in Palm Beach and Hollywood, meeting actor Cliff Robertson at Gary Cooper's house in 1956. She also met future actor, movie producer, and businessman Ted Hartley when her mother Marjorie Merriweather Post introduced Hartley to the Rumboughs, suggesting they  might like to play tennis together (they did). 
Actress Dina Merrill made her television debut on an episode of Four Star Playhouse in 1955. Her first movie was the classic Spencer Tracy – Katharine Hepburn movie Desk Set (1957). Also in the cast of Desk Set were supporting actors Gig Young and Joan Blondell. Below, Dina Merrill in "A Place Full of Strangers" on Four Star Playhouse.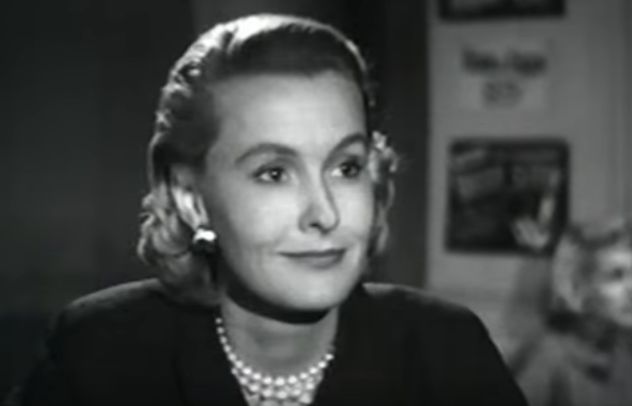 (Dina Merrill Four Star Playhouse)
More movie and television roles followed for Dina Merrill. Seniors and baby boomers may recall seeing her in the following films or TV series during the 1950's:
An episode of Playhouse 90 in 1958 that starred Jackie Gleason, Jack Klugman, and fellow heiress Gloria Vanderbilt. Several years later, in an episode of Jackie Gleason: American Scene Magazine (1964), starring Jackie Gleason and Art Carney (The Honeymooners), Dina Merrill appeared in a cameo along with Peter Falk, Jack Klugman, and golfer Arnold Palmer.
Two movies with actor Mickey Shaugnessy; the crime comedy A Nice Little Bank That Should Be Robbed (1958) with Mickey Rooney, and the Jerry Lewis comedy Don't Give Up the Ship (1959). In Don't Give Up the Ship Dina Merrill had graduated to a co-starring role with Jerry Lewis. 
Dina Merrill was paired with actors Barry Morse and Tim O'Connor for the first time in an episode of The DuPont Show of the Month in 1959. In 1961 she co-starred again with both actors on different TV series. She paired with Barry Morse, Richard Kiley, and Douglass Watson in an episode of The United States Steel Hour. Merrill co-starred with Tim O'Connor, Earl Holliman, and Ralph Bellamy in the TV movie Westinghouse Presents: The Dispossessed (1961).
She was Lt. Barbara Duran RN in her fourth movie, Operation Petticoat (1959). In Operation Petticoat Dina Merrill co-starred with Cary Grant, Tony Curtis, Joan O'Brien, Dick Sargent, Gavin MacLeod, and Marion Ross. Dina Merrill's cousin Barbara Hutton had been briefly married to Merrill's co-star Cary Grant (1942-1945).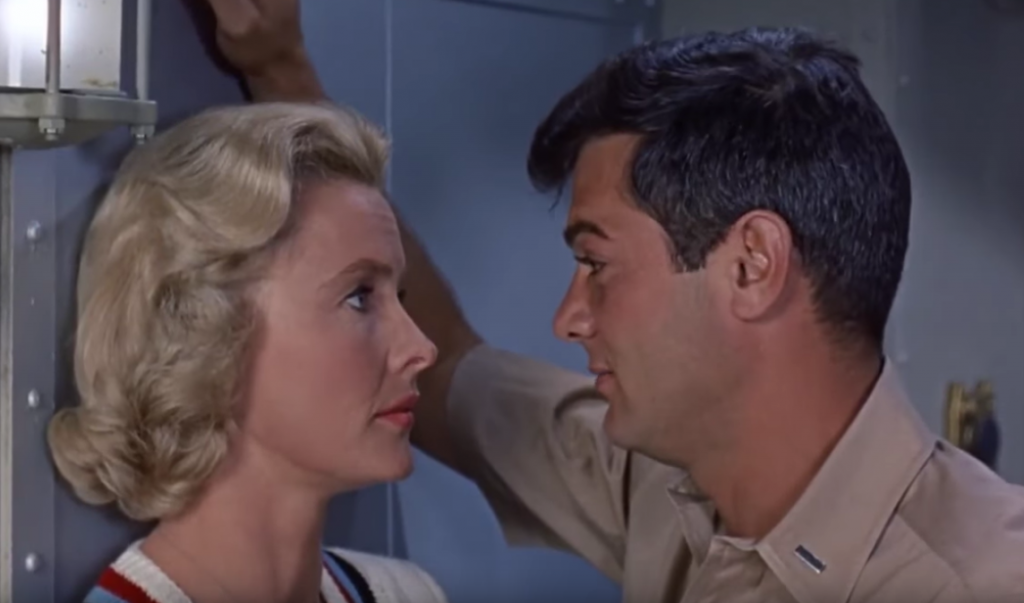 (Dina Merrill & Tony Curtis 1959 Operation Petticoat)
By the end of 1959 Dina Merrill was being called "Hollywood's New Grace Kelly" because of her cool, immaculate blonde good looks. In 1960, she and her husband Stanley Rumbough built an East Hampton home that be a favorite retreat of hers for many years. 
Dina Merrill guest-starred with Adam West and Jack Weston in a 1960 episode of Westinghouse Desilu Playhouse, hosted by Desi Arnaz. Two years later, Merrill, Adam West, and Jack Weston were all reunited onscreen in an episode of Kraft Mystery Theater in 1962.
On the big screen, some of Dina Merrill's movies during the 1960's included: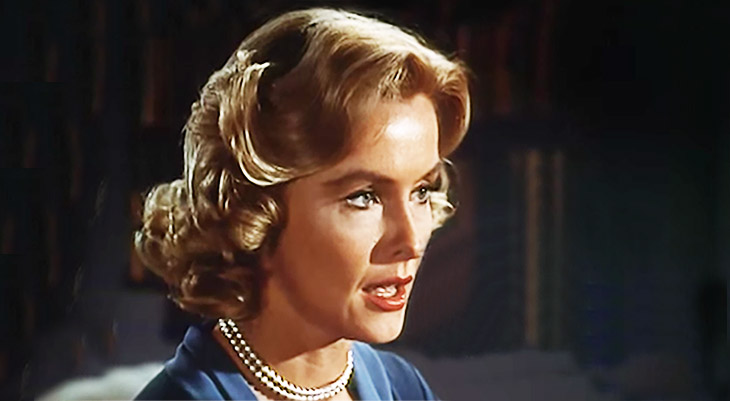 (Dina Merrill 1960 The Sundowners Trailer)
The Australian adventure drama The Sundowners (1960), starring Deborah Kerr, Robert Mitchum, Peter Ustinov, Glynis Johns, and Michael Anderson Jr. Years later, a now 50+ Dina Merrill and Michael Anderson Jr. would guest-star on an episode of popular baby boomer series Hawaii Five-O, in 1976.
The thriller Butterfield 8 (1960) starring Elizabeth Taylor, Laurence Harvey, and Eddie Fisher. In Butterfield 8 Dina Merrill played Emily Liggett, the wife of a man having an affair with Elizabeth Taylor's character.
The Young Savages (1961), a crime drama co-starring Burt Lancaster, Edward Andrews, Shelley Winters, Telly Savalas (Kojak), Roberta Shore (The Virginian), and Chris Robinson; Dina Merrill later guest-starred on Chris Robinson's TV series 12 O'Clock High in 1966.
The Expendables (1962), a TV movie co-starring Mike Connors. 
The Courtship of Eddie's Father (1963), a comedy movie starring Glenn Ford, Shirley Jones, Stella Stevens, Ron Howard, Jerry Van Dyke, Lee Meriwether, and Andrew Stevens. Ron Howard's brother Clint Howard and his father Rance Howard also had uncredited bit parts in The Courtship of Eddie's Father.
I'll Take Sweden (1965), a comedy starring Bob Hope, with Tuesday Weld and Frankie Avalon. Dina Merrill's fellow guest-stars when she appeared on Bob Hope Presents the Chrysler Theatre later in 1965 included actors Nehemiah Persoff and Cliff Robertson.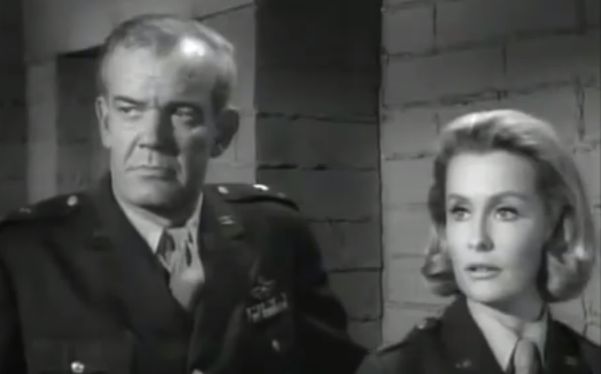 (Andrew Duggan & Dina Merrill 1966 12 O'Clock High)
Her other television guest-starring roles during early-to-mid 60's saw Dina Merrill appearing on screen in popular baby boomer series such as Burke's Law; Dr. Kildare with Richard Chamberlain; The New Breed starring Leslie Nielsen and Ron Howard; Rawhide starring Clint Eastwood; Mickey starring Mickey Rooney; The Rogues starring David Niven; and The Alfred Hitchcock Hour in an episode with Peter Falk. Merrill guest-starred twice on The Dick Powell Theatre in a 1962 episode with Edward Platt (Get Smart), and in an episode of The Eleventh Hour in 1963, she co-starred with Ed Nelson and child actor Kurt Russell. 
From 1961-1963 Dina Merrill was a celebrity panelist on the game show To Tell the Truth (1961-1963), appearing on the series 24 times. 
When Dina Merrill's 14-year-old son David Rumbough was diagnosed as a diabetic in 1963, she became a supporter of various causes in aid of Diabetes research. She was a director for many years of the Juvenile Diabetes Foundation, beginning around 1962.
By the end of 1966, Dina Merrill had divorced first husband Stanley Rumbough Jr. after 20 years of marriage; and before the year was over, Dina Merrill had married actor Cliff Robertson, in December 1966.
Like Rumbough and Merrill, Cliff Robertson also came from a wealthy family. He had married divorced actress Cynthia Stone in 1957, but their marriage had also ended in divorce in 1959. Through his first marriage, Cliff Robertson was father to daughter Stephanie and step-father to Chris Lemmon, Cynthia's son with actor Jack Lemmon. Dina Merrill and Cliff Robertson's daughter Heather Robertson was born in 1969. 
In the latter half of the 1960's and early 1970's, Dina Merrill continued to appear frequently on television and in the movies. Sharp-eyed baby boomers and seniors may recall seeing her in episodes of Daktari, Daniel Boone, Run For Your Life, Medical Center, and a 2-part episode of Bonanza. 
Below, Dina Merrill guest-starred along with Robert Lansing on an episode of the American frontier television series Daniel Boone. Appearing in the episode are series regular Fess Parker as Daniel Boone, Ed Ames as Mingo, Patricia Blair as Rebecca Boone, Darby Hinton as Israel Boone, and Dal MacKennon as Cincinnatus.
She also made appearances on popular baby boomer series including: 
Mission: Impossible, appearing in 2 episodes as the character of Meredyth. Her co-stars on Mission: Impossible included series regulars Peter Graves and Leonard Nimoy. 
The Name of the Game, appearing twice between 1969-1970, In her two guest-starring gigs on The Name of the Game, Dina Merrill appeared in episodes with Anthony Franciosa, Susan Saint James, Gene Barry, Robert Stack, William Shatner, Jackie Coogan, and Edward Binns (her co-star from a 1961 episode of The Investigators). 
The Virginian, with Stewart Granger, Doug McClure, Lee Majors, James Drury, and Van Johnson.
The Bold Ones: The New Doctors, starring E. G. Marshall, David Hartman, and John Saxon. 
The F.B.I. with Efrem Zimbalist Jr., Philip Abbott, and Lynn Loring, guest-starring once in 1965 and again in 1972. On The F.B.I. her fellow guest-stars included Jeffrey Hunter, Richard Anderson, and Daniel J. Travanti.
Dina Merrill and husband Cliff Robertson were frequent co-stars during the 1960's. They co-starred in the TV spy movie The Sunshine Patriot (1968) with Donald Sutherland. Their joint television appearances included playing a married couple on an episode of ABC Stage 67 in 1967, with James Broderick and Dustin Hoffman.   
From 1966-1969, Dina Merrill appeared frequently on the game show The Match Game (1966-1969) as a Team Captain, either by herself or with Cliff Robertson or William Shatner. 
Merrill also guest-starred three times in 1966 on the now cult classic TV series Batman starring Adam West, Burt Ward, Alan Napier, and Yvonne Craig as Batgirl. On Batman, Dina Merrill played the recurring villainess character Calamity Jan, with Burgess Meredith as The Penguin, and Cliff Robertson appearing in a 2-part episode as the villain Shame. Below, a Batman tribute clip for Cliff Robertson, which includes Dina Merrill.
In 1969 Dina Merrill became a member of the board of directors for E. F. Hutton & Co., her late father's investment firm. She also created the Amaranthe cosmetics line at Coty.
She had 2 TV movies released that year – the adventure film Seven in Darkness (1969) with Lesley Ann Warren, and The Lonely Profession (1969) TV drama with Joseph Cotten, Troy Donahue, and Fernando Lamas. Dina Merrill and Fernando Lamas had co-starred previously with Rita Moreno in a 1958 episode of Climax!, and they would co-star again together in a 1973 episode of Night Gallery with Rod Serling and Steve Forrest.
During the 1970's and her 50+ years beginning in 1973, Dina Merrill's movies included both made-for-TV and feature films: 
Mr. and Mrs. Bo Jo Jones (1971), a TV drama co-starring Desi Arnaz Jr., Christopher Norris, and Dan Dailey. Dina Merrill played the mother of a pregnant teen (Christopher Norris), and actor Tom Bosley played the father of the expectant teenage father Desi Arnaz Jr. Their co-stars in Mr. and Mrs. Bo Jo Jones were Nicholas Hammond, Larry Wilcox, and McLean Stevenson.
Desi Arnaz Jr. and Dina Merrill were reunited onscreen 7 years later in the star-studded comedy-drama A Wedding (1978). A Wedding starred Carol Burnett, Paul Dooley, Mia Farrow, Dennis Christopher, Lillian Gish, Vittorio Gassman, Geraldine Chaplin, John Considine, Lauren Hutton, Viveca Lindfors, Dennis Franz, and Pam Dawber. Uncredited extras and future stars in A Wedding included Joan Allen, Jeffrey Jones, John Malkovich, Terry Kinney, Laurie Metcalf, Gary Sinise, and George Wendt. Merrill co-starred with Carol Burnett again in the TV romantic drama The Tenth Month (1979). 
The Greatest (1977), a biographical movie starring Cassius Clay/Muhammad Ali as himself, with actors Ernest Borgnine, John Marley, Robert Duvall, David Huddleston, Paul Winfield, and James Gammon. In The Greatest Roger E. Mosley (Magnum, P.I.) is boxer Sonny Liston, James Earl Jones is Malcolm X, and Dina Merrill is fan Velvet Green.
Dina Merrill and Stanley Rumbough's 25-year-old son David Rumbough died in a boating accident off Long Island in September of 1973; Merrill also lost her mother Marjorie Merriweather Post that same month.
Baby boomers may recall seeing Dina Merrill on television during the 1970's; she appeared in such popular series as Ellery Queen; Cannon starring William Conrad; and Switch starring Robert Wagner, in an episode with Sharon Gless and Ricardo Montalban.
On Marcus Welby, M.D. starring James Brolin, Dina Merrill played a marine biologist in an episode with Claude Akins and Robert Ito. She later guest-starred on Quincy M.E. with Robert Ito and Jack Klugman, in an episode with Carol Lynley, Monte Markham, and Joanna Barnes. Merrill and Jack Klugman had worked together before when she guest-starred as a love interest for Oscar Madison on his previous series, The Odd Couple. 
Other television work for Dina Merrill from the mid-1970's included guest-starring appearances on:
Kingston: Confidential starring Raymond Burr, with Bradford Dillman and Martin Kove. 
The Hardy Boys/Nancy Drew Mysteries starring Pamela Sue Martin, Shaun Cassidy, and Parker Stevenson, with Bob Crane.
Roots: The Next Generations, with Dorian Harewood, Robert Culp, Irene Cara, Paul Winfield, Debbi Morgan, Brock Peters, and Lynn Hamilton.
The Love Boat, a 2-part episode with regulars Gavin MacLeod, Bernie Kopell, Fred Grandy, Ted Lange, and Lauren Tewes. Dina Merrill's fellow guest-stars on The Love Boat were Bill Daily, Douglas Fairbanks Jr., Jackie Earle Haley, Larry Linville, Ginger Rogers, and William Windom as her love interest. 
During the 1980's Dina Merrill mixed it up with appearances on stage, television, and in the movies. In the romantic comedy Just Tell Me What You Want (1980) starring Ali MacGraw and Alan King, Merrill appeared with supporting actors Tony Roberts, Peter Weller, Michael Gross (Family Ties), and David Rasche (Nurses, All My Children). Dina Merrill was reunited with her Just Tell Me What You Want star Alan King in the TV comedy movie The Alan King Show (1986).
She appeared on Broadway in the musical comedy On Your Toes in 1983. Dina Merrill could be seen in guest-starring roles in several 80's TV series, such as Matt and Jenny with Megan Follows and Duncan Regehr; Tales of the Unexpected with Valerie Mahaffey; and in 3 episodes of guest starred Hotel starring James Brolin, Connie Sellecca, and Shari Belafonte. Merrill had guest-starred on James Brolin's previous series Marcus Welby, M.D. ten years earlier. Her fellow guest-stars on Hotel included Mary Crosby, Steve Forrest, Boyd Gaines, Patty McCormack, Vera Miles, Ralph Bellamy, Robert Stack, and soap opera stars Deborah Adair, Leann Hunley, and Tristan Rogers. 
Dina Merrill was a regular as Estelle Modrian on the TV series Hot Pursuit (1984), co-starring with actress Kerri Keane. 
In 1986 Dina Merrill and Cliff Robertson separated, after 20 years of marriage.
Actor and businessman later Ted Hartley told People magazine that he had fallen in love with her 40 years before, after having just lost a game of tennis to her then-husband Stanley Rumbough Jr. On hearing that Merrill was newly separated in 1986, Hartley got her phone number from a mutual friend and asked her out. Dina Merrill and Ted Hartley were married 3 years later, in 1989 and are still together today in 2016.
Despite being a new senior citizen in 1988 and clearly having no need of the money, Dina Merrill continued acting. She appeared in these feature films: 
Caddyshack II (1988), a comedy with Jackie Mason, Robert Stack, Dyan Cannon, Jonathan Silverman, Randy Quaid, Chevy Chase, Dan Aykroyd, and Brian McNamara. Merrill's future husband Ted Hartley also appeared in Caddyshack II in a bit part. Right, Dina Merrill in Caddyshack II. 
The thriller Fear (1990) starred Ally Sheedy, Lauren Hutton, and Michael O'Keefe. Fear was the second movie to feature both Dina Merrill and Lauren Hutton, after 1978's A Wedding. 
True Colours (1991), a political/legal drama starring John Cusack, James Spader, and Mandy Patinkin. Dina Merrill played actor Richard Widmark's wife in True Colours. 
The crime comedy The Player (1992) starring Tim Robbins, Greta Scacchi, Fred Ward, Whoopi Goldberg, Peter Gallagher, Vincent D'Onofrio, Dean Stockwell, Lyle Lovett, and Cynthia Stevenson. Ted Hartley, now married to Dina Merrill, was an extra in The Player.
Dina Merrill guest-starred twice on Angela Lansbuy's TV series Murder, She Wrote in the early 90's.
As a new septuagenarian senior citizen in 1993, Dina Merrill appeared in the TV movie Not in My Family (1993). Her Not in My Family co-stars were Joanna Kerns (Growing Pains), Michael Brandon, Shelley Hack (Charlie's Angels), and Richard Gilliland.
Mighty Joe Young (1998) starred Bill Paxton, Charlize Theron, Peter Firth, David Paymer, Regina King, Naveen Andrews (Lost), and Linda Purl. Both Dina Merrill and Terry Moore had bit parts in the movie, which was produced by Merrill's husband Ted Hartley. Mighty Joe Young was a reunion for Linda Purl and Dina Merrill, who had previously co-starred in the 1970 movie Aru heishi no kake (1970) with Frank Sinatra Jr. and Toshirô Mifune. 
Other notable roles for Dina Merrill in her septuagenarian senior years were:
Something Borrowed, Something Blue (1997) starred Connie Sellecca, Twiggy, Jameson Parker, Ken Howard, Shawnee Smith, Ricky Paull Goldin, Gery Hershberger, and Brett Cullen. Dina Merrill played mother of the bride to Connie Sellecca. Something Borrowed, Something Blue marked the third time Connie Sellecca and Merrill had co-starred together, after Dina guest-starred on Hotel in the 1980's and they both appeared in the TV thriller Turn Back the Clock (1989).
A Chance of Snow (1998), a TV drama starring JoBeth Williams, Michael Ontkean, Barbara Barrie, and Charles Durning.
The Other Sister (1999), a romantic comedy starring Juliette Lewis, Diane Keaton, Giovanni Ribisi, Tom Skerritt, Poppy Montgomery, Sarah Paulson, Juliet Mills, and Hector Elizondo. Both Dina Merrill and young actress Shiri Appleby had bit parts in The Other Sister.
The Glow (2002), a TV horror movie co-starring Portia de Rossi, Hal Linden, Joseph Campanella, Grace Zabriskie, Kari Matchett, and Dean Cain.
Rod Taylor and Dina Merrill worked together several times over a 3 decade span. Dina Merrill guest-starred on Rod Taylor's adventure series Hong Kong in 1961. This was followed with co-starring roles for Merrill and Taylor in the TV movie Family Flight (1972). In 1995, 34 years after they first appeared onscreen together, Dina Merrill and Rod Taylor were seen in two movie releases: the thriller The Point of Betrayal (1995), and the comedy Open Season (1995). Open Season starred Helen Shaver, Saul Rubinek, Tom Selleck, Alan Thicke, and Joe Piscopo. Bob Costas, Regis Philbin, and Larry King all appeared as themselves in Open Season.  
Dina Merrill and her husband Ted Hartley were both involved in the feature films Milk & Money (1996), and the TV drama The Magnificent Ambersons (2002). In the romantic comedy Milk & Money Dina Merrill co-starred with Margaret Colin, Robert Vaughn, Peter Boyle, Calista Flockhart, and Olympia Dukakis. Ted Hartley played a lingerie salesman in Milk & Money, and also produced the movie. Ted Hartley was executive producer on The Magnificent Ambersons, which Dina Merrill co-starred in. The Magnificent Ambersons starred Madeleine Stowe, Bruce Greenwood, Jonathan Rhys Meyers, Gretchen Mol, Jennifer Tilly, and James Cromwell.
New octogenarian senior citizen Dina Merrill appeared in the thriller Shade (2003) with Jamie Foxx, Sylvester Stallone, Melanie Griffith, and Hal Holbrook. Her husband Ted Hartley played "Teddy" the surgeon in Shade, and also produced the movie, which was Merrill's second-last movie before retiring from acting.
Heather Robertson, Dina Merrill's daughter with Cliff Robertson, died of cancer in 2007. Cliff Robertson had never remarried after his divorce from Dina Merrill; he was an 88-year-old octogenarian senior citizen when he died of natural causes in September 2011.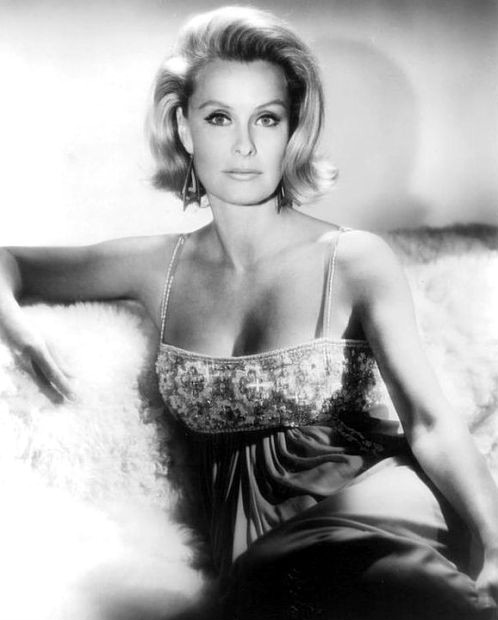 (Dina Merrill 1968 Photo: John Engstead/Helen Ferguson)
After a 6-year absence from the screen, Dina Merrill appeared in the movie Beyond a Reasonable Doubt (2009) in a small, uncredited role. Her husband Ted Hartley also produced Beyond a Reasonable Doubt. Dina Merrill has been completely retired from acting since her role in Beyond a Reasonable Doubt.
In an interview in the 2013 Palm Beach Florida Weekly, Dina Merrill and Ted Hartley said they remained great friends with her first husband Stanley Rumbough Jr. The couple were living at a Palm Beach condo (they also spent time at their homes in California and New York) and Merrill was preparing for an art show of her watercolors, which she had taken up as an octogenarian in 2010 at the age of 84.  
Nonagenarian Dina Merrill is now a grandmother several times over; son Stanley Rumbough III is a photographer and with his wife Leah, had 3 daughters and a son Cole Rumbough, who is a jazz singer. 
In 2015, Ted Hartley held a cocktail reception held at their New York apartment to benefit Lewy Body Dementia (a disease with characteristics of Alzheimer's Disease and Parkinson's Disease). He stated that wife Dina Merrill was now in an advanced stage of Lewy Body Dementia and had become self-conscious over her difficulty in talking and understanding complicated sentences.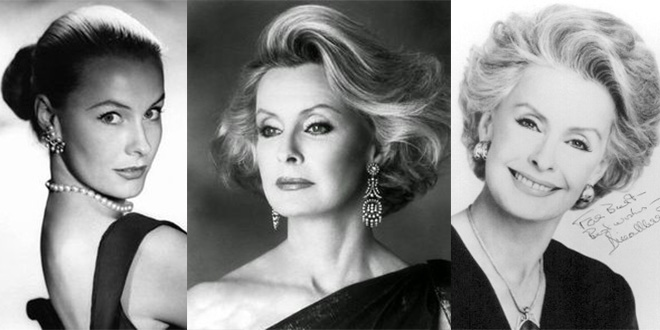 Dina Merrill, from younger to older. (Source Publicity Photos | Photo Montage: A. Hamilton / 50+ World)
Dina Merrill created a legacy of a loving family, philanthropy, over 100 film credits, an acting career that spanned 7 decades from 1945-2009, and a personal net worth that was been estimated as high as $5 billion.