Celebrating Seniors - Adam West Is 88
Update: Adam West has passed away on June 9, 2017 at the age of 88 from leukemia.
Batman actor and octogenarian senior citizen William West Anderson (Adam West) was born September 19, 1928 in Walla Walla, Washington. West has said that as a child he was fan of comic books and Batman in particular. 
 (Adam West 1967 Batman Photo: ABC Television)
Adam West told the Independent that when he was 12, he found his mother and the local preacher in bed; his parents divorced when he was 15. William Anderson and his younger brother John moved to Seattle with their mother when she remarried. Anderson graduated in 1946 from Lakeside High School in Seattle, Washington. During his years at Whitman College in Walla Walla, Anderson was a member of the debate and speech team. 
In August 1950 as he prepared to begin his senior year at Whitman College, William Anderson married 17-year-old Billie Lou Yeager. He graduated in 1951 from Whitman College with a degree in literature and psychology. 
Work as a radio DJ/announcer, post-grad courses at Stanford University, and a 2-year stint in the U.S. Army after being drafted, gave him some exposure in broadcasting and television. 
William Anderson acquired a few television credits on episodes of The Philco-Goodyear Television Playhouse (1954-1955), appearing in a 1954 episode with Eva Marie Saint. He moved to Hawaii in the mid-1950's at the suggestion of Walla Walla friend Carl Hebenstreit, and eventually replaced Hebenstreit as the human star of The Kini Popo Show in 1955, co-starring with a chimpanzee. 
William Anderson and Billie Lou were divorced in 1956 and he married Tahitian dancer Nga (Ngatokoruaimatauaia) Frisbie Dawson in 1957; his friend Carl Hebenstreit married Nga's sister Florence (Johnnie) Frisbie. William and Nga Anderson had daughter Jonelle S. Anderson (b. 1957) and son Hunter Anderson (b. 1958) while they lived in Hawaii. 
West has said that his mother was an alcoholic and he also abused alcohol, and was subject to depression. By the end of 1962, his second marriage to Nga Frisbie had ended in divorce after she left him.
In 1959 Anderson moved to Los Angeles, changed his name to Adam West, and got a contract with Warner Bros. at the same time as a another young actor, Van Williams (The Green Hornet), who had also been living in Hawaii in the mid-1950's.
Adam West found work in the movie The Young Philadelphians (1959) starring Paul Newman and Barbara Rush (Peyton Place), with Robert Vaughn. Other movies Adam West appeared in during the 1960's included Tammy and the Doctor (1963) starring Sandra Dee, Peter Fonda, and MacDonald Carey, and Soldier in the Rain (1963) starring Steve McQueen, Jackie Gleason (The Honeymooners), and Tuesday Weld. 
Television work kept Adam West busy from 1959 through 1965, and baby boomers and seniors may remember seeing him in episodes of popular series such as Bonanza, The Rifleman, Perry Mason, Laramie, Gunsmoke, Bewitched, The Outer Limits, and The Virginian. 
Adam West also appeared in episodes of:
Cheyenne (1959), starring Clint Walker. 
77 Sunset Strip (1958-1959), starring Efrem Zimbalist Jr. (The F.B.I.), Edd Byrnes, and Roger Smith (Ann-Margret's future husband and manager).
Maverick (1959) starring James Garner, in episodes that included fellow guest stars Connie Stevens and Troy Donahue. Adam West also appeared on Hawaiian Eye (1959), which starred Connie Stevens and Robert Conrad.
Bourbon Street Beat (1959) starring Van Williams, in an episode with Mary Tyler Moore.
Goodyear Theatre (1960), in an episode starring Pat Crowley. 
Westinghouse Desilu Playhouse (1960) and Kraft Mystery Theater (1962), both with co-stars Dina Merrill and Jack Weston. Dina Merrill would later guest-star as Calamity Jan on 3 episodes of West's series Batman.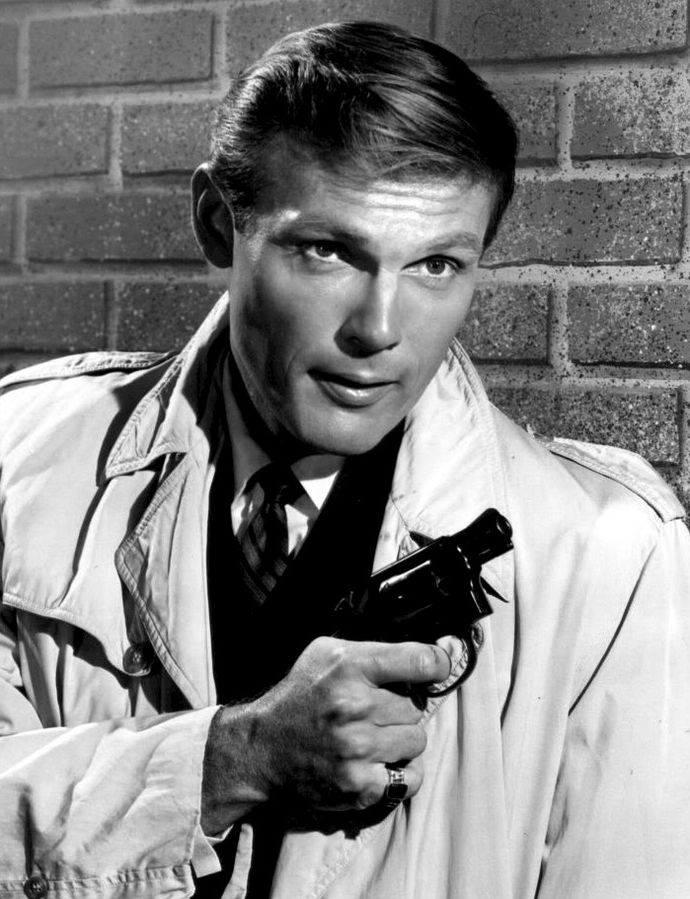 (Adam West 1961 Robert Taylor's Detectives Photo: NBC Television)
Adam West was a regular as Detective Sgt. Steve Nelson on The Detectives (1961-1962) starring Robert Taylor.  
In 1965, Adam West was a spokesperson for Nestle's Quik as Captain Q in advertisements that caught the eye of a TV producer, leading to his being cast as Batman (1966-1968) in the popular baby boomer series.
While appearing in the Batman television series, the feature film Batman: The Movie (1966) was released in October 1966.
The cast of  Batman: The Movie had most of the characters/regular cast from the TV show: Batman (Adam West), Robin (Burt Ward), The Joker (Cesar Romero), The Penguin (Burgess Meredith), The Riddler (Frank Gorshin), butler Alfred Pennyworth (Alan Napier), and Commissioner James Gordon (Neil Hamilton). An exception was the role of Catwoman; Julie Newmar was unavailable and so Lee Meriwether played Catwoman in the film.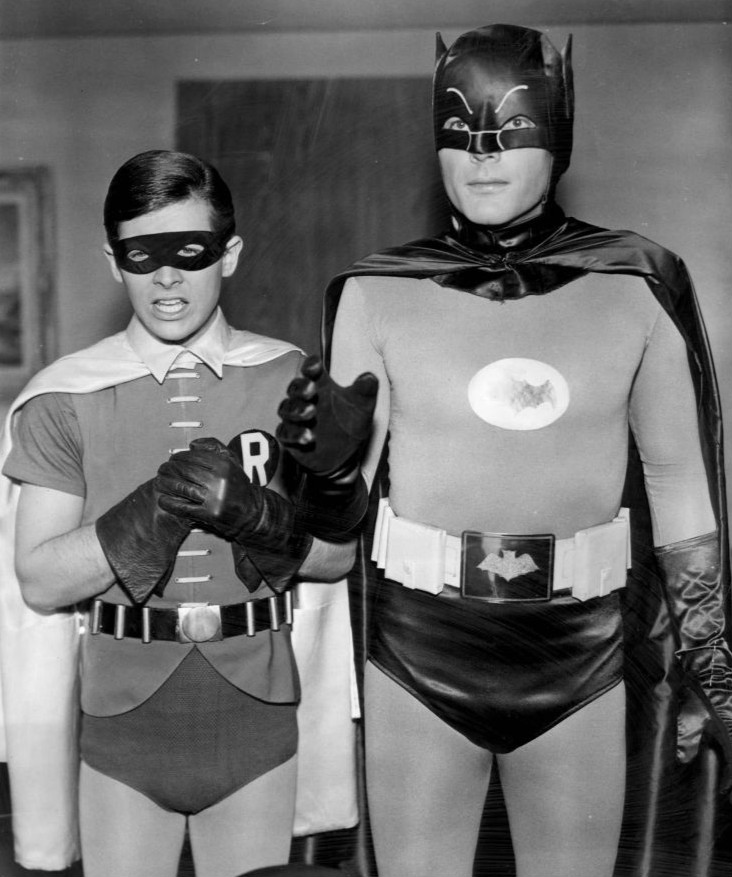 Right, Burt Ward as Robin and Adam West as Batman. (1968 Photo: Greenway Productions)
During the filming of Batman's 120 episodes, Adam West's friend Van Williams (The Green Hornet) and Bruce Lee (Kato) appeared in three 1967 crossover episodes as their Green Hornet characters (The Spell of Tut, A Piece of the Action, and Batman's Satisfaction).
Both Adam West and his co-star Burt Ward have said that the heights of fame and attention from women they enjoyed while Batman was on the air encouraged a "party" lifestyle off camera, with hard drinking and sexual escapades.
Despite their on-air camaraderie in Batman and enjoyment of women and partying, West and Ward didn't always get along behind the scenes; although they maintained a friendship through the years after the series ended.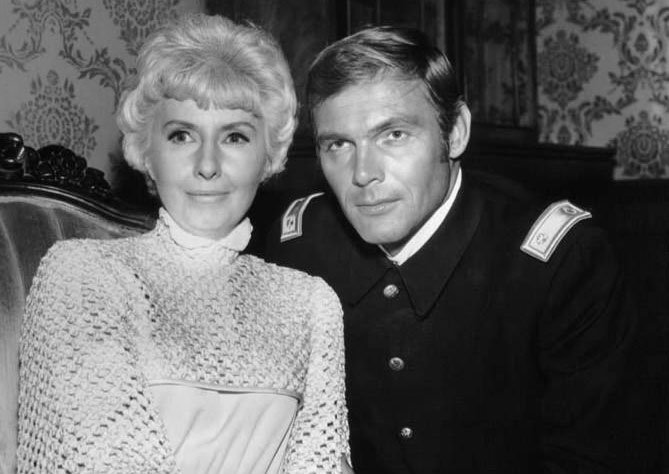 (Barbara Stanwyck, Adam West 1968 The Big Valley Photo: ABC TV)
Post-Batman, Adam West was frustrated at being typecast and found work almost impossible to find; depression set in and his drinking escalated. He told People that while he was still on Batman, he had made a personal appearance in his Batman costume and posed for a picture in 1966 with Learjet executive John Lear and his wife Marcelle Lear. In November 1970, Adam West married the now-divorced Marcelle Lear and became step-father to her two children, Moya and Jill Lear. He has credited Marcelle with helping him overcome his alcoholism during the 1970's. The couple had two more children, daughter Nina West (b. 1976) and son Perrin West (b. 1979). 
Adam West did find some acting work during the 1970's, such as a co-starring roles in:
And Then They Forgot God (1971) , a sci-fi movie with Joseph Campanella.
The Eyes of Charles Sand (1972), a thriller with Barbara Rush (his co-star from 1959's The Young Philadelphians), Sharon Farrell, and Bradford Dillman.
His bread and butter work however, remained personal appearances and cameos as his Batman character. Both Adam West and Burt Ward voiced the animated characters of Batman and Robin respectively, on the animated series The New Adventures of Batman (1977-1978). 
During the 1980's, a now 50+ Adam West's most notable roles were in independent movies and on television. He was Captain Rick Wright in The Last Precinct (1986) series. His co-stars on The Last Precinct included Ernie Hudson as Sgt. "Night Train" Lane, and Keenan Wynn as Butch. 
West also voiced Batman in the two animated series SuperFriends: The Legendary Super Powers Show (1984), and in The Super Powers Team: Galactic Guardians (1985).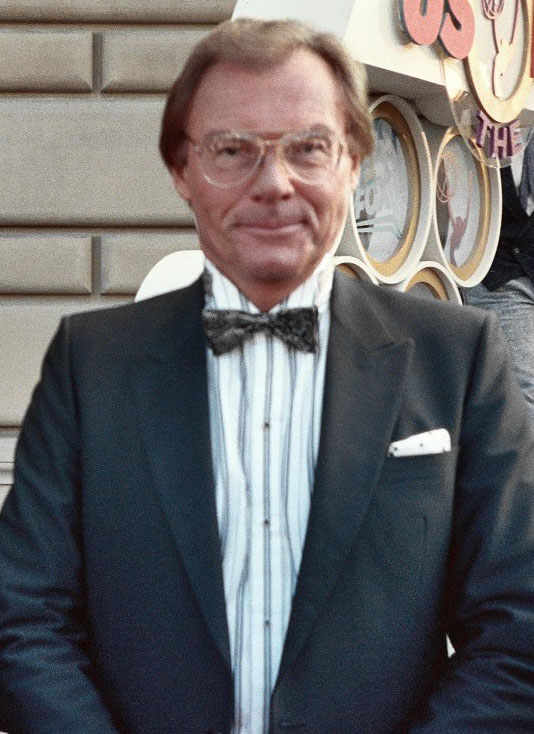 (Adam West 1989 41st Emmy Awards Photo: Alan Light)
In 1988 Marcelle and Adam West moved to Ketchum, Idaho, where he was able to fish and hunt with old friend and new neighbour Van Williams; West kept a home in Palm Springs as well.
West was a senior citizen when he appeared as Captain Mike Morgan in several episodes of Danger Theatre (1993) starring Robert Vaughn, 34 years after they both appeared in the movie The Young Philadelphians (1959). 
Since the 1990's and through his septuagenarian and octogenarian senior years, Adam West has capitalized on voiceover work (The Secret Files of the SpyDogs, 1998-1999) and public appearances as himself, or as his Batman character.
Baby boomers may remember seeing him in some of his more notable cameo appearances as himself (Adam West), such as the movie Drop Dead Gorgeous (1999) with Kirstie Alley and Ellen Barkin, and guest-starring roles on Murphy Brown (1997), Diagnosis Murder (1998), Hollywood Squares (2002), and most recently on The Big Bang Theory (2016). 
Nostalgia fans and younger generations may know Adam West best from his appearances at comic book conventions, or for his voiceover work as Mayor Adam West on the animated series Family Guy from 2000-2016. West and Burt Ward often appeared at the conventions together, and they co-starred (as themselves) in the biographical comedy-action movie Return to the Batcave: The Misadventures of Adam and Burt (2003). Adam West's autobiography Back to the Batcave (1994) is available from Amazon, and West was finally honored with a star on the Hollywood Walk of Fame in 2012.
Showing no signs of retiring, octogenarian senior citizen and grandfather Adam West told The Guardian that working at his age was "Better than the alternative (dying)." Batman fans can look forward to Adam West, Burt Ward, and Julie Newmar voicing their Batman characters in a new animated feature film from Warner Bros. and DC Entertainment, Batman: Return of the Caped Crusaders set for release in October 2016. West and his wife Marcelle celebrate their 46th wedding anniversary in 2016.
*Images are public domain or Creative Commons licensed & sourced via Wikimedia Commons, Vimeo, YouTube, or Flickr, unless otherwise noted*