Celebrating Seniors - Pat Crowley Turns 83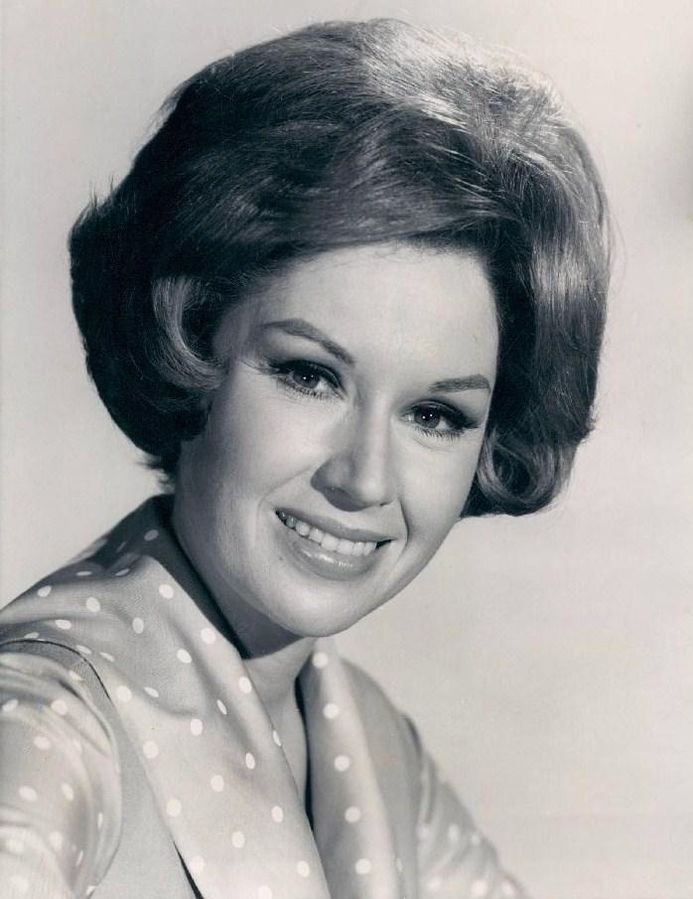 Veteran actress and star of television, movies, Patricia (Pat) Crowley was born on September 17, 1933 in Olyphant, Pennsylvania in coal mining country. (Pat Crowley 1965 Please Don't Eat the Daisies Photo: NBC)
Both Pat and her older sister Ann Crowley became actresses. Throughout her movie career Pat was often mixed up with actress Kathleen Crowley, who was no relation but often appeared in the same television series that Pat did.
Crowley said in a 2012 interview with Alan K. Rode that around the age of 10-11 she began modeling. In 1950, during her senior year in high school, Pat auditioned for a role in a Broadway play. She won the lead in the play Southern Exposure, and never looked back.
More roles in stage plays and television work followed. 17-year-old Crowley's earliest film credits are in 1950 in episodes of anthology television series such as The Ford Theatre Hour, appearing in the episode Another Darling (1950) with Jack Albertson and Jack Lemmon, and using her full name Patricia Crowley.
She debuted the role of Judy Foster on the television comedy series A Date With Judy from 1951-1952. 
In 1953 Pat Crowley made her movie debut in the comedy Forever Female starring Ginger Rogers. In the cast with her was a young Marion Ross, also making her movie (and film) debut in Forever Female. The next year, Crowley appeared on the cover of Life magazine, in March 1954.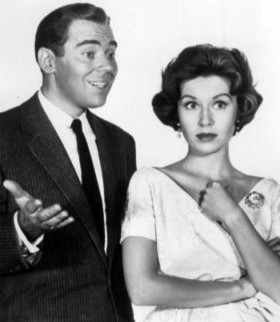 More movie and episodic television roles followed in the 1950's. Pat Crowley was kept busy in feature films such as There's Always Tomorrow (1955), a romantic drama starring Barbara Stanwyck and Fred MacMurray (My Three Sons).
(Elliott Reid & Pat Crowley 1959 Goodyear Theater Photo: NBC Television)
In the Swedish boxing film The Square Jungle (1956) Crowley co-starred with Tony Curtis and Ernest Borgnine; also in the cast were Jim Backus (Gilligan's Island) and David Janssen.
Pat Crowley would work again with David Janssen, appearing in an episode of his series The Fugitive in 1963; and Jim Backus several times – in the comedy movie The Wheeler Dealers (1963) starring Lee Remick, James Garner, and John Astin; the TV movie Cop on the Beat (1975) with Lloyd Bridges and Dean Stockwell; and in an episode of Police Story in the 1970's.
Pat Crowley appeared in two movies with the comedy duo of Dean Martin and Jerry Lewis. The romance Money from Home (1953) was the 11th movie to co-star Dean Martin and Jerry Lewis, and the first of their films to be made in color – more surprisingly, it was made in 3-D – back in 1953!
Crowley co-starred with Lewis & Martin again in the musical Hollywood or Bust (1956), which also co-starred Anita Ekberg. By the time Hollywood or Bust was released in December 1956, the comedy team of Dean Martin and Jerry Lewis had been split up for 5 months; Hollywood or Bust was their last movie together. Jerry Lewis said in his memoir Dean and Me of shooting the movie, that he and Martin did not speak to each other off camera. Below, Pat Crowley in a scene from Hollywood or Bust.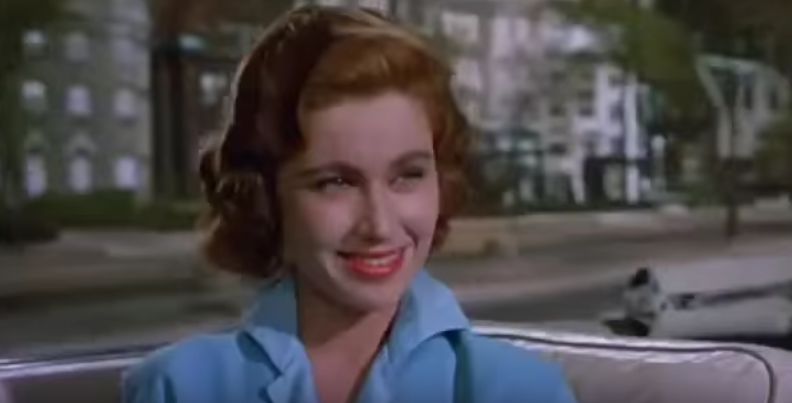 (Pat Crowley 1956 Hollywood or Bust)
On television, Pat Crowley was a frequent guest-star on episodes of 1950's series where she shared the screens with some of the biggest (or soon to be) names in Hollywood, such as:
Pat Crowley appeared in 3 episodes each of The Loretta Young Show (1957-1959); Schlitz Playhouse (1957-1959), with co-stars that included John Forsythe (Dynasty) and Steve Forrest (S.W.A.T.); and the western series Maverick (1959) starring James Garner and Jack Kelly. She was in the pilot episode for the very popular baby boomer series The Untouchables (1959).
In 1956 while filming Hollywood or Bust, Pat had met Southwestern School of Law student Ed Hookstratten. Ed Hookstratten and Pat Crowley were married in February 1957, and the couple lived in Beverly Hills for most of their marriage with their son Jon C. Hookstratten (b. 1958) and daughter Ann Hookstratten (b. 1960).
Crowley starred opposite Jeffrey Hunter and Dennis Hopper in the crime drama Key Witness (1960).
During the 1960's Pat Crowley cemented a name for herself on television, appearing in episodes of most of the popular baby boomer TV series such as Bonanza, The Twilight Zone, and The Virginian.
Crowley was often in episodes of TV shows that included actors who were (or have since become) household names, including:
The Tab Hunter Show starring Tab Hunter, and Hong Kong starring Rod Taylor, both in 1960.
Riverboat (1960), with Darren McGavin and Burt Reynolds; and in The Detectives (1961), with Telly Savalas and Adam West (Batman). A few years later in an episode of The Alfred Hitchcock Hour (1964) hosted by Alfred Hitchock, both Telly Savalas and Darren McGavin also appeared with Pat Crowley. Crowley shared the screen time again with Darren McGavin in the Walt Disney's Wonderful World of Color movie Boomerang, Dog of Many Talents (1968).
In 1963 she was on Rawhide (1963) starring Clint Eastwood.
The series Michael Shayne starred Richard Denning. (Richard Denning & Pat Crowley Photo: NBC Television | Wikimedia Commons / Public Domain)
Pat Crowley and Robert Vaughn worked together on 3 different episodes for 3 different series during the 1960's – Tales of Wells Fargo, The Lieutenant, and The Man from U.N.C.L.E. starring Robert Vaughn & David McCallum. Many years later, both Robert Vaughn and Pat Crowley co-starred in the TV drama International Airport (1985), along with a cast that included Bill Bixby, Susan Blakely, George Kennedy, Vera Miles, and Connie Sellecca. 

Pat Crowley appeared twice Efrem Zimbalist Jr.'s TV series 77 Sunset Strip in the 1960's; they were reunited onscreen in 1978 when she appeared in the dramatic TV movie A Family Upside Down (1978) starring Efrem Zimbalist Jr., Helen Hayes, Fred Astaire, and Patty Duke. She was a guest-star twice on Dr. Kildare starring Richard Chamberlain, and worked with both Bob Crane (Hogan's Heroes) and Phyllis Diller during her 2 appearances on Love, American Style (1969).
Crowley was a popular guest-star, appearing 3 times on The Dean Martin Show from 1968-1970.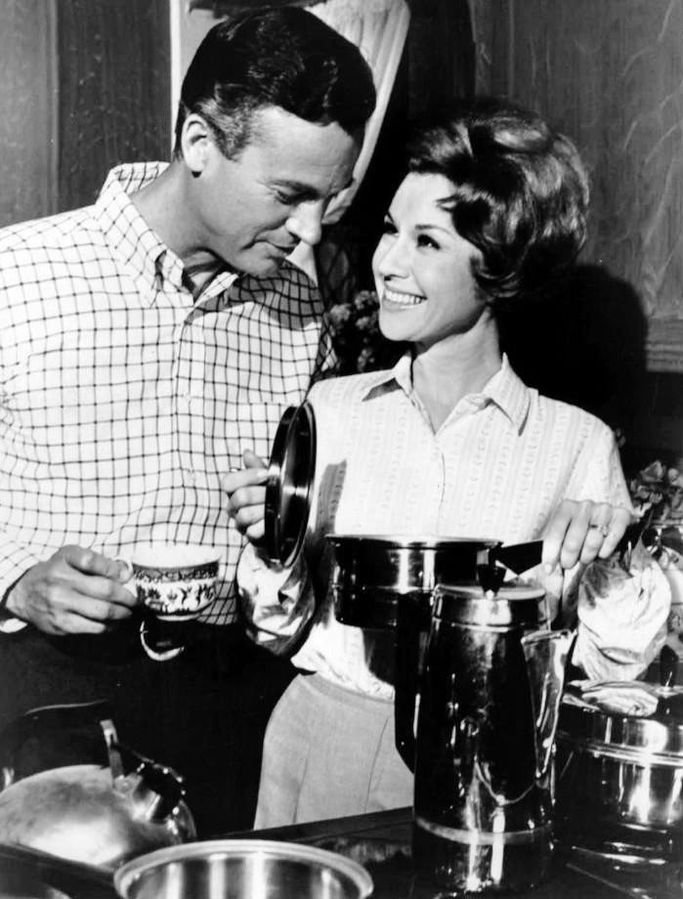 Crowley landed her own TV series in 1965 with the comedy Please Don't Eat the Daisies (1965-1967), based on the movie with Doris Day and David Niven. She played mother Joan Nash, and actor Mark Miller played her husband Jim Nash.
(Mark Miller & Pat Crowley 1966 Please Don't Eat the Daisies Photo: NBC Television | Wikimedia Commons / Public Domain)
Her films from the 1960's included the unsold pilot TV movie The Two of Us (1966) with child actor Barry Livingston (My Three Sons).
The 1970's were busier than ever for Pat Crowley, with more episodic television appearances and several made-for-television movies.
Her episodic television work saw her appearing on:

A frequent co-star for Pat Crowley during the 1970's was Lloyd Bridges. In addition to having both appeared in the TV movie Cop on the Beat (1975) with Dean Stockwell, Crowley and Bridges were both in the same episode of Police Story and in the TV movie The Force of Evil (1977) with Eve Plumb (The Brady Bunch). Pat Crowley was also regular as Georgia Cameron on Lloyd Bridges' TV series Joe Forrester (1975-1976).
On her 4 appearances on Police Story between 1974-1976, as well as co-starring with Lloyd Bridges and Jim Backus, Pat Crowley was in episodes that included Tim Matheson, Mary Ann Mobley, Michael Callan, Dean Stockwell, Don Stroud, and Peter Mark Richman.
Baby boomer Walt Disney fans may remember Pat Crowley was in the two-part movies Return of the Big Cat (1974) and Menace on the Mountain (1970), with Richard Anderson and Jodie Foster. She guest-starred on 2 episodes of popular baby boomer series Fantasy Island, including appearing in the second pilot movie, Return to Fantasy Island (1978) with Adrienne Barbeau, Joseph Campanella, George Chakiris, George Maharis, France Nuyen, and Karen Valentine.
Pat Crowley first began appearing as a guest-star on The Love Boat starring Gavin MacLeod (Captain Merrill Stubing), Bernie Kopell, Fred Grandy, Ted Lange, and Lauren Tewes in 1978; By 1982 she had been on The Love Boat 3 times, in episodes that included Marcia Strassman, and Marion Ross, who had made her film debut with Pat Crowley approximately 30 years earlier in the movie Forever Female (1953). Flash forward to 1998, and 15+ years later, a now senior citizen Pat Crowley guest-starred as Lily Stubing on an episode of Love Boat: The Next Wave, along with most of the cast from the original series – Gavin MacLeod, Bernie Kopell, Ted Lange, and Lauren Tewes – as well as Joan Severance and Phil Morris.
By the end of the 1970's, Pat Crowley and Ed Hookstratten were divorced (circa 1977) after 20 years of marriage. Ed Hookstratten remarried and was an 83-year-old octogenarian when he died age 83 in Jan 2014 from congestive heart failure.  
During the 1980's and her 50+ years (beginning in 1983), Pat Crowley's film appearances were confined to television screens. She was a familiar face in the TV movie Police Story: Confessions of a Lady Cop (1980) starring Karen Black, Don Murray, Frank Sinatra, Jr., and A. Martinez, and on episodes of Hawaii Five-O and other popular series such as :
Pat Crowley also guest-starred on episodes of some some lesser-known TV series, with bigger-name actors like Debbie Reynolds in Aloha Paradise (1981); Mike Connors in Today's F.B.I. (1981); Anthony Franciosa and Stuart Whitman in Finder of Lost Loves (1985); and Hal Linden in Blacke's Magic (1986). 
On the prime-time soap opera Falcon Crest starring Jane Wyman, Robert Foxworth, Lorenzo Lamas, William R. Moses, Ana Alicia, Susan Sullivan, and Cliff Robertson, Pat Crowley guest-starred twice in 1984 as Dr. Lillian Heller.
Pat Crowley had a recurring role as Emily Fallmont on Dynasty (1985), starring John Forsythe (her co-star in a 1957 Schlitz Playhouse episode 28 years earlier), Linda Evans, Gordon Thomson, Michael Nader, Heather Locklear, Ted McGinley, Diahann Carroll, and Joan Collins. She debuted the role of Rebecca Whitmore as a regular cast member on the short-lived daytime soap opera Generations (1989)
Pat Crowley was 53 when she married 36-year-old producer and write Andy Friendly in April 1986. Her guest-starring appearances on television series during the 1990's was not as frequent as it had been during earlier decades. She could be seen on episodes of Empty Nest (1990) and many other prime-time TV series. In 1996, Crowley guest-starred on night-time soap opera Melrose Place, with a cast that included actress Laura Leighton. The next year, Crowley had a recurring role as Audrey Cutler on 3 episodes of Beverly Hills, 90210 (1997-1998), and Laura Leighton appeared in an episode with her.
As her 50+ years came to an end in 1997, Pat Crowley was kept busy on the daytime soap operas General Hospital, and it's spin-off series Port Charles, appearing as character Mary Scanlon Collins.
Since becoming a senior citizen in 1998, Pat Crowley's appearances onscreen have been drastically reduced, although she did not completely retire. She was on Friends in 1998, playing Rachel's (Jennifer Aniston) boyfriend's Joshua Burgin's (Tate Donovan) mother. In the star-studded baseball TV movie 61* (2001) starring Barry Pepper (Roger Maris), Thomas Jane (Mickey Mantle), Anthony Michael Hall ( Whitey Ford), Richard Masur, Michael Nouri (Joe DiMaggio), and Christopher McDonald, Crowley played an aged Pat Maris (Roger Maris' wife). Crowley had worked with Christopher McDonald the previous year, on an episode of Family Law (2000) starring Kathleen Quinlan.
By the spring of 2005, Pat Crowley-Friendly was playing Natalie DeWitt on daytime soap opera The Bold and the Beautiful. In December of that year, an agitated passenger tried to run into the cockpit during a flight to Honolulu that Crowley and her husband Andy Friendly were on; Friendly and 3 other passengers helped the flight crew to restrain him.
In 2014, Pat Crowley was caught by a telephone scam that targets seniors and grandparents.
Most recently, then a 79-year-old septuagenarian senior ciizen, Pat Crowley could be seen in the independent romantic comedy feature film Mont Reve (2012). In a film career that has spanned over 60 years, she has acquired over 125 credits. Pat Crowley and her husband Andy Friendly celebrated their 30th anniversary in 2016.
*Images are public domain or Creative Commons licensed & sourced via Wikimedia Commons, Vimeo, YouTube, or Flickr, unless otherwise noted*