Celebrating Seniors - "The Fonz" turns 70
Actor Henry Winkler was born on October 30, 1945 in New York City to German Jewish immigrant parents.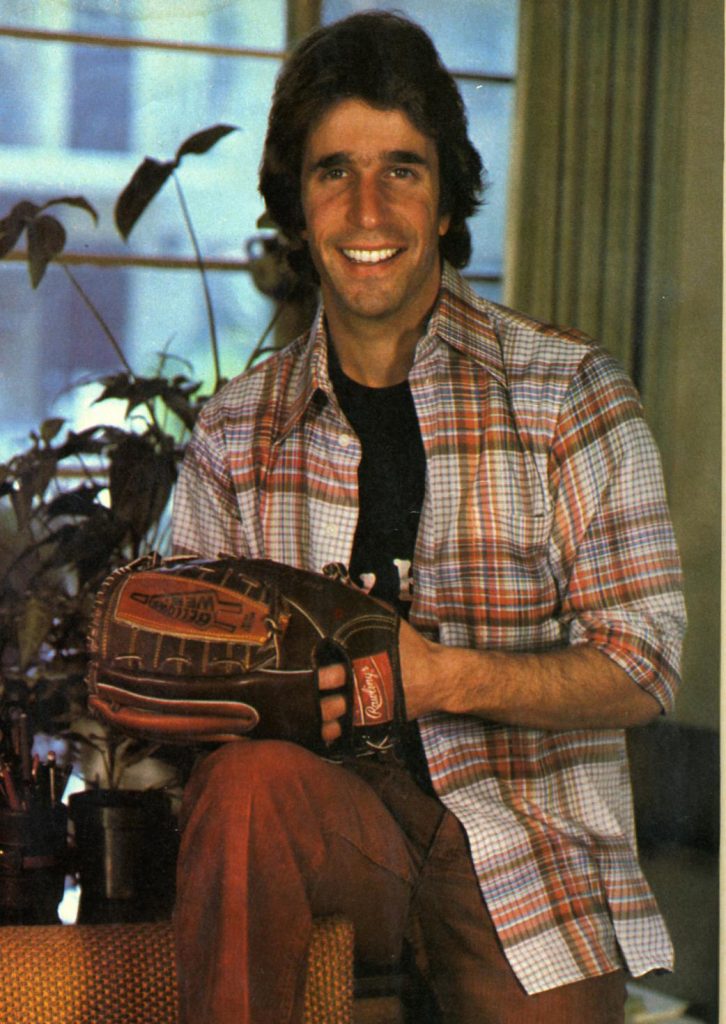 (Henry Winkler 1976 Photo: Jussi | Flickr Some rights reserved)
Winkler has said in interviews that he struggled in school and was bullied; even his parents, and in particular his father, Harry Irving Winkler (a lumber company president who spoke 11 languages), called him "dumb dog" as a nickname. It would not be until he was 31 and his step-son was getting tested for a learning disability that Henry Winkler was finally diagnosed with dyslexia, a learning disability.
Despite his academic struggles, Winkler graduated from Emerson College with a B.A. in 1967, followed by an M.F.A. from Yale (he attended their School of Drama) in 1970.
Learning dialogue and memorizing it was particularly difficult due to his dyslexia, and he would often only be able to memorize the first part of a monologue and then try to "do his best" with the rest.
After graduating from Yale Henry Winkler worked steadily on stage/in the theater, then started scoring television commercial work, small parts on television series (he was an intern on Another World in 1972) and later movies including The Lords of Flatbush (1974). Below, a trailer for The Lords of Flatbush which features the movie's stars Sylvester Stallone, Perry King, and Henry Winkler.
The Happy Days cast in 1975 below from left, with Anson Williams ("Potsie" Weber), Don Most (Ralph Malph), Henry Winkler (Arthur Fonzarelli, The Fonz), and Ron Howard (Richie Cunningham).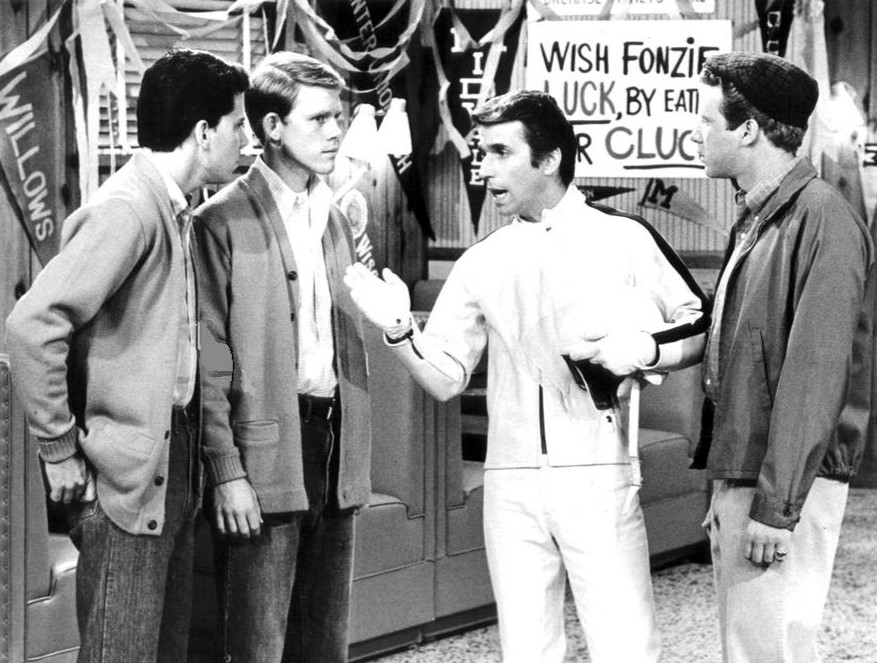 (Happy Days Cast 1975 Photo: Wikimedia Commons / Public Domain)
Henry Winkler's big break – and the role he is likely still most identified with by seniors and baby boomers – is that of "Fonzie" or "The Fonze" on Happy Days (his character's real name was Arthur Herbert Fonzarelli). Happy Days ran for 10 years, from 1974-1984, and Winkler was nominated 3 times for Emmy Awards for Outstanding Lead Actor in a Comedy Series (1976, 1977, & 1978). Winkler has made a number of cameo appearances in character as "Fonzie" for music videos and specials.
Below, Henry Winkler in character as "The Fonz", with Cindy Williams as Shirley Feeney, Ron Howard, and Penny Marshall as Laverne DiFazio. Cindy Williams and Penny Marshall would be spun off into their own 1970s sitcom, Laverne & Shirley.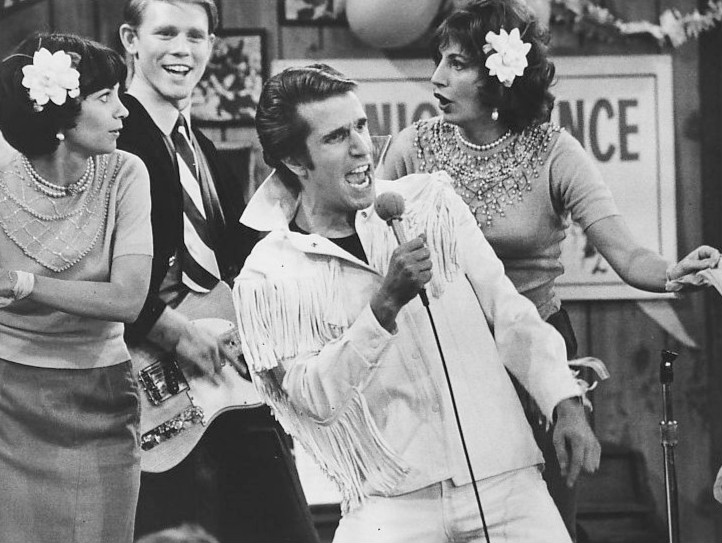 (1976 Happy Days Photo: ABC Television | Wikimedia Commons / Public Domain)
During his run on Happy Days, Henry Winkler got married to Stacey Furstman in 1978. The couple has raised three children – Stacey's son Jed Weitzman (from her first marriage), their daughter Zoe (b. 1980), and son Max (b. 1983).
The movie Heroes (1977) saw Henry Winkler in a co-starring role as a Vietman veteran with PTSD. As the romantic leading man he was paired with actress Sally Field; Actors Harrison Ford and Olivia Cole had supporting roles in Heroes.
The following year, Henry Winkler was once again the leading man in The One and Only, co-starring with Kim Darby (True Grit). Their fellow cast members in The One and Only included William Daniels, Harold Gould, Herve Villechaize, and Ed Begley Jr. 
Winkler also appeared on a CBS television special for children, Henry Winkler Meets William Shakespeare (1977), and appeared in some other big-screen movies, including Night Shift (1982). Henry Winkler's working relationship with Happy Days co-star Ron Howard became a solid off-screen friendship and lasting professional relationship as well; Howard directed Winkler in the feature film Night Shift, and Winkler is Godfather to Ron Howard's daughter Bryce Dallas Howard.
The documentary Who Are the DeBolts? And Where Did They Get Nineteen Kids was produced and narrated by Henry Winkler; it won the Academy Award for Best Feature-Length Documentary in 1978, and a television version won two Emmy Awards in 1979.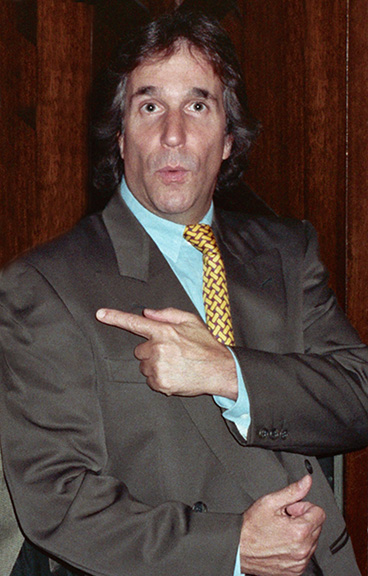 (Henry Winkler 1990 Photo: Alan Light | Flickr Some rights reserved)
Post-Happy Days, during the 1980's and early 1990's Henry Winkler began focusing on directing and producing. He produced television series (MacGyver), made-for-television movies (Scandal Sheet, 1985), and game shows (Hollywood Squares 2002-2004).
He also directed the big-screen movies Memories of Me (1988) and Cop and a Half (1993). By the early 1990's Henry Winkler had also made a return to acting in the movies and on television.
In his 50+ years, Henry Winkler appeared briefly in the hit movie Scream (1996) as a high school principal. He's been in 4 Adam Sandler comedies – The Waterboy (1998) as a college football coach, Little Nicky (2000) as himself, Click (2006) as Sandler's father, and You Don't Mess With the Zohan (2008) as himself.
A recurring role on the television comedy Arrested Development (2002 -2006 season) as lawyer Barry Zukerkorn, saw Henry Winkler playing father to his real-life son Max Winkler (playing Barry's son).
Henry Winkler has worked steadily since then, guest-starring in other television series including The Bob Newhart Show, The Drew Carey Show, The Practice, The Simpsons, Crossing Jordan, and many others.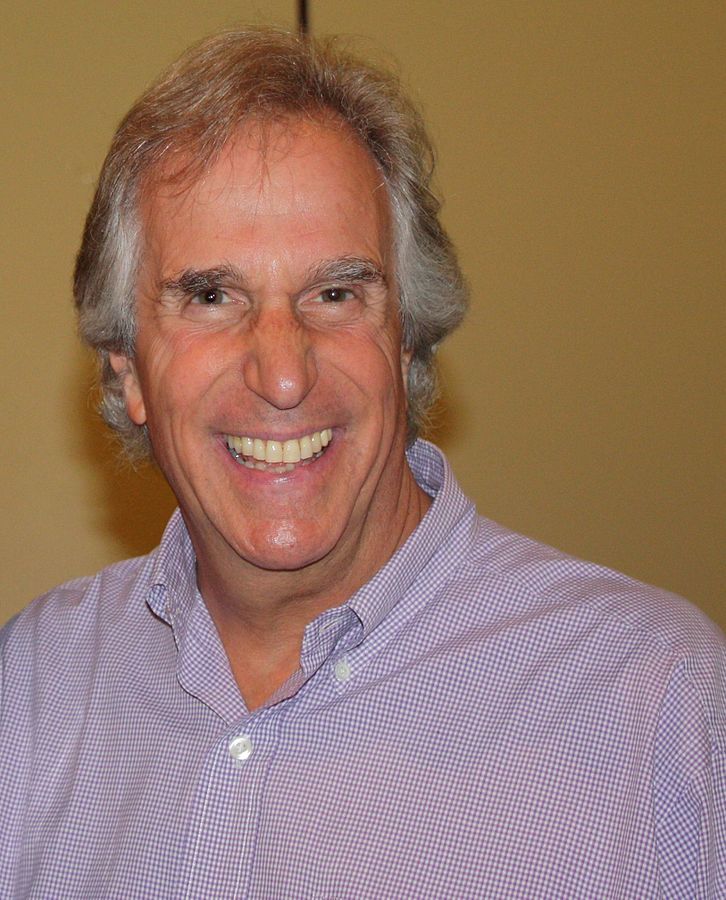 (Henry Winkler 2008 Photo: Mark Naudi | Wikimedia CC 3.0)
Henry Winkler was co-starring in 8 Simple Rules (for Dating My Teenage Daughter) in 2003 with close friend John Ritter (at Ritter's request), when Ritter died unexpectedly. He has said he was devastated by John Ritter's death. 
Winkler turned his creative talents and personal experience growing up with dyslexia, to writing children's books in 2003. Now in his senior years, he's written over 16 books about a dyslexic 4th grader, Hank Zipner, and starred in the Children's BBC television series adaptation Hank Zipner (2014) as teacher Mr. Rock.
Winkler has appeared in various Peter Pan-based pantomimes in Britain (2006-2013), and has been recognized there for his work to promote literacy and help children with dyslexia and special needs. He was appointed an Honorary Officer of the Order of the British Empire (OBE) in 2011 and named as a United Kingdom Top 10 Literacy Heroes (December 2013), below.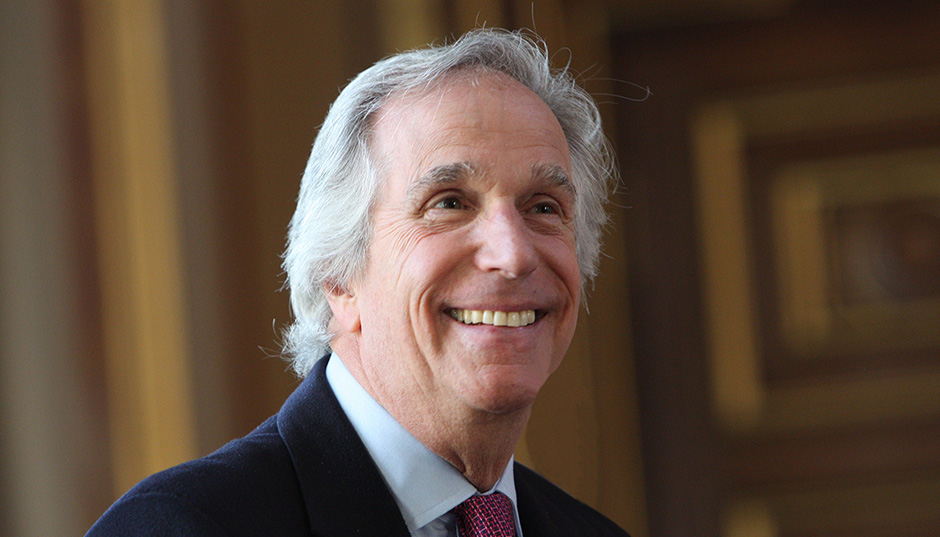 (Henry Winkler 2013 Photo: Foreign & Commonwealth Office | Flickr Some rights reserved)
As a senior citizen, Henry Winkler has continued to act on television and has appeared most recently in regular or recurring roles in the comedies Parks and Recreation as Dr. Saperstein, on Royal Pains as senior and father Eddy Lawson, and in Hank Zipzer as Mr. Rock.
Over the years Henry Winkler seems to have gained a well-deserved reputation as one of the nicest people in the industry. He and wife Stacey are together (37 years +); step-son Jed works in the entertainment industry, daughter Zoe (who also struggled with learning disabilities as a child) became a teacher, and son Max is an actor, director, producer and writer.