Golden Earring's Twilight Zone
The Dutch rock band that took Europe and America by storm in the 1970s with their hit songs Radar Love and The Twilight Zone, are still playing their music and touring in the Netherlands and Europe.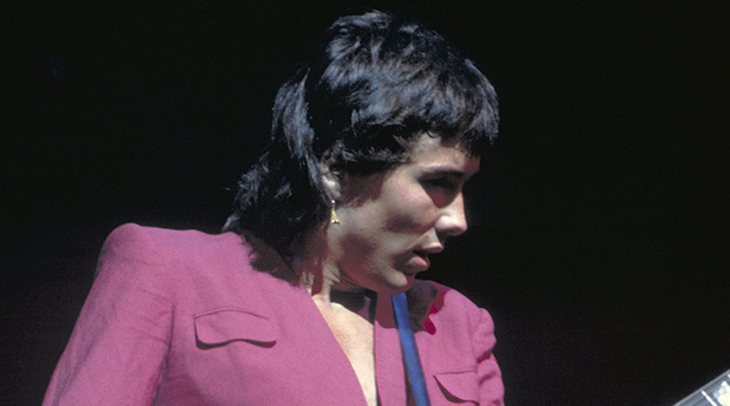 (George Kooymans 1974 Photo: Jim Summaria)
Although George Kooymans, the guitarist and sometimes vocalist for rock & roll band Golden Earring, has released a couple of solo albums, he's best known for his work with the band – including writing their 1982 Top Ten Hit, Twilight Zone. 
Kooymans was born March 11, 1948 and Golden Earring got it's start 13 years later in 1961 in The Hague, Netherlands when George and his bass and keyboard playing neighbour Marinus (Rinus) Gerritson (age 15) got together.
Over the 50+ years since then while they've been performing and recording together, Golden Earring has produced 30 albums.
In 1968 Golden Earring recorded Just a Little Bit of Peace in My Heart, written by George Kooymans about his breakup with girlfriend Melanie (Milly) Gerritsen (Rinus Gerritsen's sister).
Below, Golden Earring performing Just a Little Bit of Peace in My Heart.
Melanie Gerritsen and George Kooymans got back together, were married in October 1969. They've lived in Rijkevorsel, Belgium since the mid 1970's. Their son Kid Kooymans was born in 1982, followed by daughter Cassy Kooymans in 1986. Melanie and George Kooymans have been married for over 45 years.
Rinus Gerritsen has also been married since the mid 1970's (to wife Gigi) and lives in The Hague; they have two daughters – Naomi and Raven.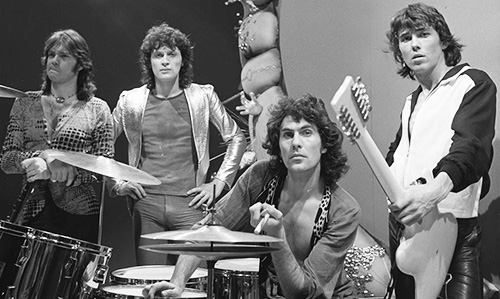 (Golden Earring 1974 Toppop Photo: Beeld En Geluid Wiki)
Lead singer Barry Hay was born in India and spoke English fluently when he joined Golden Earring in 1968. Drummer Cesar Zuiderwijk became a band member in 1970, and that Golden Earring lineup is still the same in 2019, almost 50 years later.
Golden Earring hit their peak in the 70's & 80's, beginning with the hard rock classic single Radar Love (1973). Radar Love was written by vocalists George Kooymans and Barry Hay, and became a top 10 hit in the U.S. and around the world.
While Golden Earring toured in 1973/1974 during the heyday of their hit single Radar Love, Aerosmith and Kiss were their opening acts.
Below, Golden Earring with guitarists George Kooymans and Rinus Gerritsen, lead singer Barry Hay and drummer Cesar Zuiderwijk, performing Radar Love live in the 1970s.
Golden Earring's next big hit single came almost 10 years later, with Twilight Zone (1982). George Kooymans has said he was inspired to write Twilight Zone after reading The Bourne Identity (1980) spy thriller by Robert Ludlum. The Twilight Zone (1959-1964) TV series created by Rod Serling hasn't been mentioned as an influence, although the series was so popular it became a part of pop culture lingo…and Kooymans would have been in his teens when it was on television.
Below, audio of Golden Earring performing Twilight Zone.
When the Lady Smiles (1984), written by George Kooymans and Barry Hay, cracked the Top 100 in the U.S. and was a #3 hit in Canada and #1 in the Netherlands for Golden Earring. 
After, that hit, Golden Earring disappeared into the twilight zone as far as North American fans were concerned, with no concerts outside of Europe since 1984.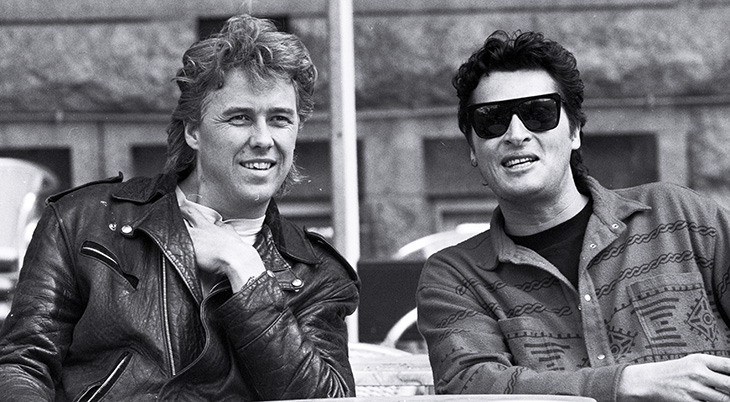 (George Kooymans & Barry Hay of Golden Earring 1989 Photo: Rob Bogaerts / Nationaal Archief)
Golden Earring has continued to record albums and perform live for their fans in the Netherlands and Europe – up to 200 shows a year. North American baby boomer fans are missing out on a group which apparently (we'll have to take the word of the Dutch on this!) still puts on a great live show today.
Below, Dutch recording artists George Baker (George Baker Selection hits: Paloma Blanca & Little Green Bag), and Golden Earring's Cesar Zuiderwijk and George Kooymans together for the Netherlands 40 Years Top 40.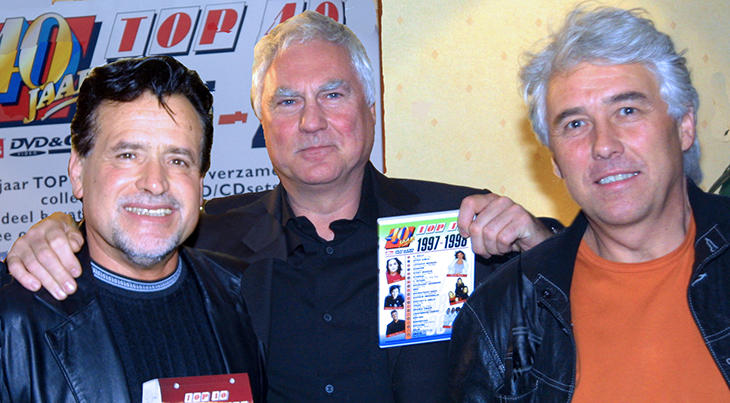 (George Baker, Cesar Zuiderwijk, & George Kooymans 2005 Photo: Vogelwacht)
Nu.nl reported that George Kooymans won the Sena European Guitar Award in 2013, and as the previous winner, presented the same award to Slash (of Guns n' Roses fame) in 2014.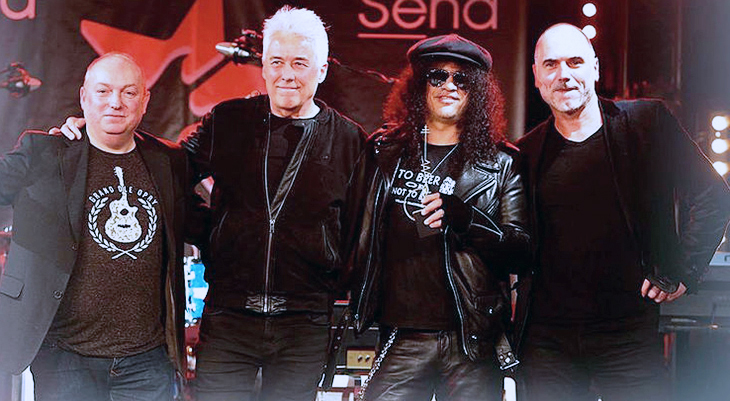 (Jean-Paul Heck, George Kooymans, Slash, & Leo Blokhuis 2014 Photo: Pekw18)
If you'd like to see George Kooymans and Golden Earring live in concert in their twilight years (or yours), check out their website, goldenearring.nl
Note: This article was first published in 2015 under the title Celebrating Seniors – Golden Earring. It has been updated with new & additional content.
*Images are public domain or Creative Commons licensed & sourced via Wikimedia Commons, Vimeo, YouTube, or Flickr, unless otherwise noted*