TV Trivia: The Twilight Zone
Q1: What was the name of The Twilight Zone's series creator and principal script writer?
Q2: Four directors (Steven Spielberg, John Landis, Joe Dante, and George Miller) each directed segments for the 1983 feature film based on The Twilight Zone series. What happened on the set of the Landis-directed segment that caused John Landis to be charged with involuntary manslaughter?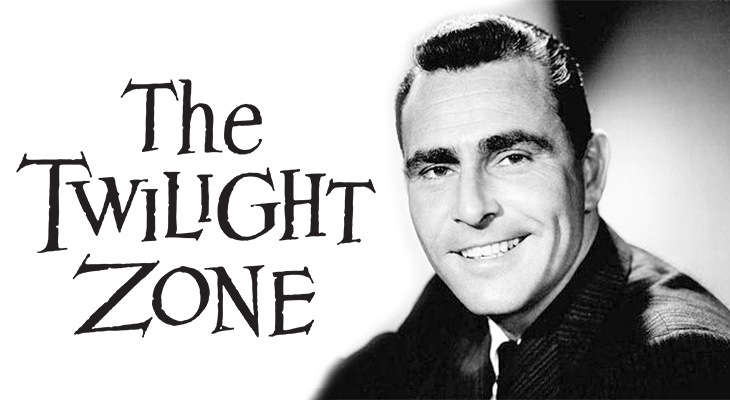 The original and popular The Twilight Zone sci-fi television show debuted in 1959 (until 1964). The series won 2 Primetime Emmy Awards for Outstanding Writing Achievement in Drama (1960 & 1961), and was nominated again in 1962 in the same category.
Each television episode of The Twilight Zone opened and closed with a narrator, and had a twist ending. Below, the series creator introduces The Twilight Zone before it premieres.
By the very nature of it being an anthology series, there was no regular series stars on The Twilight Zone (other than the narrator).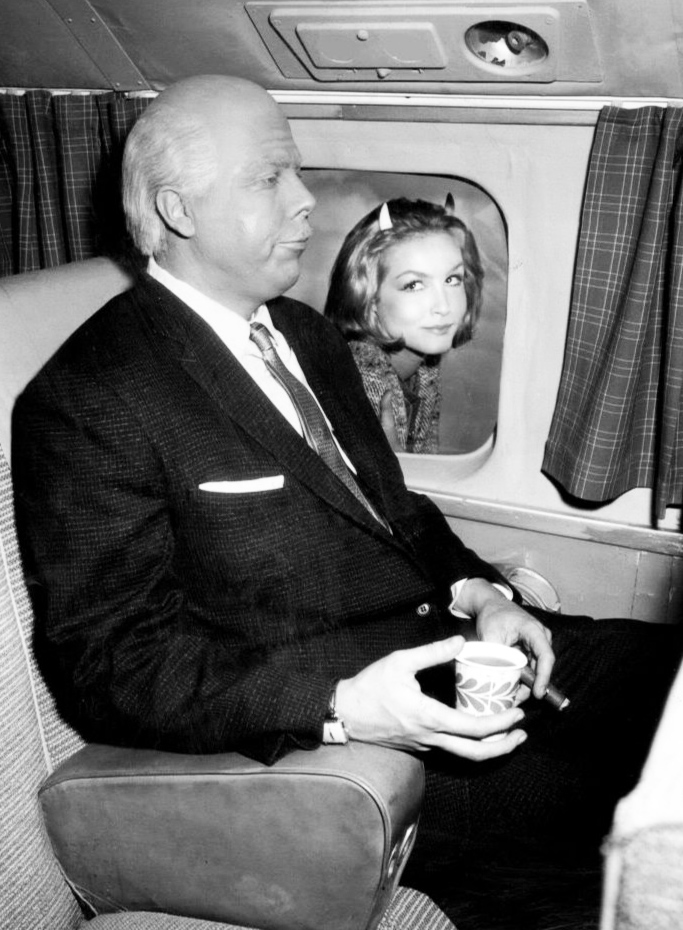 (Julie Newmar & Albert Salmi 1963 The Twilight Zone "Of Late I Think of Cliffordsville" Photo: CBS Television)
However, some character actors did appear in more than one episode:
Agnes Moorehead, Dana Andrews, Joan Blondell, Art Carney, William Demarest, Buster Keaton, Ida Lupino, and Albert Salmi.
In addition to "Of Late I Think of Cliffordsville" with John Anderson and Julie Newmar, Albert Salmi also guest-starred in the episodes "Execution" (1960) with Russell Johnson, and "A Quality of Mercy" with Dean Stockwell and Leonard Nimoy.
Among the many younger actors who guest starred on The Twilight Zone episodes near the beginning of their careers: 
Robert Redford, Ann Francis, Bill Bixby, Lloyd Bochner, Carol Burnett, Robert Duvall, Donna Douglas, Ron Howard, Jack Klugman, Martin Landau, Elizabeth Montgomery, William Shatner, Jack Warden, and Cloris Leachman, to name a few.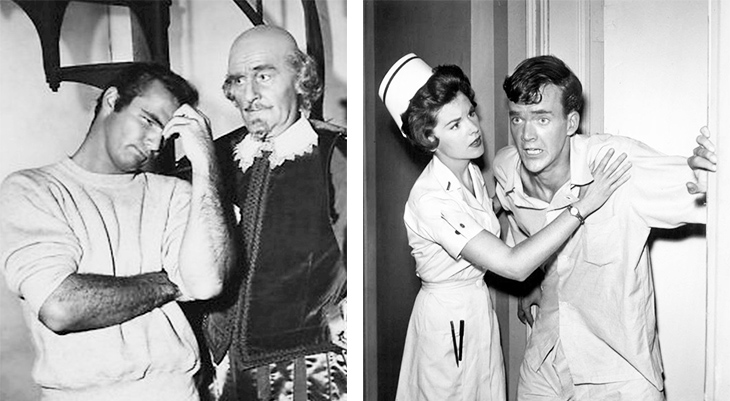 (Burt Reynolds & John Williams 1960 | Sue Randall & Jim Hutton 1959 The Twilight Zone Photos: CBS Television Network)
A young Burt Reynolds appeared with character actor John Williams in the 1960 Twilight Zone episode "The Bard", while Rod Taylor, Charles Aidman, Sue Randall and Jim Hutton were guest stars in the 1959 episode "And When the Sky Was Opened". Also in "The Bard" episode but not pictured above, were fellow guest stars John McGiver, and Jack Weston as a writer who calls upon William Shakespeare to help him write successful TV screenplays.
Actress Sue Randall later appeared in 2 more Twilight Zone episodes: Elegy (1960) starring Cecil Kellaway and Jeff Morrow, and From Agnes – with Love (1964), which also guest-starred Wally Cox and Raymond Bailey.
(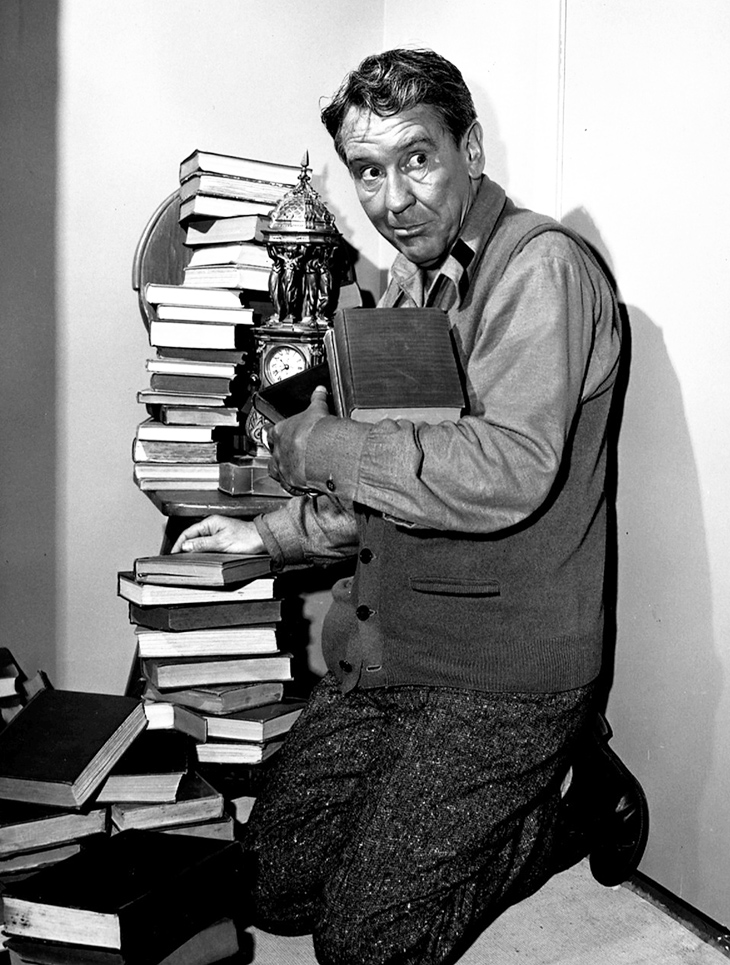 Burgess Meredith 1961 The Twilight Zone "The Obsolete Man" Photo: CBS Television)
In "The Obsolete Man" episode of The Twilight Zone, Burgess Meredith starred as a man living in a totalitarian society who is sentenced to death when librarians are declared obsolete. 
Character actor Burgess Meredith appeared in 4 episodes of The Twilight Zone – Time Enough at Last (1959), The Obsolete Man (1961), Mr. Dingle, The Strong (1961), and Printer's Devil (1963). His co-stars in the Printer's Devil episode included Robert Sterling, Pat Crowley, and Ray Teal.
Numerous other veteran actors also appeared in guest-starring roles on The Twilight Zone, including Dane Clark, Buddy Ebsen, Dean Jagger, Joan Blondell, Ida Lupino, and Buster Keaton. 
The Twilight Zone original series inspired 2 later television show revivals (1985-1989; 2002-2003), a feature film (1983), a radio series, a made for television movie, stage productions, and comic books as well as board, video and pinball games.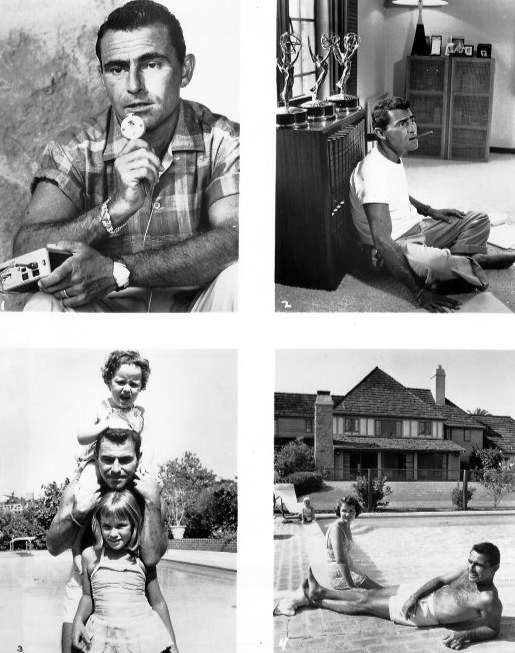 (Rod Serling 1959 The Twilight Zone Promo Photos: CBS Television)
A1: Rod Serling (born December 25, 1924 – died June 28, 1975) was a WWII hero, awarded the Purple Heart, The Bronze Star & The Philippine Liberation medals for his combat experiences in the Philippines. Post-war, in 1946 he began college (courtesy of the G.I. Bill and disability payments due to his war injuries), and got involved in theatre and radio, writing and directing programs.
By 1950 he was a professional writer, submitting scripts to radio and then television stations. In a 1959 CBS promo montage for the premier of The Twilight Zone, Rod Serling is shown dictating at work, and relaxing at home with his daughters and wife Carol.
 A2: Tragically, veteran Hollywood actor Vic Morrow was decapitated by a falling helicopter while shooting a Viet Nam air raid scene for The Twilight Zone movie; two child actors were also killed in the accident. Pyrotechnic fireballs engulfed the helicopter and forced the actual Viet Nam veteran piloting it, to bring the helicopter down into a river where the actors were wading. The helicopter skidded and crushed 6-year-old Renee Chen, then fell over and the main blade sliced through Morrow and 7-year-old Myca Dinh Le. John Landis and his co-defendants were not convicted of any serious charges, and Landis went on to direct other feature films and television episodes.
Note: This was first published in 2015. It has been updated with new & additional content.
*Images are public domain or Creative Commons licensed & sourced via Wikimedia Commons, Vimeo, YouTube, or Flickr, unless otherwise noted*