Vintage 1900s-1920s Fashion & Food
It's always fun to poke fun at what was in style 100+ years ago…until you realize 100 years from now, it's YOUR preferences that may be fodder for the humor mill. Here's a quick look at some of the people, fashions, and popular foods of the day – complete with vintage recipes – from the early 1900s through 1921.
Consider also that cooking methods, utensils, appliances, and recipes have come a loooong way in the past few hundred years. Stewing or boiling meat, fish, and poultry, was a preferred method for home cooks, who were limited to a great extent by the tools they had to work with.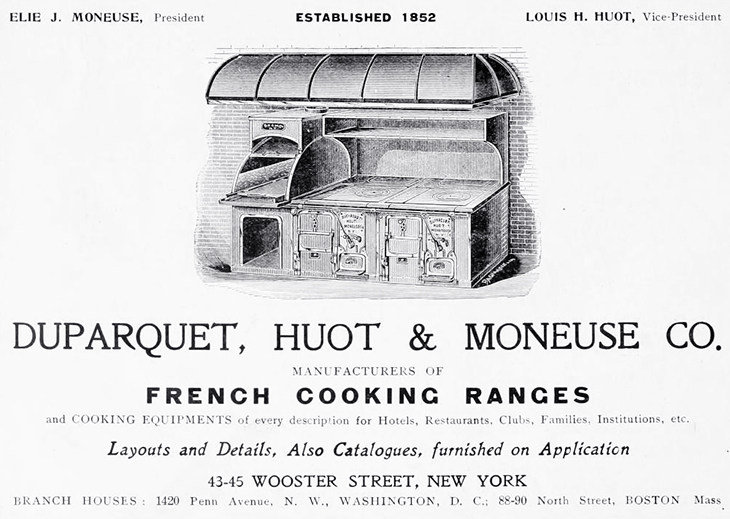 (Duparquet, Huot & Moneuse Co. Ad 1910 The Chef Magazine)
The culinary masterpieces in this article might have been cooked on a stove that looked something like this antique kitchen range.
Warning – the recipes below are NOT for the faint of heart; they may make you laugh, or cry! Keep in mind that back in the day (not THAT long ago for some of us), making gravy out of turkey giblets was the norm instead of unheard of. My own adult children seem to think that gravy is something goes directly from a can into a pot to heat; and they won't touch the meat loaf my husband and I love. 
Cock-a-Doodle Doo Food & Fashion
Fashion is fickle, we all know this. Silent film actress Priscilla Dean's rooster feather hat below, was considered the height of fashion back in 1921.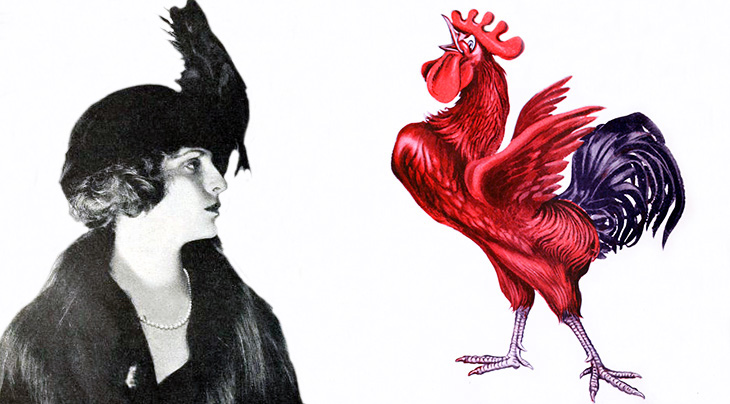 (Silent Film Star Priscilla Dean Wears a Rooster Feather Hat in 1921 | Rooster Illustration)
Tartelettes of Rooster Kidneys (a la Mont Rouge) Recipe
by Balard, as in The Chef Magazine, February 1910
Poach the kidneys and allow to drain on a dry cloth. 
Cover each tartlette oval with a puree of mushroom.
Lay kidneys on each tartlette, and to each add a cock's comb and a slice of truffle.
Moisten the kidneys on each tartlette with a sauce supreme, cover same with grate cheese, place in hot oven to brown (to become gratiner). 
Serve on a napkin.
The Chef Magazine's editoral page touted it as containing "recipes from the most distinguished Chefs in America, with menus for all occasions, also the latest menus from Paris."
Chef Justin Balard
Old New York's Cafe Martin enjoyed the expertise of Justin Balard, "The Famous Chef".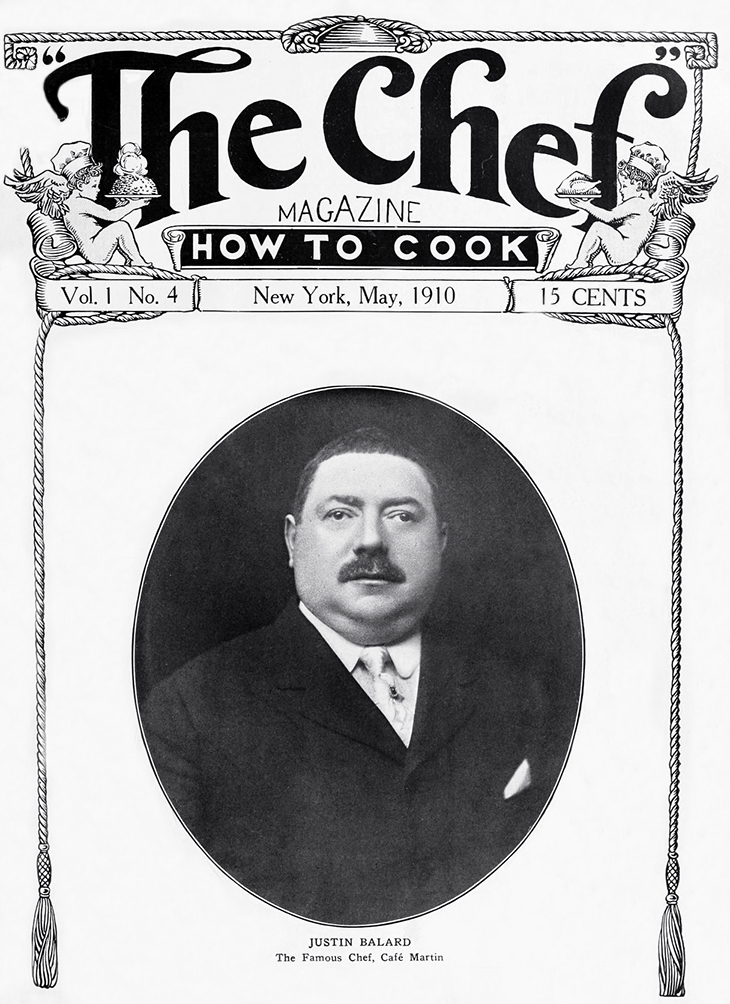 (Chef Justin Balard, The Chef Magazine, May 1910)
Balard's biography in the May 1910 edition of The Chef Magazine included these salient points:
"Recognized by his colleagues in the profession as being one of the foremost chefs in America. Born in France, where he finished his apprenticeship, he was employed prior to coming to this country at the Chateau Madrid, the Grand Hotel, at Bignons, and Bregants in Paris. 
He came to New York in November, 1887, and was here but a short time when that Prince of "Restaurateurs", Jean B. Martin, with his usual sagacity, again seized the opportunity to please his public by engaging Balard as his chef." 
Balard was chef of Cafe Martin beginning in April 1888 when it existed at University Place. The restaurant moved to Fifth Avenue and Twenty-sixth Street, where it stood in 1910 when Balard's creative Tartelettes of Rooster Kidneys recipes was printed in The Chef Magazine.
Going Squirrelly
Squirrels were a fashion fur back in 1921. Below left, silent film star Carmel Myers' seal skin fur coat is accented with a wide gray squirrel collar and cuffs, while model-actress Miss Dupont's full length fur coat is made of gray squirrel.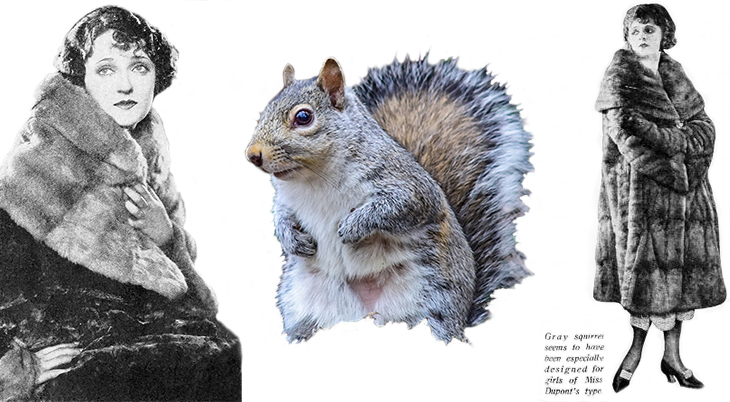 (Carmel Myers 1921 | Squirrel by Jairo Alzate via Unsplash | Miss Dupont 1921)
Squirrel popularity didn't stop with fashion furs…
Brunswick Stew Recipe
as in The Chef Magazine, April 1910
Cut in small pieces about five pounds of gray squirrels, one half pound of fat salt pork into dices, brown well together.
Remove the fat, add two tablespoonsful of flour, mix well and let brown a little while in the oven.
Moisten with veal stock and let boil a few minutes.
Add six sliced raw potatoes, six sliced raw tomatoes, two sliced raw Spanish onions, two chopped green peppers.
Season to taste and let simmer for a half hour., then add one pint of shelled lima beans, six raw corn cut off the ears, and let simmer again for a half hour.
Remove all the fat before serving.
N.B. – If you cannot get the squirrels, use hare or chicken in place
Note: From perusing the old recipe books, it seems that during the 19th and early 20th centuries, squirrel, hare, rabbits, and frogs legs, were common menu items. I came across more many recipes for squirrel soup (or pie or stew), and hare was often recommended as a substitution for chicken, beef, or other meats. Venison and wild game birds (pigeons, duck, grouse, partridge, etc.) were  served in many households. 
White House Wonders
The White House Cook Book
The White House Cook Book by Ziemann and Gillette was first published in 1887, then re-published many more times in subsequent years.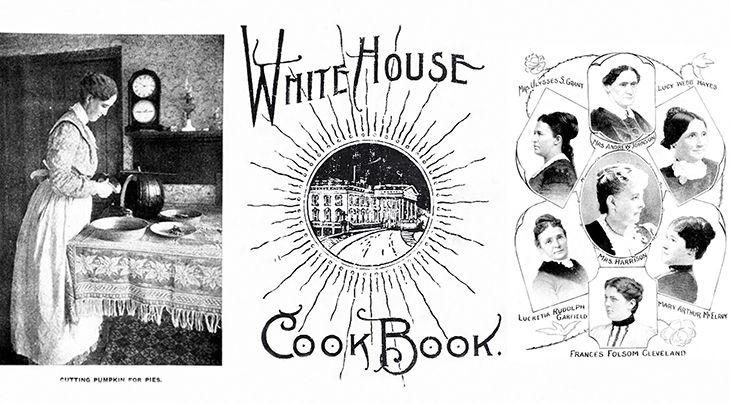 (1912 White House Cook Book Illustration, Cover & U.S. First Ladies)
Democratic President Woodrow Wilson (m. Ellen Axson Wilson) defeated incumbent Republican President William Howard Taft (m. Helen Herron Taft) and former President Theodore Roosevelt (m. Edith Carow Roosevelt) in the 1912 election.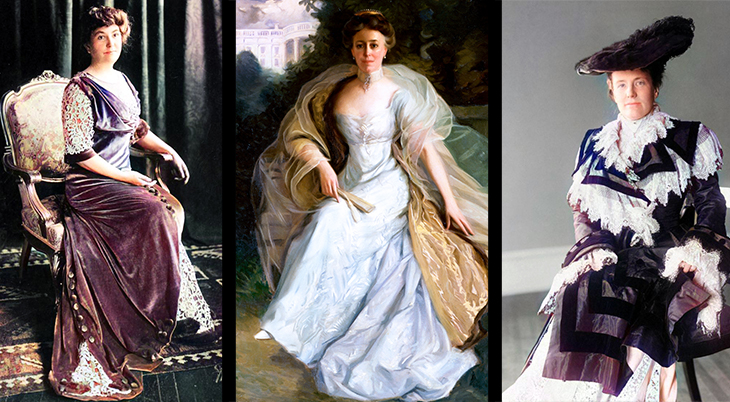 (Ellen Wilson 1913: Marceau [colorized] | Helen Taft 1910: Karl B. A. Kronstrand | Edith Roosevelt c. 1903: Frances B. Johnston [colorized)
The Philadelphia Pepper Pot Soup recipe below was taken from the 1912 edition, which has pictures of U.S. First Ladies and different rooms of the White House scattered throughout the book. Implied although not spelled out, was that the First Ladies of the time had an active hand in determining the foods prepared for their discerning husbands, family, and guests.
Philadelphia Pepper Pot Soup
As in White House Cook Book (1912), by Hugo Ziemann and Mrs. F.L. Gillette
Put two pounds of tripe (tripe is the stomach lining of cattle, sheep, or pigs) and four calves' feet into the soup-pot and cover them with cold water.
Add a red pepper, and boil closely until the calves' feet are boiled very tender.
Take out the meat, skim the liquid, stir it, cut the trip into small pieces, and put it back into the liquid; if there is not enough liquid, add boiling water.
Add half a teaspoonful of sweet marjoram, sweet basil, and thyme, two sliced onions, sliced potatoes, salt.
When the vegetables have boiled until almost tender, add a piece of butter rolled in flour, drop in some egg balls, and boil fifteen minutes more. 
Take up and serve hot.
A more recent, revised & updated centennial edition titled White House Cook Book (1996) by Tami Ross & Patti B. Geil, F. L. Gillette, and Hugo Ziemann, likely has quite different recipes.
Stewed Terrapin With Cream Recipe
as in Twentieth Century Cook Book (1905), by Maude C. Cook
One-half pint thick cream
6 eggs
Half pound of butter
Quarter cupful sherry or madeira
Quarter teaspoonful mace
Salt and cayenne to taste
Directions
Put terrapins (water turtles) alive into boiling water and boil 10 or 15 minutes, or until you can pull off the outer skin and toe nails.
Now put them back in fresh boiling water, add a heaping teaspoonful of salt and boil until the shells part easily and the flesh on the legs is tender. 
Take out, remove under shells until cool enough to handle. Then take them out of the upper shells carefully, remove sandbag and intestines, the gall sacks, which are imbedded in one love of the liver. In removing gall sack do not break, as it would spoil the terrapin.
Break terrapin into small pieces. 
Now add liver, broken up, and all eggs found in terrapin, put into stew pan with the juice or liquor it has given out while being cut.
Roll the butter in flour, add to terrapin and stand on moderate fire until heated.
Boil the 6 eggs for 15 minutes, mash yolks to smooth paste into 2 tablespoonfuls of the wine. Then add this, the cream and seasoning to the terrapin, let it boil up once, take from the fire, add wine and serve.
It must never be boiled after adding the wine. Cooks do not use the intestines nowadays; they are not considered fit to eat. Lemon juice can be used instead of wine.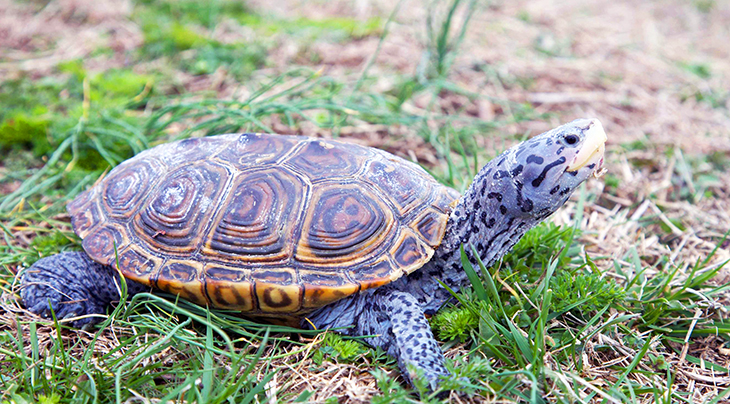 (Diamondback Terrapin Turtle: Ryan Hagerty)
Note: I already knew from reading Regency romances for decades, that turtle soup was considered de rigeur to serve at fancy dinner parties in England from the 1750s through the Regency era. I didn't know what went into making it, or that turtle soup was a particular favorite of U.S. President William Howard Taft (President from 1909-1913). The Twentieth Century Cook Book written by Maude C. Cooke and published in 1905, contains at least 4 different turtle recipes – stewed, baked, or in a soup. Turtles eventually became over-fished in both the United States and England, and turtle dishes became less popular, gradually falling almost completely out of general favor (for which I am thankful).
Thus ends my foray into old recipes. At this point, my stomach can only handle the thought of dry toast!  You may also want to check out Planning a Christmas Holiday Menu – Hits and Misses for some tips.