Planning a Christmas Holiday Menu? Hits and Misses
North American baby boomers and seniors looking forward to a holiday meal with friends and family over the next couple of weeks may find some differences between the dinners they remember Mom and Grandma preparing when they were a child, and what their own children and grandchildren want to eat today.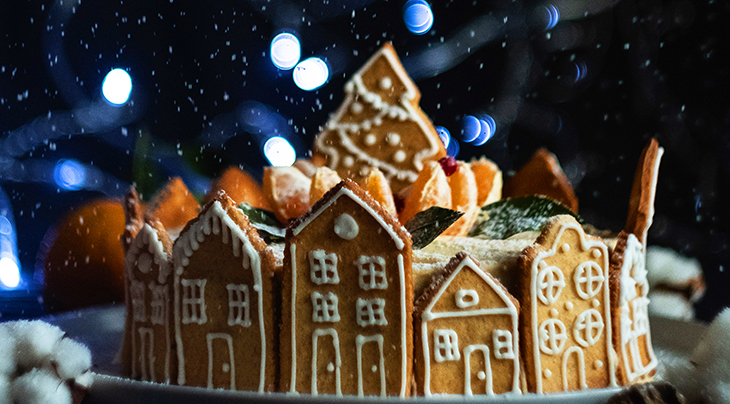 (Gingerbread Cookies/Houses Photo: Dilyara Garifullina via Unsplash)
In addition to perennial Canadian & American seasonal favourites like turkey or other roast meats, poultry, or fish – you can expect potatoes, vegetables, breads or rolls, and of course – pie!
But what will be different? Let's compare some of the foods missing or new from our Christmas dinner or other holiday meals in the past – and hopefully, give you a head-start on planning your own holiday menu.
Missing from the Holiday Menu?
Today's kids and young adults are a lot pickier eaters (does every generation say that?) than older adults. If you're a baby boomer in Canada or America, chances are you grew up with parents that had a European heritage and had lived through the depression, and/or food rationing or scarcities during World War II. They had to make a little go a long way, and they had a real sweet tooth.
The menu items below that were favored by seniors and boomers in the 20th century, have almost disappeared off today's Christmas or holiday dinner tables:
Fruitcake – Not popular with today's kids who don't seem to like sweet dried fruits; but some baby boomers and seniors still love it.
Christmas, Plum, or Carrot Puddings – These boiled fruits-and-spices pudding were usually prepared weeks or months in advance and served with a syrupy sauce. Today's parent's don't have time to make it and today's kids find it too sickly sweet – and are suspicious about what's in it.
Molded Jelly Salads – They were the pride of yesterday's meals made by Mom & Grandma, often with fruits or vegetables mixed inside them, but kids (and most grownups) sneer at them today.
Mincemeat Pie or Tarts – You were never sure what went into mincemeat when Mom made it….(a lot of stuff including fruits and  – wait for it – yep, minced meat!). Today's Mom's rarely make it, and even if they do, today's kids won't eat it.
New to the Holiday Menu
With the wave of immigration to North America from Asia, the Middle East, and Africa over the past 30 years, a number of new foods originating from those regions have become popular. Today's young adults are into healthier eating – and a lot of them are vegetarians – so you might well see these dishes on your potluck table:
Quinoa – Tiny superfood whole grains, served hot or perhaps cold in a salad
Couscous – This semolina dish is an alternative to rice or traditional pasta
Hummus – A chick-pea based spread served as an appetizer with pita, breads or crackers 
If you're feeling really creative, start a new family tradition and serve a non-seasonal family favorite with a holiday twist
Perennial Holiday Menu Favourites
You can't go wrong with these yummy Christmas staples: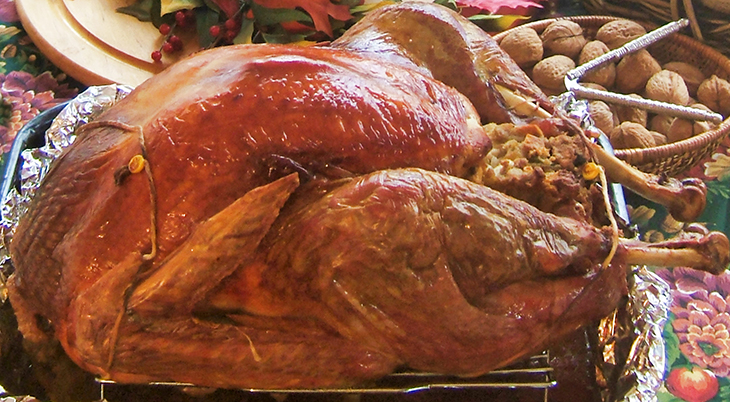 (Christmas Turkey With Stuffing & Walnuts Photo: Christopher Ryan)
Poultry and/or Meat – roast turkey with stuffing and gravy, and/or baked ham with pineapple or glaze
Starches – roast or mashed potatoes, rice, bread / rolls
Condiments – cranberry sauce, pickles (gherkins, sweet mixed, bread & butter), and olives
Vegetables – Corn, carrots, and salads
Pies – apple, pumpkin, cherry – and almost every other kind of pie under the sun – won't go amiss
Christmas Cookies & Cakes – shortbread – plain, with maraschino cherries, or as jam & almond thumbprints; ginger and gingerbread, iced sugar cookies, oatmeal raisin, peanut blossoms (peanut butter cookies with a chocolate kiss or drop), rum balls. For a festive new twist on an old favorite, substitute red & green M&M's for chocolate chipits in recipes that call for chipits.
Snacks – nuts (walnuts, cashews, peanuts and other mixed nuts), festive bits and bolts with added chopped peanuts or walnuts.
Whatever is served at your get-togethers this holiday season, the most important ingredients are the people – friends and family – that you spend time with.
Happy Holidays & Merry Christmas to all
Now that you've planned your menu, it's time to sit down, put your feet up, and enjoy these other festive favorites:
Top Christmas Songs (In Classic Clips)
Top 20 Classic Christmas Movies
I Heard The Bells on Christmas Day (the song and the story behind it)
Top New Year's Eve Movies / Clips
Remaking It's a Wonderful Life
A Vintage Magazine Cover Christmas
Vintage Movie Star Holiday Greetings
Vintage Happy New Year Greetings
The 12 Best Secrets of Christmas
Note: This article was first published in 2015 with the title Traditional Christmas Foods for Baby Boomers and Seniors. It has been updated with new & additional content.