Best Christmas Commercials
These holiday commercials are like mini-movies, full of feel-good moments for all generations. They'll tug at your emotions and fill your heart with peace and joy.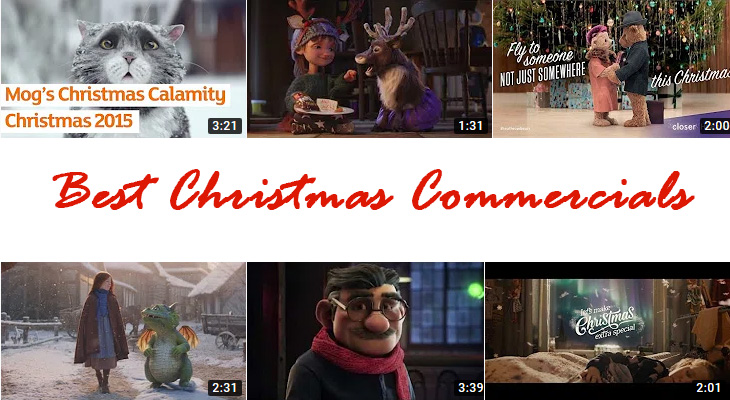 (Christmas Commercials YouTube Video Montage)
What makes these Christmas commercials special are great music, some (or a lot) of animation, and a blend of nostalgia, sentiment, and history.
Heathrow Airport Christmas Bears Commercials
The folks at Heathrow Airport have produced some of the best Christmas advertisements I've seen over the past several years. For this reason I rate their Christmas commercials as #1.
Their 2016 "Coming Home for Christmas" ad featuring an elderly bear couple will make you smile.
2017's Heathrow Bears Christmas TV Advert is just as cute:
And 2018's "Making it Home Makes It Christmas" with the senior bears far from home in the Florida Keys before Christmas, may bring a tear to your eye.
McDonald's & Microsoft Christmas Animated Reindeer Commercials
Tied for second place are McDonald's UK and Microsoft, with their animated Christmas commercials featuring reindeer.
McDonald's UK has had a couple of great Christmas commercials, featuring the cutest animated reindeer we've seen yet. 
This is their 2019 "ReindeerReady" advertisement.
The previous year, the McDonald's UK 2018 Christmas TV commercial was equally amazing:
Sainsbury's Christmas Commercials
British grocery store chain Sainsbury's has come up with some great commercials that emphasize the true spirit of Christmas, often with historical touches and/or animation. 
Their 2013 1914 Christmas advertisement hearkens to the historic Silent Night observed during WWI in the trenches. There's no animation but with it's unique nod to history and peace on earth and goodwill to all, it's deserving of inclusion.
A Silent Night (Christmas 1915) by Celtic Thunder, is included in our Top Christmas Songs in Classic Clips article.
2015 gave us Sainsbury's animated and funny cat in the commercial "Mog's Christmas Calamity".
Sainsbury's 2016 "The Greatest Gift" features great animation, with vocals by James Corden.
In 2019 their "Nicholas the Sweep" commercial set in 1869 will make you remember when getting an orange or lump of coal in your Christmas stocking was a reality.
The Best of the Rest Christmas Commercials
Spain's 2015 Christmas lottery ad "Justino" features an elderly nightwatchman in a mannequin factory celebrating the holidays in an unusual style. 
Chick-fil-A® presents "The Time Shop", rightly billed as a holiday short film vs an advertisement per se.
Hungry for more "Best of" Christmas & Holiday Lists, video clips, and more? 
Top 20 Classic Christmas Movies
Planning a Christmas Holiday Menu: Hits and Misses
Top New Year's Eve Movies & Clips
Remaking It's a Wonderful Life
I Heard the Bells on Christmas Day
Top Christmas Songs in Classic Clips
A Vintage Magazine Cover Christmas
Planning a Christmas Holiday Menu: Hits and Misses
Vintage Movie Star Holiday Greetings