Vintage Movie Star Holiday Greetings
A homage to the movie stars of years gone by! Vintage classic movie actors and silent film stars (photos, portraits, and caricatures) inspired this selection of adapted, shareable Seasons Greetings, Happy Holidays, Merry Christmas, and Happy New Year wishes. 
Bert Lytell, Viola Dana, May Allison, Alice Lake, Ina Claire & Buster Keaton in caricature. These silent film actors and actresses were among the biggest movie stars of 1920, and send their wishes for the holiday season over a hundred years later!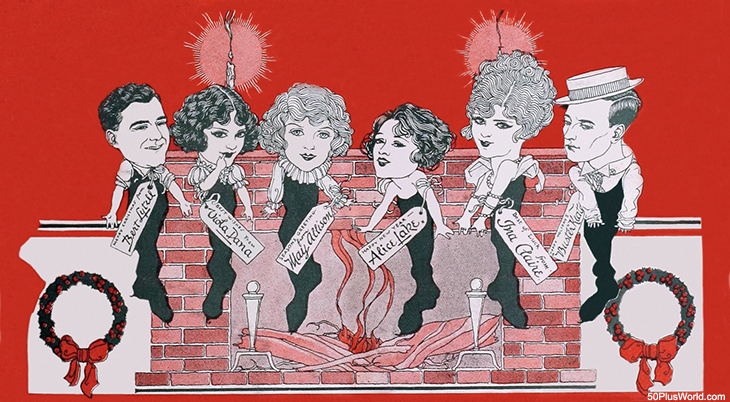 (Bert Lytell, Viola Dana, May Allison, Alice Lake, Ina Claire & Buster Keaton 1920 caricatures
William S. Hart, one of the first and greatest of the cowboy stars of western movies in the era of silent films, shares his Happy Holidays greeting.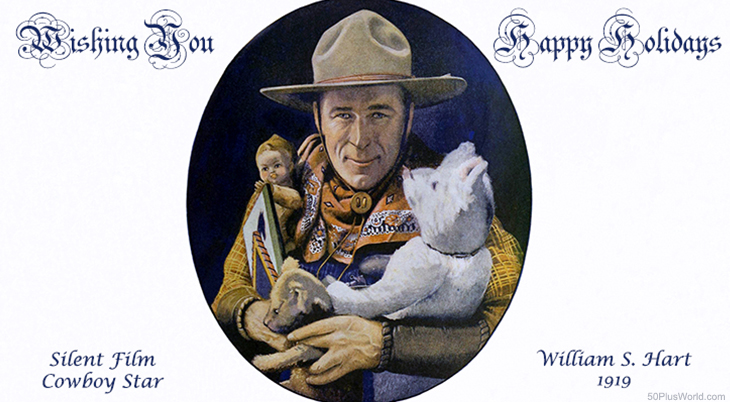 (Cowboy actor William S. Hart 1919 Portrait)
An actress dreamed of a Merry Christmas with Santa Claus, his sleigh and reindeer as the 1921 holiday season approached.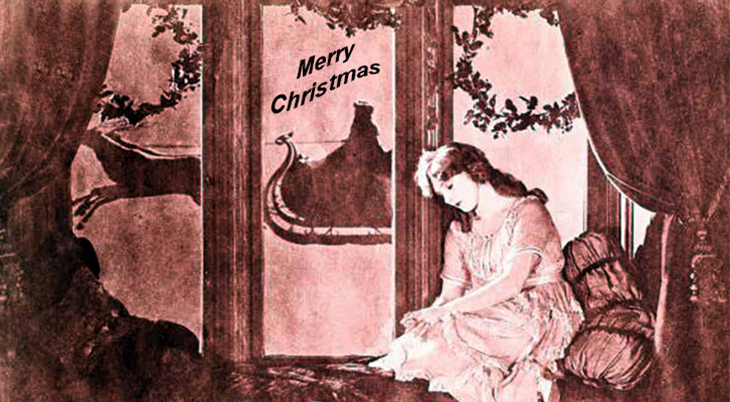 (Unknown silent film actress 1921)
Silent movie star Laura La Plante's festive seasonal portrait by Marland Stone graced the January 1929 cover of Motion Picture magazine.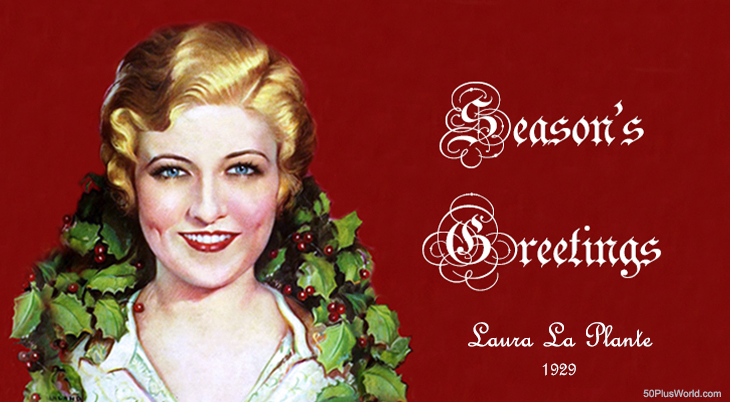 (Laura La Plante 1929 Portrait by Marland Stone)
Child actress Shirley Temple was a petite box office queen in the 1930s-1940s. She sends her wishes for a Merry Christmas and Happy New Year all the way from 1938.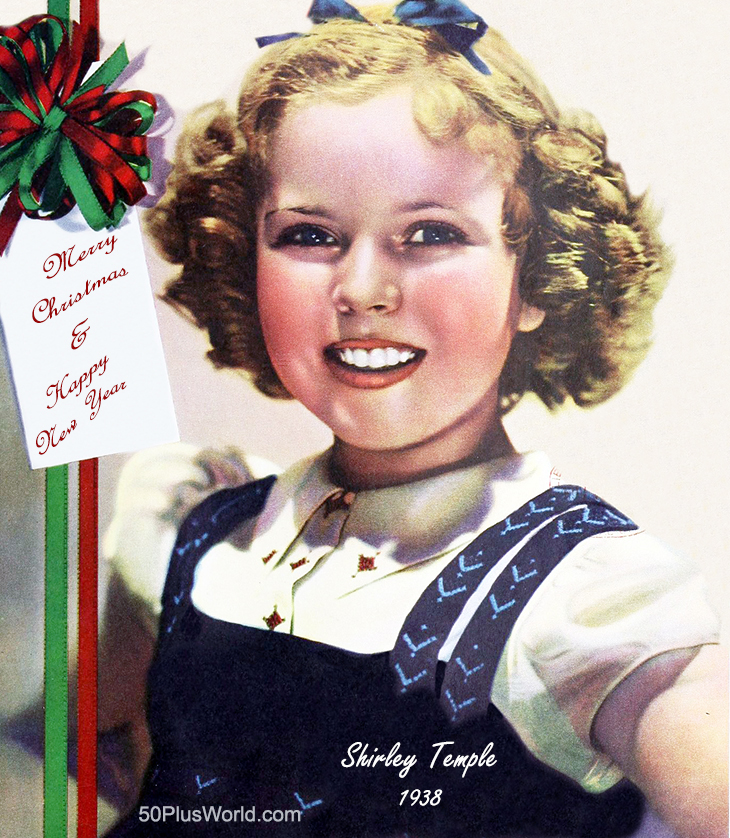 (Shirley Temple 1938 Portrait )
Puppeteer Edgar Bergen (father of Candace Bergen of Murphy Brown fame) and his puppets Mortimer Snerd & Charlie McCarthy wish you a Merry Christmas.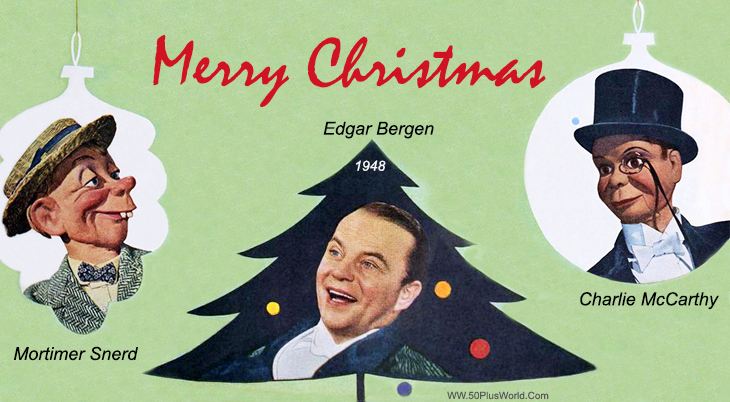 (Edgar Bergen, Mortimer Snerd, Charlie McCarthy 1948)
Early 1950s pin-up favorite, competitive swimmer, model & actress Esther Williams with her 1951 Season's Greetings.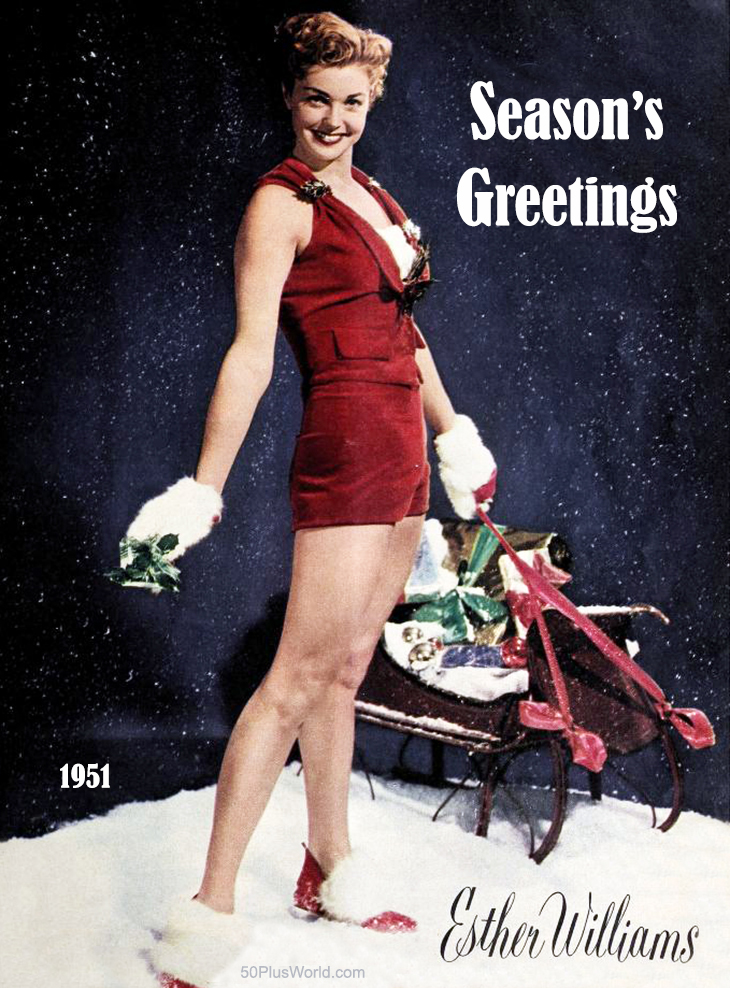 (Esther Williams 1951 Christmas Sleigh Photo: Dirone)
Ever the popular vintage classic movie pin-up girl, Esther Williams in an earlier pose from 1949.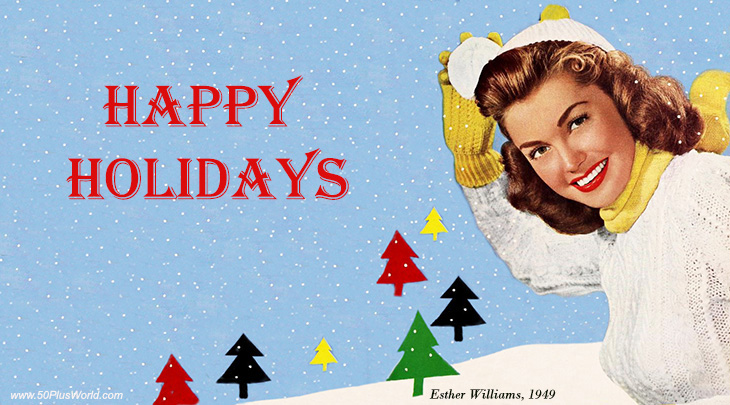 (Esther Williams 1949 Happy Holidays)
These seasonal holiday greeting card photos are suitable for sharing on social media (no link to 50PlusWorld.com is required, but it is appreciated). 
More Festive Holiday Season Stuff:
Remaking It's a Wonderful Life
I Heard the Bells on Christmas Day
Top Christmas Songs in Classic Clips
Top 20 Classic Christmas Movies
A Vintage Magazine Cover Christmas
Planning a Christmas Holiday Menu: Hits and Misses
The 12 Best Secrets of Christmas