Were You Alive in November 1945?
Baby Boomer Trivia From November 1945: Operation Paperclip, UNAEC, and Jerome Kern (Showboat)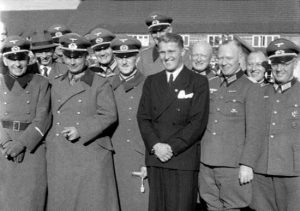 Seniors may remember headlines when another group of German scientists are brought to the United States as part of "Operation Paperclip" in November 1945. This was an initiative of the Joint Intelligence Objectives Agency (JIOA) to bring over 1500 scientists, engineers and technicians to America from Nazi Germany and other countries, to assist with developing rocket technology.  President Truman's directives to recruit scientists post-WWII specifically excluded former members, participants, and supporters of the Nazi Party.
This would have meant top rocket scientists such as Werner Von Braun (above, with German officers in 1941, photo: Bundesarchiv), could not be recruited.
To circumvent this, German scientists with Nazi Party affiliations were given false biographies and employment records by JIOA so they would pass security clearances and work in the United States.
Canadian Prime Minister Mackenzie King, United States President Harry Truman, and British Prime Minister Clement Attlee ask for the development of a United Nations Atomic Energy Commission (UNAEC) in November 1945, to manage "the problems raised by the discovery of atomic energy". Baby boomers will not likely remember this agency, as it was dismantled by 1953.
Prolific and commercially successful composer Jerome Kern (Showboat) was in the process of collaborating on a new musical Annie Get Your Gun with his friend Oscar Hammerstein II and Richard Rogers, when he died from a cerebral hemorrhage on November 11, 1945 in New York City. Kern was posthumously nominated for two Academy Awards for Best Original Song – More and More (lyrics by E. Y. Harburg) from Can't Help Singing (1945), and All Through the Day  (lyrics by Oscar Hammerstein II) from Centennial Summer (1946).
Based on the 1926 Edna Ferber novel by the same name, the musical "Showboat" (with lyrics by Oscar Hammerstein II) debuted on Broadway in 1927. Seniors and baby boomers may best remember the 1951 film starring Howard Keel and Kathryn Grayson (below, singing "Make Believe", composed by Jerome Kern, lyrics by Oscar Hammerstein II).