History Fix From May 1946
Baby Boomer Trivia From May 1946: Battle of Alcatraz, Japanese Canadians Deported, First King of Jordan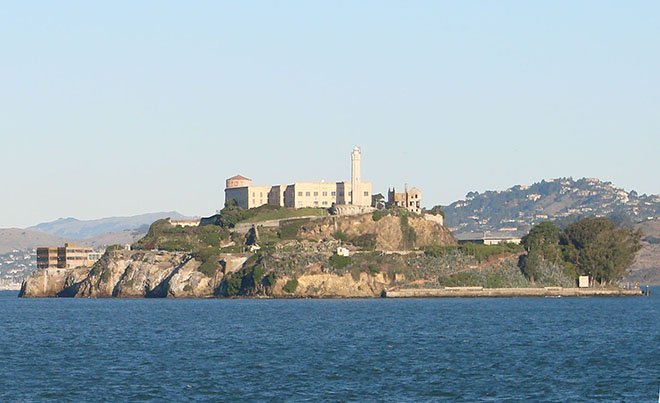 The Battle of Alcatraz – Convicted 46-year-old bank robber Bernard Coy had been in the island prison of Alcatraz (above photo) for 8 years of his 25-year sentence on May 2, 1946. That day, Coy attacked guard William Miller while Miller was frisking another prisoner, 34-year-old convicted kidnapper and thief Marvin Hubbard. Hubbard; Hubbard and Coy overcame Miller and released two more prisoners, 34-year-old bank robber Joseph Cretzner and a 19-year-old convicted murderer serving a 99 year sentence, "The Choctaw Kid", Clarence Carnes. Coy had starved himself so that when he widened the bars on the prison's gun gallery, he was able to fit through the space. Bernard Coy overpowerd another guard and passed munitions to Hubbard, Cretzner and Carnes. Coy forced another guard to open the main cellhouse door and release another dozen convicts; the guards Miller and Corwin were placed in a cell. Two of the dozen released convicts, 36-year-old convicted kidnapper and bank robber Sam Shockley and 29-year-old kidnapper and murderer Miran Thompson, joined Coy, Carnes, Hubbard, and Cretzner while the other prisoners returned to their cells.
The plan had been for the 6 escapees to go through the prison yard to the dock and take the prison boat launch to mainland San Francisco. The key jammed in the lock to the prison yard and the great escape plan started to fail. Several shootouts with guards and the marines who had been called in, ensued. Finally on the morning of May 4th, 1946 the guards rushed the cell house and found the bodies of prisoners Joseph Cretzner, Bernard Coy, and Marvin Hubbard; guards William Miller and Harold Stiles had also been killed.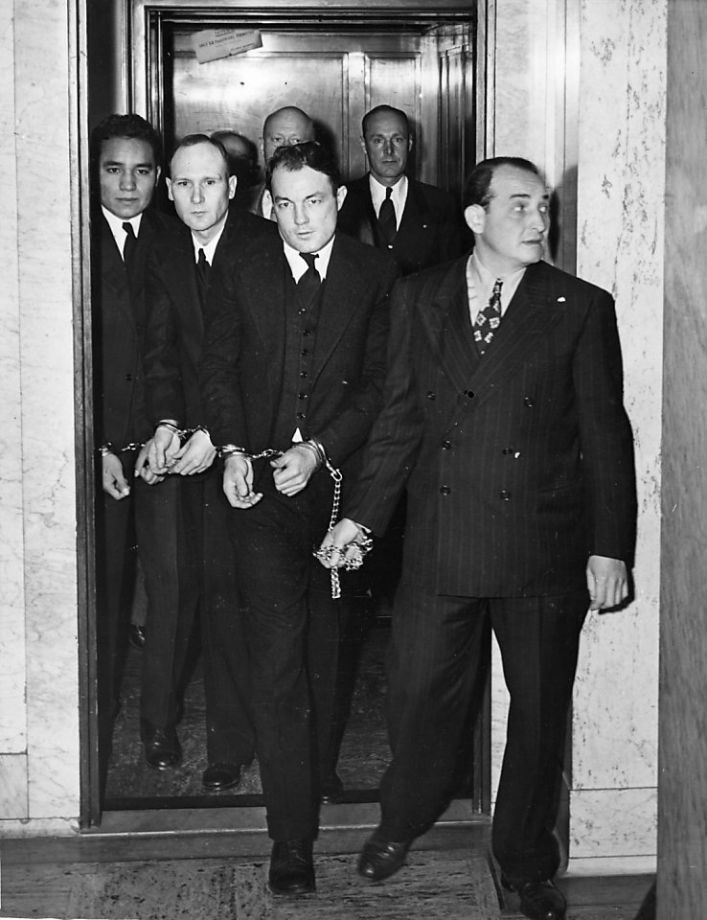 Left, surviving Battle of Alcatraz prisoner ringleaders Clarence Carnes, Sam Shockley, and Miran Thompson in chains, being lead by a guard. (Photo: SFGATE.com)
Sam Shockley and Miran Thompson were executed in 1948. Clarence Carnes had another 99 years tacked onto his sentence and remained on Alcatraz until it was closed in 1963. He was 46 years old when he was paroled in 1973, but sent back to prison due to parole violations. Carnes died in 1988 while in the Medical Center for Federal Prisoners in Missouri; his remains were dug up from a pauper's grave that same year at the behest of former Alcatraz inmate, mob boss James "Whitey" Bulger, and reburied in Daisy, Oklahoma where Carnes had been born.
On May 31, 1946, the Canadian government ordered the deportation of all Japanese-Canadians to Japan. Almost 4,000 Japanese Canadians, including the ill and elderly, were deported via ship to Japan before the end of 1946. After the Japanese attacked Pearl Harbor on December 7, 1941 during the rest of World War II and beyond – up until 1949 – Japanese Canadians were sent to internment and POW camps. Their homes, businesses and all of their possessions were sold to fund the internment camps. In 1944 Japanese Canadians were ordered by Canadian Prime Minister Mckenzie King to move into "East of the Rocky Mountains" into internment or POW camps, or be deported to Japan after WWII ended. It wasn't until 1949 that the right to vote was restored to Japanese Canadians. Similar measures were taken in the United States.
In 1988 Canadian Prime Minister Brian Mulroney announced a formal apology and compensation package for all interned Japanese-Canadians still living. Canadian citizenship was restored for any Japanese-Canadians that had been deported to Japan.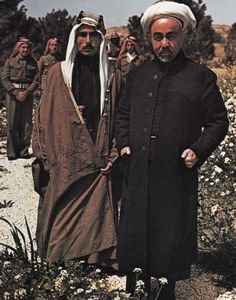 Abdullah I (Abdulla ibn Hussein) was declared the first King of the Hashemite Kingdom of Transjordan when Jordan was granted independence from Britain on May 25, 1946.
Right, Abdullah I, King of Jordan and son Talal, the Crown Prince. (Photo: Pinterest)
The Jordanian Hashemite family monarchy had been set up in 1921 when Abdullah was made the Emir of Transjordan with the help of Britain. Since Abdullah I died in 1951, his son Talal, grandson Hussein, and today his great-grandson Abdullah II,  have served as the Hashemite Kings of Jordan.