Celebrating Seniors - Eric Burdon is 75
English rock and funk music singer-songwriter, sometime actor, and septuagenarian senior citizen Eric Burdon (The Animals; War) was born on May 11, 1941 in Newcastle upon Tyne, England during World War II.
(Eric Burdon 1967 Fanclub Photo: F. van Geelen, Beeld & Geluid Wiki)
In his autobiographies and interviews, Burdon has spoken about his loving family (mother Rene, father Matt, and 3-years-younger sister Irene) and the asthma that he's had since childhood.
As a teenager, Eric Burdon's interests were American blues, rock and roll, jazz, and folk music as well as the movies, film-making, and art. He studied art at Newcastle College of Art and Industrial Design, where he met drummer John Steel.
By 1960 Eric Burdon was hanging out at the Downbeat Club in Newcastle, owned by Mike Jeffery. In 1961, Burdon was one of the many artists that guest-performed for the band Blues Incorporated at the Ealing Rhythm and Blues Club. Other musicians that cycled through Blues Incorporated included Long John Baldry, Ginger Baker, Charlie Watts, and Mick Jagger. Burdon had studied art in school and Mike Jeffery asked him to design the interior of the new Club A'GoGo he was opening in Newcastle, England, in 1962.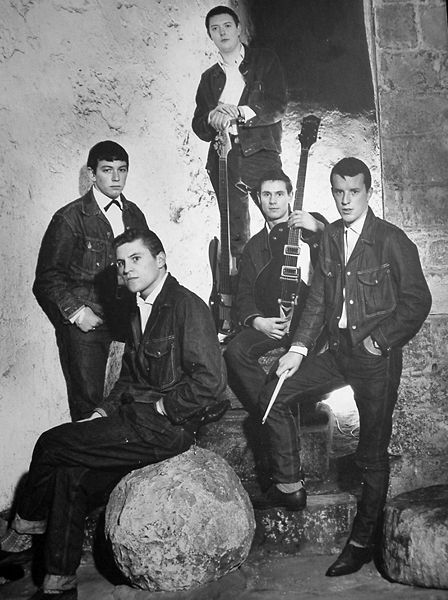 Eric Burdon and Alan Price on the left, with the other Animals circa 1964 – Chas Chandler, Hilton Valentine, John Steel. (Photo: Richard Williams Laws)
In the summer of 1963 the Alan Price Rhythm & Blues Combo with lead singer Eric Burdon, had become the resident band in the Club A'Gogo Jazz Lounge. By the end of 1963 the Alan Price Rhythm & Blues Combo had changed their name to The Animals, and new manager Mike Jeffery had gotten them a recording contract and booked them live performances in London.
Burdon has said the band name The Animals came from a man he knew that was nicknamed Animal, and not from the wild nature of The Animals performances on stage.
While on tour with Chuck Berry in May 1964, The Animals recorded a version of the folk ballad The House of the Rising Sun. After it's June 1964 release on the MGM Records label, The Animals version of The House of the Rising Sun went to #1 around the world thanks to baby boomer fans, and was included on their debut album The Animals (1964).
Reputedly House of the Rising Sun is the song that broke up The Animals….there was only room for one name on the label for the House of the Rising Sun single and that name was Alan Price; Price later claimed sole rights and ownership to House of the Rising Sun. Below, Eric Burdon and The Animals perform House of the Rising Sun live in 1964.

I'm Crying (1964) was written by Eric Burdon and Alan Price. When released in September 1964, I'm Crying became a Top 20 hit in the UK and the US, and was included on the album The Animals on Tour. The Animals had exploded onto the music charts with their hit singles and appeared as themselves in the big-screen beach-party movies Get Yourself a College Girl (1964), and It's A Bikini World (1967), which was shot in the winter of 1965 but not released until April 1967.
Songwriters Bennie Benjamin, Gloria Caldwell and Sol Marcus had written a song for jazz singer Nina Simone in 1964 called Don't Let Me Be Misunderstood. Eric Burdon was a big fan of Nina Simone, and when the Animals heard her release of the song, they decided to record it themselves the next year. The Animals single Don't Let Me Be Misunderstood (1965) was a Top 15 hit single in both the UK and the US, and was included on their album The Animals. Below, Eric Burdon and The Animals perform their hit Don't Let Me Be Misunderstood live on The Ed Sullivan Show in 1965 (one of Burden's 6 appearances on The Ed Sullivan Show).
We Gotta Get Out of This Place (1965) was written by Barry Mann and Cynthia Weil and released by The Animals as a single in July 1965. We Gotta Get Out of This Place  was yet another Top 15 hit single in the US and UK, and included on their album Animal Tracks. The song was popular with baby boomers and during the Vietnam War with US troops overseas.
Eric Burdon would later collaborate with Katrina and the Waves on a new release of We Gotta Get Out of This Place (1990) which cracked the Hot 100 in the US. The song has been used as the backdrop for several television episodes and movies that feature the Vietnam War.
Below, Eric Burden and the Animals singing We Gotta Get Out of This Place in the soundtrack of the Vietnam War movie Hamburger Hill (1987). 
Alan Price left The Animals to go solo later in 1965, and was replaced by Dave Rowberry on keyboards the next year – in time for The Animals album Animalization (1966).
Don't Bring Me Down (1966) written by Gerry Goffin and Carole King, was recorded and released in May 1966 by The Animals from this album. Although original Animals drummer John Steel played drums on most of the Animalization album songs, Steel left The Animals in February 1966 and it was Barry Jenkins that played drums on Don't Bring Me Down (and a few other songs). Don't Bring Me Down was yet another Top 15 UK/US hit single for The Animals. Below, a live performance of  Don't Bring Me Down by Eric Burdon and The Animals.
See See Rider Blues is a traditional blues song first recorded in 1924 by Ma Rainey. The Animals recorded their version of it as See See Rider with Barry Jenkins on drums, and their September 1966 release was a Top 10 US hit single. The Animals included See See Rider on their Animalization album.
By the end of 1966 The Animals original lineup had completely disbanded. The Animals had gone to San Francisco in the summer of 1966, and Eric Burdon had met fellow film buff and singer Jim Morrison of The Doors. Burdon has said it Jim Morrison told him he should move to Los Angeles, California, but it may have been the combination of Burdon's asthma, dry California weather, and his interest in film-making that ultimately persuaded him to move to Laurel Canyon near Los Angeles in 1966. Guitarist Chas Chandler had discovered a young guitar virtuoso called Jimi Hendrix, and became his manager (along with Mike Jefferys), and Hilton Valentine left the Animals to form a new band.
Eric Burdon formed the all-new group Eric Burdon and The Animals in 1967, which included band members Vic Briggs, John Weider, Barry Jenkins, and Danny McCulloch. Their album Winds of Change (1967) saw the hit single San Franciscan Nights (1967), written by Eric Burdon and The Animals as an anti-Vietnam War protest song, become a Top Ten UK and US Pop chart hit when it was released in August 1967. Below, Eric Burdon and the Animals performing San Franciscan Nights live in 1967.
In the summer of 1967 "the summer of love", Eric Burdon and The Animals performed at the Monterey Pop Festival. The single Monterey (1967), written by Eric Burdon and The Animals, climbed to #15 in the US when released in November 1967. Monterey was included on the album The Twain Shall Meet (1968).
By the end of 1967, Eric Burdon had done LSD for the first time; he was firmly into the Laurel Canyon/Los Angeles drug culture, and was a heavy drinker. He'd met English-Indian model Angela (Angie) King and they got married on September 7, 1967 in London, England. Burdon began touring with his new band and his marriage to Angie King was soon on the rocks; they separated and divorced in 1969.
After recording five albums with Eric Burdon and The Animals, the band broke up at the end of 1968. In 1969 Eric formed the new band Eric Burdon and War, and moved into a mansion in Bel Air along with his bandmates and frequent uninvited house-guest Jim Morrison (and Morrison's assorted groupies). Some of Burdon's other friends during the later 1960's included Jimi Hendrix, John Lennon, photographer Linda Eastman (she later married Paul McCartney), and actor Steve McQueen, whom Burdon liked to ride motorcycles with in Palm Springs where he had bought a home. 
The single Spill the Wine was written by War, and when released in May 1970 became a #3 hit in the US. 
In his autobiography Don't Let Me Be Misunderstood (2001) by Eric Burdon with J. Marshall Craig, Burdon recounts an asthma attack in February 1970 that turned into pneumonia and caused him to have to drop out of War; the band continued to tour without him. During a party at his Bel Air mansion, Burdon fired a gun into the ceiling to scare off perennial house guest Jim Morrison (it worked).
Burdon had met Rose Marks in Los Angeles, and they lived in his Palm Springs home after marrying in September 1972; daughter Alex was born there before he returned performing and formed the Eric Burdon Band in 1974.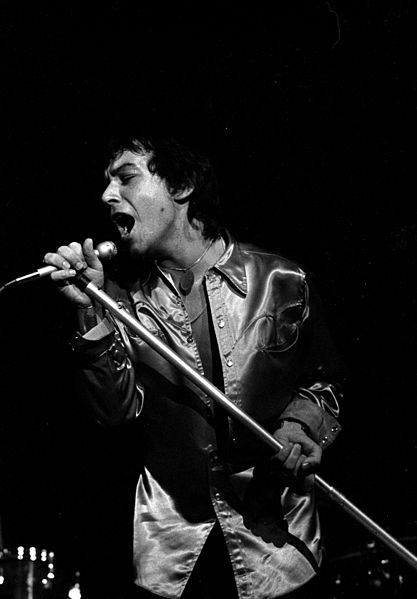 (Eric Burdon 1973 Photo: Heinrich Klaffs)
Eric Burdon was essentially was sidelined from musical performances and recording until 1974, as he recovered from his illness, the death of Hendrix, and battles with MGM to get out of his contract.
During the remainder of the 1970's, Burdon's solo songs with the Eric Burdon Band failed to ignite the charts. The band began touring heavily in North America and Europe, and Rose, left at home with Alex, began to use cocaine; their marriage began to fail. A brief reunion with the original The Animals lineup in 1975 produced a record but no hit singles and The Animals quickly disbanded again.
Eric Burdon moved to Germany in 1977 and his divorce from Rose was finalized in 1978. Burdon returned from filming a semi-autobiographical German movie Comeback (1982) and found he'd lost touch with Rose and his daughter Alex. While living Germany in the early 1980's, Burdon was jailed because of suspected ties to the Baader-Meinhof gang; he was released after 10 days but he'd begun doing cocaine while in jail and he descended into the depths of drugs and alcohol abuse.
Another brief reunion with The Animals resulted in a tour of the UK before the disbanded once again. Burdon moved from Germany to a Spanish island home in Villa Carlos, Menorca, but it proved disastrous to his health due to the moist island climate, which stimulated numerous debilitating asthma attacks. Eric Burdon's first autobiography I Used to be an Animal but I'm Alright Now was published in 1986.
Although Eric Burdon continued to record, perform and tour during the 1990's and his 50+ years and beyond, chart success has eluded him. The Animals were inducted into the Rock and Roll Hall of Fame in 1994, just two years before The Animals original bass guitarist Chas Chandler died of an aortic aneurism at age 57.
Burdon met and married attorney Marianna Proestou in the late 1990's and she has managed his career ever since. Burdon's second autobiography, Don't Let Me Be Misunderstood (2001) was published as he turned 60.
Marianna and Eric Burdon have lived in Joshua Tree, California and currently reside in Ojai, California so that Burdon's asthma can be better controlled in the dry desert climate. Burdon's married daughter Alex Burdon-Young has made him a grandfather three times over – granddaughters, Keaira, Justice, and grandson Eric. When interviewed in 2010 by ne4me, senior citizen Burdon said he had no thoughts of retirement.
Eric Burdon won the right to use the name Eric Burdon and The Animals in everywhere but the UK, where former drummer John Steels has the rights to The Animals name.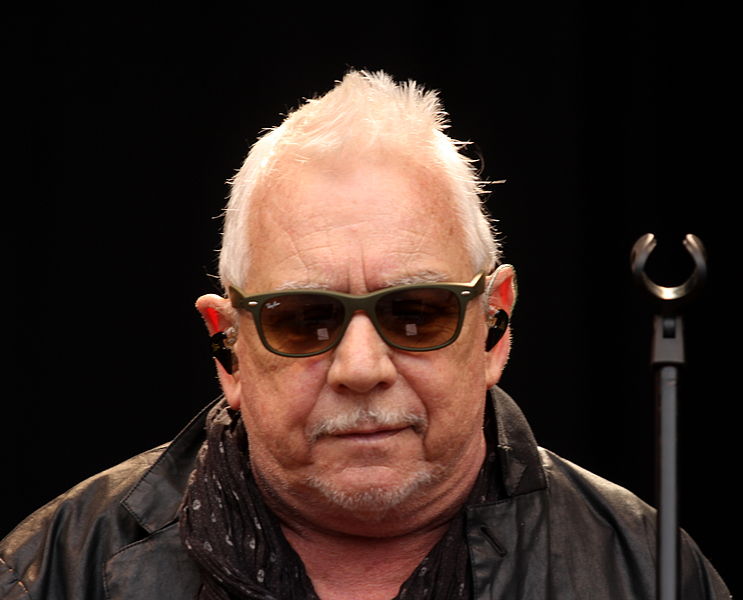 (Eric Burdon 2013 Photo: Jarle Vines (Creative Commons Attribution Sharealike 3.0)
After several years of back pain, septuagenarian senior citizen Eric Burdon had successful back surgery in 2012. He rebounded the next year with the release of his album Til Your River Runs Dry (2013), which received critical acclaim; Eric Burdon toured that same year with Pat Benatar, guest-performed The Animals We Gotta Get Out of This Place with Bruce Springsteen, and published his third autobiography Breathless (2013).

In May 2016,  Eric Burdon toured Australia, the United States and Canada with a new band/version of the Animals.