May 23rd Birthdays
If you were born on May 23rd you share a celebrity birthday with these famous people: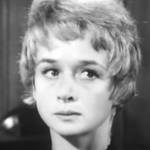 Barbara Barrie is 92
American actress of TV (Elizabeth Miller on Barney Miller; Nana Keane on Suddenly Susan; Summer of My German Soldier; Love of Life; Tucker's Witch; thirtysomething) and movies (The Bell Jar; Breaking Away; Private Benjamin), born May 23, 1931. (Barbara Barrie 1964 One Potato, Two Potato)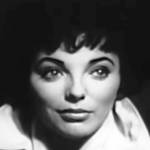 Joan Collins is 90 (ex of Maxwell Reed, Anthony Newley, Peter Holm)
English author (Past Imperfect), actress of TV (Alexis Carrington Colby on Dynasty; Guiding Light; Batman) & movies (The Girl in the Red Velvet Swing; Island in the Sun; Esther and the King; The Stud; These Old Broads), born May 23, 1933. Sister of Jackie Collins. (Joan Collins 1957 The Wayward Bus)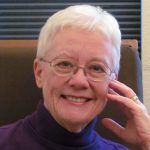 Candace Camp Hopcus is 74 (pen names Lisa Gregory, Kristin James)
American modern & historical romance novelist (The Marriage Wager & The Matchmakers series; The Black Earl & Medievals Norwen series; Stolen Heart & Montford Heirs series; Mesmerized & Mad Morelands series), born May 23, 1949. (Candace Camp Photo: Anastasia Hopcus | Courtesy Candace Camp)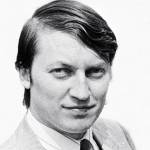 Anatoly Karpov is 72
Russian / Soviet chess grandmaster, World # 1 ranked chess player, 14X World Chess Champion (1975-1985), 3X FIDE World Champion (1993, 1996, 1998), 6X Chess Olympiads winner, 9X Chess Oscars winner), chess teacher, & politician, born May 23, 1951. (Anatoly Karpov 1987: Bart Molendijk)
Deborah Adair is 71 (nee Deborah Adair Miller)
American actress of TV, primarily soap operas (Kate Roberts Kiriakis on Days of Our Lives; Jill Foster Abbott on The Young and the Restless; Tracy Kendall on Dynasty; Finder of Lost Loves; Santa Barbara; Melrose Place; Hotel; The Love Boat), born May 23, 1952. (Deborah Adair 1983 Dynasty Photo: ABC)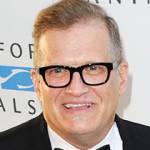 Drew Carey is 65 (aka Brooks Parkenridge)

American stand-up & improv comedian, writer, actor & host of movies and TV (The Drew Carey Show; Whose Line Is It Anyway?; The Price is Right; Crew Carey's Improv-A-Ganza; Dancing With the Stars), born May 23, 1958. (Drew Carey 2014 Photo: Splash News and Pictures / Mercy For Animals MFA)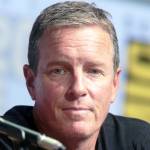 Linden Ashby is 63 (nee Clarence Linden Garnett Ashby III)
American actor of TV (Noah on Teen Wolf; The Young and the Restless; Days of Our Lives; Melrose Place; Loving; The New Adam-12; Spy Game) and movies (Mortal Kombat; Wyatt Earp; 8 Seconds; Into the Sun; Resident Evil), born May 23, 1960. Married Susan Walters. (Linden Ashby 2017: Gage Skidmore)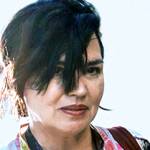 Karen Duffy is 61 (aka Karen Duffy Lambros; "Duff")
American model, actress of TV (VJ Duff on MTV; TV Nation; The Awful Truth; Hollywood at Large; Random Acts of Duff) and movies (Blank Check; Dumb and Dumberer; The 24 Hour Woman), and author (Model Patient), born May 23, 1962. (Karen Duffy 2021: Franck Michel from Antibes, France)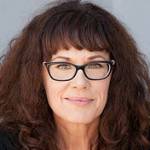 Staci Greason is 59

American actress of TV (Isabella Toscano Black on Days of Our Lives), films (Terror Night; Friday the 13th Part VII; Goldilocks and the Three Bears), writing coach & novelist (The Last Great American Housewife), born May 23, 1964. (Staci Greason Photo: Amanda Duchow-Hall / Staci Greason)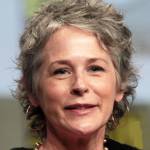 Melissa McBride is 58
American casting director, personality & actress of TV (Carol Peletier on The Walking Dead, Robot Chicken, Conan, & Fear the Walking Dead; Talking Dead; Dawson's Creek) and movies (The Happys; The Dangerous Lives of Altar Boys), born May 23, 1965. (Melissa McBride 2014 Photo: Gage Skidmore)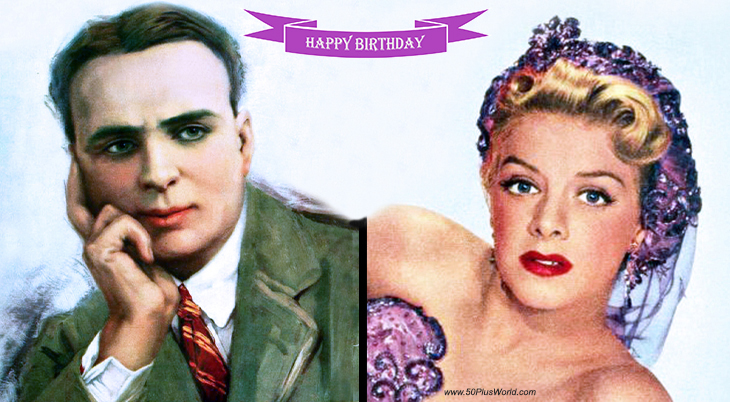 (Douglas Fairbanks Sr 1918: Leo Sielke Jr. | Rosemary Clooney 1953)
Happy Birthday to everyone celebrating their birthday on May 23rd!
Remember These May 23rd Famous Birthdays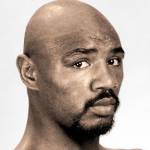 Marvelous Marvin Hagler (nee Marvin Nathaniel Hagler)
World & International Boxing Hall of Fame American 1980-1987 middleweight boxing champion, Boxing Illustrated's "Fighter of the Decade" (beat Roberto Duran &  Thomas Hearns; lost a split decision to Sugar Ray Leonard) (born May 23, 1954 – died Mar. 13, 2021; age 66). Cause of death for Marvin Hagler is unknown. (Marvin Hagler 2012 Photo: Dogfacebob)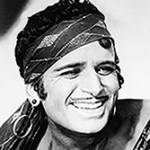 Douglas Fairbanks (nee Douglas Elton Thomas Ullman)
American silent movie filmmaker, actor (The Mark of Zorro; The Black Pirate; Robin Hood; The Three Musketeers; The Taming of the Shrew; The Thief of Bagdad), United Artists & Motion Picture Academy co-founder (born May 23, 1883– died Dec. 12, 1939; age 56). Married Sylvia Ashley; ex of Mary Pickford; father of Douglas Fairbanks Jr.. (Douglas Fairbanks Sr.: Insomnia Cured Here)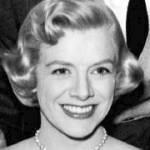 Rosemary Clooney (ex of José Ferrer; sister of Nick Clooney)
American singer (Come On-a My House; Mambo Italiano) & actress of movies (White Christmas; Deep in My Heart) and TV (The Rosemary Clooney Show; The Lux Show; The U.S. Royal Showcase; Songs for Sale) (born May 23, 1928 – died June 29, 2002; age 74). Aunt of George Clooney; mother-in-law of Debby Boone. Rosemary Clooney died of lung cancer. (Rosemary Clooney 1957: NBC)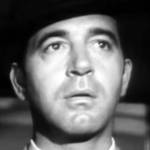 John Payne (ex of Anne Shirley, Gloria DeHaven; father of Julie Payne)

American actor of movies (Miracle on 34th Street; To the Shores of Tripoli; Sentimental Journey; El Paso; Hello Frisco, Hello; Star Dust; College Swing; Hats Off; Fair Warning) and TV (Vint Bonner on The Restless Gun) (born May 23, 1912 – died Dec. 6, 1989; age 77). John Payne died of congestive heart failure. (John Payne 1952 Kansas City Confidential Photo: NBC Television)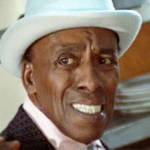 Scatman Crothers (nee Benjamin Sherman Crothers)

American singer, dancer, musician, and actor of TV (Louie Wilson on Chico and the Man; Harlem Globe Trotters) & movies (The Shining; The AristoCats; One Flew Over the Cuckoo's Nest; Meet Me At The Fair; Silver Streak) (born May 23, 1910 – died Nov. 22, 1986; age 76). Scatman Crothers had lung cancer and died of pneumonia. (Scatman Crothers 1975 Sanford and Son Photo: NBC)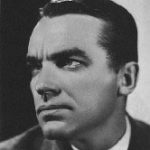 Scott O'Dell (nee O'Dell Gabriel Scott)
American writer of historical, young adult & children's fiction (Island of the Blue Dolphins; Zia; The Black Pearl; Sing Down the Moon; Sarah Bishop; The King's Fifth; Thunder Rolling in the Mountains), 1961 Newbery Medalist (born May 23, 1910 – died Oct. 15, 1989; age 91). Scott O'Dell died of prostate cancer. (Scott O'Dell 1920s: ScottO'Dell.com |Courtesy Scott O'Dell Estate)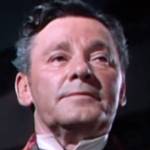 Herbert Marshall (ex of Edna Best, Boots Mallory; father of Sarah Marshall)
British actor of radio (The Man Called 'X'), and movies (Bachelor's Folly; Blonde Venus; Faithful Hearts; Trouble in Paradise; I Was a Spy; Four Frightened People; Riptide; The Painted Veil; The Flame Within; The Dark Angel; Breakfast for Two; Foreign Correspondent) (born May 23, 1890 – died Jan. 22, 1966; age 75). Herbert Marshall died of heart failure. (Herbert Marshall 1947 Duel in the Sun)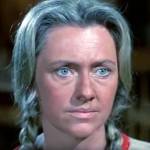 Mary Fickett (ex of James Congdon)
American actress of TV (Ruth Martin on All My Children 1970-2005; Liz Thorpe R.N. on The Nurses; Miss Long on Young Dr. Malone; The Defenders; The Edge of Night; Robert Montgomery Presents; The Inner Flame) and movies (Man on Fire; Kathy O') (born May 23, 1928 – died Sept. 8, 2011; age 83). Mary Fickett died of Alzheimer's disease complications. (Mary Fickett 1969 Daniel Boone)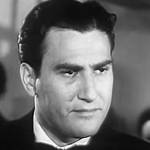 Artie Shaw (nee Arthur Jacob Arshawsky; "King of the Clarinet")
American jazz clarinetist, big bandleader of the Artie Shaw Orchestra (Begin the Beguine; Stardust; Moonglow; Nightmare; Frenesi), composer, movie actor (Dancing Co-Ed) (born May 23, 1910 – died Dec. 30, 2004; age 94). Ex of Lana Turner, Ava Gardner, Kathleen Winsor, Doris Dowling & Evelyn Keyes. Artie Shaw had diabetes before he died. (Artie Shaw 1940 Second Chorus)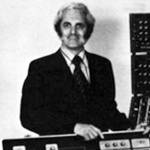 Robert Moog

National Inventors Hall of Fame Grammy Award-winning American engineer, inventor of the Moog modular synthesizers & effects pedals (Little Phatty; Moogerfooger; Minimoog Voyager; Moog Taurus) (born May 23, 1934 – died Aug. 21, 2005; age 71). Cause of death for Robert Moog was a brain tumor. (Robert Moog Photo: Finnianhughes101)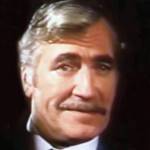 Nigel Davenport (nee Arthur Nigel Davenport; father of Jack Davenport)
English actor of TV (Howard's Way; The Avengers; Prince Regent) and movies (Living Free; Return to Sender; Villain; No Blade of Grass; A High Wind in Jamaica; A Man For All Seasons; The Royal Hunt of the Sun; The Island of Dr. Moreau; Chariots of Fire; Without a Clue; Mary, Queen of Scots; Phase 4) (born May 23, 1928 – died Oct. 25, 2013; age 85).  (Nigel Davenport 1980 Cry of the Innocent)
Laura Devon (nee Mary Louise Briley; ex of Brian Kelly, Maurice Jarre)
American actress of TV (The Richard Boone Show; Dr. Kildare; Route 66; The Twilight Zone; I Spy; Bonanza; The Rogues; Rawhide; The Big Valley; The Fugitive), and movies (Chamber of Horrors; Gunn; A Covenant with Death; Goodbye Charlie; Red Line 7000) (born May 23, 1931 – died July 19, 2007; age 76). Laura Devon died of heart failure. (Laura Devon 1970 Photo: CBS TV Network)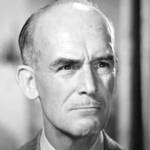 James Gleason (married Lucile Webster; father of Russell Gleason)
American movie screenwriter & character actor (Forever Female; Here Comes Mr. Jordan; A Tree Grows in Brooklyn; Arsenic and Old Lace; The Bishops Wife; Murder on a Bridle Path; Blondie of the Follies; The Higgins Family; A Date With the Falcon; Loving You; Puttin' on the Ritz; A Free Soul; Hoopla) (born May 23, 1882 – died Apr. 12, 1959; age 76). (James Gleason 1941 Meet John Doe)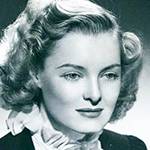 Linda Watkins
American actress of TV (Hawaiian Eye; Gunsmoke; 77 Sunset Strip; Bonanza; Thriller; Death Valley Days; The Untouchables; McMillan & Wife) and movies (Ten North Frederick; Sob Sister; The Parent Trap; The Gay Caballero; From Hell It Came; Cash McCall) (born May 23, 1908 – died Oct. 31, 1976; age 68). Cause of death for Linda Watkins is unknown. (Linda Watkins 1952 Photo)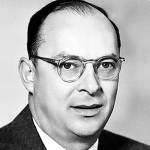 John Bardeen
American physicist and electrical engineer, co-inventor of the transistor (1956 Nobel Prize in Physics) and co-developer of BCS theory (theory of conventional superconductivity; 1972 Nobel Prize in Physics) (born May 23, 1908 – died Jan. 30, 1991; age 82). Cause of death for John Bardeen was heart disease. (John Bardeen 1956 Photo: Nobel Foundation)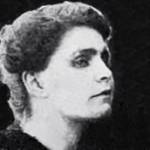 Virginia True Boardman (nee Margaret Shields; aka Virginia Eames)
American film actress (Speedy Smith; The Fugitive Sheriff; A Blind Bargain; The Lady Lies; The Third Alarm; The Village Blacksmith; The Light of Western Stars; Brand of the Outlaws; The Crime Patrol; The Gunfighter; The Barefoot Boy) (born May 23, 1889 – died June 10, 1971; age 82). Married True Boardman; mother of William True Boardman Jr. (Virginia True Boardman 1923)
*Images are public domain or Creative Commons licensed & sourced via Wikimedia Commons, Vimeo, or Flickr, unless otherwise noted*