Fascinating Facts From August 1940
News Headlines & Entertainment Trivia from August, 1940: Foreign Correspondent Classic WWII Film Premiere; WWII Eagle Attack – Phase 3 Battle of Britain; Crime Doctor Radio Program Debut
Foreign Correspondent Movie Premiere
Producer David O. Selznick loaned director Alfred Hitchcock to Walter Wanger for the thriller Foreign Correspondent, which premiered in the United States on August 16, 1940.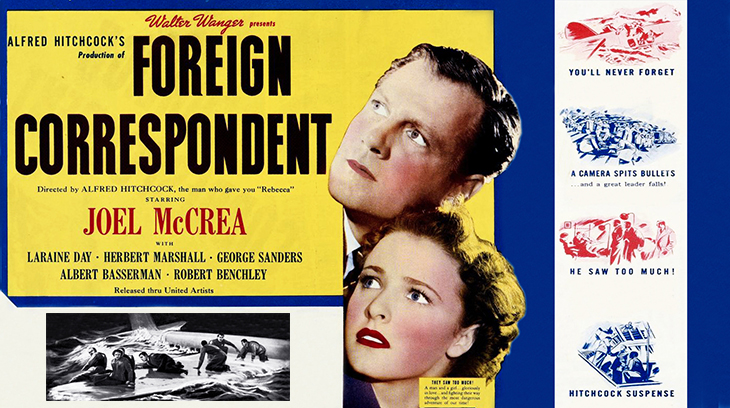 Set on the cusp of England's involvement in WWII, historic events happening in real-time before, during, and after principal filming, resulted in a total of sixteen screenwriters working on the Foreign Correspondent screenplay; Charlie Chaplin's The Great Dictator was similarly affected.
Although filming was completed in May, when the Battle of Britain began in July, Hitchcock quickly filmed a new final scene (written by Ben Hecht and Walter Wanger) in time for it's August 1950 release.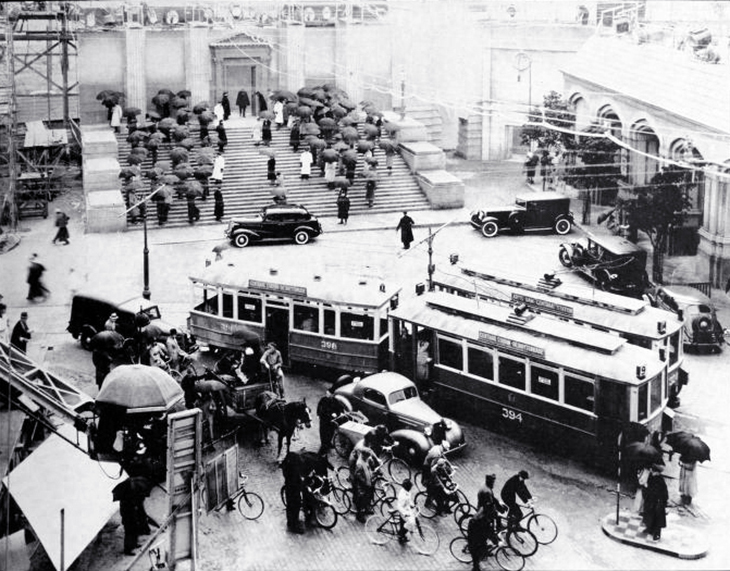 (Filming Foreign Correspondent 1940 Photo: International Photographer)
Clark Gable, Gary Cooper and Cary Grant were reportedly considered for the leading role of American newspaper reporter John Jones, which went to Joel McCrea. 
Johnny Jones is sent to London to replace the existing foreign correspondent Stebbins (Robert Benchley). Laraine Day is Carol Fisher, the daughter of pacifist organization leader (and secret German agent) Stephen Fisher, played by actor Herbert Marshall. Jones is tasked with interviewing Dutch diplomat Van Meer (Dutch actor Albert Bassermann), who has arranged a secret treaty. On the trail of an assassin, Jones is aided by fellow reporter Scott Ffolliot (George Sanders). Scott and Carol help Jones track down a spy group run by Mr. Krug (Eduardo Ciannelli) and discover a conspiracy. Edmund Gwenn is the bodyguard assigned by Stephen Fisher to protect Jones from the spy ring (his real assignment is to kill him).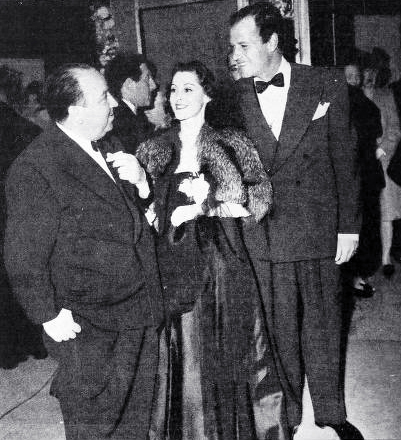 (Alfred Hitchcock, Joel McCrea & wife Frances Dee 1940 Foreign Correspondent Premiere Photo: Hollywood)
This timely film made by the master of suspense was well appreciated by audience and film critics of the time, and gives a birds-eye perspective of moments in time from 80 years ago.
The cast and crew of Foreign Correspondent were nominated for six Academy Awards:
Best Picture and Best Black & White Cinematography Oscars went to Director Alfred Hitchcock's other Oscar contender Rebecca, a David Selznick production.
The other four unsuccessful Oscar nominations for Foreign Correspondent were Best Original Screenplay (won by Preston Sturges, for The Great McGinty), Best Supporting Actor (Albert Bassermann) won by Walter Brennan in The Westerner), Best Black & White Art Direction won by Pride and Prejudice, and Best Special Effects, which went to Thief of Bagdad. 
Eagle Attack – Phase 3 of the Battle of Britain
From July 10-October 1940, the World War II battle for British airspace raged on. During the third phase of the Battle of Britain (code-named Eagle Attack by the Germans), in August 1940 the German Luftwaffe stepped up their air attacks on Great Britain, targeting British air fields, ports and harbours.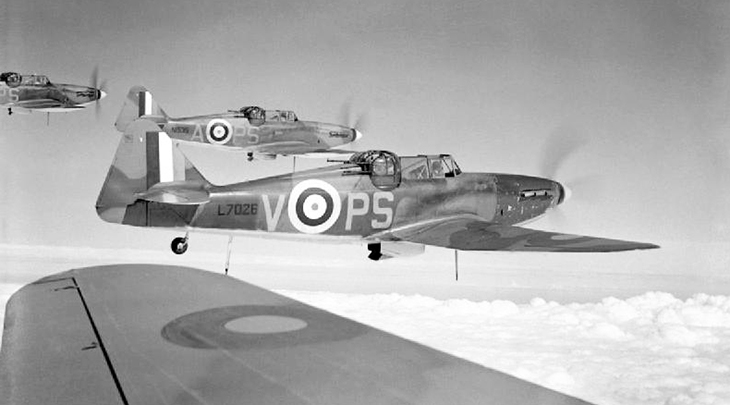 (Royal Air Force No. 264 Squadron Defiant Fighter Jets,  August 1940 Photo: B. J. Daventry, RAF)
German commander Göring had planned to defeat the Royal Air Force by wiping out the British radar stations and launch systematic raids to lure British fighters out where the Luftwaffe could shoot them down. This campaign  – planned to have been completed in 4 days – was to have launched on August 6, 1940, but was delayed by poor weather until August 13th. 
The German Luftwaffe air forces were unsuccessful in completely wiping out the four radar stations, and although three stations were hit, the British had them working again within 6 hours. Goring also miscalculated the strength, level of resistance, and location of the British Fighter Command forces.
North East England withstood the heaviest number of bombing attacks on August 15th, 1940. German bombers were shot down or dropped their payloads early, and in one case, bombed the wrong airfield (Croydon civilian airport instead of RAF Kenley).
The air attacks on August 18, 1940 earned the title of "The Hardest Day", as both German and British forces recorded the greatest number of casualties. Göring ordered more bomber escorts and gave up attacks on the radar stations, not fully understanding their importance in British air defence.
Other WWII events during the first half of August 1940: 
A French military court tries Charles de Gaulle in absentia for treason, and sentences him to death. A few days later, Winston Churchill and Charles de Gaulle sign an agreement for the Free French military organization.
American General John J. Pershing does a radio broadcast calling for aid to be sent to Britain (he's later reprimanded). That same day, aviator turned politician Charles Lindbergh speaks at a pro-isolationism rally in Chicago. 
The USSR begins annexing different countries, including Latvia, Lithuania, and Estonia.
Crime Doctor Radio Program Debut
The dramatic radio series Crime Doctor premiered on Sunday, August 4, 1940 on CBS radio, starring Ray Collins as recovered amnesiac Dr. Benjamin Ordway. Each week a fictional "prisoner" who had served his minimum term told his life story to a parole board comprised of Dr. Ordway, D.A. Miller (actor Edgar Stehli), and Harold Sayers (actor Walter Vaughn). The best letters from listeners to Crime Doctor that recommended either the prisoner's release or continued imprisonment, were awarded cash prizes.
With the exception of the parole board characters (Dr. Ordway, Miller, and Sayers), each weekly episode had new characters. 
There were several cast changes on Crime Doctor during it's seven-year run from 1940-1947.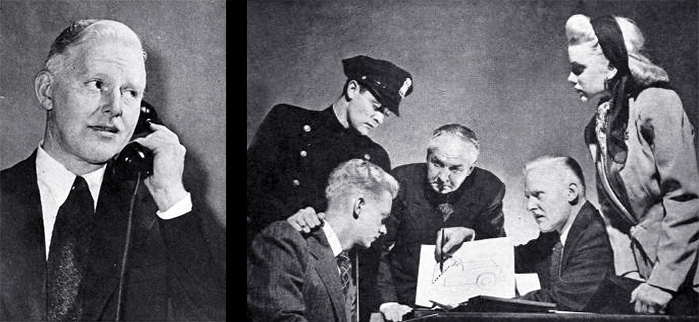 (House Jameson 1940 Photo: Radio Mirror)
In 1944, actor House Jameson took over the role of Dr. Benjamin Ordway from Everett Sloane. Other notable actors who appeared on Crime Doctor included Larry Haines, Elspeth Eric, and Ed Begley.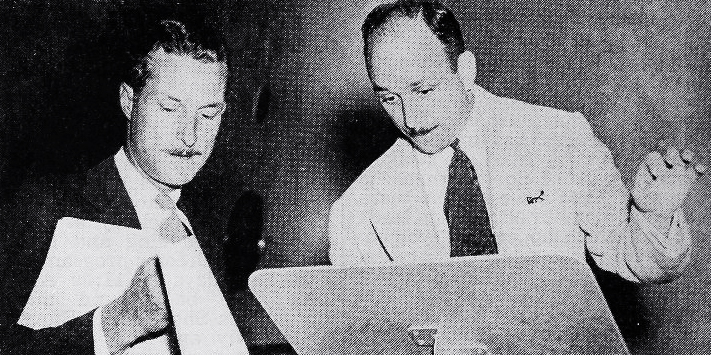 (Crime Doctor Director Jack Johnstone & Bandleader Ray Bloch 1940 Photo: Radio and Television Mirror)
The Magazine of Radio Romances reported in 1945 that actress Edith Arnold had played a female "heavy" on practically every broadcast of Crime Doctor, which at that point was around 200 episodes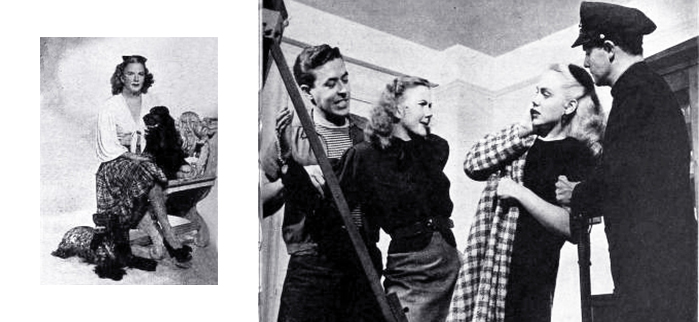 (Edith Arnold 1940s Photos: Crime Doctor / Radio Mirror)
Arnold was a Broadway veteran and appeared in a handful of films in the 1930s-1940s. She voiced characters on other radio series as well, such as The FBI in Peace and War (another Max Marcin series), and starred in the Marcin series Perfect Crime.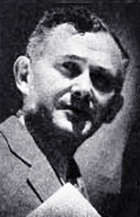 (Max Marcin 1933 Photo: Motion Picture Herald)
Crime Doctor was created and written by Polish-American novelist, short-story writer, Broadway playwright-producer, film director, and screenwriter (Cheating Cheaters) Max Marcin. Marcin also wrote the Friday night Perfect Crime series for Philip Morris; perhaps because of this, real criminals often wrote to him. According to Marcin, 
"Crooks may be wrong but they always write – and invariably their letters end with pleas for money."
A prisoner who confessed to having been in 11 different prisons, wrote to Marcin that it was only after listening to his radio crime dramas, that he became convinced crime didn't pay…and could Marcin float him a small loan to start him on the right path?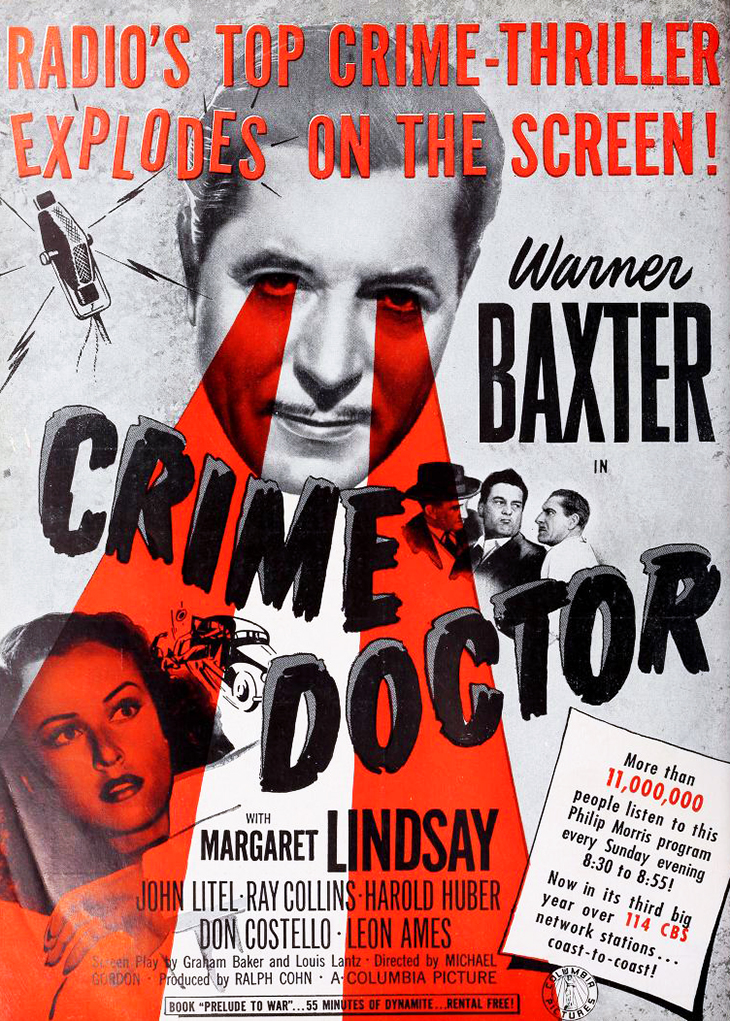 (Crime Doctor 1943 Movie Ad: Showmen's Trade Journal)
Columbia acquired screen rights to Crime Doctor and signed actor Warner Baxter to play amnesiac Robert Ordway / Phil Morgan. The first Crime Doctor (1943) movie had Ray Collins playing Dr. John Carey, Margaret Lindsay as his love interest Grace Fielding, John Litel as former crime partner Emilio Caspari, and Leon Ames as William Wheeler.
Between 1943-1949, Warner Baxter starred in another ten Crime Doctor films based on Max Marcin's classic radio program – The Crime Doctor's Strangest Case (1943), Lady in the Dark (1944), Shadows in the Night (1944), The Crime Doctor's Courage (1945), The Crime Doctor's Warning (1945), Just Before Dawn (1946), Crime Doctor's Man Hunt (1946), The Millerson Case (1947), The Crime Doctor's Gamble (1947, and The Crime Doctor's Diary (1949). 
Before his death in 1948, Marcin also launched Max Marcin's Crime Doctor Magazine in September 1946; each issue featured fictionalized versions of a Crime Doctor broadcast and stories by popular mystery writers. 
*Images are believed to be in the public domain or Creative Commons licensed & sourced via Wikimedia Commons, Vimeo, YouTube, or Flickr, unless otherwise noted*