Fascinating Facts From January 1940
News Headlines & Entertainment Trivia from January, 1940: Classic movie premiere – The Grapes of Wrath, starring Henry Fonda; Brother Rat and a Baby movie stars Jane Wyman and Ronald Reagan marry; Gene Autry's Melody Ranch, radio program and western movie 
Brother Rat and a Baby Stars Ronald Reagan & Jane Wyman Wed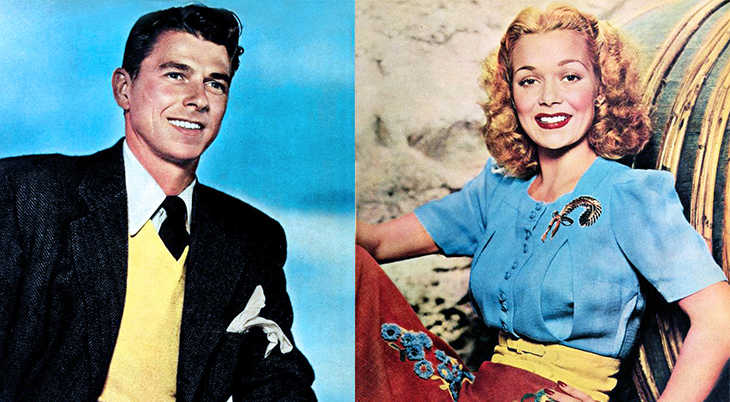 (Ronald Reagan & Jane Wyman 1942)
On January 13 1940, the comedy sequel movie Brother Rat and a Baby premiered in the United States. Co-starring in the film are Priscilla Lane, Wayne Morris, Jane Bryan, Eddie Albert, Jane Wyman, Ronald Reagan, with Arthur Treacher and Moroni Olsen. Morris, Albert, and Reagan play cadets, while Lane, Bryan, and Wyman are their significant others. 
This trailer for Brother Rat and a Baby features the three couples  – newlyweds and new parents Bing and Kate Edwards (Eddie Albert and Jane Bryan), Joyce Winfree (Priscilla Lane) and Billy Randolph (Wayne Morris), and Dan Crawford (Ronald Reagan) and Claire Terry (Jane Wyman) – coping with post-commencement life.  
Thirteen days after Brother Rat and Baby was released, co-stars Jane Wyman(age 23) and Ronald Reagan (age 26), were married on January 26, 1940. It was the first marriage for Reagan, and the third for Wyman.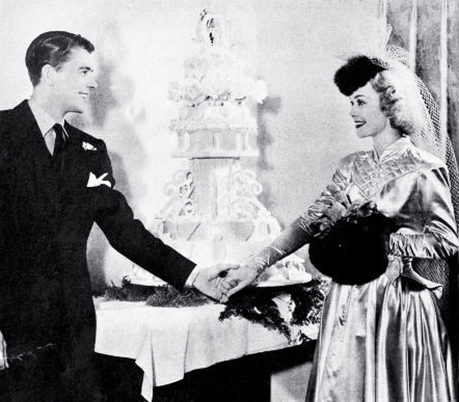 (Jane Wyman & Ronald Reagan 1940 January Wedding)
The couple first met in the summer of 1938, as supporting actors filming the first movie in the series, Brother Rat (1938). The next year they filmed the sequel Brother Rat and a Baby.
Modern Screen reported their "whirlwind courtship" and the 52-carat amethyst engagement ring (his birthstone) that Ronald gave Jane. Their wedding took place at Glendale's Wee Kirk o' the Heather, with the bride walking down the aisle to her new husband on the arm of gossip columnist Louella Parsons' husband. Their reception took place at the Parson's home.
A few weeks after their January 1940 wedding, Jane Wyman and Ronald Reagan filmed An Angel from Texas (1940) starring Rosemary Lane (Priscilla's sister), and their Brother Rat co-stars Wayne Morris and Eddie Albert. Later that year they co-starred again in Tugboat Annie Sails Again (1940). 
(Ronald Reagan & Jane Wyman 1942 Photos: Modern Screen)
By this time Jane Wyman Reagan was already pregnant with their first child, daughter Maureen Reagan (born January 1941).
They adopted son Michael Reagan as a newborn infant in March 1945. A third child, daughter Christine Reagan, was either stillborn or died the day after her June 1947 birth.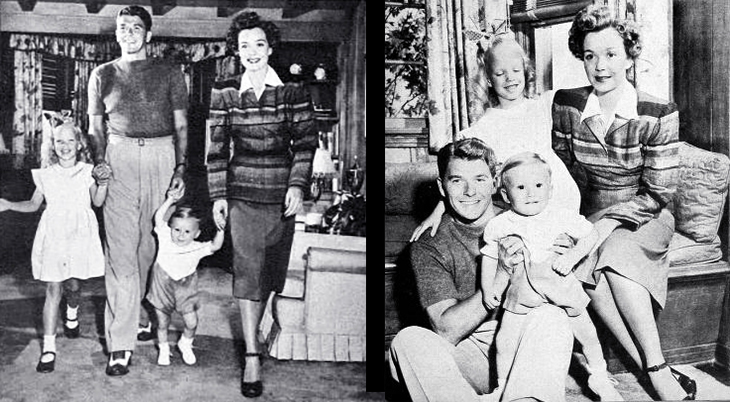 (Ronald Reagan & Jane Wyman with daughter Maureen & son Michael c. 1946)
Filmed in the fall of 1948, the musical It's A Great Feeling (1949) stars Doris Day, Jack Carson, and Dennis Morgan. It features cameos by Hollywood's legendary directors Michael Curtiz, King Vidor, and Raoul Walsh, along with movie stars Gary Cooper, Patricia Neal, Joan Crawford, Edward G. Robinson, Jane Wyman and Ronald Reagan. It's A Great Feeling was the last movie Jane Wyman and Ronald Reagan ever appeared in together; they separated in late 1947 or early 1948.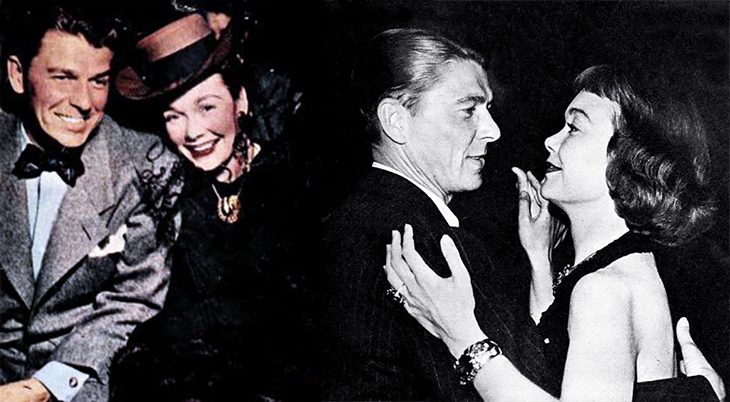 (Ronald Reagan & Jane Wyman c. 1947: Photoplay / Modern Screen)
They'd had a rough couple of years, with the birth and death of daughter Christine in 1947, and Jane's intense experience creating an Academy Award-winning performance in the title role as the deaf-mute Johnny Belinda (1948). Reagan was serving as the President of the Screen Actor's Guild, and his growing keen interest in politics was not shared by Jane. The couple had cooperated with the FBI in naming names of suspected Hollywood communists, and Reagan had testified at the HUAC hearings about the Hollywood Ten, which led to the blacklist. Gossip columnists linked Wyman's name with that of her Johnny Belinda co-star Lew Ayres.
A five-month separation and subsequent one-week reconciliation elapsed, before Jane Wyman filed for divorce from Ronald Reagan in mid-1948. 
"Right now, Jane needs very much to have a fling and I intend to let her have it. She is sick and nervous and not herself." – Ronald Reagan to Louella Parsons, April 1948 Photoplay
Their divorce was finalized in 1949.
Neither Ronald Reagan or Jane Wyman had a bad word to say about the other before, during, or after their marriage; Wyman took her own Oscar-winning acceptance speech to heart:
"I accept this, very gratefully, for keeping my mouth shut once. I think I'll do it again."
Gene Autry's Melody Ranch – Home, Radio, and Movie
Cowboy singer-songwriter and western movie actor Gene Autry's weekly western variety half hour radio series Melody Ranch debuted in January 1940 and aired Sunday nights on CBS for it's entire run (until August 1943 & again from September 1945 to May, 1956)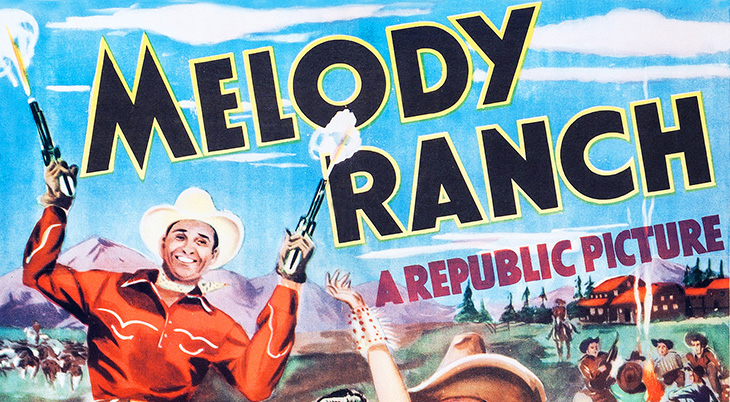 (Melody Ranch 1940 Movie Poster: Republic Pictures)
Wrigley's Doublemint Gum was the radio program sponsor and Gene Autry's signature song Back in the Saddle Again (1939) served as the theme song. The format of the Melody Ranch radio series usually involved an episodic western action-adventure story (as told by Autry and enacted by regulars and guest stars), interspersed with Autry singing. 
Many talents contributed to the Melody Ranch radio program over the years, including such notables as guitarist Merle Travis, comedy actor Pat Buttram, Autry's long-time friend and co-star Smiley Burnette, and singer-actor Johnny Bond. 
Betty Burbridge, a former silent screen actress turned newspaper columnist (as Prudence Penny Jr.) and film screenwriter, wrote many of the  film screenplays for Gene Autry Autry. Burbridge also wrote many western film screenplays for other early cowboy movie stars from the 1920s through the 1940s. Broadcasting reported that Betty Burbridge was one of the contributing script writer for Gene Autry's Melody Ranch radio program.
Gene Autry was a vaudeville and radio performer, singer-songwriter (Here Comes Santa Claus), and recording artist in the late 1920s and early 1930s. He broke into the movies as part of a singing cowboy quartet with pal and perennial sidekick Smiley Burnette in the oater In Old Santa Fe (1934), starring Ken Maynard and his horse Tarzan. The following year Gene Autry vaulted to the position of a leading man for Republic Pictures, and quickly popularized the role of "The Singing Cowboy" (1936) in films.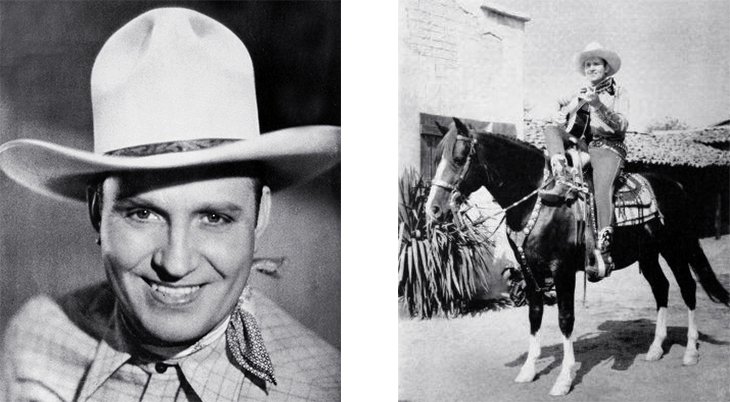 (Gene Autry and Champion, 1940) 
By January 1940, Gene Autry had appeared in 37 western films. He'd also purchased a 300 acre property he called Melody Ranch in the San Fernando Valley hills north-west of Hollywood, where he had moved to with his wife Ina and horse Champion, after a fire destroyed their other San Fernando Valley home.
"Champ, Gene's famous movie mount, occupies the full right wing of the ranch dwelling. It took persuasion, money and ingenuity to perfect the system of sound-proofing, air conditioning, and special drainage which permits this luxury, but all Gene has to do is whistle and Champ leaves his front door and waltzes in the twilight in the patio of the house." – Radio and Television Mirror, 1948.
Their ranching neighbors in the San Fernando Valley included Lionel Barrymore, Penny Singleton & Robert Sparks, Dinah Shore & George Montgomery, Jack Carson, William Bendix, and movie star dog Lassie with his trainer Rudd Weatherwax.
Autry told his Melody Ranch radio program listeners that the show was coming to them from his home at Melody Ranch. Clearly enamored of the tuneful phrase, he used it as a business name and it was also the title of one of his seven western films released in 1940.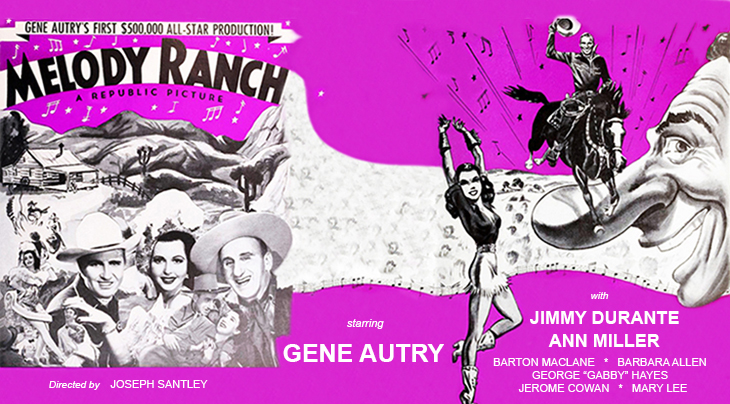 Melody Ranch (1940) stars Gene Autry as himself, with Jimmy Durante as an on-screen pal and singer-dancer-actress Ann Miller as his love interest. The Melody Ranch film screenplay was written by Betty Burbridge and three others. Character actors Slim Whitaker, Barton McClane, Jerome Cowan, and George "Gabby" Hayes also appear in the movie.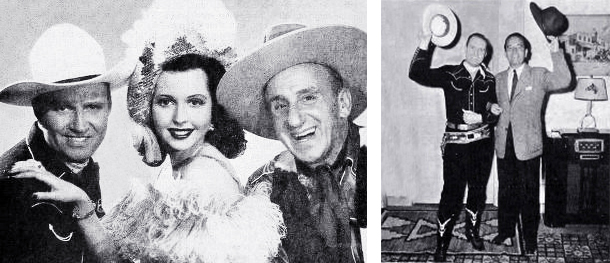 (Gene Autry, with Melody Ranch co-stars Ann Miller, Jimmy Durante, & director Joseph Santley)
In 1942 Gene Autry was drafted into the Army Air Corps during World War II. He served until the end of the war, at first continuing his weekly Sunday radio show with the same format but the new name of Sergeant Gene Autry.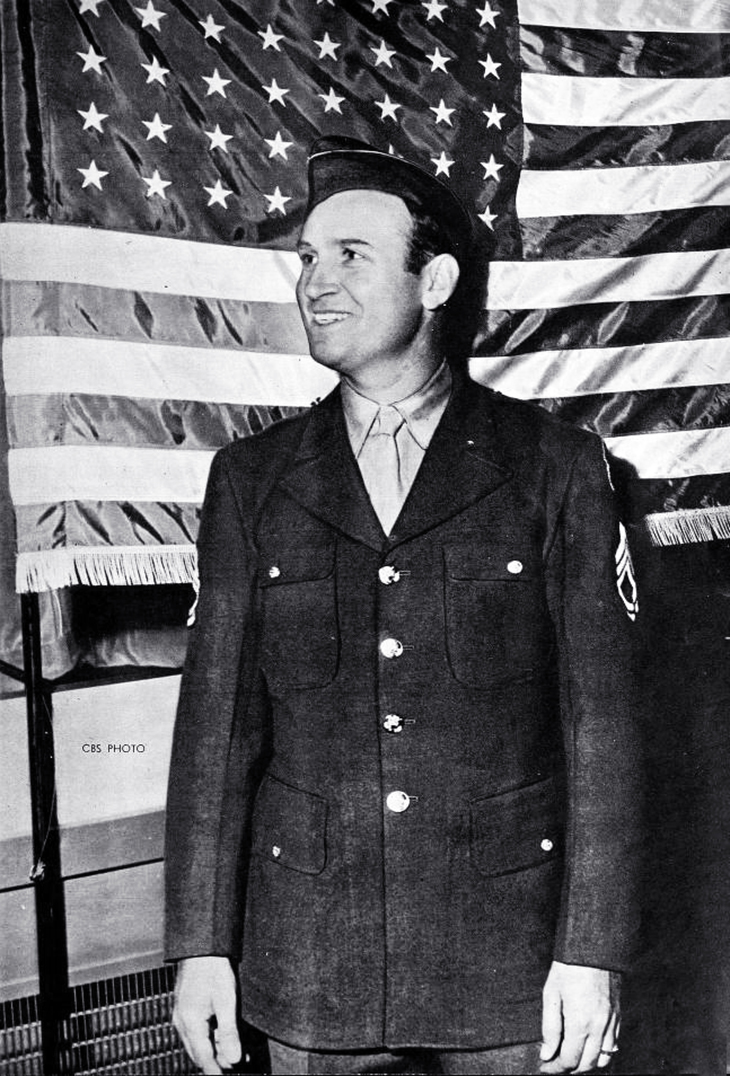 (Gene Autry 1942 Photo: CBS / Modern Screen)
The radio show went on hiatus in August 1943, but resumed again after WWII ended under the name of Melody Ranch in September 1945.
Modern Screen reported in January 1952 that Gene Autry was turning his San Fernando Valley Melody Ranch into a resort for underprivileged boys. The following year, Autry bought the former Monogram Pictures Ranch in Placerita Canyon State Park. This new, 110 acre movie ranch had authentic-looking "Old West" buildings on a main street, and was the site for location shooting on many feature films. Autry renamed it Melody Ranch, and it continued to served as a prime location for filming western movies and television series such as Gunsmoke, Wyatt Earp, Tombstone Territory, etc.
From 1950-1956 while his radio series was still airing on CBS, Autry formed Flying A productions and began producing and directing his own television series, The Gene Autry Show. Several movie ranches were used for location shooting of The Gene Autry Show, including – of course – Melody Ranch. His horse even had his own TV show – The Adventures of Champion (1955-1956) – which also filmed at Melody Ranch.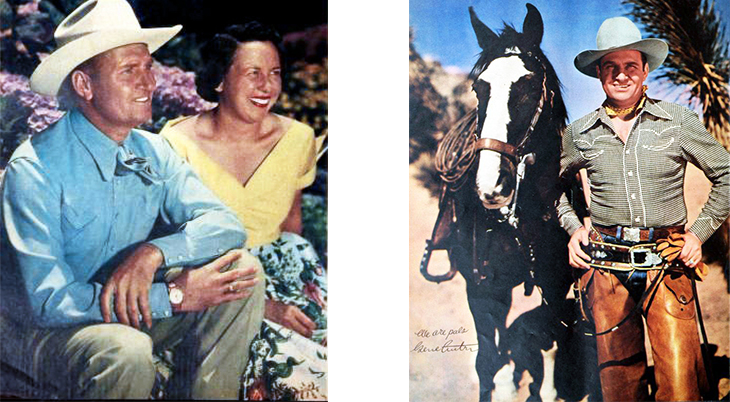 (Gene Autry with wife Ina in 1950 and with Champion in 1942)
Actress Gail Davis appeared several times on The Gene Autry Show, and was cast as the title character in the new TV series The Annie Oakley Show (1954-1957). The Annie Oakley Show was just one of several other series produced by Flying A Productions that filmed episodes at Melody Ranch. Gail Davis toured with Autry during his live performances, and according to Public Cowboy No. 1 author Holly George-Warren, Autry and Davis had an affair during the run of Annie Oakley.
A pilot and shrewd businessman, during his lifetime Autry invested in many properties and businesses. He owned hotels, radio stations in Arizona, California, and Oregon, and ranches in Arizona and Texas (The Lightning C), as well as the Flying A Ranch in Gene Autry, Oklahoma – yep, they re-named the town in his honor in 1941. A baseball fan, he was also an owner of the California Angels baseball team.
Autry's personal collection of over 17,000 recordings, and a museum with antique western artifacts, was also located on Melody Ranch. Sadly, the main street of the movie ranch, and much of his recordings and memorabilia were lost in a 1962 fire, according to Broadcasting.
Gene Autry was 91 when he died of lymphoma on October 2, 1998. 
The Grapes of Wrath
The classic movie based on author John Steinbeck's Pulitzer Prize-winning 1939 novel The Grapes of Wrath premiered in New York City on January 24, 1940.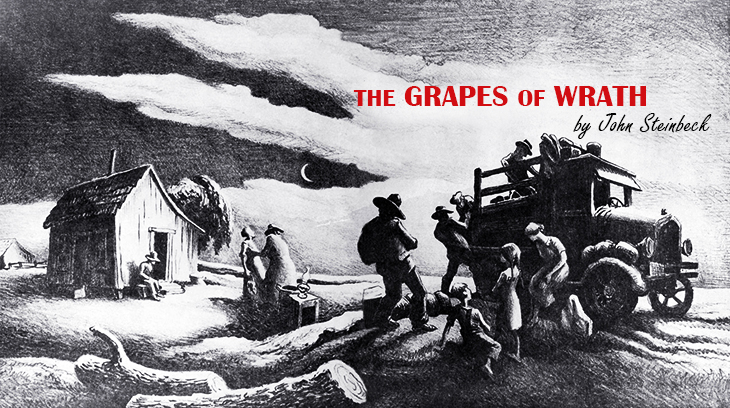 (The Grapes of Wrath 1940 Illustration: Thomas Hart Benton / Box Office Digest)
Producer Darryl F. Zanuck and 20th Century Fox won the bidding for the film rights to Steinbeck's best-selling novel. Director John Ford had Nunnally Johnson write the screenplay. The Grapes of Wrath was filmed at the 20th Century Fox Studios in Century City, with location shooting taking place in several California, Oklahoma, and New Mexico locales. 
This trailer for The Grapes of Wrath features leading man Henry Fonda, with Jane Darwell, John Carradine, Charley Grapewin, Dorris Bowdon, Russell Simpson, O.Z. Whitehead, John Qualen, and Eddie Quillan.
Set in the era of the Great Depression, The Grapes of Wrath tells the story of the devastation wrought to mid-west farmers by the dust bowl, and the lure of emigration to a better place (California).
Henry Fonda stars as newly released prisoner Tom Joad heading home to the family farm in Oklahoma, and meeting up with ex-preacher Jim Casy (John Carradine) on the way. They arrive at the farm to find that Tom's family have left because the farm has been repossessed, a trend that is devastating farmers in the area.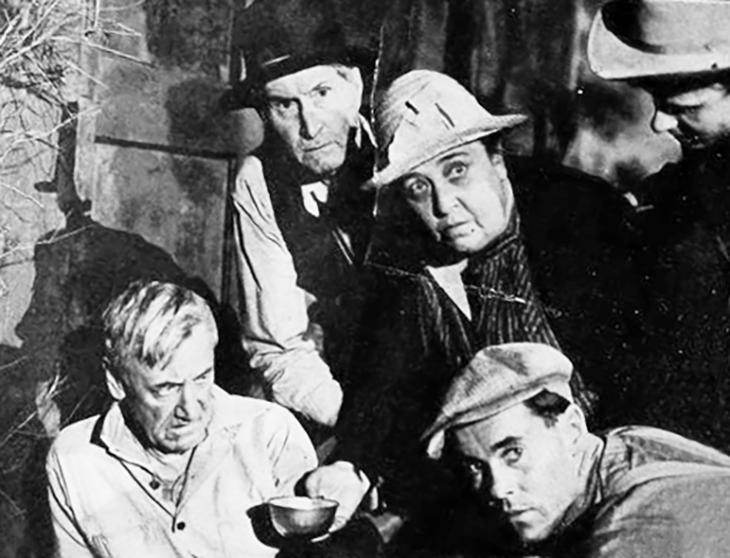 (Russell Simpson, Charley Grapewin, Jane Darwell, Henry Fonda 1940 The Grapes of Wrath)
Tom and the other members of the Joad family – Ma and Pa (Jane Darwell and Russell Simpson), Grandpa and Grandma (Charley Grapewin and Zeffie Tilbury), Al (O.Z. Whitehead), Noah (Frank Sully), Uncle John (Frank Darien), Winfield (Darryl Hickman), Ruthie (Shirley Mills), and their married daughter Rosasharn (Dorris Bowdon) and her husband Connie Rivers (Eddie Quillan) – are packed into an old car to drive to California via Highway 66. They are filled with hope that things will be better once they arrive.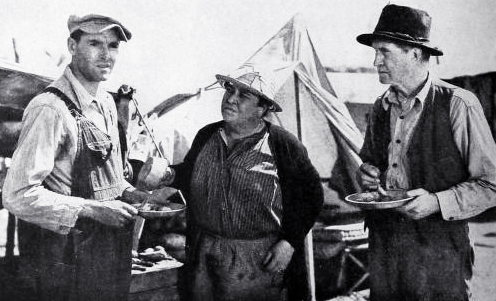 (Henry Fonda, Jane Darwell & John Carradine: A Pictorial History of the Movies)
Grandpa Joad dies en route and is buried along the side of the road.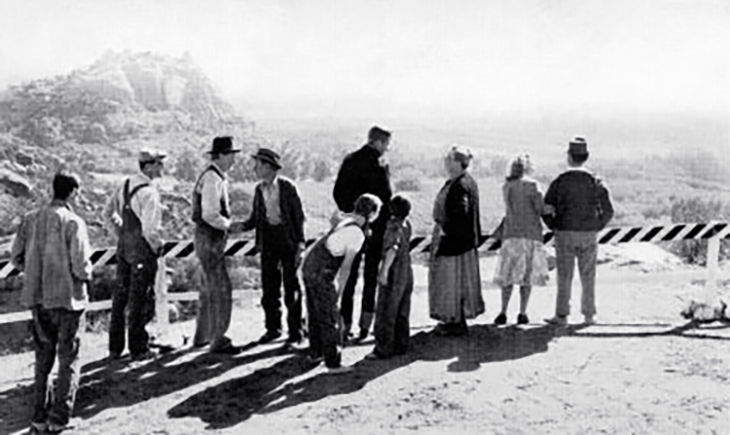 (The Joad Family 1940 The Grapes of Wrath: 20th Century-Fox Dynamo)
Upon arrival in California, Grandma Joad also dies, and Connie and Noah head off on their own. The Joads enter an overflowing migrant camp filled with other souls at the edge of desperation due to lack of paying jobs and food.
The Joads move on to another migrant camp, where they are able to find some work as field hands. The only place to buy food is at the company store and prices are high. Some of the migrant workers go on strike. Tom and Jim Casy attend a strike meeting, where Casy is killed by one of the camp guards that breaks it up. While defending Casy, Tom is wounded and he accidentally kills the guard. The Joads hide Tom under a mattress in the truck and leave the camp. 
Back on the road, they head to a third camp where conditions are markedly better. Tom is inspired by their experiences to work for social reforms. 
Nominated for 7 Academy Awards, The Grapes of Wrath won two – Jane Darwell walking away with the Best Supporting Actress for her performance as Ma Joad (leaving Judith Anderson, Ruth Hussey, Barbara O'Neil / All This, and Heaven Too, and Marjorie Rambeau empty-handed; and Director John Ford triumphed over Sam Wood (Kitty Foyle), William Wyler (The Letter), George Cukor (The Philadelphia Story), and Alfred Hitchcock (Rebecca).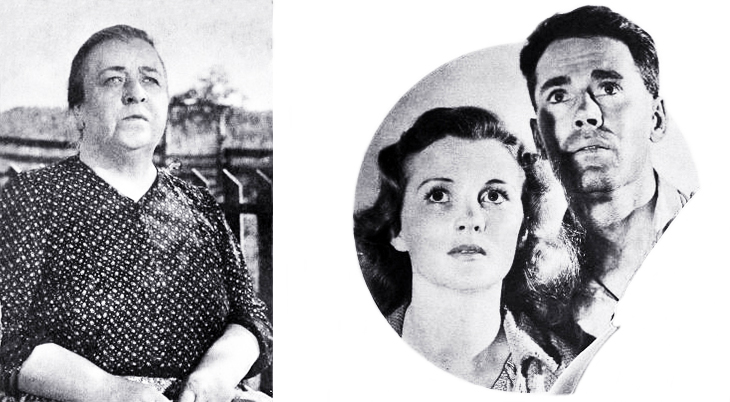 (Jane Darwell, Henry Fonda & Dorris Bowdon 1940 The Grapes of Wrath)
The Grapes of Wrath sound editor E.H. Hansen and film editor Robert L. Simpson each received nominations for their respective categories. The other 3 Oscar nominations for The Grapes of Wrath went to:
Best Actor – Henry Fonda, Charlie Chaplin, Raymond Massey (Abe Lincoln in Illinois), and Laurence Olivier (Rebecca) lost to James Stewart (The Philadelphia Story).
Best Screenplay – Donald Ogden Stewart took home the Academy Award for Best Screenplay for The Philadelphia Story, beating The Grapes of Wrath adaptation by Nunnally Johnson.
Outstanding Production – Won by David O. Selznick for Rebecca, this was a crowded field with 11 nominees including Darryl F. Zanuck and Nunnally Johnson for The Grapes of Wrath. Some of other nominees were Walter Wanger (Foreign Correspondent), Charlie Chaplin (The Great Dictator), Hal B. Wallis (The Letter; and also for All This, and Heaven Too), John Ford (The Long Voyage Home), Joseph L. Mankiewicz (The Philadelphia Story), and Sol Lesser (Our Town).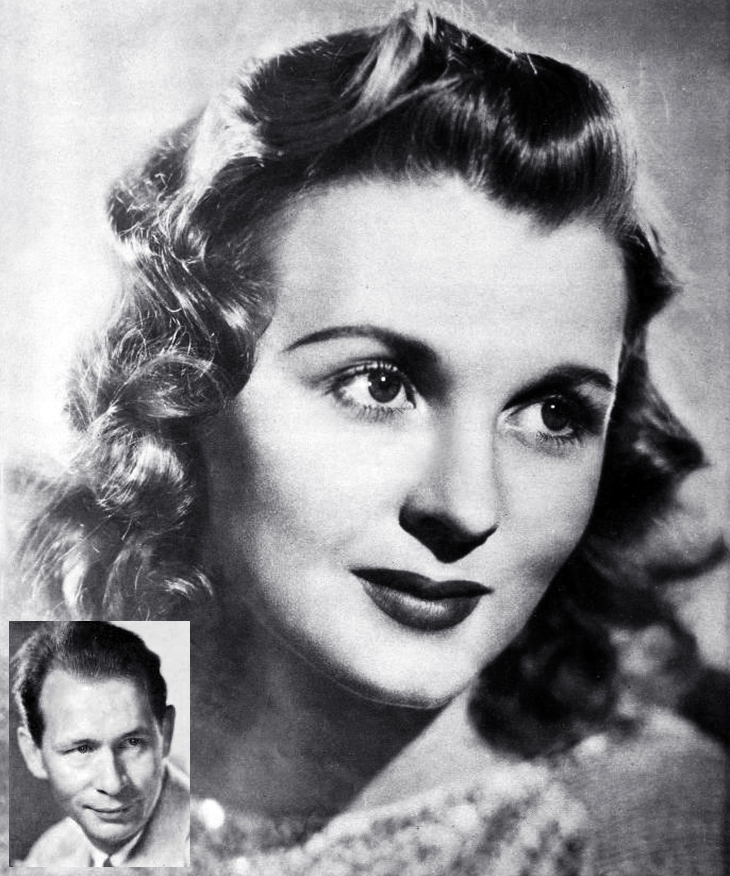 (Dorris Bowdon 1940 Photo: Silver Screen / Nunnally Johnson 1939 Photo: Photoplay)
Screenwriter Nunnally Johnson (age 42) and supporting actress Dorris Bowdon (age 25) met and fell in love during filming of The Grapes of Wrath. The month after it's January 1940 premiere, they were married at the home of Helen Hayes and Charles MacArthur. It was the first and only marriage for Bowdon, and Johnson's third; he had been previously married and divorced twice, with a daughter from each marriage. Dorris Bowdon retired from acting in 1943 after having appeared in only 7 films. Together the couple had three more children.
Among Johnson's other 65+ films he either directed, produced, and/or wrote the screenplay for, are Moulin Rouge (1934), The House of Rothschild (1934), Bulldog Drummond Strikes Back (1934), Jesse James (1939), Rose of Washington Square (1939), Chad Hanna (1940), Tobacco Road (1941), Casanova Brown (1944), Along Came Jones (1945), Three Came Home (1950), My Cousin Rachel (1952), How to Marry a Millionaire (1953), Mr. Hobbs Takes a Vacation (1962), and The Dirty Dozen (1967). Nunnally Johnson died in 1977 at the age of 79, and Dorris Bowdon in 2005 (age 90).
*Images are believed to be in the public domain or Creative Commons licensed & sourced via Wikimedia Commons, Vimeo, YouTube, or Flickr, unless otherwise noted*