What Was New in April 1952
News Headlines & Entertainment Trivia from April, 1952: 1st New Toy Advertised on TV – Classic Movie Premiere: Singin' in the Rain; Mr. Potato Head Debuts on TV Ad; Daphne Du Maurier's My Cousin Rachel Tops Bestseller Lists.
Singin' in the Rain Movie Release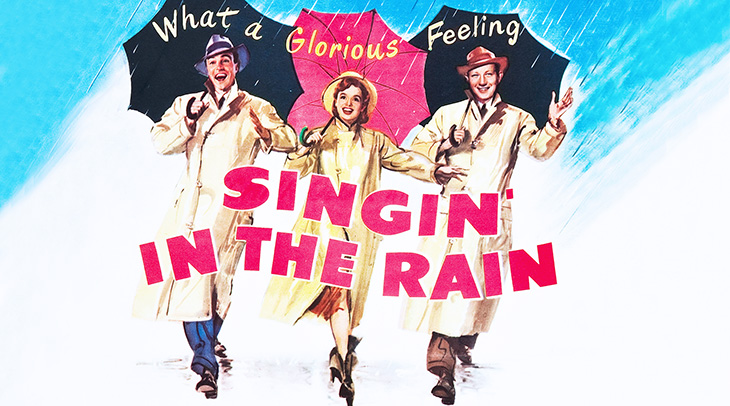 (Gene Kelly, Debbie Reynolds & Donald O'Connor 1952 Singin' in the Rain Poster: Loew's Incorporated)
At it's April 9, 1952 premiere in Los Angeles, Singin' in the Rain was a only a modest hit with audiences and critics alike. The movie earned two Academy Award nominations – Best Original Musical, and a Best Supporting Actress nod for Jean Hagen. In the decades since then, Singin' in the Rain has been hailed as a musical rom-com classic, topping many American Film Institute "best of" lists. 
Film stars Debbie Reynolds, Donald O'Connor, and Gene Kelly sing and dance their way across the screen in this story set in the era of silent films just as the "talkies" are making an entrance (1929). Gene Kelly is singer-dancer & stuntman turned leading man Don Lockwood, who tries to flee from his fans after a film premiere by jumping into a car driven by actress Kathy Seldon (Debbie Reynolds), who's less than impressed by his movies. After a spat with Kathy at an after party, she disappears and Don realizes he's smitten; Don's leading lady Lina Lamont (Jean Hagen) for the movie they're filming has her fired. Don's long-time best pal Cosmo Brown (Donald O'Connor) eventually finds Kathy weeks later for him, and the duo profess their mutual admiration. Lina's voice isn't suited to talking pictures and series of mishaps turns the audience preview into a farce. Re-tooling the movie into a musical with Kathy dubbing Lina's voice ensures the revised film is an audience hit, but disaster strikes at the premiere
Additional dancers and actors in Singin' in the Rain include Cyd Charisse, and future Tombstone Territory series star Pat Conway, who has an uncredited role as a projectionist.
Singin' in the Rain producer Arthur Freed had already co-written most of the songs, and the film's plot and script were written with these songs in mind.
Leading man Gene Kelly did double duty, starring and sharing director duties with his protege Stanley Donen. It's said that Kelly's filmed first take of Singing' in the Rain was mostly ad-libbed at the end of a long day when the actor was quite ill, and done in one shot. This song and dance sequence is now considered iconic in and of itself. Below, Gene Kelly performing Singin' in the Rain.
Both his co-stars Debbie Reynolds (who was only 19 at the time) and Donald O'Connor, would later say making Singin' in the Rain was one of their most demanding filming experiences, due to Gene Kelly's disciplined approach and perfectionism. 
Debbie Reynolds about Gene Kelly:
"The most exciting director I've ever worked for. And he has a good temper. Every so often he would yell at me and make me cry. But it took a lot of patience for him to work with someone who had never danced before."
Donald O'Connor said that filming a difficult stunt for the Make 'em Laugh song – involving him running up a wall and doing a somersault – came at a time when he was smoking four packs of cigarettes a day. Filmed in one day on a concrete floor, O'Connor took to his bed for 3 days after due to exhaustion; only to find out on his return to the set, that the take had been ruined and would have to be re-done.
Several characters & events in Singin' in the Rain were a poke at/tribute to, legendary Hollywood figures:
Actor Millard Mitchell plays Monument pictures head R.F. Simpson, similarities to MGM's Louis B. Mayer intended.
"It Girl" silent movie actress Clara Bow is morphed into "Zip Girl" Zelda Zanders (Rita Moreno).
The corny lines that Don Lockwood says in "The Dueling Cavalier" are based on the type of dialogue that helped kill the career of silent film star John Gilbert.
Catty reporter Dora Bailey (actress Madge Blake), calls to mind gossip columnist Louella Parsons. 
Silent film stars Pola Negri and Gloria Swanson inspired the character of Olga (actress Judy Landon). 
This clip of Singin' in the Rain features Gene Kelly, Jean Hagen, Douglas Fowley (as director Roscoe Dexter), and Kathleen Freeman (as vocal/acting coach Phoebe Dinsmore), and illustrates the use of costumes & props to hide microphones in the early days of talking pictures.
Costume designer Walter Plunkett – who created 500 costumes for Singin' in the Rain – began his career in 1929, and some of his memories of real film bloopers with costumes wired for sound, are used in the movie. Actor Douglas Fowey plays film director Roscoe Dexter, based on silent movie star turned director-actor Erich Von Stroheim. Today, both Von Stroheim and Swanson are better known to classic film lovers for their performances in Sunset Boulevard (1950), another movie homage to silent films/actors.
Mr. Potato Head is First Toy Advertised on Television:
On April 30, 1952, Mr. Potato Head became the first new toy advertised on television, available for sale the following day (May 1, 1952). As of 2020, Mr. Potato Head is now 68 years old – a senior citizen!, but looking very young for his age! Along the way to selling more than 100 million toys around the world, he's become something of a pop culture icon, even having his own shot-lived television series in 1998 – The Mr. Potato Head Show.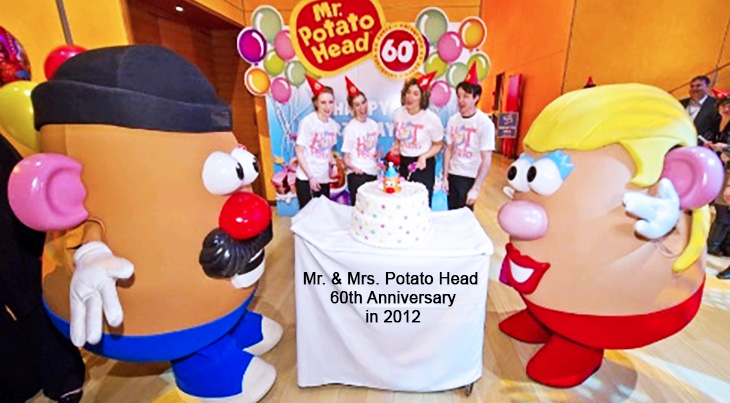 (Mr. & Mrs. Potato Head 2012 60th Anniversary Photo: Hasbro, Inc.)
Invented by George Lerner in 1949, it was Hasbro that first manufactured and began selling Mr. Potato Head in 1952. Originally, the toy set was simply separate pushpin plastic parts to stick into a real potato (or other fruit or vegetable). It wasn't until 1964 that Hasbro began including a plastic potato body to accompany the accessories, due to new government safety regulations and consumer complaints about rotting vegetables.
Not only have various Mr. Potato Head playsets (30+ licensed characters and counting) over the years mirrored trends in movies (The Amazing Spider-Man Spider Spud; Captain America; Thor; Transformers;  Star Wars Darth Tater), he's become a character voiced by comedian Don Rickles in the popular Toy Story film franchise. But fear not Mr. Potato Head purists, "Classic" Playskool Mr. and Mrs. Potato Head toys can still be purchased for the child you love (or the child in you).
Over the years Mr. Potato Head has also been a "spokespud" for the American Cancer Society (in 1987), and received a 1992 Presidential Sports Award for giving up his "couch potato" status. 
Today kids of all ages can connect with Mr. Potato Head on his Facebook page. 
Daphne Du Maurier's My Cousin Rachel #1 Bestseller
British gothic romance-suspense author Daphne Du Maurier's My Cousin Rachel (1951) hit #1 on The New York Times Best-Seller List for 8 weeks beginning the first week of April, 1952. My Cousin Rachel temporarily knocked author Herman Wouk's The Caine Mutiny out of #1, a position it had held for 33 weeks.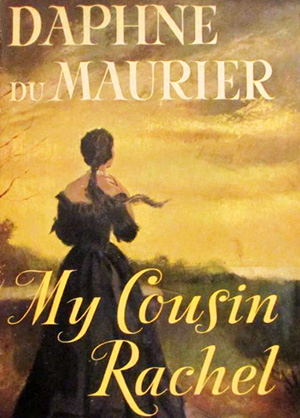 (My Cousin Rachel 1952 Dust Jacket Cover)
My Cousin Rachel begins with Cornwall landowner Ambrose Ashley acting as guardian to his young orphaned cousin Philip. Sunday lunches include Philip's godfather Nicholas Kendall and his daughter Louise Kendall.
As both Philip and Ambrose get older, Ambrose begins wintering in Italy for his health. Ambrose writes to Philip that he's met – and married – their widowed cousin Rachel (Contessa Sangaletti) in Florence, and doesn't plan a return to Cornwall any time soon.
The letters from Ambrose begin to contain complaints of headaches, being watched constantly by Rachel, and lack of trust in anyone.
Concerned that his uncle may have a brain tumor, Philip (now in his 20s) travels to Italy only to discover that his uncle is dead and Rachel is gone from their villa.
Philip returns to Cornwall to find a death certificate for his uncle and news that he is still Ambrose' heir, as the will was never changed. Rachel eventually arrives in Cornwall and Philip and she grow close, but suspicions soon arise.
Daphne Du Maurier's masterful ability to set a scene and drop ambiguous clues helped make this book the best-seller that it became.
The first film adaptation of My Cousin Rachel (1952) directed by George Cukor starred Olivia de Havilland as Rachel, Richard Burton as Philip, and John Sutton as Ambrose. Modern Screen reported that Cukor originally wanted Greta Garbo to star as Rachel, but Olivia de Havilland won the part over both Garbo and Vivien Leigh. When My Cousin Rachel premiered later in 1952 (December 25th), the cast also included Ronald Squire as Nicholas, Audrey Dalton as Louise, and George Dolenz as Guido Rainaldi. A more recent film adaptation in 2017 starred Rachel Weisz as the title character.
My Cousin Rachel brings to mind Du Maurier's earlier masterpiece Rebecca (1938) and will inspire you to read that book and others by Du Maurier, if you haven't already done so.
*Images are believed to be in the public domain or Creative Commons licensed & sourced via Wikimedia Commons, Vimeo, YouTube, or Flickr, unless otherwise noted*