What Was New in September 1952?
News Headlines & Entertainment Trivia from September, 1952: George Reeves, star of The Adventures of Superman; Charlie Chaplin's U.S. Re-Entry Permit is Revoked; and the Classic Movie Release of Just For You, starring Jane Wyman and Bing Crosby. 
George Reeves, TV Star on Adventures of Superman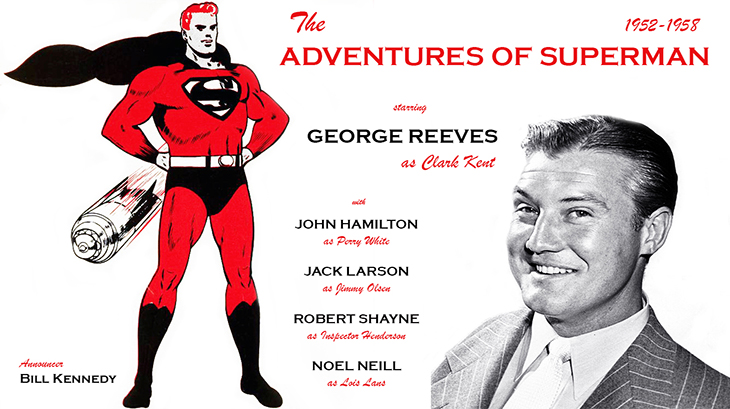 (George Reeves c 1955 & 1952 Adventures of Superman TV Ad)
On September 19, 1952, The Adventures of Superman starring George Reeves as Clark Kent, began airing on television in half-hour episodes.
Born on January 5, 1914, actor George Reeves had broken into films with bit parts in 1939 movies (Scarlet's beau Stuart Tarleton in Gone With the Wind). The following year, Reeves could be seen in no lees than 15 feature films released in 1940, working his way into strong supporting roles (Ladies Must Live; Father is a Prince; Calling All Husbands; Argentine Nights; Torrid Zone), or occasional leading man parts in "B" films (Always a Bride). During the rest of the 1940s, George Reeves career flattened and he was mostly relegated to small parts is bigger films, and bigger parts in smaller films.
This run was interrupted by George Reeve's service in the U.S. Army entertainment division from 1943-1945, which saw him make a Broadway debut in their performance of Winged Victory. Post-WWII, he began working on radio and television in between film appearances.
Reeves (nee George Brewer) was a mature-looking 38 years old when he landed the role of Clark Kent / Superman in June 1951. The next month, the black-and-white movie Superman and the Mole Men (1951) was filmed in just 10 days.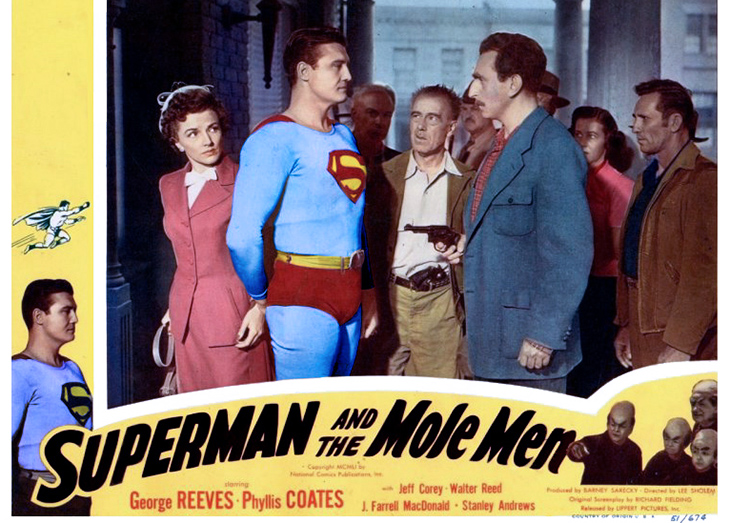 (George Reeves, Phyllis Coates & Jeff Corey 1951 Superman and the Mole Men Lobby Card: Lippert Pictures Incorporated)
The movie stars George Reeves as Clark Kent, with Phyllis Coates as Lois Lane, Jeff Corey as Luke Benson, Walter Reed as Bill Corrigan, J. Farrell MacDonald as Pop Shannon, Stanley Andrews as the Sheriff, and Ray Walker as John Craig. 
Superman and the Mole Men served as the pilot for a new television series, and black and white episodes were filmed in August and September of 1951 at the RKO studios lot. These episodes didn't begin airing on television until a year later, in September of 1952. Reeves and Coates were the only major cast members from the Mole Men film to also appear as regulars on the new TV series as the same characters (Superman & Lois Lane). Both Stanley Andrews and Walter Reed guest-starred three times each on the TV show between 1953-1958, but as different characters (Sam Garvin, and General Barrel, respectively).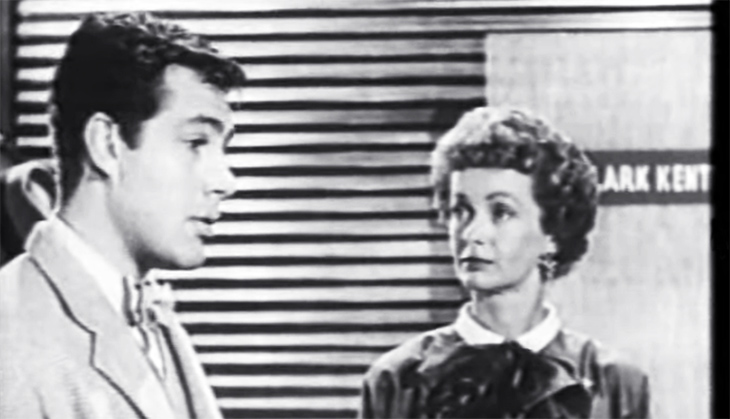 (Jack Larsen & Noel Neill 1954 The Adventures of Superman)
The television series Adventures of Superman introduced the regular characters of The Daily Planet Editor Perry White (played by John Hamilton), newsboy Jimmy Olsen (as portrayed by Jack Larson), and Inspector Henderson (Robert Shayne). Actor Bill Kennedy served as the series announcer. Reeves, Hamilton, Larson, Shayne, and Kennedy remained with the series until it's run ended in 1958.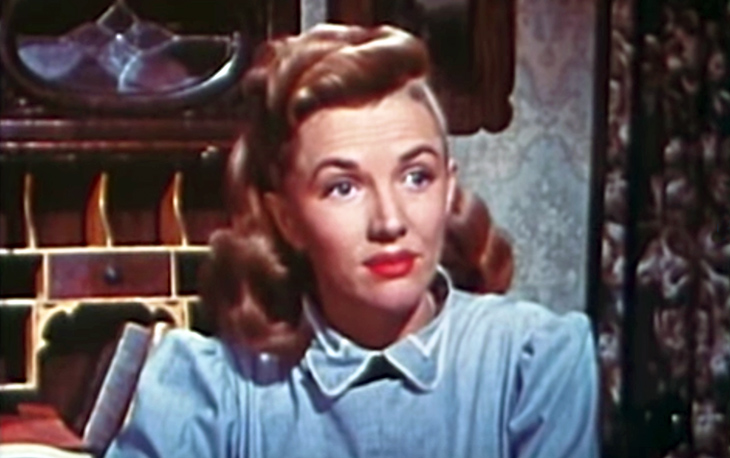 (Phyllis Coates 1951 Cisco Kid)
Actress Phyllis Coates is only in the first two seasons of the show, due to her other commitments. She was replaced in the role of Lois Lane by actress Noel Neill from 1953-1958.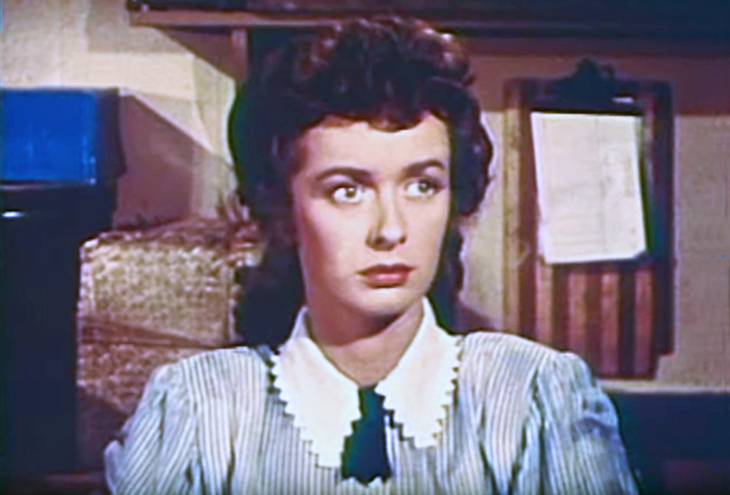 (Noel Neil 1950 The Cisco Kid)
Noel Neill had previously played Lois Lane in the feature films Superman (1948), and Atom Man vs. Superman (1950); both of these movies star Kirk Alyn as Clark Kent/Superman, Tommy Bond as Jimmy Olsen, and Pierre Watkin as Perry White.
In the Stamp Day for Superman episode, George Reeves stars as Clark Kent, with Noel Neill as Lois Lane, Jack Larson as Jimmy Olsen, and John Hamilton as Perry White.
In 1954 The Adventures of Superman began being filmed in color, and the series tone also lightened up from somewhat grimmer plotlines. Filming moved from the RKO lot to California Studios in 1953, then Chaplin Studios in 1955, and found it's final home for the last two seasons at Ziv Studios (producers of Tombstone Territory) for 1956-1957. Griffith Observatory in Los Angeles stood in for Jor-el's lab/home, and other locations in Los Angeles stood in for metropolitan New York.
Among the many guest-stars that appeared multiple times on Adventures of Superman before it's last episode aired in 1958, were Herb Vigran, Tristram Coffin, Sterling Holloway, John Doucette, Allene Roberts, Paul Burke, Patrick Aherne, Dabbs Greer, Myron Healey, Raymond Hatton, and many others.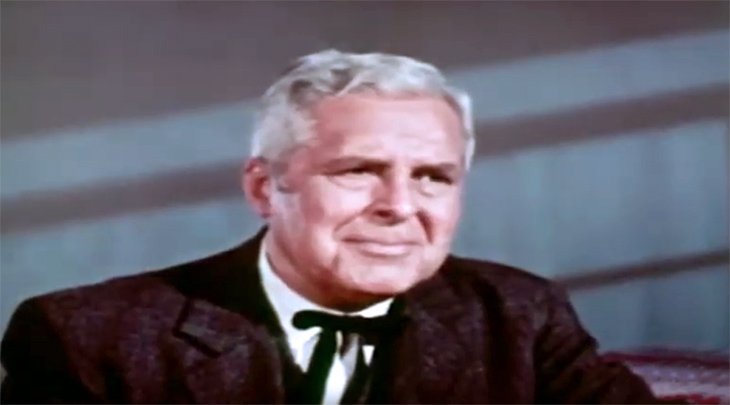 (John Hamilton 1953 The Cisco Kid)
Regular John Hamilton (Perry White) died on October 15, 1958 of a heart attack at the age of 71.
Series star George Reeves had found himself typecast after episodes of Superman began airing, making other film and TV work difficult to find. He attempted to break away from the series a few times, only to return. By the summer of 1959 when filming was set to begin for another season of Adventures of Superman, Reeves had been dealt some professional disappointments (directing a film, and touring Australia in a stage show). He was poised to marry socialite Leonore Lemmon on June 19 before heading off on a Tijuana honeymoon, but complained of finances.
Three days before his wedding, on June 16, 1959 George Reeves was found dead in his bedroom with a gunshot wound in his head. Controversy erupted over the circumstances surrounding his death. George's fiance Leonore Lemmon and other impromptu house guests at the time were drunk, and delayed contacting police after they heard the gunshot and found Reeves' body. Only one gunshot was heard, and the bullet that killed Reeves was found in the bedroom ceiling; however, two other bullets were found embedded in the bedroom floor. There was no evidence noted of fingerprints on the gun, or gunshot residue on Reeve's hands; etc. George Reeves' death was ruled a suicide, but several of his contemporaries voiced skepticism. Alternative theories included a professional hit contracted by MGM VP Eddie Mannix or his wife Toni (Reeves had an affair with Toni Mannix), or an accidental shooting by Reeve's fiancee Leonore Lemmon. 
Whatever the truth of George Reeves' death, and whether the scandal had any bearing on it or not, The Adventures of Superman television show was cancelled. 
Charlie Chaplin's Re-Entry Permit to US Is Revoked
On September 18th, 1952, Charlie Chaplin and his family boarded the RMS Queen Elizabeth in New York, to sail for England and the premiere of his most recent picture, Limelight (1952). The day after, U.S. Attorney General James P. McGranery revoked Chaplin's United States re-entry permit, stating that Chaplin would have to undergo an interview about his moral behaviour and political beliefs before he could return to the United States. A bitter Charlie Chaplin moved to Switzerland and did not return to the United States for twenty years.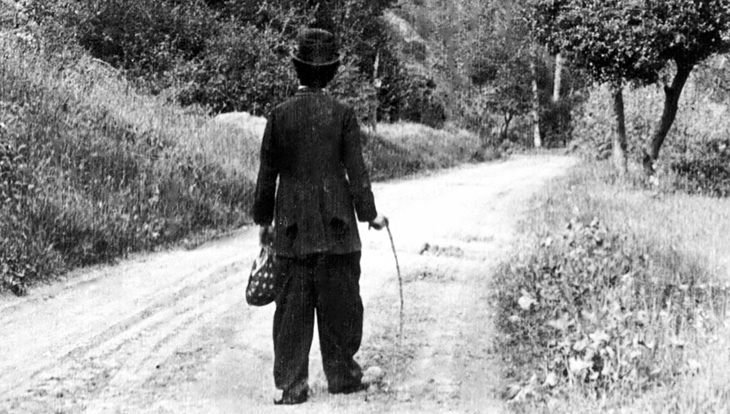 (Charlie Chaplin as The Tramp 1915 Photo: Essanay Studios)
The iconic filmmaker and actor whose beloved character "The Tramp" had made him a legend of silent films beginning in 1915 and had been applauded for his anti-facism/Hitler WWII film The Great Dictator (1940), had fallen from grace in the USA later in the 1940s. A paternity suit in 1943 and marrying 36-years-younger Oona O'Neill, combined with Chaplin's stated dislike of capitalism and war, his support of Soviet-American friendship groups, and consorting with known communists – during the height of the U.S. "red scare" – had put Charlie on FBI director J. Edgar Hoover's personal "most wanted" list. Chaplin protested against the House Un-American Affairs Committee (HUAC) investigation of Hollywood, and was accused of being a communist. Public sentiment turned against Charlie, and his 1947 film Monsieur Verdoux was a box office failure. 
Charlie Chaplin came back to the United States in 1972 to accept an Academy of Motion Picture Arts and Sciences Honorary Award, for
"The incalculable effect he has had in making motion picture the art form of this century."
Chaplin was given a 12 minute standing ovation at the Academy Awards celebration. Already in poor health, he had suffered several strokes in the late 1960s. His health continued to deteriorate and by the mid-1970s he was in a wheelchair. Charlie Chaplin died of a final stroke in his sleep at his home in Switzerland on December 25, 1977.
This giant of the film world had transformed the motion picture industry.
Just for You Classic Movie Released
Director Elliot Nugent's last film Just for You, starring BIng Crosby & Jane Wyman, was released in September 1952. What's notable about this film almost 70 years later, is that it displayed to Bing Crosby's fans a less-than-perfect image of the star as a father, something that was closer to the truth than was known at the time to anyone outside Bing's immediate family.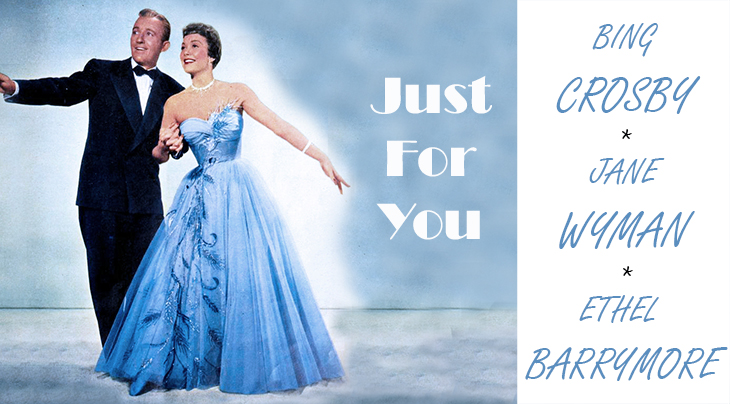 (Bing Crosby & Jane Wyman 1952 Just For You)
Filmed in glorious technicolor on location at California's Lake Arrowhead and Big Bear Lake in the San Bernardino National Forest, the scenery is one of the highlights of Just for You. However, critical reaction to the movie was mixed overall, with some lauding the story, stars, and melodies as being suitable for older audiences, while others pointing fingers at a stodgy plot and uninspired soundtrack.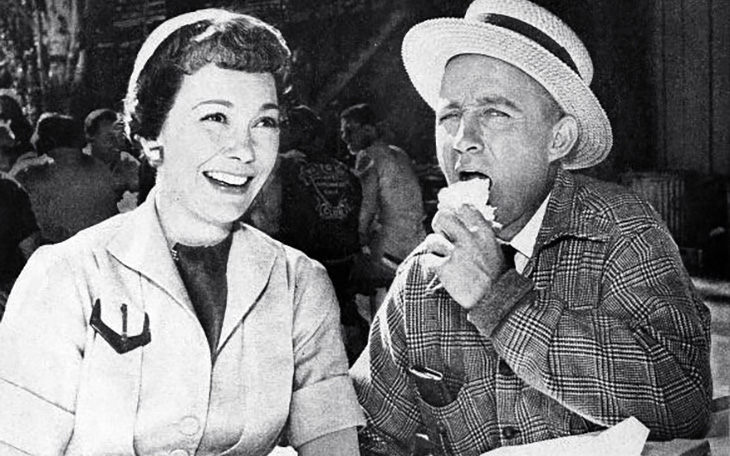 (Jane Wyman & Bing Crosby between takes on location in Lake Arrowhead 1952)
The plot of Just for You has successful songwriter, Broadway showman, and widower Jordan Blake (Bing Crosby) neglecting his teenaged kids Barbara (Natalie Wood) and Jerry (Robert Arthur) for his latest play. His girlfriend and the star of the play is Carolina Hill (Jane Wyman), whom Jerry has a crush on. Jordan snaps out of his oblivious fatherhood when his daughter Barbara's governess Mrs. Angevine (Cora Witherspoon) is arrested.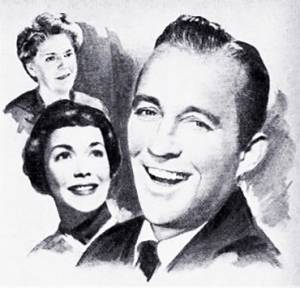 (Bing Crosby, Jane Wyman & Ethel Barrymore 1952 ad Just for You)
Jordan packs up the kids for a family vacation at the urging of Carolina and off they go to a resort.
Ethel Barrymore plays the headmistress of a nearby school, which Barbara would like to attend; Jordan attempts to win over the school trustees with a song in the hope that Barbara will be accepted.
Below, Bing Crosby sings Zing a Little Zong in a clip from Just for You.
Jerry is heartbroken when he discovers that Carolina and Jordan are engaged, and he runs off to enlist in the Air Force. During WWII Jordan is performing in the USO for the troops, and doesn't realize his son Jerry is in the audience; Jerry hears Jordan talk about raising children. The bridge between the father and son is mended, and the little family is reunited at last.
(Bing Crosby & Jane Wyman 1952 Just For You Ads)
Ironic that at the time, the New York Times columnist Bosley Crowther commented,
"Bing Crosby's well-known reputation as an amiable father of boys may have no bearing whatsoever on his new picture, 'Just for You', but it is notable that, in this song-plugged fable, he plays a father who has trouble with his son."
In reality, Bing Crosby's sons later commented that dear old Dad was definitely not the easy going, endlessly loving father that the studios, record labels, and press portrayed him as at the time. Bing's oldest son Gary Crosby's memoir Going My Own Way (1983) recounted memories of an abusive, dysfunctional father focused on his career (a tad worse than Jordan in Just for You). Gary's story was supported by his brothers Dennis and Lindsay Crosby; Philip was the only one of the 4 Crosby siblings to have a different outlook. Sadly, all four of Bing's sons became alcoholics as adults, and both Lindsay and Dennis Crosby later took their own lives. 
Just for You was the third and last film that Jane Wyman and Bing Crosby were both in. Bing co-starred with Ethel Merman in Anything Goes (1936), while Wyman, who was just starting out on her film career back then, was an uncredited chorus girl. By 1951, Wyman had graduated to romantic leading lady to Crosby's leading man in the rom-com Here Comes the Groom (1951).
On a brighter note, Jane Wyman wore a lot of classic 1950s women's suits in Just for You, and Modern Screen ran a feature on them, below.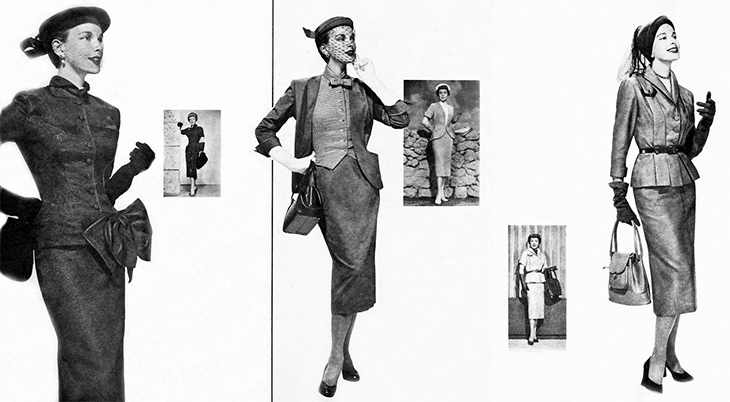 (Just for You 1952 Movie Fashions Worn by Jane Wyman Photos: Modern Screen)
*Images are believed to be in the public domain and/or Creative Commons licensed & sourced via Wikimedia Commons, Vimeo, YouTube, or Flickr, unless otherwise noted*