Fascinating Facts From October 1940
News Headlines & Entertainment Trivia from August, 1940: Classic Movies Premiere – The Great Dictator, starring Charlie Chaplin & Paulette Goddard; Novelist Jan Struther's Mrs. Miniver Tops Best-Seller Lists; Everyman's Theatre by Arch Oboler debuts on radio.
As aerial combat in the skies over England moved into the final phase of the Battle of Britain, WWII was reflected in the themes of popular new books and movies.
Charlie Chaplin's The Great Dictator
Charlie Chaplin's WWII political tour de force satire of Adolph Hitler, Benito Mussolini, and fascism in The Great Dictator premiered in the USA in October 1940.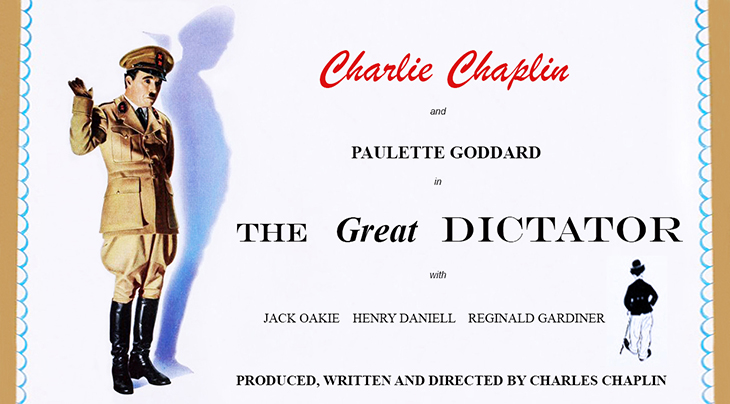 The resemblance between former silent film star Charlie Chaplin "The Tramp" and German dictator Adolph Hitler, down to their short stature and moustache, is eerie – as is the fact that the two men were born within 4 days of each other (Hitler b. Apr. 20, 1889; Chaplin b. Apr. 16, 1889). 
Filming on The Great Dictator began at the Chaplin Studios in Hollywood, California in the summer 1939*, soon after after WWII began in Europe. Location shooting took place in the Santa Monica Mountains, Pasadena, Malibu Lake, the San Fernando Valley, Laurel Canyon, Los Angeles, and Agoura Hills over the next six months.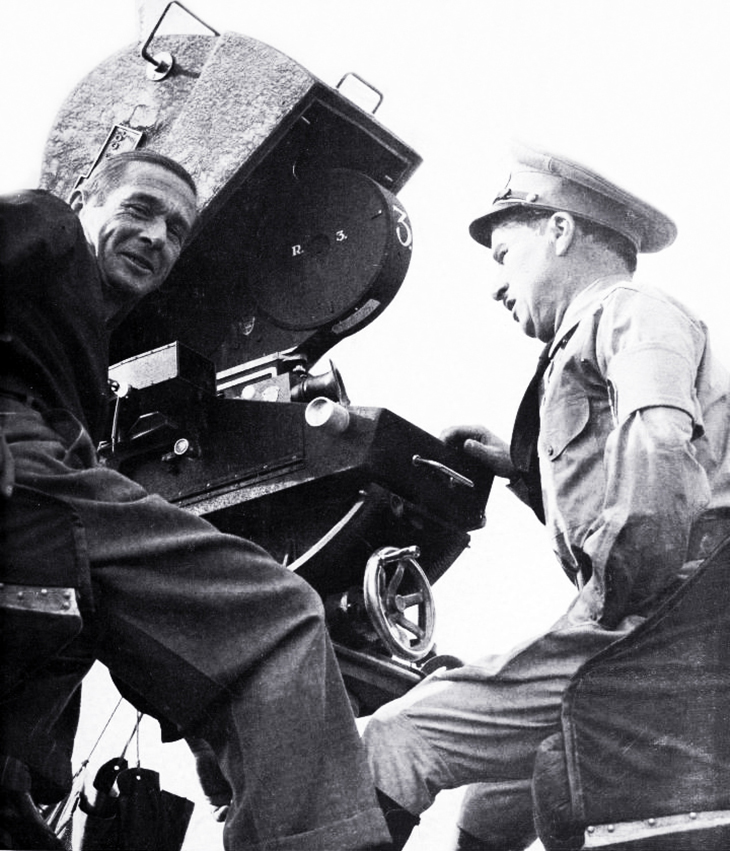 (Cameraman Roland Totheroh & Director Charles Chaplin 1940 Photo: International Photographer)
The events of WWII that took place during and after principal filming was complete on The Great Dictator, meant that additional filming wasn't finished until October 2, 1940, shortly before the film was released.  
Charlie Chaplin stars in the dual role of a Jewish barber in the ghetto of Tomania (aka Germany), and as Adenoid Hynkel, Phooey (a parody of Führer Adolph Hitler) of Tomania. The barber is a Tomanian WWI veteran who, after being in hospital with amnesia for 20 years, has been released and returns to the ghetto to take up barbering again. 
Actress Paulette Goddard is Hannah, who lives next door to the barber shop in the ghetto. 
Note: Charlie Chaplin had begun dating the former Ziegfeld and Goldwyn Girl in the early 1930s, and from that time on their relationship and marital status was speculated about in the press – with no comment from either of them. Goddard's first big break was playing Chaplin's leading lady in Modern Times (1936), the same year that the press reported they were secretly married in China. This may not have been true, as Chaplin is said to have told relatives years later that it was only ever a common law marriage.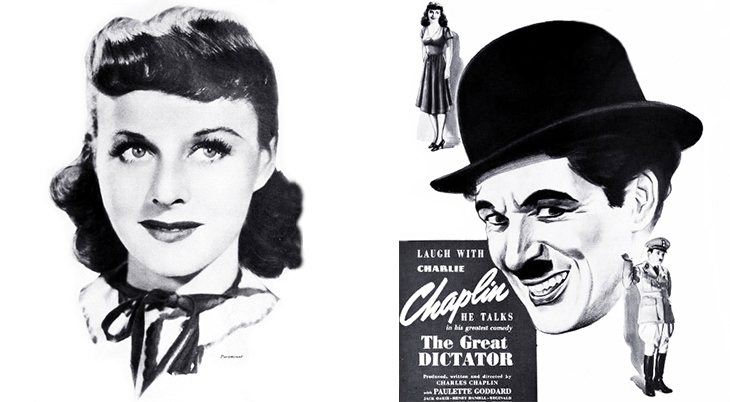 (Paulette Goddard, Radio Television Mirror | Charlie Chaplin 1940 United Artists Pressbook)
By the time filming had begun on The Great Dictator in 1939, Paulette Goddard and Charlie Chaplin's marriage was breaking up, although on-set press photos covered this up well.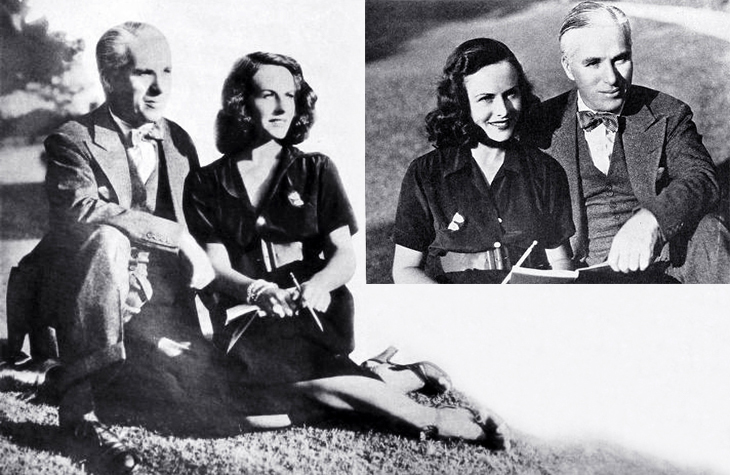 (Charlie Chaplin & Paulette Goddard c 1939 Photos: Radio Television Mirror / Cine-Mundial) 
Benzino Napaloni, Diggaditchie of Bacteria (a parody of fascist dictator Benito Mussolini, Il Duce of Italy) is played by Jack Oakie. Actor Reginald Gardiner is Tomanian Commander Schultz, who was rescued by the barber during WWII, and who is sympathetic to the barber and Jews during the 1930s (the setting of the film).
Schultz is in command of the storm troopers who now control the ghetto for the Phooey, and his rescue of the barber from being hanged by the troopers, leads to the barber regaining his memory.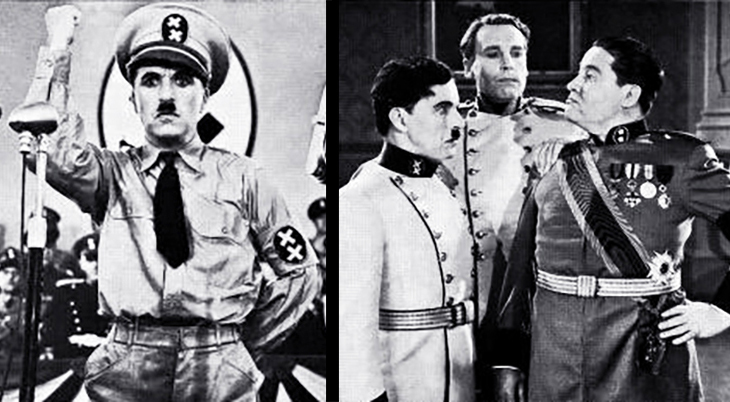 (Charlie Chaplin, with Henry Daniell and Jack Oakie 1940 Photos: United Artists Pressbook)
Adenoid Hynkel orders a purge of the Jews and commands that Schultz be sent to a concentration camp when he protests. Shultz escapes and is hidden by the barber; although he tries to goad the barber into a suicide assassination attempt of Hynkel, Hannah talks them out of it. Both the barber and Schultz are arrested by storm troopers and sent to the concentration camp, but Hannah escapes to freedom in Osterlich (Switzerland? Austria?) with her family. 
Hynkel and the Bacteria Diggaditchie Napaloni disagree over who can invade Osterlich until resolving the matter after a food fight.
Hannah is captured and beaten by the invading army. 
The barber and Schultz escape from the concentration camp and make for the border of Osterlich, where the barber is mistaken for the Phooey. Adenoid Hynkel ends up in the concentration camp as a prisoner. Chaplin's final speech to the Tomanian troops while he masquerades as Hynkel, is a paean to humanity, the goodwill of mankind, and hope. 
Note: The experiments with poison gas and mass murder of mentally or physically disabled that had begun in Germany in 1939 under Adolph Hitler's regime, were not common knowledge until the war ended in 1945, although rumours had been rife for some time by then. Chaplin later said that he could never have made The Great Dictator, if he had known about the true nature of the concentration camps in 1940.
Other actors in The Great Dictator include Chester Conklin and Maurice Moscovich as residents of the ghetto, Henry Daniell and Billy Gilbert as Garbitsch and Herring (parodies of Joseph Goebbels and Hermann Göring). Carter DeHaven plays Bacterian ambassador Spook, and also served as an uncredited associate producer on the film.
Henry Daniell as Garbitsch and Charlie Chaplin as Adenoid Hynkel, are featured in this famed "globe scene" from The Great Dictator.
Although Chaplin finally broke his silence on the matter of marriage when he introduced Paulette Goddard as his wife at The Great Dictator premiere in October 1940, the couple were amicably divorced in 1942. 
The Great Dictator was a critical and box-office hit in most ALLIED countries in 1940-1941, and was second only to MGM's Boom Town at the box office for all of 1940. Movie theatre tie-ins included children's coloring contests and illustrations for news and print. And who doesn't like to color?
(The Great Dictator Illustrations: United Artists Pressbook, 1940)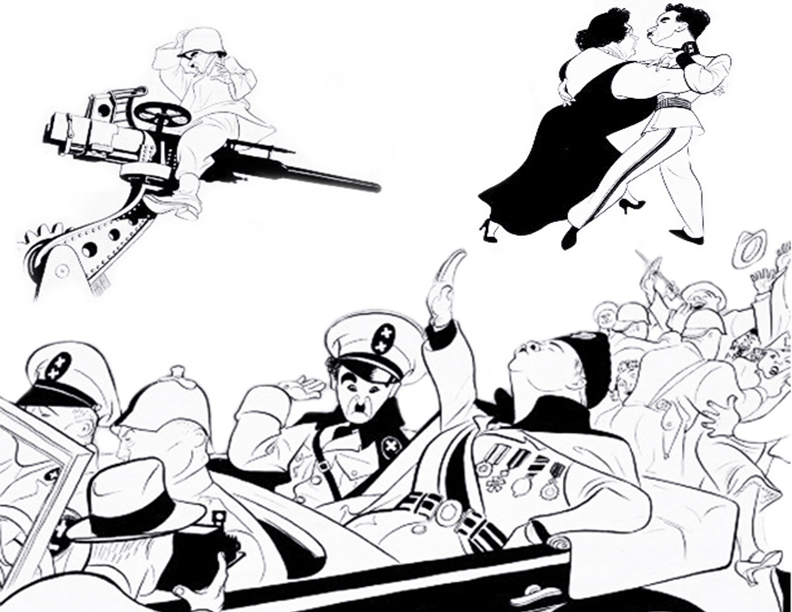 AXIS-associated countries such as Italy, Japan, Germany, and German-occupied nations, banned the film. Countries that wished to remain neutral during WWII (Sweden, Portugal, etc.) also did not release the film for many years.
As a result, The Great Dictator was not shown in France, Belgium, Italy, Argentina, Sweden, or Portugal until after WWII had ended, in 1945 (IMDB). Even stranger, the movie was still held back and not seen in these countries, until as follows:
1947 – Czechoslovakia, Hong Kong, Poland, Denmark, and Hungary
1958 – (West) Germany
1960 – Japan (15 years after WWII ended)
1976 – Spain (21 years after WWII was over, a year after Spanish dictator Francisco Franco died in 1975)
In addition to writing, directing, producing (he funded the entire movie himself), and starring in The Great Dictator, Charlie Chaplin also wrote some of the music for the film. Although Charlie Chaplin / The Great Dictator cast & crew were nominated for five Academy Awards, they lost to worthy rivals as follows: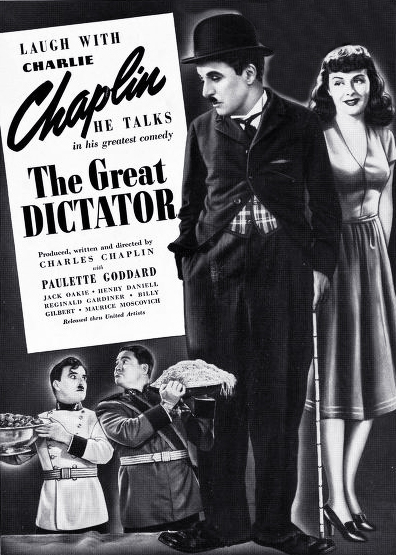 (Jack Oakie, Charlie Chaplin & Paulette Goddard 1940: United Artists Pressbook)
Outstanding Production – Charlie Chaplin: From a whopping 10 nominees, including Foreign Correspondent, The Grapes of Wrath, and Our Town, Rebecca was triumphant.
Best Actor – Charlie Chaplin: Chaplin's only Oscar nomination for acting; James Stewart walked home with the Oscar for his performance in The Philadelphia Story.
Best Supporting Actor – Jack Oakie: Oakie's only Oscar acting nomination; Walter Brennan won for his performance as Judge Roy Bean in The Westerner.
Best Original Screenplay – Charlie Chaplin: Preston Sturges / The Great McGinty won, over Ben Hecht (Angels Over Broadway) & John Huston (Dr. Ehrlich's Magic Bullet).
Best Music / Original Score – Meredith Willson: The Great Dictator's conductor and musical director Meredith Willson also wrote some of music and who nominated for the Oscar. No less than 16 other films were also nominated for Best Score, with Victor Young receiving 3 nods for Arizona, Dark Command, and North West Mounted Police. In the end, the score of Pinocchio won over music from movies such as The House of the Seven Gables, The Letter (Max Steiner), and Waterloo Bridge. 
Novelist Jan Struther's #1 Best Seller: Mrs. Miniver
Writer Joyce Anstruther's (aka Jan Struther) book Mrs. Miniver was first published in book form in 1939, and for the weeks of October 14th and 21st 1940, sat atop the best-seller lists.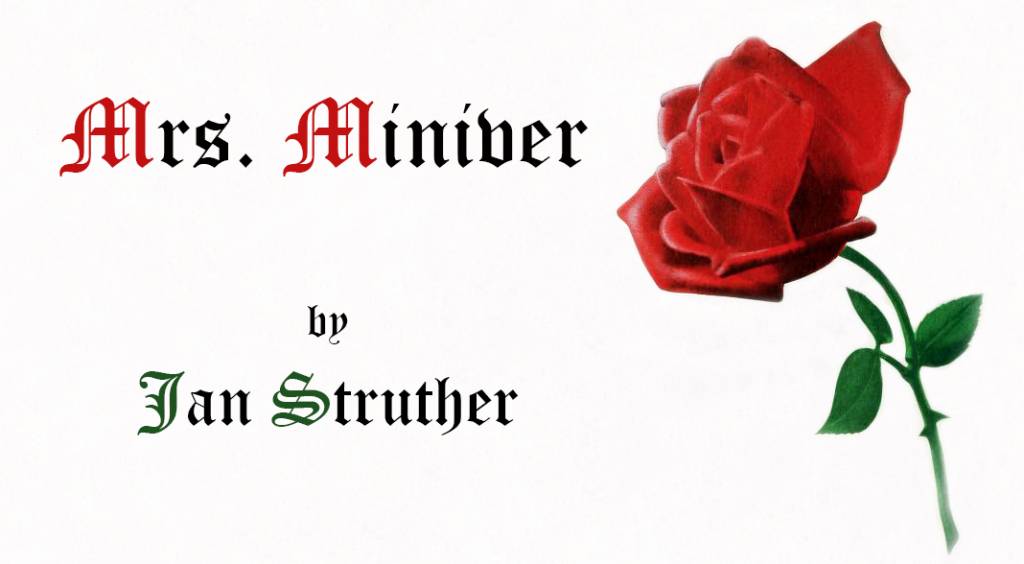 (The Mrs. Miniver Rose Photo: The Film Daily / Text:  A Hamilton)
Jan Struther had begun writing for Punch magazine in the 1930s. She was asked by The Times to write a series of columns about an ordinary woman, and Struther responded by creating the character of Mrs. Miniver in 1937. So popular were her columns and the character – especially when WWII began and Mrs. Miniver dealt with the issues that British families were facing – that a few years later they were published as a book. 
Struther embarked on a lecture tour in the U.S. after Mrs. Miniver was published, and began appearing as a guest panelist on the classic radio quiz show Information Please.
Mrs. Miniver was (drastically) adapted by screenwriters for the Academy Award-winning 1942 American film of the same name, starring Greer Garson and Walter Pidgeon. The movie is widely credited for helping to turn American sentiments away from isolationism and towards supporting their allies in WWII.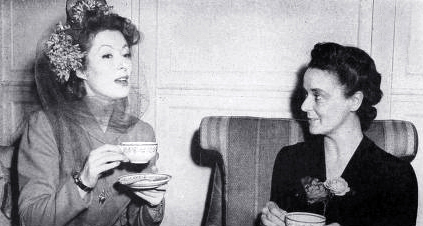 (Greer Garson and Jan Struthers 1942 Photo: The Exhibitor)
Mrs. Miniver would be Jan Struther's only novel, although her poems and children's hymns were published in the 1930s. During the 1940s she contributed poetry, short stories, and essays to various newspapers and magazines. 
Struther's first marriage to Anthony Maxtone Graham in 1923 produced three children. An unhappily married Jan Struther had an affair with Adolf Placzek that began after she met him in the late 1930s. Maxtone Graham was a POW for five years in Italy until his release in 1945; their divorce was finalised in 1947.
Jan Struther married Adolf Placzek in 1948, but happiness proved elusive and fleeting. Severe depression and hospitalization in a mental institution for several months, was followed by a diagnosis of breast cancer and a mastectomy. Jan Struther died of breast cancer in 1953 at the age of 51.
Classic Radio Series Debut – Everyman's Theater by Arch Oboler
The classic radio dramatic anthology program Everyman's Theater began broadcasting Fridays on NBC Red, beginning October 4, 1940. Former silent film star Alla Nazimova and Elliot Lewis starred in the series premiere, a dramatic presentation of This Lonely Heart. (aka The Lonely Heart), accompanied by a symphony orchestra. Nazimova later starred in another episode of Everyman's Theater, The Family.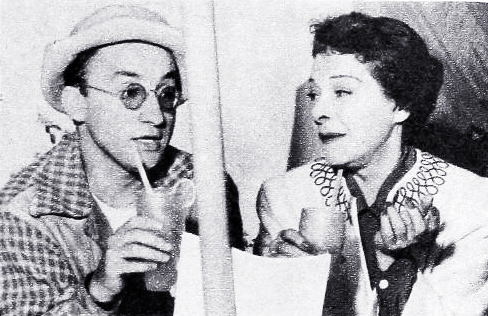 (Arch Oboler & Alla Nazimova 1940 Photo: Radio and Television Mirror)
Everyman's Theater series creator Arch Oboler introduced the premiere episode with these words:
"Aren't you tired of all this cruelty and bitterness between men? I know I am. So come, let's have a play of love; a strange love."
This Lonely Heart had previously been heard on the radio program Arch Oboler's Plays in January of the same year, but was voiced at that time by Bette Davis and backed by a different orchestra. .
Each half-hour episode of Everyman's Theater featured different actors and actresses familiar to listeners and movie fans, in episodes based on either new, original plays or re-imagined works. 
As WWII raged in Europe and much of America watched developments, feeling safe at a distance, Arch Oboler wrote his original play "This Precious Freedom". Oboler introduces the episode and Canadian actor and star Raymond Massey who plays Mr. Stevenson (Oboler voices the role of pilot Morgan). 
The Women Stayed at Home, another Arch Oboler original story starred Norma Shearer and the music of Wagner's Tristan and Isolde.
In all, 26 episodes of Everyman's Theater were aired between October 4, 1940, through March 28, 1941. The crème de la crème of Hollywood films acted in this series, including Katharine Hepburn, Eddie Cantor, Miriam Hopkins, Boris Karloff, and many others.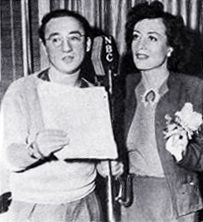 (Arch Oboler & Joan Crawford 1940 Photo: Radio Television Mirror)
Joan Crawford starred in The Word episode of Everyman's Theater.
Some other notable episodes:
Mr. And Mrs. Chump – starring another Canadian actor, Walter Huston and his third wife, Nan Sutherland, in an original play for radio.
I'll Tell My Husband – starring Mary Astor.
The Flying Yorkshireman – voiced by Charles Laughton and his wife Elsa Lanchester.
Suffer the Little Children, and Baby – Martha Scott starred in both episodes. 
These Are Your Brothers – starring Brian Donlevy.
Of Human Bondage, and The Mirror – with Bette Davis.
Madame Affame – starring Marlene Dietrich as a noblewoman trying to escape from Europe.
The Immortal Gentleman – Franchot Tone stars.
Radio and Television Mirror's editor Fred R. Sammis described Everyman's Theater series creator, producer, writer, director, and occasional radio actor Arch Oboler later in 1940:
"He is too short (Old Time Radio Downloads said Oboler was only 5'1″), he has too little hair, too large a head, wears too thick glasses and talks too distractedly. His one really good point at parties – a very personal observation – is his wife, who looks to be a child bride until you talk to her and discover a mature woman.
Arch Oboler and neckties were born enemies, just as Arch and sweatshirts are boon companions. Partly because he likes to shock people and partly, I suspect, to make people know he is different, he wears hideous clothes, whether he's in dignified Radio City in New York or studiedly careless Hollywood.
But Arch fits that meaning of the word genius I found, for no one I know has a greater capacity for imaginative creation. He wrote me recently about working with Bette Davis on some typically difficult-to-act drama he had written. "Bette has often told me that when she dies there's only one person she wants buried alongside of here, and this is Arch Oboler, and on my tombstone she wants this chiseled: 'He helped drive her there!'"
Writer Arch Oboler was a huge success during the Golden Age of Radio in the 1930s. He'd written for Don Ameche's The Chase and Sanborn Hour in the mid-1930s, then launched his own radio programs – the horror-heavy and violent Lights Out, and the dramatic series Arch Oboler's Plays. After Everyman's Theater ended, Oboler's next radio programs were the WWII propaganda series Plays for Americans, a new version of Lights Out, To the President, Free World Theater, Everything for the Boys, and Arch Oboler's Plays, Part II.
Arch Oboler had some screenwriting successes for television and the movies in the 1940s, including the Norma Shearer-Robert Taylor WWII film Escape (1940); Gangway for Tomorrow (1943) starring John Carradine and Robert Ryan; Strange Holiday (1945) with Claude Raines; the Edmund Gwen film Bewitched (1945); and The Arnelo Affair with Dean Stockwell and Frances Gifford.
(Arch Oboler in dark sunglasses, on the set of Bwana Devil 1952 Photo: American Cinematographer)
Although he also directed and produced most of these films beginning with Strange Holiday, by 1954 his fllm-making career was largely over. 
Tragically, Oboler's son Peter (age 6) drowned in 1958 at his Frank Lloyd Wright-designed home in Malibu, Eaglefeather. Arch Oboler was 77 when he died in 1987.
*Images are believed to be in the public domain or Creative Commons licensed & sourced via Wikimedia Commons, Vimeo, YouTube, or Flickr, unless otherwise noted*