Fascinating Facts From May 1940
News, Headlines, & Entertainment Trivia from May, 1940:  Germany invades Belgium and the Netherlands in WWII; British Prime Minister Neville Chamberlain resigns and Winston Churchill is new PM; Classic movie release – Waterloo Bridge, starring Vivian Leigh and Robert Taylor.
Germany Invades France, the Netherlands and Belgium
On the dawn of May 10, 1940, Germany invaded France and the neutral countries of Belgium and the region of Flanders, Luxembourg, and Holland / the Netherlands.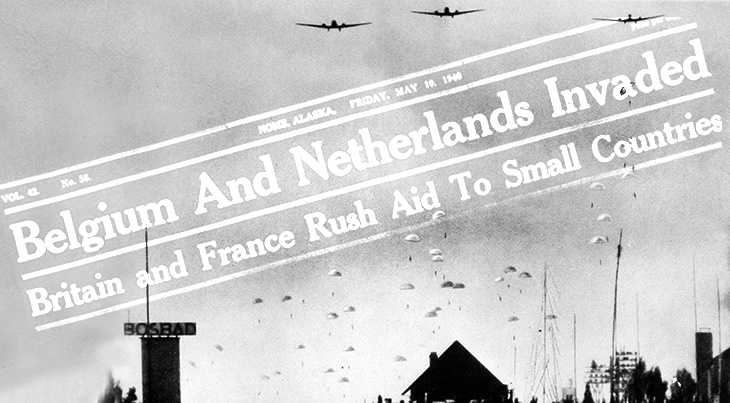 (German Paratroopers Landing Near the Hague: Lt. Kessel | Newspaper Headline May 1940)
The Grand-Duchy city state of Luxembourg was immediately captured by German troops. Elsewhere, a series of battles began in Rotterdam, Zeeland, Maastricht, and the Hague in the Netherlands; and Fort Eben-Emael in Belgium.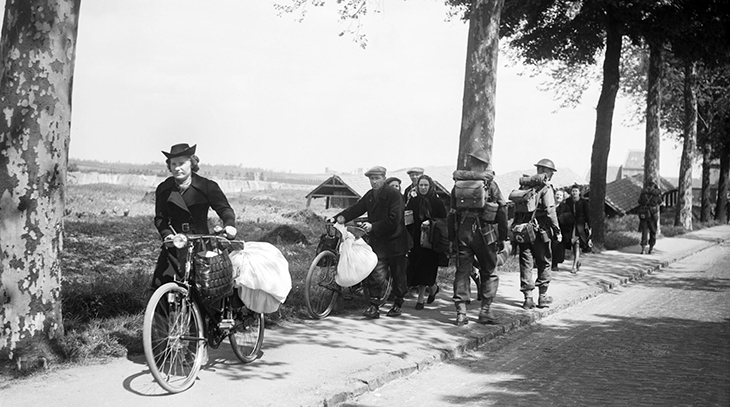 (Belgian Refugees and British Troops on the Brussels-Louvain Road, May 12, 1940 Photo: Lt. Kessell)
French troops (their 1st and 7th Army Groups) diverted to support the armies of Belgium and the Netherlands in those countries, left France vulnerable to the German invasion of France.
By May of 1940, Germany had amassed a huge army – over 4.2 million in the the Army (Heer), 1 million in the Air Force (Luftwaffe), 180 thousand in the Navy (Kriegsmarine), and another 100 thousand in the Nazi Party military (Waffen-SS). Despite having deployed troops elsewhere already to fight in Poland, Norway, and Denmark, Germany still had 3 million forces attacking France, the Netherlands and Belgium by land, sea, and air. 
Belgian forces held out against the German military might for 18 days before King Leopold III of Belgium ordered them to surrender on May 28, 1940.
Chamberlain Resigns & Winston Churchill Becomes Prime Minister
As the German invasion of Luxembourg, Belgium (Flanders), the Netherlands, and France began in World War II, British Prime Minister Neville Chamberlain met with King George VI at Buckingham Palace on May 10, 1940 to give his resignation. He recommended that Winston Churchill be appointed as the new Prime Minister of Great Britain in his stead.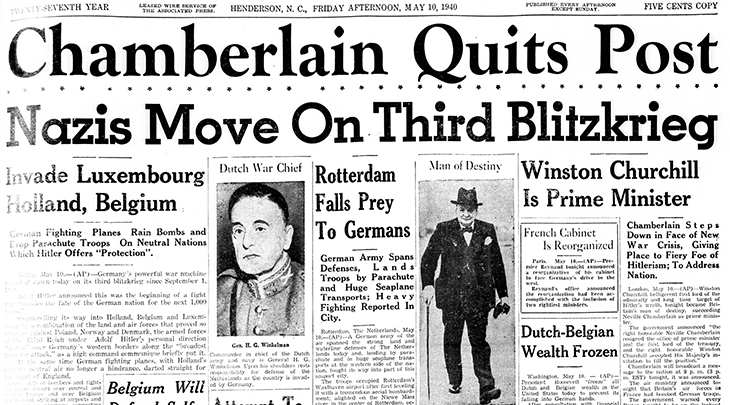 Two years earlier, Prime Minister Neville Chamberlain had attempted to keep war with Adolph Hitler and Germany at bay by signing the Munich Agreement, which ceded Czechoslovakia to Germany. Hedging his bets, Chamberlain had also proceeded to ramp up rearmament of British forces and alliances with other countries, including the Soviet Union.
When Germany invaded Poland (September 1939), Chamberlain's hand was forced and Britain declared war on Germany. Despite hastily assembling a War Cabinet that included Winston Churchill, Chamberlain was reluctant to negatively impact Britain's economy, and thus delayed taking significant military measures against Germany. 
Pressure on Great Britain and thus on Neville Chamberlain's leadership, increased when Germany invaded Denmark and Norway in April 1940. Chamberlain was unable to unite MPs from different political parties, and support from within his own party faltered.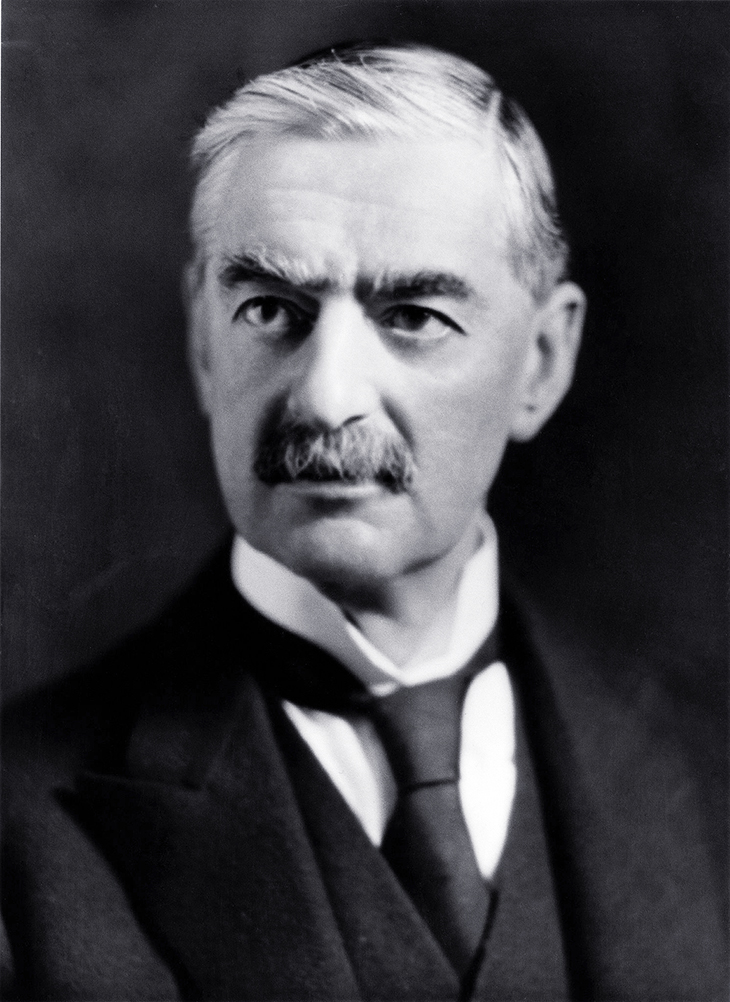 (Neville Chamberlain 1936 Photo: Bassano Ltd)
Neville Chamberlain remained as leader of the Conservative Party and had a seat on the War Cabinet; he worked to ensure the Conservative Party members supported the new Prime Minister Winston Churchill.
A scant two months after resigning as PM, Neville Chamberlain underwent surgery which uncovered terminal bowel cancer. As was common at the time, Chamberlain was not told his true diagnosis, merely that no more surgery would be necessary. He returned to work in August 1940, but recurring pain during the German Blitz bombings of London in September, resulted in him resigning completely.
Neville Chamberlain was 71 years old when he died of bowel cancer in November 1940.
Classic Movie Premiere – Waterloo Bridge
Starring Vivien Leigh and Robert Taylor, Director Mervyn LeRoy's remake for MGM of the 1931 World War I-era Universal film Waterloo Bridge was released on May 17, 1940.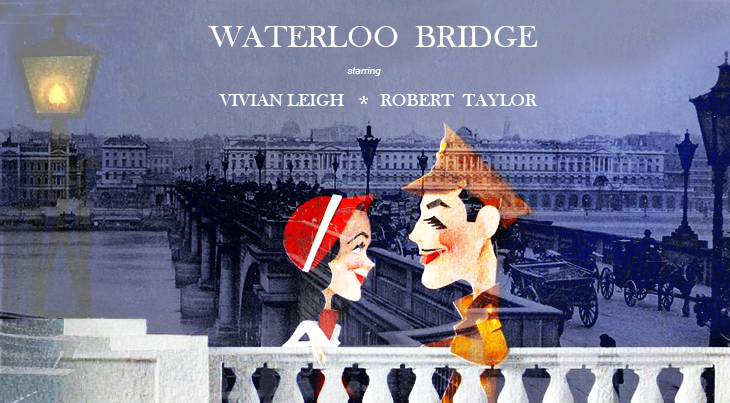 (Vivian Leigh & Robert Taylor 1940 Waterloo Bridge Modified Ad & 1907 Waterloo Bridge Postcard)
Told in flashbacks, this 1940 film's storyline was updated to reflect the onset of World War II.
British Army Captain Roy Cronin (Robert Taylor) stops at Waterloo Bridge in London en route to France, shortly after Britain declares war at the beginning of WWII. Roy recalls meeting ballet dancer Myra Lester (Vivien Leigh) on that same bridge during a WWI air raid.
Myra's invitation for Roy to see her perform and meet her afterwards is kiboshed by Madame Olga (Maria Ouspenskaya), the head of Myra's ballet troupe.
Despite Madame's efforts, they do meet anyway, and Myra accepts Roy's proposal. There's no time for Myra and Roy to get married before he has to leave for the front.
(Vivian Leigh & Robert Taylor 1940 Waterloo Bridge)
While he's gone, Madame Olga fires Myra and Myra's friend Kitty (Virginia Field) for defying her authority.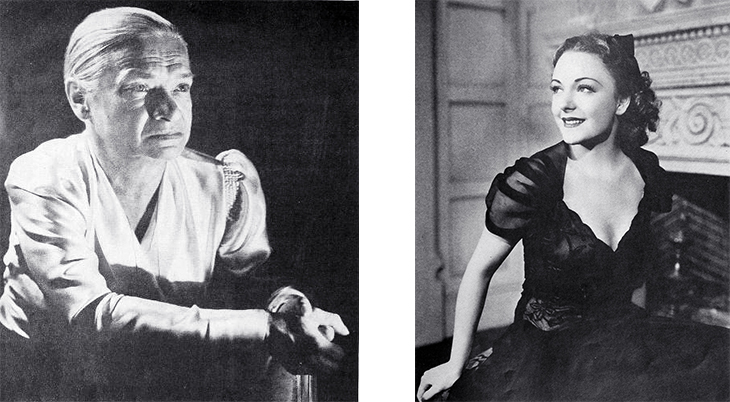 (Maria Ouspenskaya 1940 | Virginia Field 1939)
The two ladies share a small apartment and are soon broke. Roy had told Myra his family would look after her while he's gone, and while waiting at restaurant to meet his mother Lady Cronin (Lucile Watson), Myra faints after seeing his name listed among the casualties. She's revived by a slug of brandy from a waiter, but her meeting with Roy's mother doesn't go well; Myra is tipsy and doesn't want to tell her that Roy is dead. Mrs. Cronin goes on her way and Myra passes out again in grief.
Myra and Kitty's money troubles go from bad to worse and first Kitty takes up prostitution, then Myra.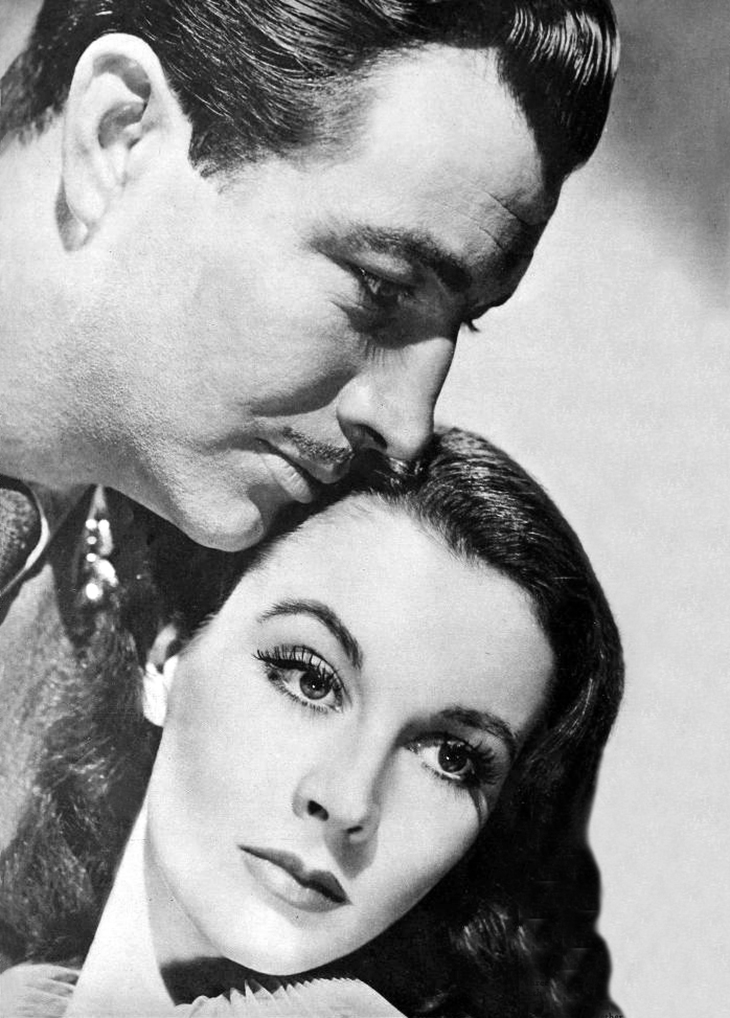 (Vivian Leigh & Robert Taylor 1940 Waterloo Bridge)
Time goes by and while waiting at Waterloo Station to solicit soldiers, Myra sees a very much alive Roy, who had been injured and held as a POW.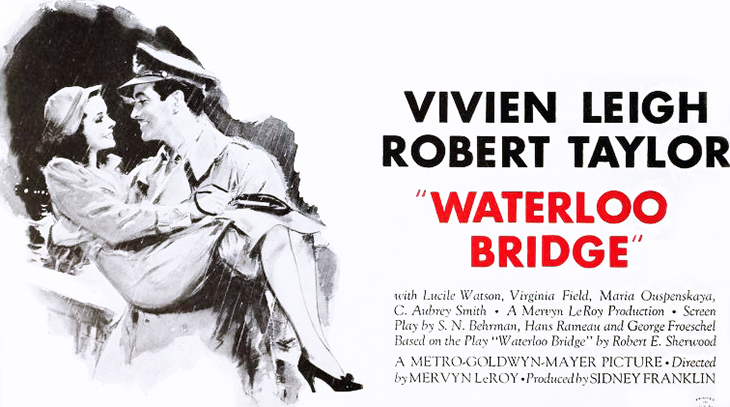 The couple reunite and he takes her home to his family's country estate, where she is accepted…but none of them know of what she has had to do to survive in the past couple of years. A guilt-stricken Myra leaves a note and disappears back to London…
Not giving away the ending, you'll have to watch the film for yourself! Well worth it for the performances of beautiful Vivien Leigh and charismatic Robert Taylor in their second film together (the first was A Yank at Oxford, 1938)
C. Aubrey Smith plays Roy's uncle, the Duke.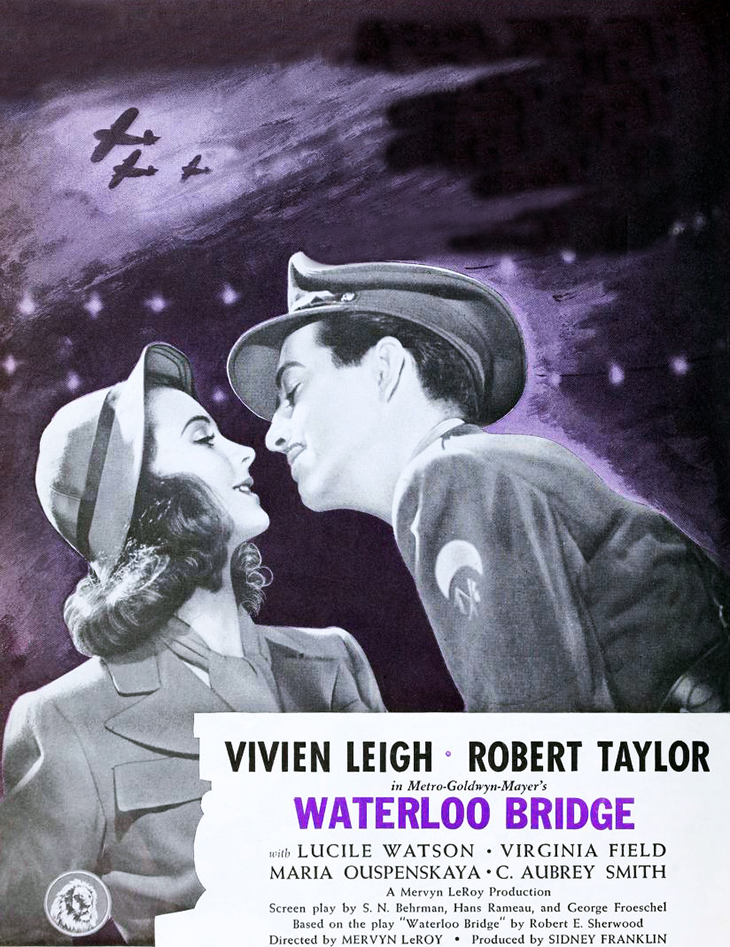 Waterloo Bridge received two Academy Award nominations:
(Joseph Ruttenberg 1923 Photo)
Best Cinematography, Black & White (Joseph Ruttenberg), who lost to George Barnes for Rebecca (1940).  Among the other unsuccessful films in this category were Foreign Correspondent; All This and Heaven Too; Abe Lincoln in Illinois; Spring Parade; and Boom Town.
Best Original Score (Herbert Stothart), who lost to the songwriting team of Pinocchio (1940). This was a crowded category that included other worthy films such as The Great Dictator, The Letter (Max Steiner); Our Town; Arise, My Love; Arizona; The House of the Seven Gables; and The Thief of Bagdad.
This 1940 movie, as well as an earlier and later film, are based on the original 1930 stage play Waterloo Bridge by WWI veteran, Pulitzer Prize-winning playwright, author, and screenwriter Robert E. Sherwood. Sherwood collaborated with Alfred Hitchcock and Joan Harrison in adapting Daphne Du Maurier's gothic novel Rebecca (1940) movie, and received an Academy Award nomination for his work on that film. Sherwood won a Best Screenplay Oscar for a later film, The Best Years of Our Lives (1946).
Carl Laemmle Jr. of Universal studios produced the first film version of Waterloo Bridge in 1931.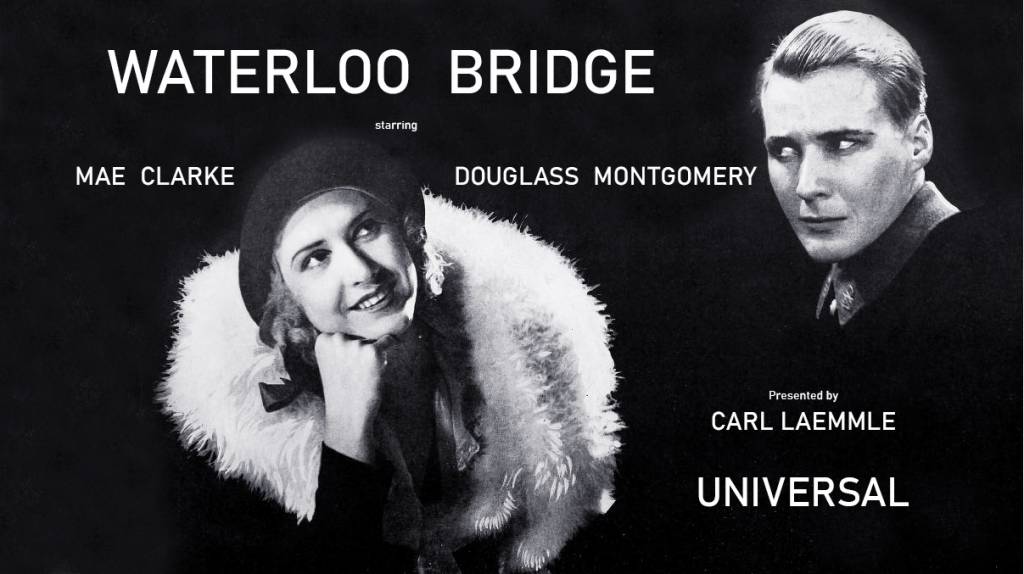 (Mae Clarke & Kent Douglas [aka Douglass Montgomery] Waterloo Bridge 1931 Re-imagined Ad)
This first Waterloo Bridge film is set during WWI, starring Mae Clarke as Myra and Douglass Montgomery (billed as Kent Douglass at the time) playing Roy Cronin. Mae Clarke already had appeared in several films and had grapefruit squashed in her face by James Cagney in The Public Enemy earlier in the year.
Douglass Montgomery had a five-film contract that began in 1930, and didn't like the experience much. The movie studio tried to change his hair colour and his name; at the end of 1931, Douglass high-tailed it back to New York and the safety of the stage. It was a couple of years before he returned to making movies.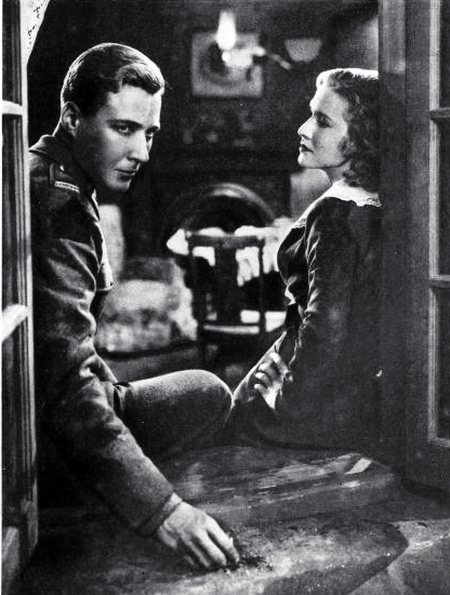 (Mae Clarke & Douglass Montgomery 1931 Waterloo Bridge)
The 1931 film begins on Waterloo Bridge after Myra has already had to resort to prostitution.
This was one of Bette Davis' first movies, and she has a minor role as Janet Cronin.
Frederick Kerr and Enid Bennett (Mrs. Fred Niblo) are Major and Mrs. Wetherby (Roy's mother and stepfather), and Doris Lloyd is Kitty.
James Whale directed.
Extensive cuts had to be made to the finished film because of the Hays / Production Code during the 1930s, as hints of prostitution were a no-no.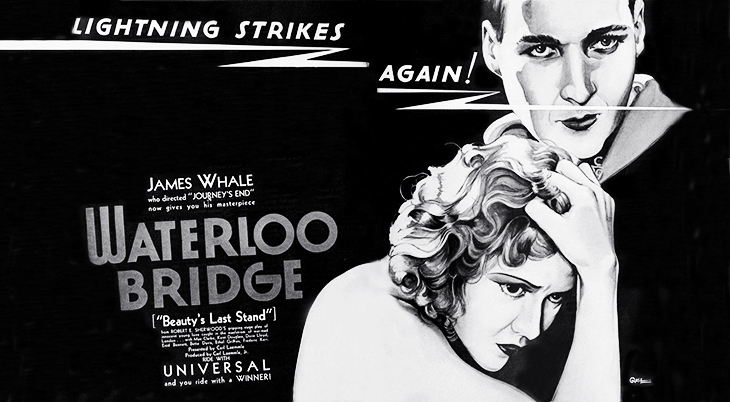 (Waterloo Bridge 1931 Illustration by Karoly Grosz)
So popular is the Waterloo Bridge storyline that another remake was made in 1956 – Gaby, starring (real life ballet dancer) Leslie Caron and John Kerr.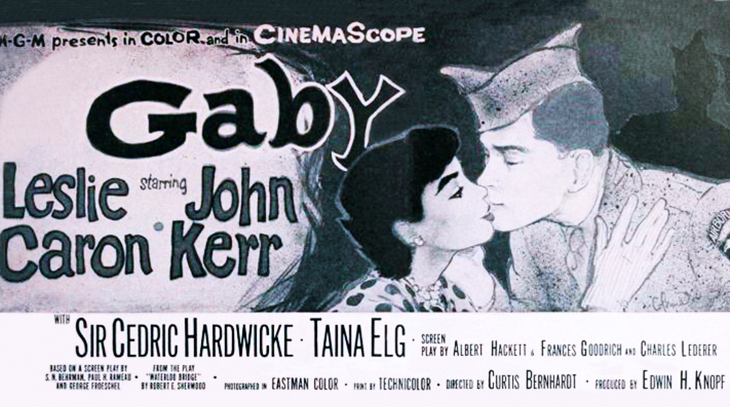 In Gaby, the setting is all WWII, and the ending is markedly different than the earlier films, perhaps reflecting the change in mores over the preceding 25 years. Cedrick Hardwick, Scott Marlowe, James Best, and Ruta Lee fill supporting roles. 
*Images are believed to be in the public domain or Creative Commons licensed & sourced via Wikimedia Commons, Vimeo, YouTube, or Flickr, unless