Folks, Facts & Fun From April 1931
News, Headlines, Entertainment & Trivia from April, 1931: Classic movies premiere – Jimmy Cagney is The Public Enemy; 17-Year Old girl Jackie Mitchell strikes out Babe Ruth & Lou Gehrig; Radio's Jack Denny and His Mount Royal Orchestra hit song Nevertheless [I'm In Love With You).
Film Premiere of The Public Enemy Starring James Cagney
Warner Bros. 1931 crime drama The Public Enemy premiered on April 23, 1931 in New York City, starring James Cagney as the tommy-gun carrying gangster anti-hero Tom Powers.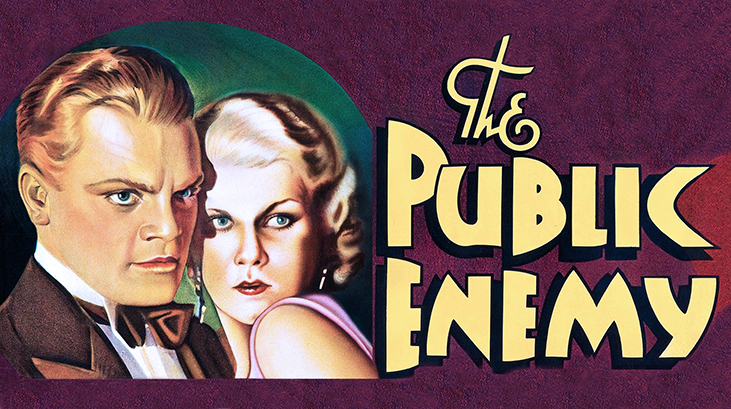 (The Public Enemy 1931 Movie Ad [modified]: Warner Bros. Pictures Inc.)
Produced by Darryl F. Zanuck and directed by William A. Wellman, The Public Enemy was filmed at the Warner Bros. Burbank studios in January and February 1931. Location shooting for a convertible drive with Jean Harlow took place on Wiltshire Blvd. 
The Public Enemy screenplay credits Harvey Thew, and Chicago writers John Bright and Kubec Glasmon, whose unpublished novel Blood and Beer formed the basis for the story. Bright was a former Chicago Daily News office boy for Ben Hecht. Later a journalist, he collaborated frequently with Chicago Polish-American pharmacist / writer Glasmon. Both men met that city's most famous resident criminal, Al Capone.
The plotline of The Public Enemy, begins in the early 1900s. Tom Powers (James Cagney) and his sidekick Matt Doyle (Edward Woods) are petty Irish-American criminals.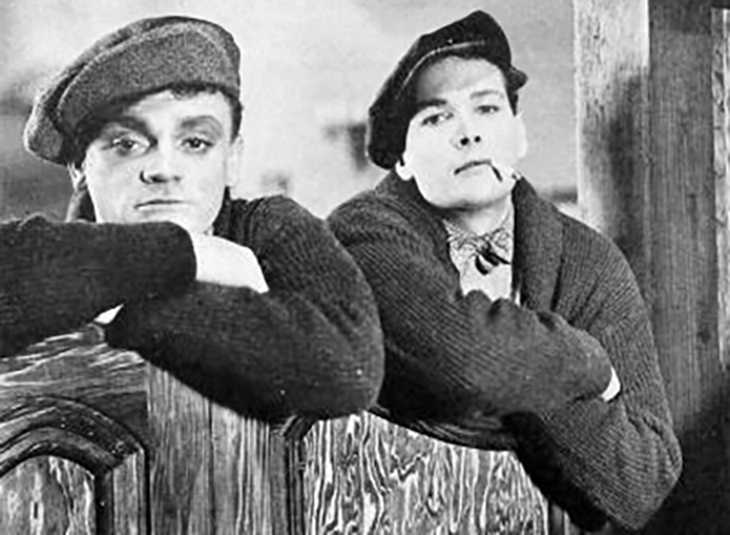 (Edward Woods & James Cagney 1931 The Public Enemy Photo: Warner Bros. / National Board of Review)
Tom and Matt are persuaded to take part in a warehouse robbery by gangleader Putty Nose (Murray Kinnell). During the robbery Tom shoots a stuffed bear when he's surprised; police arrive on the scene, guns blazing. Tom kills a policeman who follows them when he and Matt run away. Putty Nose, who had promised to help them, vanishes.
Tom is able to keep his criminal activities secret from his mother (Beryl Mercer), but not his brother Mike (Donald Cook), who tries to persuade him into going straight. Mike Powers enlists in the Marines during WWI and is decorated for his actions.
On the cusp of Prohibition in 1920, Tom and Matt become enforcers for bootlegger Paddy Ryan (Robert Emmett O'Connor), who is in cahoots with mobster Nail Nathan (Leslie Fenton).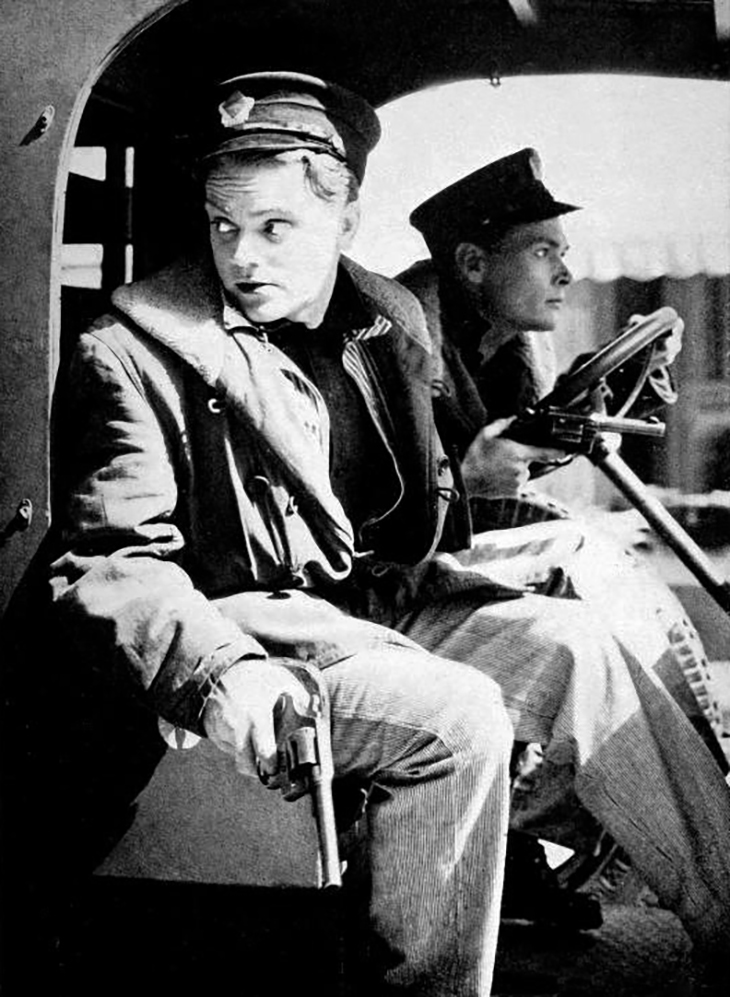 (Edward Woods & James Cagney 1931 The Public Enemy Photo: Warner Bros.)
As the bootlegging business grows, Mike becomes suspicious of Tom's newfound wealth. When he confronts Tom, they argue. 
Tom treats his girlfriend Kitty (Mae Clarke) brutally. There's a famous grapefruit-squashing-in-the face scene, which Cagney was reluctant to do, until director William Wellman talked him into it.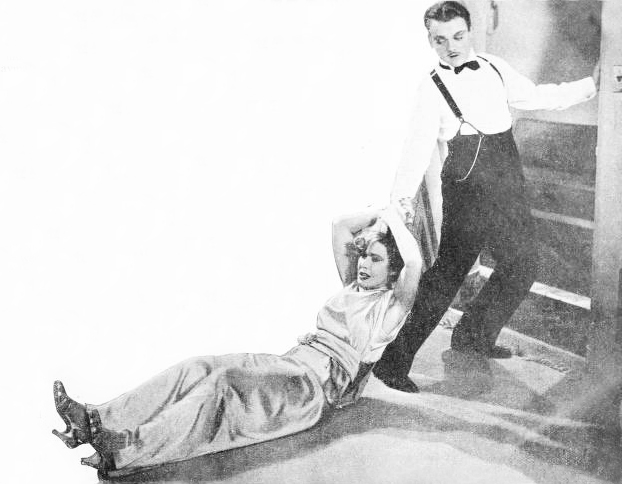 (Mae Clarke & James Cagney 1931 The Public Enemy Photo: Warner Bros.)
Tom dumps Kitty for flashier Gwen Allen (Jean Harlow).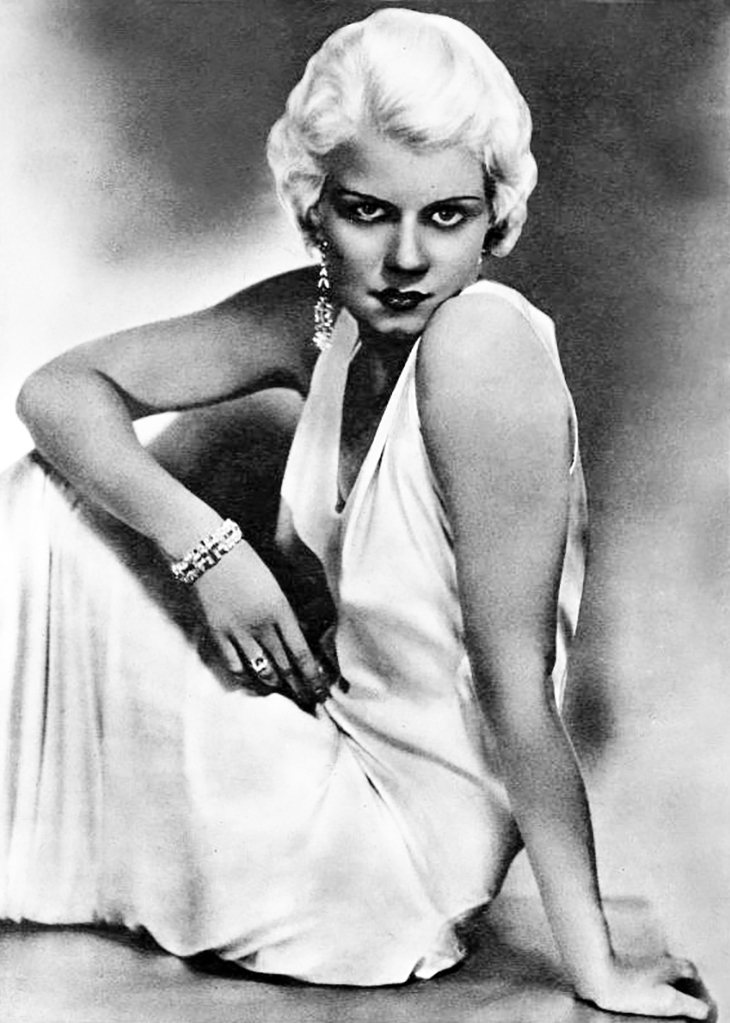 (Jean Harlow 1931 Photo: The New Movie Magazine)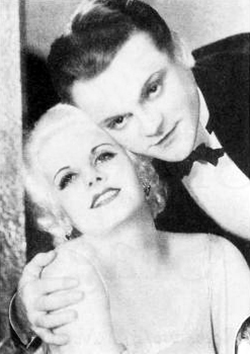 (James Cagney & Jean Harlow 1931 The Public Enemy Photo: Photoplay)
Matt marries his girlfriend Mamie (Joan Blondell) and at a restaurant party after, he and Tom see Putty Nose. They follow him and Tom shoots Putty Nose in the back, despite his pleas for mercy.
The brothers continue to argue over Tom's line of work; when Tom tries to give their mother money, Mike refuses it. 
When Paddy Ryan dies because of a riding accident, Tom shoots the horse in retaliation. The vacuum created by Paddy's death results in a gang war, and Matt is shot in the street in front of Tom.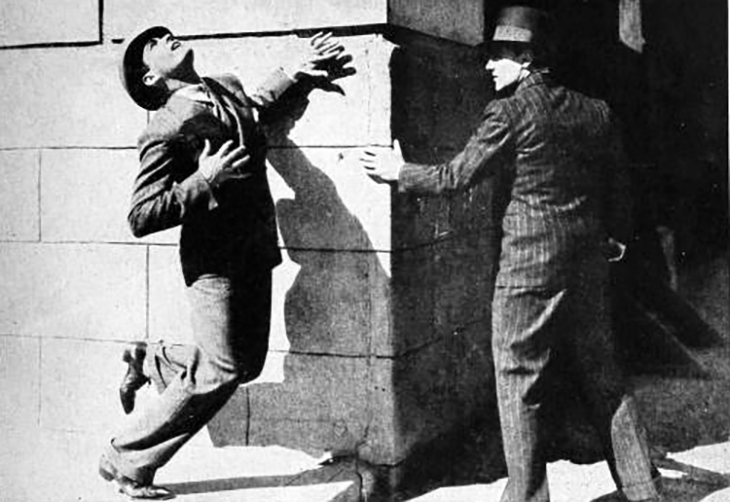 (Edward Woods & James Cagney 1931 The Public Enemy Photo: Warner Bros. Pictures Inc.)
Tom seeks revenge on rival gangster Schemer Burns, and is seriously injured in a shootout. While in recuperating in the hospital, Tom promises Mike and his mother that he'll reform. Tom is kidnapped from the hospital by Schemer's gang. His corpse is dumped at his mother's house.
Among the supporting cast of The Public Enemy are then-child actors Frankie Darro (Matt as a boy) and Frank Coghlan Jr. (Tom as a boy).
Below, Director William Wellman (to the right of the camera), filming an escalator scene for The Public Enemy.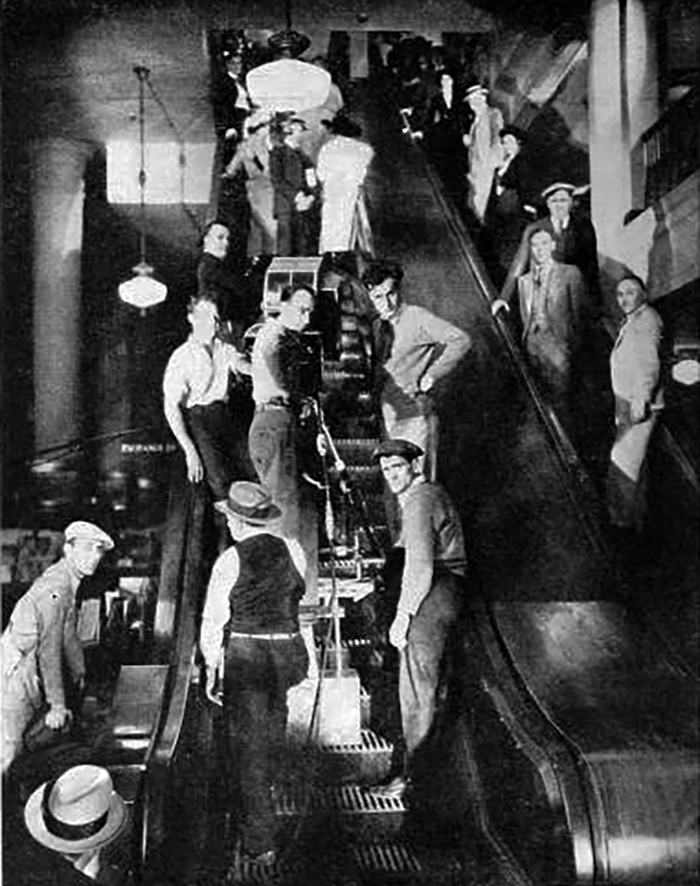 (William Wellman filming The Public Enemy 1931 Photo: Warner Bros. Pictures Inc. / Photoplay)
Cagney was originally going to play Matt, and actor Edward Woods was going to star as Tom, until director William Wellman switched their roles. The Public Enemy was Woods second film role, and the most notable of his short movie career; he's only credited in a total of 12 films between 1930-1938. He enjoyed a thriving career on Broadway stages before and after his jaunt into movies, and after also played a role behind the scenes in theatre and film. Edward Woods died at the age of 86 in 1989, survived by his wife Gabrielle and daughter Robin.
Although she had an important role as Cagney's on-screen girl friend in The Public Enemy, Mae Clarke was uncredited in that film. She was bumped up co-starring status in two other movies with James Cagney – the crime drama Great Guy (1936), and Lady Killer (1933), a crime comedy which also had The Public Enemy's Leslie Fenton in the cast.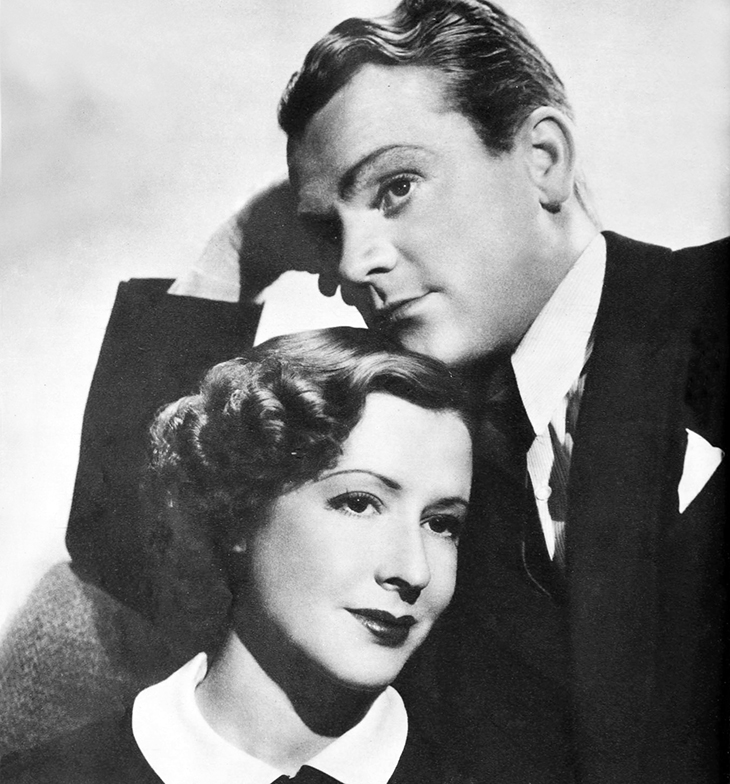 (Mae Clarke & James Cagney 1936 Great Guy Photo: Picture-Play, 1937)
Joan Blondell, who played Matt's girlfriend in The Public Enemy, was a frequent co-star of James Cagney on stage and in movies. They appeared in six other films together – Sinner's Holiday (1930), Other Men's Women (1931), Blonde Crazy (1931), The Crowd Roars (1932), Footlights Parade (1933), and He Was Her Man (1934).
James Cagney's explosive performance in The Public Enemy (thanks in part to Wellman) catapulted him into movie stardom, and resulted in his being typecast to a degree, for the rest of the 1930s. He complained in The New Movie Magazine (1933):
"No one can blame me for getting just a bit fed up with this business of socking women in every one of my pictures. It has been going on for two years now, and in each succeeding picture I approach such scenes with a sinking feeling in the midriff. The only reason for it seems to be that the public found it novel when I first did it in "The Public Enemy", and the public has clamored for it ever since. The writers of all of my pictures have written it into the scripts, and the directors have followed it up by directing it into the pictures. But if I had my way about it, I'd rather keep my hands in my pockets."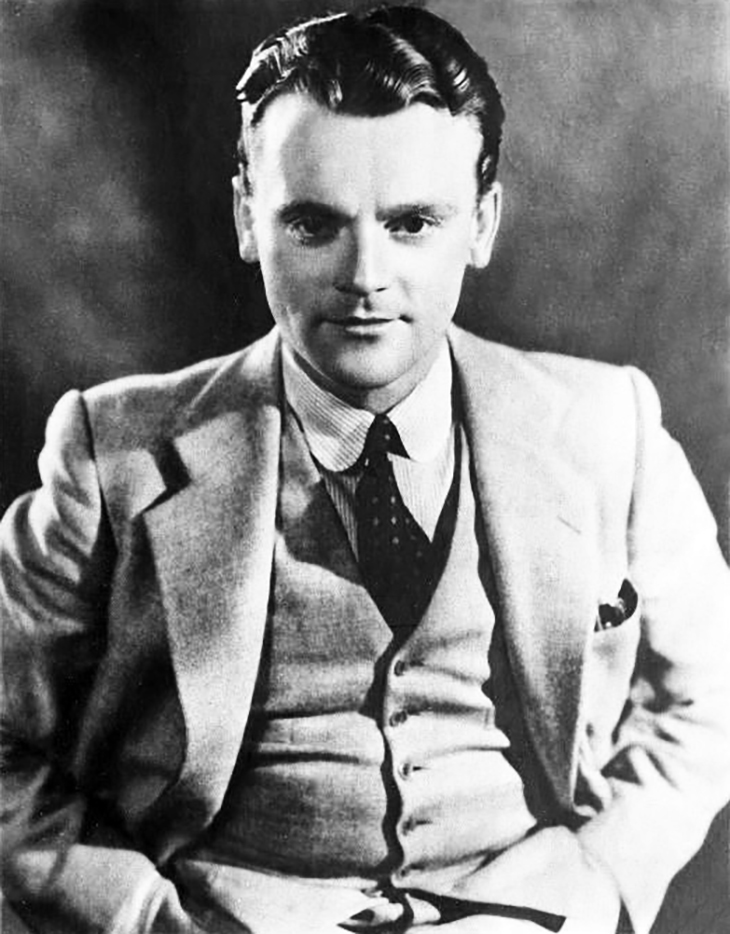 (James Cagney 1931 Photo: Elmer Fryer)
James Cagney overcame attempts to typecast him, and won an Academy Award playing a song-and-dance man starring in the musical Yankee Doodle Dandy (1942). He enjoyed a long film acting career, appearing in 65+ movies between 1930-1981. Jimmy Cagney died in 1986 at the age of 86, survived by his wife Billie (nee Vernon), and daughter Cathleen.
This review of The Public Enemy by Pure Kino provides an overview of the film and explores the role of movie bad guys in general.
At the 4th Academy Awards, John Bright and Kubec Glasmon were nominated for Best Original Story, losing to John Monk Saunders for the WWI movie The Dawn Patrol, starring Richard Barthelmess, Douglas Fairbanks Jr., and Neil Hamilton.
Their Oscar nomination launched screenwriting careers for both Kubec and Glasmon. Kubec Glasmon went on to contribute story and screenplays for many other films during the 1930s; he died unexpectedly in 1938 at the age of 40 of a heart attack, leaving his widow, actress Joan Blair (nee Lilian Wilck), a widow.
John Bright worked steadily as a screenwriter through the 1930s and 1940s, and was a founder of the Screen Writers Guild. He was blacklisted by the House Un-American Committee and his career was cut short. Bright and his Mexican-American wife Josephine Fierro de Bright (Chicanos in California, 1990) retreated to Mexico. According to his Spartacus Educational biography, once in Mexico John Bright joined a colony of other blacklisted screenwriters that included members of The Hollywood Ten (Hugo Maltz and Ring Lardner Jr.). Bright wrote some screenplays for a few Mexican films in the 1950s, and also wrote worked on scripts under the name Hal Croves. He died in 1989 in Los Angeles at the age of 81.
Baseball Greats Lou Gehrig, Babe Ruth….and Jackie Mitchell?
In April 1931, New York Yankees MLB baseball players Babe Ruth and rival Lou Gehrig were tied for home runs for the season. The month started badly for them; in an exhibition game on April 2, 1931, a 17-year-old woman pitcher named Jackie Mitchell struck out both Babe Ruth and Lou Gehrig in front of 4,000 fans.
Nee Virne Beatrice Mitchell Gilbert, Jackie Mitchell was born on August 29, 1913 in Chattanooga, Tennessee. She learned how pitch from future MLB Hall of Fame pitcher Dazzy Vance, her neighbor.
While attending a baseball training camp in Atlanta, Georgia in March 1931, Jackie was signed by the Chattanooga Lookouts AA minor league baseball team owner Joe Engel. Engel saw an opportunity to generate publicity for his team by signing that rarity, a woman in organized baseball.
The exhibition game on April 2 in Chattanooga, Tennessee was the first – and last – game that Jackie Mitchell ever played for the Chattanooga Lookouts. Babe Ruth was the first batter she faced, and Lou Gehrig the second. An uproar erupted in the stadium, and in the press.
Two days later, Jackie's contract was cancelled by the baseball commissioner. Why? The sport was deemed too strenuous for women, and they were unfit to play baseball. The real reason? Most likely it was too embarrassing for professional baseball players, executives, and owners of the time, to see a woman besting a man on the same playing field. 
Although Mitchell went on to play baseball with a traveling men's team for another five years, she retired at the age of 23 in 1937, tired of being used as a publicity tool. 
Other pioneering female players in organized baseball:
Lizzie Arlington of the Reading Coal Heavers, 1898. 
Alta Weiss of the Vermilion Independents, 1907.
Toni Stone, Mamie Johnson, and Connie Morgan of the Indianapolis Clowns Negro League, 1953-1955.
Nevertheless, Jack Denny and his Mount Royal Orchestra
Canadian jazz / big band leader Jack Denny and his Mount Royal Orchestra had their own radio program in April of 1931. Denny also had an April 1931 hit song playing on radio, Nevertheless [I'm In Love With You).
Written by Tin Pan Alley songwriters Bert Kalmar and Harry Ruby (Who's Sorry Now?, 1928; I Wanna Be Loved By You, 1928; Three Little Words, 1930), Jack Denny and his Orchestra were the first to record Nevertheless [I'm In Love With You) (March, 1931); vocals were provided by Rob May. That recording quickly became a hit for Denny in 1931; he moved back to New York City and became the in-house bandleader at the Waldorf-Astorial Hotel.
Other big band artists recorded the song that same year – Johnny Hamp and His Orchestra, the Majestic Dance Orchestra, and legendary singer Ruth Etting.
The soundtrack for the romantic drama film The Reckless Hour (1931) starring Dorothy Mackaill, Conrad Nagel, H.B. Warner, and Joan Blondell, includes a recording of Kalmar/Ruby's Nevertheless [I'm In Love With You).
Nevertheless [I'm In Love With You) enjoyed a resurgence of popularity during the 1950s, with Frank Sinatra and The Mills Brothers among the several artists who recorded it that year. It was featured in the movie Three Little Words (1950), a biographical musical comedy based on the life of songwriters Bert Kalmar and Harry Ruby. Fred Astaire plays Kalma, Vera-Ellen his wife, and Red Skelton is Harry Ruby. Arlene Dahl, Keenan Wynn, Gale Robbins, and Gloria DeHaven play supporting roles; DeHaven plays her real-life mother, silent film dancer-actress Flora Parker DeHaven (Mrs. Carter DeHaven).
*Images are believed to be in the public domain or Creative Commons licensed & sourced via Wikimedia Commons, Vimeo, YouTube, or Flickr, unless otherwise noted*