January 15th Birthdays
If you were born on this day January 15th you share a celebrity birthday with these famous people: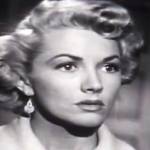 Phyllis Coates is 96 (nee Gypsie Ann Evarts Stell; ex of Richard L. Bare)
American actress of TV (Lois Lane on The Adventures of Superman; Clarissa Holliday on This is Alice; Death Valley Days; Gunsmoke; The Duke; Perry Mason) and films (Superman and the Mole Men; Blood Arrow; Topeka; Fargo; The Maverick), born January 15, 1927. (Phyllis Coates 1953 Terry and the Pirates)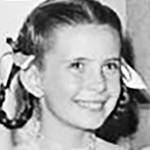 Margaret O'Brien is 86 (nee Angela Maxine O'Brien)
Juvenile Academy Award-winning American actress of movies (Meet Me in St. Louis; Little Women; Journey for Margaret; The Canterville Ghost; Madame Curie; The Secret Garden; Lost Angel; Music for Millions; Jane Eyre) and television (Maggie), born January 15, 1937. (Margaret O'Brien 1946 Photo: Abbie Rowe)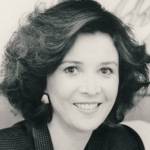 Dini Petty is 78
English-Canadian interviewer, news anchor, personality and host of radio (Weekends with Dini Petty) and TV (CityPulse News; This is the Law; CityLine; The Dini Petty Show; Sweet City Woman; CityWide), born January 15, 1945. (Dini Petty c. 2010 Photo: Korby Banner / Courtesy DiniPetty.com)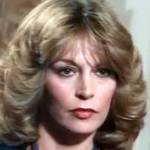 Karen Carlson is 78 (ex of David Soul)
American actress of TV (Sheila Hammond on Days of Our Lives; In the Heat of the Night; Dallas; Here Come the Brides; The F.B.I.; The Yellow Rose; Starsky and Hutch; Hill Street Blues; Hotel) and movies (The Candidate; Black Oak Conspiracy), born January 15, 1945. (Karen Carlson 1980 The Octagon)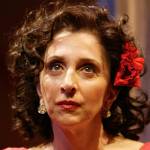 Andrea Martin is 76 (ex of Bob Dolman)

Tony Award-winning American writer, comedian, singer, character & voice over actress of stage, TV (SCTV Network; Difficult People; Great News), and film (Innerspace; My Big Fat Greek Wedding; Club Paradise), born January 15, 1947. (Andrea Martin c. 2003 Photo: T. Charles Erickson / The Huntingdon)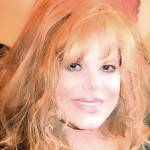 Charo is 72 (nee María del Rosario Mercedes Pilar Martínez Molina Baeza)
Spanish-American flamenco guitarist, singer (Olé Olé; Dance A Little Bit Closer) and actress of television (Chico and the Man; The Love Boat; Hollywood Squares), protege and ex-wife of Xavier Cugat, born January 15, 1951. (Charo 2013 Photo: Richard Sandoval)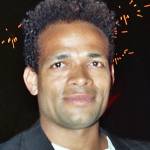 Mario Van Peebles is 66 (son of Melvin Van Peebles)
Mexican-born American director (New Jack City; Posse) and actor of TV (Sonny Spoon; Rude Awakening; One Life to Life; All My Children; L.A. Law) and films (Jaws: The Revenge; Highlander: The Final Dimension; Heartbreak Ridge), born January 15, 1957. (Mario Van Peebles 1990 Photo: Alan Light)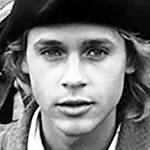 Chad Lowe is 55 (nee Charles Davis Lowe II; brother of Rob Lowe)
Emmy-winning American actor & director of TV (Byron Montgomery on Pretty Little Liars; Spencer; Jesse McKenna on Life Goes On; Melrose Place; 24; Popular; Now and Again; Supergirl) movies (Unfaithful; Apprentice to Murder), born January 15, 1968. Ex of Hilary Swank. (Chad Lowe 1988: CBS)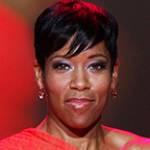 Regina King is 52
Emmy & Academy Award-winning American actress of TV (Brenda Jenkins on 227; Det. Lydia Adams on Southland; American Crime; Seven Seconds; 24; The Big Bang Theory; Watchmen) and films (If Beale Street Could Talk; Ray; Jerry Maguire), born January 15, 1971. (Regina King 2010 Photo: The Heart Truth)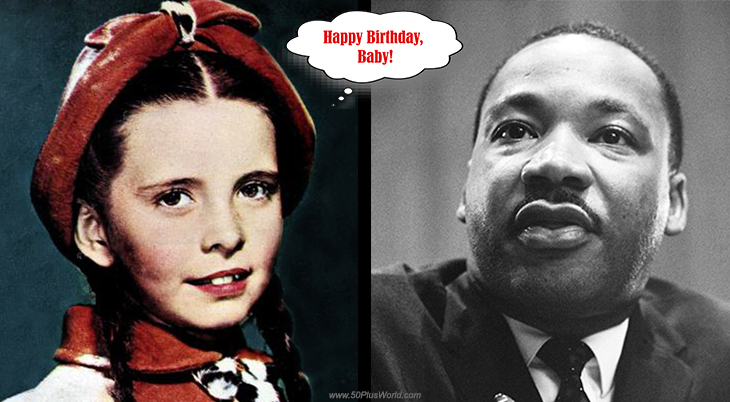 (Margaret O'Brien 1948 Portrait: Carpenter | Martin Luther King Jr. 1964 Photo: Marion S. Trikosko)
Happy Birthday to everyone celebrating their birthday on January 15th!
Remember These January 15th Famous Birthdays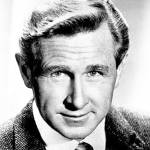 Lloyd Bridges (nee Lloyd Vernet Bridges Jr.; father of Jeff & Beau Bridges)
American actor of TV (Mike Nelson on Sea Hunt; The Lloyd Bridges Show; The Loner; Paper Dolls; How the West Was Won) and movies (Trapped; Running Wild; High Noon; Airplane!; Little Big Horn; Running Wild; Hot Shots!; The Fifth Musketeer) (born Jan. 15, 1913 – died Mar. 10, 1998; age 85). Lloyd Bridges died of natural causes. (Lloyd Bridges 1966 Photo: Tom Korman Assoc.)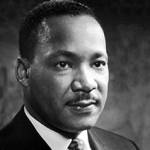 Martin Luther King Jr. (married Coretta Scott)
Nobel Peace Prize-winning American pastor, civil rights activist (voting rights for African Americans; desegregation), nonviolent resistance advocate, leader & orator (March on Washington "I have a dream"; Montgomery bus boycott) (born Jan. 15, 1929 – died Apr. 4, 1968; age 39). Martin Luther King Jr. was assassinated. (Martin Luther King Jr. 1964: Nobel Foundation)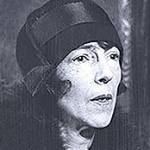 Mazo de la Roche (nee Mazo Louise Roche; "Maisie Roach")
Canadian short story writer, playwright, and best selling novelist, author of the Whiteoaks of Jalna family saga series (Jalna; Whiteoaks of Jalna; Finch's Fortune; The Master of Jalna; Whiteoak Harvest; Whiteoak Heritage) (born Jan. 15, 1879 – died July 12, 1961; age 82). Cause of death for Mazo de la Roche is unknown. (Mazo de la Roche 1927 Photo: Melvin Ormond Hammond)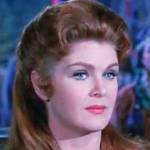 Patricia Blair (nee Patsy Lou Blake)
American actress of TV (Rebecca Boone on Daniel Boone; The Rifleman; Yancy Derringer; Princess Pat; My Three Sons; Surfside 6; The Virginian; Perry Mason; Petrocelli; Bonanza) and movies (Cage of Evil; Crime Against Joe; City of Fear; The Black Sleep; Jump Into Hell) (born Jan. 15, 1933 – died Sept. 9, 2013; age 80). Patricia Blair died of breast cancer. (Patricia Blair 1970 Daniel Boone)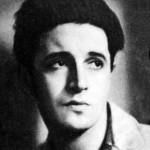 Ivor Novello (nee David Ivor Davies; "Ivor Novello Songwriting Award")
Welsh singer & songwriter (Keep the Home Fires Burning; 'Till the Boys Come Home), actor & writer of plays & films (The Constant Nymph; King's Rhapsody; Perchance to Dream; Theodore & Co.; Glamorous Night; Once a Lady; The Triumph of The Rat; Downhill; The Lodger; The Bohemian Girl; The White Rose) (born Jan. 15, 1893 – died Mar. 6, 1951; age 58). (Ivor Novello 1923)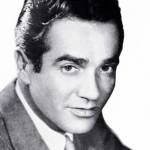 Gene Krupa (nee Eugene Bertram Krupa; "father of the modern drumset")
Modern Drummer Hall of Fame American jazz drummer (Sing, Sing, Sing), composer (Drum Boogie; Hooray for Hollywood), bandleader (Gene Krupa Trio) & film performer (The Benny Goodman Story; Ball of Fire; The Glenn Miller Story; Some Like it Hot; George White's Scandals) (born Jan. 15, 1909 – died Oct. 16, 1973; age 64). (Gene Krupa Billboard 1944 Music Yearbook)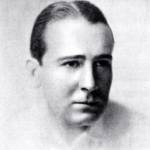 Rex Ingram (nee Reginald Ingram Montgomery Hitchcock)
Irish screenwriter, director, & actor of silent films (The Four Horsemen of the Apocalypse; The Conquering Power; Trifling Women; Turn to the Right; The Prisoner of Zenda; The Arab; Shore Acres; The Garden of Allah; The Great Problem; Scaramouche) (born Jan. 15, 1892 – died July 21, 1950; age 58). Married Alice Terry; ex of Doris Pawn. (Rex Ingram 1920: Hoover)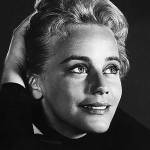 Maria Schell (sister of Maximilian Schell, Carl Schell)
Austrian-Swiss actress in movies (The Hanging Tree; The Mark; As the Sea Rages; Superman; Cimarron; Voyage of the Damned;  99 Women; The Odessa File; The Brothers Karamazov; The Magic Box; The Heart of the Matter) (born Jan. 15, 1926 – died Apr. 26, 2005; age 79. Ex of Horst Hachler. Maria Schell died of pneumonia. (Maria Schell 1958 The Brothers Karamozov: MGM)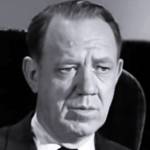 Harry Ellerbe
American actor of stage, TV (Rawhide; Dennis the Menace; Hazel; The Fugitive), and movies (House of Usher; The Haunted Palace; The Man Who Understood Women; Desk Set; The Magnetic Monster; So Red the Rose; Murder on a Honeymoon; The Misleading Lady) (born Jan. 15, 1901 – died Dec. 2, 1992; age 91). Cause of death for Harry Ellerbe is unknown. (Harry Ellerbe 1960 Thriller)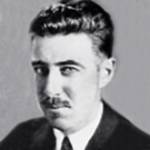 William Beaudine
American film actor, screenwriter & director of TV (Lassie; The Adventures of Rin Tin Tin) and movies (Tuna Clipper; The Green Hornet; Kidnapped; Blue Grass of Kentucky; Let's Go Navy; The Mad Parade; Mr. Muggs Steps Out; Westward Ho, The Wagons!; The Crime of the Century; Penrod and Sam; Gallant Lady) (born Jan. 15, 1892 – died Mar. 18, 1970; age 78). (William Beaudine 1925)
*Images are public domain or Creative Commons licensed & sourced via Wikimedia Commons or Flickr, unless otherwise noted*